Wolverine #1 is here, for the 10th time, + more new Comics on Wednesday, February 19th, 2020
Well, I looked it up and there haven't been quite that many Wolverine #1's since Hulk #180 (see last panel) and 181. But it's certainly well over 20, if you count the adjectives, suffixes, and….'s, deaths, returns, and such. Well, here is just plain "Wolverine #1", for the seventh time since 1982, extra thick at $7.99. and a dozen or more variant covers. Batman has a new character that we didn't know about until it was too late to up our order (way to leave a bunch of sales in the dumpster, DC), so Bob will have to know you pretty well if you want to get one of our few, at cover price, of course. Bang #1 is in the same category, but I don't know why. We have a bunch of new Funko Pops for Mandalorian, It (Pennywise), Marvel, Onward, and many more. The complete list is found below.
If you want to know about the next sale, click here. Sign in here to get an email reminder for for ALL sales and other events. Also, you can go to fb.fantasybooksandgames.com and you'll be taken to our Facebook page. We also use our in-store 5-Star Rewards system to text similar announcements to your phone.
Thanks to Comics on the Green for this week's images, which include many of the comics and a few of the books and other items we received today.  
2020 MACHINE MAN #1 (OF 2) $ 4.99
2020 MACHINE MAN #1 (OF 2) RAPOZA VAR $ 4.99
AMAZING MARY JANE #5 $ 3.99
AMAZING MARY JANE #5 RODRIGUEZ GWEN STACY VAR $ 3.99
AMERICAN JESUS NEW MESSIAH #3 CVR A TOP SECRET (MR) $ 4.99
AMERICAN JESUS NEW MESSIAH #3 CVR B ALEXANDER (MR) $ 4.99
AMERICAN JESUS NEW MESSIAH #3 CVR C B&W ALEXANDER (MR) $ 4.99
AQUAMAN #57 $ 3.99
AQUAMAN #57 KRIS ANKA VAR ED $ 3.99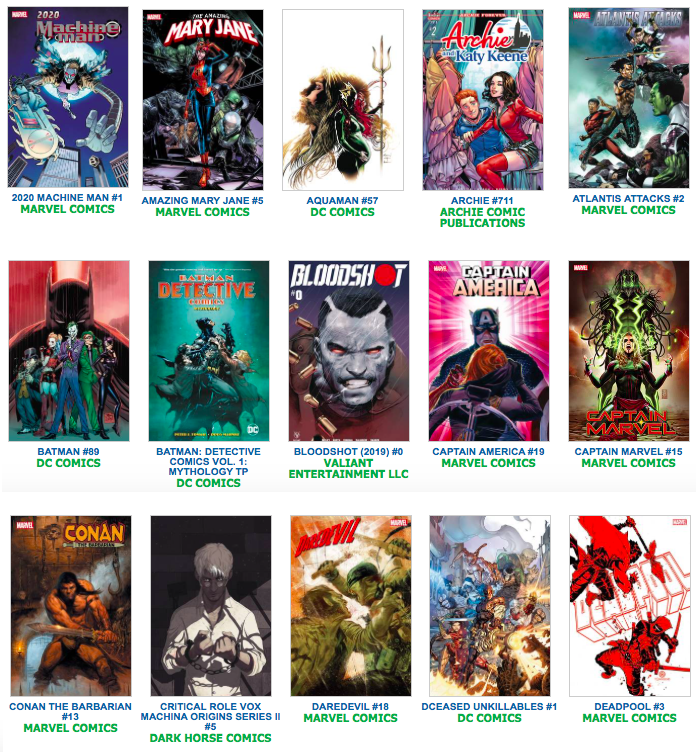 ARCHIE #711 (ARCHIE & KATY KEENE PT 2) CVR A BRAGA $ 3.99
ATLANTIS ATTACKS #2 (OF 5) $ 3.99
ATLANTIS ATTACKS #2 (OF 5) $ 3.99
ATLANTIS ATTACKS #2 (OF 5) MONA CHINESE NEW YEAR VAR $ 3.99
ATLANTIS ATTACKS #2 (OF 5) RON LIM VAR $ 3.99
AVENGERS #29 2ND PTG MCGUINNESS VAR $ 3.99
BANG #1 (OF 5) CVR A TORRES $ 3.99
BANG #1 (OF 5) CVR B KINDT $ 3.99
BATMAN #89 (Blindsided by new character – limited to out regulars – ask Bob) $ 3.99
BATMAN #89 CARD STOCK FRANCESCO MATTINA VAR ED (see above) $ 4.99
BITTER ROOT #6 CVR A GREENE (MR) $ 3.99
BLADE RUNNER 2019 #6 CVR A RIAN HUGHES (MR) $ 3.99
BLADE RUNNER 2019 #6 CVR C GUINALDO (MR) $ 3.99
BLOODSHOT (2019) #0 CVR A DE LA TORRE $ 3.99
BLOODSHOT (2019) #0 CVR B BACHS $ 3.99
BLOODSHOT (2019) #0 CVR C PORTELA $ 3.99
CAPTAIN AMERICA #19 $ 3.99
CAPTAIN AMERICA #19 YOON GWEN STACY VAR $ 3.99
CAPTAIN MARVEL #15 $ 3.99
CAPTAIN MARVEL #15 INHYUK LEE CONNECTING VAR $ 3.99
CAPTAIN MARVEL #15 LUPACCHINO GWEN STACY VAR $ 3.99
CAPTAIN MARVEL #15 ZILI YU CHINESE NEW YEAR VAR $ 3.99
CONAN THE BARBARIAN #13 $ 3.99
CRITICAL ROLE VOX MACHINA ORIGINS SERIES II #5 (OF 6) $ 3.99
DAREDEVIL #18 $ 3.99
DAREDEVIL #18 RIVERA GWEN STACY VAR $ 3.99
DCEASED UNKILLABLES #1 (OF 3) $ 4.99
DCEASED UNKILLABLES #1 (OF 3) CARD STOCK HORROR PUTRI VAR E $ 5.99
DCEASED UNKILLABLES #1 (OF 3) CARD STOCK MATTINA VAR ED $ 5.99
DEADLY CLASS #43 CVR A CRAIG (MR) $ 3.99
DEADLY CLASS #43 CVR B BENGAL (MR) $ 3.99
DEADPOOL #3 $ 3.99
DEADPOOL #3 YARDIN MARVELS X VAR $ 3.99
DEATH TO ARMY OF DARKNESS #1 CVR A OLIVER $ 3.99
DEATH TO ARMY OF DARKNESS #1 CVR B SUYDAM $ 3.99
DEATH TO ARMY OF DARKNESS #1 CVR C ANDOLFO $ 3.99
DEATH TO ARMY OF DARKNESS #1 CVR D PIRIZ $ 3.99
DOCTOR DOOM #4 2ND PTG LARROCA VAR $ 3.99
DOCTOR TOMORROW #1 (OF 5) CVR A ROCAFORT $ 3.99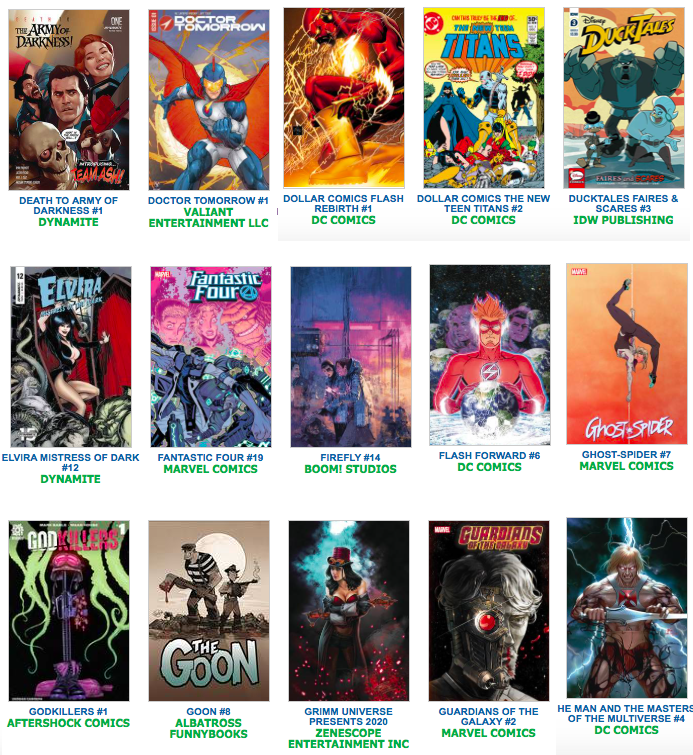 DOLLAR COMICS FLASH REBIRTH #1 $ 1
DOLLAR COMICS THE NEW TEEN TITANS #2 $ 1
DRAGON AGE BLUE WRAITH #2 (OF 3) $ 3.99
DUCKTALES FAIRES & SCARES #3 (OF 3) CVR A GHIGLIONE & STELLA $ 3.99
ELVIRA MISTRESS OF DARK #12 ROYLE B&W (1/20) $ ???
ELVIRA MISTRESS OF DARK #12 CVR A MANDRAKE $ 3.99
ELVIRA MISTRESS OF DARK #12 CVR B CERMAK $ 3.99
ELVIRA MISTRESS OF DARK #12 CVR C ROYLE $ 3.99
ELVIRA MISTRESS OF DARK #12 CVR D PHOTO $ 3.99
FAMILY TREE #4 (MR) $ 3.99
FANTASTIC FOUR #19 $ 3.99
FANTASTIC FOUR #19 CHRISTOPHER GWEN STACY VAR $ 3.99
FIREFLY #14 JOHNSON(1/15) $ ???
FIREFLY #14 CVR A MAIN ASPINALL $ 3.99
FIREFLY #14 CVR B PREORDER VIDAL VAR $ 3.99
FIREFLY #14 FOC MCDAID VAR $ 3.99
FLASH FORWARD #6 (OF 6) $ 3.99
FLASH FORWARD #6 (OF 6) INHYUK LEE VAR ED $ 3.99
GHOST-SPIDER #7 $ 3.99
GODKILLERS #1 BRADSTREET (1/15) $ ???
GODKILLERS #1 CVR A HAUN $ 4.99
GOON #8 CVR A POWELL $ 3.99
GOON #8 PARSON CARDSTOCK VAR CVR $ 5.99
GRIMM UNIVERSE PRESENTS 2020 CVR A VITORINO $ 7.99
GRIMM UNIVERSE PRESENTS 2020 CVR C LEARY JR $ 7.99
GRIMM UNIVERSE PRESENTS 2020 CVR E ROYLE $ 7.99
GRIMM UNIVERSE PRESENTS 2020 CVR F GARVEY $ 7.99
GUARDIANS OF THE GALAXY #2 $ 3.99
GUARDIANS OF THE GALAXY #2 WU GWEN STACY VAR $ 3.99
GUARDIANS OF THE GALAXY #2 YUZE WU CHINESE NEW YEAR VAR $ 3.99
HE MAN AND THE MASTERS OF THE MULTIVERSE #4 (OF 6) $ 3.99
HEARTBEAT #4 (OF 5) (MR) $ 3.99
HEARTBEAT #4 (OF 5) FOC ESQUEJO VAR (MR) $ 3.99
HELLBOY & BPRD RETURN OF EFFIE KOLB #1 (OF 2) CVR B MIGNOLA $ 3.99
INVADER ZIM #49 CVR A C $ 3.99
INVADER ZIM #49 CVR B ENGER $ 3.99
JOKER KILLER SMILE #3 (OF 3) (MR) $ 5.99
JOKER KILLER SMILE #3 (OF 3) KAARE ANDREWS VAR ED (MR) $ 5.99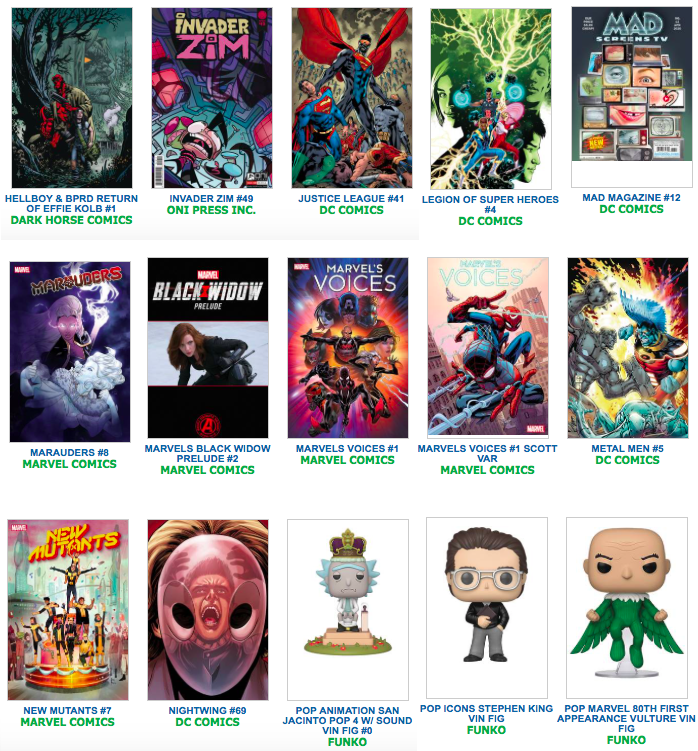 JUSTICE LEAGUE #41 $ 3.99
JUSTICE LEAGUE #41 JAMAL CAMPBELL VAR ED $ 3.99
LEGION OF SUPER HEROES #4 $ 3.99
LEGION OF SUPER HEROES #4 CARD STOCK ALEX GARNER VAR ED $ 4.99
LOW LOW WOODS #3 (OF 6) (MR) $ 3.99
LOW LOW WOODS #3 (OF 6) JENNY FRISON VAR ED (MR) $ 3.99
LUCIFER #17 (MR) $ 3.99
LUCY CLAIRE REDEMPTION #3 CVR A UPCHURCH (MR) $ 3.99
LUCY CLAIRE REDEMPTION #3 CVR B UPCHURCH (MR) $ 3.99
LUMBERJANES #71 CVR A LEYH $ 3.99
MARAUDERS #8 DX $ 3.99
MARVEL ACTION CLASSICS AVENGERS DR STRANGE #1 $ 4.99
MARVELS BLACK WIDOW PRELUDE #2 (OF 2) $ 3.99
MARVELS VOICES #1 $ 4.99
MARVELS VOICES #1 SCOTT VAR $ 4.99
MARVELS VOICES #1 STELFREEZE VAR $ 4.99
METAL MEN #5 (OF 12) $ 3.99
METAL MEN #5 (OF 12) WALTER SIMONSON VAR ED $ 3.99
MIDDLEWEST #15 (MR) $ 3.99
NEW MUTANTS #7 DX $ 3.99
NIGHTWING #69 $ 3.99
NIGHTWING #69 ALAN QUAH VAR ED $ 3.99
OBLIVION SONG BY KIRKMAN & DE FELICI #24 (MR) $ 3.99
OLD GUARD FORCE MULTIPLIED #3 (OF 5) (MR) $ 3.99
ON THE STUMP #1 CVR A PRENZY (MR) $ 3.99
ON THE STUMP #1 CVR B GREENE (MR) $ 3.99
PLUNGE #1 (OF 6) (MR) $ 3.99
PLUNGE #1 (OF 6) CARD STOCK GARY FRANK VAR ED (MR) $ 4.99
RED MOTHER #3 $ 3.99
RED MOTHER #3 FOC KHALIDAH VAR $ 3.99
RED SONJA AGE OF CHAOS #2 CVR A PARRILLO $ 3.99
RED SONJA AGE OF CHAOS #2 CVR C CHEW $ 3.99
RED SONJA AGE OF CHAOS #2 CVR E COSPLAY $ 3.99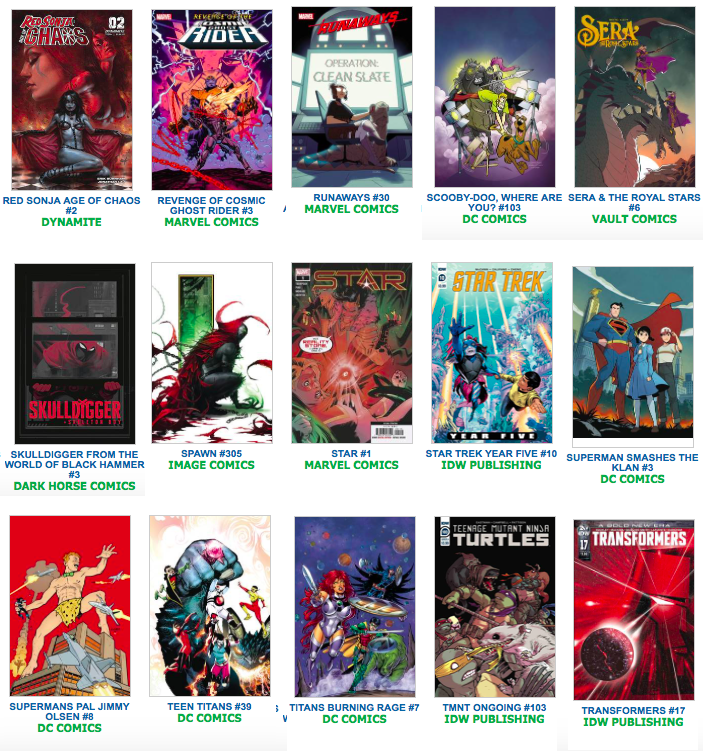 REVENGE OF COSMIC GHOST RIDER #3 (OF 5) $ 3.99
REVENGE OF COSMIC GHOST RIDER #3 (OF 5) LUBERA VAR $ 3.99
REVENGE OF COSMIC GHOST RIDER #3 (OF 5) RON LIM VAR $ 3.99
REVENGE OF COSMIC GHOST RIDER #3 (OF 5) YILDRUM VAR (1/25) $ ???
RUNAWAYS #30 $ 3.99
SCOOBY DOO WHERE ARE YOU #103 $ 2.99
SERA & ROYAL STARS #6 $ 3.99
SKULLDIGGER & SKELETON BOY #3 (OF 6) CVR A ZONJIC $ 3.99
SKULLDIGGER & SKELETON BOY #3 (OF 6) CVR B REYNOLDS $ 3.99
SPAWN #305 CVR A MATTINA $ 2.99
SPAWN #305 CVR B MCFARLANE $ 2.99
SPAWN #305 CVR C B&W MCFARLANE $ 2.99
SPAWN #305 CVR D ALEXANDER $ 2.99
STAR #1 (OF 5) 2ND PTG VAR $ 3.99
STAR TREK YEAR FIVE #10 CVR A THOMPSON $ 3.99
SUPERMAN SMASHES THE KLAN #3 (OF 3) $ 7.99
SUPERMANS PAL JIMMY OLSEN #8 (OF 12) $ 3.99
SUPERMANS PAL JIMMY OLSEN #8 (OF 12) BEN OLIVER VAR ED $ 3.99
TEEN TITANS #39 $ 3.99
TEEN TITANS #39 KHARY RANDOLPH VAR ED $ 3.99
TITANS BURNING RAGE #7 (OF 7) $ 4.99
TMNT ONGOING #103 CVR A CAMPBELL $ 3.99
TMNT ONGOING #103 CVR B EASTMAN $ 3.99
TRANSFORMERS #17 MATERE (1/10) $ ???
TRANSFORMERS #17 CVR A RAMONDELLI $ 3.99
TRANSFORMERS #17 CVR B CAHILL $ 3.99
TRANSFORMERS GALAXIES #4 CVR A RAMONDELLI $ 3.99
TRANSFORMERS GALAXIES #4 CVR B PITRE-DUROCHER $ 3.99
TRUE BELIEVERS IRON MAN 2020 JOCASTA #1 $ 1
UNDISCOVERED COUNTRY #4 CVR A CAMUNCOLI (MR) $ 3.99
UNDISCOVERED COUNTRY #4 CVR B MCKELVIE (MR) $ 3.99
VALKYRIE JANE FOSTER #8 $ 3.99
VALKYRIE JANE FOSTER #8 MOMOKO GWEN STACY VAR $ 3.99
VAMPIRELLA #8 CVR C BEACHUM $ 3.99
VAMPIRELLA #8 CVR E COSPLAY $ 3.99
VENOM #22 2ND PTG VAR $ 3.99
VISITOR #3 (OF 6) CVR A PINNA $ 3.99

WOLVERINE #1 ALEX ROSS VAR DX $ 7.99
WOLVERINE #1 ALEX ROSS VIRGIN VAR DX (1/300) $ ???
WOLVERINE #1 CHIP KIDD DIE CUT VAR DX $ 7.99
WOLVERINE #1 DELL OTTO VAR (1/50) $ ???
WOLVERINE #1 DX $ 7.99
WOLVERINE #1 JEEHYUNG LEE VAR DX $ 7.99
WOLVERINE #1 JIM LEE HIDDEN GEM VAR DX (1/100) $ ???
WOLVERINE #1 RAHZZAH PARTY VAR DX $ 7.99
WOLVERINE #1 SILVA VAR DX (1/25) $ ???
WOLVERINE #1 YOUNG VAR DX $ 7.99
WONDER TWINS #12 (OF 12) $ 3.99
WONDER WOMAN DEAD EARTH #2 (OF 4) $ 6.99
WONDER WOMAN DEAD EARTH #2 (OF 4) DANIEL JOHNSON VAR ED $ 6.99
WONDER WOMAN GIANT #3 $ 4.99
X-FORCE #5 2ND PTG WEAVER VAR DX $ 3.99
ZORRO 1958 DELL FOUR COLOR #882 $ 3.99

COMIC SHOP NEWS #1705 $ FREE
MAD MAGAZINE #12 $ 5.99

BATMAN DETECTIVE COMICS TP VOL 01 MYTHOLOGY $ 17.99
BERSERKER UNBOUND HC $ 24.99
BUFFY THE VAMPIRE SLAYER TP VOL 02 $ 14.99
DOOM PATROL BY JOHN BYRNE OMNIBUS HC $ 75
DOWNFALL GN VOL 01 INIO ASANO (MR) $ 14.99
FAX FROM SARAJEVO TP NEW EDITION $ 19.99
GHOST RIDER TP BOOK 02 WAR FOR HEAVEN $ 34.99
GUARDIANS OF THE GALAXY TP VOL 02 FAITHLESS $ 24.99
GWENPOOL STRIKES BACK TP $ 15.99
HIT-GIRL TP VOL 06 (MR) $ 14.99
HOUSE OF WHISPERS TP VOL 02 ANANSE TP (MR) $ 16.99
MANOR BLACK TP (MR) $ 19.99
NAUSICAA OF VALLEY OF WIND BOX SET (CURR PTG) $ 70
STEVEN UNIVERSE ONGOING TP VOL 06 PLAYING BY EAR $ 14.99
TALES THROUGH MARVEL UNIVERSE TP $ 24.99
TASKMASTER TP ANYTHING YOU CAN DO $ 34.99
TOKYO GHOUL RE GN VOL 15 $ 12.99
UNCANNY X-MEN BY GILLEN COMPLETE COLLECTION VOL 02 $ 39.99
URUSEI YATSURA GN VOL 05 $ 19.99

DC BIRDS OF PREY 3D FOAM BAG CLIPS 24PC BMB DS $ 6.99
POCKET POP RICK & MORTY S2 MORTY W/ SPACE SUIT KEYCHAIN $ 5.99
POCKET POP RICK & MORTY S2 MR POOPY BUTTHOLE KEYCHAIN $ 5.99
POCKET POP RICK & MORTY S2 RICK W/ SPACE SUIT KEYCHAIN $ 5.99
POP HEROES DC 18IN BATMAN VINYL FIG $ 100
POP RIDES CINDERELLA CARRIAGE W/ FAIRY GODMOTHER VIN FIG $ 31.99
POP RIDES SW MANDALORIAN MANDALORIAN ON BLURGG VIN FIG $ 31.99
POP STAR WARS MANDALORIAN COVERT MANDALORIAN VIN FIG $ 11.99
POP STAR WARS MANDALORIAN HEAVY INFANTRY MANDALORIAN VIN FIG $ 11.99
POP STAR WARS MANDALORIAN INCINERATOR STORMTROOPER VIN FIG $ 11.99
STAR WARS E4 RETRO 3-3/4IN AF ASST $ ???
SW VINTAGE 3-3/4IN AF ASST 202001 $ ???
JOHN WICK SELECT AF $ 29.99

WOLVERINE THROUGH THE YEARS PRIMER $ FREE