Comics Dictated in Alphabetical Order on Wednesday, February 26th, 2020
Using voice recognition on my phone, the highlights of the week, as dictated by ME, your new dictator (pay no attention to that Orange Puppet in the Awful Office): Action, Amazing Spider-Man, Amethyst, Ant-Man, Avengers of the Wastelands, Batgirl, Batman Curse of the White Knight, Batman Superman, Crisis 100-page Giant, Detective, Falconer Winter Soldier, Fantastic Four Grimm Noir, Ghost Rider, Giant-sized X-Men Jean Grey Emma Frost, Jessica Jones, Justice League Dark, Leviathan Dawn, Mighty Morphin Power Rangers, Monstress, Punisher Soviet, Red Hood, Rick and Morty, Shazam, Star Wars, Swamp Thing 100-page Giant, Teenage Mutant Ninja Turtles Jennika, Usagi Yojimbo, Wolverine #1 Facsimile, Wonder Woman, X-Force, X-Men, X-Men Fantastic Four, Diamond Previews and Marvel and DC Previews.
The complete list is found below. If you want to know about the next sale or store event, click here. Sign in here to get an email reminder for for ALL sales and other events. Also, you can go to fb.fantasybooksandgames.com and you'll be taken to our Facebook page. We also use our in-store 5-Star Rewards system to text similar announcements to your phone.
Thanks to Comics on the Green for this week's images, which include many of the comics and a few of the books and other items we received today.  
2020 FORCE WORKS #1 (OF 3) $ 3.99
2020 FORCE WORKS #1 (OF 3) TAN VAR $ 3.99
ACTION COMICS #1020 $ 3.99
ACTION COMICS #1020 CARD STOCK L PARRILLO VAR ED $ 4.99
AMAZING SPIDER-MAN #40 $ 3.99
AMAZING SPIDER-MAN #40 TORQUE GWEN STACY VAR $ 3.99
AMAZING SPIDER-MAN DAILY BUGLE #2 (OF 5) $ 3.99
AMETHYST #1 (OF 6) $ 3.99
AMETHYST #1 (OF 6) CARD STOCK STEPHANIE HANS VAR ED $ 4.99
ANGEL & SPIKE #9 CVR A MAIN PANOSIAN $ 3.99
ANT-MAN #2 (OF 5) $ 3.99
AVENGERS #31 $ 4.99
AVENGERS #31 JSC GWEN STACY VAR $ 4.99
AVENGERS #31 TIANQI HU CHINESE NEW YEAR VAR $ 4.99
AVENGERS OF THE WASTELANDS #2 (OF 5) $ 3.99
BASKETFUL OF HEADS #5 (OF 7) (MR) $ 3.99
BASKETFUL OF HEADS #5 (OF 7) MATTEO SCALERA VAR ED (MR) $ 3.99
BATGIRL #44 $ 3.99
BATGIRL #44 CARD STOCK T AND R DODSON VAR ED $ 4.99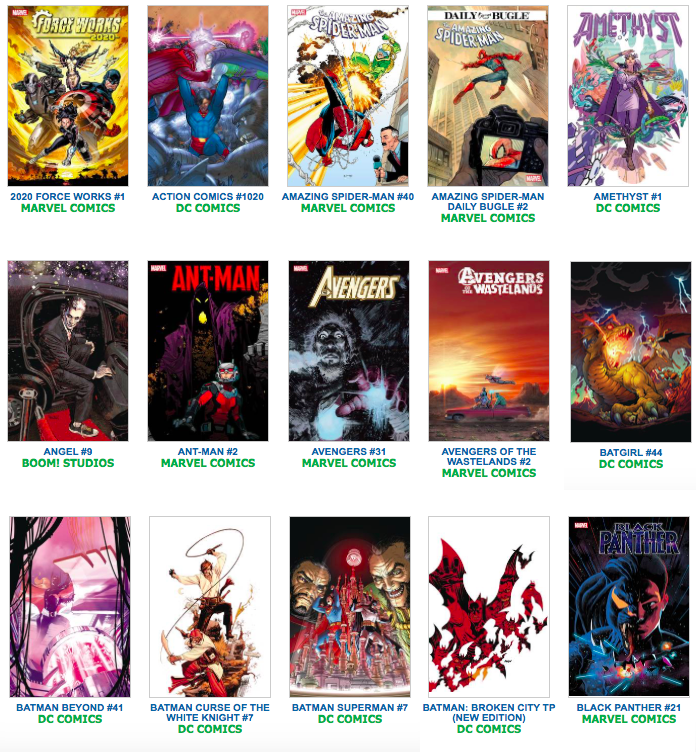 BATMAN BEYOND #41 $ 3.99
BATMAN BEYOND #41 FRANCIS MANAPUL VAR ED $ 3.99
BATMAN CURSE OF THE WHITE KNIGHT #7 (OF 8) $ 4.99
BATMAN CURSE OF THE WHITE KNIGHT #7 (OF 8) SEAN MURPHY VAR E $ 4.99
BATMAN SUPERMAN #7 $ 3.99
BATMAN SUPERMAN #7 CARD STOCK ANDY KUBERT VAR ED $ 4.99
BLACK PANTHER #21 $ 3.99
BLACK PANTHER #21 JOHNSON VAR $ 3.99
BLADE RUNNER 2019 #6 CVR B MEAD (MR) $ 3.99
BOOKS OF MAGIC #17 (MR) $ 3.99
CLASH OF KINGS #2 CVR A MILLER (MR) $ 3.99
CLASH OF KINGS #2 CVR B RUBI (MR) $ 3.99
CRISIS ON INFINITE EARTHS GIANT #2 (RES) $ 4.99
CULT CLASSIC CREATURE FEATURE #5 $ 3.99
DEATH OR GLORY #9 CVR A BENGAL (MR) $ 3.99
DEATH OR GLORY #9 CVR B MURPHY (MR) $ 3.99
DETECTIVE COMICS #1020 $ 3.99
DETECTIVE COMICS #1020 CARD STOCK LEE BERMEJO VAR ED $ 4.99
DIAL H FOR HERO #12 (OF 12) $ 3.99
DISNEY THE LITTLE MERMAID #3 (OF 3) $ 3.99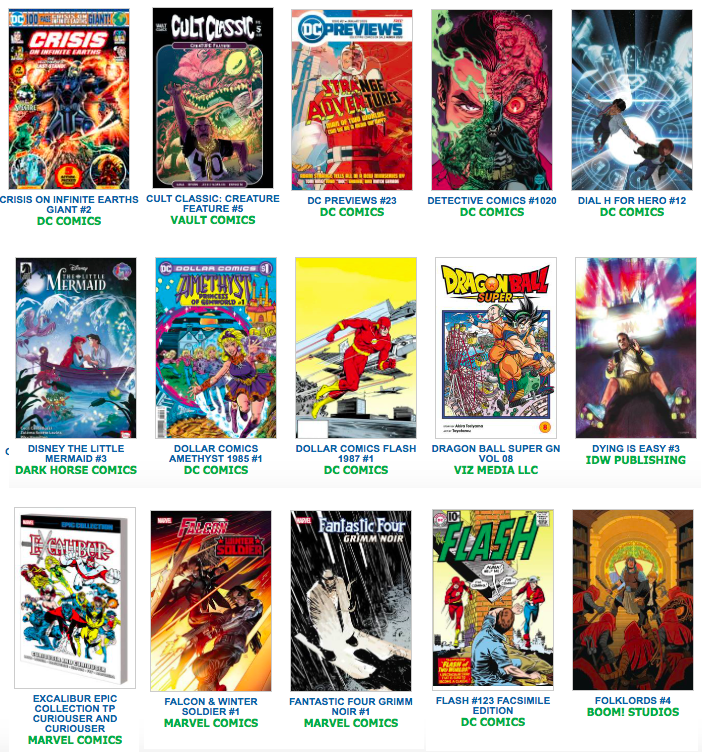 DOLLAR COMICS AMETHYST 1985 #1 $ 1
DOLLAR COMICS FLASH 1987 #1 $ 1
DYING IS EASY #3 (OF 5) CVR A SIMMONDS $ 3.99
DYING IS EASY #3 (OF 5) CVR B RODRIGUEZ $ 3.99
FALCON & WINTER SOLDIER #1 (OF 5) $ 3.99
FALCON & WINTER SOLDIER #1 (OF 5) ZIYIAN LIU CHINESE NEW YEA $ 3.99
FANTASTIC FOUR GRIMM NOIR #1 $ 4.99
FANTASTIC FOUR GRIMM NOIR #1 RISSO VAR $ 4.99
FAR SECTOR #4 (OF 12) (MR) $ 3.99
FAR SECTOR #4 (OF 12) EJIKURE VAR ED (MR) $ 3.99
FLASH #123 FACSIMILE EDITION $ 3.99
FOLKLORDS #4 (OF 5) $ 3.99
GHOST RIDER #5 $ 3.99
GHOST RIDER #5 GARNEY VAR (1/10) $ ???
GIANT SIZE X-MEN JEAN GREY & EMMA FROST #1 BLANK VAR DX $ 4.99
GIANT SIZE X-MEN JEAN GREY & EMMA FROST #1 COELLO VAR DX $ 4.99
GIANT SIZE X-MEN JEAN GREY & EMMA FROST #1 DX $ 4.99
GIANT SIZE X-MEN JEAN GREY & EMMA FROST #1 PAREL VAR DX (1/25) $ ???
GRIMM FAIRY TALES #36 CVR A KROME $ 3.99
GRIMM FAIRY TALES #36 CVR B VITORINO $ 3.99
GRIMM FAIRY TALES #36 CVR D RICHARDSON $ 3.99
HEART ATTACK #4 (MR) $ 3.99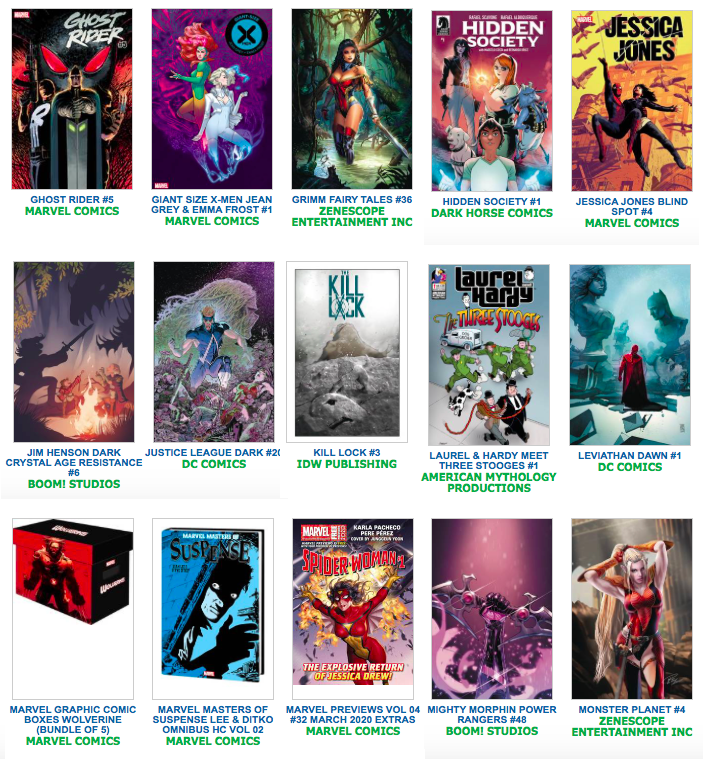 HIDDEN SOCIETY #1 (OF 4) CVR A ALBUQUERQUE $ 3.99
HIDDEN SOCIETY #1 (OF 4) CVR B DINISIO $ 3.99
ICE CREAM MAN #18 CVR A MORAZZO & OHALLORAN (MR) $ 3.99
ICE CREAM MAN #18 CVR B RIOS (MR) $ 3.99
INVISIBLE KINGDOM #10 (MR) $ 3.99
JESSICA JONES BLIND SPOT #4 (OF 6) $ 3.99
JESSICA JONES BLIND SPOT #4 (OF 6) SIMMONDS VAR $ 3.99
JIM HENSON DARK CRYSTAL AGE RESISTANCE #6 CVR A FINDEN $ 3.99
JIM HENSON DARK CRYSTAL AGE RESISTANCE #6 CVR B MATTHEWS $ 3.99
JIM HENSON DARK CRYSTAL AGE RESISTANCE #6 FOC PETERSON VAR $ 3.99
JOHN CONSTANTINE HELLBLAZER #4 (MR) $ 3.99
JUSTICE LEAGUE DARK #20 $ 3.99
JUSTICE LEAGUE DARK #20 CLAYTON CRAIN VAR ED $ 3.99
KILL LOCK #3 (OF 6) $ 3.99
KILLADELPHIA #4 CVR A ALEXANDER (MR) $ 3.99
LAST GOD #5 (MR) $ 4.99
LEVIATHAN DAWN #1 $ 4.99
MIGHTY MORPHIN POWER RANGERS #48 ANKA VAR (1/20) $ ???
MIGHTY MORPHIN POWER RANGERS #48 CVR A CAMPBELL $ 3.99
MIGHTY MORPHIN POWER RANGERS #48 FOC CAMPBELL VAR $ 3.99
MIGHTY MORPHIN POWER RANGERS #48 FOIL MONTES VAR $ 4.99
MONSTER PLANET #4 (OF 5) CVR A COCCOLO $ 3.99
MONSTER PLANET #4 (OF 5) CVR B RICHARDSON $ 3.99
MONSTER PLANET #4 (OF 5) CVR D VITORINO $ 3.99
MONSTRESS #26 (MR) $ 3.99
MY LITTLE PONY FRIENDSHIP IS MAGIC #87 LEVY VAR (1/10) $ ???
MY LITTLE PONY FRIENDSHIP IS MAGIC #87 CVR A FLEECS $ 3.99
NEW MUTANTS #8 DX $ 3.99
OLYMPIA #4 (OF 5) CVR A DIOTTO & CUNNIFFE $ 3.99
ONCE & FUTURE #1 (8TH PTG) $ 3.99
ONCE & FUTURE #2 (4TH PTG) $ 3.99
ONCE & FUTURE #3 (3RD PTG) $ 3.99
ONCE & FUTURE #4 (2ND PTG) $ 3.99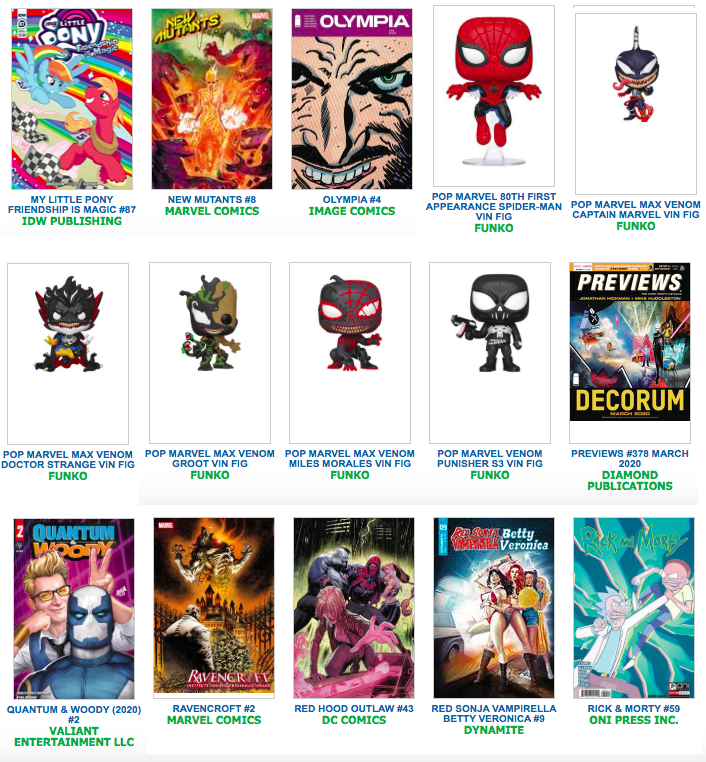 PROTECTOR #2 (MR) $ 3.99
PUNISHER SOVIET #4 (OF 6) (MR) $ 3.99
QUANTUM & WOODY (2020) #2 (OF 4) CVR A NAKAYAMA $ 3.99
RAVENCROFT #2 (OF 5) $ 3.99
RED HOOD OUTLAW #43 $ 3.99
RED HOOD OUTLAW #43 PHILIP TAN VAR ED $ 3.99
RED SONJA AGE OF CHAOS #2 COSPLAY VIRGIN VAR (1/30) $ ???
RED SONJA VAMPIRELLA BETTY VERONICA #9 PARENT B&W VAR (1/10) $ ???
RED SONJA VAMPIRELLA BETTY VERONICA #9 CVR A DALTON $ 3.99
RED SONJA VAMPIRELLA BETTY VERONICA #9 CVR B HACK $ 3.99
RED SONJA VAMPIRELLA BETTY VERONICA #9 CVR C BRAGA $ 3.99
REDNECK #26 (MR) $ 3.99
RICK & MORTY #59 CVR A ELLERBY $ 3.99
RICK & MORTY #59 CVR B MAZZARELLO $ 3.99
SCREAM CURSE OF CARNAGE #4 $ 3.99
SEX CRIMINALS #27 (MR) $ 3.99
SEX CRIMINALS #27 XXX KOCH VAR (MR) $ 4.69
SHAZAM #11 (RES) $ 3.99
SHAZAM #11 S DAVIS M DELECKI VAR ED (RES) $ 3.99
SPIDER-HAM #3 (OF 5) $ 3.99
STAR #2 (OF 5) $ 3.99
STAR WARS #3 $ 3.99
STAR WARS #3 LUPACCHINO VAR (1/25) $ ???
STAR WARS #3 SPROUSE EMPIRE STRIKES BACK VAR $ 3.99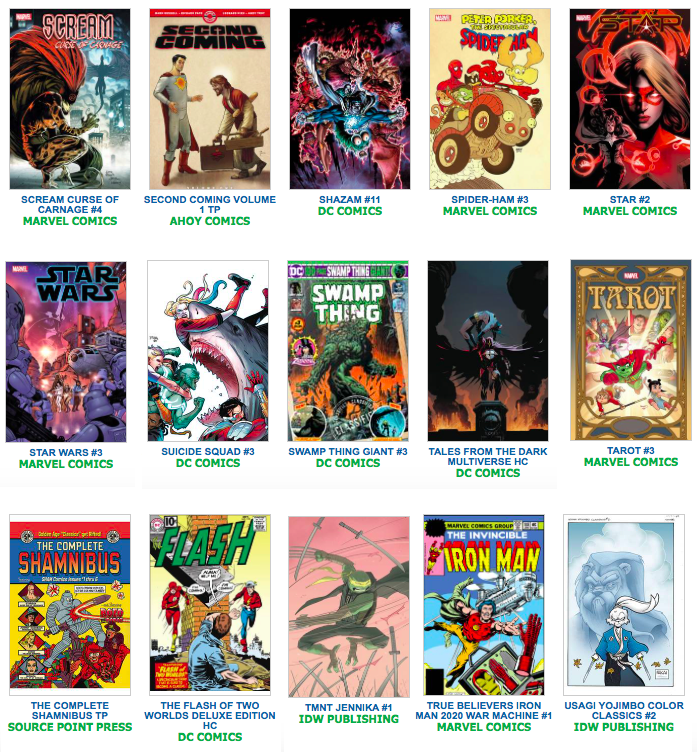 SUICIDE SQUAD #3 $ 3.99
SUICIDE SQUAD #3 MICO SUAYAN VAR ED $ 3.99
SWAMP THING GIANT #3 $ 4.99
TAROT #3 (OF 4) $ 4.99
TAROT #3 (OF 4) DAVIS VAR $ 4.99
TMNT JENNIKA #1 (OF 3) NISHIJIMA VAR (1/10) $ ???
TMNT JENNIKA #1 (OF 3) WILLIAMS II VAR (1/25) $ ???
TMNT JENNIKA #1 (OF 3) CVR A REVEL $ 4.99
TOMORROW #1 (OF 5) (MR) $ 3.99
TRUE BELIEVERS IRON MAN 2020 WAR MACHINE #1 $ 1
USAGI YOJIMBO COLOR CLASSICS #2 $ 3.99
VAMPIRELLA #8 CVR A COWAN $ 3.99
WITCHFINDER REIGN OF DARKNESS #4 (OF 5) $ 3.99
WOLVERINE BY CLAREMONT & BUSCEMA #1 FACSIMILE EDITION $ 3.99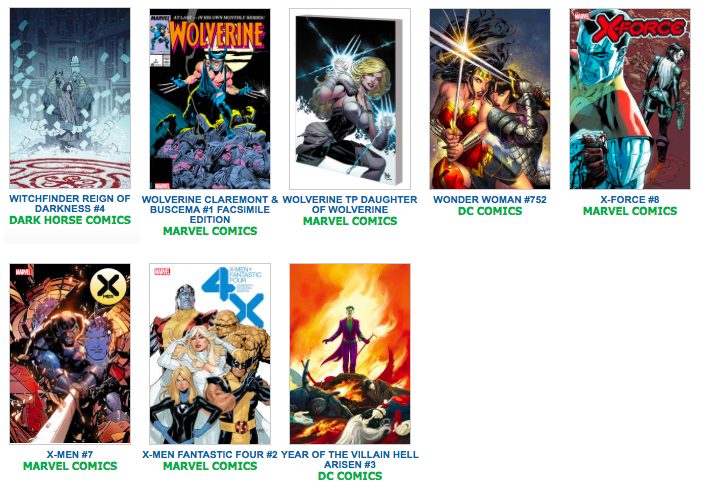 WONDER WOMAN #752 $ 3.99
WONDER WOMAN #752 JENNY FRISON VAR ED $ 3.99
X-FORCE #8 DX $ 3.99
X-MEN #7 DEL MUNDO GWEN STACY VAR DX $ 4.99
X-MEN #7 DX $ 4.99
X-MEN FANTASTIC FOUR #2 (OF 4) $ 3.99
X-MEN FANTASTIC FOUR #2 (OF 4) ELIOPOULOS VAR $ 3.99
X-MEN FANTASTIC FOUR #2 (OF 4) HETRICK FLOWER VAR $ 3.99
YEAR OF THE VILLAIN HELL ARISEN #3 (OF 4) $ 4.99
YEAR OF THE VILLAIN HELL ARISEN #3 (OF 4) R FEDERICI VAR ED $ 4.99

COMIC SHOP NEWS #1706 $ FREE

BATMAN BROKEN CITY NEW EDITION TP $ 16.99
BATMAN OVERDRIVE TP $ 9.99
BERSERK DELUXE EDITION HC VOL 04 (MR) $ 49.99
BLACK CLOVER GN VOL 20 $ 9.99
BLADE BY GUGGENHEIM COMPLETE COLLECTION TP $ 34.99
COMPLETE ELFQUEST TP VOL 07 $ 24.99
DAWN OF X TP VOL 02 $ 17.99
DEMON SLAYER KIMETSU NO YAIBA GN VOL 11 $ 9.99
DR STONE GN VOL 10 $ 9.99
DRAGON BALL SUPER GN VOL 08 $ 9.99
EXCALIBUR EPIC COLLECTION TP CURIOUSER AND CURIOUSER $ 39.99
FLASH OF TWO WORLDS DELUXE EDITION HC $ 29.99
FUTURE FOUNDATION TP $ 15.99
INVADERS TP VOL 02 DEAD IN THE WATER $ 17.99
JIM HENSON BENEATH DARK CRYSTAL HC VOL 03 $ 24.99
LUPUS TP $ 29.99
MARVEL MASTERS OF SUSPENSE LEE & DITKO OMNIBUS HC VOL 02 $ 100
MARVEL MONOGRAPH TP ART OF ARTHUR ADAMS X-MEN $ 19.99
ONE PUNCH MAN GN VOL 19 $ 9.99
PROMISED NEVERLAND GN VOL 14 $ 9.99
SANDMAN OVERTURE GALLERY EDITION $ 150
SECOND COMING TP VOL 01 $ 19.99
SNOW WHITE WITH RED HAIR GN VOL 06 $ 9.99
STAR WARS LEGENDS OF LUKE SKYWALKER GN MANGA $ 14.99
STRIKEFORCE TP VOL 01 $ 15.99
TALES FROM THE DARK MULTIVERSE HC $ 34.99
TANK GIRL TP VOL 02 TANK GIRL FOREVER (MR) $ 16.99
UNBEATABLE SQUIRREL GIRL TP VOL 12 $ 15.99
WEATHERMAN TP VOL 02 (MR) $ 17.99
WOLVERINE TP DAUGHTER OF WOLVERINE $ 15.99
WONDER WOMAN BY GAIL SIMONE OMNIBUS HC $ 75
ZATANNA AND THE HOUSE OF SECRETS TP $ 9.99

DISNEY WINNIE THE POOH 3D FOAM BAG CLIP 24PCS BMB DS $ 5.99
GUNDAM BUILD DIVERS 13 NEW MOBILE SUIT 1/144 HGBD MDL KIT $ 25.99
MY HERO ACADEMIA WORLD COLLECTIBLE 12PC BMB FIG ASST V5 $ 9.99
MYSTERY MINIS VENOM 12PC BMB DISP $ 8.99
POCKET POP AD ICONS CAPN CRUNCH FIG KEYCHAIN $ 5.99
POCKET POP AD ICONS LUCKY LEPRECHAUN FIG KEYCHAIN $ 5.99
POCKET POP AD ICONS TOUCAN SAM FIG KEYCHAIN $ 5.99
POCKET POP AD ICONS TRIX RABBIT FIG KEYCHAIN $ 5.99
POCKET POP MARVEL VENOM CAPTAIN AMERICA FIG KEYCHAIN $ 5.99
POCKET POP MARVEL VENOM GROOT FIG KEYCHAIN $ 5.99
POCKET POP MARVEL VENOM HULK KEYCHAIN $ 5.99
POP STAR WARS MANDALORIAN ARMOR VIN FIG $ 11.99
TOKIDOKI UNICORNO 16PC ENAMEL PIN BMB DS $ 5.99

MARVEL GRAPHIC COMIC BOXES WOLVERINE $ 9.99
DC PREVIEWS #23 MARCH 2020 $ FREE*
MARVEL PREVIEWS VOL 04 #32 MARCH 2020 $ FREE*
MARVEL SAMPLER FEBRUARY 2020 $ FREE*
PREVIEWS #378 MARCH 2020 $ 3.99