Flash hits 750 and Marvel and DC become Strange on Wednesday, March 4th, 2020
Batman #90 is a surprise speculative "hit", similar to #89, and Bob is reserving our limited supply for our regulars. Same with Magnificent Ms Marvel #13, so if Bob recognizes you, you have a good chance ob picking it them up for cover price. Flash $750 is getting the Action, Detective, and Wonder Woman treatment –  an 80 page Giant square-bound  with a series of Decade Covers from the 40's to the 2010's, plus the "timeless" standard cover and a blank sketch cover (in bright costume red, mind you, so no red pens). Both M and DC are Strange – Marvel has Strange Academy (a meme-meld of Xavier and Potter), and DC is bringing back Adam Strange in Strange Adventures, along with a cool facsimile edition of Mystery in Space #75 from 55 years ago. Bob liked what he saw in Mirka Andolfo's Mercy, so come find out what. Spider-Man is now Noir, with #1, and Marvel's Conan has competition from the Cimmerian, an unauthorized, and "uncensored", R.E. Howard inspiration. And over 100 more. Plus new Funko Pops for Black Widow and a re-stock of over 20 different from Stranger Things.
The complete list is found below. If you want to know about the next sale or store event, click here. Sign in here to get an email reminder for for ALL sales and other events. Also, you can go to fb.fantasybooksandgames.com and you'll be taken to our Facebook page. We also use our in-store 5-Star Rewards system to text similar announcements to your phone.
Thanks to Comics on the Green for this week's images, which include many of the comics and a few of the books and other items we received today.
2020 RESCUE #1 (OF 2) $ 3.99
2020 RESCUE #1 (OF 2) BARTEL VAR $ 3.99
BATMAN #90 $ 3.99
BATMAN #90 CARD STOCK FRANCESCO MATTINA VAR ED $ 4.99
BIRTHRIGHT #42 $ 3.99
BLACK CAT #10 $ 3.99
BLACK CAT #10 SPIDER-WOMAN GRANOV VAR $ 3.99
BLACK PANTHER AND AGENTS OF WAKANDA #7 $ 3.99
BLACK PANTHER AND AGENTS OF WAKANDA #7 SPIDER-WOMAN VAR $ 3.99
BUFFY THE VAMPIRE SLAYER #13 CVR A MAIN LOPEZ $ 3.99
BUTCHER OF PARIS #4 (OF 5) (MR) $ 3.99
CARSON OF VENUS REALM OF DEAD #1 CVR A MESARCIA MAIN $ 3.99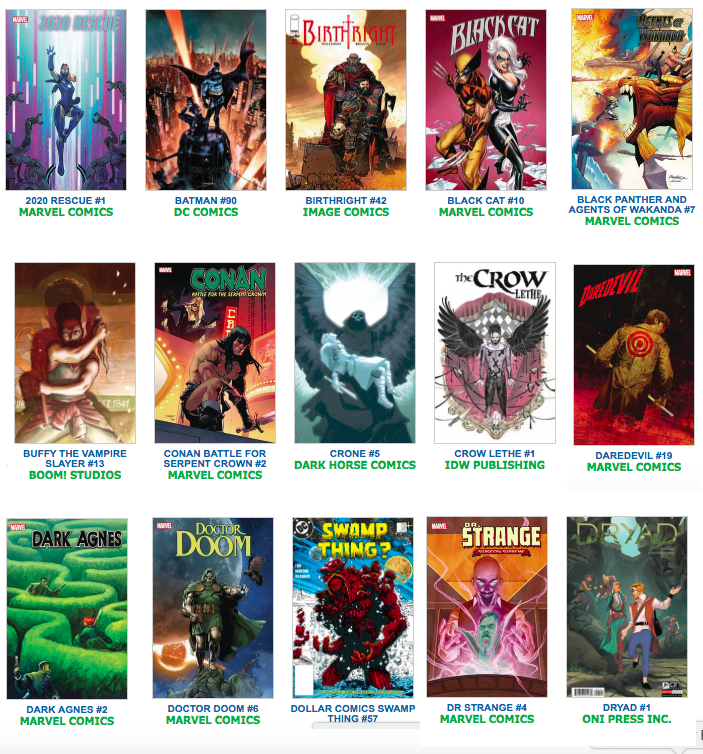 CIMMERIAN QUEEN BLACK COAST #1 FREE BENES (1/10) $ ???
CIMMERIAN QUEEN OF BLACK COAST #1 CVR A JASON METCALF (MR) $ 3.99
CIMMERIAN QUEEN OF BLACK COAST #1 CVR B MIRKA ANDOLFO. (MR) $ 3.99
CIMMERIAN QUEEN OF BLACK COAST #1 CVR C ED BENES (MR) $ 3.99
CIMMERIAN QUEEN OF BLACK COAST #1 CVR D PIERRE ALARY (MR) $ 3.99
CONAN BATTLE FOR SERPENT CROWN #2 (OF 5) $ 3.99
CONAN BATTLE FOR SERPENT CROWN #2 (OF 5) CHRISTOPHER VAR $ 3.99
CRONE #5 (OF 5) $ 3.99
CROW LETHE #1 (OF 3) SEELEY (1/10) $ ???
CROW LETHE #1 (OF 3) 25 COPY KYRIAZIS (1/25) $ ???
CROW LETHE #1 (OF 3) CVR A MOMOKO $ 3.99
CROW LETHE #1 (OF 3) CVR B SEELEY $ 3.99
DAPHNE BYRNE #3 (OF 6) (MR) $ 3.99
DAPHNE BYRNE #3 (OF 6) VAR ED (MR) $ 3.99
DAREDEVIL #19 $ 3.99
DAREDEVIL #19 DEL MUNDO SPIDER-WOMAN VAR $ 3.99
DARK AGNES #2 (OF 5) $ 3.99
DARK AGNES #2 (OF 5) ANACLETO VAR $ 3.99
DOCTOR DOOM #6 $ 3.99
DOCTOR DOOM #6 MAYHEW SPIDER-WOMAN VAR $ 3.99
DOLLAR COMICS JLA YEAR ONE #1 $ 1
DOLLAR COMICS SWAMP THING #57 $ 1
DR STRANGE #4 $ 3.99
DREAMING #19 (MR) $ 3.99
DRYAD #1 CVR A OLEKSAK $ 3.99
EXCALIBUR #8 DX $ 3.99
FARMHAND #14 (MR) $ 3.99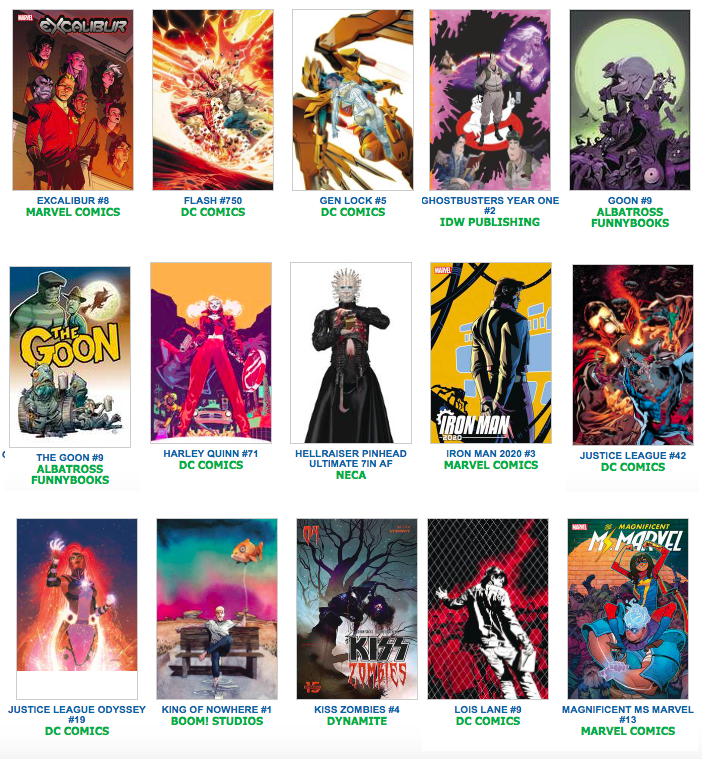 FLASH #750 $ 7.99
FLASH #750 1940S NICOLA SCOTT VAR ED $ 7.99
FLASH #750 1950S GARY FRANK VAR ED $ 7.99
FLASH #750 1960S NICK DERINGTON VAR ED $ 7.99
FLASH #750 1970S GARCIA LOPEZ VAR ED $ 7.99
FLASH #750 1980S DELL OTTO VAR ED $ 7.99
FLASH #750 1990S MATTINA VAR ED $ 7.99
FLASH #750 2000S JIM LEE VAR ED $ 7.99
FLASH #750 2010S FRANCIS MANAPUL VAR ED $ 7.99
FLASH #750 BLANK VAR ED $ 7.99
GEN LOCK #5 (OF 7) $ 3.99
GHOSTBUSTERS YEAR ONE #2 (OF 4) LATTIE (1/10) $ ???
GHOSTBUSTERS YEAR ONE #2 (OF 4) CVR A SHOENING $ 3.99
GHOSTBUSTERS YEAR ONE #2 (OF 4) CVR B SCHOENING $ 3.99
GOON #9 CVR A POWELL $ 3.99
GOON #9 PARSON CARDSTOCK VAR CVR $ 5.99
HARLEY QUINN #71 $ 3.99
HARLEY QUINN #71 FRANK CHO VAR ED $ 3.99
IRON MAN 2020 #3 (OF 6) $ 4.99
IRON MAN 2020 #3 (OF 6) BIANCHI CONNECTING VAR $ 4.99
IRON MAN 2020 #3 (OF 6) RON LIM VAR $ 4.99
IRON MAN 2020 #3 (OF 6) SUPERLOG HEADS VAR $ 4.99
JUSTICE LEAGUE #42 $ 3.99
JUSTICE LEAGUE #42 CARD STOCK MIKEL JANIN VAR ED $ 4.99
JUSTICE LEAGUE ODYSSEY #19 $ 3.99
JUSTICE LEAGUE ODYSSEY #19 SKAN VAR ED $ 3.99
KILL WHITEY DONOVAN #4 (OF 5) CVR A PEARSON (MR) $ 3.99
KING OF NOWHERE #1 (OF 5) CVR A JENKINS $ 3.99
KISS ZOMBIES #4 PHOTO VIRGIN (1/10) $ ???
LOIS LANE #9 (OF 12) $ 3.99
LOIS LANE #9 (OF 12) BILQUIS EVELY VAR ED $ 3.99
MAGICIANS #5 (OF 5) CVR A KHALIDAH (MR) $ 3.99
MAGNIFICENT MS MARVEL #13 $ 3.99
MAN-EATERS TOMORROW BELONGS TO YOU CVR A MITERNIQUE (ONE-SHO $ 4.99
MAN-EATERS TOMORROW BELONGS TO YOU CVR B MITERNIQUE (ONE-SHO $ 4.99
MARAUDERS #9 DX $ 3.99
MARKED #5 CVR A ANACLETO (MR) $ 3.99
MARKED #5 CVR B HABERLIN & VAN DYKE (MR) $ 3.99
MARVEL #1 (OF 6) $ 4.99
MARVEL #1 (OF 6) RUDE VAR $ 4.99
MILES MORALES SPIDER-MAN #16 $ 3.99
MILES MORALES SPIDER-MAN #16 FERRY SPIDER-WOMAN VAR $ 3.99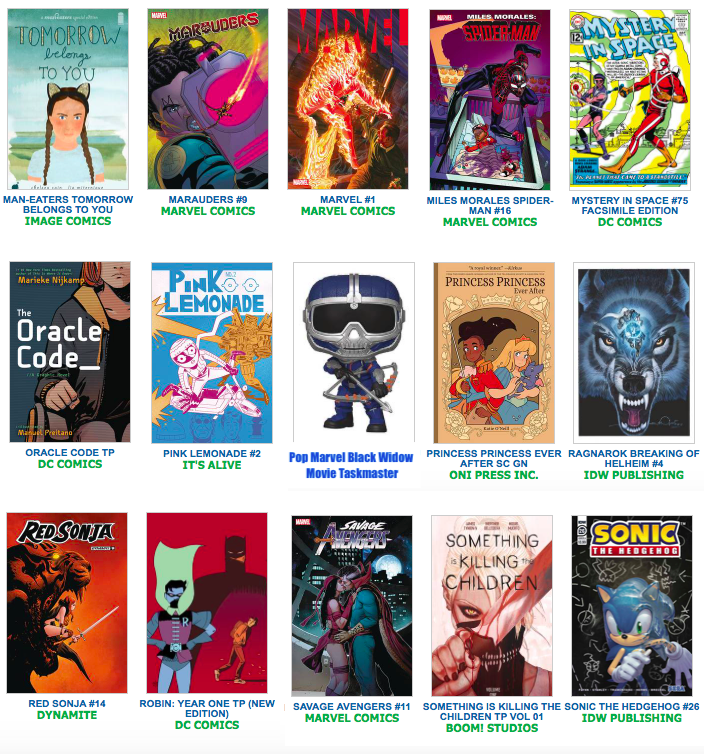 MIRKA ANDOLFO MERCY #1 CVR A ANDOLFO (MR) $ 3.99
MIRKA ANDOLFO MERCY #1 CVR B RAMOS (MR) $ 3.99
MIRKA ANDOLFO MERCY #1 CVR C ARTGERM (MR) $ 3.99
MIRKA ANDOLFO MERCY #1 CVR D MARINI (MR) $ 3.99
MIRKA ANDOLFO MERCY #1 CVR E BUCCI PHOTO CVR (MR) $ 3.99
MIRKA ANDOLFO MERCY #1 CVR F BLANK SKETCH CVR (MR) $ 3.99
MONEY SHOT #5 (MR) $ 3.99
MYSTERY IN SPACE #75 FACSIMILE EDITION $ 3.99
OUTER DARKNESS CHEW #1 (OF 3) CVR A CHAN (MR) $ 3.99
OUTER DARKNESS CHEW #1 (OF 3) CVR B GUILLORY (MR) $ 3.99
PINK LEMONADE #2 CVR A NICK CAGNETTI $ 4.99
RAGNAROK BREAKING OF HELHEIM #4 (OF 6) CVR A SIMONSON $ 4.99
RED AGENT ISLAND OF DR MOREAU #3 (OF 5) CVR A JOHNSON $ 3.99
RED AGENT ISLAND OF DR MOREAU #3 (OF 5) CVR C ROYLE $ 3.99
RED SONJA AGE OF CHAOS #2 KUNKKA (1/10) $ ???
RED SONJA AGE OF CHAOS #2 KUNKKA VIRGIN (1/20) $ ???
RED SONJA AGE OF CHAOS #2 DELL OTTO ICON (1/60) $ ???
RED SONJA #14 COSPLAY VIRGIN FOC (1/15) $ ???
RED SONJA #14 30 COPY LINSNER TINT VIRGIN FOC (1/30) $ ???
RED SONJA #14 CVR A JAE LEE $ 3.99
RED SONJA #14 CVR B LINSNER $ 3.99
RED SONJA #14 CVR E DECOBRAY COSPLAY $ 3.99
SAVAGE AVENGERS #11 $ 3.99
SHERLOCK SCANDAL IN BELGRAVIA #4 CVR B PHOTO $ 4.99
SONIC THE HEDGEHOG #26 FOURDRAINE (1/10) $ ???
SONIC THE HEDGEHOG #26 CVR A STANLEY $ 3.99
SONIC THE HEDGEHOG #26 CVR B HAMMERSTROM GRAHAM $ 3.99
SPIDER-MAN NOIR #1 (OF 5) $ 3.99
SPIDER-MAN NOIR #1 (OF 5) $ 3.99
SPIDER-MAN NOIR #1 (OF 5) BAGLEY VAR (1/25) $ ???
SPIDER-MAN NOIR #1 (OF 5) GARRON VAR (1/50) $ ???
SPIDER-MAN NOIR #1 (OF 5) RON LIM VAR $ 3.99
SPIDER-VERSE #6 (OF 6) $ 3.99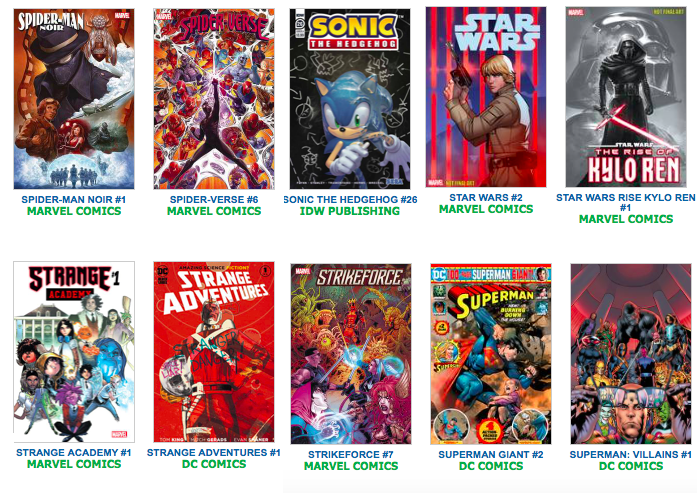 STAR WARS #2 2ND PTG SILVA VAR $ 3.99
STAR WARS RISE KYLO REN #1 (OF 4) 3RD PTG CRAIN VAR $ 4.99
STRANGE ACADEMY #1 $ 4.99
STRANGE ACADEMY #1 ADAMS CHARACTER SPOTLIGHT VAR $ 4.99
STRANGE ACADEMY #1 JS CAMPBELL VAR $ 4.99
STRANGE ACADEMY #1 OPENA VAR (1/50) $ ???
STRANGE ACADEMY #1 RAMOS DESIGN WRPAD VAR $ 4.99
STRANGE ACADEMY #1 RAMOS VAR (1/25) $ ???
STRANGE ACADEMY #1 YOUNG VAR $ 4.99
STRANGE ADVENTURES #1 (OF 12) $ 4.99
STRANGE ADVENTURES #1 (OF 12) BLANK VAR ED $ 4.99
STRANGE ADVENTURES #1 (OF 12) EVAN SHANER VAR ED $ 4.99
STRIKEFORCE #7 $ 3.99
SUPERMAN GIANT #2 $ 4.99
SUPERMAN VILLAINS #1 $ 5.99
SWORD MASTER #9 $ 3.99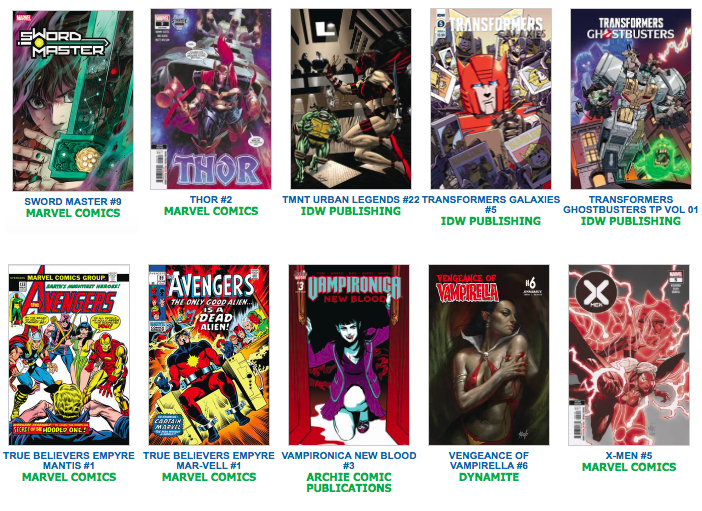 TMNT URBAN LEGENDS #22 CVR A FOSCO $ 3.99
TMNT URBAN LEGENDS #22 CVR B FOSCO & LARSEN $ 3.99
TRUE BELIEVERS EMPYRE MANTIS #1 $ 1
TRUE BELIEVERS EMPYRE MAR-VELL #1 $ 1
TRANSFORMERS GALAXIES #5 MALKOVA (1/20) $ ???
TRANSFORMERS GALAXIES #5 25 COPY ZAMA (1/25) $ ???
TRANSFORMERS GALAXIES #5 CVR A MILNE $ 3.99
TRANSFORMERS GALAXIES #5 CVR B PITRE-DUROCHER $ 3.99
UNEARTH #6 (MR) $ 3.99
VAMPIRONICA NEW BLOOD #3 CVR A MOK $ 3.99
VENGEANCE OF VAMPIRELLA #6 LORRAINE COSPLAY VIRGIN I (1/20) $ ???
VENGEANCE OF VAMPIRELLA #6 21 COPY PARRILLLO B&W FOC (1/21) $ ???
VENGEANCE OF VAMPIRELLA #6 30 COPY OLIVER B&W (1/30) $ ???
VENGEANCE OF VAMPIRELLA #6 CVR A PARILLO $ 3.99
VENGEANCE OF VAMPIRELLA #6 CVR B OLIVER $ 3.99
VENGEANCE OF VAMPIRELLA #6 CVR D LORRAINE COSPLAY $ 3.99
X-MEN #5 2ND PTG YU VAR DX $ 3.99

COMIC SHOP NEWS #1707 $ FREE
NON SPORT UPDATE VOL 31 #1 $ 5.99

100 PERCENT TP (MR) $ 24.99
AFTER SCHOOL BITCHCRAFT GN VOL 01 (MR) $ 13
BATMAN WHITE KNIGHT DELUXE EDITION HC $ 49.99
BIG NATE BLOW THE ROOF OFF TP $ 11.99
BLACK WIDOW WAID SAMNEE COMPLETE COLLECTION TP $ 29.99
BPRD 1946 – 1948 TP $ 24.99
CORTO MALTESE GN BALLAD OF THE SALTY SEA $ 34.99
DESCENDANTS TP FRIGHT AT MUSEUM $ 9.99
DISNEY MULANS ADV JOURNAL PALACE SECRETS TP $ 10.99
DISNEY PIXAR ONWARD STORY O/T MOVIE IN COMICS HC $ 10.99
EMBARRASSMENT OF WITCHES GN VOL 01 $ 19.99
GRASS KINGS TP VOL 03 $ 17.99
MARVEL ACTION CAPTAIN MARVEL TP VOL 01 CAT-TASTROPHE $ 9.99
MARVEL COMICS 1000 HC $ 29.99
ORACLE CODE TP $ 16.99
POWER PACK CLASSIC OMNIBUS HC VOL 01 $ 125
PRINCESS PRINCESS EVER AFTER SC GN $ 9.99
RICK AND MORTY VS D & D TP VOL 02 PAINSCAPE $ 19.99
ROBIN YEAR ONE TP NEW EDITION $ 19.99
SAMURAI 8 TALE OF HACHIMARU GN VOL 01 $ 9.99
SOMETHING IS KILLING CHILDREN TP VOL 01 DISCOVER NOW $ 14.99
TROLLS WORLD TOUR LITTLE GOLDEN BOOK $ 4.99
UMBRELLA ACADEMY APOCALYPSE SUITE DLX LTD HC VOL 01 – $ 79.99
UNCANNY X-FORCE BY REMENDER OMNIBUS HC NEW PTG $ 100
UNCLE SCROOGE TP VOL 12 CURSED CELL PHONE $ 12.99
WEB OF BLACK WIDOW TP $ 15.99
WONDER WOMAN SPIRIT OF TRUTH HC (RES) $ 17.99

HELLRAISER PINHEAD ULTIMATE 7IN AF $ 35.99
KINGDOM HEARTS SERIES4 3D FOAM BAG CLIP 24PCS BMB DS $ 6.99
MARVEL GALLERY COMIC JUBILEE PVC FIGURE $ 49.99
POCKET POP AD ICONS TONY THE TIGER FIG KEYCHAIN $ 5.99
POCKET POP AD ICONS TRIX RABBIT FIG KEYCHAIN $ 5.99

SPIDER-VERSE ART ADAMS POSTER $ 8.99