Small Week Marks Last of the Old World of New Comics – Wednesday, July 1st, 2020
There are only about 50 comics this week, and 12 are Vampirella and six are Red Sonja. Marvel skipped and DC skipped, and next week we start getting DC's  in a separate shipment. We'll announce any possible release date changes on Facebook. 
We encourage everyone to be careful, make your trip to our store quick and efficient, and try to come in to shop in smaller groups, and reduce your own exposure to ALL public places indoors, including ours. If you like, you can browse the list and make an order to
fbgbob@aol.com
for a quicker pick up. It might also help to put in a time window when you would be in the neighborhood, to give Bob a chance to get them together, and include a phone number for good measure.
And please wear a mask!
Watch this space and our Facebook page for latest news about the rest of the month, season, year, millenium, etc. (And text messages from 5-Star.) The complete list is found below. If you want to know about the next sale or store event, or whether or not WE ARE EVEN OPEN click here. Sign in here to get an email reminder for for ALL sales and other events. Also, you can go to     fb.fantasybooksandgames.com and you'll be taken to our Facebook page. We also use our in-store 5-Star Rewards system to text similar announcements to your phone.
Thanks to Comics on the Green for this week's images, which include many of the comics and a few of the books and other items we received today, and may have pics of things we didn't and/or won't get. Use the list, and maybe the picture. 
ALL-AMERICA COMIX ONE-SHOT $ 3.99
BATMAN #93 1:25 THE DESIGNER CARD STOCK VAR ED $ ???
BELLE VS BLACK KNIGHT ONE SHOT #1 CVR A COCCOLO $ 5.99
BELLE VS BLACK KNIGHT ONE SHOT #1 CVR B VITORINO $ 5.99
BETTY & VERONICA JUMBO COMICS DIGEST #283 $ 7.99
BLEED THEM DRY #1 CVR B GOODEN (NET) $ 1
BOYS DEAR BECKY #2 (MR) $ 3.99
BUFFY THE VAMPIRE SLAYER #15 CVR A MAIN LOPEZ $ 3.99
GODDAMNED VIRGIN BRIDES #1 (OF 5) (MR) $ 3.99
GOON #11 CVR A POWELL $ 3.99
GOON #11 SCALERA CARDSTOCK VAR CVR $ 5.99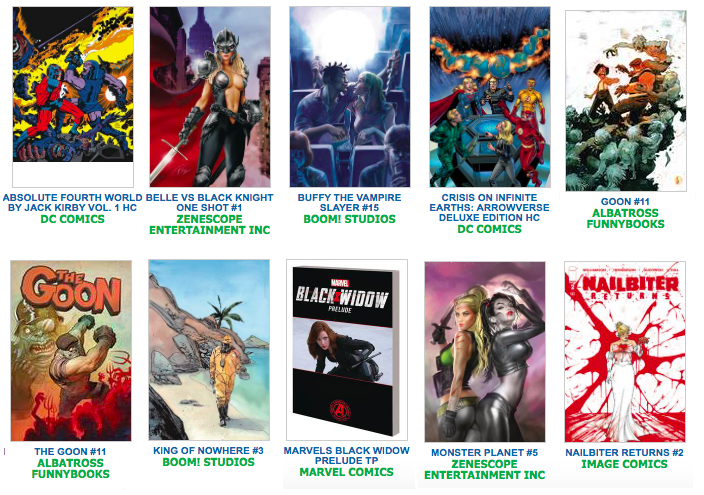 JIM HENSON STORYTELLER GHOSTS #3 (OF 4) CVR A WALSH $ 3.99
JIM HENSON STORYTELLER GHOSTS #3 (OF 4) CVR B MONLONGO VAR $ 3.99
JIM HENSON STORYTELLER GHOSTS #3 (OF 4) FOC BOWYER VAR $ 3.99
KILLING RED SONJA #2 WARD COLOR $ ???
KILLING RED SONJA #2 WARD B&W VIRGIN FOC $ ???
KILLING RED SONJA #2 WARD VIRGIN COLOR $ ???
KILLING RED SONJA #2 CASTRO FOC BONUS VAR $ ???
KILLING RED SONJA #2 CVR A WARD $ 3.99
KING OF NOWHERE #3 (OF 5) CVR A JENKINS $ 3.99
KING OF NOWHERE #3 (OF 5) CVR B MORAZZO VAR $ 3.99
MARKED #6 CVR A HABERLIN & VAN DYKE (MR) $ 3.99
MONSTER PLANET #5 (OF 5) CVR A JOHNSON $ 3.99
MONSTER PLANET #5 (OF 5) CVR B TOLIBAO $ 3.99
MONSTER PLANET #5 (OF 5) CVR C BURNS $ 3.99
NAILBITER RETURNS #2 $ 3.99
NEGAN LIVES #1 (MR) $ 4.99
NEGAN LIVES #1 SILVER VAR (MR) $ ???
PLOT #5 $ 3.99
PRETTY VIOLENT #7 (MR) $ 3.99
PROTECTOR #4 (MR) $ 3.99
REAVER #9 (MR) $ 3.99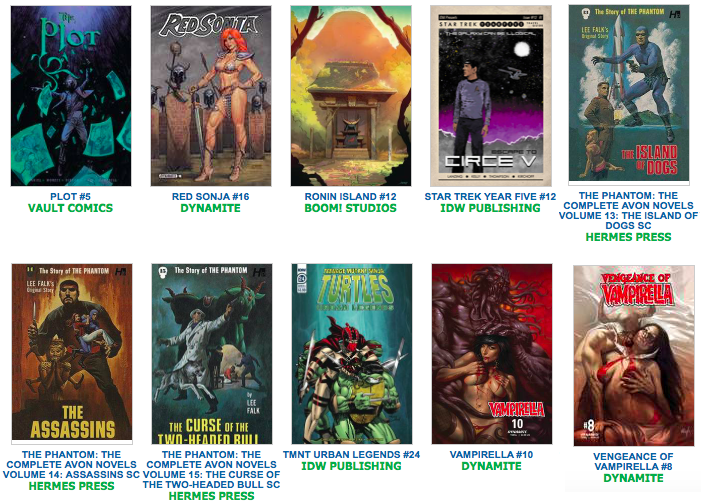 RED SONJA #16 LINSNER B&W $ ???
RED SONJA #16 LEE B&W $ ???
RED SONJA #16 CVR A LEE $ 3.99
RED SONJA #16 CVR B LINSNER $ 3.99
RED SONJA #16 CVR E DECOBRAY COSPLAY $ 3.99
RONIN ISLAND #12 CVR A MILONOGIANNIS $ 3.99
STAR TREK YEAR FIVE #12 CVR A THOMPSON $ 3.99
TMNT URBAN LEGENDS #24 CVR A FOSCO $ 3.99
VAMPIRELLA #10 PARRILLO B&W $ ???
VAMPIRELLA #10 NIXIE SWEET COSPLAY VIRGIN $ ???
VAMPIRELLA #10 GUNDUZ VIRGIN $ ???
VAMPIRELLA #10 MARCH VIRGIN $ ???
VAMPIRELLA #10 PARRILLO VIRGIN B&W $ ???
VAMPIRELLA #10 CASTRO FOC BONUS VAR $ 3.99
VAMPIRELLA #10 CVR A PARRILLO $ 3.99
VAMPIRELLA #10 CVR B MARCH $ 3.99
VAMPIRELLA #10 CVR C DALTON $ 3.99
VAMPIRELLA #10 CVR D GUNDUZ $ 3.99
VAMPIRELLA #10 CVR E NIXIE SWEET COSPLAY $ 3.99
VENGEANCE OF VAMPIRELLA #8 TITAN COSPLAY $ ???
VENGEANCE OF VAMPIRELLA #8 OLIVER B&W $ ???
VENGEANCE OF VAMPIRELLA #8 CVR A PARILLO $ 3.99
VENGEANCE OF VAMPIRELLA #8 CVR B OLIVER $ 3.99
VENGEANCE OF VAMPIRELLA #8 CVR D TITAN COSPLAY $ 3.99

CARTOONS MAGAZINE #27 $ 6.99
COMIC SHOP NEWS #1715 $ FREE
MAD MAGAZINE #14 $ 5.99

ABSOLUTE FOURTH WORLD BY JACK KIRBY HC VOL 01 $ 150
ACTION PRESIDENTS COLOR SC GN VOL 02 ABRAHAM LINCOLN $ 10.99
BATMAN ARKHAM ASYLUM NEW EDITION TP (RES) (MR) $ 19.99
BECOMING BRIANNA GN $ 12.99
BERSERK DELUXE EDITION HC VOL 05 (MR) $ 49.99
BLACK CLOVER GN VOL 21 $ 9.99
BUFFY VAMPIRE SLAYER TP VOL 03 $ 14.99
CRISIS ON INFINITE EARTHS PARAGONS RISING DLX ED HC $ 17.99
DISNEY MOANA STORY OF THE MOVIE IN COMICS HC $ 10.99
DRAGON BALL SUPER GN VOL 09 $ 9.99
DRIFTING DRAGONS GN VOL 04 $ 12.99
EXCALIBUR BY TINI HOWARD TP VOL 01 $ 17.99
FIRE POWER BY KIRKMAN & SAMNEE TP VOL 01 PRELUDE $ 9.99
HELLBOY AND THE BPRD BEAST OF VARGU & OTHERS TP $ 19.99
HI SCORE GIRL GN VOL 02 $ 12.99
INFINITY GAUNTLET MARVEL SELECT HC $ 29.99
ISOLA TP VOL 02 $ 16.99
JIM HENSON DARK CRYSTAL RESISTANCE QUEST FOR DUAL GLAIVE HC $ 24.99
KABUKI OMNIBUS TP VOL 03 $ 29.99
KOMI CANT COMMUNICATE GN VOL 07 $ 9.99
MARVELS BLACK WIDOW PRELUDE TP $ 14.99
MY HERO ACADEMIA GN VOL 24 $ 9.99
NIGHTWING YEAR ONE DELUXE ED HC $ 29.99
PARASITE GRAPHIC NOVEL IN STORYBOARDS $ 30
PHANTOM COMP AVON NOVELS VOL 13 ISLAND OF DOGS $ 14.99
PHANTOM COMP AVON NOVELS VOL 14 ASSASSINS $ 14.99
PHANTOM COMP AVON NOVELS VOL 15 CURSE OF TWO HEADED BULL $ 14.99
PROMISED NEVERLAND GN VOL 15 $ 9.99
RED HOOD OUTLAW TP VOL 03 GENERATION OUTLAW $ 16.99
STEVEN UNIVERSE ONGOING TP VOL 07 OUR FEARFUL TRIP $ 14.99
TIMELYS SUB-MARINER EVERETT POST-WAR OMNIBUS HC DM VAR $ 125
UMBRELLA ACADEMY DALLAS DLX LTD HC VOL 02 $ 79.99
WHAT IF CLASSIC COMPLETE COLLECTION TP VOL 04 $ 39.99
YONA OF THE DAWN GN VOL 24 $ 9.99
YOUNG AVENGERS BY GILLEN MCKELVIE COMPLETE COLLECTION TP $ 34.99

AVENGERS LEGENDS VIDEO GAME 6IN AF ASST $ ???
ONE-12 COLLECTIVE MARVEL CAPTAIN MARVEL AF $ ???
SW MAN BABY BOUNTIES FROG/FORCE FIG 2PK CS $ ???
SW MAN BABY BOUNTIES HOLD ME/BALL FIG 2PK CS $ ???
SW MAN BABY BOUNTIES SOUP/BLANKET FIG 2PK CS $ ???

AVENGERS RAGE OF ULTRON BY OPENA POSTER $ 8.99
CHAMPIONS #1 BY RAMOS POSTER $ 8.99
MOON GIRL AND DEVIL DINOSAUR #11 BY REEDER POSTER $ 8.99
ROCKET RACCOON #1 POSTER $ 8.99
STAR-LORD BY ANKA POSTER $ 8.99
VENOM SPACE KNIGHT #1 BY OLIVETTI POSTER $ 8.99