Death Metal Going Thru My Head on Wednesday, August 12th, 2020
Actually, I'm not sure exactly what kind of music that is, but DC's Death Metal is on the list, and it sees appropriate this week, considering the breakdown of everything in our world. And Mine! My life, my career, my aspirations, my hobbies, my money, my passwords, Bob's eBay sales, MY ebay sales, EVERYTHING THAT MATTERS, is lost to me because my laptop died, or at least the battery did. I have an appointment at the Apple store in Walnut Creek later today. I am trying my best to keep up with certain vital tasks with a smart phone and a tablet, but everything takes much longer. I'll be lucky to get it all done. And if the hard drive is gone, so will I be, because I'll just explode. On the Bay Bridge. On Camera. Blaming Apple, Inc. The most valuable company in human history, my @$$.
Wednesday is STILL New Comic Day, no matter what you read on the internets. We can't clear the new rack to just have 10 DC's  surrounded by empty space. AND we can't depend on the new Distributor and FedEx to show up on time. We do it once, Wednesday morning.
There are Marvel's, DC's and other publisher's comics in the boxes, soon to be on the shelves, and then to be bought. Let's Do It!
Four more FCBD editions – Ask Bob.
I was there! I straightened the Pops last week and I pulled 150 out of the back to re-stock, and put out 20 new ones that were still in shipping boxes. And I'll probably do more today before my appointment with the Apple Gods. So Pops are back! And you can reach most of them!
Free Comic Book Day – 's of Summer continues. I'm adding to the list each week so check out our good ol' Free Comic Book Day page.
We encourage everyone to be careful, make your trip to our store quick and efficient, and try to come in to shop in smaller groups, and reduce your own exposure to ALL public places indoors, including ours. Bob is open, bring your mask, keep your distance, and help keep Bob healthy.  If you like, you can browse the list and make an order to Our "strategic partner" (for images), had some kind of problem and published mostly blanks, so I don't have very many. I might have to search for a new image "parter".
fbgbob@aol.com
for a quicker pick up. It might also help to put in a time window when you would be in the neighborhood, to give Bob a chance to get them together, and include a phone number for good measure.
Please wear a mask!
Watch this space and our Facebook page for latest news about the rest of the month, season, year, millenium, etc. (And text messages from 5-Star.) The complete list is found below. If you want to know about the next sale or store event, or whether or not WE ARE EVEN OPEN click here. Sign in here to get an email reminder for for ALL sales and other events. Also, you can go to     fb.fantasybooksandgames.com and you'll be taken to our Facebook page. We also use our in-store 5-Star Rewards system to text similar announcements to your phone.
Thanks to Comics on the Green for this week's images, which include many of the comics and a few of the books and other items we received today, and may have pics of things we didn't and/or won't get. Use the list, and maybe the picture.
ADVENTUREMAN #3 (RES) $ 3.99
ALIENATED #5 (OF 6) $ 3.99
AMAZING SPIDER-MAN #46 $ 3.99
AMAZING SPIDER-MAN #46 BAGLEY VAR $ 3.99
ANIMOSITY #28 (MR) $ 3.99
BATMAN AND THE OUTSIDERS #15 $ 3.99
BATMAN AND THE OUTSIDERS #15 CULLY HAMNER VAR ED $ 3.99
BATMANS GRAVE #9 (OF 12) $ 3.99
BATMANS GRAVE #9 (OF 12) CARD STOCK S PLATT VAR ED $ 4.99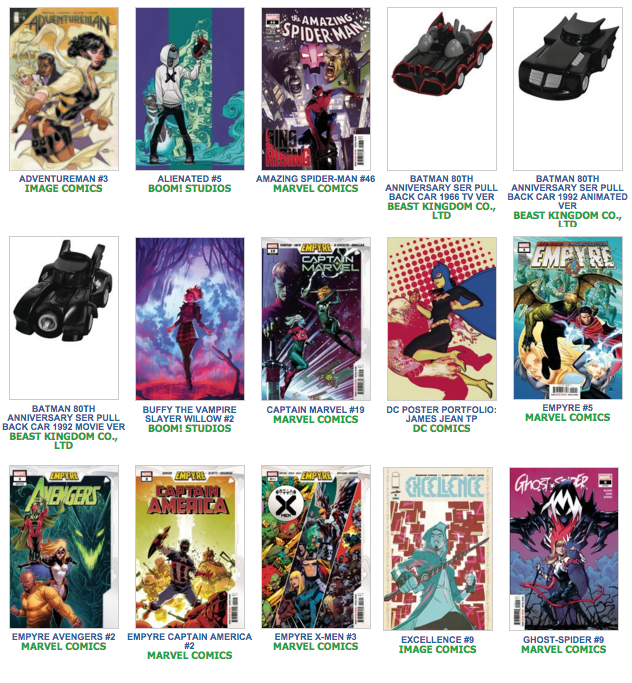 BETTY & VERONICA JUMBO COMICS DIGEST #285 $ 7.99
BLOODSHOT (2019) (NEW ARC) #7 CVR E FULLY LOADED VAR $ 3.99
BUFFY THE VAMPIRE SLAYER WILLOW #2 CVR A BARTEL $ 3.99
BUFFY THE VAMPIRE SLAYER WILLOW #2 CVR B ANDOLFO $ 3.99
CAPTAIN MARVEL #19 EMP $ 3.99
CAPTAIN MARVEL #19 OLIVETTI EMPYRE VAR EMP $ 3.99
DARK NIGHTS DEATH METAL #1 (OF 6) Second Printing $ 4.99
DARK NIGHTS DEATH METAL #3 (OF 6) $ 4.99
DARK NIGHTS DEATH METAL #3 (OF 6) DAVID FINCH VAR ED $ 4.99
DARK NIGHTS DEATH METAL #3 (OF 6) DOUG MAHNKE 1:25 VAR ED $ ???
DARK NIGHTS DEATH METAL #3 (OF 6) RICCARDO FEDERICI VAR ED $ 4.99
DARK NIGHTS DEATH METAL #3 (OF 6) STANLEY LAU VAR ED $ 4.99
DCEASED DEAD PLANET #1 (OF 6) Third Printing $ 4.99
DETECTIVE COMICS #1025 CARD STOCK LEE BERMEJO VAR ED JOKER W $ 4.99
DETECTIVE COMICS #1025 JOKER WAR $ 3.99
DEVILS HIGHWAY #2 (MR) $ 3.99
DRYAD #4 $ 3.99
EMPYRE #5 (OF 6) $ 4.99
EMPYRE #5 (OF 6) CHRISTOPHER 2-PACK ACTION FIGURE VAR $ 4.99
EMPYRE #5 (OF 6) DANIEL SKRULL KREE VAR $ 4.99
EMPYRE #5 (OF 6) LOZANO AVENGER VAR $ 4.99
EMPYRE #5 (OF 6) MICHAEL CHO FF VAR $ 4.99
EMPYRE AVENGERS #2 (OF 3) $ 3.99
EMPYRE AVENGERS #2 (OF 3) MORA VAR $ 3.99
EMPYRE CAPTAIN AMERICA #2 (OF 3) $ 3.99
EMPYRE CAPTAIN AMERICA #2 (OF 3) LUKE ROSS VAR $ 3.99
EMPYRE X-MEN #3 (OF 4) $ 4.99
EMPYRE X-MEN #3 (OF 4) TO VAR $ 4.99
EXCELLENCE #9 CVR A RANDOLPH & LOPEZ $ 3.99
FLASH #759 $ 3.99
FLASH #759 INHYUK LEE VAR ED $ 3.99
GHOST-SPIDER #9 $ 3.99
GREEN LANTERN SEASON 2 #6 (OF 12) $ 3.99
GREEN LANTERN SEASON 2 #6 (OF 12) TONY DANIEL VAR ED $ 3.99
HAWKEYE FREE FALL #5 $ 3.99
HAWKMAN #26 $ 3.99
HAWKMAN #26 SEBASTIAN FIUMARA VAR ED $ 3.99

IMMORTAL HULK #36 $ 3.99
JUDGE DREDD FALSE WITNESS #2 (OF 4) CVR A ZAMA $ 3.99
JUSTICE LEAGUE ODYSSEY #23 $ 3.99
JUSTICE LEAGUE ODYSSEY #23 SKAN VAR ED $ 3.99
MARAUDERS #11 $ 3.99
MARAUDERS #11 RODRIGUEZ DAYS OF FUTURE PAST $ 3.99
MIRKA ANDOLFOS UNSACRED #7 CVR A MIRKA ANDOLFO (MR) $ 3.99
MY LITTLE PONY FRIENDSHIP IS MAGIC #89 JUSTASUT $ ???
MY LITTLE PONY FRIENDSHIP IS MAGIC #89 MEBBERSO $ ???
MY LITTLE PONY FRIENDSHIP IS MAGIC #89 CVR A PRICE $ 4.99
OBLIVION SONG BY KIRKMAN & DE FELICI #26 (MR) $ 3.99
RED MOTHER #7 $ 3.99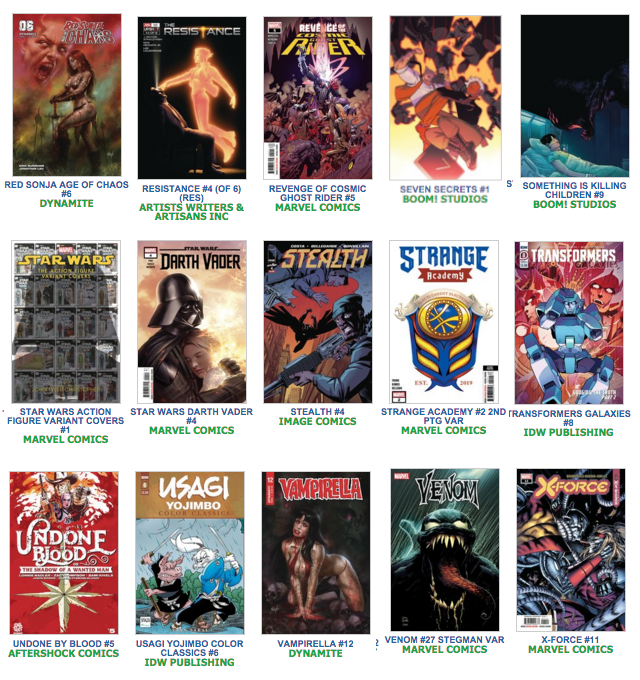 RED SONJA AGE OF CHAOS #6 KUNKKA $ ???
RED SONJA AGE OF CHAOS #6 CHEW MONOCHROMATIC $ ???
RED SONJA AGE OF CHAOS #6 KUNKKA VIRGIN $ ???
RED SONJA AGE OF CHAOS #6 COSPLAY VIRGIN $ ???
RED SONJA AGE OF CHAOS #6 CHEW MONOCHROMATIC VIRGIN $ ???
RED SONJA AGE OF CHAOS #6 CHATZOUDIS BONUS VAR $ ???
RED SONJA AGE OF CHAOS #6 CVR A PARRILLO $ 3.99
RED SONJA AGE OF CHAOS #6 CVR B QUAH $ 3.99
RED SONJA AGE OF CHAOS #6 CVR C GARZA $ 3.99
RED SONJA AGE OF CHAOS #6 CVR E BLOOM COSPLAY $ 3.99
RED SONJA AGE OF CHAOS #6 LAU FOC BONUS VAR $ 3.99
RESISTANCE #4 (OF 6) (RES) $ 3.99
REVENGE OF COSMIC GHOST RIDER #5 (OF 5) $ 3.99
REVENGE OF COSMIC GHOST RIDER #5 (OF 5) LUBERA VAR $ 3.99
ROBYN HOOD JUSTICE #2 CVR B VITORINO (RES) $ 3.99
ROBYN HOOD JUSTICE #2 CVR C NELLY JIMENEZ (RES) $ 3.99
SEVEN SECRETS #1 FOC LEE VAR $ 3.99
SEVEN SECRETS #1 MAIN $ 3.99
SEVEN SECRETS #1 SECRET SPOILER VAR $ 4.99
SOMETHING IS KILLING CHILDREN #9 $ 3.99
SONATA #12 (MR) $ 3.99
SONATA #12 3D EDITION (MR) $ 7.99
STAR WARS ACTION FIGURE VARIANT COVERS #1 $ 9.99
STAR WARS ACTION FIGURE VARIANT COVERS #1 CHRISTOPHER VAR $ 9.99
STAR WARS DARTH VADER #4 $ 3.99
STAR WARS DARTH VADER #4 SPROUSE EMPIRE STRIKES BACK VAR $ 3.99
STEALTH #4 (OF 6) (RES) $ 3.99
STRANGE ACADEMY #1 2ND PTG HERRERA VAR $ 4.99
STRANGE ACADEMY #2 2ND PTG VAR $ 3.99
SUPERMAN #24 $ 3.99
SUPERMAN #24 BRYAN HITCH VAR ED $ 3.99
TRANSFORMERS GALAXIES #8 MCGUIRE-SMITH $ ???
TRANSFORMERS GALAXIES #8 CVR A MIYAO $ 3.99
TRANSFORMERS GALAXIES #8 CVR B CHAN $ 3.99
UNDONE BY BLOOD #5 (RES) $ 3.99
USAGI YOJIMBO COLOR CLASSICS #6 (OF 7) CVR A SAKAI $ 3.99
VAMPIRELLA #12 PARRILLO B&W $ ???
VAMPIRELLA #12 HETRICK VIRGIN FOC $ ???
VAMPIRELLA #12 RAMIREZ COSPLAY VIRGIN $ ???
VAMPIRELLA #12 GUNDUZ VIRGIN $ ???
VAMPIRELLA #12 PARRILLO VIRGIN B&W $ ???
VAMPIRELLA #12 CASTRO FOC BONUS VAR $ ???
VAMPIRELLA #12 CVR A PARRILLO $ 3.99
VAMPIRELLA #12 CVR B CANGA $ 3.99
VAMPIRELLA #12 CVR C DALTON $ 3.99
VAMPIRELLA #12 CVR D GUNDUZ $ 3.99
VAMPIRELLA #12 CVR E RAMIREZ COSPLAY $ 3.99
VAMPIRELLA #12 HETRICK FOC BONUS VAR $ ???
VENOM #27 $ 3.99
VENOM #27 STEGMAN VAR $ 3.99
WONDER WOMAN #760 $ 3.99
WONDER WOMAN #760 CARD STOCK J MIDDLETON VAR ED $ 4.99
X-FORCE #11 $ 3.99

COMIC SHOP NEWS #1721 $ FREE

BATMAN AND THE OUTSIDERS TP VOL 02 A LEAGUE OF THEIR OWN $ 16.99
BEN 10 ORIGINAL GN CREATURE FROM SERENITY SHORE $ 7.99
BUFFY VAMPIRE SLAYER LEGACY EDITION TP VOL 01 $ 29.99
CAPTAIN MARVEL TP MANY LIVES CAROL DANVERS $ 29.99
CASE CLOSED GN VOL 75 $ 9.99
CONSTITUTION ILLUSTRATED GN $ 14.95
CORTO MALTESE GN MU LOST CONTINENT $ 34.99
CRUEL SUMMER HC (MR) $ 34.99
DC POSTER PORTFOLIO JAMES JEAN TP $ 24.99
Green Lantern: Earth One Vol. 2 HC $ 24.99
HELLSTROM TP EVIL ORIGINS $ 24.99
HEROES REBORN TP CAPTAIN AMERICA NEW PTG $ 44.99
KOMI CANT COMMUNICATE GN VOL 08 $ 9.99
LEGEND OF ZELDA TWILIGHT PRINCESS GN VOL 07 $ 9.99
LOIS LANE AND THE FRIENDSHIP CHALLENGE TP $ 9.99
LONELINESS OF LONG-DISTANCE CARTOONIST HC TOMINE (MR) $ 29.95
LUMBERJANES TP VOL 15 $ 14.99
MAGICAL ADV PHOEBE & HER UNICORN HC GN $ 14.99
RWBY TP $ 16.99
SCREAM TP VOL 01 CURSE OF CARNAGE $ 17.99
SPIDER-GWEN GN TP AMAZING POWERS $ 12.99
SPIDER-HAM TP APORKALYPSE NOW $ 15.99
STAR WARS DARTH VADER DARK LORD SITH HC VOL 02 $ 34.99
SYMBIOTE SPIDER-MAN TP ALIEN REALITY $ 15.99
WONDER TWINS TP VOL 02 FALL & RISE OF THE WONDER TWINS $ 16.99
WONDER WOMAN #750 THE DELUXE EDITION HC $ 17.99
WONDER WOMAN THE MANY LIVES OF MAXWELL LORD TP $ 16.99

BATMAN 80TH ANNIVERSARY SER PULL BACK CAR 1966 TV VER $ 4.99
BATMAN 80TH ANNIVERSARY SER PULL BACK CAR 1992 ANIMATED VER $ 4.99
BATMAN 80TH ANNIVERSARY SER PULL BACK CAR 1992 MOVIE VER $ 4.99
BATMAN 80TH ANNIVERSARY SER PULL BACK CAR 1995 VER $ 4.99
BATMAN 80TH ANNIVERSARY SER PULL BACK CAR 1997 VER $ 4.99
BATMAN 80TH ANNIVERSARY SER PULL BACK CAR 2005 VER $ 4.99
BATMAN 80TH ANNIVERSARY SER PULL BACK CAR 2017 VER $ 4.99
DC GALLERY COMIC POISON IVY PVC STATUE $ 49.99
GODZILLA 1989 CLASSIC GODZILLA 12IN HEAD TO TAIL AF $ 24.99
GODZILLA 2003 CLASSIC GODZILLA 12IN HEAD TO TAIL AF $ 24.99
GUNDAM BUILD DIVERS RE RISE EXQ MAY FIG $ 24.99
MARVEL COMICS MEA-013 SPIDER-GWEN PX FIG $ 12.99
MARVEL COMICS MEA-013 SPIDER-MAN MILES MORALES PX FIG $ 12.99
MARVEL COMICS MEA-013 SPIDER-MAN PETER PARKER PX FIG $ 12.99
MARVEL COMICS MEA-013 VENOM PX FIG $ 12.99
MY HERO ACADEMIA AGE OF HEROES KATSUKI BAKUGO FIG $ 24.99
POCKET POP SOUL POP 2 VINYL FIG KEYCHAIN $ 5.99
POCKET POP WONDER WOMAN 1984 FIGURE 1 KEYCHAIN $ 5.99
POCKET POP WONDER WOMAN 1984 FIGURE 2 KEYCHAIN $ 5.99
POCKET POP WONDER WOMAN 1984 FIGURE 4 KEYCHAIN $ 5.99
POCKET POP WONDER WOMAN 1984 WONDER WOMAN KEYCHAIN $ 5.99
POP ANIMATION YU GI OH EXODIA 6IN VINYL FIG $ ???
POP ANIMATION YU GI OH JOEY WHEELER VIN FIG $ 11.99
POP ANIMATION YU GI OH RED EYES BLACK DRAGON VIN FIG $ 11.99
POP DC WONDER WOMAN 1984 PEN TOPPER 16PC ASST $ ???
POP NBA NEW ORLEANS PELICANS ZION WILLIAMSON VIN FIG $ 11.99
POP SW MANDALORIAN THE CHILD VINYL FIG $ 11.99

FCBD 2020 BLADE RUNNER (MR) Ask Bob
FCBD 2020 CRITICAL ROLE & NORSE MYTHOLOGY (MR) Ask Bob
FCBD 2020 HILLBILLY LIZARD OF RUSTY CREEK CAVE Ask Bob
FCBD 2020 LITTLE LULU NO BOYS ALLOWED Ask Bob