The President Went Postal – Mayhem on Wednesday, August 19th, 2020
Kind of a big week for comics. There are Marvel's, DC's and other publisher's comics in the boxes, soon to be on the shelves, and then to be bought. Come on down. There will be action, pithy dialogue, skimpy costumes, and perhaps 100's of new Funko Pops. It's kind of crazy. Like the dam broke. The Dam of the Lake of Pops. I'm terrified.
Last week I got a jump start from the Apple Store and bought a bigger, better charger the next day, and have an appointment to get the battery installed later today. So now, I'm feeling cool winds blowing and birds singing! Wednesday is STILL New Comic Day, no matter what you read on the internets. We can't clear the new rack to just have 10 DC's  surrounded by empty space. AND we can't depend on the new Distributor and FedEx to show up on time. We do it once, Wednesday morning.
Only 2 FCBD editions today – Ask Bob. Free Comic Book Day – 's of Summer continues. I'm adding to the list each week so check out our good ol' Free Comic Book Day page.
We encourage everyone to be careful, make your trip to our store quick and efficient, and try to come in to shop in smaller groups, and reduce your own exposure to ALL public places indoors, including ours. Bob is open, bring your mask, keep your distance, and help keep Bob healthy.  If you like, you can browse the list and make an order to
fbgbob@aol.com
for a quicker pick up. It might also help to put in a time window when you would be in the neighborhood, to give Bob a chance to get them together, and include a phone number for good measure.
Please wear a mask!
Watch this space and our Facebook page for latest news about the rest of the month, season, year, millenium, etc. (And text messages from 5-Star.) The complete list is found below. If you want to know about the next sale or store event, or whether or not WE ARE EVEN OPEN click here. Sign in here to get an email reminder for for ALL sales and other events. Also, you can go to     fb.fantasybooksandgames.com and you'll be taken to our Facebook page. We also use our in-store 5-Star Rewards system to text similar announcements to your phone.
Thanks to Comics on the Green for this week's images, which include many of the comics and a few of the books and other items we received today, and may have pics of things we didn't and/or won't get. Use the list, and maybe the picture.  
A MAN AMONG YE #2 $ 3.99
ADLER #3 CVR A HUGHES (RES) $ 3.99
ADLER #3 CVR B MCCAFFREY (RES) $ 3.99
Angel & Spike 12 $ 3.99
ANT-MAN #5 (OF 5) $ 3.99
AQUAMAN #62 $ 3.99
AQUAMAN #62 TYLER KIRKHAM VAR ED $ 3.99
ARCHIE JUMBO COMICS DIGEST #312 $ 7.99
AVENGERS #34 2ND PTG GARRON VAR $ 3.99
AVENGERS #35 $ 3.99
BATMAN #97 CARD STOCK F MATTINA VAR ED JOKER WAR $ 4.99
BATMAN #97 JOKER WAR $ 3.99
BATMAN #97 JOKER WAR 1 25 variant $ ???
Batman Adventures: Batgirl A League of Her Own $ 9.99
BIG GIRLS #1 $ 3.99
CABLE #3 $ 3.99
CAPTAIN AMERICA #22 $ 3.99
CAPTAIN MARVEL #20 DEKAL EMPYRE VAR EMP $ 3.99
CAPTAIN MARVEL #20 EMP $ 3.99
CATWOMAN #23 Second Printing $ 3.99
CATWOMAN #24 $ 3.99
CATWOMAN #24 JUNGGEUN YOON VAR ED $ 3.99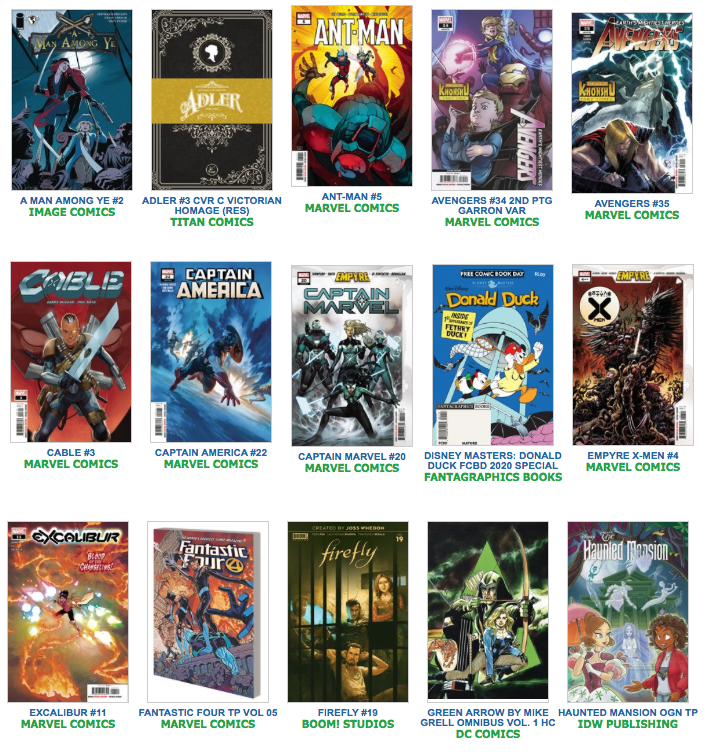 CHU #1 2ND PTG (MR) $ 3.99
CONAN BATTLE FOR SERPENT CROWN #4 (OF 5) $ 3.99
CONAN BATTLE FOR SERPENT CROWN #4 (OF 5) PETROVICH VAR $ 3.99
DARK NIGHTS DEATH METAL GUIDEBOOK #1 $ 5.99
DARK NIGHTS DEATH METAL GUIDEBOOK #1 1/:25 VAR ED $ ???
DECORUM #4 (OF 8) CVR A HUDDLESTON (RES) (MR) $ 3.99
DECORUM #4 (OF 8) CVR B HUDDLESTON (RES) (MR) $ 3.99
DIE DIE DIE #12 (RES) (MR) $ 3.99
EMPYRE X-MEN #4 (OF 4) $ 4.99
EMPYRE X-MEN #4 (OF 4) LARROCA VAR $ 4.99
EXCALIBUR #11 $ 3.99
FAITHLESS II #3 CVR A LLOVET (MR) $ 3.99
FAITHLESS II #3 CVR B EROTICA CONNECTING VAR (MR) $ 4.99
FIREFLY #19 CVR A MAIN ASPINALL $ 3.99
FIREFLY #19 CVR B KAMBADAIS VAR $ 3.99
GEORGE RR MARTIN A CLASH OF KINGS #6 RUBI VIRGIN INC $ 3.99
GIDEON FALLS #24 CVR A SORRENTINO & STEWART (MR) $ 3.99
GIDEON FALLS #24 CVR B CAMUNCOLI (MR) $ 3.99
HARLEY QUINN #75 (NOTE PRICE) $ 5.99
HARLEY QUINN #75 (NOTE PRICE) $ 5.99
HARLEY QUINN #75 FRANK CHO VAR ED (NOTE PRICE) $ 5.99
HARLEY QUINN #75 FRANK CHO VAR ED (NOTE PRICE) $ 5.99
Hellions 2 $ 3.99
HORIZON ZERO DAWN #1 CVR A ARTGERM (RE/CR) $ 3.99
HORIZON ZERO DAWN #1 CVR D MAULINA $ 3.99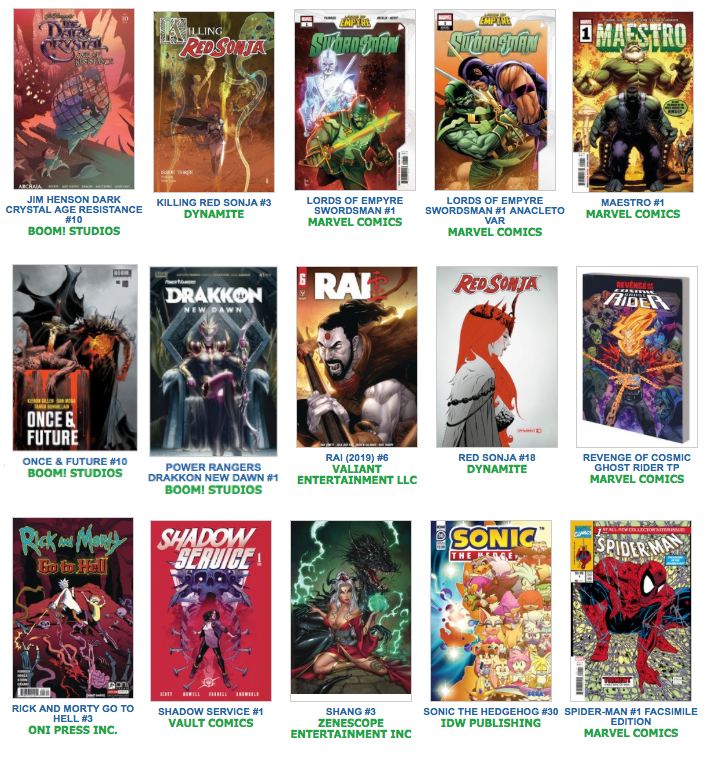 HOTELL #4 (OF 4) (RES) (MR) $ 3.99
JIM HENSON DARK CRYSTAL AGE RESISTANCE #10 CVR A FINDEN $ 3.99
JIM HENSON DARK CRYSTAL AGE RESISTANCE #10 CVR B MATTHEWS CO $ 3.99
JIM HENSON DARK CRYSTAL AGE RESISTANCE #10 CVR C $ 3.99
JUSTICE LEAGUE #51 $ 3.99
JUSTICE LEAGUE #51 VAR ED $ 3.99
KILLING RED SONJA #3 CASTRO B&W VIRGIN $ ???
KILLING RED SONJA #3 WARD COLOR $ ???
KILLING RED SONJA #3 CASTRO BONUS VAR $ ???
KILLING RED SONJA #3 CVR A WARD $ 3.99
KILLING RED SONJA #3 CVR B GEDEON HOMAGE $ 3.99
LORDS OF EMPYRE SWORDSMAN #1 $ 4.99
LORDS OF EMPYRE SWORDSMAN #1 LAROCCA VAR $ 4.99
LOW #24 CVR A TOCCHINI & MCCAIG (RES) (MR) $ 3.99
LOW #24 CVR B FIUMARA (RES) (MR) $ 3.99
LUDOCRATS #4 (OF 5) (MR) $ 3.99
MAESTRO #1 (OF 5) $ 4.99
MAESTRO #1 (OF 5) BENNETT VAR $ 4.99
MAESTRO #1 (OF 5) GAME VAR $ 4.99
MAESTRO #1 (OF 5) GARNEY VAR $ 4.99
MAESTRO #1 (OF 5) PEREZ VAR (1/25) $ ???
MAESTRO #1 (OF 5) RON LIM VAR $ 4.99
METAL MEN #9 (OF 12) $ 3.99
METAL MEN #9 (OF 12) CARD STOCK BRIAN BOLLAND VAR ED $ 4.99
NIGHTWING #73 ALAN QUAH VAR ED JOKER WAR $ 3.99
NIGHTWING #73 JOKER WAR $ 3.99
ONCE & FUTURE #10 $ 3.99
POWER RANGERS DRAKKON NEW DAWN #1 MORA $ ???
POWER RANGERS DRAKKON NEW DAWN #1 CVR A MAIN SECRET $ 4.99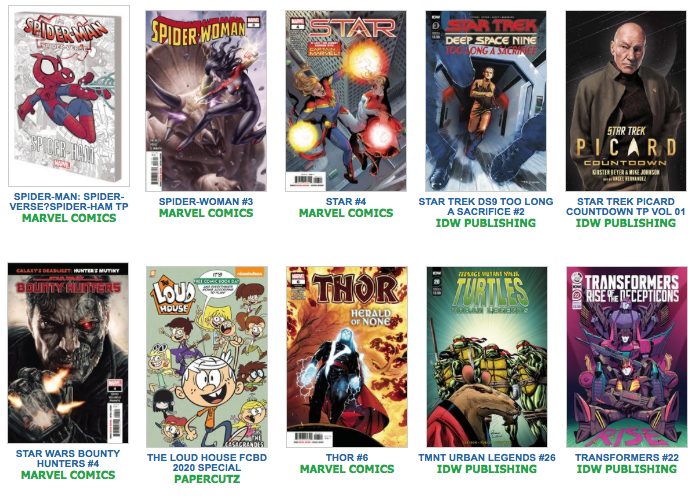 POWER RANGERS DRAKKON NEW DAWN #1 FOIL VAR $ 5.99
POWER RANGERS RANGER SLAYER #1 (2ND PTG) $ 7.99
RAGNAROK BREAKING OF HELHEIM #6 (OF 6) CVR A SIMONSON $ 4.99
RAI (2019) #6 CVR A DIAZ $ 3.99
RED SONJA #18 MIRACOLO AMERICA TOGETHER VIRGIN $ ???
RED SONJA #18 BOB Q VIRGIN $ ???
RED SONJA #18 PEPOY SEDUCTION B&W $ ???
RED SONJA #18 CVR B LINSNER $ 3.99
RED SONJA #18 CVR E DECOBRAY COSPLAY $ 3.99
RICK AND MORTY GO TO HELL #3 CVR A OROZA $ 3.99
RICK AND MORTY GO TO HELL #3 CVR B OROZA $ 3.99
SAVAGE DRAGON #251 (RES) (MR) $ 3.99
SCOOBY DOO WHERE ARE YOU #105 $ 2.99
SHADOW SERVICE #1 CVR A HOWELL & FARRELL $ ???
SHADOW SERVICE #1 CVR B DANIEL & GOODEN $ ???
SHADOW SERVICE #1 CVR C ISAACS $ ???
SHANG #3 (OF 3) CVR C DOONEY $ 5.99
SOMETHING IS KILLING CHILDREN #7 (2ND PTG) $ 3.99
SONIC THE HEDGEHOG #30 FOURDRAINE $ ???
SONIC THE HEDGEHOG #30 CVR A THOMAS $ 3.99
SONIC THE HEDGEHOG #30 CVR B SKELLY $ 3.99
SPIDER-MAN #1 FACSIMILE EDITION $ 3.99
SPIDER-WOMAN #3 $ 3.99
SPIDER-WOMAN #3 NAKAYAMA VILLAIN VAR $ 3.99
STAR #4 (OF 5) $ 3.99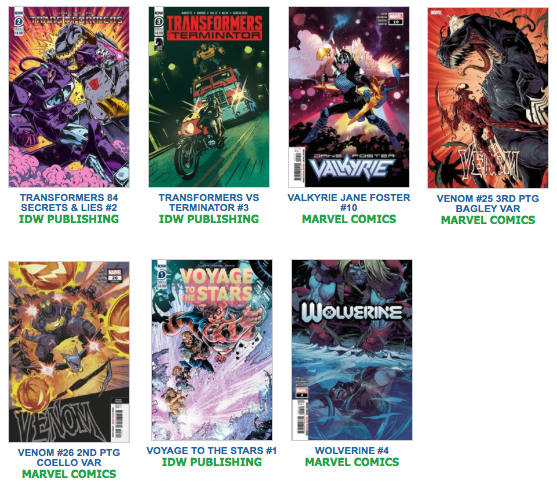 STAR TREK DS9 TOO LONG A SACRIFICE #2 WOODWARD $ ???
STAR TREK DS9 TOO LONG A SACRIFICE #2 CVR A DRUMOND $ 3.99
STAR TREK DS9 TOO LONG A SACRIFICE #2 CVR B PHOTO $ 3.99
STAR WARS BOUNTY HUNTERS #4 $ 3.99
STAR WARS BOUNTY HUNTERS #4 SPROUSE EMPIRE STRIKES BACK VAR $ 3.99
TEEN TITANS #44 $ 3.99
TEEN TITANS #44 KHARY RANDOLPH VAR ED $ 3.99
THOR #6 $ 3.99
THOR #6 DELLOTTO VAR (1/50) $ ???
THOR #6 SKROCE SPOILER VAR $ 3.99
TMNT URBAN LEGENDS #26 CVR A FOSCO $ 3.99
TMNT URBAN LEGENDS #26 CVR B KUHN $ 3.99
TRANSFORMERS #22 CHAN $ ???
TRANSFORMERS #22 CVR A MALKOVA $ 3.99
TRANSFORMERS #22 CVR B GRIFFITH $ 3.99
TRANSFORMERS 84 SECRETS & LIES #2 (OF 4) ROCHE $ ???
TRANSFORMERS 84 SECRETS & LIES #2 (OF 4) CVR A GUIDI $ 3.99
TRANSFORMERS 84 SECRETS & LIES #2 (OF 4) CVR B COLLER $ 3.99
TRANSFORMERS VS TERMINATOR #3 (OF 4) WILLIAMS I $ ???
TRANSFORMERS VS TERMINATOR #3 (OF 4) CVR A FULLERTON $ 3.99
TRANSFORMERS VS TERMINATOR #3 (OF 4) CVR B GRIFFITH $ 3.99
VALKYRIE JANE FOSTER #10 $ 3.99
VALKYRIE JANE FOSTER #10 RODRIGUEZ MARVEL ZOMBIES VAR $ 3.99
VENOM #25 3RD PTG BAGLEY VAR $ 5.99
VENOM #25 3RD PTG STEGMAN SKETCH VAR (1/25) $ ???
VENOM #26 2ND PTG COELLO VAR $ 3.99
VOYAGE TO THE STARS #1 (OF 4) WILLIAMS II $ ???
VOYAGE TO THE STARS #1 (OF 4) CVR A WILLIAMS II $ 3.99
WOLVERINE #4 $ 3.99
WOLVERINE #4 RODRIGUEZ DAYS OF FUTURE PAST VAR $ 3.99
WONDER WOMAN #759 Second printing $ 3.99
WONDER WOMAN ANNUAL #4 $ 4.99
WONDER WOMAN DEAD EARTH #4 (OF 4) (MR) $ 6.99
WONDER WOMAN DEAD EARTH #4 (OF 4) DANIEL W JOHNSON VAR ED (MR) $ 6.99

COMIC SHOP NEWS #1720 $ FREE
COMIC SHOP NEWS #1722 $ FREE
MAD MAGAZINE #15 $ 5.99

AERO & SWORD MASTER TP ORIGINS AND ODYSSEYS $ 17.99
BIRTHRIGHT TP VOL 09 $ 14.99
FANTASTIC FOUR TP VOL 05 POINT OF ORIGIN $ 17.99
GOBLIN SLAYER SIDE STORY YEAR ONE GN VOL 05 (MR) $ 13
GREEN ARROW LONGBOW HUNTERS OMNIBUS HC VOL 01 $ 150
HAUNTED MANSION OGN TP (RES) $ 9.99
MY LITTLE PONY FRIENDSHIP IS MAGIC TP VOL 19 $ 17.99
OVER GARDEN WALL SOULFUL SYMPHONIES TP $ 14.99
POWER OF SHAZAM HC BOOK 01 IN THE BEGINNING $ 49.99
REVENGE OF COSMIC GHOST RIDER TP $ 15.99
SPIDER-HAM TP APORKALYPSE NOW $ 15.99
SPIDER-MAN SPIDER-VERSE GN TP SPIDER-HAM $ 9.99
STAR TREK PICARD COUNTDOWN TP VOL 01 $ 15.99
STAR WARS LEGENDS EPIC COLLECTION REBELLION TP VOL 04 $ 44.99
URUSEI YATSURA GN VOL 07 $ 19.99
Wonder Woman Vol. 2: Love is a Battlefield TP $ 19.99
WORLD OF CYBERPUNK 2077 HC (RE/CR) $ 39.99
X-MEN MILESTONES TP NECROSHA $ 39.99

TOPPS 2020 CHROME BASEBALL T/C BOX $ ???
TOPPS 2020 CHROME BASEBALL T/C JUMBO BOX $ ???
TOPPS 2020 STAR WARS CHROME PERSPECTIVES T/C BOX $ ???

AVENGERS VIDEO GAME 3D FOAM BAG CLIPS 24PC BMB DS $ ???
DC GALLERY COMIC METAL BATMAN PVC STATUE $ 49.99
GODZILLA CLASSIC SERIES2 3D FOAM BAG CLIP 24PCS BMB DS $ ???
MASTERS OF THE UNIVERSE 3D FOAM BAG CLIP 24PCS BMB DS $ ???
MYSTERY MINIS WONDER WOMAN 1984 12PC BMB DISP $ ???
POCKET POP MINIONS 2 KUNG FU KEVIN FIG KEYCHAIN $ 5.99
POCKET POP MINIONS 2 PAJAMA BOB FIG KEYCHAIN $ 5.99
POCKET POP MINIONS 2 PET ROCK OTTO FIG KEYCHAIN $ 5.99
POCKET POP MINIONS 2 ROLLER SKATING STUART FIG KEYCHAIN $ 5.99
POP ANIMATION HUNTER X HUNTER KILLYA LEORIO VIN FIG $ 11.99
POP ANIMATION HUNTER X HUNTER KILLYA ZOLDYCK VIN FIG $ 11.99
POP ANIMATION HUNTER X HUNTER KURAPIKA VIN FIG $ 11.99
POP ANIMATION PRIDE 2020 SANRIO HELLO KITTY RAINBOW VIN FIG $ 11.99
POP ANIMATION YU GI OH YUGI MUTOU VIN FIG $ 11.99
POP GAMES POKEMON S2 VULPIX VIN FIG $ 11.99
POP GAMES POKEMON S3 CUBONE $ 11.99
POP GAMES POKEMON S3 GROWLITHE $ 11.99
POP GAMES POKEMON S3 PIKACHU $ 11.99
POP GAMES POKEMON S3 RATTATA $ 11.99
POP ICONS MARILYN MONROE VIN FIG $ 11.99
POP MOVIES CHILDS PLAY CHUCKY 10IN FIG $ 38.99
POP SPIDER-MAN IMPOSTER VINYL 2PK FIG $ 29.99
POP STAR WARS MANDALORIAN THE CHILD 10IN FIG $ 39.99
POP STAR WARS MANDALORIAN THE MANDALORIAN VIN FIG $ 11.99
POP SW MANDALORIAN THE CHILD VINYL FIG $ 11.99
SW BLACK E5 40TH ANN 6IN YODA AF'S $ ???
SW BLACK SER CARBONIZED BOBA FETT 6IN AF'S $ ???
SW REBELS BLACK SERIES 6IN DLX ZEB ORRELIOS AF'S $ ???
SW REBELS BLACK SERIES 6IN EZRA BRIDGER AF'S $ ???
TRANSFORMERS GEN STUDIO SER VOYAGER SENTINEL P AF'S  $ ???

FCBD 2020 DISNEY MASTERS DONALD DUCK SPECIAL $ ASK BOB
FCBD 2020 LOUD HOUSE FCBD SPECIAL $ ASK BOB