Really Nasty Caucasians put on a Horror Show This Week on Wednesday, August 26th, 2020
Don't  turn on the TV tonight or tomorrow night. It will scare you and THEN turn you into a Zombie. Serious.
Just like last week, kind of a big week for comics. There are Marvel's, DC's and other publisher's comics in the boxes, soon to be on the shelves, and then to be bought. Come on down. There will be action, pithy dialogue, skimpy costumes, and perhaps more (but not 100's of) new Funko Pops.
Also, last week…"[I] … have an appointment to get the [Mac] battery installed later today. So now, I'm feeling cool winds blowing and birds singing!" Except there was a fire on the shoulder going up the hill on 580 close enough to home to scare me and I spent the evening packing the car for evacuation – important documents, tent, food, water, tools,  and a box of eBay merch worth its weight. (Everyone around here should do this!) Then we had smoke from Friday AM to Monday PM so I barely left the house. And I had it good. What about everyone down there, and over there? Madness.
Wednesday is STILL New Comic Day, no matter what you read on the internets. We can't clear the new rack to just have 10 DC's  surrounded by empty space. AND we can't depend on the new Distributor and FedEx to show up on time. We do it once, Wednesday morning.
Only 3 FCBD editions today – Ask Bob. Free Comic Book Day – 's of Summer continues. I'm adding to the list each week so check out our good ol' Free Comic Book Day page.
We encourage everyone to be careful, make your trip to our store quick and efficient, and try to come in to shop in smaller groups, and reduce your own exposure to ALL public places indoors, including ours. Bob is open, bring your mask, keep your distance, and help keep Bob healthy. 
If you like, you can browse the list and make an order to fbgbob@aol.com for a quicker pick up. It might also help to put in a time window when you would be in the neighborhood, to give Bob a chance to get them together, and include a phone number for good measure.
Please wear a mask!
Watch this space and our Facebook page for latest news about the rest of the month, season, year, millenium, etc. (And text messages from 5-Star.) The complete list is found below. If you want to know about the next sale or store event, or whether or not WE ARE EVEN OPEN click here. Sign in here to get an email reminder for for ALL sales and other events. Also, you can go to     fb.fantasybooksandgames.com and you'll be taken to our Facebook page. We also use our in-store 5-Star Rewards system to text similar announcements to your phone.
Thanks to Comics on the Green for this week's images, which include many of the comics and a few of the books and other items we received today, and may have pics of things we didn't and/or won't get. Use the list, and maybe the picture.  
2020 FORCE WORKS #3 (OF 3) $ 3.99
2020 FORCE WORKS #3 (OF 3) BROWN VAR $ 3.99
2020 IWOLVERINE #2 (OF 2) $ 3.99
2020 IWOLVERINE #2 (OF 2) JOHNSON VAR $ 3.99
ACTION COMICS #1024 $ 3.99
ACTION COMICS #1024 L PARRILLO VAR ED $ 3.99
AERO #10 $ 3.99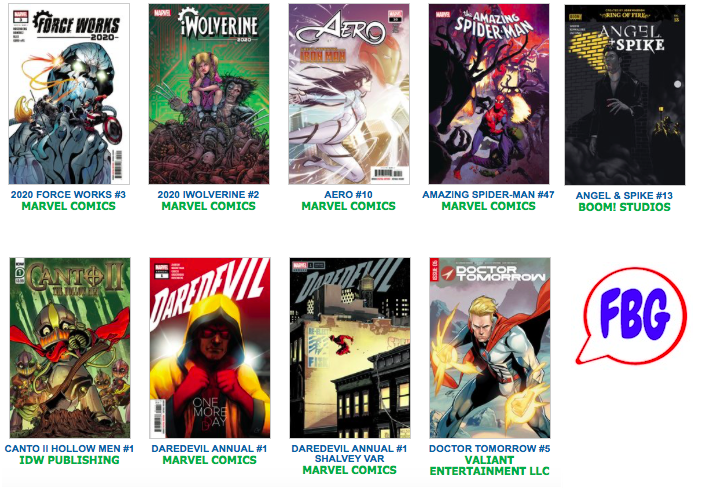 AMAZING SPIDER-MAN #47 $ 3.99
AMAZING SPIDER-MAN #47 BAGLEY VAR $ 3.99
AMETHYST #5 (OF 6) $ 3.99
ANGEL & SPIKE #13 CVR A MAIN PANOSIAN $ 3.99
B & V FRIENDS JUMBO COMICS DIGEST #283 $ 7.99
BATGIRL #48 IAN MCDONALD VAR ED JOKER WAR $ 3.99
BATGIRL #48 JOKER WAR $ 3.99
BATMAN BEYOND #46 $ 3.99
BATMAN BEYOND #46 FRANCIS MANAPUL VAR ED $ 3.99
BATMAN SUPERMAN #11 $ 3.99
BATMAN SUPERMAN #11 CARD STOCK JAE LEE VAR ED $ 4.99
BATMAN THREE JOKERS #1 (OF 3) (MR) $ 6.99
BATMAN THREE JOKERS #1 (OF 3) 1:25 VAR ED (MR) $ ???
BATMAN THREE JOKERS #1 (OF 3) JASON FABOK VAR ED (MR) $ 6.99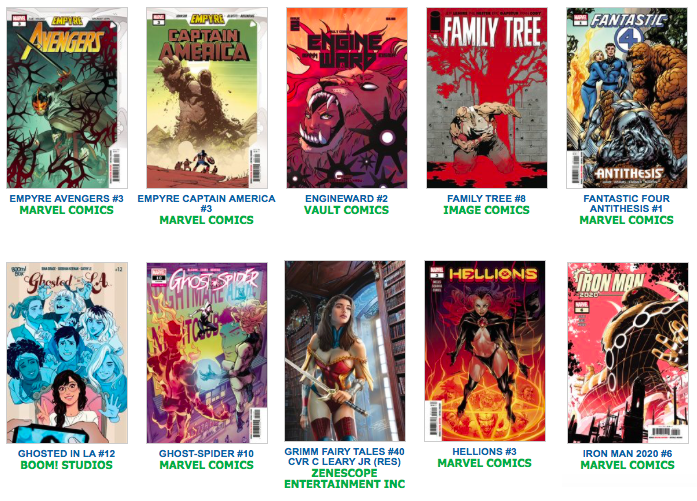 Batman Three Jokers 1 Premium VAR A Red Hood $ 6.99
Batman Three Jokers 1 Premium VAR B JOKER FISH $ 6.99
Batman Three Jokers 1 Premium VAR C $ 6.99
BETTIE PAGE #2 YOON B&W VIRGIN FOC $ ???
BETTIE PAGE #2 PHOTO VIRGIN FOC $ ???
BETTIE PAGE #2 YOON B&W $ ???
BETTIE PAGE #2 COSPLAY VIRGIN $ ???
BETTIE PAGE #2 CVR A YOON $ 3.99
BETTIE PAGE #2 CVR C LINSNER $ 3.99
BETTIE PAGE #2 CVR D COSPLAY $ 3.99
BETTIE PAGE #2 CVR E PHOTO $ 3.99
BETTY & VERONICA JUMBO COMICS DIGEST #286 $ 7.99
BLACK MAGICK #13 (MR) $ 3.99
BLADE RUNNER 2019 #9 CVR A EDWARDS (RES) (MR) $ 3.99
BLADE RUNNER 2019 #9 CVR B MEAD (RES) (MR) $ 3.99
BLADE RUNNER 2019 #9 CVR C GUINALDO (RES) (MR) $ 3.99
BLADE RUNNER 2019 #9 CVR D CALTSOUDAS (RES) (MR) $ 3.99
BOMB QUEEN TRUMP CARD #1 (OF 4) CVR A ROBINSON (MR) $ 3.99
BOMB QUEEN TRUMP CARD #1 (OF 4) CVR B ROBINSON (MR) $ 3.99
BOOKS OF MAGIC #22 (MR) $ 3.99
BOYS DEAR BECKY #4 (MR) $ 3.99
CANTO II HOLLOW MEN #1 (OF 5) BISHOP $ ???
CANTO II HOLLOW MEN #1 (OF 5) CVR A ZUCKER $ 3.99
CARSON OF VENUS REALM OF DEAD #3 CVR A MESARCIA MAIN $ 3.99
CHU #2 (MR) $ 3.99
DAREDEVIL ANNUAL #1 $ 4.99
DAREDEVIL ANNUAL #1 SHALVEY VAR $ 4.99
DARK NIGHTS DEATH METAL #2 (OF 6) Second printing $ 4.99
DARK NIGHTS DEATH METAL #3 (OF 6) Second printing $ 4.99
DARK NIGHTS DEATH METAL LEGENDS OT DARK KNIGHTS #1 Second printing $ 5.99
DETECTIVE COMICS #1026 $ 3.99
DETECTIVE COMICS #1026 CARD STOCK LEE BERMEJO VAR ED $ 4.99
DOCTOR TOMORROW #5 (OF 5) CVR A HENRY $ 3.99
DOCTOR TOMORROW #5 (OF 5) CVR B KANO $ 3.99
EMPYRE AVENGERS #3 (OF 3) $ 3.99
EMPYRE AVENGERS #3 (OF 3) MEDINA VAR $ 3.99
EMPYRE CAPTAIN AMERICA #3 (OF 3) $ 3.99
EMPYRE CAPTAIN AMERICA #3 (OF 3) GUICE VAR $ 3.99
ENGINEWARD #2 $ 3.99
ENGINEWARD #2 CVR B HICKMAN $ 3.99
FAMILY TREE #8 $ 3.99
FANTASTIC FOUR ANTITHESIS #1 (OF 4) $ 4.99
FANTASTIC FOUR ANTITHESIS #1 (OF 4) ART ADAMS VAR $ 4.99
FANTASTIC FOUR ANTITHESIS #1 (OF 4) MCGUINNESS VAR $ 4.99
FLASH #760 $ 3.99
FLASH #760 INHYUK LEE VAR ED $ 3.99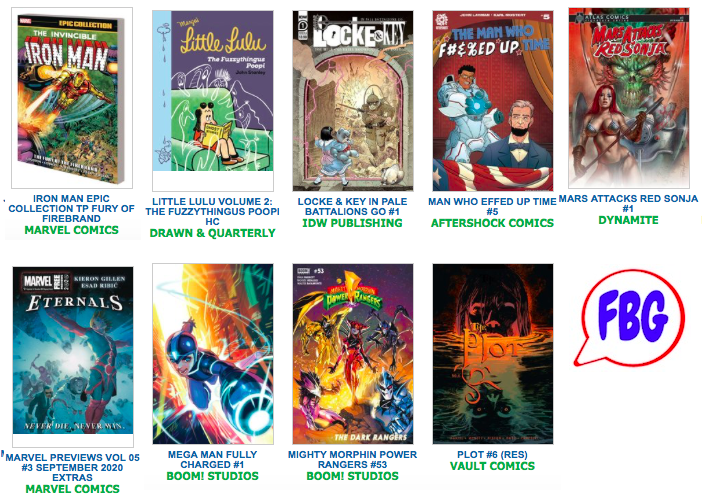 GHOSTED IN LA #12 (OF 12) CVR A KEENAN $ 3.99
GHOSTED IN LA #12 (OF 12) CVR B GRACE VAR $ 3.99
GHOST-SPIDER #10 $ 3.99
GRIMM FAIRY TALES #40 CVR A COCCOLO (RES) $ 3.99
GRIMM FAIRY TALES #40 CVR B VITORINO (RES) $ 3.99
GRIMM FAIRY TALES #40 CVR C LEARY JR (RES) $ 3.99
GRIMM FAIRY TALES #40 CVR D ABRERA (RES) $ 3.99
HELLIONS #3 $ 3.99
HELLIONS #3 MULLER DESIGN VAR (1/10) $ ???
IMMORTAL HULK #35 2ND PTG ALEX ROSS VAR $ 3.99
IRON MAN 2020 #6 (OF 6) $ 4.99
IRON MAN 2020 #6 (OF 6) BIANCHI CONNECTING VAR $ 4.99
IRON MAN 2020 #6 (OF 6) RON LIM VAR $ 4.99
IRON MAN 2020 #6 (OF 6) SUPERLOG HEADS VAR $ 4.99
JOHN CONSTANTINE HELLBLAZER #9 (MR) $ 3.99
JUSTICE LEAGUE DARK #25 $ 3.99
JUSTICE LEAGUE DARK #25 LEE BERMEJO VAR ED $ 3.99
KILLADELPHIA #7 CVR A ALEXANDER (MR) $ 3.99
LAST GOD #8 (MR) $ 4.99
LEGION OF SUPER HEROES #8 $ 3.99
LEGION OF SUPER HEROES #8 DUSTIN NGUYEN VAR ED $ 3.99
LOCKE & KEY IN PALE BATTALIONS GO #1 (OF 2) ROD $ ???
LOCKE & KEY IN PALE BATTALIONS GO #1 (OF 2) ROD $ ???
LOCKE & KEY IN PALE BATTALIONS GO #1 (OF 2) CVR A RODRIGUEZ $ 3.99
MAN WHO EFFED UP TIME #5 (RES) $ 3.99
MARS ATTACKS RED SONJA #1 QUAH CARD HOMAGE $ ???
MARS ATTACKS RED SONJA #1 PARRILLO B&W $ ???
MARS ATTACKS RED SONJA #1 QUAH VIRGIN $ ???
MARS ATTACKS RED SONJA #1 CVR A PARRILLO $ 3.99
MARS ATTACKS RED SONJA #1 CVR C SUYDAM $ 3.99
MARS ATTACKS RED SONJA #1 CVR E KITSON CARD HOMAGE $ 3.99
MEGA MAN FULLY CHARGED #1 GOLD FOIL $ ???
MEGA MAN FULLY CHARGED #1 MERCADO LEVEL UP $ ???
MEGA MAN FULLY CHARGED #1 SILVER FOIL $ ???
MEGA MAN FULLY CHARGED #1 CVR A MAIN $ 4.99
MEGA MAN FULLY CHARGED #1 CVR B FOIL INFANTE VAR $ 5.99
MEGA MAN FULLY CHARGED #1 CVR C LEE VAR $ 4.99
MIGHTY MORPHIN POWER RANGERS #53 ANKA $ ???
MIGHTY MORPHIN POWER RANGERS #53 CVR A CAMPBELL $ 3.99
MIGHTY MORPHIN POWER RANGERS #53 FOIL MONTES VAR $ 4.99
MIRKA ANDOLFO MERCY #5 (OF 6) CVR A ANDOLFO (MR) $ 3.99
MIRKA ANDOLFO MERCY #5 (OF 6) CVR B DANIEL (MR) $ 3.99
NAILBITER RETURNS #4 (MR) $ 3.99
PLOT #6 (RES) $ 3.99
PLOT #6 (RES) $ 3.99
PLUNGE #6 (OF 6) (MR) $ 3.99
PLUNGE #6 (OF 6) GARY FRANK VAR ED (MR) $ 3.99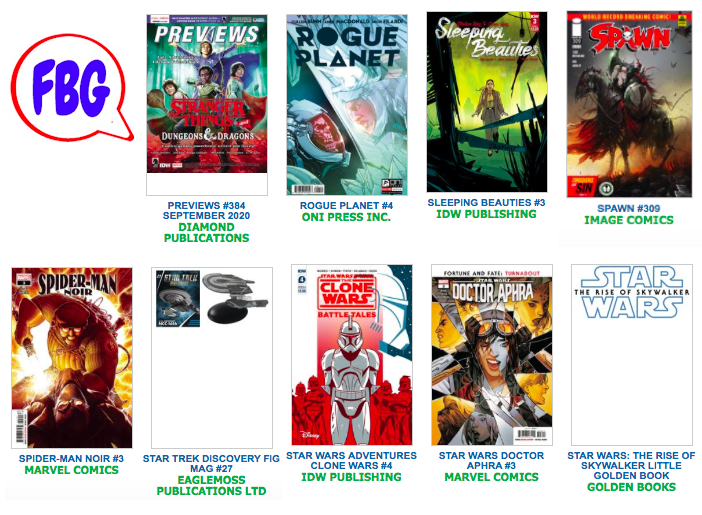 QUESTION THE DEATHS OF VIC SAGE #4 (OF 4) (MR) $ 6.99
QUESTION THE DEATHS OF VIC SAGE #4 (OF 4) A SORRENTINO VAR ED (MR) $ 6.99
RED BORDER #4 (OF 4) (RES) (MR) $ 3.99
RED HOOD OUTLAW #48 $ 3.99
RED HOOD OUTLAW #48 VAR ED $ 3.99
ROGUE PLANET #4 $ 3.99
SLEEPING BEAUTIES #3 (OF 10) CVR A WU $ 3.99
SLEEPING BEAUTIES #3 (OF 10) CVR B WOODALL $ 3.99
SPAWN #309 CVR A MATTINA (RES) $ 2.99
SPAWN #309 CVR B MCFARLANE (RES) $ 2.99
SPAWN #309 CVR C ZAFFINO (RES) $ 2.99
SPIDER-MAN NOIR #3 (OF 5) $ 3.99
STAR TREK DS9 TOO LONG A SACRIFICE #2 CVR A DRUMOND $ 3.99
STAR WARS ADVENTURES CLONE WARS #4 (OF 5) CHARM $ ???
STAR WARS ADVENTURES CLONE WARS #4 (OF 5) CVR A CHARM $ 3.99
STAR WARS DOCTOR APHRA #3 $ 3.99
STAR WARS DOCTOR APHRA #3 ASRAR VAR (1/25) $ ???
STRANGE ACADEMY #1 3RD PTG RAMOS VAR $ 4.99
SUICIDE SQUAD #8 $ 3.99
SUICIDE SQUAD #8 JEREMY ROBERTS VAR ED $ 3.99
TARTARUS #5 CVR A COLE $ 3.99
TEEN TITANS ANNUAL #2 $ 4.99
THAT TEXAS BLOOD #3 (MR) $ 3.99
THOR #2 4TH PTG NIC KLEIN VAR $ 3.99
TMNT ONGOING #108 CVR A DANIEL $ 3.99
TMNT ONGOING #108 CVR B EASTMAN $ 3.99
UNEARTH #7 (MR) $ 3.99
VAN HELSING VS LEAGUE MONSTERS #4 CVR C DIPASCALE $ 3.99
WICKED THINGS #4 CVR A SARIN $ 3.99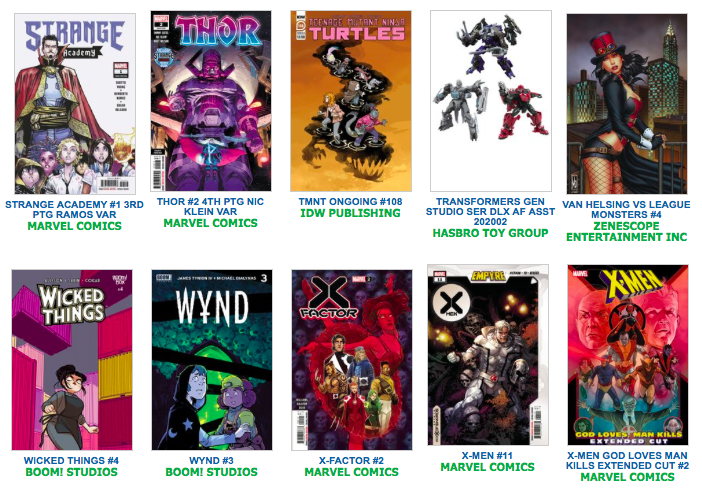 WONDER WOMAN #761 $ 4.99
WONDER WOMAN #761 J MIDDLETON CARD STOCK VAR ED $ 4.99
WYND #3 (OF 5) MOMOKO $ ???
WYND #3 (OF 5) CVR A MAIN $ 4.99
X-FACTOR #2 $ 3.99
X-FACTOR #2 RODRIGUEZ DAYS OF FUTURE PAST VAR $ 3.99
X-MEN #11 EMP $ 3.99
X-MEN #11 KUBERT EMPYRE VAR EMP $ 3.99
X-MEN #11 RODRIGUEZ DAYS OF FUTURE PAST VAR EMP $ 3.99
X-MEN GOD LOVES MAN KILLS EXTENDED CUT #2 (OF 2) $ 4.99
X-MEN GOD LOVES MAN KILLS EXTENDED CUT #2 (OF 2) ANDERSON VA $ 4.99
YEAR ZERO #4 $ 3.99

COMIC SHOP NEWS #1723 $ FREE
NON SPORT UPDATE VOL 31 #4 $ 5.99

ADVENTURE TIME FIONNA & CAKE TP $ 9.99
ANT-MAN WORLD HIVE TP $ 15.99
AVENGERS BY HICKMAN COMPLETE COLLECTION TP VOL 01 $ 34.99
BLACK BUTLER GN VOL 29 $ 13
DCEASED UNKILLABLES HC $ 22.99
FALLEN ANGELS BY BRYAN HILL TP VOL 01 $ 17.99
GEARS OF WAR HIVEBUSTERS TP $ 17.99
HOUSE OF X POWERS OF X TP $ 44.99
INCAL TP DM EXC CVR (MR) $ 29.99
IRON MAN EPIC COLLECTION TP FURY OF FIREBRAND $ 39.99
JUSTICE LEAGUE ODYSSEY TP VOL 03 FINAL FRONTIER $ 16.99
JUSTICE LEAGUE UNLIMITED GALACTIC JUSTICE TP $ 9.99
KODI GN VOL 01 $ 14.99
LITTLE LULU HC VOL 02 FUZZYTHINGUS POOPI $ 29.95
MARVEL ACTION CAPTAIN MARVEL TP VOL 02 AIM SMALL $ 9.99
MIDDLEWEST TP BOOK 03 (MR) $ 16.99
RED MOTHER TP VOL 01 $ 14.99
SPECTRE THE WRATH OF THE SPECTRE OMNIBUS HC $ 125
STAR WARS LITTLE GOLDEN BOOK RISE OF SKYWALKER $ 4.99
STERANKO IS REVOLUTIONARY KING-SIZE HC $ 125
SUPERMAN THE MAN OF STEEL HC VOL 01 $ 49.99
THE END TP $ 24.99
VENUS IN BLIND SPOT HC JUNJI ITO (MR) $ 22.99
X-MEN EPIC COLLECTION TP PROTEUS $ 39.99

BOWMAN 2020 STERLING BASEBALL T/C BOX $ ???

FRIENDS SERIES 2 3D FOAM BAG CLIP 24CT BMB DS $ ???
HORROR SERIES 5 3D FOAM BAG CLIP 24CT BMB DS $ ???
MARVEL DEADPOOL LEGENDS 6IN AF ASST 202001 $ ???
NBX SERIES 5 3D FOAM BAG CLIP 24CT BMB DS $ ???
POCKET POP HP HERMIONE W/ POTIONS FIG KEYCHAIN $ 5.99


POP ANIMATION INUYASHA VINYL FIG $ 11.99
POP ANIMATION YU GI OH MAXIMILLION PEGASUS VIN FIG $ 11.99
POP BIRDS OF PREY PEN TOPPER 16PC ASST $ ???
POP GAMES POKEMON S2 MR MIME VIN FIG $ 11.99
POP GAMES POKEMON S2 PICHU VIN FIG $ 11.99
POP MOVIES JOHN WICK JOHN IN BLACK SUIT W/ DOG BUDDY VIN FIG $ 11.99
POP MOVIES ZOMBIELAND BILL MURRAY W/CHASE VINYL FIG $ 11.99
SDCC 2020 MARVEL MEA-018SP MAXIMUM VENOM SPECIAL PX FIG 2PK $ ???
SPIDER-MAN VINTAGE 6IN AF ASST 202001 $ ???
STAR WARS PLUSH BAG CLIP 24CT BMB DS $ ???
SW MANDALORIAN 3D FOAM BAG CLIP 24CT BMB DS $ ???
TRANSFORMERS GEN STUDIO SER DLX AF ASST 202002 $ ???
TRANSFORMERS GEN STUDIO SER LEADER AF ASST 202002 $ ???
TRANSFORMERS MASTERPIECE MP48 LIO CONVOY AF $ ???

FCBD 2020 BRANDON SANDERSON DARK ONE #1 – ASK BOB
FCBD 2020 DONUT THE DESTROYER – ASK BOB
FCBD 2020 ONLY MATTER OF SPACE TIME – ASK BOB
MARVEL PREVIEWS VOL 05 #3 SEPTEMBER 2020 $ FREE*