Still Smoky This Week on Wednesday, September 2nd, 2020
The DC/FedEx Duopoly improved marginally as our package that was tracked to Hayward by Monday finally arrived 11:15 Wed, when I had to count them at rocket speed for the 5 waiting customers. I don't think anyone cashed out before then, but if you did, check the list below and call Bob if you need to. It's already Wed night, so no summary, just the list.
Wednesday is STILL New Comic Day, no matter what you read on the internets. We can't clear the new rack to just have 10 DC's  surrounded by empty space. AND we can't depend on the new Distributor and FedEx to show up on time. We do it once, Wednesday morning.
Five FCBD editions today – Ask Bob. Free Comic Book Day – 's of Summer continues. I'm adding to the list each week so check out our good ol' Free Comic Book Day page.
We encourage everyone to be careful, make your trip to our store quick and efficient, and try to come in to shop in smaller groups, and reduce your own exposure to ALL public places indoors, including ours.
Bob is open, bring your mask, keep your distance, and help keep Bob healthy. If you like, you can browse the list and make an order to fbgbob@aol.com for a quicker pick up. It might also help to put in a time window when you would be in the neighborhood, to give Bob a chance to get them together, and include a phone number for good measure.
Please wear a mask!
Watch this space and our Facebook page for latest news about the rest of the month, season, year, millenium, etc. (And text messages from 5-Star.) The complete list is found below. If you want to know about the next sale or store event, or whether or not WE ARE EVEN OPEN click here.
Sign in here to get an email reminder for for ALL sales and other events. Also, you can go to     fb.fantasybooksandgames.com and you'll be taken to our Facebook page. We also use our in-store 5-Star Rewards system to text similar announcements to your phone.
Thanks to Comics on the Green for this week's images, which include many of the comics and a few of the books and other items we received today, and may have pics of things we didn't and/or won't get. Use the list, and maybe the picture.  
ALIEN ORIGINAL SCREENPLAY #2 (OF 5) CVR A BALBI (RES) $ 3.99
ALIEN ORIGINAL SCREENPLAY #2 (OF 5) CVR B SIMONSON (RES) $ 3.99
ARCHIE MILESTONES JUMBO DIGEST #10 $ 7.99
ASCENDER #12 (MR) $ 3.99
AVENGERS OF THE WASTELANDS #5 (OF 5) $ 3.99
BANG #3 (OF 5) CVR A TORRES (RES) $ 3.99
BANG #3 (OF 5) CVR B KINDT (RES) $ 3.99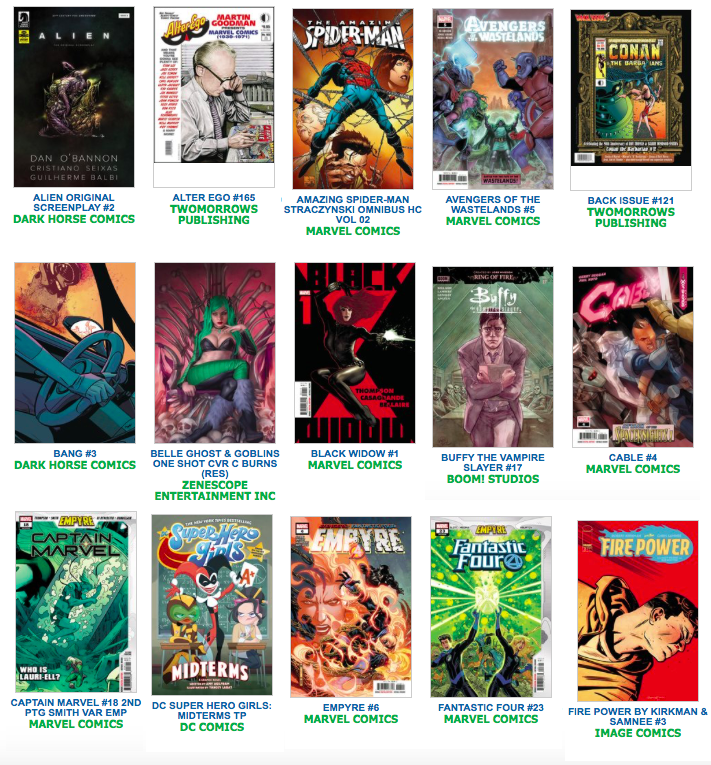 Batman #92 Retailer Appreciation Variant $ ???
BATMAN #98 CVR A DAVID FINCH (JOKER WAR) $ 3.99
BATMAN #98 CVR B FRANCESCO MATTINA CARD STOCK VAR (JOKER WAR) $ 4.99
BATMAN #98 INC 1:25 JORGE JIMENEZ CATWOMAN CARD STOCK VAR (JOKER WAR) $ ???
BATMAN THE ADVENTURES CONTINUE #4 (OF 7) CVR A JAMES HARREN $ 3.99
BATMAN THE ADVENTURES CONTINUE #4 (OF 7) CVR B BEN CALDWELL CARD STOCK VAR $ 3.99
BELLE GHOST & GOBLINS ONE SHOT CVR B RICH (RES) $ 5.99
BELLE GHOST & GOBLINS ONE SHOT CVR C BURNS (RES) $ 5.99
BITTER ROOT #10 CVR A GREENE (MR) $ 3.99
BITTER ROOT #10 CVR B VALLEJO (MR) $ 3.99
BLACK WIDOW #1 $ 3.99
BLACK WIDOW #1 JACINTO VAR $ 3.99
BLACK WIDOW #1 JS CAMPBELL VAR $ 3.99
BLACK WIDOW #1 MARVEL SUPER WAR VAR $ 3.99
BLACK WIDOW #1 PAREL VAR (1/25) $ ???
RETAILER SUMMIT 2020 BLACK WIDOW #1 HUGHES VAR $ ???
BUFFY THE VAMPIRE SLAYER #17 CVR A MAIN $ 3.99
CABLE #4 $ 3.99
CAPTAIN MARVEL #18 2ND PTG MOLINA SKETCH VAR EMP (1/25) $ 3.99
CAPTAIN MARVEL #18 2ND PTG SMITH VAR EMP $ 3.99
CIMMERIAN PEOPLE OF BLACK CIRCLE #1 BLANK COVER (MR) $ 10
CIMMERIAN PEOPLE OF BLACK CIRCLE #1 CVR A JAE KWANG PARK (M $ 3.99
CIMMERIAN PEOPLE OF BLACK CIRCLE #1 CVR B FRED RAMBAUD (MR) $ 3.99
CIMMERIAN PEOPLE OF BLACK CIRCLE #1 CVR C ANDOLFO (MR) $ 3.99
CIMMERIAN PEOPLE OF BLACK CIRCLE #1 CVR D BELEN ORTEGA (MR) $ 3.99
CIMMERIAN PEOPLE OF BLACK CIRCLE #1 CVR E CASAS DETECTIVE 27 $ 3.99
CIMMERIAN PEOPLE OF BLACK CIRCLE #1 CVR F ANDOLFO VI $ ???
CONSPIRACY BLACK KNIGHTS SATELLITE ONE SHOT CVR A COLAPIETRO $ 4.99
DCEASED DEAD PLANET #3 (OF 7) CVR A DAVID FINCH $ 3.99
DCEASED DEAD PLANET #3 (OF 7) CVR B FRANCESCO MATTINA CARD STOCK VAR $ 4.99
DCEASED DEAD PLANET #3 (OF 7) CVR C YASMINE PUTRI MOVIE HOMAGE CARD STOCK VAR $ 4.99
DIE #13 CVR A HANS (MR) $ 3.99
DIE #13 CVR B DEL MUNDO (MR) $ 3.99
DREAMING WAKING HOURS #2 (MR) $ 3.99
EMPYRE #6 (OF 6) $ 5.99
EMPYRE #6 (OF 6) CHRISTOPHER ACTION FIGURE VAR $ 5.99
EMPYRE #6 (OF 6) DANIEL SKRULL KREE VAR $ 5.99
EMPYRE #6 (OF 6) LOZANO AVENGER VAR $ 5.99
EMPYRE #6 (OF 6) MICHAEL CHO FF VAR $ 5.99
FANTASTIC FOUR #23 EMP $ 3.99
FANTASTIC FOUR #23 PHAM EMPYRE VAR EMP $ 3.99
FIRE POWER BY KIRKMAN & SAMNEE #3 $ 3.99
GRENDEL KY #1 (OF 4) CVR A EDWARDS (MR) $ 3.99
GRENDEL KY #1 (OF 4) CVR B DEODATO JR (MR) $ 3.99
GUARDIANS OF THE GALAXY #6 $ 3.99
HAWKEYE FREE FALL #6 $ 3.99
HELLBLAZER RISE AND FALL #1 (OF 3) CVR A DARICK ROBERTSON (MR) $ 6.99
HELLBLAZER RISE AND FALL #1 (OF 3) CVR B LEE BERMEJO VAR (MR) $ 6.99

HORIZON ZERO DAWN #2 CVR A YOON $ 3.99
HORIZON ZERO DAWN #2 CVR B GAME ART WRAP $ 3.99
HORIZON ZERO DAWN #2 CVR C LOISH $ 3.99
HORIZON ZERO DAWN #2 CVR D ARTGERM B&W VIRGIN $ ???
HORIZON ZERO DAWN #2 FOC VAR MOMOKO $ 3.99
ICE CREAM MAN #20 2ND PTG (MR) $ 3.99
INKBLOT #1 $ 3.99
JUSTICE LEAGUE #52 CVR A CULLY HAMNER $ 3.99
JUSTICE LEAGUE #52 CVR B NICK DERINGTON VAR $ 3.99
KING OF NOWHERE #5 (OF 5) CVR A MAIN $ 3.99
LOST SOLDIERS #2 (OF 5) (MR) $ 3.99
MARVEL TALES CAPTAIN BRITAIN #1 $ 7.99
MILES MORALES SPIDER-MAN #18 OUT $ 3.99
MILES MORALES SPIDER-MAN #18 RAHZZAH BABY MORALES VAR OUT $ 3.99
MONSTRESS #30 (MR) $ 3.99
MARVEL ZOMBIES RESURRECTION #1 (OF 4) $ 5.99
MARVEL ZOMBIES RESURRECTION #1 (OF 4) GONZALES VAR $ 5.99
MARVEL ZOMBIES RESURRECTION #1 (OF 4) HANS VAR $ 5.99
MARVEL ZOMBIES RESURRECTION #1 (OF 4) LAND VAR $ 5.99
MARVEL ZOMBIES RESURRECTION #1 (OF 4) LUBERA VAR $ 5.99
MARVEL ZOMBIES RESURRECTION #1 (OF 4) MOMOKO VAR (1/50) $ ???
MARVEL ZOMBIES RESURRECTION #1 (OF 4) ZIRCHER VAR (1/50) $ ???
RETAILER SUMMIT 2020 MARVEL ZOMBIES RESURRECTION #1 (OF 4) V $ ???
MOONSHINE #20 (MR) $ 3.99
MY LITTLE PONY TRANSFORMERS #2 (OF 4) COLLER $ ???
MY LITTLE PONY TRANSFORMERS #2 (OF 4) CVR A FLEECS $ 3.99
NANCY DREW & HARDY BOYS DEATH OF NANCY DREW #4 EISMA $ ???
NEW MUTANTS #12 $ 3.99
PRETTY VIOLENT #9 (RES) (MR) $ 3.99
RAVENCROFT #4 (OF 5) $ 3.99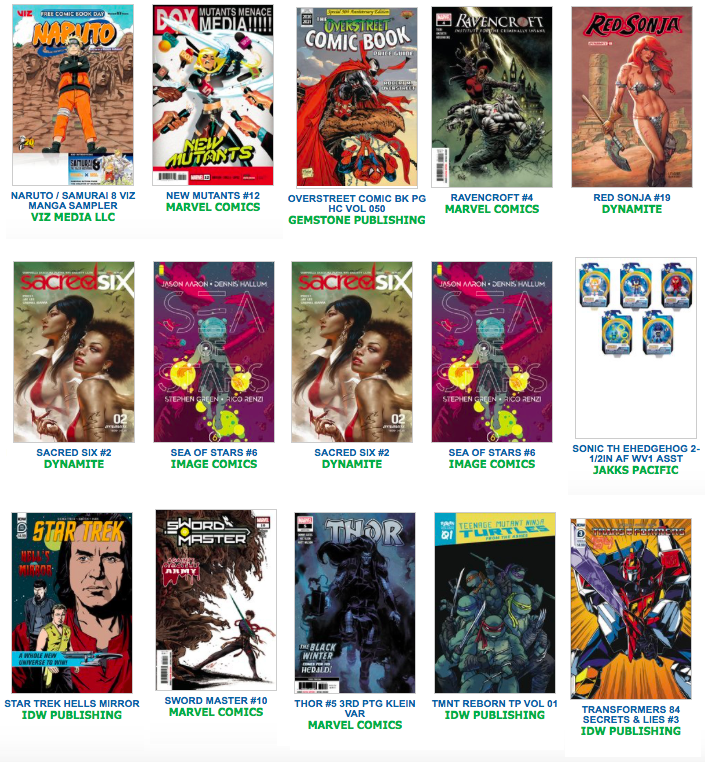 RED SONJA #19 CASTRO B&W FOC $ ???
RED SONJA #19 LINSNER B&W $ ???
RED SONJA #19 HENDERSON VIRGIN $ ???
RED SONJA #19 CVR A LEE $ 3.99
RED SONJA #19 CVR B LINSNER $ 3.99
RED SONJA #19 CVR D MIRACOLO $ 3.99
RED SONJA #19 CVR E DECOBRAY COSPLAY $ 3.99
SACRED SIX #2 HETRICK VIRGIN $ ???
SACRED SIX #2 PARRILLO B&W $ ???
SACRED SIX #2 CVR B PARILLO $ 3.99
SACRED SIX #2 CVR E CHEW $ 3.99
SEA OF STARS #6 $ 3.99
SEX CRIMINALS SEXUAL GARY SPECIAL (RES) (MR) $ 4.99
SHAZAM #14 $ 3.99
SHAZAM #14 DALE KEOWN VAR ED $ 3.99
STAR TREK HELLS MIRROR CVR A SMITH $ 4.99
STRANGE ADVENTURES #5 (OF 12) CVR A MITCH GERADS (MR) $ 4.99
STRANGE ADVENTURES #5 (OF 12) CVR B EVAN DOC SHANER VAR (MR) $ 4.99
Marvel Previews FROM LAST WEEK FREE*
Previews FROM LAST WEEK $3.99
SWORD MASTER #10 $ 3.99
THOR #5 3RD PTG KLEIN VAR $ 3.99
TRANSFORMERS 84 SECRETS & LIES #3 (OF 4) ROCHE $ ???
TRANSFORMERS 84 SECRETS & LIES #3 (OF 4) CVR A GUIDI $ 3.99
TRANSFORMERS 84 SECRETS & LIES #3 (OF 4) CVR B COLLER $ 3.99
TRUE BELIEVERS X-MEN MISTER SINISTER #1 $ 1
TRUE BELIEVERS X-MEN NANNY ORPHAN MAKER #1 $ 1
TRUE BELIEVERS X-MEN WILD CHILD #1 $ 1

USAGI YOJIMBO #12 $ 3.99
VAMPIRELLA #13 PARRILLO B&W $ ???
VAMPIRELLA #13 LEE COSPLAY VIRGIN $ ???
VAMPIRELLA #13 MASON AMERICA TOGETHER B&W FOC $ ???
VAMPIRELLA #13 GUNDUZ VIRGIN $ ???
VAMPIRELLA #13 JUSKO B&W $ ???
VAMPIRELLA #13 PARRILLO VIRGIN B&W $ ???
VAMPIRELLA #13 CVR A PARRILLO $ 3.99
VAMPIRELLA #13 CVR B JUSKO $ 3.99
VAMPIRELLA #13 CVR E LEE COSPLAY $ 3.99
VAMPIRELLA #13 HETRICK FOC BONUS VAR $ 3.99
VENOM #27 2ND PTG GEDEON VAR $ 3.99
VENOM #27 2ND PTG STEGMAN SKETCH VAR $ ???
WE ONLY FIND THEM WHEN THEYRE DEAD #1 WARD $ ???
WE ONLY FIND THEM WHEN THEYRE DEAD #1 WRAPAROUND $ ???
WE ONLY FIND THEM WHEN THEYRE DEAD #1 FRISON $ ???
WE ONLY FIND THEM WHEN THEYRE DEAD #1 CVR A MAIN $ 3.99
WE ONLY FIND THEM WHEN THEYRE DEAD #1 CVR B INFANTE VAR $ 3.99
WOLVERINE #2 2ND PTG KUBERT VAR DX $ 3.99
WOLVERINE #5 $ 3.99
WOLVERINE #5 GURIHIRU HEROES AT HOME VAR $ 3.99
YOUNG JUSTICE #18 CVR A JOHN TIMMS $ 3.99
YOUNG JUSTICE #18 CVR B DERRICK CHEW CARD STOCK VAR $ 4.99

ALTER EGO #165 $ 9.95
BACK ISSUE #121 $ 9.95
COMIC SHOP NEWS #1724 $ ???

AMAZING SPIDER-MAN BY NICK SPENCER TP VOL 08 THREATS & MENAC $ 17.99
AMAZING SPIDER-MAN STRACZYNSKI OMNIBUS HC VOL 02 $ 125
BE GAY DO COMICS TP $ 24.99
BLACK CAT TP VOL 02 ON THE RUN $ 15.99
BLACK WIDOW STRIKES OMNIBUS HC DM VAR $ 100
CLOAK AND DAGGER OMNIBUS HC VOL 01 DM VAR $ 100
DAREDEVIL ELEKTRA LOVE & WAR GALLERY EDITION HC (MR) $ 39.99
DC SUPER HERO GIRLS MIDTERMS TP $ 9.99
GEARS OF WAR HIVEBUSTERS TP $ 17.99
GODZILLA HALF CENTURY WAR HC $ 29.99
GREEN ARROW THE LONGBOW HUNTERS SAGA OMNIBUS HC VOL 01 $ 150
HE MAN AND THE MASTERS OF THE MULTIVERSE TP $ 17.99
HELLBLAZER TP VOL 23 NO FUTURE (MR) $ 29.99
ICE CREAM MAN TP VOL 05 OTHER CONFECTIONS (MR) $ 16.99
IMMORTAL HULK TP VOL 07 HULK IS HULK $ 15.99
MIGHTY MORPHIN POWER RANGERS TP VOL 12 $ 16.99
MINECRAFT TP VOL 02 WITHER WITHOUT YOU $ 10.99
OVERSTREET COMIC BK PG HC VOL 50 SPIDER-MAN SPAWN $ 37.5
OVERSTREET COMIC BK PG HC VOL 50 VALIANT HEROES $ 37.5
OVERSTREET COMIC BK PG SC VOL 50 SPIDER-MAN SPAWN $ 29.95
OVERSTREET COMIC BK PG SC VOL 50 VALIANT HEROES $ 29.95
OVERSTREET COMIC BK PG SC VOL 50 WYNONNA EARP $ 29.95
SPECTRE THE WRATH OF THE SPECTRE OMNIBUS HC $ 125
SUPERGIRL COSMIC ADVENTURES IN THE 8TH GRADE NEW ED $ 9.99
TAROT AVENGERS DEFENDERS TP $ 15.99
TEEN TITANS BEAST BOY TP $ 16.99
TMNT REBORN TP VOL 01 FROM THE ASHES $ 19.99
TOMB OF DRACULA COMPLETE COLLECTION TP VOL 04 $ 44.99
TRUE LIVES FABULOUS KILLJOYS CALIFORNIA LIBRARY ED HC $ 39.99
WOLVERINE OMNIBUS HC VOL 01 NEW PTG $ 100

MY HERO ACADEMIA IZUKU MIDORIYA FIG $ 24.99
MYSTERY MINIS MARVEL ZOMBIES 12PC BMB DISP $ ???
POP DISNEY NBX MAYOR W/MEGAPHONE W/CHASE VIN FIG $ 11.99
SONIC THE HEDGEHOG 2-1/2IN AF WV1 ASST $ ???
SW BLACK E5 40TH ANN 6IN AF ASST 202001 $ ???
SW BLACK E6 6IN ADMIRAL ACKBAR AF CS $ ???
SW BLACK R1 6IN STORMTROOPER AF CS $ ???
SW CW VINTAGE 3-3/4IN ANAKIN SKYWALKER AF CS $ ???
SW CW VINTAGE 3-3/4IN OBI WAN KENOBI AF CS $ ???
SW E6 VINTAGE 3-3/4IN WICKET AF CS $ ???
SW REBELS BLACK SERIES 6IN HERA SYNDULLA AF CS $ ???
SW REBELS BLACK SERIES 6IN KANAN JARRUS AF CS $ ???
SW VINTAGE 3-3/4IN AF ASST 202005 $ ???

ULTRAMAN #1 BY ALEX ROSS POSTER $ 8.99

FCBD 2020 JACK KIRBY EPIC LIFE KING OF COMICS ASK BOB
FCBD 2020 LADY MECHANIKA ASK BOB
FCBD 2020 NARUTO SAMURAI 8 VIZ MANGA ASK BOB
FCBD 2020 OWLY THE WAY HOME ASK BOB
FCBD 2020 USAGI YOJIMBO ASK BOB