Orange Skies and No Sun (or DC's) All Day  on Wednesday, September 9th, 2020
My housemate is counting the plagues that have befallen us this year.  Sickness, unemployment, incompetence, drought and fire, heat, and I'm adding callousness and stupidity by DC. They didn't have to do this. FedEx tracking has had the DC shipment in Sac from Friday until yesterday, and leaving for Hayward this morning.  We do not expect it before Friday, but we are prepared for a pleasant surprise tomorrow, should the shroud of ill will lift a day early. We have requested UPS starting with the shipment originating today and arriving next week. Let's hope Brown does it for us next week! They <3 Logistics, now.
It's already Wed night, again, so no summary, just the list, again. Wednesday is STILL New Comic Day, – unless you are a DC comics fan – no matter what you read on the internets. We can't clear the new rack to just have 10 DC's  surrounded by empty space. AND we REALLY can't depend on the new Distributor and FedEx to show up on time (which was supposed to be Tuesday, but it's NEVER happened). We do it once, Wednesday morning. And now again whenever the heck FedEx decides to deliver.
Three FCBD editions today, which is the end, according to the official schedule, but I wouldn't be surprised to see some late ones next week or two – Ask Bob. Free Comic Book Day – 's of Summer continues. I'm adding to the list each week so check out our good ol' Free Comic Book Day page.
We encourage everyone to be careful, make your trip to our store quick and efficient, and try to come in to shop in smaller groups, and reduce your own exposure to ALL public places indoors, including ours. Bob is open, bring your mask, keep your distance, and help keep Bob healthy. If you like, you can browse the list and make an order to fbgbob@aol.com for a quicker pick up. It might also help to put in a time window when you would be in the neighborhood, to give Bob a chance to get them together, and include a phone number for good measure.
Please wear a mask!
Watch this space and our Facebook page for latest news about the rest of the month, season, year, millenium, etc. (And text messages from 5-Star.) The complete list is found below. If you want to know about the next sale or store event, or whether or not WE ARE EVEN OPEN click here. Sign in here to get an email reminder for for ALL sales and other events. Also, you can go to     fb.fantasybooksandgames.com and you'll be taken to our Facebook page. We also use our in-store 5-Star Rewards system to text similar announcements to your phone.
Thanks to Comics on the Green for this week's images, which include many of the comics and a few of the books and other items we received today, and may have pics of things we didn't and/or won't get. Use the list, and maybe the picture.  
AGGRETSUKO #6 CVR A AMIN $ 3.99
AGGRETSUKO #6 CVR B CALTSOUDAS $ 3.99
AMAZING SPIDER-MAN #48 $ 3.99
AMAZING SPIDER-MAN #48 BAGLEY VAR $ 3.99
AMAZING SPIDER-MAN #48 GURIHIRU HEROES AT HOME VAR $ 3.99
B & V FRIENDS JUMBO COMICS DIGEST #284 $ 7.99
BAD MOTHER #2 (MR) $ 3.99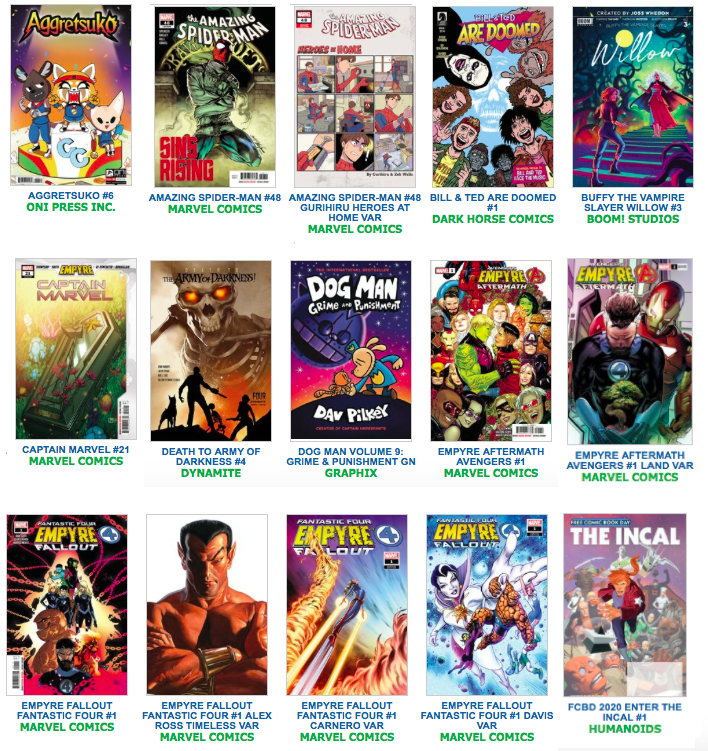 BATMAN #90 Third printing $ 3.99
BATMAN & THE OUTSIDERS #16 CVR A TYLER KIRKHAM $ 3.99
BATMAN & THE OUTSIDERS #16 CVR B MICHAEL GOLDEN VAR $ 3.99
BATMAN THE ADVENTURES CONTINUE #1 (OF 6) Second printing $ 3.99
BATMAN THE ADVENTURES CONTINUE #2 (OF 6) Second printing $ 3.99
BILL & TED ARE DOOMED #1 (OF 4) CVR A DORKIN $ 3.99
BILL & TED ARE DOOMED #1 (OF 4) CVR B LANGRIDGE $ 3.99
BLACKWOOD MOURNING AFTER #4 (OF 4) CVR A VERONICA FISH (RES) $ 3.99
BUFFY THE VAMPIRE SLAYER WILLOW #3 CVR A MAIN $ 3.99
CAPTAIN MARVEL #21 $ 3.99
CAPTAIN MARVEL #21 BACHALO SPOILER VAR $ 3.99
CAPTAIN MARVEL #21 FRISON EMPYRE VAR $ 3.99
CAPTAIN MARVEL #21 GURIHIRU HEROES AT HOME VAR $ 3.99
CYBERPUNK 2077 TRAUMA TEAM #1 (OF 4) (MR) $ 3.99
DARK NIGHTS DEATH METAL TRINITY CRISIS #1 (ONE SHOT) CVR A FRANCIS MANAPUL $ 5.99
DARK NIGHTS DEATH METAL TRINITY CRISIS #1 (ONE SHOT) 1:25 KYLE HOTZ VAR $ ???
DC CLASSICS THE BATMAN ADVENTURES #4 $ 1.99
DEATH TO ARMY OF DARKNESS #4 GEDEON HOMAGE VIRGIN $ ???
DEATH TO ARMY OF DARKNESS #4 OLIVER B&W $ ???
DEATH TO ARMY OF DARKNESS #4 CVR A OLIVER $ 3.99
DEATH TO ARMY OF DARKNESS #4 CVR B DAVILA $ 3.99
EMPYRE AFTERMATH AVENGERS #1 $ 4.99
EMPYRE AFTERMATH AVENGERS #1 CHRISTOPHER ACTION FIGURE VAR $ 4.99
EMPYRE AFTERMATH AVENGERS #1 DODSON VAR $ 4.99
EMPYRE AFTERMATH AVENGERS #1 LAND VAR $ 4.99
EMPYRE FALLOUT FANTASTIC FOUR #1 $ 3.99
EMPYRE FALLOUT FANTASTIC FOUR #1 ALEX ROSS TIMELESS VAR $ 3.99
EMPYRE FALLOUT FANTASTIC FOUR #1 CARNERO VAR $ 3.99
EMPYRE FALLOUT FANTASTIC FOUR #1 DAVIS VAR $ 3.99
FLASH #761 CVR A HOWARD PORTER $ 3.99
FLASH #761 CVR B INHYUK LEE VAR $ 3.99
GREEN LANTERN SEASON TWO #7 (OF 12) CVR A LIAM SHARP $ 3.99
GREEN LANTERN SEASON TWO #7 (OF 12) CVR B HOWARD PORTER VAR $ 3.99
HAWKMAN #27 CVR A MIKEL JANIN $ 3.99
HAWKMAN #27 CVR B GERARDO ZAFFINO VAR $ 3.99
ICE CREAM MAN PRESENTS QUARANTINE COMIX SPEC #1 (MR) $ 5.99
JOKER HARLEY CRIMINAL SANITY #5 (OF 9) CVR A FRANCESCO MATTINA (MR) $ 5.99
JOKER HARLEY CRIMINAL SANITY #5 (OF 9) CVR B MICO SUAYAN VAR (MR) $ 5.99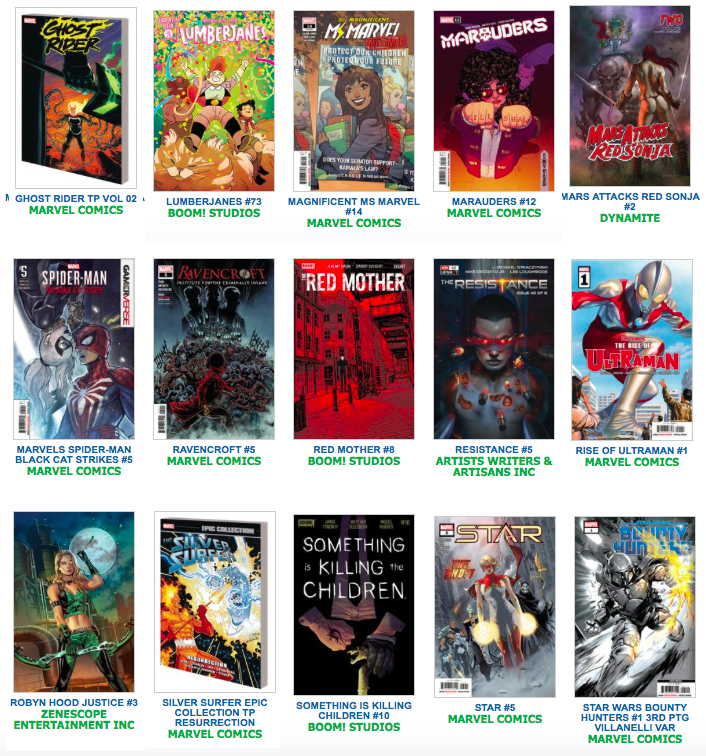 JUSTICE LEAGUE DARK #25 LEE BERMEJO VAR ED $ 3.99
JUSTICE LEAGUE ODYSSEY #24 CVR A JOSE LADRONN $ 3.99
JUSTICE LEAGUE ODYSSEY #24 CVR B JUNGGEUN YOON VAR $ 3.99
LUMBERJANES #73 CVR A LEYH (RES) $ 6.99
MAGNIFICENT MS MARVEL #14 OUT $ 3.99
MARAUDERS #12 $ 3.99
MARKED #7 CVR A HABERLIN & VAN DYKE (MR) $ 3.99
MARS ATTACKS RED SONJA #2 PARRILLO B&W INCV $ 3.99
MARS ATTACKS RED SONJA #2 STRATI SKETCH VIRGIN VAR $ ???
MARS ATTACKS RED SONJA #2 SUYDAM GS VIRGIN VAR $ ???
MARS ATTACKS RED SONJA #2 PARRILLO B&W VIRGIN VAR $ ???
MARS ATTACKS RED SONJA #2 STRATI VIRGIN VAR $ ???
MARS ATTACKS RED SONJA #2 STRATI SKETCH DRESSED VAR $ ???
MARS ATTACKS RED SONJA #2 CVR A PARRILLO $ 3.99
MARS ATTACKS RED SONJA #2 CVR B SUYDAM $ 3.99
MARS ATTACKS RED SONJA #2 CVR C STRATI $ 3.99
MARVELS SPIDER-MAN BLACK CAT STRIKES #5 (OF 5) $ 3.99
NIGHTWING #74 CVR A TRAVIS MOORE (JOKER WAR) $ 3.99
NIGHTWING #74 CVR B ALAN QUAH VAR (JOKER WAR) $ 3.99
OBLIVION SONG BY KIRKMAN & DE FELICI #27 (MR) $ 3.99
RAVENCROFT #5 (OF 5) $ 3.99
REAVER #11 (MR) $ 3.99
RED MOTHER #8 $ 3.99
RESISTANCE #5 (OF 6) $ 3.99
RISE OF ULTRAMAN #1 (OF 5) $ 5.99
RISE OF ULTRAMAN #1 (OF 5) BLANK VAR $ 5.99
RISE OF ULTRAMAN #1 (OF 5) CHRISTOPHER ACTION FIGURE VAR $ 5.99
RISE OF ULTRAMAN #1 (OF 5) CLASSIC PHOTO VAR $ 5.99
RISE OF ULTRAMAN #1 (OF 5) COIPEL SPIDER-MAN VAR $ 5.99
RISE OF ULTRAMAN #1 (OF 5) KAIDA VAR (1/25) $ ???
RISE OF ULTRAMAN #1 (OF 5) MCGUINNESS VAR (1/50) $ ???
RISE OF ULTRAMAN #1 (OF 5) YOUNG VAR $ 5.99
ROBYN HOOD JUSTICE #3 CVR A VITORINO $ 3.99
ROBYN HOOD JUSTICE #3 CVR C OTERO $ 3.99
SEX CRIMINALS SPECIAL XXX SKELLY VAR (RES) (MR) $ 5.69
SOMETHING IS KILLING CHILDREN #10 $ 3.99
STAR #5 (OF 5) $ 3.99
STAR #5 (OF 5) ANKA FORESHADOW VAR $ 3.99
STAR WARS BOUNTY HUNTERS #1 3RD PTG VILLANELLI VAR $ 3.99
STAR WARS DARTH VADER #3 2ND PTG IENCO VAR $ 3.99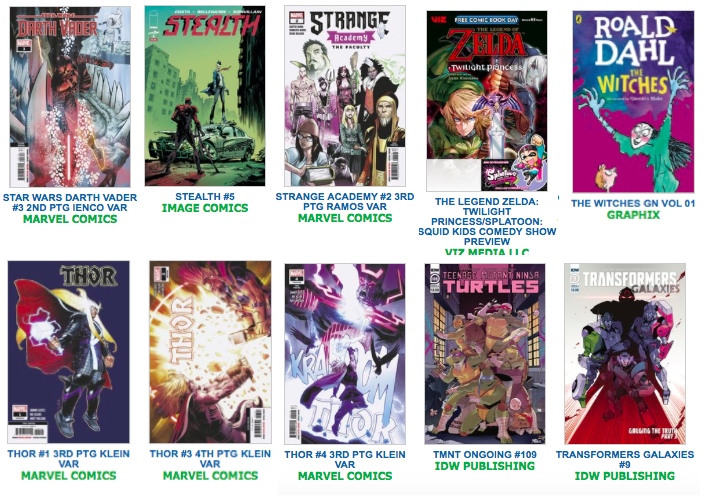 STEALTH #5 (OF 6) $ 3.99
STRANGE ACADEMY #2 3RD PTG RAMOS VAR $ 3.99
SUPERMAN #25 CVR A IVAN REIS $ 5.99
SUPERMAN #25 CVR B BRYAN HITCH VAR $ 5.99
THOR #1 3RD PTG KLEIN VAR $ 4.99
THOR #3 4TH PTG KLEIN VAR $ 3.99
THOR #4 3RD PTG KLEIN VAR $ 3.99
TMNT ONGOING #109 CHAVEZ VAR $ ???
TMNT ONGOING #109 CVR A NISHIJIMA $ 3.99
TMNT ONGOING #109 CVR B EASTMAN $ 3.99
TRANSFORMERS GALAXIES #9 ZAMA VAR $ ???
TRANSFORMERS GALAXIES #9 CVR A MIYAO $ 3.99
TRANSFORMERS GALAXIES #9 CVR B PITRE-DUROCHER $ 3.99
TRUE BELIEVERS X-MEN EMPATH #1 $ 1
TRUE BELIEVERS X-MEN GREYCROW #1 $ 1
UNDISCOVERED COUNTRY #7 2ND PTG (MR) $ 3.99
USAGI YOJIMBO COLOR CLASSICS #7 (OF 7) $ 3.99
VAMPIRE THE MASQUERADE #2 $ 3.99
VAMPIRE THE MASQUERADE #2 FOC MACK VAR $ 3.99
WEB OF VENOM WRAITH #1 $ 4.99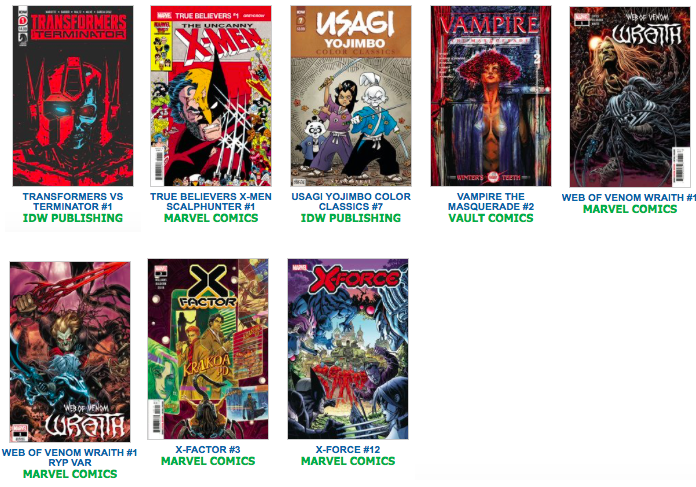 WEB OF VENOM WRAITH #1 EM GIST VAR (1/50) $ ???
WEB OF VENOM WRAITH #1 RYP VAR $ 4.99
WONDER WOMAN #762 CVR A DAVID MARQUEZ $ 3.99
WONDER WOMAN #762 CVR B JOSHUA MIDDLETON CARD STOCK VAR $ 4.99
WONDER WOMAN #762 INC 1:25 MIKEL JANIN LIAR LIAR CARD STOCK VAR $ ???
X-FACTOR #3 $ 3.99
X-FORCE #12 $ 3.99

COMIC SHOP NEWS #1725 $ FREE

AMELIA EARHART THIS BROAD OCEAN GN $ 12.99
Animal Man by Grant Morrison 30th Anniversary Deluxe Edition HC Book Two $ 39.99
AQUAMAN TP VOL 03 MANTA VS MACHINE $ 17.99
BASKETFUL OF HEADS HC (MR) $ 24.99
BATMAN DETECTIVE COMICS TP VOL 02 ARKHAM KNIGHT $ 17.99
DEMON SLAYER KIMETSU NO YAIBA GN VOL 03 $ 9.99
FIREFLY NEW SHERIFF IN VERSE HC VOL 01 $ 19.99
GHOST RIDER TP VOL 02 HEARTS OF DARKNESS II $ 17.99
HEROES REBORN RETURN OMNIBUS HC $ 125
LADY MECHANIKA TP VOL 06 SANGRE $ 17.99
LEGEND OF KORRA RUINS OF EMPIRE LIBRARY ED HC $ 39.99
OUTER DARKNESS CHEW TP (MR) $ 12.99
RUNAWAYS BY RAINBOW ROWELL TP VOL 05 CANNON FODDER $ 19.99
SILVER SURFER EPIC COLLECTION TP RESURRECTION $ 44.99
STAR COMICS TOP DOG COMPLETE COLLECTION TP $ 39.99
STAR WARS AGE OF RESISTANCE HC $ 34.99

TOPPS 2020 ARCHIVES BASEBALL T/C BOX $ ???

POP NBA DALLAS MAVERICKS LUKA DONCIC VINYL FIGURE $ 11.99
SW BLACK E5 6IN DARTH VADER AF CS $ ???
SW BLACK E6 6IN TEEBO AF CS $ ???
SW E1 VINTAGE 3-3/4IN DARTH MAUL AF CS $ ???
SW REBELS BLACK SERIES 6IN AHSOKA TANO AF CS $ ???

FCBD 2020 ENTER THE INCAL #1 $ ASK BOB
FCBD 2020 LEGEND ZELDA TWILIGHT PRINCESS SPLATOON SQUID KIDS $ ASK BOB
FCBD 2020 SUE & TAI-CHAN PREVIEW $ ASK BOB