Not Knowing the Results on Wednesday, November 4th, 2020
Or Thursday, or …?  What did I say last week. It's like I've been following the news or something. Fear of a dark descent has tempered into a cautious optimism that it's going to be just horrible, not apocalyptic, if you can call that optimism.
I'm late because I was busy outside of my electoral obsession, then Tuesday happened, then I agreed to come and help Wednesday, and Bob forgot to send me the data until I left home, and I just couldn't do all of this before collapsing Wednesday night. Stuff happens.
Does it matter? My summary of the total does not, so I won't. To save time, I'm done and look at the list if you want. So I seem to be ready to "work" again, which is mostly standing and walking briskly to shelve new items. My back is complaining.
Wednesday is STILL New Comic Day, no matter what you read on the internets. We can't clear the new rack to just have 10 DC's  surrounded by empty space.  We do it once, Wednesday morning. And now again whenever the heck FedEx decides to deliver. Ask Bob.
We encourage everyone to be careful, make your trip to our store quick and efficient, and try to come in to shop in smaller groups, and reduce your own exposure to ALL public places indoors, including ours. Bob is open, bring your mask, keep your distance, and help keep Bob healthy. If you like, you can browse the list and make an order to fbgbob@aol.com for a quicker pick up. It might also help to put in a time window when you would be in the neighborhood, to give Bob a chance to get them together, and include a phone number for good measure.
Please wear a mask!
Watch this space and our Facebook page for latest news about the rest of the month, season, year, millenium, etc. (And text messages from 5-Star.)
The complete list is found below. If you want to know about the next sale or store event, or whether or not WE ARE EVEN OPEN click here. Sign in here to get an email reminder for for ALL sales and other events.
Also, you can go to     fb.fantasybooksandgames.com and you'll be taken to our Facebook page. We also use our in-store 5-Star Rewards system to text similar announcements to your phone.
Thanks to Comics on the Green for this week's images, which include many of the comics and a few of the books and other items we received today, and may have pics of things we didn't and/or won't get. Use the list, and maybe the picture.  
ALIEN ORIGINAL SCREENPLAY #4 (OF 5) CVR A BALBI $ 3.99
ALIEN ORIGINAL SCREENPLAY #4 (OF 5) CVR B SIMONSON STEWART $ 3.99
AMAZING SPIDER-MAN #51.LR $ 3.99
AMAZING SPIDER-MAN #51.LR COELLO VAR $ 3.99
ATLANTIS ATTACKS #4 (OF 5) $ 3.99
AVENGERS #38 $ 3.99
AVENGERS #38 KUDER BLACK PANTHER PHOENIX VAR $ 3.99
AVENGERS #38 VEREGGE BLACK PANTHER VAR $ 3.99
AVENGERS #57 FACSIMILE EDITION $ 3.99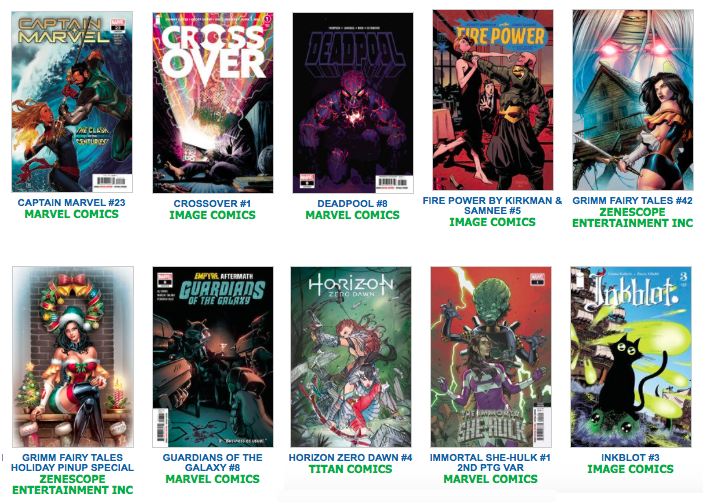 BANG #5 (OF 5) CVR A TORRES $ 3.99
BANG #5 (OF 5) CVR B KINDT $ 3.99
BATMAN #102 CVR A JORGE JIMENEZ $ 3.99
BATMAN #102 CVR B FRANCESCO MATTINA CARD STOCK VAR $ 4.99
BATMAN #102 JORGE JIMENEZ GHOST-MAKER CARD STOCK 1:25 VAR $ ???
BATMAN THE ADVENTURES CONTINUE #6 (OF 7) CVR A KHARY RANDOLPH $ 3.99
BATMAN THE ADVENTURES CONTINUE #6 (OF 7) CVR B KAARE ANDREWS VAR $ 3.99
BATMAN THE MAXX ARKHAM DREAMS #5 (OF 5) CVR A KIETH $ 4.99
BATMAN THE MAXX ARKHAM DREAMS #5 (OF 5) CVR B KIETH $ 4.99
BLACK WIDOW #3 $ 3.99
BLACK WIDOW #3 BARTEL MCU VAR $ 3.99
BOMB QUEEN TRUMP CARD #3 (OF 4) CVR A ROBINSON (MR) $ 3.99
BOMB QUEEN TRUMP CARD #3 (OF 4) CVR B ROBINSON (MR) $ 3.99
BOYS DEAR BECKY #6 (MR) $ 3.99
BUFFY THE VAMPIRE SLAYER #19 CVR A MAIN $ 3.99
CAPTAIN MARVEL #23 $ 3.99
CAPTAIN MARVEL #23 DAUTERMAN VAR $ 3.99
CHU #4 (MR) $ 3.99
CIMMERIAN PEOPLE OF BLACK CIRCLE #3 CVR A QUAH (MR) $ 3.99
CIMMERIAN PEOPLE OF BLACK CIRCLE #3 CVR B HETRICK (MR) $ 3.99
CIMMERIAN PEOPLE OF BLACK CIRCLE #3 CVR C RAMBAUD (MR) $ 3.99
CROSSOVER #1 CVR A SHAW & STEWART $ 3.99
CROSSOVER #1 CVR B STEGMAN & CUNNIFFE $ 3.99
CROSSOVER #1 CVR C SHAW $ 3.99
CROSSOVER #1 CVR D BLANK CVR $ 3.99
CROSSOVER #1 CVR E JOHNSON VAR (1/10) $ ???
CROSSOVER #1 CVR F MOORE VAR (1/25) $ ???
CROSSOVER #1 CVR G OTTLEY VAR (1/50) $ ???
CROSSOVER #1 CVR H 75 SHAW ELLIE RAW VAR (1/75) $ ???
CROSSOVER #1 CVR I STEGMAN RAW VAR (1/100) $ ???
CROSSOVER #1 CVR J SHAW INFINITY RAW VAR (1/200) $ ???
CYBERPUNK 2077 TRAUMA TEAM #3 (OF 4) (MR) $ 3.99
DC CLASSICS THE BATMAN ADVENTURES #6 $ 1.99
DCEASED DEAD PLANET #5 (OF 7) CVR A DAVID FINCH $ 3.99
DCEASED DEAD PLANET #5 (OF 7) CVR B FRANCESCO MATTINA CARD STOCK VAR $ 4.99
DCEASED DEAD PLANET #5 (OF 7) CVR C BEN OLIVER MOVIE HOMAGE CARD STOCK VAR $ 4.99
DEADPOOL #8 $ 3.99
DREAMING WAKING HOURS #4 (MR) $ 3.99
DRYAD #6 $ 3.99
FIRE POWER BY KIRKMAN & SAMNEE #5 $ 3.99
GODDAMNED VIRGIN BRIDES #4 (OF 5) (MR) $ 3.99
GRIMM FAIRY TALES #42 CVR A COCCOLO $ 3.99
GRIMM FAIRY TALES #42 CVR B VITORINO $ 3.99
GRIMM FAIRY TALES #42 CVR C BURNS $ 3.99
GRIMM FAIRY TALES #42 CVR D LIVERSIDGE $ 3.99
GRIMM FAIRY TALES HOLIDAY PINUP SPECIAL CVR A REYES $ 5.99
GRIMM FAIRY TALES HOLIDAY PINUP SPECIAL CVR B SANTACRUZ $ 5.99
GRIMM FAIRY TALES HOLIDAY PINUP SPECIAL CVR C BURNS $ 5.99
GRIMM FAIRY TALES HOLIDAY PINUP SPECIAL CVR D JIMENEZ $ 5.99
GUARDIANS OF THE GALAXY #8 $ 3.99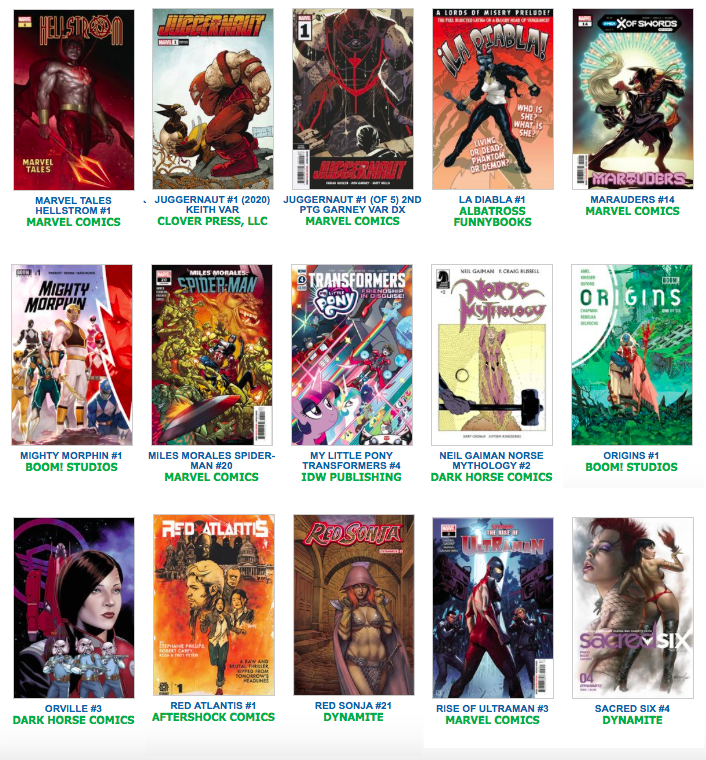 HELLBLAZER RISE AND FALL #2 (OF 3) CVR A DARICK ROBERTSON (MR) $ 6.99
HELLBLAZER RISE AND FALL #2 (OF 3) CVR B JH WILLIAMS III VAR (MR) $ 6.99
HELLSTROM MARVEL TALES #1 $ 7.99
HORIZON ZERO DAWN #4 CVR A MOMOKO $ 3.99
HORIZON ZERO DAWN #4 CVR B GAME ART WRAP $ 3.99
HORIZON ZERO DAWN #4 CVR C LOISH $ 3.99
IMMORTAL SHE-HULK #1 2ND PTG DAVIS HUNT VAR $ 4.99
INKBLOT #3 $ 3.99
JUGGERNAUT #1 (OF 5) 2ND PTG GARNEY VAR DX $ 3.99
JUSTICE LEAGUE #56 CVR A LIAM SHARP (DARK NIGHTS DEATH METAL) $ 3.99
JUSTICE LEAGUE #56 CVR B TONY S DANIEL & DANNY MIKI VAR (DARK NIGHTS DEATH METAL) $ 3.99
JUSTICE LEAGUE UNLIMITED TIME AFTER TIME TP $ 9.99
LA DIABLA #1 CVR A POWELL $ 3.99
LA DIABLA #1 CVR POWELL CARDSTOCK $ 5.99
LONELY RECEIVER #3 $ 3.99
LOST SOLDIERS #4 (OF 5) (MR) $ 3.99
MARAUDERS #14 HAMNER VAR XOS $ 3.99
MARAUDERS #14 XOS $ 3.99
Previews & Marvel Previews From Last Week
MIGHTY MORPHIN #1 MORA VAR (1/10) $ ???
MIGHTY MORPHIN #1 CVR A LEE $ 4.99
MIGHTY MORPHIN #1 CVR B CARLINI LEGACY VAR $ 4.99
MIGHTY MORPHIN #1 CVR C YOON CONNECTING VAR $ 4.99
MIGHTY MORPHIN #1 CVR D BLANK SKETCH VAR $ 4.99
MILES MORALES SPIDER-MAN #20 $ 3.99
MILES MORALES SPIDER-MAN #20 CLARKE VAR $ 3.99
MONEY SHOT #10 (MR) $ 3.99
MOONSHINE #22 (MR) $ 3.99
MY LITTLE PONY TRANSFORMERS #4 (OF 4) PITRE-DUROCHER VAR(1/10) $ ???
MY LITTLE PONY TRANSFORMERS #4 (OF 4) CVR A FLEECS $ 3.99
NEIL GAIMAN NORSE MYTHOLOGY #2 CVR A RUSSELL $ 3.99
NEIL GAIMAN NORSE MYTHOLOGY #2 CVR B MACK $ 3.99
ORIGINS #1 (OF 6) CVR A REBELKA $ 3.99
ORVILLE #3 HEROES (PT 1 OF 2) $ 3.99
PRETTY VIOLENT #11 (MR) $ 3.99
RED ATLANTIS #1 CVR A HACK (RES) $ 4.99
RED SONJA #21 CASTRO B&W FOC VAR (1/11) $ ???
RED SONJA #21 CONRAD RISQUE VAR (1/15) $ ???
RED SONJA #21 CVR A LEE $ 3.99
RED SONJA #21 CVR B LINSNER $ 3.99
RED SONJA #21 CVR C STOTT $ 3.99
RISE OF ULTRAMAN #3 (OF 5) $ 3.99
RISE OF ULTRAMAN #3 (OF 5) PHOTO VAR $ 3.99
SACRED SIX #4 PARRILLO B&W VAR (1/25) $ ???
SACRED SIX #4 CVR D HETRICK $ 3.99
SAVAGE DRAGON #252 2ND PTG CHARLIE BROWN PARODY CVR (MR) $ 3.99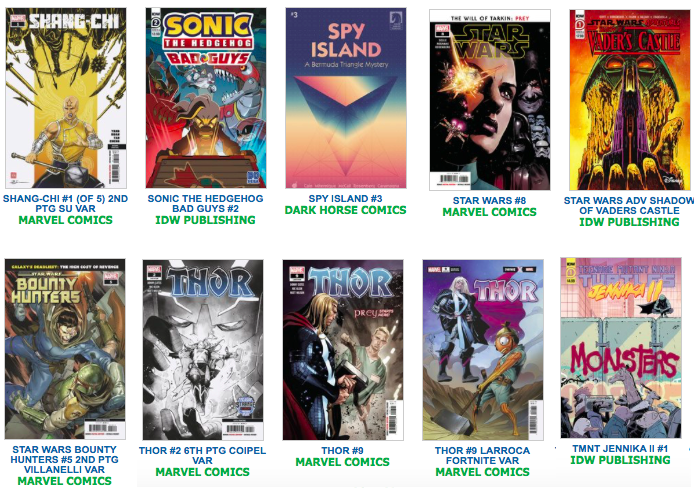 SHANG-CHI #1 (OF 5) 2ND PTG SU VAR $ 3.99
SONIC THE HEDGEHOG BAD GUYS #2 (OF 4) LAWRENCE VAR (1/10) $ ???
SONIC THE HEDGEHOG BAD GUYS #2 (OF 4) CVR A HAMMERSTROM $ 3.99
SONIC THE HEDGEHOG BAD GUYS #2 (OF 4) CVR B SKELLY $ 3.99
SPY ISLAND #3 (OF 4) CVR A MITERNIQUE $ 3.99
SPY ISLAND #3 (OF 4) CVR B MITERNIQUE $ 3.99
STAR WARS #8 $ 3.99
STAR WARS #8 CHRISTOPHER ACTION FGURE VAR $ 3.99
STAR WARS #8 GOLDEN VAR (1/25) $ ???
STAR WARS #8 SPROUSE EMPIRE STRIKES BACK VAR $ 3.99
STAR WARS ADV SHADOW OF VADERS CASTLE CVR A FRANCAVILLA (C: $ 7.99
STAR WARS ADV SHADOW OF VADERS CASTLE CVR B CHARM $ 7.99
STAR WARS BOUNTY HUNTERS #5 2ND PTG VILLANELLI VAR $ 3.99
STRANGE ADVENTURES DIRECTORS CUT #1 (ONE SHOT) (MR) $ 5.99
STRANGER THINGS D&D CROSSOVER #1 CVR A GIST $ 3.99
STRANGER THINGS D&D CROSSOVER #1 CVR B DITTMANN $ 3.99
STRANGER THINGS D&D CROSSOVER #1 CVR C GALINDO $ 3.99
STRANGER THINGS D&D CROSSOVER #1 CVR D BECK $ 3.99
SWEET TOOTH THE RETURN #1 (OF 6) CVR A JEFF LEMIRE (MR) $ 3.99
SWEET TOOTH THE RETURN #1 (OF 6) CVR B JIM LEE CARD STOCK VAR (MR) $ 4.99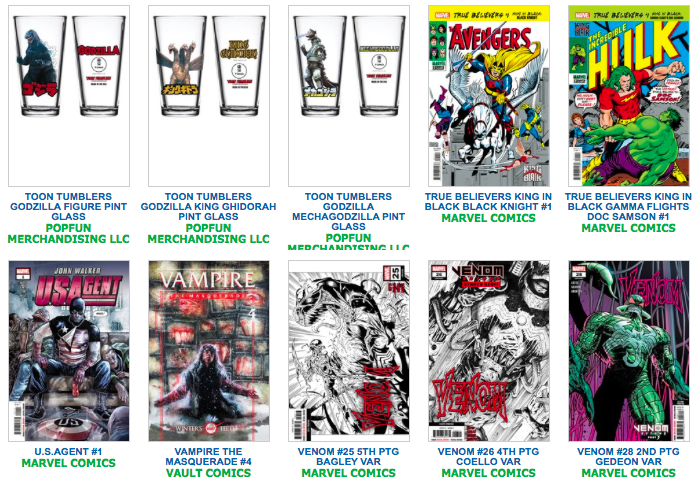 TALES FROM THE DARK MULTIVERSE BATMAN HUSH #1 (ONE SHOT) $ 5.99
THAT TEXAS BLOOD #5 (MR) $ 3.99
THOR #2 6TH PTG COIPEL VAR $ 3.99
THOR #9 $ 3.99
THOR #9 FRISON VALKYRIE PHOENIX VAR $ 3.99
THOR #9 HILDEBRANDT VAR $ 3.99
THOR #9 KLEIN VAR (1/25) $ ???
THOR #9 LARROCA FORTNITE VAR $ 3.99
THOR #9 MCGUINNESS VAR (1/50) $ ???
THOR #9 VEREGGE THOR VAR $ 3.99
TMNT JENNIKA II #1 (OF 6) BUSTOS CVR (1/10) $ ???
TMNT JENNIKA II #1 (OF 6) CVR A REVEL $ 4.99
TMNT JENNIKA II #1 (OF 6) CVR B EASTMAN $ 4.99
TRUE BELIEVERS KING IN BLACK BLACK KNIGHT #1 $ 1
TRUE BELIEVERS KING IN BLACK GAMMA FLIGHTS DOC SAMSON #1 $ 1
US AGENT #1 (OF 5) $ 3.99
US AGENT #1 (OF 5) INFANTE VAR $ 3.99
US AGENT #1 (OF 5) ZIRCHER VAR $ 3.99
VAMPIRE THE MASQUERADE #4 CVR A CAMPBELL $ 3.99
VAMPIRE THE MASQUERADE #4 CVR B MACK $ 3.99
VENOM #25 5TH PTG BAGLEY VAR $ 5.99
VENOM #26 4TH PTG COELLO VAR $ 3.99
VENOM #28 2ND PTG GEDEON VAR $ 3.99
WALKING DEAD DLX #2 CVR A FINCH & MCCAIG (MR) $ 3.99
WALKING DEAD DLX #2 CVR B MOORE & MCCAIG (MR) $ 3.99
WALKING DEAD DLX #2 CVR C ADLARD & MCCAIG (MR) $ 3.99
WALKING DEAD DLX #2 CVR D TEDESCO (MR) $ 3.99
WALKING DEAD DLX #2 CVR E ADAMS & MCCAIG (MR) $ 3.99
WEB OF VENOM EMPYRES END #1 $ 4.99
WEB OF VENOM EMPYRES END #1 KNULL IS COMING VAR $ 4.99
WICKED THINGS #6 CVR A FINAL ISSUE $ 3.99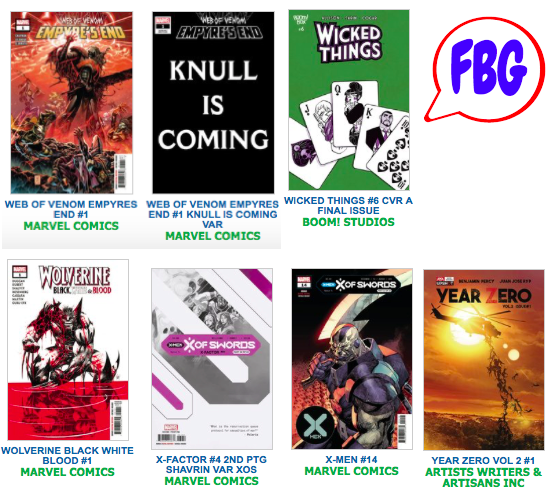 WOLVERINE BLACK WHITE BLOOD #1 (OF 4) $ 4.99
WOLVERINE BLACK WHITE BLOOD #1 (OF 4) DANIEL VAR (1/25) $ ???
WOLVERINE BLACK WHITE BLOOD #1 (OF 4) GARNEY VAR $ 4.99
WOLVERINE BLACK WHITE BLOOD #1 (OF 4) KUBERT VAR (1/50) $ ???
X-FACTOR #4 2ND PTG SHAVRIN VAR XOS $ 4.99
X-MEN #14 LOZANO VAR XOS $ 3.99
X-MEN #14 XOS $ 3.99
YEAR ZERO VOL 2 #1 CVR A KAARE ANDREWS $ 3.99
YEAR ZERO VOL 2 #1 CVR B DEODATO JR $ 3.99
YOUNG JUSTICE #20 CVR A JOHN TIMMS $ 3.99
YOUNG JUSTICE #20 CVR B DERRICK CHEW CARD STOCK VAR $ 4.99

COMIC SHOP NEWS #1733 $ FREE
EERIE TALES MAGAZINE #1 $ 11.99

AGGRETSUKO HC VOL 02 STRESS MANAGEMENT $ 11.99
AMAZING SPIDER-MAN BY NICK SPENCER TP VOL 09 SINS RISING $ 17.99
AVATAR LAST AIRBENDER LOST ADVENTURES LIBRARY ED HC $ 39.99
BATMAN SUPERMAN VOL 01 WHO ARE THE SECRET SIX TP $ 17.99
BLACK PANTHER HC VOL 03 INTERGALACTIC EMPIRE WAKANDA PART ON $ 34.99
DAPHNE BYRNE HC (MR) $ 24.99
DISNEY FROZEN LIBRARY ED HC $ 39.99
DISNEY KINGDOMS GN TP HAUNTED MANSION $ 15.99
EMPYRE X-MEN TP $ 17.99
FIRE OF THESEUS HC (RES) (MR) $ 19.99
HEROES REBORN TP IRON MAN NEW PTG $ 44.99
IRON MAN 2020 ROBOT REVOLUTION TP IWOLVERINE $ 17.99
KEEP YOUR HANDS OFF EIZOUKEN TP VOL 01 $ 12.99
LUCIFER OMNIBUS HC VOL 02 (MR) $ 125
MARVEL-VERSE DEADPOOL AND WOLVERINE GN TP $ 9.99
ODESSA GN $ 19.99
PLASTIC MAN RUBBER BANDED DLX ED HC $ 69.99
SANDMAN THE DELUXE EDITION BOOK ONE HC (MR) $ 49.99
STAR TP BIRTH OF A DRAGON $ 15.99
SUPERGIRL (2018) VOL 03 INFECTIOUS TP $ 24.99
SUPERMAN THE CITY OF TOMORROW VOL 2 TP $ 39.99
TEEN TITANS DEATHSTROKE THE TERMINUS AGENDA TP $ 16.99
THOR BY DONNY CATES TP VOL 01 DEVOURER KING $ 17.99
TOMORROW TP $ 19.99
VENOM EPIC COLLECTION TP SYMBIOSIS $ 39.99
VENOMNIBUS HC VOL 03 KIETH CVR $ 125
VICTOR AND NORA A GOTHAM LOVE STORY TP $ 16.99
X-MEN SWORD TP NO TIME TO BREATHE NEW PTG $ 15.99

MTG TCG ZENDIKAR RISING COLL BOOSTER DISPLAY $ ???

GAME OF THRONES COMPLETE SERIES T/C BOX $ ???

AGGRETSUKO 3D FOAM BAG CLIP 24PC BMB DS $ 8.99
CHIA PET WEIRD AL YANKOVIC $ 21.99
DC CLASSIC TV GALLERY DIORAMA WONDER WOMAN PVC STATUE $ 49.99
RUBIKS REVOLUTION GAME (NET) $ 19.99
TOON TUMBLERS GODZILLA FIGURE PINT GLASS $ 9.99
TOON TUMBLERS GODZILLA KING GHIDORAH PINT GLASS $ 9.99
TOON TUMBLERS GODZILLA MECHAGODZILLA PINT GLASS $ 9.99
TRANSFORMERS 3D FOAM BAG CLIP 24PC BMB DS $ 4.99
WARHAMMER 40K 7IN AF ASST $ ???

KING IN BLACK DARKNESS REIGNS BY STEGMAN POSTER $ 8.99
NATIVE AMERICAN HERITAGE TRIBUTE BY VEREGGE POSTER $ 8.99