Truth Defeats Bizarro World 27 to 1 in the Courts on Wednesday, November 18th, 2020
The courts have not been kind to Bizarro #1 in Un-Rock the Un-Vote 2020, but if you contribute $5001, $1 will go towards the legal battle, and $5k will go to the Trump Family debt. So I highly recommend you give your hard-earned salary to a very stable businessman who has only filed bankruptcy a few times, and could only borrow from the most corrupt bank in world history and somehow, even being stable and successful, owes almost half a billion dollars due within the next 2 years. Unless you can think of something better to spend it on. Or save it for.
No summary. Very late and tons to do. See the list below.
Wednesday is STILL New Comic Day, no matter what you read on the internets. We can't clear the new rack to just have 10 DC's  surrounded by empty space.  We do it once, Wednesday morning. We encourage everyone to be careful, make your trip to our store quick and efficient, and try to come in to shop in smaller groups, and reduce your own exposure to ALL public places indoors, including ours. Bob is open, bring your mask, keep your distance, and help keep Bob healthy. If you like, you can browse the list and make an order to fbgbob@aol.com for a quicker pick up. It might also help to put in a time window when you would be in the neighborhood, to give Bob a chance to get them together, and include a phone number for good measure.
Please wear a mask!
Watch this space and our Facebook page for latest news about the rest of the month, season, year, millenium, etc. (And text messages from 5-Star.) The complete list is found below. If you want to know about the next sale or store event, or whether or not WE ARE EVEN OPEN click here. Sign in here to get an email reminder for for ALL sales and other events. Also, you can go to     fb.fantasybooksandgames.com and you'll be taken to our Facebook page. We also use our in-store 5-Star Rewards system to text similar announcements to your phone.
Thanks to Comics on the Green for this week's images, which include many of the comics and a few of the books and other items we received today, and may have pics of things we didn't and/or won't get. Use the list, and maybe the picture.
AGGRETSUKO MEET HER FRIENDS #1 CVR A DUBOIS $ 3.99
AGGRETSUKO MEET HER FRIENDS #1 CVR B ANDERSON $ 3.99
AMAZING SPIDER-MAN #49 BLANK VAR $ 9.99
AMAZING SPIDER-MAN #53 LAST $ 3.99
AMAZING SPIDER-MAN #53 RAMOS VAR LAST $ 3.99
AMAZING SPIDER-MAN #53 TSANG SPIDER-MAN MILES MORALES VAR LA (1/10) $ ???
AQUAMAN #65 CVR A ROBSON ROCHA $ 3.99
AQUAMAN #65 CVR B JOSHUA MIDDLETON VAR $ 3.99
ASSASSINS CREED VALHALLA SONG OF GLORY #2 $ 3.99
AVENGERS #36 2ND PTG VAR $ 3.99
AVENGERS MARVELS SNAPSHOT #1 $ 4.99
AVENGERS MARVELS SNAPSHOT #1 STAZ JOHNSON VAR $ 4.99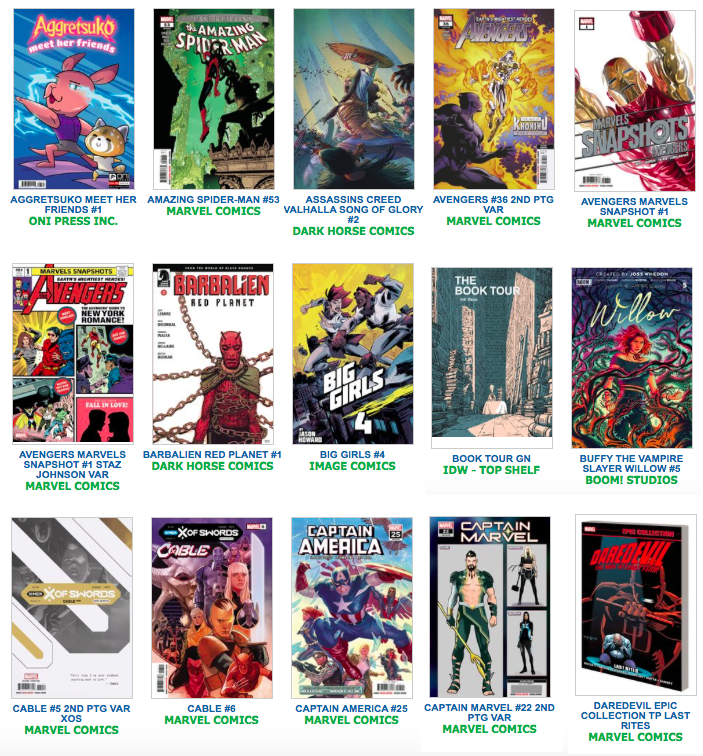 B & V BEST FRIENDS JUMBO COMICS DIGEST #286 $ 7.99
BAD MOTHER #4 (OF 5) (MR) $ 3.99
BARBALIEN RED PLANET #1 (OF 5) CVR A WALTA (RES) $ 3.99
BARBALIEN RED PLANET #1 (OF 5) CVR B KOCH (RES) $ 3.99
BATMAN #103 CVR A JORGE JIMENEZ $ 3.99
BATMAN #103 CVR B FRANCESCO MATTINA CARD STOCK VAR $ 4.99
BATMAN #103 INC 1:25 JORGE JIMENEZ BRUCE WAYNE CARD STOCK VAR $ 4.99
BIG GIRLS #4 $ 3.99
BLACK MAGICK #16 (MR) $ 3.99
BLADE RUNNER 2019 #12 CVR A DAGNINO (MR) $ 3.99
BLADE RUNNER 2019 #12 CVR B MEAD (MR) $ 3.99
BLADE RUNNER 2019 #12 CVR C GUINALDO (MR) $ 3.99
BUFFY THE VAMPIRE SLAYER WILLOW #5 CVR A MAIN $ 3.99
CABLE #5 2ND PTG VAR XOS $ 3.99
CABLE #6 SKROCE VAR XOS $ 3.99
CABLE #6 XOS $ 3.99
CAPTAIN AMERICA #25 $ 4.99
CAPTAIN AMERICA #25 LAROCCA CAPTAIN AMERICA PHOENIX VAR $ 4.99
CAPTAIN AMERICA #25 VEREGGE CAPTAIN AMERICA VAR $ 4.99
CAPTAIN AMERICA #25 YOUNG VAR $ 4.99
CAPTAIN MARVEL #22 2ND PTG VAR $ 3.99
CATWOMAN #27 CVR A JOELLE JONES $ 3.99
CATWOMAN #27 CVR B JENNY FRISON CARD STOCK VAR $ 4.99
COMMANDERS IN CRISIS #2 (OF 12) CVR A TINTO (MR) $ 3.99
COMMANDERS IN CRISIS #2 (OF 12) CVR B HARDING (MR) $ 3.99
COMMANDERS IN CRISIS #2 (OF 12) CVR C BRAGA (MR) $ 3.99
COMMANDERS IN CRISIS #2 (OF 12) CVR D BOOTH VAR (1/10) $ ???
DARK INTERLUDE #1 CVR A KRISTANTINA (MR) $ 3.99
DARK INTERLUDE #1 CVR B DANIEL GOODEN (MR) $ 3.99
DARK INTERLUDE #1 CVR C ISAACS (MR) $ 3.99
DARK NIGHTS DEATH METAL #5 (OF 7) CVR A GREG CAPULLO EMBOSSED FOIL $ 4.99
DARK NIGHTS DEATH METAL #5 (OF 7) CVR B DAVID FINCH PITCH BLACK MARTIAN MANHUNTER VAR $ 4.99
DARK NIGHTS DEATH METAL #5 (OF 7) CVR C STANLEY ARTGERM LAU KULL VAR $ 4.99
DARK NIGHTS DEATH METAL #5 (OF 7) CVR D LUCIO PARRILLO B SPECTRE VAR $ 4.99
DARK NIGHTS DEATH METAL #5 (OF 7) INC 1:25 DOUG MAHNKE VAR $ 4.99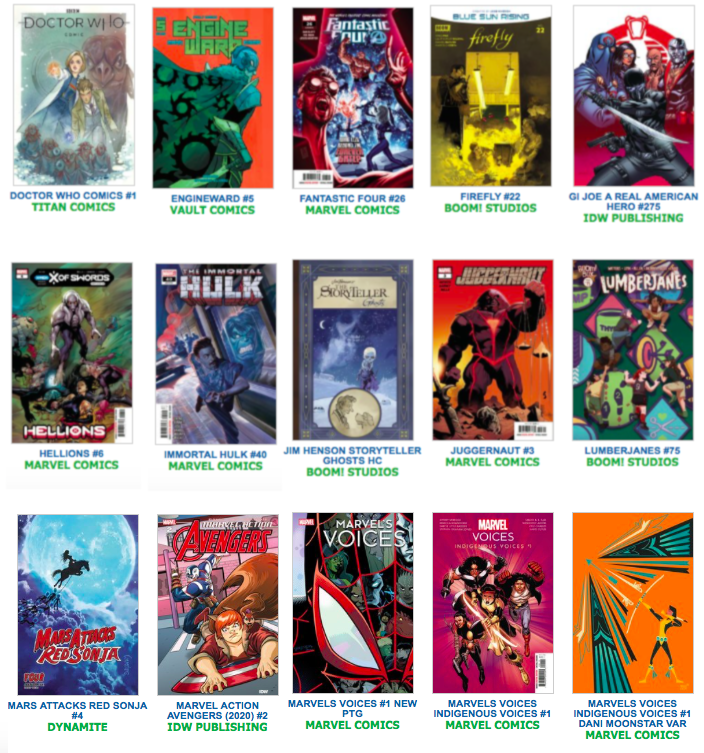 DARKNESS #1 25TH ANNV COMMEMORATIVE ED (MR) $ 4.99
DETECTIVE COMICS #1029 CVR A KENNETH ROCAFORT $ 3.99
DEVILS RED BRIDE #2 CVR A BIVENS (MR) $ 3.99
DEVILS RED BRIDE #2 CVR B GOODEN DANIEL (MR) $ 3.99
DIE #15 CVR A HANS (MR) $ 3.99
DIE #15 CVR B SIENKIEWICZ (MR) $ 3.99
DIE DIE DIE #13 (MR) $ 3.99
DIE!NAMITE #2 30 COPY SHALVEY VIRGIN INCV $ 3.99
DOCTOR WHO COMICS #1 CVR A MOMOKO $ 3.99
DOCTOR WHO COMICS #1 CVR B PHOTO $ 3.99
DOCTOR WHO COMICS #1 CVR G MOMOKO FOC VIRGIN $ 3.99
DOLLAR COMICS THE SANDMAN #23 (MR) $ 1
ENGINEWARD #5 CVR A EISMA $ 3.99
ENGINEWARD #5 CVR B HICKMAN $ 3.99
FAITHLESS II #6 CVR A LLOVET (MR) $ 3.99
FAITHLESS II #6 CVR B EROTICA CONNECTING VAR (MR) $ 4.99
FANTASTIC FOUR #26 $ 3.99
FANTASTIC FOUR #26 ANKA NAMOR PHOENIX VAR EMP $ 3.99
FIREFLY #22 CVR A MAIN $ 3.99
FIREFLY #22 CVR B KAMBADAIS VAR $ 3.99
GI JOE A REAL AMERICAN HERO #274 2ND PTG $ 3.99
GI JOE A REAL AMERICAN HERO #275 ROYLE VAR (1/10) $ ???
GI JOE A REAL AMERICAN HERO #275 HAMA VAR (1/25) $ ???
GI JOE A REAL AMERICAN HERO #275 CVR A ATKINS $ 5.99
GI JOE A REAL AMERICAN HERO #275 CVR B SULLIVAN $ 5.99
GI JOE A REAL AMERICAN HERO SNAKE EYES ORIGIN 2ND PTG $ 4.99
GRENDEL KY #3 (OF 4) (MR) $ 3.99
HELLIONS #5 2ND PTG VAR XOS $ 3.99
HELLIONS #6 INHYUK LEE VAR XOS $ 3.99
HELLIONS #6 XOS $ 3.99
ICE CREAM MAN #21 CVR A MORAZZO & OHALLORAN (MR) $ 3.99
ICE CREAM MAN #21 CVR B SORRENTINO (MR) $ 3.99
IMMORTAL HULK #40 $ 3.99
IMMORTAL HULK #40 CLARKE SHE-HULK PHOENIX VAR $ 3.99
IMMORTAL HULK #40 VEREGGE HULK VAR $ 3.99
IMMORTAL HULK #40 YOUNG SPOILER VAR $ 3.99
JOKER HARLEY CRIMINAL SANITY #6 (OF 8) CVR A FRANCESCO MATTINA (MR) $ 5.99
JOKER HARLEY CRIMINAL SANITY #6 (OF 8) CVR B JASON BADOWER VAR (MR) $ 5.99
JUGGERNAUT #3 (OF 5) $ 3.99
JUSTICE LEAGUE #57 CVR A LIAM SHARP (DARK NIGHTS DEATH METAL) $ 3.99
JUSTICE LEAGUE #57 CVR B PHILIP TAN VAR (DARK NIGHTS DEATH METAL) $ 3.99
JUSTICE LEAGUE DARK #27 CVR A YANICK PAQUETTE $ 3.99
JUSTICE LEAGUE DARK #27 CVR B KAEL NGU VAR $ 3.99
LIFE IS STRANGE PARTNERS IN TIME #2 CVR A LEONARDI (RES) (MR $ 3.99
LIFE IS STRANGE PARTNERS IN TIME #2 CVR B GRALEY (RES) (MR) $ 3.99
LOONEY TUNES #257 $ 2.99
LUMBERJANES #75 CVR A LEYH (RES) $ 6.99
LUMBERJANES #75 CVR B MOULTON VAR (RES) $ 6.99
MARS ATTACKS RED SONJA #4 STRATI B&W VIRGIN VAR $ ???
MARS ATTACKS RED SONJA #4 SUYDAM B&W VAR $ ???
MARS ATTACKS RED SONJA #4 KITSON VIRGINVAR $ ???
MARS ATTACKS RED SONJA #4 SUYDAM TINT VIRGIN VAR $ ???
MARS ATTACKS RED SONJA #4 STRATI VIRGIN VAR $ ???
MARS ATTACKS RED SONJA #4 CVR A SUYDAM $ 3.99
MARVEL ACTION AVENGERS (2020) #2 CVR A MAPA $ 3.99
MARVELS VOICES #1 NEW PTG $ 4.99
MARVELS VOICES INDIGENOUS VOICES #1 $ 4.99
MARVELS VOICES INDIGENOUS VOICES #1 GHOST RIDER VEREGGE VAR $ 4.99
MARVELS VOICES INDIGENOUS VOICES #1 MACK VAR $ 4.99
MARVELS VOICES INDIGENOUS VOICES #1 RICHARDSON VAR $ 4.99
MARVELS VOICES INDIGENOUS VOICES #1 VEREGGE VAR $ 4.99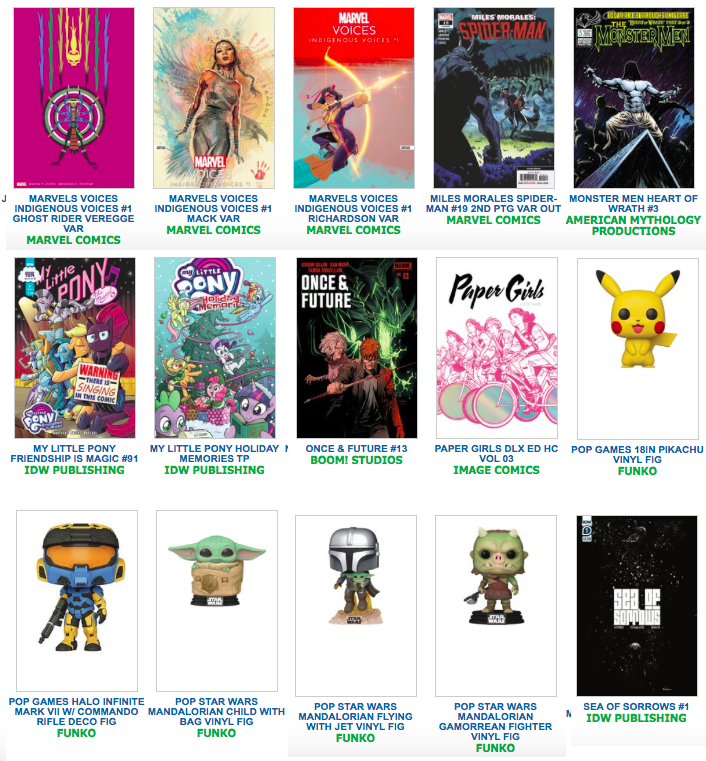 MILES MORALES SPIDER-MAN #19 2ND PTG VAR OUT $ 3.99
MONSTER MEN HEART OF WRATH #3 CVR A MARTINEZ $ 3.99
MY LITTLE PONY FRIENDSHIP IS MAGIC #91 JUSTASUT VAR (1/10) $ ???
MY LITTLE PONY FRIENDSHIP IS MAGIC #91 CVR A PRICE $ 3.99
NEW MUTANTS #13 2ND PTG VAR XOS $ 3.99
NIGHTWING #76 CVR A TRAVIS MOORE $ 3.99
NIGHTWING #76 CVR B ALAN QUAH VAR $ 3.99
ONCE & FUTURE #13 CVR A $ 3.99
ONCE & FUTURE #13 CVR B FRANY $ 3.99
RORSCHACH #2 (OF 12) CVR A JORGE FORNES (MR) $ 4.99
RORSCHACH #2 (OF 12) CVR B PEACH MOMOKO VAR (MR) $ 4.99
SEA OF SORROWS #1 (OF 5) (RES) $ 3.99
SEA OF SORROWS #1 (OF 5) SAWATSKY VAR (1/10) $ ???
SERA & ROYAL STARS #9 $ 3.99
SEVEN TO ETERNITY #14 CVR A OPENA & HOLLINGSWORTH $ 3.99
SEVEN TO ETERNITY #14 CVR B TEDESCO $ 3.99
SHADOW SERVICE #4 CVR A HOWELL $ 3.99
SHADOW SERVICE #4 CVR B ISAACS $ 3.99
SOMETHING IS KILLING CHILDREN #12 MOMOKO VAR (1/25) $ ???
SOMETHING IS KILLING CHILDREN #12 CVR C BLOODY BLANK SKETCH $ 3.99
SOMETHING IS KILLING CHILDREN #12 MAIN $ 3.99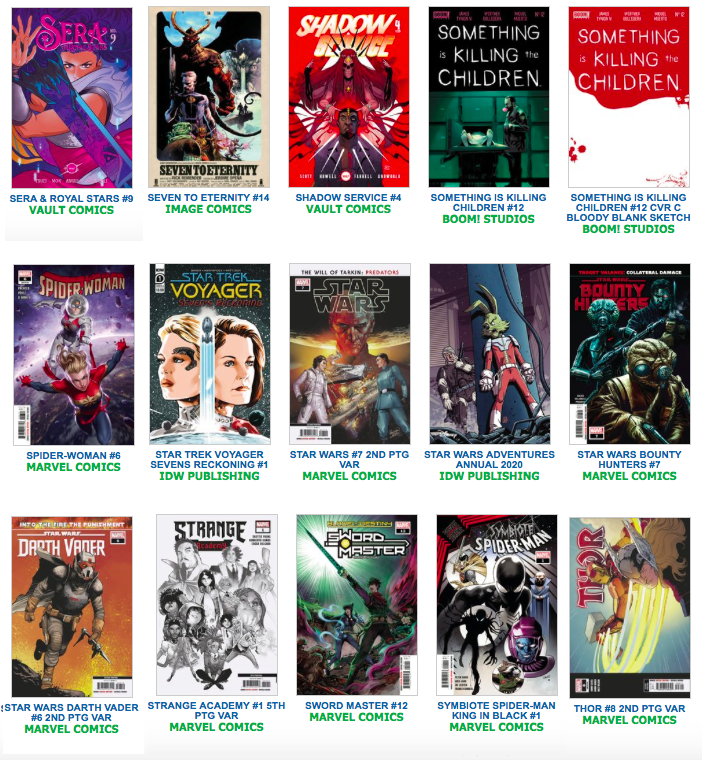 SPIDER-WOMAN #6 $ 3.99
SPIDER-WOMAN #6 LUPACCHINO VAR $ 3.99
SPIDER-WOMAN #6 NAUCK HEADSHOT VAR $ 3.99
STAR TREK VOYAGER SEVENS RECKONING #1 (OF 4) CVR A HERNANDE $ 3.99
STAR TREK VOYAGER SEVENS RECKONING #1 (OF 4) CVR B PHOTO $ 3.99
STAR WARS #7 2ND PTG VAR $ 3.99
STAR WARS ADVENTURES ANNUAL 2020 $ 5.99
STAR WARS ADVENTURES ANNUAL 2020 VAR FREE1/10) $ ???
STAR WARS BOUNTY HUNTERS #7 $ 3.99
STAR WARS BOUNTY HUNTERS #7 CHRISTOPHER ACTION FIGURE VAR $ 3.99
STAR WARS BOUNTY HUNTERS #7 SPROUSE EMPIRE STRIKES BACK VAR $ 3.99
STAR WARS DARTH VADER #6 2ND PTG VAR $ 3.99
STILLWATER BY ZDARSKY & PEREZ #3 (MR) $ 3.99
STRANGE ACADEMY #1 5TH PTG VAR $ 4.99
SWORD MASTER #12 $ 3.99
SYMBIOTE SPIDER-MAN KING IN BLACK #1 $ 4.99
SYMBIOTE SPIDER-MAN KING IN BLACK #1 BLACK BLANK VAR $ 4.99
SYMBIOTE SPIDER-MAN KING IN BLACK #1 RANDOLPH VAR $ 4.99
SYMBIOTE SPIDER-MAN KING IN BLACK #1 SAVIUK VAR (1/25) $ ???
SYMBIOTE SPIDER-MAN KING IN BLACK #1 SHAW VAR (1/10) $ ???
SYMBIOTE SPIDER-MAN KING IN BLACK #1 SUPERLOG VAR $ 4.99
TALES FROM THE DARK MULTIVERSE BATMAN HUSH #1 (ONE SHOT) $ 5.99
TEEN TITANS #47 CVR A BERNARD CHANG $ 3.99
TEEN TITANS #47 CVR B BABS TARR VAR $ 3.99
THOR #8 2ND PTG VAR $ 3.99
TRUE BELIEVERS KING IN BLACK MONSTERWORLD #1 $ 1
TRUE BELIEVERS KING IN BLACK THUNDERBOLTS #1 $ 1
USAGI YOJIMBO #14 $ 3.99
VAN HELSING 2020 ANNUAL CVR A VITORINO $ 7.99
VAN HELSING 2020 ANNUAL CVR C MCDONALD $ 7.99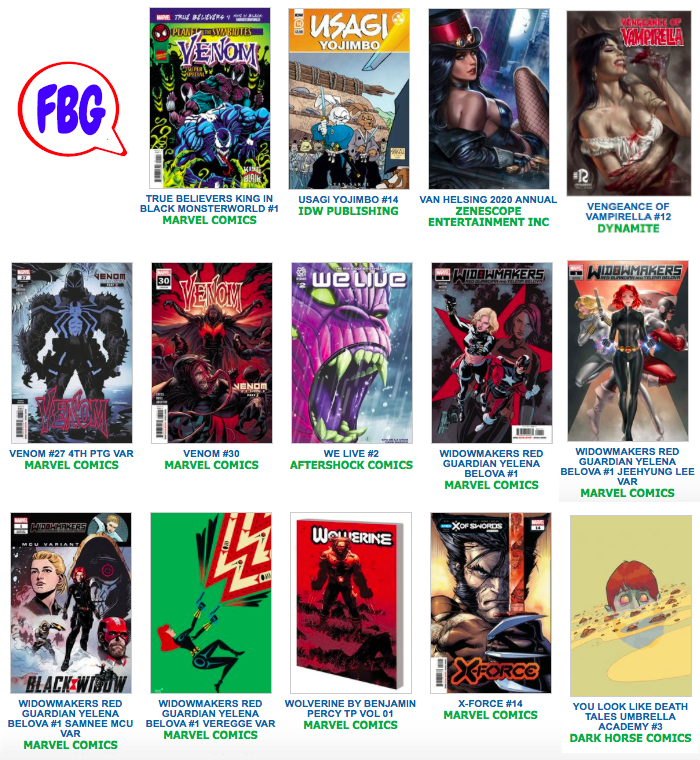 VENGEANCE OF VAMPIRELLA #12 SEGOVIA VIRGIN VAR $ ???
VENGEANCE OF VAMPIRELLA #12 CASTRO VIRGIN VAR $ ???
VENGEANCE OF VAMPIRELLA #12 COSPLAY VIRGIN VAR $ ???
VENGEANCE OF VAMPIRELLA #12 CASTRO B&W VIRGIN VAR $ ???
VENGEANCE OF VAMPIRELLA #12 PARRILLO B&W VIRGIN VAR $ ???
VENGEANCE OF VAMPIRELLA #12 PARRILLO TINT FOC VAR $ ???
VENGEANCE OF VAMPIRELLA #12 CVR A PARRILLO $ 3.99
VENGEANCE OF VAMPIRELLA #12 CVR D OPHELIA COSPLAY $ 3.99
VENOM #27 4TH PTG VAR $ 3.99
VENOM #30 $ 3.99
VENOM #30 KUDER VAR (1/25) $ ???
VENOM #30 STEGMAN VAR $ 3.99
WALKING DEAD DLX #3 CVR A FINCH & MCCAIG (MR) $ 3.99
WALKING DEAD DLX #3 CVR B MOORE & MCCAIG (MR) $ 3.99
WALKING DEAD DLX #3 CVR C ADLARD & MCCAIG (MR) $ 3.99
WALKING DEAD DLX #3 CVR D ADAMS & MCCAIG (MR) $ 3.99
WE LIVE #1 2ND PTG $ 4.99
WE LIVE #2 DAVE WILLIAMS VAR (1/10) $ ???
WE LIVE #2 CVR A MIRANDA $ 3.99
WIDOWMAKERS RED GUARDIAN YELENA BELOVA #1 $ 4.99
WIDOWMAKERS RED GUARDIAN YELENA BELOVA #1 JEEHYUNG LEE VAR $ 4.99
WIDOWMAKERS RED GUARDIAN YELENA BELOVA #1 SAMNEE MCU VAR $ 4.99
WIDOWMAKERS RED GUARDIAN YELENA BELOVA #1 VEREGGE VAR $ 4.99
X-FORCE #14 FERREYRA VAR XOS $ 3.99
X-FORCE #14 XOS $ 3.99
YOU LOOK LIKE DEATH TALES UMBRELLA ACADEMY #3 (OF 6) CVR A G $ 3.99
YOU LOOK LIKE DEATH TALES UMBRELLA ACADEMY #3 (OF 6) CVR B C $ 3.99
YOU LOOK LIKE DEATH TALES UMBRELLA ACADEMY #3 (OF 6) CVR C M $ 3.99

COMIC SHOP NEWS #1735 $ FREE

ALIEN VS PREDATOR THICKER THAN BLOOD TP (RES) (MR) $ 19.99
AVATAR ART OF THE LAST AIRBENDER ART OF THE ANIMATED SER DLX $ 79.99
BANG TP VOL 01 $ 19.99
BATMAN BY TOM KING & LEE WEEKS DELUXE EDITION HC $ 29.99
BATMAN THE ROAD TO NO MANS LAND OMNIBUS HC $ 125
BATMAN THREE JOKERS HC (MR) $ 29.99
BOOK TOUR GN $ 24.99
CABLE BY GERRY DUGGAN TP VOL 01 $ 15.99
DAREDEVIL EPIC COLLECTION TP LAST RITES $ 39.99
EAST OF WEST THE APOCALYPSE YEAR THREE HC (MR) $ 49.99
EMPYRE CAPTAIN AMERICA AND AVENGERS TP $ 17.99
EMPYRE TP LORDS OF EMPYRE $ 17.99
EXCALIBUR OMNIBUS HC VOL 01 DAVIS FIRST ISSUE CVR $ 125
FLASH VOL 13 ROGUES REIGN TP $ 17.99
FLASH YEAR ONE TP $ 17.99
HELLIONS BY ZEB WELLS TP VOL 01 $ 15.99
JIM HENSON STORYTELLER GHOSTS HC $ 24.99
JLA BY GRANT MORRISON OMNIBUS HC $ 150
MARVEL COMICS FIRST 80 YEARS HC $ 29.99
MIGHTY MORPHIN POWER RANGERS TP VOL 13 $ 16.99
MILO MANARA DEFINITIVE COLLECTION SC (MR) $ 24.99
PAPER GIRLS DLX ED HC VOL 03 $ 34.99
PLUNGE HC (MR) $ 24.99
PREDATOR HUNTERS III TP $ 19.99
SUPER SONS OMNIBUS EXPANDED EDITION HC $ 99.99
UNDERWORLD UNLEASHED THE 25TH ANNIVERSARY EDITION TP $ 29.99
WOLVERINE BY BENJAMIN PERCY TP VOL 01 $ 17.99

TOPPS 2020 SW MANDALORIAN SEASON 1 T/C BOX $ ???
TOPPS 2020 UPDATE SER BASEBALL T/C JUMBO BOX $ ???

MARVEL MAXIMUM VENOM MEA-018 VENOMIZED DR STRANGE FIG $ 13.99
MARVEL MAXIMUM VENOM MEA-018 VENOMIZED GROOT FIG $ 13.99
MARVEL MAXIMUM VENOM MEA-018 VENOMIZED IRON MAN FIG $ 13.99
MARVEL MAXIMUM VENOM MEA-018 VENOMIZED SPIDER-MAN FIG $ 13.99
POCKET DISNEY 65TH ALICE IN TEACUP FIG KEYCHAIN $ 5.99
POCKET POP MATTEL ROCK EM SOCK EM ROBOT RED KEYCHAIN $ 5.99
POP GAMES 18IN PIKACHU VINYL FIG $ 125
POP GAMES HALO INFINITE MARK VII W/ COMMANDO RIFLE DECO FIG $ 11.99
POP GAMES HALO INFINITE MARK VII W/ COMMANDO RIFLE VINYL FIG $ 11.99
POP NBA GOLDEN STATE WARRIORS STEPH CURRY VIN FIG $ 12.99
POP NBA LA LAKERS LEBRON JAMES ALT VIN FIG $ 11.99
POP RIDES DISNEY 65TH PETER & FLIGHT VIN FIG $ ???
POP RIDES DONALD W/ MATTERHORN VIN FIG $ 31.99
POP ROCKS ELVIS 68 COMEBACK SPECIAL VINYL FIGURE $ 11.99
POP TMNT DONATELLO VIN FIG $ 11.99
POP TMNT RAPHAEL VIN FIG $ 11.99
POP WWE ROCK VINYL FIG $ 11.99
SPECIALTY SERIES MYSTERY MINIS MARVEL VENOM 12PC BMB DISP $ 8.99

CDS LONG COMIC BOX (SOLD IN 10) $ 4.99