He Lost the Chess match, so So He is Flipping the Table and Declaring a Win on Wednesday, December 9th, 2020
He only cares about himself. September 11th was mourned for years, still is. We lose more than that every day now, and he hasn't said a single word of empathy or condolence. HE'S the victim. His MAGA's are the victims. Yes, of their blind allegiance to the Child. And politicians are too cowardly to tell the truth.
Watch Twilight Zone "It's a Good Life".
It's getting serious again, folks. Don't get a heart attack. Don't break a leg. Don't get in a car accident. Don't get older. The ambulances are already busy. ICU beds are full. Doctors and Nurses are getting sick and collapsing. Please be careful out there and in here. Wear a mask everywhere. Keep your distance and try to be an "efficient" shopper, to keep the overall store population down minute to minute.
We made a booboo on DC's last week. They are coming in next week. We caught the problem for THIS week last week so they should only be a day and a half late, arriving sometime today, but maybe as late as 4 or 5.  They are in the second section, after the regular alphabet of all the other comics. b. No summary. Very late, tons to do. See the list below. Sorry for all the white space. Short on time. Again.
Wednesday is STILL New Comic Day, no matter what you read on the internets. We can't clear the new rack to just have 10 DC's  surrounded by empty space.  We do it once, Wednesday morning. We encourage everyone to be careful, make your trip to our store quick and efficient, and try to come in to shop in smaller groups, and reduce your own exposure to ALL public places indoors, including ours. Bob is open, bring your mask, keep your distance, and help keep Bob healthy. If you like, you can browse the list and make an order to fbgbob@aol.com for a quicker pick up. It might also help to put in a time window when you would be in the neighborhood, to give Bob a chance to get them together, and include a phone number for good measure.
Please wear a mask!
Watch this space and our Facebook page for latest news about the rest of the month, season, year, millenium, etc. (And text messages from 5-Star.) The complete list is found below. If you want to know about the next sale or store event, or whether or not WE ARE EVEN OPEN click here. Sign in here to get an email reminder for ALL sales and other events. Also, you can go to     fb.fantasybooksandgames.com and you'll be taken to our Facebook page. We also use our in-store 5-Star Rewards system to text similar announcements to your phone.
Thanks to Comics on the Green for this week's images, which include many of the comics and a few of the books and other items we received today, and may have pics of things we didn't and/or won't get. Use the list, and maybe the picture.
ALIEN ORIGINAL SCREENPLAY #5 (OF 5) CVR A BALBI $ 3.99
ALIEN ORIGINAL SCREENPLAY #5 (OF 5) CVR B SIMONSON STEWART $ 3.99
AMAZING SPIDER-MAN #54 BAGLEY VAR LR $ 3.99
AMAZING SPIDER-MAN #54 GOULDEN SPIDER-MAN MILES MOR VAR (1/10) $ ???
AMAZING SPIDER-MAN #54 LR $ 3.99
AMAZING SPIDER-MAN #54 SIQUERA KNULLIFIED VAR LR $ 3.99
ARCHIES CHRISTMAS SPECTACULAR $ 2.99
AVENGERS #39 $ 3.99
AVENGERS #39 TOCCHINI KNULLIFIED VAR $ 3.99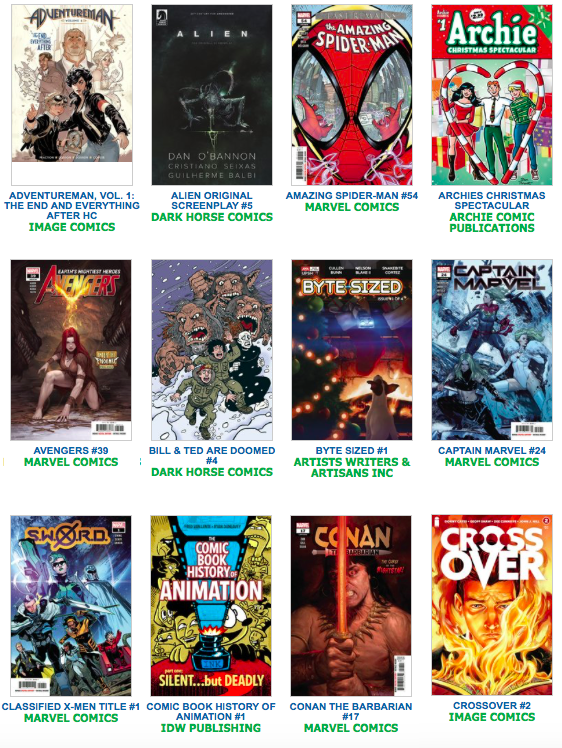 BILL & TED ARE DOOMED #4 (OF 4) CVR A DORKIN $ 3.99
BILL & TED ARE DOOMED #4 (OF 4) CVR B DEWEY $ 3.99
BYTE SIZED #1 $ 3.99
CAPTAIN MARVEL #24 $ 3.99
CAPTAIN MARVEL #24 MOORE KNULLIFIED VAR $ 3.99
CIMMERIAN FROST GIANTS DAUGHTER #1 MOMOKO VIRGIN (1/10) $ ???
CIMMERIAN FROST GIANTS DAUGHTER #1 CVR A PEACH MOMOKO (MR) $ 3.99
CIMMERIAN FROST GIANTS DAUGHTER #1 CVR B YOON (MR) $ 3.99
CIMMERIAN FROST GIANTS DAUGHTER #1 CVR C ANACLETO (MR) $ 3.99
CIMMERIAN FROST GIANTS DAUGHTER #1 CVR D RECHT (MR) $ 3.99
CIMMERIAN FROST GIANTS DAUGHTER #1 CVR E CASA (MR) $ 3.99
COMIC BOOK HISTORY OF ANIMATION #1 (OF 5) CVR A DUNLAVEY $ 3.99
COMIC BOOK HISTORY OF ANIMATION #1 (OF 5) CVR B DUNLAVEY $ 3.99
CONAN THE BARBARIAN #17 $ 3.99
CROSSOVER #2 CVR A SHAW $ 3.99
CROSSOVER #2 CVR B BLANK CVR $ 3.99
CROSSOVER #2 CVR C SHAW VIRGIN (1/10) $ ???
CROSSOVER #2 CVR D SHAW RAW (1/25) $ ???
CROSSOVER #2 CVR E ELLIPSIS DESIGN VAR (1/50) $ ???
DEVILS RED BRIDE #3 CVR A BIVENS (MR) $ 3.99
DEVILS RED BRIDE #3 CVR B DANIEL (MR) $ 3.99
DISASTER INC #5 $ 3.99
FIREFLY #23 CVR A MAIN $ 3.99
FIREFLY #23 CVR B KAMBADAIS VAR $ 3.99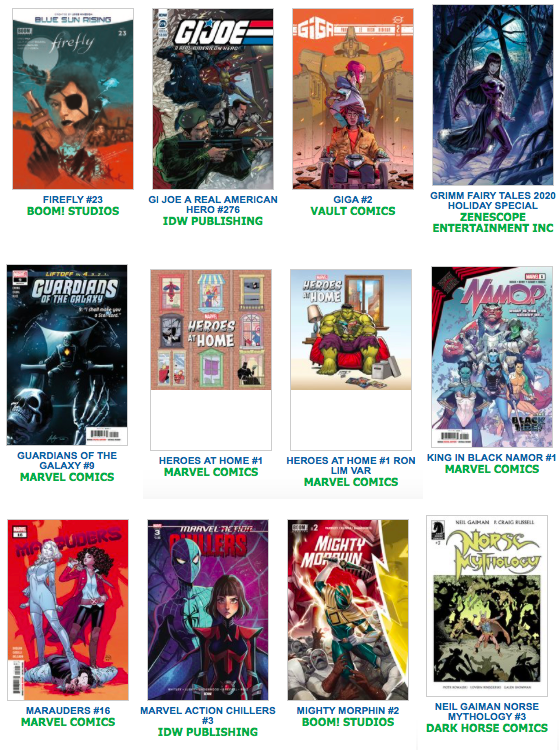 GETTING IT TOGETHER #3 (OF 4) CVR A FINE (MR) $ 4.99
GETTING IT TOGETHER #3 (OF 4) CVR B CATACUTAN (MR) $ 4.99
GI JOE A REAL AMERICAN HERO #276 CVR A DIAZ $ 3.99
GI JOE A REAL AMERICAN HERO #276 CVR B SHEARER $ 3.99
GIGA #2 CVR A LE $ 3.99
GIGA #2 CVR B ADAM GORHAM $ 3.99
GOOSEBUMPS SECRET OF THE SWAMP #3 (OF 5) $ 3.99
GRIMM FAIRY TALES 2020 HOLIDAY SPECIAL CVR A VITORINO $ 5.99
GRIMM FAIRY TALES 2020 HOLIDAY SPECIAL CVR B LEARY JR $ 5.99
GRIMM FAIRY TALES 2020 HOLIDAY SPECIAL CVR C DIPASCALE $ 5.99
GRIMM FAIRY TALES 2020 HOLIDAY SPECIAL CVR D TOLIBAO $ 5.99
GUARDIANS OF THE GALAXY #9 $ 3.99
GUARDIANS OF THE GALAXY #9 BROWN KNULLIFIED VAR $ 3.99
HOME SICK PILOTS #1 CVR A WIJNGAARD (MR) $ 3.99
HOME SICK PILOTS #1 CVR B CONCERT POSTER VAR (MR) $ 3.99
HOME SICK PILOTS #1 CVR C DANI (MR) $ 3.99
HOME SICK PILOTS #1 CVR E TURQUOISE FOIL VAR (1/50) $ ???
I MAKE BOYS CRY #1 CVR C TYNDALL WRAPAROUND LENTICULAR $ 19.99
JUGGERNAUT #4 (OF 5) $ 3.99 (Maybe Next Week!)
KING IN BLACK NAMOR #1 (OF 5) $ 3.99
KING IN BLACK NAMOR #1 (OF 5) SMITH VAR $ 3.99
LOCKE & KEY SANDMAN HELL & GONE #0 $ 3.99
LONELY RECEIVER #4 $ 3.99
MARAUDERS #16 $ 3.99
MARVEL ACTION CHILLERS #3 (OF 4) SWEENEY BOO (1/10) $ ???
MARVEL ACTION CHILLERS #3 (OF 4) LUSKY CVR $ 3.99
MIGHTY MORPHIN #2 MORA (1/10) $ ???
MIGHTY MORPHIN #2 MOMOKO (1/25) $ ???
MIGHTY MORPHIN #2 CVR A MAIN $ 3.99
MIGHTY MORPHIN #2 CVR B CARLINI LEGACY VAR $ 3.99
MIGHTY MORPHIN #2 CVR C YELLOW BLANK SKETCH $ 3.99
NEIL GAIMAN NORSE MYTHOLOGY #3 CVR A RUSSELL $ 3.99
NEIL GAIMAN NORSE MYTHOLOGY #3 CVR B MACK $ 3.99
ORIGINS #2 (OF 6) REBELKA (1/10) $ ???
ORIGINS #2 (OF 6) CVR A MAIN $ 3.99
POSTAL NIGHT SHIFT (ONE-SHOT) (MR) $ 3.99
POWER RANGERS #1 2ND PTG CONNECTING VAR $ 4.99
POWER RANGERS #1 2ND PTG MORA $ 4.99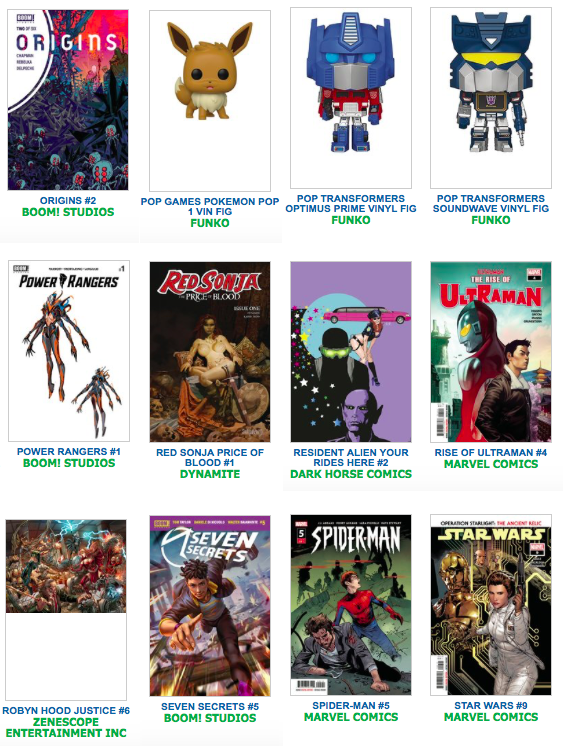 RED MOTHER #11 $ 3.99 (Maybe Next Week?)
RED SONJA PRICE OF BLOOD #1 SUYDAM B&W FOC $ ???
RED SONJA PRICE OF BLOOD #1 COSPLAY VIRGIN $ ???
RED SONJA PRICE OF BLOOD #1 SUYDAM B&W VIRGIN FOC $ ???
RED SONJA PRICE OF BLOOD #1 CVR A SUYDAM $ 3.99
RED SONJA PRICE OF BLOOD #1 CVR C LINSNER $ 3.99
RED SONJA PRICE OF BLOOD #1 CVR E RAY COSPLAY $ 3.99
RESIDENT ALIEN YOUR RIDES HERE #2 $ 3.99
RISE OF ULTRAMAN #4 (OF 5) $ 3.99
RISE OF ULTRAMAN #4 (OF 5) MCGUINNESS PROMO VAR $ 3.99
ROBYN HOOD JUSTICE #6 (OF 6) CVR A VITORINO $ 3.99
ROBYN HOOD JUSTICE #6 (OF 6) CVR B VITORINO $ 3.99
ROBYN HOOD JUSTICE #6 (OF 6) CVR C RICH $ 3.99
SAVAGE DRAGON #252 3RD PTG CHARLIE BROWN PARODY CVR (MR) $ 3.99
SAVAGE DRAGON #253 2ND PTG BIDEN HARRIS (MR) $ 3.99
SEVEN SECRETS #5 MERCADO (1/10) $ ???
SEVEN SECRETS #5 CVR A MAIN $ 3.99
SEVEN SECRETS #5 CVR B CHEW VAR $ 3.99
SPIDER-MAN #5 (OF 5) $ 3.99
SPIDER-MAN #5 (OF 5) PICHELLI VAR (1/25) $ ???
SPIDER-MAN #5 (OF 5) RODRIGUEZ MARVELS X VAR $ 3.99
STAR WARS #9 $ 3.99
STAR WARS #9 CHRISTOPHER ACTION FIGURE VAR $ 3.99
STAR WARS #9 DANIEL VAR (1/20) $ ???
STAR WARS #9 SPROUSE EMPIRE STRIKES BACK VAR $ 3.99
STRANGE ACADEMY #6 $ 3.99
STRANGE ACADEMY #6 ART ADAMS CHARACTER SPOTLIGHT VAR $ 3.99
STRANGE ACADEMY #6 PICHELLI VAR $ 3.99
SWORD #1 $ 4.99
SWORD #1 BARTEL VAR (1/25) $ ???
SWORD #1 DODSON VAR $ 4.99
SWORD #1 LUPACCHINO VAR $ 4.99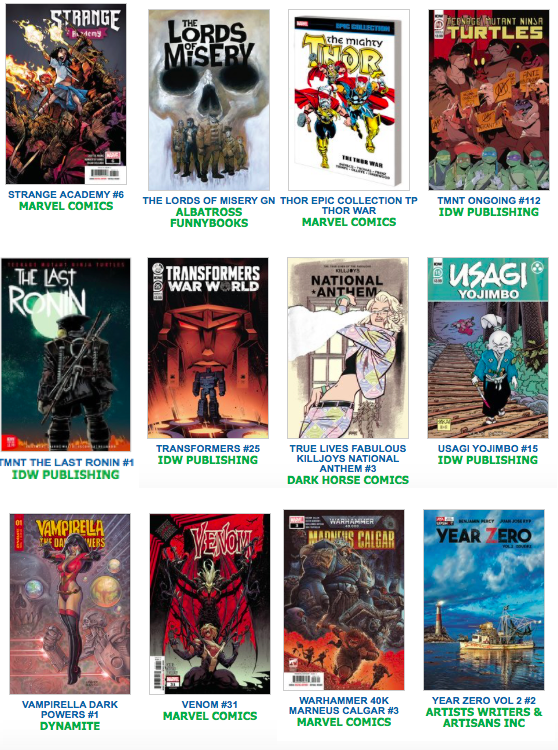 TALES FROM THE DARK MULTIVERSE FLASHPOINT #1 (ONE SHOT) $ 5.99
TMNT ONGOING #112 MASON (1/10) $ ???
TMNT ONGOING #112 CVR A NISHIJIMA $ 3.99
TMNT ONGOING #112 CVR B EASTMAN $ 3.99
TMNT THE LAST RONIN #1 (OF 5) 2ND PTG $ 8.99
TRANSFORMERS #25 OSSIO (1/25) $ ???
TRANSFORMERS #25 CVR A HERNANDEZ $ 7.99
TRANSFORMERS #25 CVR B ANNA MALKOVA $ 7.99
TRUE LIVES FABULOUS KILLJOYS NATIONAL ANTHEM #3 CVR A ROMERO $ 3.99
TRUE LIVES FABULOUS KILLJOYS NATIONAL ANTHEM #3 CVR B CLOONA $ 3.99
TRUE LIVES FABULOUS KILLJOYS NATIONAL ANTHEM #3 CVR C MACLEA $ 3.99
USAGI YOJIMBO #15 $ 3.99
VAMPIRELLA DARK POWERS #1 LEE VAMPI DEMONS $ 3.99
VAMPIRELLA DARK POWERS #1 ROBSON HOMAGE $ 3.99
VAMPIRELLA DARK POWERS #1 MOMOKO B&W $ 3.99
VAMPIRELLA DARK POWERS #1 DAVIDSON VIRGIN $ 3.99
VAMPIRELLA DARK POWERS #1 ROBSON VIRGIN $ 3.99
VAMPIRELLA DARK POWERS #1 COSPLAY VIRGIN $ 3.99
VAMPIRELLA DARK POWERS #1 YOON B&W $ 3.99
VAMPIRELLA DARK POWERS #1 CVR B MOMOKO $ 3.99
VAMPIRELLA DARK POWERS #1 CVR C LINSNER $ 3.99
VAMPIRELLA DARK POWERS #1 CVR D YOON $ 3.99
VAMPIRELLA DARK POWERS #1 CVR E RAMIREZ COSPLAY $ 3.99
VENOM #31 HERRERA KNULLIFIED VAR KIB $ 3.99
VENOM #31 KIB $ 3.99
VENOM #31 STEGMAN SKETCH VAR KIB (100) $ ???
VENOM #31 STEGMAN VAR KIB $ 3.99
WARHAMMER 40K MARNEUS CALGAR #3 (OF 5) $ 4.99
WE LIVE #1 3RD PTG $ 4.99
WHITE WIDOW #5 CVR C TYNDALL WRAPAROUND LENTICULAR $ 19.99
YEAR ZERO VOL 2 #2 $ 3.99
DC'S – SHOULD HAVE THESE THURSDAY AFTERNOON
AMERICAN VAMPIRE 1976 #3 (OF 9) CVR A RAFAEL ALBUQUERQUE (MR) $ 3.99
AMERICAN VAMPIRE 1976 #3 (OF 9) CVR B VAR (MR) $ 3.99
BATMAN BLACK AND WHITE #1 (OF 6) CVR A GREG CAPULLO $ 5.99
BATMAN BLACK AND WHITE #1 (OF 6) CVR B JH WILLIAMS III VAR $ 5.99
BATMAN BLACK AND WHITE #1 (OF 6) CVR C PEACH MOMOKO TALIA VAR $ 5.99
BATMAN BLACK AND WHITE #1 (OF 6) CVR D BLANK VAR $ 5.99
DARK NIGHTS DEATH METAL THE LAST STORIES OF THE DC UNIVERSE #1 (ONE SHOT) CVR A TULA LOTAY $ 8.99
DCS VERY MERRY MULTIVERSE #1 (ONE SHOT) $ 9.99
DETECTIVE COMICS #1032 CVR A BRAD WALKER & ANDREW HENNESSY $ 3.99
DETECTIVE COMICS #1032 CVR B LEE BERMEJO CARD STOCK VAR $ 4.99
FLASH #767 CVR A CLAYTON HENRY (ENDLESS WINTER) $ 3.99
FLASH #767 CVR B HICHAM HABCHI VAR (ENDLESS WINTER) $ 3.99
SUPERMAN ENDLESS WINTER SPECIAL #1 (ONE SHOT) CVR A FRANCIS MANAPUL (ENDLESS WINTER) $ 3.99
SWEET TOOTH THE RETURN #2 (OF 6) (MR) $ 3.99
WONDER WOMAN #768 CVR A DAVID MARQUEZ $ 3.99
WONDER WOMAN #768 CVR B JOSHUA MIDDLETON CARD STOCK VAR $ 4.99
The Rest of the List
COMIC SHOP NEWS #1738 $ FREE
COMIC SHOP NEWS WINTER 2020 PREVIEW $ FREE

ADVENTUREMAN HC VOL 01 $ 24.99
AMAZING SPIDER-MAN BY NICK SPENCER TP VOL 10 GREEN GOBLIN RE $ 17.99
ARKHAMANIACS TP $ 9.99
BUFFY VAMPIRE SLAYER LEGACY EDITION TP VOL 03 $ 29.99
DEADMAN OMNIBUS HC $ 99.99
GIANT-SIZE X-MEN BY JONATHAN HICKMAN TP $ 19.99
HEROES AT HOME #1 $ 9.99
HEROES AT HOME #1 RON LIM VAR $ 9.99
HEY AMATEUR GO FROM NOVICE TO NAILING IT IN PANELS SC $ 19.99
JUSTICE LEAGUE VENGEANCE IS THINE TP $ 19.99
KILL LOCK TP $ 24.99
KOMI CANT COMMUNICATE GN VOL 10 $ 9.99
LORDS OF MISERY GN $ 7.99
MAD MAGAZINE #17 $ 5.99
MARVEL ACTION SPIDER-MAN SHOCK TO THE SYSTEM TP $ 9.99
PLANTS VS ZOMBIES MULTIBALLISTIC HC $ 10.99
RICK & MORTY CHARACTER GUIDE HC $ 39.99
SAINT SEIYA SAINTIA SHO GN VOL 11 $ 12.99
SANDMAN THE BOOKS OF MAGIC OMNIBUS HC VOL 01 (MR) $ 150
SHAZAM AND THE SEVEN MAGIC LANDS TP $ 29.99
SONIC THE HEDGEHOG TP VOL 07 ALL OR NOTHING $ 15.99
SUPER MARIO BROS MANGA MANIA GN $ 9.99
THOR EPIC COLLECTION TP THOR WAR $ 39.99
X-FORCE BY BENJAMIN PERCY TP VOL 02 $ 17.99

TOPPS 2020 CHROME BLACK BASEBALL T/C BOX $ ???

POCKET POP TRANSFORMERS MEGATRON KEYCHAIN $ 5.99
POP ANIMATION DBZ S8 10IN SHENRON DRAGON $ 38.99
POP GAMES POKEMON EVEE VIN FIG $ 11.99
POP GAMES POKEMON FLAREON VIN FIG $ 11.99
POP NBA GOLDEN STATE WARRIORS STEPH CURRY VIN FIG $ 11.99
POP NFL 49ERS JIMMY GAROPPOLO VINYL FIGURE $ 11.99
POP ROCKS ELVIS BLUE HAWAII VINYL FIGURE $ 11.99
POP SOUL PEN TOPPER 16PC ASST $ ???
POP TRANSFORMERS SOUNDWAVE VINYL FIG (1 for Paula) $ 10.99
SW BLACK CW 6IN CLONE TROOPER AF CS $ ???
SW VINTAGE 3-3/4IN AF ASST 202007 $ ???

CDS SHORT COMIC BOX $ 4.99