Good-Bye 2020, Wednesday, December 30th
I think we all look forward to saying "Good-Bye" to 2020. Just because the calendar changes, life on Friday will still be fraught with the same dangers that we have today. The "Happy New Year" is going to have to wait for several months in my house.
Kind of a small week for comics, but a bunch of Transformers and Star Wars figures, and a zillion Pops of course. I said that last week and it's true again this week!
Hours: New Year's Eve 11-7, New Year's Day 11-7 (no big "sale" or special pricing to draw a big crowd). Rest of the weekend: 11-7 Sat, 11-6 Sun-Tue, 11-7 Wed-Sat and so on. Heppy New Year!
California is having the worst week yet, again. I said that last week, too. Please be careful out there and in here. Wear a mask everywhere. Keep your distance and try to be an "efficient" shopper, to keep the overall store population down minute to minute. Do Bob a favor, and don't flood the zone. Masks are not perfect prevention. Limit your time and numbers.
Wednesday is STILL New Comic Day, no matter what you read on the internets. We can't clear the new rack to just have 10 DC's  surrounded by empty space.  We do it once, Wednesday morning. We encourage everyone to be careful, make your trip to our store quick and efficient, and try to come in to shop in smaller groups, and reduce your own exposure to ALL public places indoors, including ours. Bob is open, bring your mask, keep your distance, and help keep Bob healthy. If you like, you can browse the list and make an order to fbgbob@aol.com for a quicker pick up. It might also help to put in a time window when you would be in the neighborhood, to give Bob a chance to get them together, and include a phone number for good measure.
Please wear a mask!
Watch this space and our Facebook page for latest news about the rest of the month, season, year, millenium, etc. (And text messages from 5-Star.) The complete list is found below. If you want to know about the next sale or store event, or whether or not WE ARE EVEN OPEN click here. Sign in here to get an email reminder for ALL sales and other events. Also, you can go to     fb.fantasybooksandgames.com and you'll be taken to our Facebook page. We also use our in-store 5-Star Rewards system to text similar announcements to your phone.
Thanks to Comics on the Green for this week's images, which include many of the comics and a few of the books and other items we received today, and may have pics of things we didn't and/or won't get. Use the list, and maybe the picture.  
AMAZING SPIDER-MAN #55 DELLOTTO VAR LR $ 3.99
AMAZING SPIDER-MAN #55 HORTON SPIDER-MAN MILES MORALES VAR L $ 3.99 (ask Bob at counter)
AMAZING SPIDER-MAN #55 LR $ 3.99
AMAZING SPIDER-MAN #55 RON LIM LEGO VAR LR $ 3.99
AVATAR NEXT SHADOW #1 $ 3.99
AVENGERS #38 2ND PTG VAR $ 3.99
AVENGERS #40 $ 3.99
AVENGERS #40 GARRON DESIGN VAR (1/10) $ ???
AVENGERS #40 SWABY VAR $ 3.99
AVENGERS #40 WEAVER CONNECTING VAR $ 3.99
BAD MOTHER #5 (OF 5) (MR) $ 3.99
BOYS DEAR BECKY #8 (MR) $ 3.99
CANTO II HOLLOW MEN #4 (OF 5) $ 3.99
CANTO II HOLLOW MEN #4 (OF 5) SEVY (1/10) $ ???
CAPTAIN MARVEL #23 2ND PTG VAR $ 3.99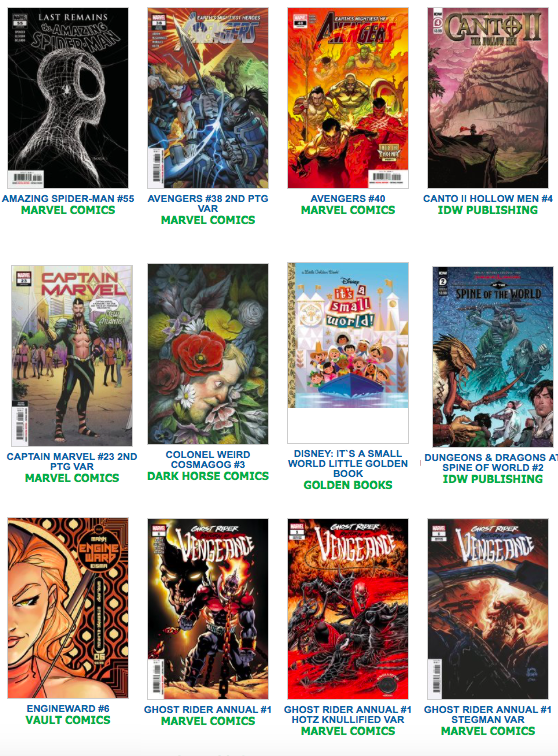 CHAMPIONS #2 2ND PTG VAR $ 3.99
COLONEL WEIRD COSMAGOG #3 (OF 4) CVR A CROOK $ 3.99
COLONEL WEIRD COSMAGOG #3 (OF 4) CVR B SPICER $ 3.99
CROSSOVER #2 CVR B BLANK CVR (CR/Re) $ 3.99
DUNGEONS & DRAGONS AT SPINE OF WORLD #2 (OF 4) CVR A COCCOLO $ 3.99
DUNGEONS & DRAGONS AT SPINE OF WORLD #2 (OF 4) CVR B CHARACT $ 3.99
ENGINEWARD #6 CVR A EISMA $ 3.99
ENGINEWARD #6 CVR B HICKMAN $ 3.99
GHOST RIDER RETURN OF VENGEANCE #1 $ 4.99
GHOST RIDER RETURN OF VENGEANCE #1 HOTZ KNULLIFIED VAR $ 4.99
GHOST RIDER RETURN OF VENGEANCE #1 STEGMAN VAR $ 4.99
GHOST RIDER RETURN OF VENGEANCE #1 TAN VAR $ 4.99
I WALK WITH MONSTERS #2 CVR A CANTIRINO (MR) $ 3.99
I WALK WITH MONSTERS #2 CVR B HICKMAN (MR) $ 3.99
INVADER ZIM QUARTERLY HOLIDAY SPECIAL #1 CVR A ALEXOVICH $ 5.99
INVADER ZIM QUARTERLY HOLIDAY SPECIAL #1 CVR B WUCINICH $ 5.99
KING IN BLACK IRON MAN DOOM #1 $ 3.99
KING IN BLACK IRON MAN DOOM #1 MORA VAR $ 3.99
KING IN BLACK NAMOR #2 (OF 5) $ 3.99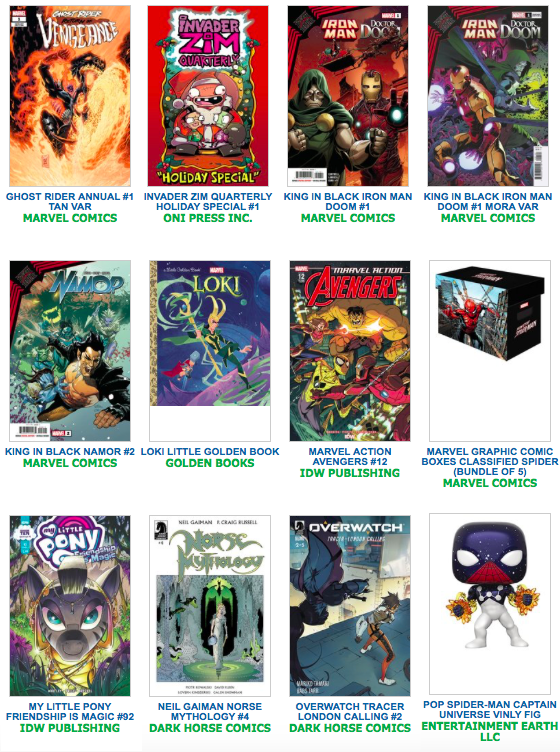 LOST SOLDIERS #5 (OF 5) (MR) $ 3.99
MARVEL ACTION AVENGERS #12 VIECELI (1/10) $ ???
MARVEL ACTION AVENGERS #12 FIORITO $ 3.99
MIRKA ANDOLFOS UNSACRED VOL 2 #2 CVR A ANDOLFO (MR) $ 3.99
MONSTRESS TALK-STORIES #2 (OF 2) (MR) $ 3.99
MY LITTLE PONY FRIENDSHIP IS MAGIC #92 JUSTASUT (1/10) $ ???
MY LITTLE PONY FRIENDSHIP IS MAGIC #92 CVR A PRICE $ 3.99
NAILBITER RETURNS #8 (MR) $ 3.99
NEIL GAIMAN NORSE MYTHOLOGY #4 CVR A RUSSELL $ 3.99
NEIL GAIMAN NORSE MYTHOLOGY #4 CVR B MACK $ 3.99
OVERWATCH TRACER LONDON CALLING #2 CVR A BENGAL $ 3.99
OVERWATCH TRACER LONDON CALLING #2 CVR B GGDG $ 3.99
POWER PACK #2 (OF 5) $ 3.99
RESIDENT ALIEN YOUR RIDES HERE #3 $ 3.99
ROBYN HOOD 2020 ANNUAL WORLDS APART CVR A VITORINO $ 7.99
ROBYN HOOD 2020 ANNUAL WORLDS APART CVR B VIGONTE $ 7.99
ROBYN HOOD 2020 ANNUAL WORLDS APART CVR C KHAMUNAKI $ 7.99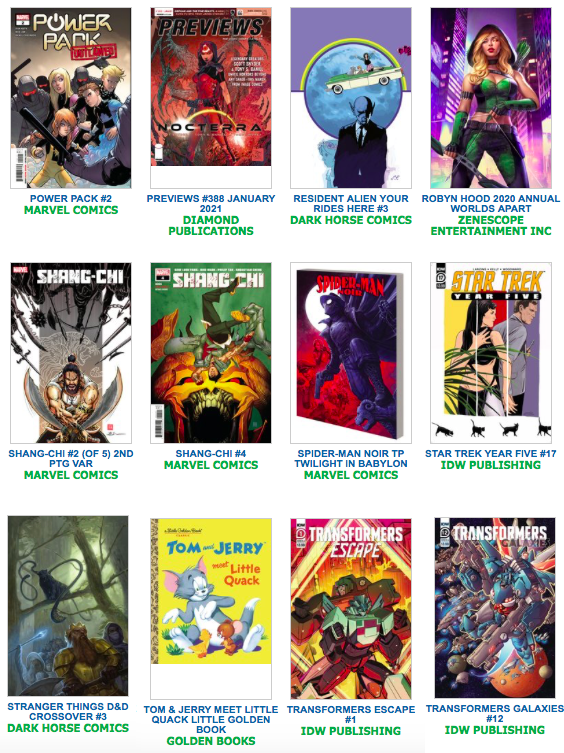 SHANG-CHI #2 (OF 5) 2ND PTG VAR $ 3.99
SHANG-CHI #4 (OF 5) $ 3.99
SHANG-CHI #4 (OF 5) RANDOLPH KNULLIFIED VAR $ 3.99
STAR TREK YEAR FIVE #17 $ 3.99
STRANGER THINGS D&D CROSSOVER #3 CVR A GIST $ 3.99
STRANGER THINGS D&D CROSSOVER #3 CVR B DITTMANN $ 3.99
STRANGER THINGS D&D CROSSOVER #3 CVR C INFANTE $ 3.99
STRANGER THINGS D&D CROSSOVER #3 VAR CVR D BECK $ 3.99
TRANSFORMERS ESCAPE #1 (OF 5) PITRE-DUROCHER CV $ ???
TRANSFORMERS ESCAPE #1 (OF 5) CVR A MCGUIRE-SMITH $ 3.99
TRANSFORMERS ESCAPE #1 (OF 5) CVR B WINTON CHAN $ 3.99
TRANSFORMERS GALAXIES #12 RAMONDELLI $ ???
TRANSFORMERS GALAXIES #12 CVR A GRIFFITH $ 3.99
TRANSFORMERS GALAXIES #12 CVR B ROCHE $ 3.99
TRUE LIVES FABULOUS KILLJOYS NATIONAL ANTHEM #4 CVR A ROMERO $ 3.99
TRUE LIVES FABULOUS KILLJOYS NATIONAL ANTHEM #4 CVR B CLOONA $ 3.99
TRUE LIVES FABULOUS KILLJOYS NATIONAL ANTHEM #4 CVR C SEELEY $ 3.99
USAGI YOJIMBO WANDERERS ROAD #2 (OF 6) PEACH MOMOKO CVR $ 3.99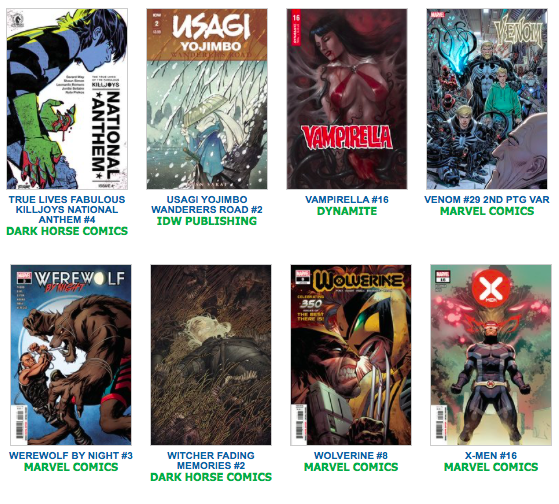 VAMPIRELLA #16 PARRILLO B&W $ ???
VAMPIRELLA #16 CASTRO B VIRGIN FOC $ ???
VAMPIRELLA #16 GUNDUZ COLOR $ ???
VAMPIRELLA #16 OPHELIA COSPLAY VIRGIN $ ???
VAMPIRELLA #16 MOMOKO B&W $ ???
VAMPIRELLA #16 PARRILLO VIRGIN B&W $ ???
VAMPIRELLA #16 CVR B MOMOKO $ 3.99
VAMPIRELLA #16 CVR E OPHELIA COSPLAY $ 3.99
VENOM #29 2ND PTG VAR $ 3.99
WEREWOLF BY NIGHT #3 (OF 4) $ 3.99
WITCHER FADING MEMORIES #2 (OF 4) CVR A CAGLE $ 3.99
WITCHER FADING MEMORIES #2 (OF 4) CVR B WILSON $ 3.99
WOLVERINE #8 $ 4.99
WOLVERINE #8 FINCH VAR (1/25) $ ???
WOLVERINE #8 RAPOZA KNULLIFIED VAR $ 4.99
WOLVERINE #8 SIENKIEWICZ VAR $ 4.99
X-MEN #16 $ 3.99
X-MEN #16 COELLO KNULLIFIED VAR $ 3.99

PREVIEWS #388 JAN 2021 $ 3.99

COMIC SHOP NEWS #1742 $ FREE

DISNEY ITS A SMALL WORLD LITTLE GOLDEN BOOK $ 5.99
DITKO SHRUGGED UNCOMPROMISING LIFE OF THE ARTIST (RES) $ 49.99
ETERNALS BY GAIMAN & ROMITA JR HC $ 34.99
FIREFLY UNIFICATION WAR TP VOL 01 $ 14.99
LOKI LITTLE GOLDEN BOOK $ 5.99
SPIDER-MAN INTO THE SPIDER-VERSE POSTER BOOK TP $ 24.99
SPIDER-MAN NOIR TP TWILIGHT IN BABYLON $ 15.99
STAR WARS ARCHIVES 1977 1983 TASCHEN 40TH ANNIV ED $ 25
STAR WARS GALAXY OF HOPE LITTLE GOLDEN BOOK $ 5.99
STEVEN UNIVERSE ONGOING TP VOL 09 $ 14.99
TOM & JERRY MEET LITTLE QUACK LITTLE GOLDEN BOOK $ 5.99
WALT DISNEYS 101 DALMATIANS LITTLE GOLDEN BOARD BOOK $ 7.99
X-FACTOR BY LEAH WILLIAMS TP $ 15.99

STAR TREK DISCOVERY SEASON TWO T/C BOX $ ???
TOPPS 2020 STADIUM CLUB CHROME UPDATES BASEBALL T/C BOX $ ???
TOPPS 2020 STAR WARS MASTERWORK T/C BOX $ ???
YU GI OH TCG GENESIS IMPACT BOOSTER DIS (24CT) $ ???

GREMLINS PLUSH BAG CLIP 24PC BMB DS $ 7.99
THE MANDALORIAN PLUSH BAG CLIP 24PC BMB DS $ 7.99
UMBRELLA ACADEMY (NETFLIX) LUNCHBOX REPLICA $ 19.99
FUNKO DC HOLIDAY RUDOLPH FLASH PLUSH $ 12.99
GI JOE CLASSIFIED SERIES 6IN AF ASST 202001 $ 24.99
GI JOE CLASSIFIED SERIES 6IN DUKE AF CS $ 24.99
POCKET POP TRANSFORMERS OPTIMUS PRIME KEYCHAIN $ 5.99
POP GAMES HALO INFINITE MASTER CHIEF VINYL FIG $ 11.99
POP GAMES POKEMON FLAREON VIN FIG $ 11.99
POP GAMES SONIC 30TH SILVER THE HEDGEHOG VINYL FIG $ 11.99
POP SPECIALTY SERIES GAMES VOX MACHINA TRINKET ARMOR VIN FIG $ ???
POP SPIDER-MAN CAPTAIN UNIVERSE VINYL FIG $ ???
POP STAR WARS CLONE WARS AHSOKA VINYL FIG $ 11.99
POP TRAIN CASEY JR MICKEY IN CAR 3 VINYL FIG $ 11.99
POP TRANSFORMERS JAZZ VINYL FIG $ 11.99
SW BLACK SERIES 6IN AF ASST 202101 $ ???
TRANSFORMERS CYBERVERSE DLX THUNDERHOWL AF CS $ 24.99
TRANSFORMERS GEN WFCK CYCLONUS VOYAGER AF CS $ 37.99
VENOM LEGENDS 6IN VENOMIZED MILES MORALES AF CS $ 25.99

MARVEL GRAPHIC COMIC BOXES NON-STOP SPIDER-MAN (BUNDLE OF 5) $ 9.99