Shockingly, We Passed March 4th without Incident – Wednesday, March 10th, 2021
Another pile of BS from the right wing crazies is swept into the dustbin of history. If only we could sweep the rest of the Q phenomenon away permanently.
New Marvel #1's include Children of the Atom and Non-Stop Spider-Man, the Two-Hyphened wonder, and DC has a new Joker #1. Then there are a bunch of others comics, and more books than average. We also got other stuff. Come and get it.
Wednesday is STILL New Comic Day, no matter what you read on the internets. We can't clear the new rack to just have 10 DC's  surrounded by empty space.  We do it once, Wednesday morning. We encourage everyone to be careful, make your trip to our store quick and efficient, and try to come in to shop in smaller groups, and reduce your own exposure to ALL public places indoors, including ours. Bob is open, bring your mask, keep your distance, and help keep Bob healthy. If you like, you can browse the list and make an order to fbgbob@aol.com for a quicker pick up. It might also help to put in a time window when you would be in the neighborhood, to give Bob a chance to get them together, and include a phone number for good measure.
Please wear a mask!
Watch this space and our Facebook page for latest news about the rest of the month, season, year, millenium, etc. (And text messages from 5-Star.) The complete list is found below. If you want to know about the next sale or store event, or whether or not WE ARE EVEN OPEN click here. Sign in here to get an email reminder for ALL sales and other events. Also, you can go to     fb.fantasybooksandgames.com and you'll be taken to our Facebook page. We also use our in-store 5-Star Rewards system to text similar announcements to your phone.
Thanks to Comics on the Green for this week's images, which include many of the comics and a few of the books and other items we received today, and may have pics of things we didn't and/or won't get. Use the list, and maybe the pictures.
AMAZING SPIDER-MAN #55 3RD PTG GLEASON VAR LR $ 3.99
AMAZING SPIDER-MAN #61 $ 3.99
AMAZING SPIDER-MAN #61 MICHAEL CHO SPIDER-MAN TWO-TONE VAR $ 3.99
AMAZING SPIDER-MAN #61 TEDESCO VAR (1/25) $ ???
AMERICAN VAMPIRE 1976 #6 (OF 9) CVR A RAFAEL ALBUQUERQUE (MR) $ 3.99
AMERICAN VAMPIRE 1976 #6 (OF 9) CVR B TULA LOTAY VAR (MR) $ 3.99
AUTUMNAL #5 CVR A SHEHAN $ 3.99
AUTUMNAL #5 CVR B GOODEN $ 3.99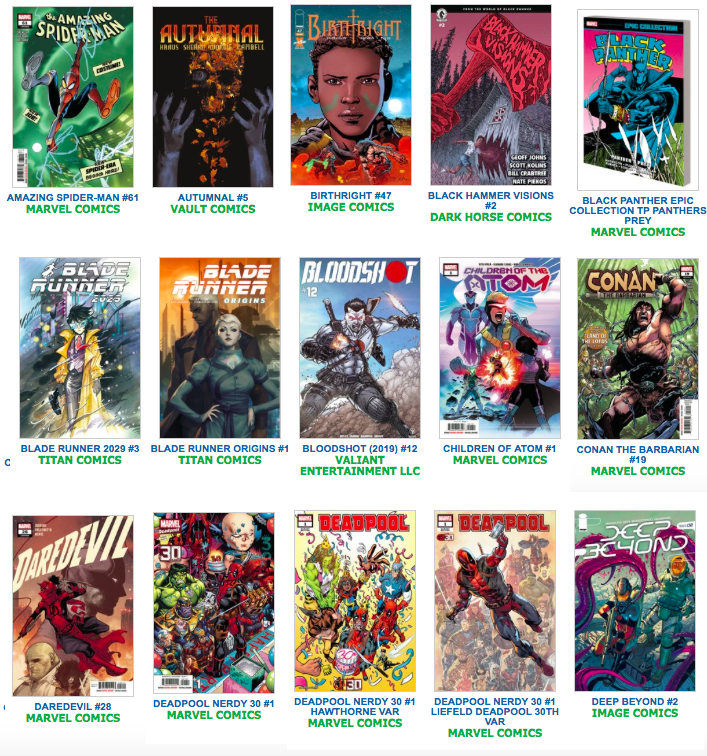 BATMAN URBAN LEGENDS #1 CVR A HICHAM HABCHI $ 7.99
BATMAN URBAN LEGENDS #1 CVR B DAVID FINCH BATMAN RED HOOD VAR $ 7.99
BATMAN URBAN LEGENDS #1 CVR D BLANK VAR $ 7.99
BIRTHRIGHT #47 $ 3.99
BLACK HAMMER VISIONS #2 (OF 8) CVR A KOLINS $ 3.99
BLACK HAMMER VISIONS #2 (OF 8) CVR B JONES & CRABTREE $ 3.99
BLADE RUNNER 2029 #3 CVR A MOMOKO $ 3.99
BLADE RUNNER 2029 #3 CVR B MEAD $ 3.99
BLADE RUNNER 2029 #3 CVR C HUGHES $ 3.99
BLADE RUNNER 2029 #3 CVR D COSPLAY CVR $ 3.99
BLADE RUNNER ORIGINS #1 CVR A ARTGERM $ 3.99
BLADE RUNNER ORIGINS #1 CVR B MOMOKO $ 3.99
BLADE RUNNER ORIGINS #1 CVR C DAGNINO $ 3.99
BLADE RUNNER ORIGINS #1 CVR D HACK $ 3.99
BLADE RUNNER ORIGINS #1 CVR E KOWALSKI $ 3.99
BLADE RUNNER ORIGINS #1 CVR F BLANK SKETCH $ 3.99
BLADE RUNNER ORIGINS #1 CVR H MOMOKO FOC $ 3.99
BLADE RUNNER ORIGINS #1 CVR G ARTGERM INC (1/15) $ ???
BLOODSHOT (2019) #12 CVR A CORONA $ 3.99
CHILDREN OF ATOM #1 $ 4.99
CHILDREN OF ATOM #1 CHANG VAR (1/25) $ ???
CHILDREN OF ATOM #1 MULLER DESIGN VAR (1/10) $ ???
CHILDREN OF ATOM #1 NAUCK VAR $ 4.99
COMMANDERS IN CRISIS #6 (OF 12) CVR A TINTO (MR) $ 3.99
COMMANDERS IN CRISIS #6 (OF 12) CVR B HETRICK (MR) $ 3.99
COMMANDERS IN CRISIS #6 (OF 12) CVR C COSPLAY PHOTO CVR (MR) $ 3.99
CONAN THE BARBARIAN #19 $ 3.99
DAREDEVIL #28 $ 3.99
DAREDEVIL #28 HEIGHT DAREDEVIL-THING VAR $ 3.99
DEADPOOL NERDY 30 #1 $ 5.99
DEADPOOL NERDY 30 #1 HAWTHORNE VAR $ 5.99
DEADPOOL NERDY 30 #1 LIEFELD DEADPOOL 30TH VAR $ 5.99
DEEP BEYOND #2 (OF 12) CVR A BROCCARDO $ 3.99
DEEP BEYOND #2 (OF 12) CVR B ANDOLFO $ 3.99
DEEP BEYOND #2 (OF 12) CVR C PANOSIAN $ 3.99
DEEP BEYOND #2 (OF 12) CVR D CHECCHETTO $ 3.99
ETERNALS #3 $ 3.99
ETERNALS #3 NAUCK HEADSHOT VAR $ 3.99
ETERNALS #3 RIBIC DESIGN VAR (1/10) $ ???
GOD OF WAR FALLEN GOD #1 (OF 4) (RES) $ 3.99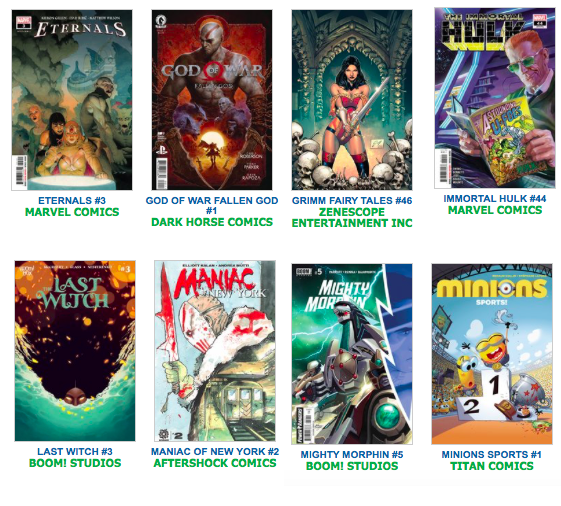 GREEN LANTERN SEASON TWO #12 (OF 12) CVR A LIAM SHARP $ 4.99
GREEN LANTERN SEASON TWO #12 (OF 12) CVR B LADRONN VAR $ 4.99
GRIMM FAIRY TALES #46 CVR A SALAZAR $ 3.99
GRIMM FAIRY TALES #46 CVR B VITORINO $ 3.99
GRIMM FAIRY TALES #46 CVR C ORTIZ $ 3.99
GRIMM FAIRY TALES #46 CVR D COCCOLO $ 3.99
HOME SICK PILOTS #4 CVR A WIJNGAARD (MR) $ 3.99
HOME SICK PILOTS #4 CVR B MCKELVIE (MR) $ 3.99
IMMORTAL HULK #44 $ 3.99
IMMORTAL HULK #44 BENNETT HOMAGE VAR $ 3.99
IMMORTAL HULK #44 MICHAEL CHO HULK TWO-TONE VAR $ 3.99
JOKER #1 CVR A GUILLEM MARCH $ 4.99
JOKER #1 CVR B FRANK QUITELY VAR $ 4.99
JOKER #1 CVR C FRANCESCO MATTINA VAR $ 4.99
JOKER #1 CVR D BLANK VAR $ 4.99
JOKER #1 INC 1:25 RICCARDO FEDERICI VAR $ ???
KARMEN #1 CVR A MARCH (MR) $ 3.99
KARMEN #1 CVR B MANARA (MR) $ 3.99
LAST WITCH #3 CVR A GLASS $ 4.99
LAST WITCH #3 CVR B CORONA $ 4.99
LUNA #2 (OF 5) CVR A LLOVET (MR) $ 3.99
LUNA #2 (OF 5) CVR B ANDOLFO (MR) $ 3.99
MAIDEN #1 (OF 8) (MR) $ 3.99
MANIAC OF NEW YORK #1 $ 3.99
MANIAC OF NEW YORK #2 $ 3.99
MIGHTY MORPHIN #5 CVR A LEE $ 3.99
MIGHTY MORPHIN #5 CVR B LEGACY VAR CARLINI $ 3.99
MIGHTY MORPHIN #5 CVR C BLANK SKETCH CVR $ 3.99
MINIONS SPORTS #1 (RES) $ 3.99
NEIL GAIMAN NORSE MYTHOLOGY #6 CVR A RUSSELL $ 3.99
NEIL GAIMAN NORSE MYTHOLOGY #6 CVR B MACK $ 3.99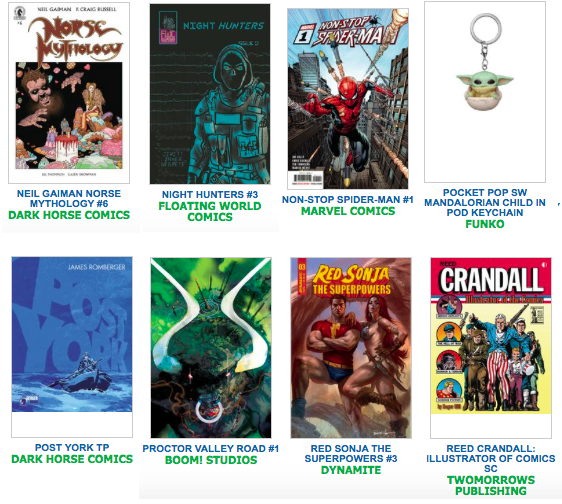 NON-STOP SPIDER-MAN #1 $ 4.99
NON-STOP SPIDER-MAN #1 ALEX ROSS VAR $ 4.99
NON-STOP SPIDER-MAN #1 BACHALO WRPAD VAR $ 4.99
NON-STOP SPIDER-MAN #1 BLANK VAR $ 4.99
NON-STOP SPIDER-MAN #1 DIE CUT VAR $ 4.99
NON-STOP SPIDER-MAN #1 LAROQUE VAR $ 4.99
NON-STOP SPIDER-MAN #1 LASHLEY VAR $ 4.99
NON-STOP SPIDER-MAN #1 NAUCK LAUNCH VAR $ 4.99
NON-STOP SPIDER-MAN #1 YOUNG VAR $ 4.99
PROCTOR VALLEY ROAD #1 CVR A FRANQUIZ (MR) $ 3.99
PROCTOR VALLEY ROAD #1 CVR B WILDGOOSE (MR) $ 3.99
PROCTOR VALLEY ROAD #1 CVR C WARD (MR) (1/10) $ ???
PROCTOR VALLEY ROAD #1 CVR D MOMOKO (MR) (1/25) $ ???
RADIANT BLACK #1 2ND PTG $ 3.99
RAT QUEENS #25 CVR A UPCHURCH (MR) $ 3.99
RED SONJA THE SUPERPOWERS #3 COSPLAY VIRGIN $ ???
RED SONJA THE SUPERPOWERS #3 LINSNER B&W VIRGIN $ ???
RED SONJA THE SUPERPOWERS #3 PARRILLO B&W VIRGIN $ ???
RED SONJA THE SUPERPOWERS #3 CVR A PARRILLO $ 3.99
RED SONJA THE SUPERPOWERS #3 CVR B LINSNER $ 3.99
RED SONJA THE SUPERPOWERS #3 CVR E POLSON COSPLAY $ 3.99
REDEMPTION #2 (MR) $ 3.99
RESIDENT ALIEN YOUR RIDES HERE #4 $ 3.99
RORSCHACH #6 (OF 12) CVR A JORGE FORNES (MR) $ 4.99
RORSCHACH #6 (OF 12) CVR B GABRIELE DELL OTTO VAR (MR) $ 4.99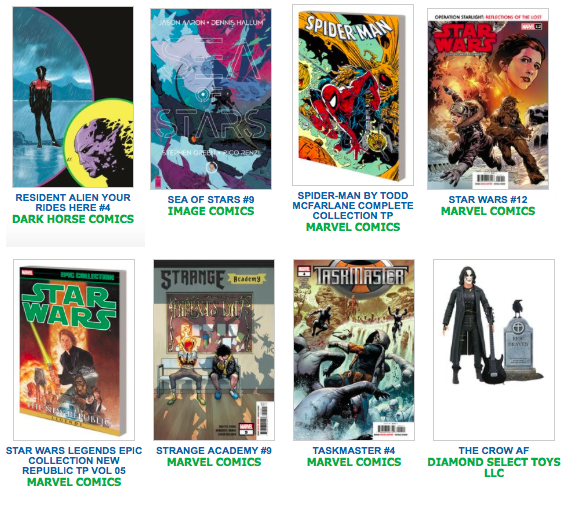 SEA OF STARS #9 $ 3.99
SPACE BASTARDS #3 (MR) $ 4.99
STAR WARS #12 $ 3.99
STAR WARS #12 CHRISTOPHER ACTION FIGURE VAR $ 3.99
STAR WARS #12 SPROUSE EMPIRE STRIKES BACK VAR $ 3.99
STAR WARS #12 YU VAR (1/25) $ ???
STRANGE ACADEMY #9 $ 3.99
STRANGE ACADEMY #9 ART ADAMS CHARACTER SPOTLIGHT VAR $ 3.99
STRANGE ACADEMY #9 MICHAEL CHO DOCTOR STRANGE TWO-TONE VAR $ 3.99
SUNEATER #3 (OF 9) (MR) $ 4.99
SUPERMAN #29 CVR A PHIL HESTER $ 4.99
SUPERMAN #29 CVR B JOHN TIMMS WRAPAROUND VAR $ 4.99
SWEET TOOTH THE RETURN #5 (OF 6)(MR) $ 3.99
TASKMASTER #4 (OF 5) $ 3.99
TASKMASTER #4 (OF 5) SMITH VAR $ 3.99
THOR AND LOKI DOUBLE TROUBLE #1 (OF 4) $ 3.99
THOR AND LOKI DOUBLE TROUBLE #1 (OF 4) CARNERO STORMBREAKERS $ 3.99
THOR AND LOKI DOUBLE TROUBLE #1 (OF 4) HENDERSON VAR $ 3.99
THOR AND LOKI DOUBLE TROUBLE #1 (OF 4) NAUCK HEADSHOT VAR $ 3.99
TMNT JENNIKA II #5 (OF 6) CVR A NISHIJIMA $ 4.99
TRUE LIVES FABULOUS KILLJOYS NATIONAL ANTHEM #6 (OF 6) CVR A $ 3.99
TRUE LIVES FABULOUS KILLJOYS NATIONAL ANTHEM #6 (OF 6) CVR B $ 3.99
TRUE LIVES FABULOUS KILLJOYS NATIONAL ANTHEM #6 (OF 6) CVR C $ 3.99

VAMPIRE THE MASQUERADE #6 $ 3.99
VAMPIRELLA #18 ROLL COSPLAY VIRGIN $ ???
VAMPIRELLA #18 PARRILLO VIRGIN B&W $ ???
VAMPIRELLA #18 CVR A PARRILLO $ 3.99
VAMPIRELLA #18 CVR E ROLL COSPLAY $ 3.99
VENGEANCE OF VAMPIRELLA #15 CASTRO B&W VIRGIN (RE/CR) $ ???
WOLVERINE BLACK WHITE BLOOD #4 (OF 4) $ 4.99
WOLVERINE BLACK WHITE BLOOD #4 (OF 4) ASRAR VAR $ 4.99
WONDER WOMAN #770 CVR A TRAVIS MOORE $ 4.99
WONDER WOMAN #770 CVR B TRAVIS MOORE WRAPAROUND VAR $ 4.99
X-FACTOR #8 $ 3.99
ZORRO IN LAND THAT TIME FORGOT #3 CVR A MARTINEZ $ 3.99

COMIC SHOP NEWS #1751 $ FREE

AMAZING SPIDER-MAN LAST REMAINS COMPANION TP $ 15.99
BATGIRL VOL 08 THE JOKER WAR HC $ 24.99
BERSERK DELUXE EDITION HC VOL 07 (MR) $ 49.99
BLACK CANARY BIRD OF PREY TP $ 29.99
BLACK PANTHER EPIC COLLECTION TP PANTHERS PREY $ 39.99
BLADE RUNNER 2019 TP VOL 01 ARTIST EDITION $ 29.99
CAPTAIN AMERICA BY JACK KIRBY OMNIBUS HC MADBOMB CVR NEW PTG $ 100
CAPTAIN AMERICA BY JACK KIRBY OMNIBUS HC NEW PTG DM VAR $ 100
CONAN BARBARIAN EPIC COLL ORIG MARVEL YRS TP HAWKS FROM SEA $ 34.99
DR STONE REBOOT BYAKUYA GN $ 9.99
DRAGON AGE FIRST FIVE GN $ 29.99
DRAGON BALL SUPER GN VOL 12 $ 9.99
FANTASTIC FOUR BY DAN SLOTT HC VOL 01 $ 39.99
FINAL NIGHT TP $ 16.99
GIRL WITHOUT A FACE GN VOL 01 (RE/CR) $ 15
GORILLAZ ALAMANAC HC $ 24.99
HAIKYU GN VOL 43 $ 9.99
INVADER ZIM BEST OF GIR TP $ 9.99
LEGEND KORRA ART ANIMATED AIR HC 2ND ED $ 39.99
LEGEND KORRA ART ANIMATED AIR HC DLX 2ND ED $ 79.99
LOW TP VOL 05 LIGHT BRINGS LIGHT (MR) $ 19.99
NEW WARRIORS CLASSIC OMNIBUS HC VOL 01 BAGLEY DM VAR NEW PTG $ 125
POST YORK TP $ 17.99
QUEENS QUALITY GN VOL 11 $ 9.99
RED HOOD OUTLAW VOL 04 UNSPOKEN TRUTHS TP $ 19.99
REED CRANDALL ILLUSTRATOR OF COMICS SC $ 39.95
SEEKERS OF AWETO GN VOL 01 HUNT IS ON $ 9.99
SKIP BEAT GN VOL 45 $ 9.99
SNOW WHITE WITH RED HAIR GN VOL 12 $ 9.99
SPIDER-MAN BY TODD MCFARLANE COMPLETE COLLECTION TP $ 39.99
SPY X FAMILY GN VOL 04 $ 9.99
STAR WARS DOCTOR APHRA OMNIBUS HC VOL 01 $ 125
STAR WARS DOCTOR APHRA OMNIBUS HC VOL 01 DM VAR $ 125
SUPERMAN THE LAST SON DELUXE EDITION HC $ 49.99
SUPERMAN VOL 03 THE TRUTH REVEALED TP $ 17.99
VENOM BY DONNY CATES TP VOL 05 VENOM BEYOND $ 17.99
WONDER WOMAN EARTH ONE VOL 03 HC $ 29.99
X-MEN BY CHRIS CLAREMONT & JIM LEE OMNIBUS HC VOL 02 DM VAR $ 125
X-MEN BY CHRIS CLAREMONT & JIM LEE OMNIBUS HC VOL 02 NEW PTG $ 125

TOPPS 2021 SW SIGNATURE SERIES T/C BOX $ ???

NARUTO BELIEVE IT T/S SM, MED, LG, XL $ 21.99
NARUTO BELIEVE IT T/S XXL $ 23.99

DC GALLERY WONDER WOMAN 1984 PVC STATUE $ 49.99
HELLO KITTY X TAMAGOTCHI NANO 6PC DISPLAY $ ???
NINTENDO 2-1/2IN FIGURE WV28 ASST $ ???
PIRATES OF THE CARIBBEAN JACK SPARROW FIGURE $ 24.99
POCKET POP SW MANDALORIAN CHILD IN POD KEYCHAIN $ 5.99
POP GAMES MILES MORALES GAME CLASSIC W/ CHASE VINYL FIG (C: $ 11.99
POP GAMES MILES MORALES GAME MILES MORALES ADVANCE TECH SUIT $ 11.99
SONIC THE HEDGEHOG 2-1/2IN AF WV3 ASST $ ???
SONIC THE HEDGEHOG 4IN ARTICULATED AF WV3 ASST (C: 1-1 $ ???
SW E1 VINTAGE 3-3/4IN QUEEN AMIDALA AF CS $ ???
SW VINTAGE 3-3/4IN AF ASST 202101 $ ???
THE CROW AF $ 24.99
TRANSFORMERS GEN WFCK OPTIMUS PRIMAL VOYAGER AF CS (C: $ ???
WANDAVISION 3D FOAM BAG CLIP 24PCS BMB DS $ ???

BLACK PLASTIC TITLE DIVIDERS (ORD IN 100) $ ???
COMICARE SHORT COMIC BOX (SOLD IN 10) $ 3.99
WHITE PLASTIC TITLE DIVIDERS (ORD IN 100) $ ???
TRIALS OF ULTRAMAN #1 POSTER $ 8.99