Most Everything Showed Up – Wednesday, March 17th, 2021
Big packing or shipping snafu, so we're missing quite a few comics that should be here.  Sometimes they can find them and send them express to get here in time for next Wednesday. Once they even came on Monday, but let's not get too optimistic. For now, I'm going to mark them on the list as (maybe next week). Plus I missed deleting some pics, so I marked a couple of them as well. 
That's it. No useless verbiage. Except that last sentence,  And this one,.
Wednesday is STILL New Comic Day, no matter what you read on the internets. We can't clear the new rack to just have 10 DC's  surrounded by empty space.  We do it once, Wednesday morning. We encourage everyone to be careful, make your trip to our store quick and efficient, and try to come in to shop in smaller groups, and reduce your own exposure to ALL public places indoors, including ours.
Bob is open, bring your mask, keep your distance, and help keep Bob healthy. If you like, you can browse the list and make an order to fbgbob@aol.com for a quicker pick up. It might also help to put in a time window when you would be in the neighborhood, to give Bob a chance to get them together, and include a phone number for good measure.
Please wear a mask!
Watch this space and our Facebook page for latest news about the rest of the month, season, year, millenium, etc. (And text messages from 5-Star.) The complete list is found below. If you want to know about the next sale or store event, or whether or not WE ARE EVEN OPEN click here. Sign in here to get an email reminder for ALL sales and other events. Also, you can go to     fb.fantasybooksandgames.com and you'll be taken to our Facebook page. We also use our in-store 5-Star Rewards system to text similar announcements to your phone.
Thanks to Comics on the Green for this week's images, which include many of the comics and a few of the books and other items we received today, and may have pics of things we didn't and/or won't get. Use the list, and maybe the pictures.  
ABBOTT 1973 #3 (OF 5) CVR A TENFOLD $ 3.99
ABBOTT 1973 #3 (OF 5) CVR B ALLEN $ 3.99 (Maybe Next Week)
BATMAN VS RAS AL GHUL #5 (OF 6) $ 3.99
BEQUEST #1 FREDDIE WILLIAMS II $ 4.99
BLACK KNIGHT CURSE EBONY BLADE #1 (OF 5) $ 3.99
BLACK KNIGHT CURSE EBONY BLADE #1 (OF 5) BLACK BLANK VAR $ 3.99
BLACK KNIGHT CURSE EBONY BLADE #1 (OF 5) CABAL STORMBREAKERS $ 3.99 (Maybe Next Week)
BLACK KNIGHT CURSE EBONY BLADE #1 (OF 5) MOMOKO VAR $ 3.99
BLACK KNIGHT CURSE EBONY BLADE #1 (OF 5) NAUCK HEADSHOT VAR $ 3.99
BLACK KNIGHT CURSE EBONY BLADE #1 (OF 5) RON LIM VAR $ 3.99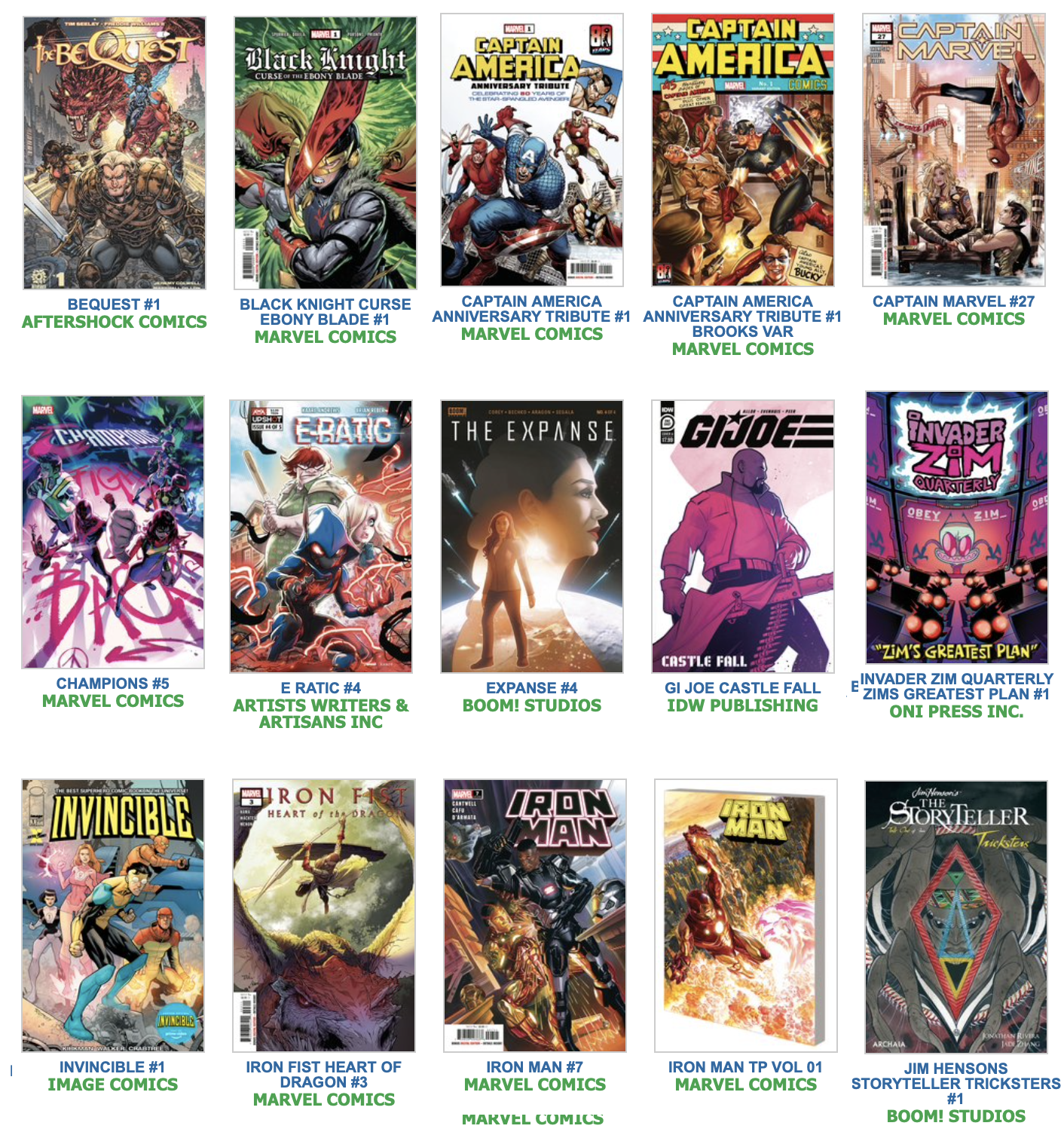 CAPTAIN AMERICA ANNIVERSARY TRIBUTE #1 $ 6.99
CAPTAIN AMERICA ANNIVERSARY TRIBUTE #1 BROOKS VAR $ 6.99
CAPTAIN MARVEL #27 $ 3.99
CAPTAIN MARVEL #27 CHANG CAPTAIN MARVEL-THING VAR $ 3.99
CAPTAIN MARVEL #27 HANS VAR (1/25) $ ???
CATWOMAN #29 CVR A JOELLE JONES $ 3.99
CATWOMAN #29 CVR B JENNY FRISON CARD STOCK VAR $ 4.99
CHAMPIONS #5 $ 3.99
CHAMPIONS #5 PICHELLI MS MARVEL-THING VAR $ 3.99
E RATIC #4 $ 3.99 (Maybe Next Week)
EXPANSE #4 (OF 4) CVR A FORBES $ 4.99
EXPANSE #4 (OF 4) CVR B WALKER $ 4.99
GI JOE CASTLE FALL CVR A EVENHUIS $ 7.99
GI JOE CASTLE FALL CVR B WILLIAMS II $ 7.99
GRIMM UNIVERSE RETAILER PROG FEB 2021 BRONZE EXC $ ???
GRIMM UNIVERSE RETAILER PROG JAN 2021 BRONZE EXC $ ???
HEAD LOPPER #15 CVR A MACLEAN & BELLAIRE (MR) $ 5.99
HOTLINE MIAMI WILDLIFE #7 (OF 8) (MR) $ 3.99
I WALK WITH MONSTERS #4 CVR A CANTIRINO (MR) $ 3.99
I WALK WITH MONSTERS #4 CVR B HICKMAN (MR) $ 3.99
INFINITE FRONTIER #0 (ONE SHOT) CVR A DAN JURGENS & MIKEL JANIN WRAPAROUND $ 5.99 (Maybe Next Week)
INFINITE FRONTIER #0 (ONE SHOT) CVR B JOHN TIMMS CARD STOCK VAR $ 6.99 (Maybe Next Week)
INVADER ZIM QUARTERLY ZIMS GREATEST PLAN #1 CVR A STRESING $ 5.99 (Maybe Next Week)
INVADER ZIM QUARTERLY ZIMS GREATEST PLAN #1 CVR B CAB $ 5.99
INVINCIBLE #1 AMAZON PRIME VIDEO EDITION $ 3.99
IRON FIST HEART OF DRAGON #3 (OF 6) $ 3.99
IRON FIST HEART OF DRAGON #3 (OF 6) VEREGGE VAR $ 3.99
IRON MAN #7 $ 3.99
IRON MAN #7 BARTEL HELLCAT WOMENS HISTORY MONTH VAR $ 3.99
IRON MAN #7 MICHAEL CHO IRON MAN TWO-TONE VAR $ 3.99
JIM HENSONS STORYTELLER TRICKSTERS #1 CVR A MOMOKO $ 4.99
JIM HENSONS STORYTELLER TRICKSTERS #1 CVR B PENDERGAST $ 4.99
JIM HENSONS STORYTELLER TRICKSTERS #1 CVR C BLANK SKETCH CVR $ 4.99 (Maybe Next Week)
KICK-ASS VS HIT-GIRL #5 (OF 5) CVR A ROMITA JR (MR) $ 3.99
KICK-ASS VS HIT-GIRL #5 (OF 5) CVR C BROOKS MILLAR (MR) $ 3.99
JUSTICE LEAGUE #59 CVR A DAVID MARQUEZ $ 4.99
JUSTICE LEAGUE #59 CVR B DAVID MARQUEZ WRAPAROUND VAR $ 4.99
JUSTICE LEAGUE #59 CVR C JIM LEE SNYDER CUT VARIANT $ 5.99
JUSTICE LEAGUE #59 CVR D LEE BERMEJO SNYDER CUT VARIANT $ 5.99
JUSTICE LEAGUE #59 CVR E LIAM SHARP SNYDER CUT VARIANT $ 5.99
JUSTICE LEAGUE #59 CVR F 1:25 LIAM SHARP VARIANT $ ???
JUSTICE LEAGUE #59 CVR G 1:50 LEE BERMEJO VARIANT $ ???
KING IN BLACK SPIDER-MAN #1 $ 4.99
KING IN BLACK SPIDER-MAN #1 LIEFELD DEADPOOL 30TH VAR $ 4.99
KING IN BLACK SPIDER-MAN #1 VINCENTINI VAR $ 4.99

LAND THAT TIME FORGOT FEARLESS #2 CVR A MARTINEZ $ 3.99 (Maybe Next Week)
LOONEY TUNES #259 $ 2.99
MANIAC OF NEW YORK #1 2ND PTG $ 4.99 (Maybe Next Week)
MARIA LLOVETS EROS PSYCHE #1 CVR A MIRKA ANDOLFO (MR) $ 3.99 (Maybe Next Week)
MARIA LLOVETS EROS PSYCHE #1 CVR B MARIA LLOVET (MR) $ 3.99
MARIA LLOVETS EROS PSYCHE #1 CVR C MERCADO (MR) $ 3.99
MARIA LLOVETS EROS PSYCHE #1 CVR D SABINE RICH (MR) $ 3.99
MARVEL #6 (OF 6) $ 4.99
MY LITTLE PONY FRIENDSHIP IS MAGIC #95 CVR A KUUSISTO $ 3.99
NIGHTWING #78 CVR A BRUNO REDONDO $ 3.99
NIGHTWING #78 CVR B SKAN VAR $ 3.99
NOCTERRA #1 CVR F GLOW IN THE DARK VAR (MR) $ ???
ORCS #2 (OF 6) CVR A LARSEN $ 4.99
ORCS #2 (OF 6) CVR B BOO $ 4.99
ORIGINS #5 (OF 6) CVR A REBELKA $ 3.99 (Maybe Next Week)
ORPHAN & FIVE BEASTS #1 (OF 4) $ 3.99
RADIANT BLACK #2 CVR A COSTA $ 3.99
RADIANT BLACK #2 CVR B GRECO $ 3.99
ROBYN HOOD CULT OF THE SPIDER ONE SHOT CVR B JOSH BURNS $ 5.99
ROBYN HOOD CULT OF THE SPIDER ONE SHOT CVR C JOHN ROYLE $ 5.99
SAVAGE (2020) #2 CVR A TO $ 3.99 (Maybe Next Week)
SONJAVERSAL #2 HENDERSON VIRGIN (RE/CR) $ ???
SONJAVERSAL #2 MOSS VIRGIN (RE/CR) $ ???
SONJAVERSAL #2 COSPLAY VIRGIN (RE/CR) $ ???
SPIDER-WOMAN #10 $ 3.99
SPIDER-WOMAN #10 BARTEL SPIDER-WOMAN WOMENS HISTORY MONTH VA $ 3.99
SPIDER-WOMAN #10 MICHAEL CHO SPIDER-WOMAN TWO-TONE VAR $ 3.99 (Maybe Next Week)
SPIDER-WOMAN #10 RON LIM VAR $ 3.99
STAR TREK YEAR FIVE #19 $ 3.99
STAR WARS BOUNTY HUNTERS #10 $ 3.99
STAR WARS BOUNTY HUNTERS #10 SPROUSE EMPIRE STRIKES BACK VAR $ 3.99 (Maybe Next Week)
STAR WARS HIGH REPUBLIC #1 4TH PTG ANINDITO VAR $ 3.99 (Maybe Next Week)
SUPERMAN RED & BLUE #1 (OF 6) CVR A GARY FRANK $ 5.99
SUPERMAN RED & BLUE #1 (OF 6) CVR B LEE BERMEJO VAR $ 5.99
SUPERMAN RED & BLUE #1 (OF 6) CVR C YOSHITAKA AMANO VAR $ 5.99
SWORD #4 KIB $ 3.99
TARTARUS #10 $ 3.99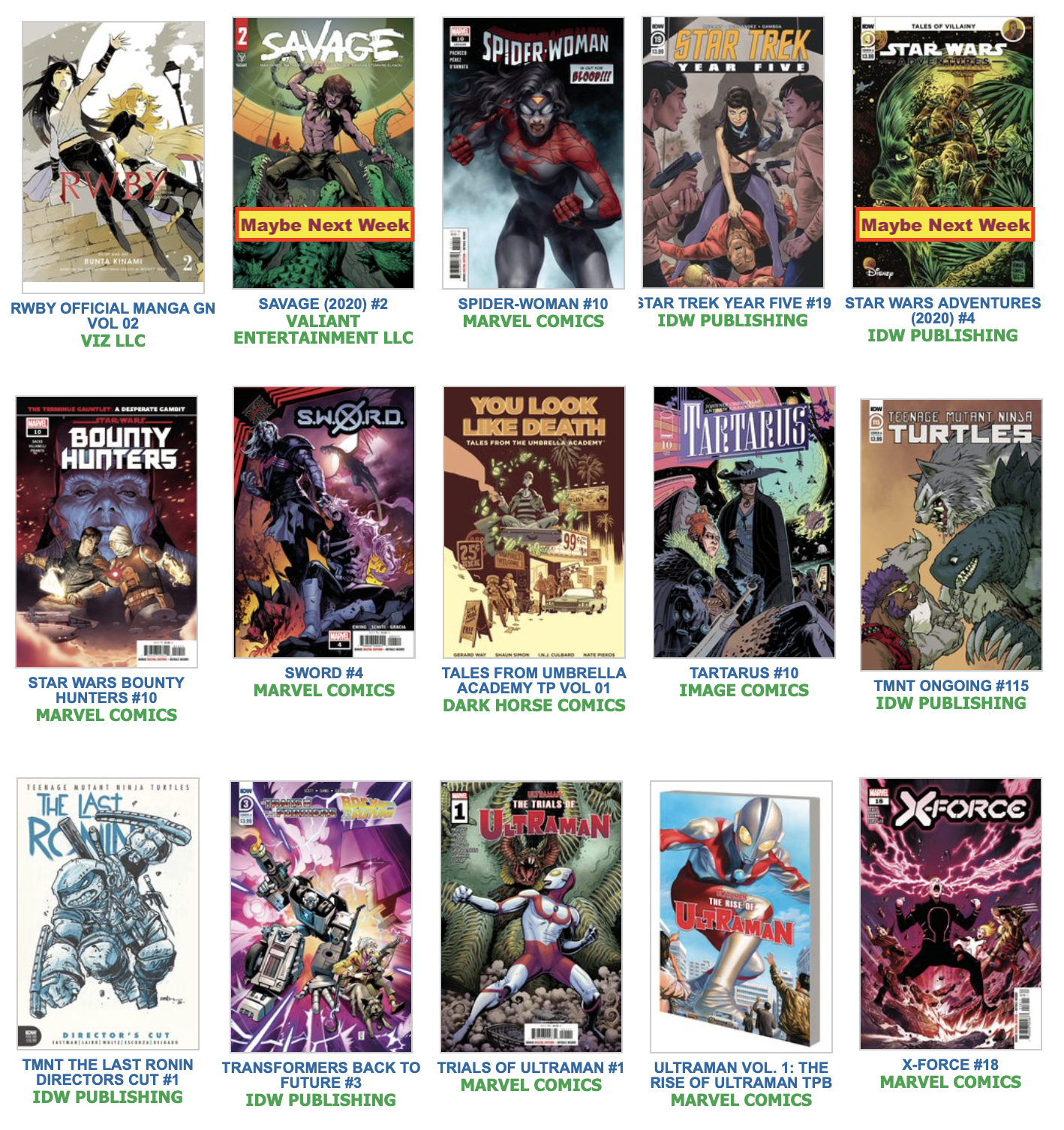 THOR #13 $ 3.99 (Maybe Next Week)
THOR #13 KLEIN VAR (1/25) $ ???
THOR #13 MICHAEL CHO THOR TWO TONE VAR $ 3.99
TMNT ONGOING #115 CVR A SOPHIE CAMPBELL $ 3.99
TMNT ONGOING #115 CVR B EASTMAN $ 3.99
TMNT THE LAST RONIN DIRECTORS CUT #1 $ 10.99
TRANSFORMERS BACK TO FUTURE #3 (OF 4) CVR A JUAN SAMU $ 3.99
TRANSFORMERS BACK TO FUTURE #3 (OF 4) CVR B PHIL MURPHY $ 3.99
TRIALS OF ULTRAMAN #1 (OF 5) $ 4.99
TRIALS OF ULTRAMAN #1 (OF 5) MOMOKO VAR $ 4.99
TRIALS OF ULTRAMAN #1 (OF 5) ASAMIYA VAR $ 4.99
TRIALS OF ULTRAMAN #1 (OF 5) FRANK VAR $ 4.99
TRIALS OF ULTRAMAN #1 (OF 5) MANNA VAR $ 4.99
TRIALS OF ULTRAMAN #1 (OF 5) TV VAR $ 4.99
TRUTH & JUSTICE #2 CVR A KHARY RANDOLPH $ 4.99
TRUTH & JUSTICE #2 CVR B RYAN BENJAMIN & RICHARD FRIEND VAR $ 4.99
ULTRAMEGA BY JAMES HARREN #1 CVR A HARREN & STEWART (MR) $ 7.99
ULTRAMEGA BY JAMES HARREN #1 CVR B MOORE (MR) $ 7.99
ULTRAMEGA BY JAMES HARREN #1 CVR D MOORE RAW (MR $ ???
VAMPIRELLA DARK POWERS #4 DAVIDSON VIRGIN $ ???
VAMPIRELLA DARK POWERS #4 DAVILA VIRGIN $ ???
VAMPIRELLA DARK POWERS #4 YOON B&W $ ???
VAMPIRELLA DARK POWERS #4 COSPLAY VIRGIN $ ???
VAMPIRELLA DARK POWERS #4 YOON B&W VIRGIN $ ??? (Maybe Next Week)
VAMPIRELLA DARK POWERS #4 CVR B LINSNER $ 3.99
VAMPIRELLA DARK POWERS #4 CVR C LAU $ 3.99
VAMPIRELLA DARK POWERS #4 CVR D YOON $ 3.99
VAMPIRELLA DARK POWERS #4 CVR E RAMIREZ COSPLAY $ 3.99 (Maybe Next Week)
WALKING DEAD DLX #11 CVR A FINCH & MCCAIG (MR) $ 3.99
WALKING DEAD DLX #11 CVR B MOORE & MCCAIG (MR) $ 3.99 (Maybe Next Week)
WALKING DEAD DLX #11 CVR C TEDESCO (MR) $ 3.99
WORLD OF BETTY & VERONICA JUMBO COMICS DIGEST #3 $ 7.99
X-FORCE #18 $ 3.99 (Maybe Next Week)
X-FORCE #18 LIEFELD DEADPOOL 30TH VAR $ 3.99

COMIC SHOP NEWS #1752 $ FREE
COMIC SHOP NEWS SPRING 2021 PREVIEW $ FREE

AMERICAN RONIN TP $ 9.99 (Maybe Next Week)
AVENGERS BY JASON AARON HC VOL 01 $ 34.99
BATGIRL RETURNS OMNIBUS HC $ 99.99
BATMAN BEYOND VOL 08 THE ERADICATION AGENDA TP $ 17.99
BEAST COMPLEX GN $ 12.99
BILL & TED ARE DOOMED TP $ 19.99
BPRD DEVIL YOU KNOW OMNIBUS HC (RES) $ 39.99 (Maybe Next Week)
CYBERPUNK 2077 TRAUMA TEAM TP (MR) $ 19.99
DAREDEVIL BY CHIP ZDARSKY HC VOL 01 TO HEAVEN THROUGH HELL $ 34.99
DAWN OF X TP VOL 14 $ 17.99
DISNEY PIXAR MONSTERS INC & UNIVERSITY MOVIE IN COMICS HC (R $ 14.99
GOON TP VOL 03 FISHY MEN WITCHY WOMEN & BITTER BEER $ 17.99 (Maybe Next Week)
HAWKEYE GO WEST GN TP $ 12.99
INCREDIBLE NELLIE BLY GN $ 24.99
IRON MAN TP VOL 01 BIG IRON $ 15.99
JUGGERNAUT NO STOPPING NOW TP $ 15.99
LEGEND OF ZELDA TWILIGHT PRINCESS GN VOL 08 $ 9.99
MAISON IKKOKU COLLECTORS EDITION TP VOL 03 $ 24.99
MY HERO ACADEMIA TEAM-UP MISSIONS GN VOL 01 $ 9.99
MY HERO ACADEMIA VIGILANTES GN VOL 09 $ 9.99
MY LITTLE PONY MANGA VOL 03 (RES) $ 10.99
NORSE MYTHOLOGY HC VOL 01 $ 29.99
OFFICIAL HANDBOOK MARVEL UNIVERSE DLX ED OMNIBUS HC BYRNE CV $ 150
OFFICIAL HANDBOOK MARVEL UNIVERSE DLX ED OMNIBUS HC FRENZ DM $ 150
POWER RANGERS DRAKKON NEW DAWN TP $ 19.99
REVOLVER TP (MR) $ 19.99
RWBY OFFICIAL MANGA GN VOL 02 BEACON ARC $ 12.99
SHERIFF OF BABYLON TP (MR) $ 29.99
STILLWATER BY ZDARSKY & PEREZ TP VOL 01 (MR) $ 16.99
SUPERMAN VS SHAZAM TP $ 24.99
TALES FROM UMBRELLA ACADEMY TP VOL 01 YOU LOOK LIKE DEATH $ 19.99
TONY STARK IRON MAN BY DAN SLOTT OMNIBUS HC $ 100
ULTRAMAN TP VOL 01 RISE OF ULTRAMAN $ 17.99
USAGI YOJIMBO SAGA TP (2ND ED) VOL 01 $ 29.99

DISNEY SERIES 1 D-FORMZ BMB ASST $ ???
MUPPETS BEST OF SERIES 2 FIGURE ASST $ ???
POP ALBUMS LINKIN PARK HYBRID THEORY VINYL FIG $ ??? (Maybe Next Week)
POP DC HEROES DEATH METAL BATMAN W/GUITAR PX $ 13.99
POP GAMES MILES MORALES GAME MILES MORALES CRIMSON COWL SUIT $ 11.99
POP GAMES MILES MORALES GAME MILES MORALES PROGRAMMABLE SUIT $ 11.99
POP GAMES MILES MORALES GAME MILES MORALES STRIKE SUIT FIG ( $ 11.99
POP GAMES MILES MORALES GAME MILES MORALES WINTER SUIT FIG ( $ 11.99
VINYL SODA LUCHADORES HULK W/ METALLIC W/ CHASE $ 13.99
VINYL SODA LUCHADORES SPIDER-MAN W/ METALLIC W/ CHASE $ 13.99
VINYL SODA SUICIDE SQUAD HARLEY W/ CHASE $ 13.99