Good news? No. Cases are rising again. Because. Little. Babies. Can't. Wait. – Wednesday, March 31st, 2021
We're probably going to lose 50,000 to 100,000 people because we can't wait one more month until another 100 million get vaxed. This country is getting dumber by the year.
Marvel's # 1's are Beta Ray Bill and Silk, and they had other stuff and DC had some stuff, and other publishers had some stuff. We've decided to only carry Miles Morales Pops now, and have about 8 different ones. Just kidding. We have NINE! Bunch of new Deadpool ones, too. And over 1000 other ones.  Tons of new Pokemon permutations, too. There are probably 10 different ways to obtain cards in each new release, now. Oh, well.
Trying to get this done before April. Doubtful.
Wednesday is STILL New Comic Day, no matter what you read on the internets. We can't clear the new rack to just have 10 DC's  surrounded by empty space.  We do it once, Wednesday morning. We encourage everyone to be careful, make your trip to our store quick and efficient, and try to come in to shop in smaller groups, and reduce your own exposure to ALL public places indoors, including ours. Bob is open, bring your mask, keep your distance, and help keep Bob healthy. If you like, you can browse the list and make an order to fbgbob@aol.com for a quicker pick up. It might also help to put in a time window when you would be in the neighborhood, to give Bob a chance to get them together, and include a phone number for good measure.
Please wear a mask!
Watch this space and our Facebook page for latest news about the rest of the month, season, year, millenium, etc. (And text messages from 5-Star.) The complete list is found below. If you want to know about the next sale or store event, or whether or not WE ARE EVEN OPEN click here. Sign in here to get an email reminder for ALL sales and other events. Also, you can go to     fb.fantasybooksandgames.com and you'll be taken to our Facebook page. We also use our in-store 5-Star Rewards system to text similar announcements to your phone.
Thanks to Comics on the Green for this week's images, which include many of the comics and a few of the books and other items we received today, and may have pics of things we didn't and/or won't get. Use the list, and maybe the pictures.
AVENGERS CURSE MAN-THING #1 $ 4.99
AVENGERS CURSE MAN-THING #1 GLEASON WEBHEAD VAR $ 4.99
AVENGERS CURSE MAN-THING #1 CASSARA STORMBREAKERS VAR $ 4.99
AVENGERS CURSE MAN-THING #1 SPROUSE VAR $ 4.99
BATMAN CATWOMAN #4 (OF 12) CVR A CLAY MANN (MR) $ 4.99
BATMAN CATWOMAN #4 (OF 12) CVR B JIM LEE & SCOTT WILLIAMS VAR (MR) $ 4.99
BATMAN CATWOMAN #4 (OF 12) CVR C TRAVIS CHAREST VAR (MR) $ 4.99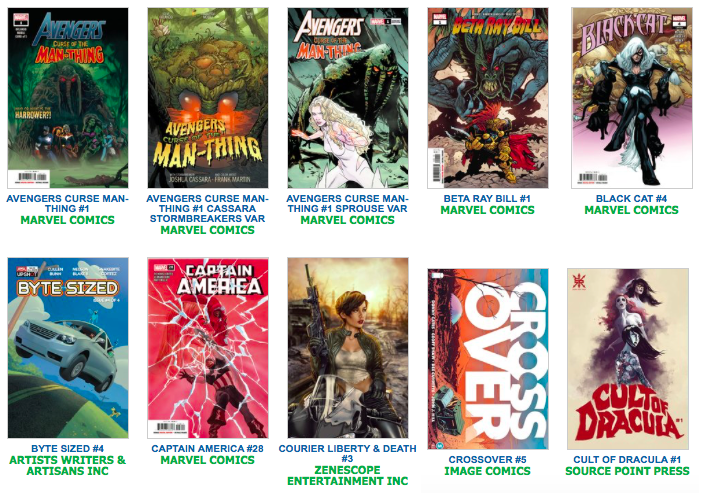 BETA RAY BILL #1 (OF 5) COELLO STORMBREAKERS VAR KIB $ 4.99
BETA RAY BILL #1 (OF 5) CONLEY VAR KIB $ 4.99
BETA RAY BILL #1 (OF 5) KIB $ 4.99
BETA RAY BILL #1 (OF 5) NAUCK HEADSHOT VAR KIB $ 4.99
BETA RAY BILL #1 (OF 5) SIMONSON VAR KIB (1/25) $ ???
BETA RAY BILL #1 (OF 5) STEGMAN VAR KIB $ 4.99
BETTY & VERONICA JUMBO COMICS DIGEST #292 $ 7.99
BLACK CAT #4 $ 3.99
BLACK CAT #4 BARTEL BLACK CAT WOMENS HISTORY MONTH VAR $ 3.99
BLACK CAT #4 BUSTOS VAR $ 3.99
BLACK CAT #4 HUGHES VAR (1/25) $ ???
BYTE SIZED #4 $ 3.99
CAPTAIN AMERICA #28 $ 3.99
CAPTAIN AMERICA #28 MICHAEL CHO CAPTAIN AMERICA TWO-TONE VAR $ 3.99
COURIER LIBERTY & DEATH #3 (OF 3) CVR A COLAPIETRO $ 5.99
COURIER LIBERTY & DEATH #3 (OF 3) CVR B NELLY JIMENEZ $ 5.99
CROSSOVER #4 2ND PTG $ 3.99
CROSSOVER #5 CVR A SHAW $ 3.99
CROSSOVER #5 CVR B BLANK CVR $ 3.99
CULT OF DRACULA #1 (OF 6) CVR A NEMETH $ 3.99
CULT OF DRACULA #1 (OF 6) CVR B MAER $ 3.99
DECORUM #7 CVR A HUDDLESTON (MR) $ 3.99
DECORUM #7 CVR B HUDDLESTON (MR) $ 3.99
DEPARTMENT OF TRUTH #2 3RD PTG (MR) $ 3.99
DEPARTMENT OF TRUTH #3 3RD PTG (MR) $ 3.99
DEPARTMENT OF TRUTH #6 2ND PTG (MR) $ 3.99
DEPARTMENT OF TRUTH #7 CVR A SIMMONDS (MR) $ 3.99
DEPARTMENT OF TRUTH #7 CVR B BOSS (MR) $ 3.99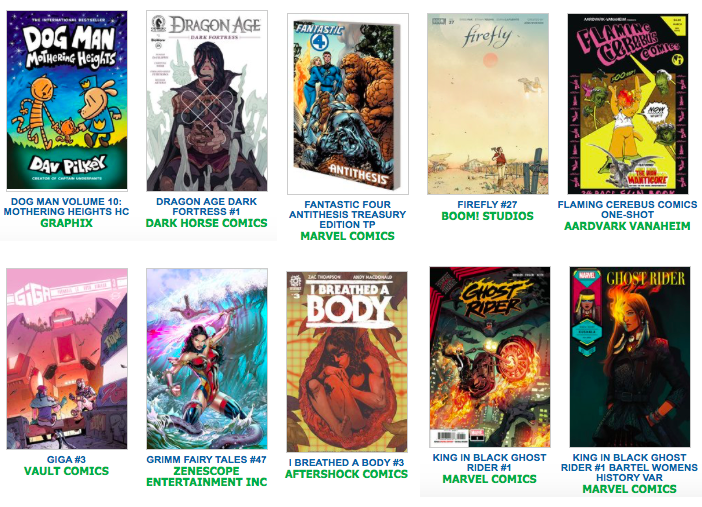 DETECTIVE COMICS #1034 CVR A DAN MORA $ 4.99
DETECTIVE COMICS #1034 CVR B LEE BERMEJO CARD STOCK VAR $ 5.99
DRAGON AGE DARK FORTRESS #1 (OF 3) $ 3.99
FIREFLY #27 CVR A BENGAL $ 3.99
FIREFLY #27 CVR B RAHZZAH $ 3.99
FLAMING CEREBUS COMICS ONE SHOT $ 4
FLASH #768 CVR A BRANDON PETERSON $ 4.99
FLASH #768 CVR B IAN MACDONALD VAR $ 4.99
FUTURE STATE SUPERMAN VS IMPERIOUS LEX #3 (OF 3) CVR A YANICK PAQUETTE $ 3.99
FUTURE STATE SUPERMAN VS IMPERIOUS LEX #3 (OF 3) CVR B DAVID NAKAYAMA CARD STOCK VAR $ 4.99
GIGA #3 CVR A LE $ 3.99
GRIMM FAIRY TALES #47 CVR A IGOR VITORINO $ 3.99
GRIMM FAIRY TALES #47 CVR B SALAZAR $ 3.99
GRIMM FAIRY TALES #47 CVR C KHAMUNAKI $ 3.99
GRIMM FAIRY TALES #47 CVR D COCCOLO $ 3.99
I BREATHED A BODY #3 $ 3.99
KING IN BLACK GHOST RIDER #1 $ 4.99
KING IN BLACK GHOST RIDER #1 BARTEL WOMENS HISTORY VAR $ 4.99
KING IN BLACK GHOST RIDER #1 PAREL VAR $ 4.99
KING IN BLACK RETURN OF VALKYRIES #4 (OF 4) $ 3.99
KING IN BLACK RETURN OF VALKYRIES #4 (OF 4) NAUCK HEADSHOT V $ 3.99
KING IN BLACK RETURN OF VALKYRIES #4 (OF 4) NOTO VALKYRIE PR $ 3.99
LAND THAT TIME FORGOT FEARLESS #2 CVR A MARTINEZ $ 3.99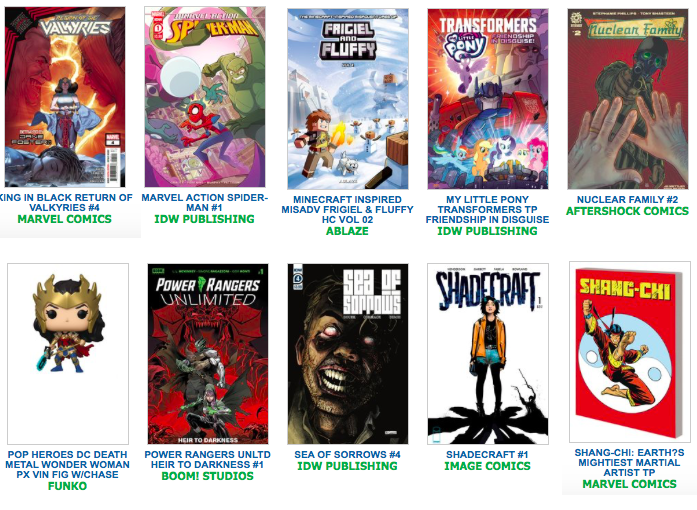 MARVEL ACTION SPIDER-MAN #1 $ 3.99
MARVEL ACTION SPIDER-MAN #1 TBD CVR (1/10) $ ???
MIRKA ANDOLFOS UNSACRED VOL 2 #5 CVR A EDEN & SEVERINO (MR) $ 3.99
MIRKA ANDOLFOS UNSACRED VOL 2 #5 CVR B ANDOLFO CLEAVAGE DIVE $ 3.99
MIRKA ANDOLFOS UNSACRED VOL 2 #5 CVR C PANDER BROTHERS (MR) $ 3.99
MIRKA ANDOLFOS UNSACRED VOL 2 #5 CVR D POCETTA (MR) $ 3.99
MOON MAID THREE KEYS #2 CVR A PUGLIA $ 3.99
NOCTERRA #1 2ND PTG (MR) $ 3.99
NUCLEAR FAMILY #2 $ 3.99
OTHER HISTORY OF THE DC UNIVERSE #3 (OF 5) CVR A GIUSEPPE CAMUNCOLI & MARCO MASTRAZZO (MR) $ 6.99
OTHER HISTORY OF THE DC UNIVERSE #3 (OF 5) CVR B JAMAL CAMPBELL VAR (MR) $ 6.99
POWER RANGERS UNLTD HEIR TO DARKNESS #1 CVR A MORA $ 7.99
POWER RANGERS UNLTD HEIR TO DARKNESS #1 CVR B CONNECTING YOO $ 7.99
REDNECK #30 (MR) $ 3.99
SEA OF SORROWS #4 (OF 5) CORMACK CVR $ 3.99
SHADECRAFT #1 CVR A GARBETT $ 3.99
SHADECRAFT #1 CVR B JOCK $ 3.99
SHADECRAFT #1 CVR C BLANK CVR $ 3.99
SILK #1 (OF 5) $ 3.99
SILK #1 (OF 5) BARTEL SILK WOMENS HISTORY MONTH VAR $ 3.99
SILK #1 (OF 5) BENGAL VAR (1/25) $ ???
SILK #1 (OF 5) JEEHYUNG LEE VAR $ 3.99
SILK #1 (OF 5) WOOH VAR $ 3.99
SILK #1 (OF 5) YOUNG VAR $ 3.99
SPAWN #316 CVR A MATTINA $ 2.99
SPAWN #316 CVR B CAPULLO & MCFARLANE $ 2.99
SPAWN #316 CVR C BARENDS $ 2.99
SPAWN #316 CVR D CAPULLO & MCFARLANE B&W (1/5) $ ???
STAR WARS HIGH REPUBLIC #2 3RD PTG VAR $ 3.99
STAR WARS HIGH REPUBLIC #3 2ND PTG VAR $ 3.99
STRANGE ADVENTURES #9 (OF 12) CVR A MITCH GERADS (MR) $ 4.99
STRANGE ADVENTURES #9 (OF 12) CVR B EVAN DOC SHANER VAR (MR) $ 4.99
SYMBIOTE SPIDER-MAN KING IN BLACK #5 (OF 5) $ 3.99
SYMBIOTE SPIDER-MAN KING IN BLACK #5 (OF 5) RAPOZA VAR (1/25) $ ???
THE UNION #4 (OF 5) $ 3.99
THE UNION #4 (OF 5) BROWN VAR $ 3.99
TMNT THE LAST RONIN #2 (OF 5) 2ND PTG $ 8.99
TRANSFORMERS #28 THOMAS DEER (1/10) $ ???
TRANSFORMERS #28 CVR A CASEY W COLLER $ 3.99
TRANSFORMERS #28 CVR B ADAM BRYCE THOMAS $ 3.99
TWO MOONS #1 2ND PTG (MR) $ 3.99
TWO MOONS #2 CVR A GIANGIORDANO (MR) $ 3.99
TWO MOONS #2 CVR A GIANGIORDANO (MR) $ 3.99
TWO MOONS #2 CVR B MOBILI & SEGALA (MR) $ 3.99
US AGENT #4 (OF 5) $ 3.99
US AGENT #4 (OF 5) BENNETT VAR $ 3.99
USAGI YOJIMBO WANDERERS ROAD #5 (OF 6) PEACH MOMOKO CVR $ 3.99
VAN HELSING BLACK ANNIS ONE SHOT CVR A EDGAR SALAZAR $ 5.99
VAN HELSING BLACK ANNIS ONE SHOT CVR C MARIA LAURA SANAPO $ 5.99
VENGEANCE OF VAMPIRELLA #16 SEGOVIA VIRGIN $ ???
VENGEANCE OF VAMPIRELLA #16 COSPLAY VIRGIN $ ???
VENGEANCE OF VAMPIRELLA #16 PARRILO B&W VIRGIN FOC I $ ???
VENGEANCE OF VAMPIRELLA #16 OLIVER B&W $ ???
VENGEANCE OF VAMPIRELLA #16 CVR A PARRILLO $ 3.99
VENGEANCE OF VAMPIRELLA #16 CVR B OLIVER $ 3.99
VENGEANCE OF VAMPIRELLA #16 CVR C SEGOVIA $ 3.99
VENGEANCE OF VAMPIRELLA #16 CVR D HOLLON COSPLAY $ 3.99
WALKING DEAD DLX #11 CVR B MOORE & MCCAIG (MR) (Re/Cr) $ 3.99
WITCHER FADING MEMORIES #4 (OF 4) $ 3.99
WITCHER FADING MEMORIES #4 (OF 4) JEREMY WILSON VAR ED $ 3.99
X-MEN #19 $ 3.99
X-MEN #19 BARTEL EMMA FROST WOMENS HISTORY MONTH VAR $ 3.99
X-MEN LEGENDS #2 $ 3.99
X-MEN LEGENDS #2 CHRISTOPHER ACTION FIGURE VAR $ 3.99
X-MEN LEGENDS #2 COELLO CONNECTING VAR $ 3.99
YOUNG HELLBOY THE HIDDEN LAND #2 (OF 4) CVR B ARAGNO $ 3.99

COMIC SHOP NEWS #1754 $ FREE
DOCTOR WHO MAGAZINE #558 $ 11.99
DOCTOR WHO MAGAZINE #560 $ 11.99

AVENGERS ACADEMY TP VOL 03 COMPLETE COLLECTION $ 44.99
AVENGERS BY HICKMAN COMPLETE COLLECTION TP VOL 04 $ 44.99
BATMANS GRAVE THE COMPLETE COLLECTION HC $ 39.99
DISNEY PRINCESS BEYOND THE EXTRAORDINARY TP $ 10.99
DOG MAN GN VOL 10 MOTHERING HEIGHTS $ 12.99
EAST OF WEST THE APOCALYPSE YEAR ONE HC (NEW PTG) (MAY150491 $ 49.99
FANTASTIC FOUR ANTITHESIS TREASURY EDITION TP $ 34.99
JOHN CONSTANTINE HELLBLAZER VOL 02 THE BEST VERSION OF YOU TP (MR) $ 16.99
JUSTICE LEAGUE ODYSSEY VOL 04 LAST STAND TP $ 16.99
KILLADELPHIA TP VOL 02 (MR) $ 16.99
MARVEL COMICS IN THE 1970S EXPANDED ED TP $ 29.95
MINECRAFT INSPIRED MISADV FRIGIEL & FLUFFY HC VOL 02 $ 12.99
MY LITTLE PONY TRANSFORMERS TP FRIENDSHIP IN DISGUISE $ 15.99
SHANG-CHI BY GENE LUEN YANG TP VOL 01 BROTHERS AND SISTERS $ 15.99
SHANG-CHI TP EARTHS MIGHTIEST MARTIAL ARTIST $ 24.99
SONIC THE HEDGEHOG TP VOL 08 OUT OF BLUE $ 15.99
STAR WARS DOOKU JEDI LOST SC NOVEL $ 17
STRANGER THINGS TP VOL 04 SCIENCE CAMP $ 19.99
TEEN TITANS RAVEN HC $ 19.99
UNFINISHED BUSINESS HC $ 19.99
USAGI YOJIMBO SAGA LIMITED ED HC VOL 09 $ 79.99
USAGI YOJIMBO SAGA TP VOL 09 $ 24.99
WITCH PT 7 NEW POWER GN VOL 03 $ 15

TOPPS 2021 INCEPTION BASEBALL T/C BOX $ ???

DISNEY SERIES30 3D FOAM BAG CLIP 24PC BMB DS $ ???
DRAGON BALL Z SERIES1 3D FOAM BAG CLIP 24PC BMB DS $ ???
GI JOE CLASSIFIED SERIES 6IN ZARTAN AF CS $ ???
LORD OF THE RINGS SERIES 1 AF ASST $ ???
POP GAMES MILES MORALES GAME MILES MORALES 2020 SUIT FIG $ 11.99
POP GAMES MILES MORALES GAME MILES MORALES BODEGA CAT SUIT $ 11.99
POP GAMES MILES MORALES GAME MILES MORALES PROGRAMMABLE SUIT $ 11.99
POP HEROES DC DEATH METAL WONDER WOMAN PX VIN FIG W/CHASE $ ???
POP NFL 49ERS GEORGE KITTLE VIN FIG $ 11.99
POP ROCKS BRITNEY SPEARS STEWARDESS VIN FIG $ 11.99
SPAWN 7IN MANDARIN SPAWN AF CS $ ???
X-MEN LEGENDS 6IN JEAN GREY AF CS $ ???

MARVEL GRAPHIC COMIC BOXES ALIEN #1 $ 9.99