Lovely Weather We're Having, Innit? – Wednesday, April 28th, 2021
Yesterday and today are why we live here. In September, we'll have trouble breathing.
We finally got Disney + and I've watched Soul (loved it), started  Wanda (loved it),  just one episode of Mandalorian (pretty good 30 minutes), but now Watchathon started so I'm in HBO-land for 5 more days. The verdict is in. Perry Mason is the best show of 2020, but NOT for the kiddies, or even faint-hearted adults. One more episode to go. Then what?
Brzrkr #2 is out and it seems to be a breakout for Boom. Haven't looked inside yet. I don't have much else to say. I spent my "free" time yesterday stocking the Pocket Pops Key Chains, so if that's your thing, we now have 60+ different well organized and visible. Wait, too late. It's 9 minutes after opening, so they're already messed up. What is it about customers that they MUST rearrange every damned thing in the store?
Wednesday is STILL New Comic Day, no matter what you read on the internets. We can't clear the new rack to just have 10 DC's  surrounded by empty space.  We do it once, Wednesday morning. We encourage everyone to be careful, make your trip to our store quick and efficient, and try to come in to shop in smaller groups, and reduce your own exposure to ALL public places indoors, including ours. Bob is open, bring your mask, keep your distance, and help keep Bob healthy. If you like, you can browse the list and make an order to fbgbob@aol.com for a quicker pick up. It might also help to put in a time window when you would be in the neighborhood, to give Bob a chance to get them together, and include a phone number for good measure.
Please wear a mask!
Watch this space and our Facebook page for latest news about the rest of the month, season, year, millenium, etc. (And text messages from 5-Star.) The complete list is found below. If you want to know about the next sale or store event, or whether or not WE ARE EVEN OPEN click here. Sign in here to get an email reminder for ALL sales and other events. Also, you can go to     fb.fantasybooksandgames.com and you'll be taken to our Facebook page. We also use our in-store 5-Star Rewards system to text similar announcements to your phone.
Thanks to Comics on the Green for this week's images, which include many of the comics and a few of the books and other items we received today, and may have pics of things we didn't and/or won't get. Use the list, and maybe the pictures.  
20 FISTS #1 (OF 3) $ 3.99
ABBOTT 1973 #4 (OF 5) CVR A TENFOLD $ 3.99
ABBOTT 1973 #4 (OF 5) CVR B ALLEN $ 3.99
ACTION COMICS #1030 CVR A MIKEL JANIN $ 4.99
ACTION COMICS #1030 CVR B JULIAN TOTINO TEDESCO CARD STOCK VAR $ 5.99
ALIEN #1 2ND PTG LARROCA VAR $ 4.99
ARCHIE JUMBO COMICS DIGEST #319 $ 7.99
BATMAN BLACK AND WHITE #5 (OF 6) CVR A LEE WEEKS $ 5.99
BATMAN BLACK AND WHITE #5 (OF 6) CVR B JENNY FRISON VAR $ 5.99
BATMAN BLACK AND WHITE #5 (OF 6) CVR C GARY FRANK THE RIDDLER VAR $ 5.99
BATMAN SUPERMAN #17 CVR A IVAN REIS & DANNY MIKI $ 3.99
BATMAN SUPERMAN #17 CVR B RODOLFO MIGLIAR CARD STOCK VAR $ 4.99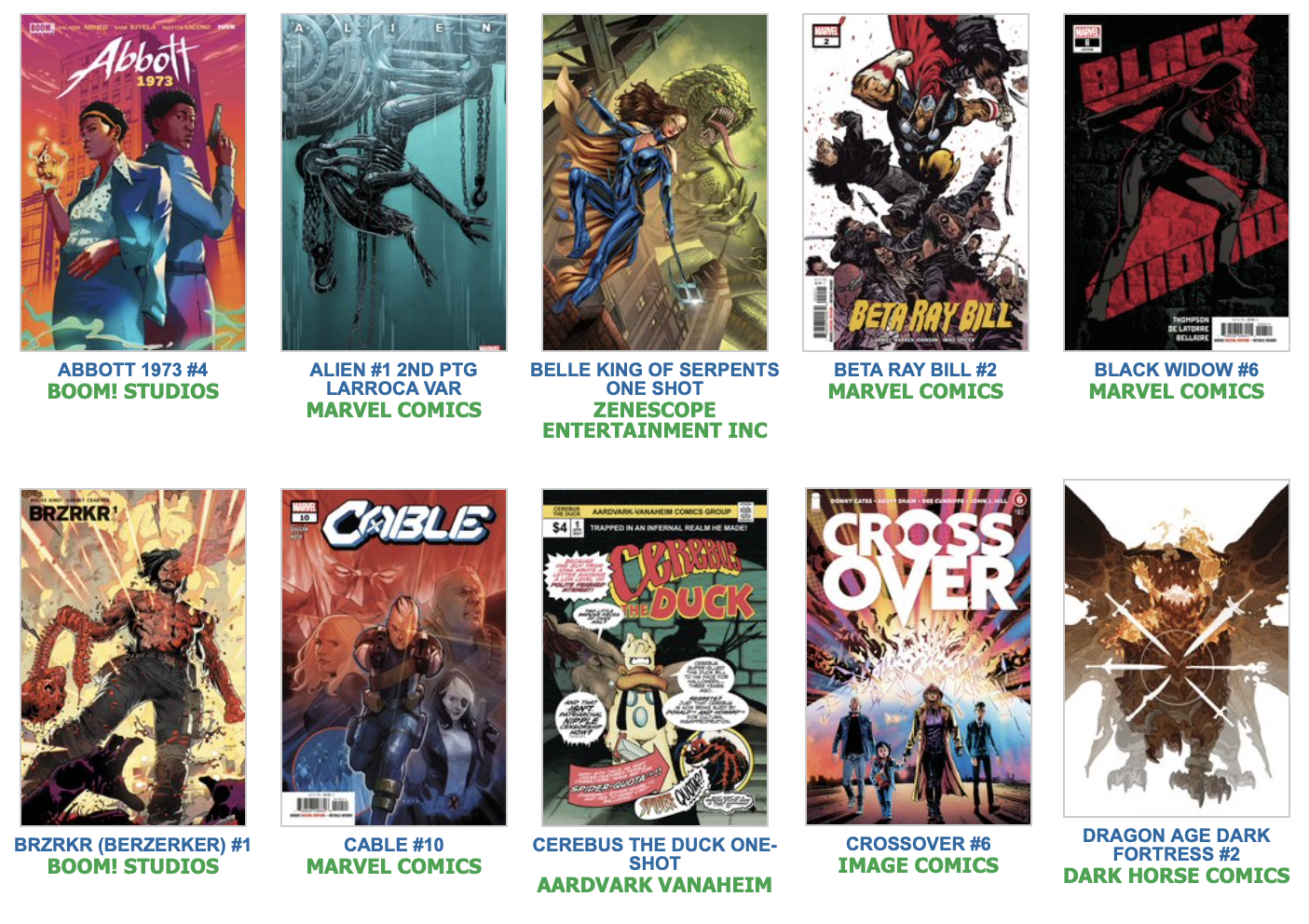 BELLE KING OF SERPENTS ONE SHOT CVR A IGOR VITORINO $ 5.99
BELLE KING OF SERPENTS ONE SHOT CVR B TOLIBAO $ 5.99
BELLE KING OF SERPENTS ONE SHOT CVR C NAKAYAMA $ 5.99
BELLE KING OF SERPENTS ONE SHOT CVR C NAKAYAMA $ 5.99
BETA RAY BILL #2 (OF 5) $ 3.99
BETA RAY BILL #2 (OF 5) POPE VAR (1/25) $ ???
BITTER ROOT #12 (MR) $ 3.99
BLACK WIDOW #6 $ 3.99
BLACK WIDOW #6 CASAGRANDE DESIGN VAR (1/10) $ ???
BLACK WIDOW #6 PACHECO REBORN VAR $ 3.99
BLACK WIDOW #6 RAHZZAH VAR (1/25) $ ???
BRZRKR (BERZERKER) #1 3RD PTG FOIL MORA $ ???
BRZRKR (BERZERKER) #2 CVR A GRAMPA (MR) $ 3.99
BRZRKR (BERZERKER) #2 CVR B ALBUQUERQUE (MR) $ 3.99
BRZRKR (BERZERKER) #2 CVR C GRAMPA FOIL VAR (MR) $ 4.99
BRZRKR (BERZERKER) #2 CVR D ALBUQUERQUE FOIL VAR (MR) $ 4.99
BRZRKR (BERZERKER) #2 CVR E LEON (1/25) $ ???
BRZRKR (BERZERKER) #2 CVR F GRAMPA (1/50) $ ???
CABLE #10 $ 3.99
CEREBUS THE DUCK ONE SHOT $ 4
CRITICAL ROLE VOX MACHINA ORIGINS III #2 (OF 6) $ 3.99
CYBERPUNK 2077 YOU HAVE MY WORD #1 (OF 4) CVR A HERVAS $ 3.99
CYBERPUNK 2077 YOU HAVE MY WORD #1 (OF 4) CVR B DE LULIS $ 3.99
CROSSOVER #6 CVR A SHAW $ 3.99
CROSSOVER #6 CVR B BLANK CVR $ 3.99
CROSSOVER #6 CVR C LARSEN $ 3.99
CROSSOVER #6 CVR D BEDERMAN $ 3.99
CROSSOVER #6 CVR E BEDERMAN VIRGIN (1/5) $ ???
CROSSOVER #6 CVR F SHAW VIRGIN (1/10) $ ???
DEADLY CLASS #45 CVR A CRAIG (MR) $ 3.99
DEADLY CLASS #45 CVR B LEVEL & DINISIO (MR) $ 3.99
DEADLY CLASS #45 CVR C JIA (MR) $ 3.99
DEJAH THORIS WINTERS END ONE SHOT COSPLAY VIRGIN $ ???
DEJAH THORIS WINTERS END ONE SHOT PIRIZ VIRGIN $ ???
DEJAH THORIS WINTERS END ONE SHOT LINSNER VIRGIN $ ???
DEJAH THORIS WINTERS END ONE SHOT CVR A LINSNER $ 4.99
DEJAH THORIS WINTERS END ONE SHOT CVR D NEVA COSPLAY $ 4.99
DEPARTMENT OF TRUTH #8 CVR A SIMMONDS (MR) $ 3.99
DEPARTMENT OF TRUTH #8 CVR B SIENKIEWICZ (MR) $ 3.99
DEPARTMENT OF TRUTH #8 CVR C YOUNG (MR) $ 3.99
DETECTIVE COMICS #1034 Second Printing $ 4.99
DETECTIVE COMICS #1035 CVR A DAN MORA $ 4.99
DETECTIVE COMICS #1035 CVR B LEE BERMEJO CARD STOCK VAR $ 5.99
DRAGON AGE DARK FORTRESS #2 (OF 3) $ 3.99
DUNE HOUSE ATREIDES #6 (OF 12) CVR A CAGLE $ 4.99
DUNE HOUSE ATREIDES #6 (OF 12) CVR B FRISON $ 4.99
E RATIC #5 $ 3.99
FANTASTIC FOUR #31 $ 3.99
FANTASTIC FOUR #31 PACHECO REBORN VAR $ 3.99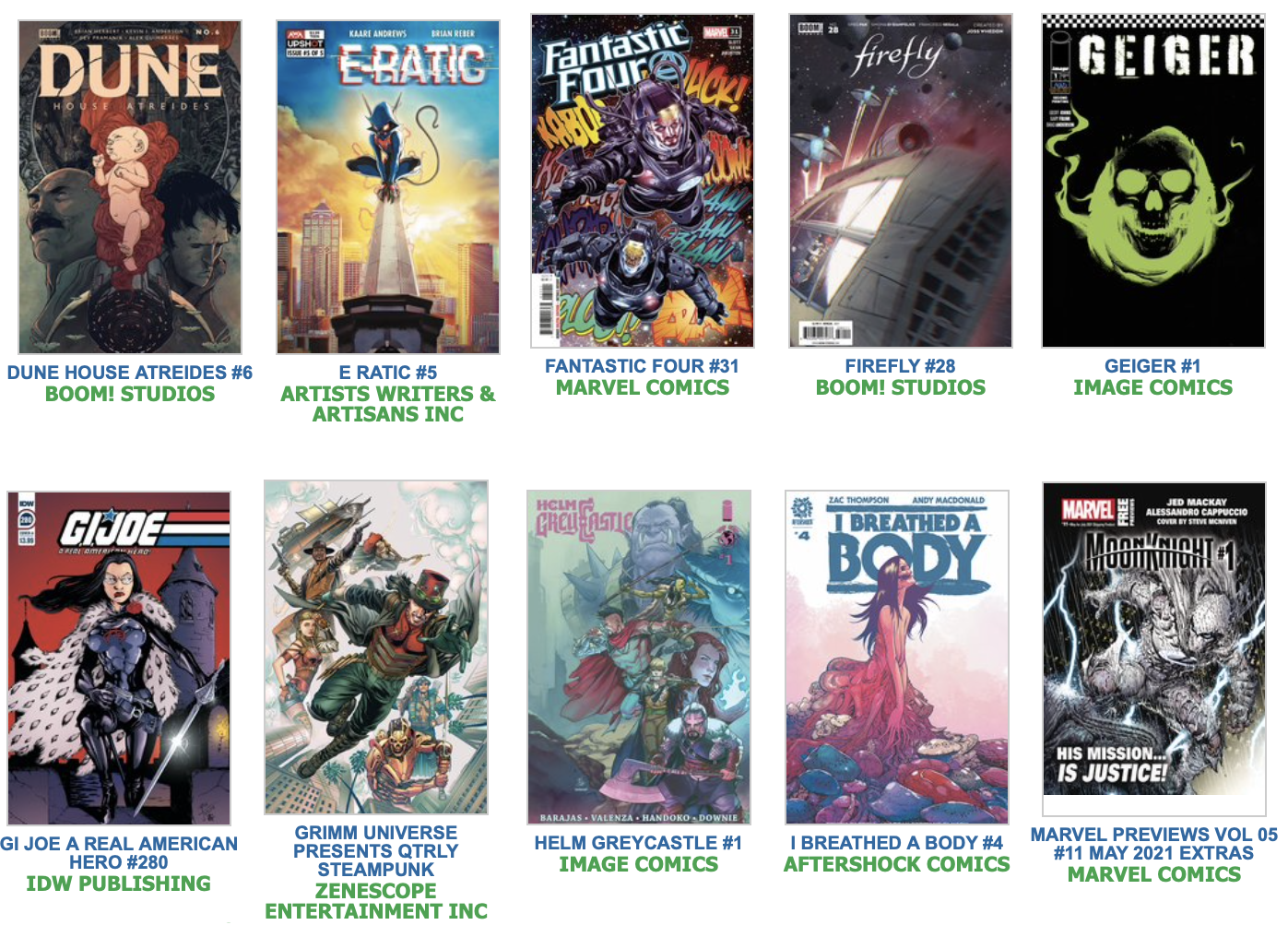 FIREFLY #28 CVR A BENGAL $ 3.99
FIREFLY #28 CVR B RUBIN $ 3.99
GEIGER #1 2ND PTG CVR A FRANK $ 3.99
GI JOE A REAL AMERICAN HERO #280 CVR A RON JOSEPH $ 3.99
GI JOE A REAL AMERICAN HERO #280 CVR B KIERON MCKEOWN $ 3.99
GRIMM UNIVERSE PRESENTS QTRLY STEAMPUNK CVR A IGOR VITORINO $ 8.99
GRIMM UNIVERSE PRESENTS QTRLY STEAMPUNK CVR B NETHO DIAZ $ 8.99
GRIMM UNIVERSE PRESENTS QTRLY STEAMPUNK CVR C DIPASCALE $ 8.99
GRIMM UNIVERSE RETAILER PROG APR 2021 BRONZE EXC $ ???
HARLEY QUINN #2 CVR A RILEY ROSSMO $ 3.99
HARLEY QUINN #2 CVR B DERRICK CHEW CARD STOCK VAR $ 4.99
HELM GREYCASTLE #1 (OF 4) CVR A HANDOKO & VALENZA $ 4.99
HELM GREYCASTLE #1 (OF 4) CVR B LAPHAM $ 4.99
HELM GREYCASTLE #1 (OF 4) CVR C PARKER $ 4.99
HELM GREYCASTLE #1 (OF 4) CVR D CLOONAN $ 5
I BREATHED A BODY #4 $ 3.99
LOVE & ROCKETS MAGAZINE #10 (MR) $ 4.99
MAGIC THE GATHERING (MTG) #1 2ND PTG GUARA $ 4.99
MAGIC THE GATHERING (MTG) #1 CVR B PLANESWALKER REPLACEMENT $ 4.99
MAN GOAT & BUNNY MAN #1 (OF 3) CVR B JOSH BURNS $ 5.99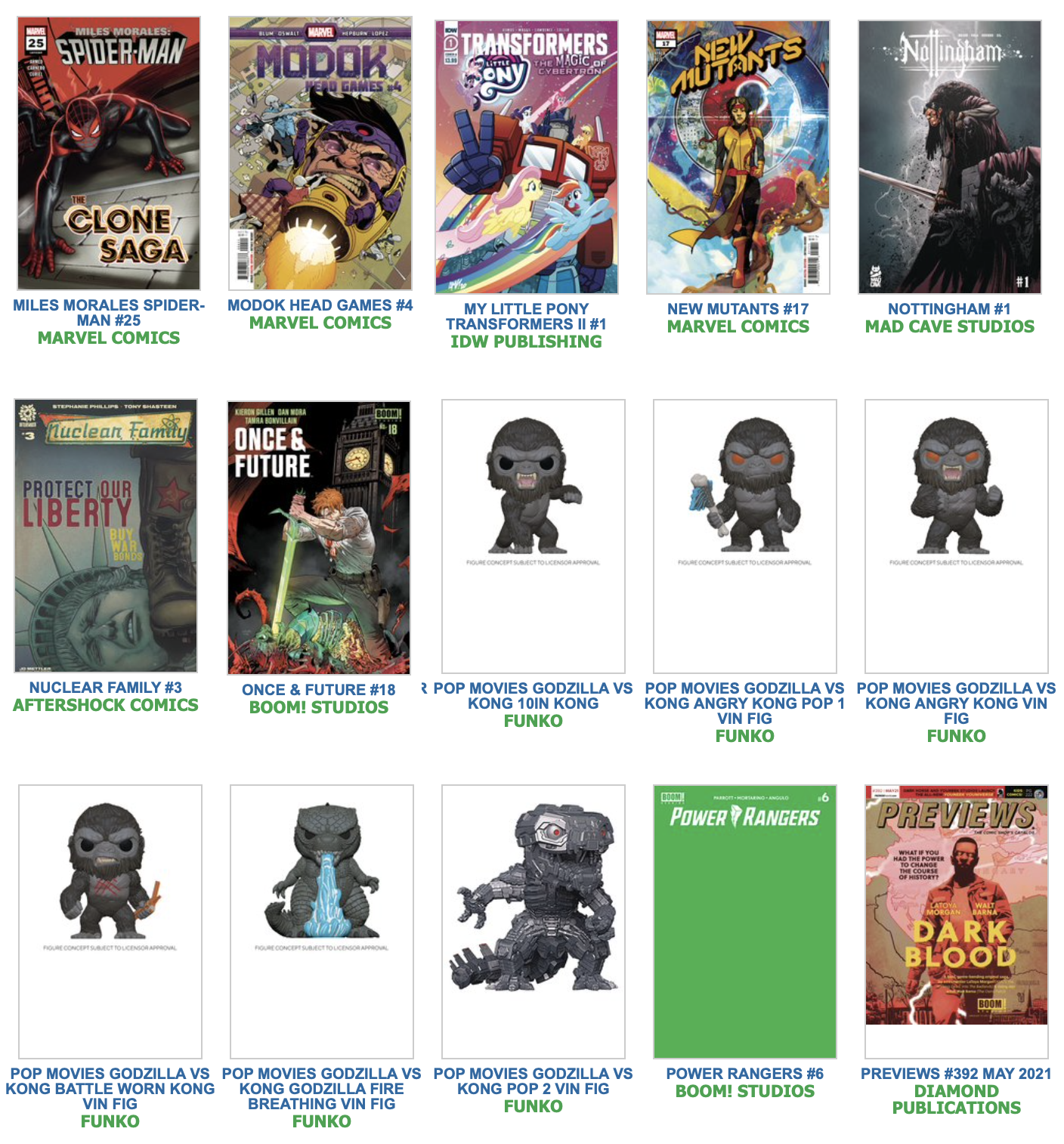 MARVELS #1 $ 4.99
MARVELS #1 EPTING VAR (1/25) $ ???
MARVELS #1 PACHECO VAR $ 4.99
MILES MORALES SPIDER-MAN #25 $ 4.99
MILES MORALES SPIDER-MAN #25 BAGLEY SKYLINE VAR $ 4.99
MILES MORALES SPIDER-MAN #25 HIPP VAR (1/50) $ ???
MILES MORALES SPIDER-MAN #25 LIEFELD DEADPOOL 30TH VAR $ 4.99
MILES MORALES SPIDER-MAN #25 PACHECO REBORN VAR $ 4.99
MILES MORALES SPIDER-MAN #25 PICHELLI VAR (1/25) $ ???
MILES MORALES SPIDER-MAN #25 VEREGGE VAR $ 4.99
MIRKA ANDOLFOS UNSACRED VOL 2 #6 CVR A ANDOLFO HARLEY (MR) $ 3.99
MIRKA ANDOLFOS UNSACRED VOL 2 #6 CVR B ANDOLFO BRA FACE (MR) $ 3.99
MIRKA ANDOLFOS UNSACRED VOL 2 #6 CVR D BIGARELLA (MR) $ 3.99
MLP TRANSFORMERS II #1 (OF 4) PRICE $ ???
MLP TRANSFORMERS II #1 (OF 4) CVR A TONY FLEECS $ 3.99
MODERN FRANKENSTEIN #1 CVR A VIECELI & BOWLAND (MR) $ 3.99
MODOK HEAD GAMES #4 (OF 4) $ 3.99
NEW MUTANTS #17 $ 3.99
NIGHTWING #78 Second Printing $ 3.99
NOTTINGHAM #1 (OF 5) 2ND PTG $ 3.99
NUCLEAR FAMILY #3 $ 3.99
ONCE & FUTURE #18 CVR A MORA $ 3.99
ONCE & FUTURE #18 CVR B MORA $ 3.99
OUTCAST BY KIRKMAN & AZACETA #48 (RES) (MR) $ 4.99
ROBIN #1 CVR A GLEB MELNIKOV $ 3.99
ROBIN #1 CVR B GLEB MELNIKOV WRAPAROUND VAR $ 3.99
ROBIN #1 1:25 RICCARDO FEDERICI CARD STOCK VAR (1/25) $ ???
MARVEL PREVIEWS VOL 05 #11 MAY 2021 EXTRAS $ FREE*
PREVIEWS #392 MAY 2021 $ 3.99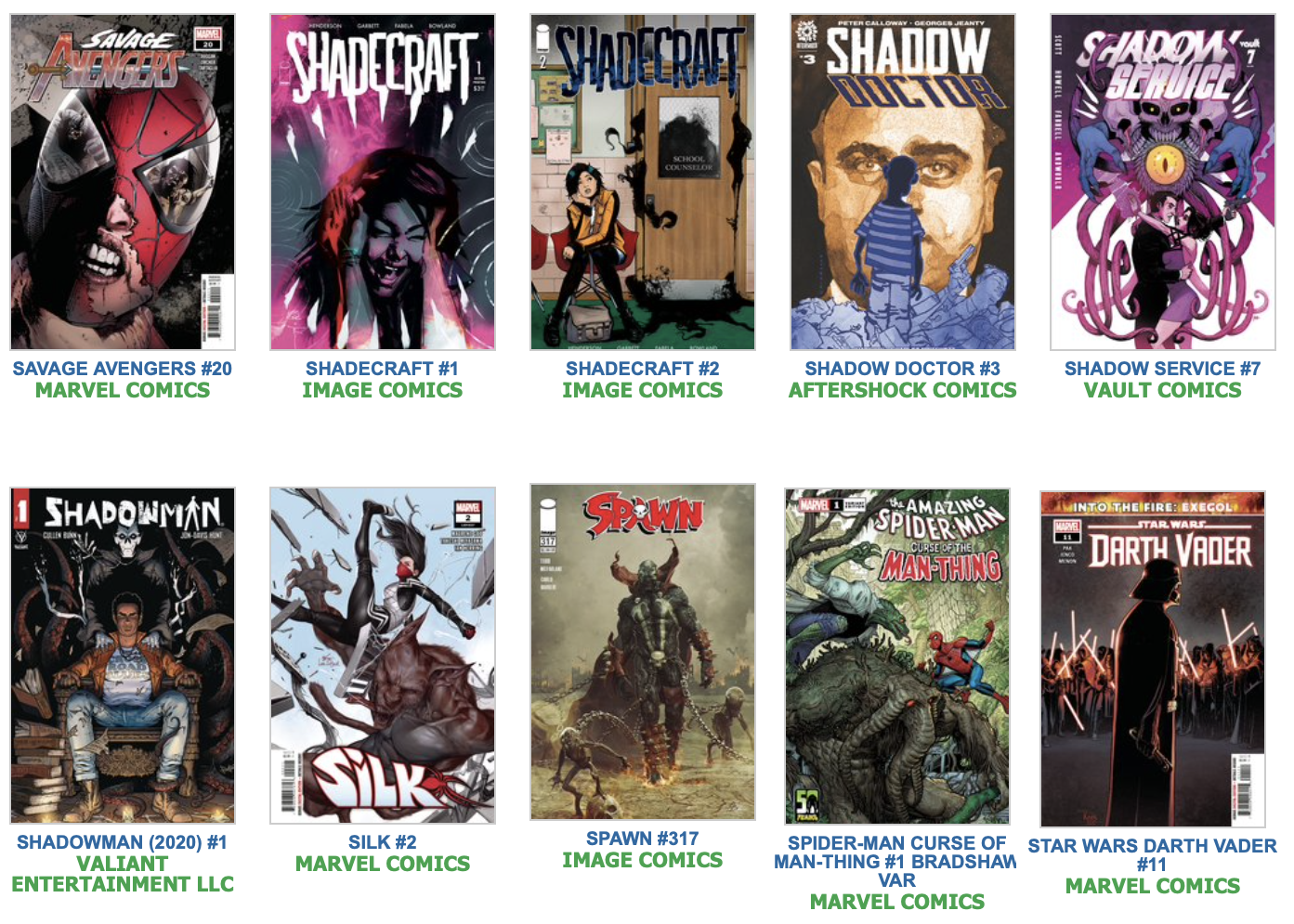 RWBY JUSTICE LEAGUE #1 (OF 7) CVR A MIRKA ANDOLFO $ 3.99
RWBY JUSTICE LEAGUE #1 (OF 7) CVR B SIMONE DI MEO CARD STOCK VAR $ 4.99
SAVAGE AVENGERS #20 $ 3.99
SAVAGE AVENGERS #20 HORLEY VAR $ 3.99
SHADECRAFT #1 2ND PTG $ 3.99
SHADECRAFT #1 2ND PTG (FREE MATCH TO) $ 3.99
SHADECRAFT #2 CVR A GARBETT $ 3.99
SHADECRAFT #2 CVR B LOTAY $ 3.99
SHADOW DOCTOR #3 $ 3.99
SHADOW SERVICE #7 CVR A HOWELL $ 3.99
SHADOWMAN (2020) #1 CVR A DAVIS-HUNT (RES) $ 3.99
SHADOWMAN (2020) #1 CVR C HORROR HOMAGE JOHNSON (RES) $ 3.99
SILK #2 (OF 5) $ 3.99
SILK #2 (OF 5) BESCH VAR (1/25) $ ???
SOMETHING IS KILLING THE CHILDREN #1 8TH PTG $ ???
SPAWN #317 CVR A BARENDS $ 2.99
SPAWN #317 CVR B MCFARLANE $ 2.99
SPAWN #317 CVR C MATTINA $ 2.99
SPAWN #317 CVR D CAPULLO & MCFARLANE B&W (1/5) $ ???
SPIDER-MAN CURSE OF MAN-THING #1 $ 4.99
SPIDER-MAN CURSE OF MAN-THING #1 BRADSHAW VAR $ 4.99
STAR WARS DARTH VADER #11 $ 3.99
STAR WARS DARTH VADER #11 SPROUSE EMPIRE STRIKES BACK VAR $ 3.99
STAR WARS EMPIRE 40TH ANNIV CVR SPROUSE #1 $ 5.99
STAR WARS EMPIRE 40TH ANNIV CVR SPROUSE #1 MOVIE POSTER VAR $ 5.99
STRAY DOGS #2 2ND PTG $ 3.99
SUMMONERS WAR LEGACY #1 $ 3.99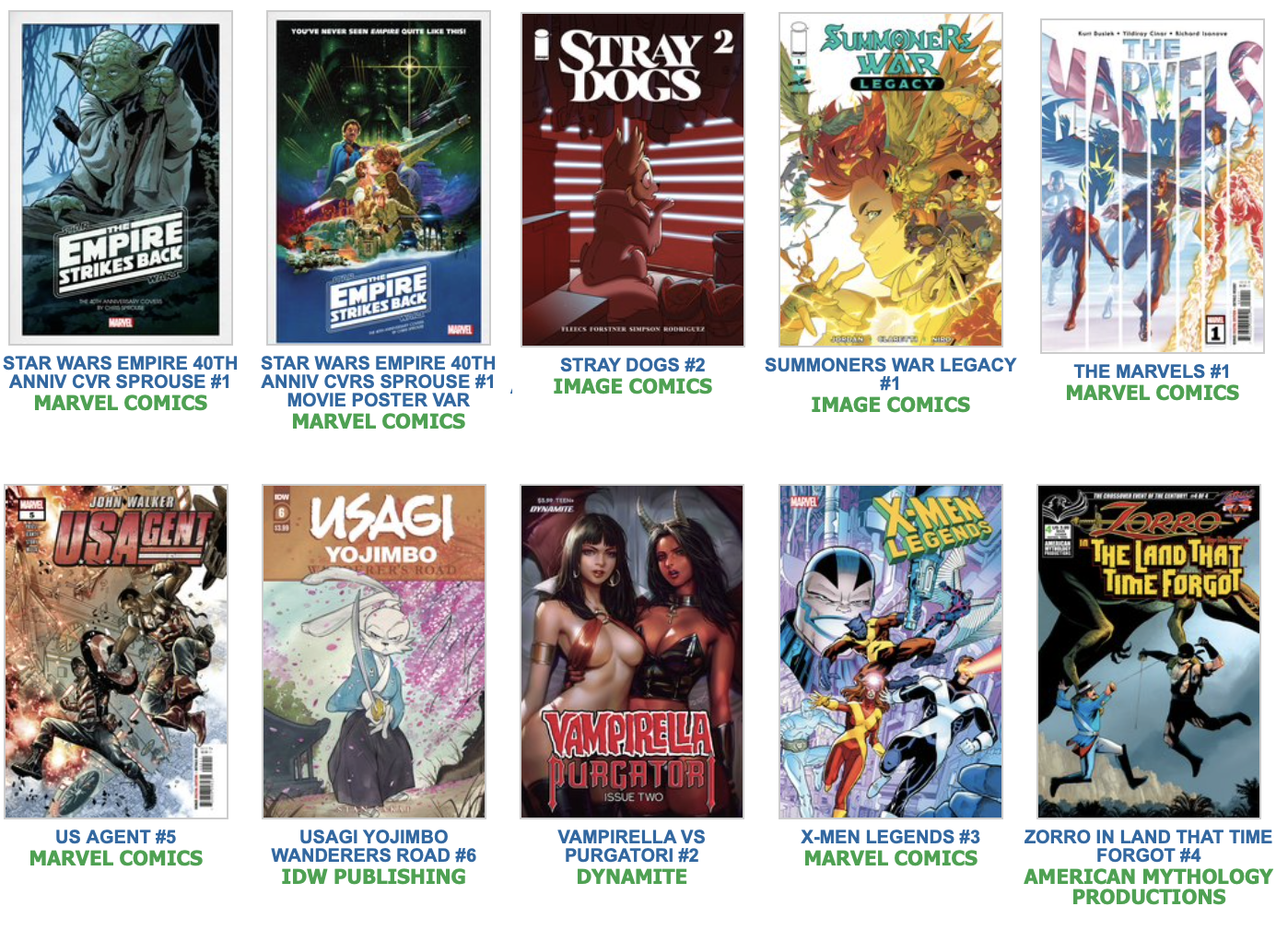 TEEN TITANS ACADEMY #2 CVR A RAFA SANDOVAL $ 3.99
TEEN TITANS ACADEMY #2 CVR B PHILIP TAN CARD STOCK VAR $ 4.99
TWO MOONS #3 CVR A GIANGIORDANO (MR) $ 3.99
TWO MOONS #3 CVR B LATINA & BIANCONI (MR) $ 3.99
US AGENT #5 (OF 5) $ 3.99
US AGENT #5 (OF 5) RENAUD VAR $ 3.99
USAGI YOJIMBO WANDERERS ROAD #6 (OF 6) PEACH MOMOKO CVR $ 3.99
VAMPIRELLA DARK POWERS #5 DAVIDSON VIRGIN $ ???
VAMPIRELLA VS PURGATORI #2 CVR A CHEW $ 3.99
VAMPIRELLA VS PURGATORI #2 CVR B PAGULAYAN $ 3.99
VAMPIRELLA VS PURGATORI #2 CVR C FOX $ 3.99
X-MEN LEGENDS #3 $ 3.99
X-MEN LEGENDS #3 CHRISTOPHER ACTION FIGURE VAR $ 3.99
X-MEN LEGENDS #3 COELLO CONNECTING VAR $ 3.99
ZORRO IN LAND THAT TIME FORGOT #4 CVR A WOLFER $ 3.99

NON SPORT UPDATE VOL 32 #2 $ 5.99
STAR WARS INSIDER #202 FOC CVR $ 9.99
STAR WARS INSIDER #202 NEWSSTAND ED $ 9.99

ATTACK ON TITAN GN VOL 33 (MR) $ 10.99
BARRY WINDSOR-SMITH MONSTERS HC (MR) $ 39.99
BATMAN SUPERMAN VOL 02 WORLDS DEADLIEST HC $ 29.99
BETTIE PAGE QUEEN NILE TP $ 17.99
CHAMPIONS GN TP WORLDS COLLIDE $ 12.99
COMMANDERS IN CRISIS TP VOL 01 (MR) $ 16.99
DAREDEVIL BY CHIP ZDARSKY TP VOL 01 KNOW FEAR $ 15.99
DCEASED DEAD PLANET HC $ 29.99
DR STONE GN VOL 16 $ 9.99
FRIEND OF THE DEVIL HC A RECKLESS BOOK (MR) $ 24.99
GIDEON FALLS TP VOL 06 (MR) $ 12.99
IMMORTAL HULK HC VOL 03 $ 34.99
JLA THE TOWER OF BABEL THE DELUXE EDITION HC $ 34.99
JOHN CONSTANTINE HELLBLAZER RISE AND FALL HC (MR) $ 24.99
RED MOTHER TP VOL 03 $ 14.99
REDNECK TP VOL 05 (MR) $ 16.99
SPLATOON SQUID KIDS COMEDY SHOW GN VOL 03 $ 9.99
SUICIDE SQUAD BAD BLOOD HC $ 29.99
TMNT REBORN TP VOL 02 LIFE AFTER DEATH $ 19.99
UNTOLD TALES SPIDER-MAN OMNIBUS HC VILLAINS DM VAR NEW PTG $ 100
USAGI YOJIMBO TP VOL 02 HOMECOMING $ 19.99
WOLVERINE EPIC COLLECTION TP MADRIPOOR NIGHTS NEW PTG $ 39.99

BATMAN SPECIAL EDITION PULL BACK CAR SET $ 29.99
FUNKO PAKA PAKA SODA KAT 7IN 6PC PLUSH DISP $ ???
POCKET POP FLASH KEYCHAIN $ 5.99
POCKET POP GODZILLA VS KONG KONG W/ WEAPON $ 5.99
POP ALBUMS LINKIN PARK HYBRID THEORY VINYL FIG $ 15.99
POP ANIMATION JUNJI ITO SOUICHI TSUJII VINYL FIGURE $ 10.99
POP ANIMATION JUNJI ITO YUUKO VINYL FIGURE $ 10.99
POP MOVIES GODZILLA VS KONG 10IN KONG $ 38.99
POP PIN CYBORG $ 15.99
POP PIN THE FLASH $ 15.99
SW E6 VINTAGE 3-3/4IN BOBA FETT AF CS $ ???
UMBRELLA ACADEMY FACE MASK $ 9.99
UMBRELLA ACADEMY METAL WATER BOTTLE $ 19.99
VINYL SODA NBX VAMPIRE JACK W/ CHASE $ 12.99