Another Record Huge Selection of New Comics – Wednesday, July 7th, 2021
Over 160 covers on a wall designed for 140, and used to 120 oir less, and that's after piling a few variant covers of the same title on top of each other.  
This is it, #6, the last issue of Batman/Fortnite Zero Point – still an ask-for item when you get there. Extreme Carnage Alpha #1, – and this year's X-Men #1 is finally here – from Marvel, and Skybound #1 from Image are the other peaks among the valleys and plains.
Did I mention Free Comic Book Day is scheduled for August 14th this year? I did. And it is. This is new. I haven't seen any of the 2021 comics come in yet, but Bob did just buy a dozen of last year's, which I'm assuming will be on the tables this year, so the selection should be extra large. So don't read our store bags for this year, and get ready for August.
Face masks are "recommended", and welcomed. They are not required. We will leave the sign up on the door, but if you forget, Bob won't kick you out. For now. We'll watch the real news and adjust as needed.
Wednesday is STILL New Comic Day, no matter what you read on the internets. We can't clear the new rack to just have 10 DC's  surrounded by empty space.  We do it once, Wednesday morning. We encourage everyone to be careful, make your trip to our store quick and efficient, and try to come in to shop in smaller groups, and reduce your own exposure to ALL public places indoors, including ours. If you like, you can browse the list and make an order to fbgbob@aol.com for a quicker pick up. It might also help to put in a time window when you would be in the neighborhood, to give Bob a chance to get them together, and include a phone number for good measure. Watch this space and our Facebook page for latest news about the rest of the month, season, year, millenium, etc. (And text messages from 5-Star.) The complete list is found below. If you want to know about the next sale or store event, or whether or not WE ARE EVEN OPEN click here. Sign in here to get an email reminder for ALL sales and other events. Also, you can go to     fb.fantasybooksandgames.com and you'll be taken to our Facebook page. We also use our in-store 5-Star Rewards system to text similar announcements to your phone.
Thanks to Comics on the Green for this week's images, which include many of the comics and a few of the books and other items we received today, and may have pics of things we didn't and/or won't get. Use the list, and maybe the pictures.  
AMAZING SPIDER-MAN #70 ANTONIO VAR SINW (1/25) $ ???
AMAZING SPIDER-MAN #70 BALDEON HANDBOOK VAR SINW $ 3.99
AMAZING SPIDER-MAN #70 MOMOKO MARVEL ANIME VAR SINW $ 3.99
AMAZING SPIDER-MAN #70 SINW $ 3.99
AMAZING SPIDER-MAN ANNUAL #2 INFD $ 4.99
AMERICA CHAVEZ MADE IN USA #4 (OF 5) $ 3.99
AMERICA CHAVEZ MADE IN USA #4 (OF 5) ASPINALL VAR $ 3.99
ARCHIE JUMBO COMICS DIGEST #321 $ 7.99
AVENGERS #46 $ 3.99
AVENGERS #46 MOMOKO MARVEL ANIME VAR $ 3.99
BABYTEETH #19 (MR) $ 3.99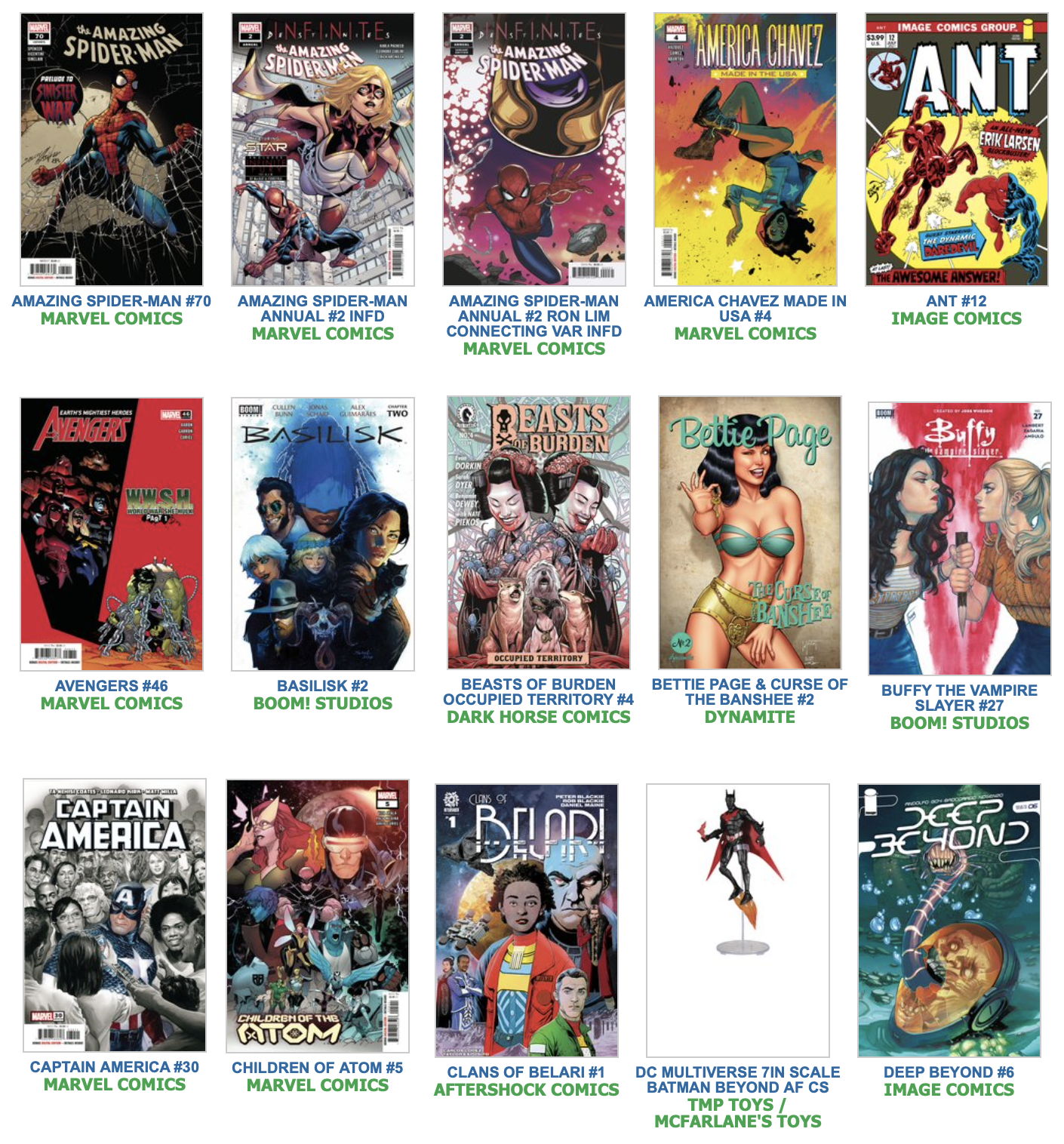 BASILISK #2 CVR A SCHARF $ 3.99
BASILISK #2 CVR B SIMMONDS $ 3.99
BASILISK #2 CVR D VAR SIMMONDS $ ???
BATMAN #109 CVR C JEN BARTEL PRIDE MONTH CARD STOCK VAR $ 5.99
BATMAN #110 CVR A JORGE JIMENEZ $ 4.99
BATMAN #110 CVR B JOCK CARD STOCK VAR $ 5.99
BATMAN FORTNITE ZERO POINT #6 (OF 6) CVR A MIKEL JANÃŒN $ 4.99
BATMAN FORTNITE ZERO POINT #6 (OF 6) CVR B KIM JUNG GI CARD STOCK $ 5.99
BATMAN FORTNITE ZERO POINT #6 (OF 6) PREMIUM VAR F DONALD MUSTARD CARD STOCK $ ???
BATMAN FORTNITE ZP #6 (OF 6) PREM VAR G INC 1:150 DONALD MUSTARD COMPIL CARD STOCK CVR $ ???
BATMAN SECRET FILES THE SIGNAL #1 (ONE SHOT) CVR A KEN LASHLEY $ 4.99
BATMAN SECRET FILES THE SIGNAL #1 (ONE SHOT) CVR B CULLY HAMNER CARD STOCK VAR $ 5.99
BATMAN SECRET FILES THE SIGNAL #1 (ONE SHOT) INC 1:25 KEN LASHLEY CARD STOCK VAR $ ???
BATMAN THE ADVENTURES CONTINUE SEASON II #2 (OF 7) CVR A KRIS ANKA $ 3.99
BATMAN THE ADVENTURES CONTINUE SEAS II #2 (OF 7) CVR B MAX DUNBAR CARD STOCK VAR $ 4.99
BEASTS OF BURDEN OCCUPIED TERRITORY #4 (OF 4) CVR B DORKIN & $ 3.99
BETTIE PAGE & CURSE OF THE BANSHEE #2 CVR J VAR MYC $ ???
BETTIE PAGE & CURSE OF THE BANSHEE #2 CVR L VAR LIN $ ???
BETTIE PAGE & CURSE OF THE BANSHEE #2 CVR U VAR LI $ ???
BLACK HAMMER REBORN #1 CVR A YARSKY (RE/CR) $ 3.99
BLACK HAMMER REBORN #1 CVR B LEMIRE (Re/CR) $ 3.99
BLACKS MYTH #1 (MR) $ 3.99
BUFFY THE VAMPIRE SLAYER #27 CVR A FRANY $ 3.99
CAPTAIN AMERICA #30 $ 3.99
CAPTAIN AMERICA #30 CLARKE SPIDER-MAN VILLAINS VAR $ 3.99
CHILDREN OF ATOM #5 $ 3.99
CHILDREN OF ATOM #5 CHANG VAR $ 3.99
CLANS OF BELARI #1 CVR A ANDY CLARKE $ 4.99
COMMANDERS IN CRISIS #10 (OF 12) CVR A TINTO (MR) $ 3.99
COMMANDERS IN CRISIS #10 (OF 12) CVR B MARION (MR) $ 3.99
COMMANDERS IN CRISIS #10 (OF 12) CVR C LESNIEWSKI (MR) $ 3.99
COMMANDERS IN CRISIS #10 (OF 12) CVR D DANHAUSEN (MR) $ 3.99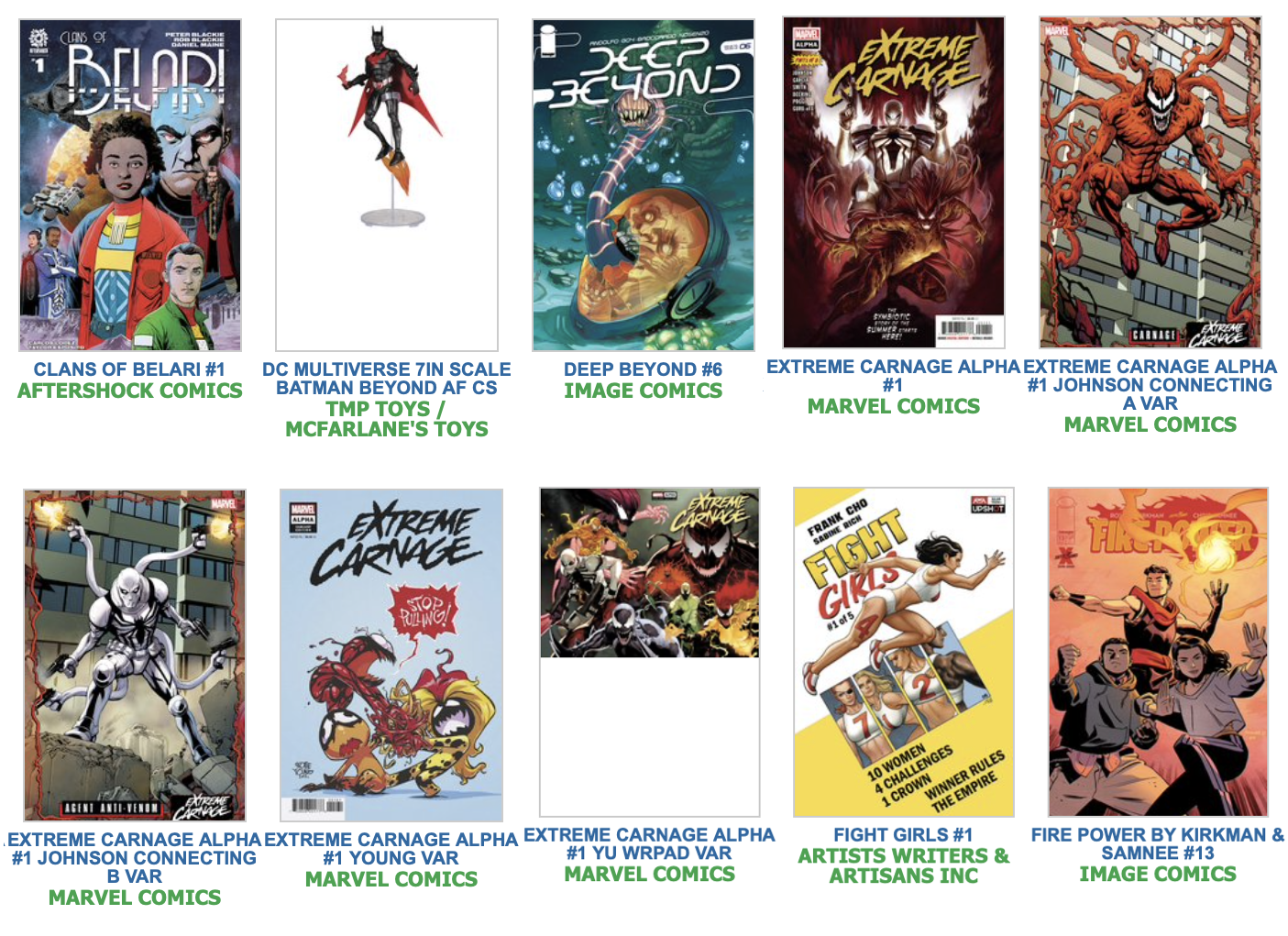 CRIME SYNDICATE #5 (OF 6) CVR A HOWARD PORTER $ 3.99
CRIME SYNDICATE #5 (OF 6) CVR B FRANCIS MANAPUL CARD STOCK VAR $ 4.99
CRUSH & LOBO #1 (OF 8) CVR B YOSHI YOSHITANI PRIDE MONTH CARD STOCK VAR $ 4.99
CRUSH & LOBO #2 (OF 8) CVR A AMANDA CONNER $ 3.99
CRUSH & LOBO #2 (OF 8) CVR B DAN MORA CARD STOCK VAR $ 4.99
DC HORROR PRESENTS THE CONJURING THE LOVER #2 (OF 5) CVR A BILL SIENKIEWICZ (MR) $ 3.99
DC HORROR PRES CONJURING THE LOVER #2 (OF 5) CVR B RYAN BROWN VHS TRIBUTE CARD STOCK VAR (MR) $ 4.99
DEEP BEYOND #6 (OF 12) CVR A BROCCARDO $ 3.99
DEEP BEYOND #6 (OF 12) CVR B ANDOLFO $ 3.99
DEEP BEYOND #6 (OF 12) CVR C LAFUENTE $ 3.99
DEEP BEYOND #6 (OF 12) CVR D OUM $ 3.99
EXTREME CARNAGE ALPHA #1 $ 4.99
EXTREME CARNAGE ALPHA #1 JOHNSON CONNECTING A VAR $ 4.99
EXTREME CARNAGE ALPHA #1 JOHNSON CONNECTING B VAR $ 4.99
EXTREME CARNAGE ALPHA #1 SYMBIOTE VAR (1/50) $ ???
EXTREME CARNAGE ALPHA #1 YOUNG VAR $ 4.99
EXTREME CARNAGE ALPHA #1 YU WRPAD VAR $ 4.99
FIGHT GIRLS #1 CVR A CHO $ 3.99
FIGHT GIRLS #1 CVR B DEODATO JR $ 3.99
FIRE POWER BY KIRKMAN & SAMNEE #13 $ 3.99
GEIGER #3 2ND PTG $ 3.99
GEIGER #4 CVR A FRANK & ANDERSON $ 3.99
GEIGER #4 CVR B WALKER $ 3.99
GEIGER #4 CVR C MARTINBROUGH $ 3.99
GEIGER #4 CVR D FRANK $ 3.99
GI JOE A REAL AMERICAN HERO YEARBOOK #2 $ 5.99
GODKILLER TOMORROWS ASHES #1 CVR A NEN (MR) $ 3.99
GOOD ASIAN #3 (OF 9) CVR A JOHNSON (MR) $ 3.99
GOOD ASIAN #3 (OF 9) CVR B BARTEL (MR) $ 3.99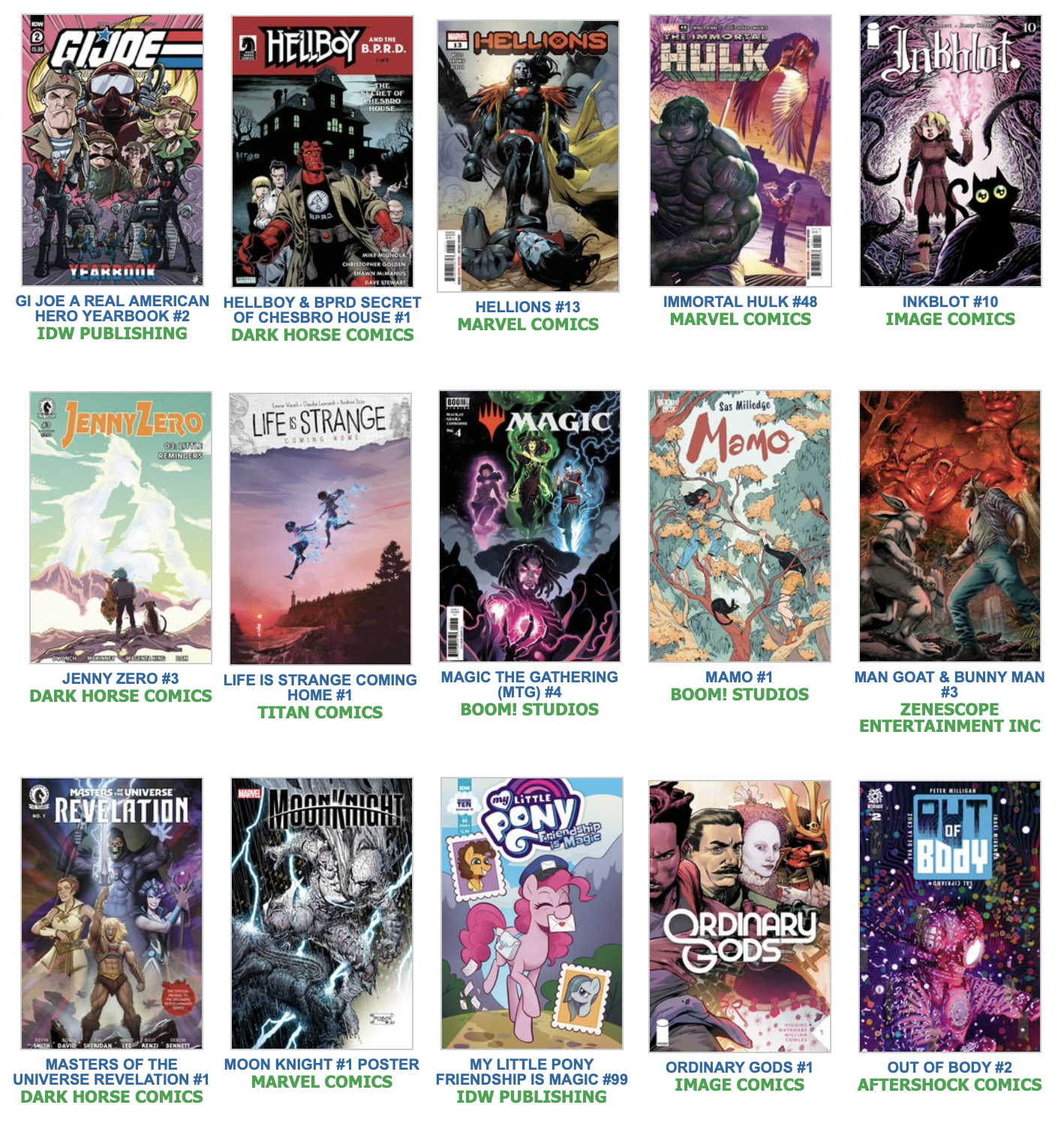 GREEN LANTERN #4 CVR A BERNARD CHANG $ 4.99
GREEN LANTERN #4 CVR B BRYAN HITCH CARD STOCK VAR $ 5.99
GRIMM UNIVERSE RETAILER PROGRAM JUNE 2021 BRONZE EXC $ ???
HELLBOY & BPRD SECRET OF CHESBRO HOUSE #1 (OF 2) CVR A MCMAN $ 3.99
HELLBOY & BPRD SECRET OF CHESBRO HOUSE #1 (OF 2) CVR B STENB $ 3.99
HELLIONS #13 $ 3.99
HELLIONS #13 DAUTERMAN VAR $ 3.99
HEY KIDS COMICS VOL 02 PROPHETS & LOSS #3 (OF 6) (MR) $ 3.99
HOLLOW HEART #5 CVR A TUCKER $ 3.99
HOLLOW HEART #5 CVR B HICKMAN $ 3.99
IMAGE FIRSTS ICE CREAM MAN #1 (MR) $ 1
IMAGE FIRSTS SPAWN #1 (MR) $ 1
IMMORTAL HULK #48 $ 3.99
IMMORTAL HULK #48 BENNETT HOMAGE VAR $ 3.99
IMMORTAL HULK #48 MOMOKO MARVEL ANIME VAR $ 3.99
INKBLOT #10 $ 3.99
JENNY ZERO #3 (OF 4) $ 3.99
JUSTICE LEAGUE #64 CVR A DAVID MARQUEZ $ 4.99
JUSTICE LEAGUE #64 CVR B JASON HOWARD CARD STOCK VAR $ 5.99
JUSTICE LEAGUE INFINITY #1 (OF 7) CVR A FRANCIS MANAPUL $ 3.99
JUSTICE LEAGUE INFINITY #1 (OF 7) CVR B SCOTT HEPBURN CARD STOCK VAR $ 4.99
KARMEN #5 (OF 5) CVR A MARCH (MR) $ 3.99
LAND THAT TIME FORGOT FEARLESS #3 CVR A MARTINEZ $ 3.99
LIFE IS STRANGE COMING HOME #1 CVR A NAKAMURA $ 5.99
LIFE IS STRANGE COMING HOME #1 CVR C LUSKY $ 5.99
LIFE IS STRANGE COMING HOME #1 CVR D LUSKY $ 5.99
LIFE IS STRANGE COMING HOME #1 CVR E FISH $ 5.99
MAGIC THE GATHERING (MTG) #4 CVR B HIDDEN PLANESWALKER VAR $ 4.99
MAGIC THE GATHERING (MTG) #4 CVR A SCALERA $ 4.99
MAGIC THE GATHERING (MTG) #4 CVR C BLANK SKETCH CVR $ 4.99
MAGIC THE GATHERING (MTG) #4 CVR D VAR GUARA (1/10) $ ???
MAMO #1 (OF 5) CVR A MILLEDGE $ 4.99
MAMO #1 (OF 5) CVR B VAR NGUYEN (1/10) $ ???
MAN GOAT & BUNNY MAN #3 (OF 3) CVR A VITORINO $ 5.99
MAN GOAT & BUNNY MAN #3 (OF 3) CVR B ANACLETO $ 5.99
MASTERS OF THE UNIVERSE REVELATION #1 (OF 4) CVR A SEJIC $ 3.99
MASTERS OF THE UNIVERSE REVELATION #1 (OF 4) CVR B MIGNOLA & $ 3.99
MONDAY MONDAY RIVERS OF LONDON #1 CVR A FISH $ 3.99
MONDAY MONDAY RIVERS OF LONDON #1 CVR B BEROY $ 3.99
MONDAY MONDAY RIVERS OF LONDON #1 CVR C GLASS $ 3.99
MY LITTLE PONY FRIENDSHIP IS MAGIC #99 VAR AKEEM RO $ ???
MY LITTLE PONY FRIENDSHIP IS MAGIC #99 CVR A ROBIN EASTER ( $ 3.99
NEXT BATMAN SECOND SON #4 (OF 4) CVR A JORGE MOLINA $ 4.99
NEXT BATMAN SECOND SON #4 (OF 4) CVR B RACHTA LIN CARD STOCK VAR $ 5.99
NICE HOUSE ON THE LAKE #2 (OF 12) CVR A ALVARO MARTINEZ BUENO (MR) $ 3.99
NICE HOUSE ON THE LAKE #2 (OF 12) CVR B ANAND RADHAKRISHNAN CARD STOCK VAR (MR) $ 4.99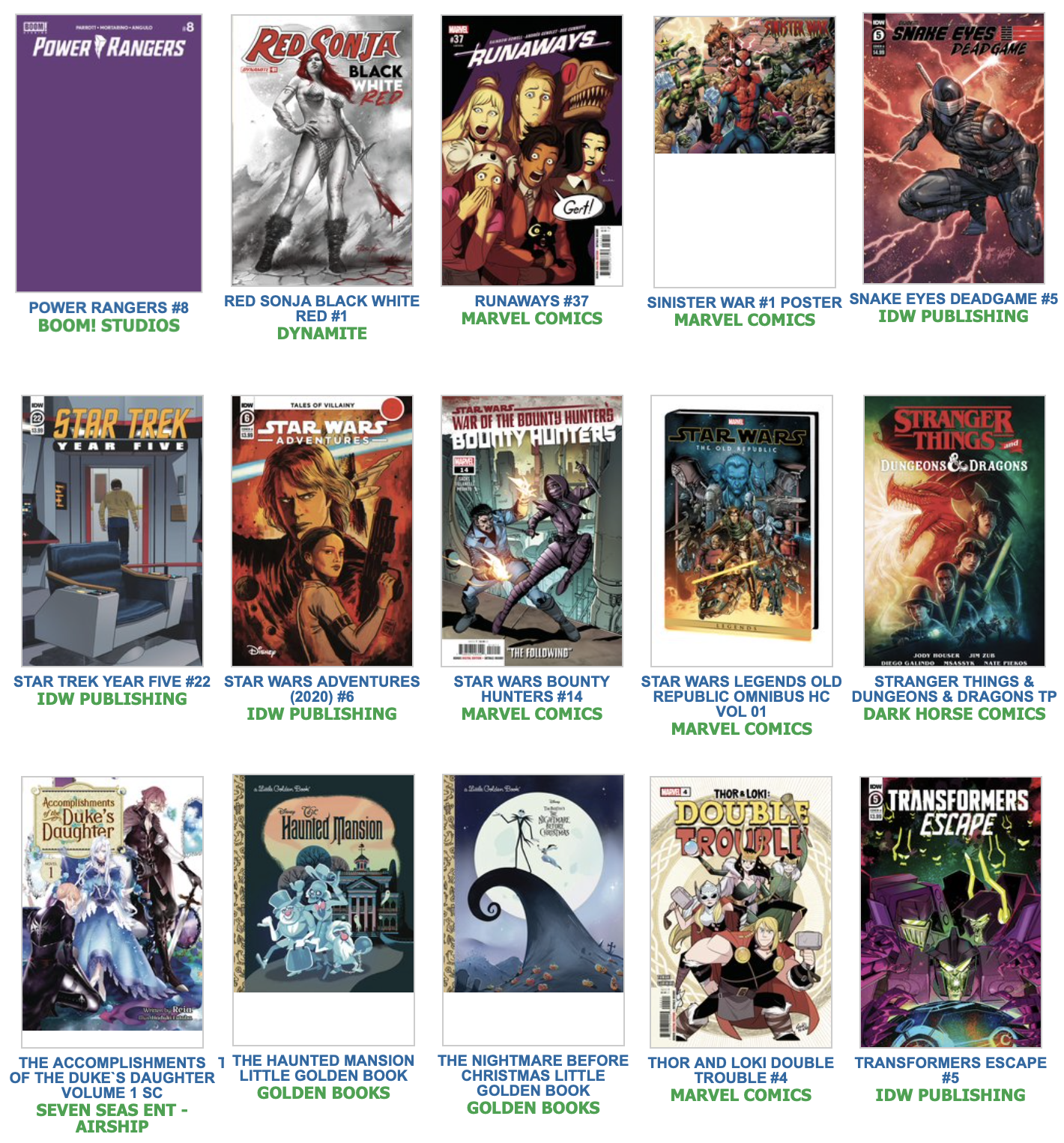 NOCTERRA #2 4TH PTG (MR) $ 3.99
NOCTERRA #3 3RD PTG (MR) $ 3.99
NOCTERRA #5 CVR A DANIEL & MOREY (MR) $ 3.99
NOCTERRA #5 CVR B NORD (MR) $ 3.99
NOCTERRA #5 CVR C DANIEL & MAIOLO (MR) $ 3.99
NOCTERRA #5 CVR D FRANCAVILLA (MR) $ 3.99
NOCTERRA #5 CVR E VAR DANIEL B&W (MR) $ ???
ORCS IN SPACE 2 IN 1 CVR A VIGNEAULT $ 6.99
ORCS IN SPACE 2 IN 1 CVR B GOUX $ 6.99
ORDINARY GODS #1 $ 3.99
OUT OF BODY #2 $ 3.99
POST AMERICANA #6 (OF 7) (MR) $ 3.99
RED SONJA BLACK WHITE RED #1 CVR A PARRILLO $ 4.99
RED SONJA BLACK WHITE RED #1 CVR B LUPACCHINO $ 4.99
RED SONJA BLACK WHITE RED #1 CVR D COSPLAY $ 4.99
RED SONJA BLACK WHITE RED #1 CVR I VAR COSPLAY VIRG $ ???
RED SONJA BLACK WHITE RED #1 CVR K VAR PARRILLO B&W $ ???
RUNAWAYS #37 $ 3.99
SENSATIONAL WONDER WOMAN #5 CVR A MARCO SANTUCCI $ 3.99
SENSATIONAL WONDER WOMAN #5 CVR B DIKE RUAN CARD STOCK VAR $ 4.99
SKYBOUND X #1 CVR A OTTLEY (MR) $ 4.99
SKYBOUND X #1 CVR B HARREN (MR) $ 4.99
SKYBOUND X #1 CVR C WALDEN (MR) $ 4.99
SKYBOUND X #1 CVR D ADLARD (MR) $ 4.99
SKYBOUND X #1 CVR E BLANK SKETCH CVR (MR) $ 4.99
SKYBOUND X #1 CVR F VAR B&W HARREN (MR) $ ???
SKYBOUND X #1 CVR G VAR B&W WALDEN (MR) $ ???
SKYBOUND X #1 CVR H VAR B&W ADLARD (MR) $ ???
SNAKE EYES DEADGAME #5 (OF 5) CVR A LIEFELD $ 4.99
SNAKE EYES DEADGAME #5 (OF 5) CVR B LIEFELD $ 4.99
SPACE BASTARDS #7 (MR) $ 5.99
STAKE #4 CVR A FRANCESCA FANTINI $ 3.99
STAR TREK YEAR FIVE #22 $ 3.99
STAR WARS ADVENTURES (2020) #6 VAR FRANCAVILLA $ ???
STAR WARS ADVENTURES (2020) #6 CVR A FRANCAVILLA $ 3.99
STAR WARS ADVENTURES (2020) #6 CVR B FICO OSSIO $ 3.99
STAR WARS BOUNTY HUNTERS #14 CAMUNCOLI HEADSHOT VAR WOBH $ 3.99
STAR WARS BOUNTY HUNTERS #14 SPROUSE LUCASFILM 50TH VAR WOBH $ 3.99
STAR WARS BOUNTY HUNTERS #14 WOBH $ 3.99
SUICIDE SQUAD #5 CVR A EDUARDO PANSICA $ 3.99
SUICIDE SQUAD #5 CVR B GERALD PAREL CARD STOCK VAR $ 4.99
SUPERMAN #32 CVR C DAVID TALASKI PRIDE MONTH CARD STOCK VAR $ 5.99
SWAMP THING #5 (OF 10) CVR A MIKE PERKINS $ 3.99
SWAMP THING #5 (OF 10) CVR B BRIAN BOLLAND CARD STOCK VAR $ 4.99
THOR AND LOKI DOUBLE TROUBLE #4 (OF 4) $ 3.99
TRANSFORMERS ESCAPE #5 (OF 5) CVR A MCGUIRE-SMITH $ 3.99
TRANSFORMERS ESCAPE #5 (OF 5) CVR B RAMONDELLI $ 3.99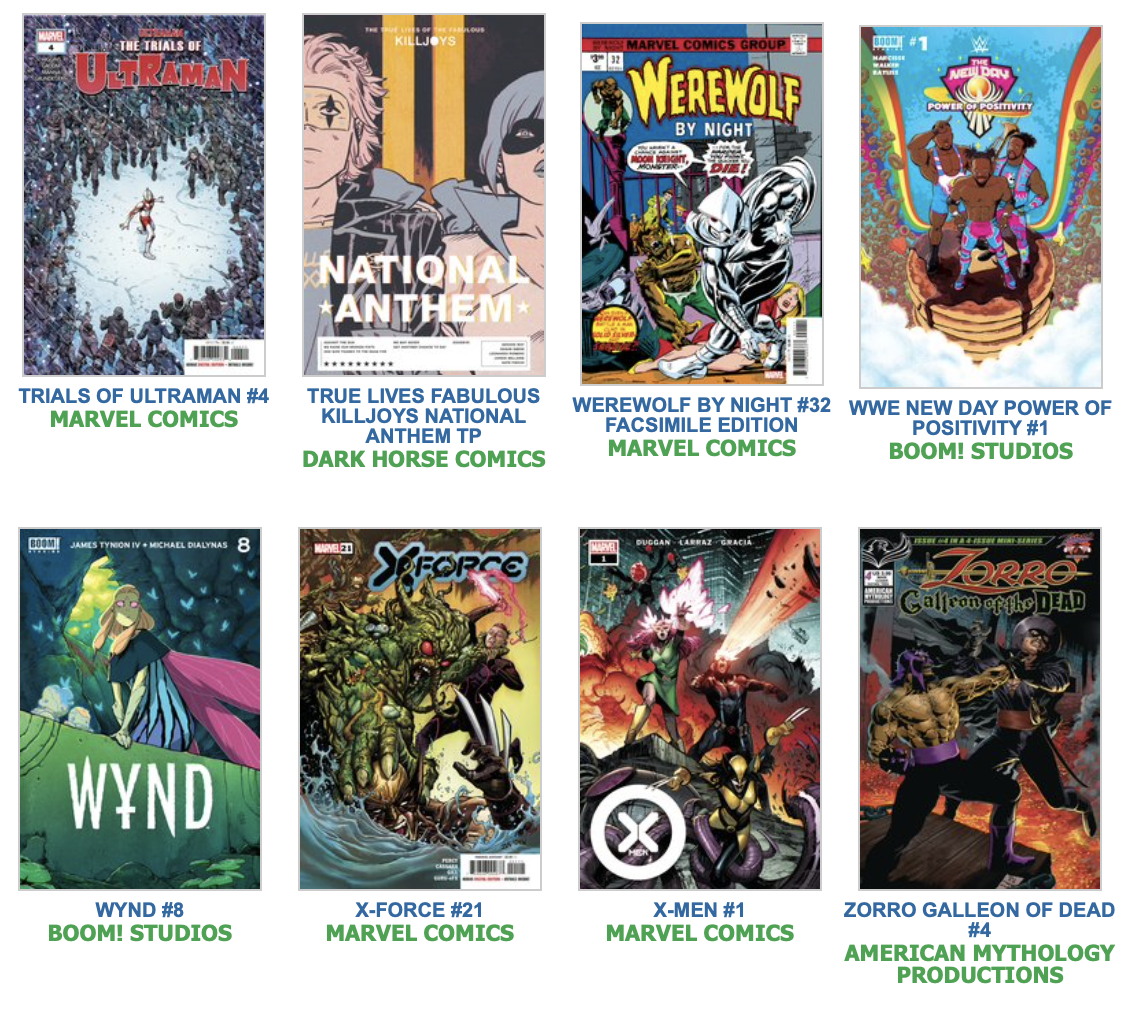 TRIALS OF ULTRAMAN #4 (OF 5) $ 3.99
TRIALS OF ULTRAMAN #4 (OF 5) SURPRISE VAR $ 3.99
TRIALS OF ULTRAMAN #4 (OF 5) TV PHOTO VAR $ 3.99
WALKING DEAD DLX #18 CVR A FINCH & MCCAIG (MR) $ 3.99
WALKING DEAD DLX #18 CVR B MOORE & MCCAIG (MR) $ 3.99
WALKING DEAD DLX #18 CVR C RAPOZA (MR) $ 3.99
WEREWOLF BY NIGHT #32 FACSIMILE EDITION (RES) $ 3.99
WONDER GIRL #2 CVR A JOELLE JONES $ 3.99
WONDER GIRL #2 CVR B WILL MURAI CARD STOCK VAR $ 4.99
WONDER GIRL #2 CVR C KEVIN WADA PRIDE MONTH CARD STOCK VAR $ 4.99
WWE NEW DAY POWER OF POSITIVITY #1 (OF 2) CVR A BAYLISS $ 7.99
WWE NEW DAY POWER OF POSITIVITY #1 (OF 2) CVR B RAHZZAH $ 7.99
WYND #8 CVR A DIALYNAS $ 4.99
WYND #8 CVR B GONZALES $ 4.99
X-FORCE #21 $ 3.99
X-MEN #1 $ 4.99
X-MEN #1 BRADSHAW VAR $ 4.99
X-MEN #1 CABAL CARNERO STORMBREAKERS VAR $ 4.99
X-MEN #1 CASSARA STORMBREAKERS VAR $ 4.99
X-MEN #1 DAUTERMAN NEW LINE UP TRADING CARD VAR $ 4.99
X-MEN #1 DOALY VAR (1/25) $ ???
X-MEN #1 GONZALES VAR (1/50) $ ???
X-MEN #1 HOUSTON X-MEN 90S VAR $ 4.99
X-MEN #1 LIEFELD DEADPOOL 30TH VAR $ 4.99
X-MEN #1 MOMOKO COELLO STORMBREAKERS VAR $ 4.99
X-MEN #1 MOMOKO MARVEL ANIME VAR $ 4.99
X-MEN #1 MULLER DESIGN VAR (1/10) $ ???
X-MEN #1 SILVA BUSTOS GLEASON STORMBREAKERS VAR $ 4.99
X-MEN #1 YOUNG VAR $ 4.99
ZORRO GALLEON OF DEAD #4 CVR A MARTINEZ (RES) $ 3.99

COMIC SHOP NEWS #1768 $ FREE

BATMAN DAMNED TP (MR) $ 24.99
BIG NATE IN YOUR FACE GN $ 11.99
BLACK PANTHER TP BOOK 09 INTERG EMPIRE WAKANDA PT 04 $ 19.99
BLADE RUNNER 2029 TP VOL 01 REUNION $ 17.99
CAPTAIN AMERICA EPIC COLLECTION TP DAWNS EARLY LIGHT NEW PTG $ 39.99
COSMIC GHOST RIDER TP BABY THANOS MUST DIE $ 15.99
CYBERPUNK 2077 YOUR VOICE TP $ 19.99
DCEASED DEAD PLANET HC $ 29.99
DISNEYS DOORWAYS TO DANGER GN $ 12.99
DR STONE GN VOL 17 $ 9.99
FIRE POWER BY KIRKMAN & SAMNEE TP VOL 03 $ 16.99
FIREFLY BLUE SUN RISING LTD ED HC $ 19.99
FUTURE STATE BATMAN DARK DETECTIVE TP $ 34.99
GODDAMNED TP VOL 02 VIRGIN BRIDES (MR) $ 16.99
GOLDILOCKS WANTED DEAD OR ALIVE GN $ 12.99
HARRIET TUBMAN TOWARD FREEDOM GN $ 12.99
HARROW COUNTY OMNIBUS TP VOL 02 $ 29.99
HAUNTED MANSION LITTLE GOLDEN BOOK $ 5.99
INVADER ZIM BEST OF CREATURES TP VOL 01 CVR A WUCINICH $ 9.99
JUSTICE LEAGUE OF AMERICA THE BRONZE AGE OMNIBUS VOL 3 HC $ 125
JUSTICE LEAGUE UNLIMITED GIRL POWER TP $ 9.99
KING IN BLACK ATLANTIS ATTACKS TP $ 15.99
LOKI AGENT OF ASGARD COMPLETE COLLECTION TP NEW PTG $ 39.99
MIDDLEWEST COMP TALE HC (MR) $ 59.99
MY HERO ACADEMIA VIGILANTES GN VOL 10 $ 9.99
NIGHTMARE BEFORE CHRISTMAS LITTLE GOLDEN BOOK $ 5.99
PHILOSOPHY OF VENOM HC (RES) $ 14.99
PLATINUM END GN VOL 13 $ 9.99
SAVAGE SWORD CONAN ORIG MARVEL YRS OMNIBUS HC VOL 05 ASRAR C $ 125
STAR WARS DOCTOR APHRA TP VOL 07 ROGUES END $ 17.99
STAR WARS LEGENDS OLD REPUBLIC OMNIBUS HC VOL 01 WEAVER DM V $ 125
STRANGER THINGS & DUNGEONS & DRAGONS TP $ 19.99
SYMBIOTE SPIDER-MAN KING IN BLACK TP $ 15.99
TRUE LIVES FABULOUS KILLJOYS NATIONAL ANTHEM TP $ 24.99
WOLVERINE EPIC COLLECTION BLOOD AND CLAWS TP $ 39.99

TOPPS 2021 STADIUM CLUB BASEBALL T/C BOX $ ???

POP TV UMBRELLA ACADEMY LUTHER VIN FIG $ 11.99
SW MAND SEASON 2 BOUNTY COLL CURIOUS/MEDITATE FIG PK CS $ 9.99
SW MAND SEASON 2 BOUNTY COLL PEEK/TABLET FIG PK CS $ 9.99
SW MAND SEASON 2 BOUNTY COLL TENTACLE/MILK FIG PK CS $ 9.99
TRANSFORMERS GEN STUDIO SER DLX $ 24.99
TRANSFORMERS GEN STUDIO SER VOYAGER TF6 STARSCREAM AF $ 37.99

SINISTER WAR #1 POSTER $ 8.99