The Variance of Variants is High – Wednesday, July 14th, 2021
Not as many comics as last week,  but a ton of variants. I guess the big one for the day is Sinister War in the Spider-Man sub-universe. I've started working (painting) with my brother again, so I don't have a lot of time and it's more important to crank this out on Facebook than my editorial outlook. For the zero people that depend on this to get by, I am sorry, But I am done.
Did I mention Free Comic Book Day is scheduled for August 14th this year? I did. And it is. It's getting close. I haven't seen any of the 2021 comics come in yet, but Bob did just buy a dozen of last year's, which I'm assuming will be on the tables this year, so the selection should be extra large. So don't read our store bags for this year, and get ready for August. Face masks are "recommended", and welcomed. They are not required. We will leave the sign up on the door, but if you forget, Bob won't kick you out. For now. We'll watch the real news and adjust as needed.
Wednesday is STILL New Comic Day, no matter what you read on the internets. We can't clear the new rack to just have 10 DC's  surrounded by empty space.  We do it once, Wednesday morning. We encourage everyone to be careful, make your trip to our store quick and efficient, and try to come in to shop in smaller groups, and reduce your own exposure to ALL public places indoors, including ours. If you like, you can browse the list and make an order to fbgbob@aol.com for a quicker pick up. It might also help to put in a time window when you would be in the neighborhood, to give Bob a chance to get them together, and include a phone number for good measure. Watch this space and our Facebook page for latest news about the rest of the month, season, year, millenium, etc. (And text messages from 5-Star.) The complete list is found below. If you want to know about the next sale or store event, or whether or not WE ARE EVEN OPEN click here. Sign in here to get an email reminder for ALL sales and other events. Also, you can go to     fb.fantasybooksandgames.com and you'll be taken to our Facebook page. We also use our in-store 5-Star Rewards system to text similar announcements to your phone.
Thanks to Comics on the Green for this week's images, which include many of the comics and a few of the books and other items we received today, and may have pics of things we didn't and/or won't get. Use the list, and maybe the pictures. 
A MAN AMONG YE #5 CVR A GEORGE $ 3.99
ACTION COMICS 2021 ANNUAL #1 CVR A SCOTT GODLEWSKI $ 5.99
ACTION COMICS 2021 ANNUAL #1 CVR B VALENTINE DE LANDRO CARD STOCK VAR $ 6.99
ALIENS AFTERMATH #1 $ 4.99
ALIENS AFTERMATH #1 RON LIM VAR $ 4.99
ALIENS AFTERMATH #1 WACHTER VAR 1/25 $ ???
AMERICAN MYTHOLOGY MONSTERS VOL 2 #1 CVR A VOKES (MR) $ 3.99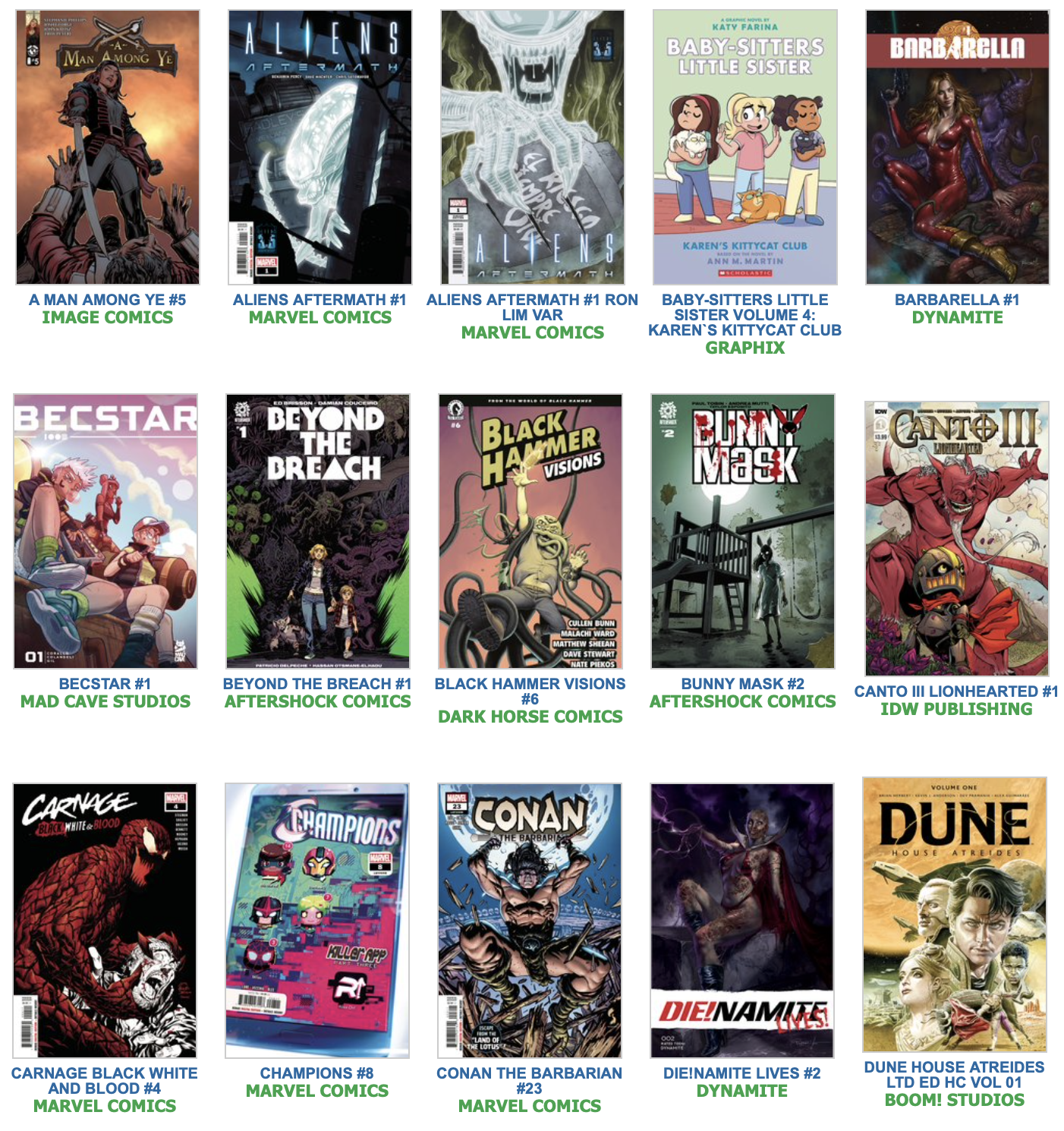 BARBARELLA #1 CVR A PARRILLO $ 3.99
BARBARELLA #1 CVR B CHEW $ 3.99
BARBARELLA #1 CVR C BOLLAND $ 3.99
BARBARELLA #1 CVR D DANI $ 3.99
BARBARELLA #1 CVR E COSPLAY $ 3.99
BARBARELLA #1 CVR G MUSABEKOV ORIGINAL ART $ ???
BARBARELLA #1 CVR I PARRILLO B&W $ ???
BARBARELLA #1 CVR J CHEW B&W $ ???
BARBARELLA #1 CVR K BOLLAND LINE ART $ ???
BARBARELLA #1 CVR L BOLLAND B&W $ ???
BARBARELLA #1 CVR V COSPLAY VIRGIN $ ???
BATMAN & SCOOBY-DOO MYSTERIES #4 (OF 12) $ 2.99
BATMAN THE DETECTIVE #4 (OF 6) CVR A ANDY KUBERT $ 3.99
BATMAN THE DETECTIVE #4 (OF 6) CVR B ANDY KUBERT CARD STOCK VAR $ 4.99
BATMAN URBAN LEGENDS #5 CVR A DAVID FINCH $ 7.99
BATMAN URBAN LEGENDS #5 CVR B TYLER KIRKHAM VAR $ 7.99
BATMAN URBAN LEGENDS #5 CVR C MIMI YOON VAR $ 7.99
BECSTAR #1 2ND PTG $ 3.99
BEYOND THE BREACH #1 CVR A COUCEIRO $ 4.99
BEYOND THE BREACH #1 CVR B SHALVEY $ ???
BLACK HAMMER VISIONS #6 (OF 8) CVR A WARD & SHEEAN $ 3.99
BLACK HAMMER VISIONS #6 (OF 8) CVR B BRERETON $ 3.99
BRZRKR (BERZERKER) #1 (OF 12) 5TH PTG GARNEY (MR) $ 4.99
BUNNY MASK #2 CVR A $ 4.99
BUNNY MASK #2 CVR B MAKE MASK $ ???
BY THE HORNS #3 (OF 7) CVR A JASON MUHR $ 3.99
CANTO III LIONHEARTED #1 (OF 6) CVR A DREW ZUCKER $ 3.99
CANTO III LIONHEARTED #1 (OF 6) CVR B NOLAN $ ???
CARNAGE BLACK WHITE AND BLOOD #4 (OF 4) $ 4.99
CARNAGE BLACK WHITE AND BLOOD #4 (OF 4) MOONEY VAR (1/25) $ ???
CARNAGE BLACK WHITE AND BLOOD #4 (OF 4) RANDOLPH VAR $ 4.99
CHALLENGE OF THE SUPER SONS #4 (OF 7) CVR A SIMONE DI MEO $ 3.99
CHALLENGE OF THE SUPER SONS #4 (OF 7) CVR B NICK BRADSHAW CARD STOCK VAR $ 4.99
CHAMPIONS #8 $ 3.99
CHAMPIONS #8 MOMOKO MARVEL ANIME VAR $ 3.99
CIMMERIAN MAN-EATERS OF ZAMBOULA #1 CVR A YANNICK PAQUETTE ( $ 3.99
CIMMERIAN MAN-EATERS OF ZAMBOULA #1 CVR B MORITAT (MR) $ 3.99
CONAN THE BARBARIAN #23 $ 3.99
DC HORROR PRESENTS THE CONJURING THE LOVER #1 Second Printing $ 3.99
DETECTIVE COMICS #1039 CVR A DAN MORA $ 4.99
DETECTIVE COMICS #1039 CVR B LEE BERMEJO CARD STOCK VAR $ 5.99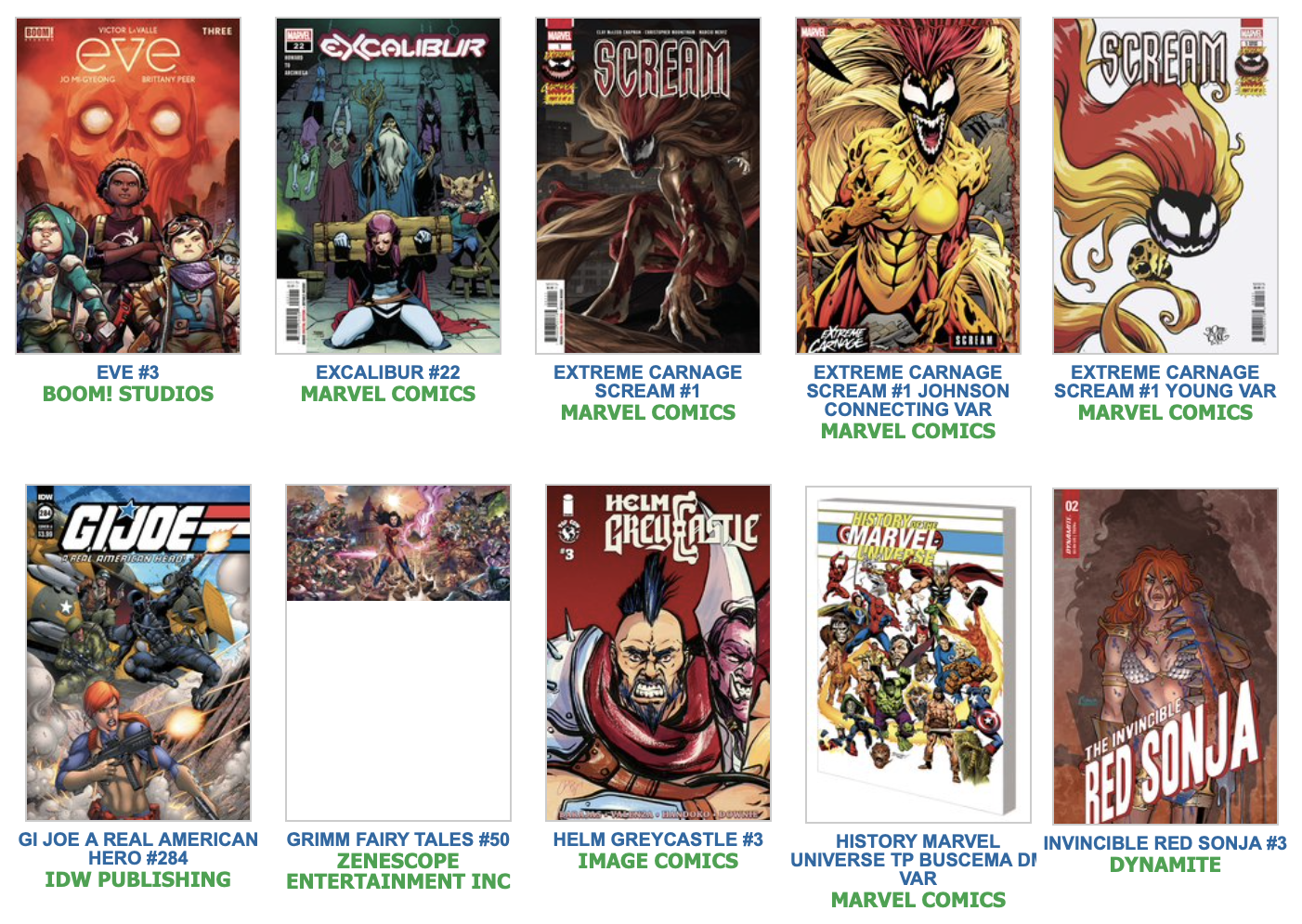 DIE #18 CVR A HANS (MR) $ 3.99
DIE!NAMITE LIVES #2 CVR A PARRILLO $ 3.99
DIE!NAMITE LIVES #2 CVR B SUYDAM $ 3.99
DIE!NAMITE LIVES #2 CVR C LINSNER $ 3.99
DIE!NAMITE LIVES #2 CVR E COSPLAY $ 3.99
DIE!NAMITE LIVES #2 CVR O ELITE ED SUYDAM NON ZOMBIE VIRGIN $ 3.99
DIE!NAMITE LIVES #2 CVR H SUYDAM NON ZOMBIE $ ???
DIE!NAMITE LIVES #2 CVR J COSPLAY VIRGIN $ ???
DIE!NAMITE LIVES #2 CVR K PARILLO LINE ART $ ???
DIE!NAMITE LIVES #2 CVR R SUYDAM B&W $ ???
EVE #3 (OF 5) CVR A ANINDITO $ 3.99
EVE #3 (OF 5) CVR B PENDERGAST $ 3.99
EVE #3 (OF 5) CVR C PENDERGAST $ ???
EVE #3 (OF 5) CVR D LINDSAY $ ???
EXCALIBUR #22 $ 3.99
EXCALIBUR #22 NOTO VAR $ 3.99
EXTREME CARNAGE SCREAM #1 $ 3.99
EXTREME CARNAGE SCREAM #1 JOHNSON CONNECTING VAR $ 3.99
EXTREME CARNAGE SCREAM #1 NAKAYAMA DESIGN VAR (1/10) $ ???
EXTREME CARNAGE SCREAM #1 SYMBIOTE VAR (1/50) $ ???
EXTREME CARNAGE SCREAM #1 YOUNG VAR $ 3.99
FLASH 2021 ANNUAL #1 CVR A BRANDON PETERSON $ 5.99
FLASH 2021 ANNUAL #1 CVR B BRETT BOOTH CARD STOCK VAR $ 6.99
FUTURE STATE GOTHAM #3 CVR A SIMONE DI MEO $ 3.99
FUTURE STATE GOTHAM #3 CVR B ROSE BESCH CARD STOCK VAR $ 4.99
GI JOE A REAL AMERICAN HERO #284 CVR A ANDREW GRIFFITH $ 3.99
GI JOE A REAL AMERICAN HERO #284 CVR B FREDDIE WILLIAMS II $ 3.99
GRIMM FAIRY TALES #50 CVR A VITORINO $ 5.99
GRIMM FAIRY TALES #50 CVR B WHITE $ 5.99
GRIMM FAIRY TALES #50 CVR C GARZA $ 5.99
GRIMM FAIRY TALES #50 CVR D COCCOLO $ 5.99
GRIMM FAIRY TALES #50 CVR E BURNS $ 5.99
GRIMM FAIRY TALES #50 CVR F BLANK SKETCH VAR $ 10
HAHA #6 (OF 6) CVR A MORAZZO & OHALLORAN (MR) $ 3.99
HAHA #6 (OF 6) CVR B MORAZZO & OHALLORAN (MR) $ 3.99
HAHA #6 (OF 6) CVR C LEVEL (MR) $ 3.99
HELM GREYCASTLE #3 (OF 4) CVR A GIROUX $ 4.99
HELM GREYCASTLE #3 (OF 4) CVR B DOWNIE $ 4.99
INFINITE FRONTIER #2 (OF 6) CVR A MITCH GERADS $ 4.99
INFINITE FRONTIER #2 (OF 6) CVR B BRYAN HITCH CARD STOCK VAR $ 5.99
INVINCIBLE RED SONJA #3 CVR A CONNER $ 3.99
INVINCIBLE RED SONJA #3 CVR B LINSNER $ 3.99
INVINCIBLE RED SONJA #3 CVR C CELINA $ 3.99
INVINCIBLE RED SONJA #3 CVR D CHO $ 3.99
INVINCIBLE RED SONJA #3 CVR E COSPLAY $ 3.99
INVINCIBLE RED SONJA #3 CVR G CONNER LINE ART $ ???
INVINCIBLE RED SONJA #3 CVR H COSPLAY VIRGIN $ ???
INVINCIBLE RED SONJA #3 CVR I LINSNER LINE ART $ ???
INVINCIBLE RED SONJA #3 CVR K CONNER LINE ART VIRG $ ???
INVINCIBLE RED SONJA #3 CVR L LINSNER LINE ART VIRG $ ???
INVINCIBLE RED SONJA #3 CVR T CHO VIRGIN $ ???
IRON MAN #10 $ 3.99
IRON MAN #10 CASSADAY CAPTAIN AMERICA 80TH VAR $ 3.99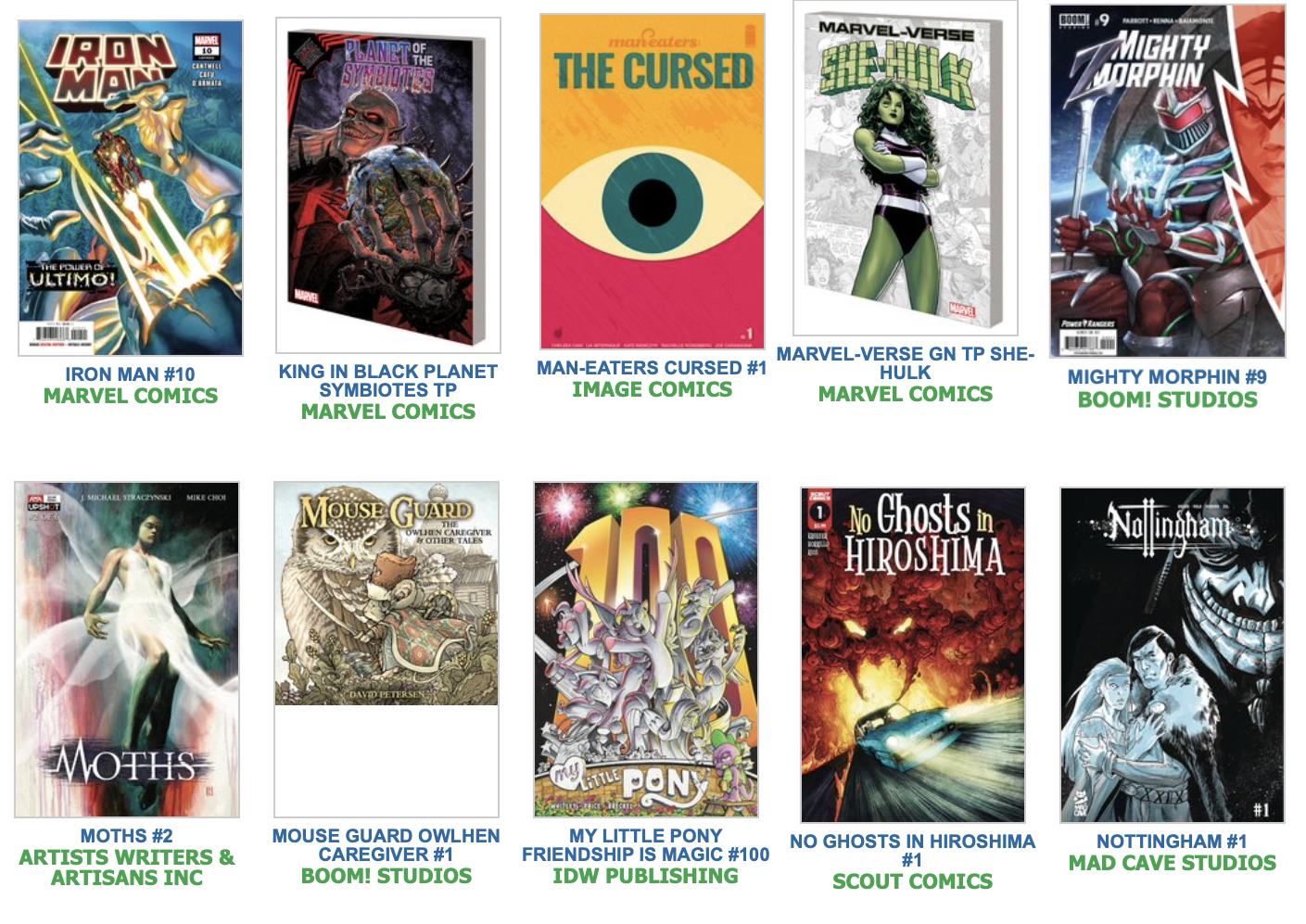 JOKER #5 CVR A GUILLEM MARCH $ 5.99
JOKER #5 CVR B KAARE ANDREWS VAR $ 5.99
JOKER #5 CVR C SEAN PHILLIPS VAR $ 5.99
JOKER #5 INC 1:25 RICCARDO FEDERICI VAR $ ???
JUSTICE LEAGUE LAST RIDE #3 (OF 7) CVR A DARICK ROBERTSON $ 3.99
JUSTICE LEAGUE LAST RIDE #3 (OF 7) CVR B RICCARDO FEDERICI CARD STOCK VAR $ 4.99
MAN-EATERS CURSED #1 (OF 5) CVR A MITERNIQUE $ 3.99
MAN-EATERS CURSED #1 (OF 5) CVR B MITERNIQUE $ 3.99
MIGHTY MORPHIN #9 CVR A LEE $ 3.99
MIGHTY MORPHIN #9 CVR B LEGACY VAR CARLINI $ 3.99
MOONSHINE #26 (MR) $ 3.99
MOTHS #2 $ 3.99
MOUSE GUARD OWLHEN CAREGIVER #1 $ 4.99
MY LITTLE PONY FRIENDSHIP IS MAGIC #100 CVR A ANDY PRICE $ 7.99
MY LITTLE PONY FRIENDSHIP IS MAGIC #100 CVR C GARBOW $ ???
NICE HOUSE ON THE LAKE #1 Second Printing $ 3.99
NICE HOUSE ON THE LAKE #1 Second Printing Inc 1:25 $ ???
NINJAK #1 CVR A NAKAYAMA $ 3.99
NINJAK #1 CVR B WIJNGAARD $ 3.99
NINJAK #1 CVR C SCOTT $ 3.99
NORSE MYTHOLOGY II #2 (OF 6) CVR A RUSSELL (MR) $ 3.99
NORSE MYTHOLOGY II #2 (OF 6) CVR B MACK (MR) $ 3.99
NOTTINGHAM #1 (OF 5) 5TH PTG $ 3.99
NOTTINGHAM #2 (OF 5) 4TH PTG $ 3.99
NOTTINGHAM #3 (OF 5) 3RD PTG $ 3.99
NOTTINGHAM #4 (OF 5) 2ND PTG $ 3.99
OBLIVION SONG BY KIRKMAN & DE FELICI #32 $ 3.99
ORCS #6 (OF 6) CVR A LARSEN $ 4.99
ORCS #6 (OF 6) CVR B BOO $ 4.99
RICK AND MORTY PRESENTS HOTEL IMMORTAL #1 CVR B MURPHY (MR) $ 4.99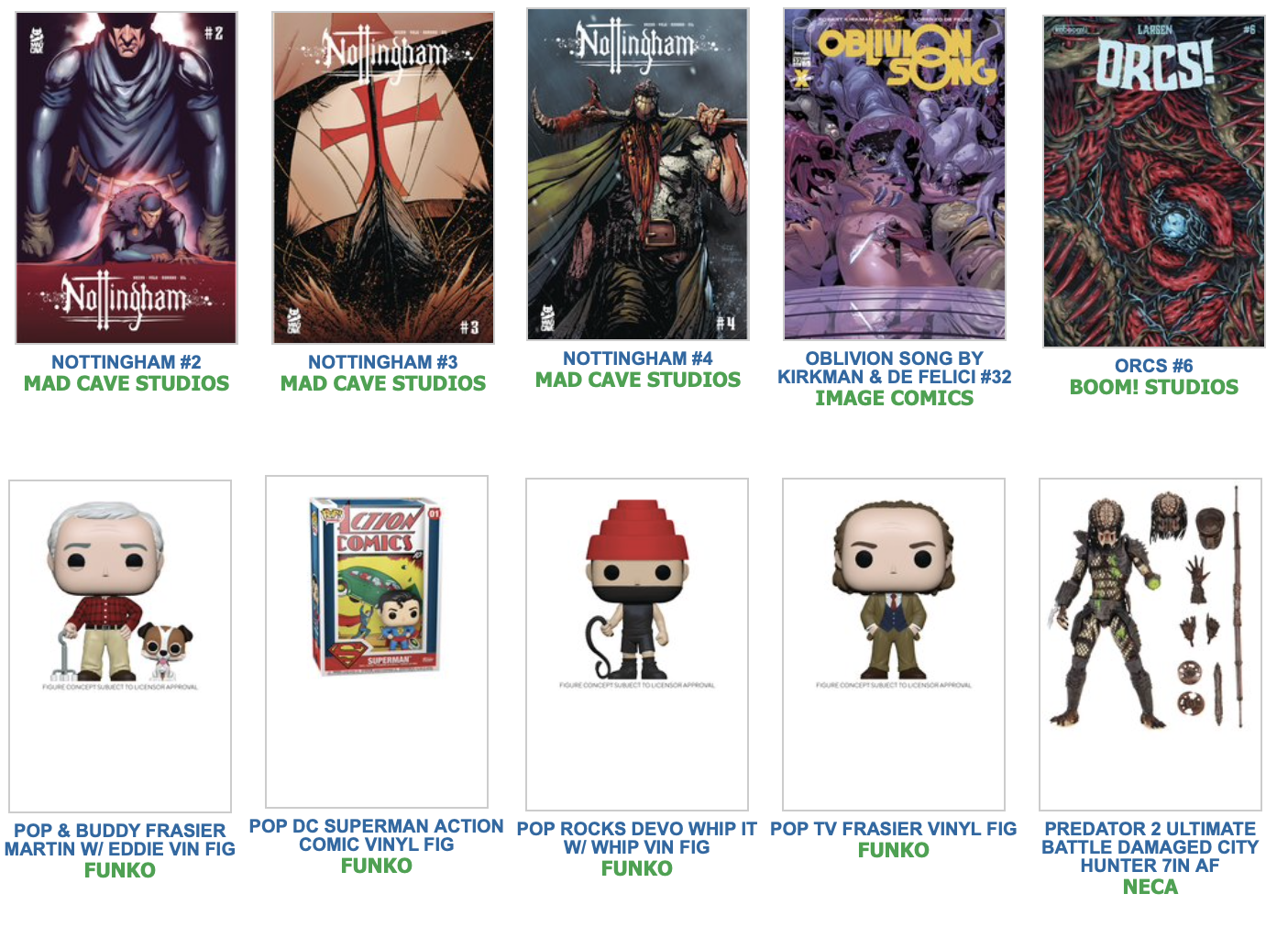 ROBYN HOOD GOLDILOCKS ONE SHOT CVR A VITORINO $ 5.99
ROBYN HOOD GOLDILOCKS ONE SHOT CVR B GOH $ 5.99
ROBYN HOOD GOLDILOCKS ONE SHOT CVR C GARVEY $ 5.99
RORSCHACH #10 (OF 12) CVR A JORGE FORNES (MR) $ 4.99
RORSCHACH #10 (OF 12) CVR B JENNY FRISON VAR (MR) $ 4.99
SAVE YOURSELF #1 (OF 4) 2ND PTG MATTHEWS $ 4.99
SEVEN SECRETS #10 CVR A DI NICUOLO $ 3.99
SEVEN SECRETS #10 CVR B MEYERS $ 3.99
SEVEN SECRETS #10 CVR C MERCADO $ ???
SILVER COIN #4 CVR A WALSH (MR) $ 3.99
SILVER COIN #4 CVR B WARD (MR) $ 3.99

SIX SIDEKICKS OF TRIGGER KEATON #2 CVR A SCHWEIZER (MR) $ 3.99
SIX SIDEKICKS OF TRIGGER KEATON #2 CVR B CHAN (MR) $ 3.99
SKYBOUND X #2 CVR A RATHBURN (MR) $ 4.99
SKYBOUND X #2 CVR B BRESSAN (MR) $ 4.99
SKYBOUND X #2 CVR C VUONG & KNIIVILA (MR) $ 4.99
SKYBOUND X #2 CVR D B&W BRESSAN (MR) $ ???
SKYBOUND X #2 CVR E B&W VUONG & KNIIVILA (MR) $ ???
SKYBOUND X #2 CVR F B&W RATHBURN (MR) $ ???
SINISTER WAR #1 (OF 4) $ 4.99
SINISTER WAR #1 (OF 4) BAGLEY CONNECTING VAR $ 4.99
SINISTER WAR #1 (OF 4) BAGLEY WRAPAROUND VAR $ 4.99
SINISTER WAR #1 (OF 4) BALDEON HANDBOOK VAR $ 4.99
SINISTER WAR #1 (OF 4) FERREIRA VAR (1/25) $ ???
SINISTER WAR #1 (OF 4) FRANK VAR $ 4.99
SINISTER WAR #1 (OF 4) FRANK VIRGIN VAR (1/50) $ ???
SINISTER WAR #1 (OF 4) NAKAYAMA HOMAGE VAR (1/25) $ ???
SINISTER WAR #1 (OF 4) NAUCK HEADSHOT VAR $ 4.99
SINISTER WAR #1 (OF 4) NGU VAR $ 4.99
SINISTER WAR #1 (OF 4) VEREGGE VAR $ 4.99
SINISTER WAR #1 (OF 4) VICENTINI VAR $ 4.99
SPACE PIRATE CAPT HARLOCK #2 CVR A MIRKA ANDOLFO $ 3.99
SPACE PIRATE CAPT HARLOCK #2 CVR B JUNGGEUN YOON $ 3.99
SPACE PIRATE CAPT HARLOCK #2 CVR C ANDIE TONG $ 3.99
SPACE PIRATE CAPT HARLOCK #2 CVR D JEROME ALQUIE $ 3.99
SPACE PIRATE CAPT HARLOCK #2 CVR E PHILIPPE BRIONES $ 3.99
SPIDER-MAN SPIDERS SHADOW #4 (OF 5) $ 3.99
SPIDER-MAN SPIDERS SHADOW #4 (OF 5) WARD VAR (1/25) $ ???
SPIDER-WOMAN #13 $ 3.99
SPIDER-WOMAN #13 MCNIVEN CAPTAIN AMERICA 80TH VAR $ 3.99
STAR WARS ADVENTURES WEAPON OF A JEDI #2 (OF 2) (Restock) $ 5.99
STAR WARS DOCTOR APHRA #12 CAMUNCOLI HEADSHOT VAR WOBH $ 3.99
STAR WARS DOCTOR APHRA #12 SPROUSE LUCASFILM 50TH VAR WOBH $ 3.99
STAR WARS DOCTOR APHRA #12 WOBH $ 3.99
STAR WARS WAR BOUNTY HUNTERS #2 (OF 5) $ 3.99
STAR WARS WAR BOUNTY HUNTERS #2 (OF 5) CAMUNCOLI HEADSHOT VA $ 3.99
STAR WARS WAR BOUNTY HUNTERS #2 (OF 5) CHECCHETTO VAR (1/50) $ ???
STAR WARS WAR BOUNTY HUNTERS #2 (OF 5) JTC ACTION FIGURE VAR $ 3.99
STAR WARS WAR BOUNTY HUNTERS #2 (OF 5) TRADING CARD VAR (1/25) $ ???
TALES TOLD IN TECHNI-HORROR #1 (OF 4) CVR A CHRISTIAN DIBARI $ 3.99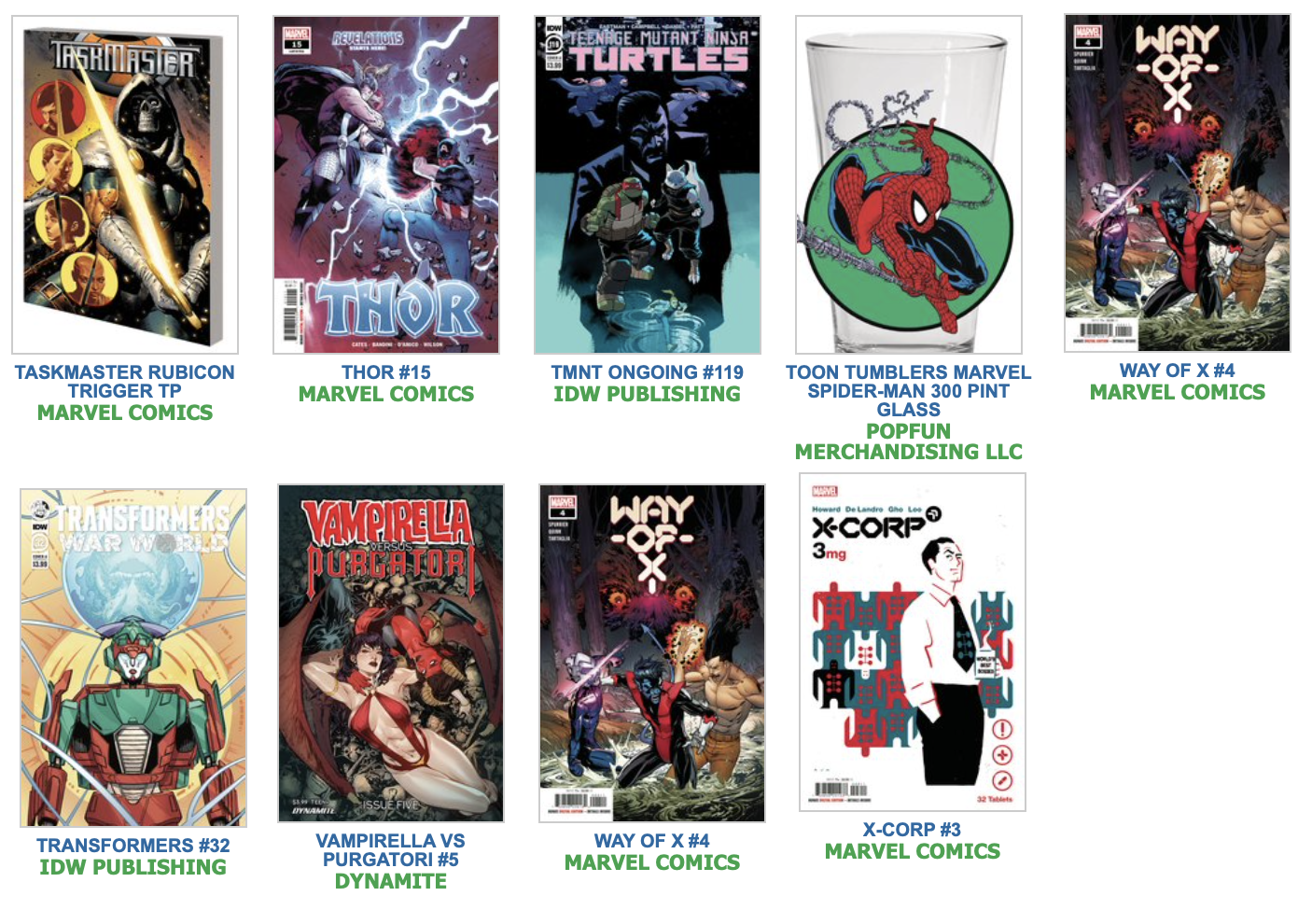 THOR #15 $ 3.99
THOR #15 DANIEL SPIDER-MAN VILLAINS VAR $ 3.99
THOR #15 KLEIN VAR (1/25) $ ???
TMNT ONGOING #119 CVR A NELSON DANIEL $ 3.99
TMNT ONGOING #119 CVR B EASTMAN $ 3.99
TRANSFORMERS #32 CVR A DAN SCHOENING $ 3.99
TRANSFORMERS #32 CVR B JOSH BURCHAM $ 3.99
VAMPIRELLA VS PURGATORI #5 CVR A PAGULAYAN $ 3.99
VAMPIRELLA VS PURGATORI #5 CVR B FOX $ 3.99
VAMPIRELLA VS PURGATORI #5 CVR D MUSABEKOV $ 3.99
VAMPIRELLA VS PURGATORI #5 CVR H BROXTON VIRGIN $ ???
VAMPIRELLA VS PURGATORI #5 CVR I MUSABEKOV B&W $ ???
WALKING DEAD DLX #9 2ND PTG CVR A FINCH & MCCAIG (Restock) $ 3.99
WAY OF X #4 $ 3.99
WAY OF X #4 SHAVRIN VAR $ 3.99
WEB OF SPIDER-MAN #1 (OF 5) 2ND PTG GURIHIRU VAR $ 3.99
WONDER WOMAN #775 CVR A TRAVIS MOORE $ 4.99
WONDER WOMAN #775 CVR B BECKY CLOONAN CARD STOCK VAR $ 5.99
X-CORP #3 $ 3.99
X-CORP #3 DEL MUNDO VAR $ 3.99
X-FORCE #21 BERGARA VAR $ 3.99

COMIC SHOP NEWS #1769 $ FREE

ABSOLUTE CARNAGE OMNIBUS HC $ 100
AVENGERS VS X-MEN TP AVX $ 34.99
CAPTAIN AMERICA FIRST 80 YEARS SC PX $ 19.99
CARDCAPTOR SAKURA CLEAR CARD GN VOL 09 $ 10.99
DCEASED UNKILLABLES TP $ 17.99
FUTURE STATE SUICIDE SQUAD TP $ 19.99
GREEN LANTERN SEASON TWO HC VOL 02 ULTRAWAR $ 24.99
HELLBOY UNIVERSE ESSENTIALS HELLBOY TP $ 14.99
HISTORY MARVEL UNIVERSE TP BUSCEMA DM VAR $ 24.99
HISTORY MARVEL UNIVERSE TP MCNIVEN CVR $ 24.99
HISTORY MARVEL UNIVERSE TP RODRIGUEZ DM VAR $ 24.99
INJUSTICE YEAR ZERO HC THE COMPLETE COLLECTION $ 24.99
KING IN BLACK PLANET SYMBIOTES TP $ 15.99
LOKI MISTRESS MISCHIEF TP $ 24.99
LOKI TP GOD WHO FELL TO EARTH $ 17.99
LONG LOST PRESIGE EDITION $ 9.99
MARVEL-VERSE GN TP SHE-HULK $ 9.99
MILES MORALES ULT SPIDER-MAN ULT COLL TP BOOK 01 $ 34.99
OBLIVION SONG BY KIRKMAN & DE FELICI HC BOOK 02 $ 39.99
RAPTOR TP $ 29.99
SCUD THE DISPOSABLE ASSASSIN WHOLE SHEBANG TP NEW PTG $ 34.99
SQUADRON SUPREME VS AVENGERS TP $ 34.99
STAR WARS PHANTOM MENACE GN ADAPTATION TP (RES) $ 9.99
STRANGE ACADEMY GN TP FIRST CLASS $ 13.99
SUICIDE SQUAD THEIR GREATEST SHOTS TP $ 12.99
TASKMASTER RUBICON TRIGGER TP $ 15.99
TRUE LIVES FABULOUS KILLJOYS NATIONAL ANTHEM LIBRARY DLX HC $ 79.99
TRUE LIVES FABULOUS KILLJOYS NATIONAL ANTHEM LIBRARY HC $ 39.99
ULTIMATES BY EWING COMPLETE COLLECTION TP $ 44.99
WHAT IF CLASSIC COMPLETE COLLECTION TP VOL 02 $ 39.99
WHAT IF? CLASSIC TP COMPLETE COLLECTION VOL 01 $ 39.99

TOON TUMBLERS MARVEL SPIDER-MAN 300 PINT GLASS $ 10.99
NARUTO AND SASUKE BLK T/S MED $ 19.99

POP DC SUPERMAN ACTION COMIC VINYL FIG $ 15.99
PREDATOR 2 ULTIMATE BATTLE DAMAGED CITY HUNTER 7IN AF $ ???
SW BLACK SER 50TH ANN 6IN LUKE & YSALAMIRI AF CS $ ???
SW MANDO RETRO 3-3/4IN MANDALORIAN AF CS $ ???
TRANSFORMERS GEN WFCK ULTRA MAGNUS LEADER AF CS $ ???
VINYL SODA DANGER MOUSE W/ EVIL CHASE $ 13.99