The Pandemics are Worse in America- Wednesday, August 11th, 2021
We have one infecting people's lungs AND another their brains. We will be enforcing a Mask Mandate, and limiting the number of people indoors. Bob is busy every Saturday, so we really don't need to do anything to increase traffic. We are concerned and frankly afraid of the Desantis Variant's effectiveness and apparent success in younger people and children. So masks and distance on Saturday and please, take care of America and get a vaccine. Be ready for a line.
We went from breaking records to a really small week. And the DC's were days late, and didn't show up at our door until 4 o'clock today.  On the plus side, I brought out at least 120 pops from the back, and Bob bought a couple dozen cool ones off the street, so if that's your bag…
Did I mention Free Comic Book Day is scheduled for this Saturday August 14th this year? I did. And it is.  I said I would post the list "in a few days" for 3 weeks now. How about Thursday? We are not sure exactly what we will do besides give 3 comics away, and they may even be outside.  There may be a line, so please respect the other businesses along Livermore Av, which  has shade after Noon, so that helps.
Wednesday is STILL New Comic Day, no matter what you read on the internets. We can't clear the new rack to just have 10 DC's  surrounded by empty space.  We do it once, Wednesday morning. We encourage everyone to be careful, make your trip to our store quick and efficient, and try to come in to shop in smaller groups, and reduce your own exposure to ALL public places indoors, including ours. If you like, you can browse the list and make an order to fbgbob@aol.com for a quicker pick up. It might also help to put in a time window when you would be in the neighborhood, to give Bob a chance to get them together, and include a phone number for good measure. Watch this space and our Facebook page for latest news about the rest of the month, season, year, millenium, etc. (And text messages from 5-Star.) The complete list is found below. If you want to know about the next sale or store event, or whether or not WE ARE EVEN OPEN click here. Sign in here to get an email reminder for ALL sales and other events. Also, you can go to     fb.fantasybooksandgames.com and you'll be taken to our Facebook page. We also use our in-store 5-Star Rewards system to text similar announcements to your phone.
Thanks to Comics on the Green for this week's images, which include many of the comics and a few of the books and other items we received today, and may have pics of things we didn't and/or won't get. Use the list, and maybe the pictures.
A MAN AMONG YE #6 CVR A GEORGE $ 3.99
A MAN AMONG YE #6 CVR B KHALIDAH $ 3.99
AMERICA CHAVEZ MADE IN USA #5 (OF 5) $ 3.99
AMERICA CHAVEZ MADE IN USA #5 (OF 5) BUSTOS VAR $ 3.99
ARCHIE JUMBO COMICS DIGEST #322 $ 7.99
AVENGERS TECH-ON #1 (OF 6) $ 3.99
AVENGERS TECH-ON #1 (OF 6) CHAMBA VAR $ 3.99
AVENGERS TECH-ON #1 (OF 6) MOMOKO VAR $ 3.99
AVENGERS TECH-ON #1 (OF 6) TOY VAR $ 3.99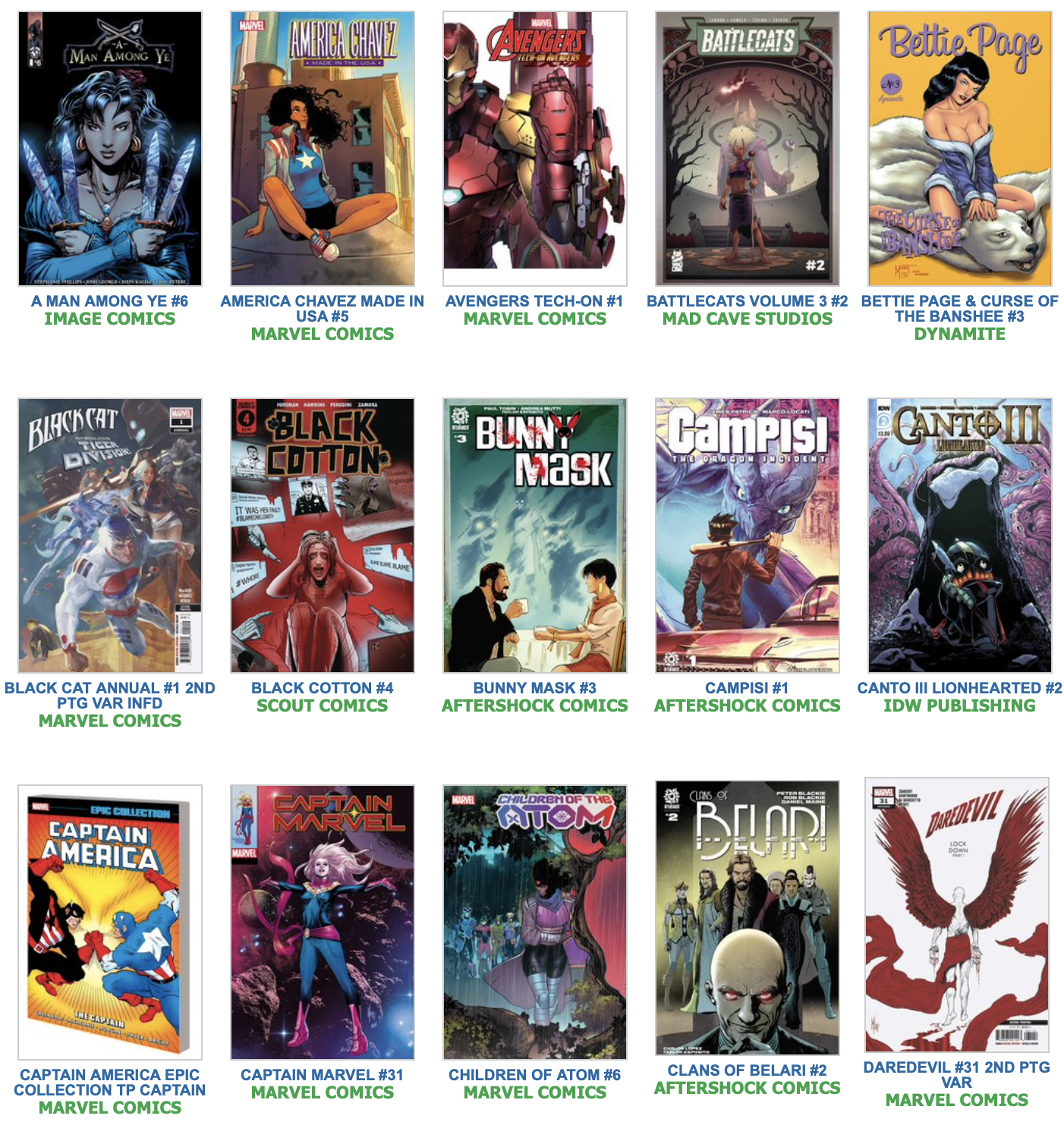 BATMAN & SCOOBY-DOO MYSTERIES #5 (OF 12) $ 2.99
BATMAN 89 #1 (OF 6) CVR A JOE QUINONES $ 3.99
BATMAN 89 #1 (OF 6) CVR B JERRY ORDWAY CARD STOCK VAR $ 4.99
BATMAN 89 #1 (OF 6) INC 1:25 JOE QUINONES DESIGN CARD STOCK VAR $ ???
BATMAN THE ADVENTURES CONTINUE SEASON II #3 (OF 7) CVR A STEPHANIE PEPPER $ 3.99
BATMAN THE ADVENTURES CONTINUE SEASON II #3 (OF 7) CVR B CHAN CHAU CARD STOCK VAR $ 4.99
BATMAN URBAN LEGENDS #6 CVR A NICOLA SCOTT $ 7.99
BATMAN URBAN LEGENDS #6 CVR B JAY ANACLETO VAR $ 7.99
BATMAN URBAN LEGENDS #6 CVR C EJIKURE VAR $ 7.99
BETTIE PAGE & CURSE OF THE BANSHEE #3 CVR A MYCHAELS $ 3.99
BETTIE PAGE & CURSE OF THE BANSHEE #3 CVR B LINSNER $ 3.99
BETTIE PAGE & CURSE OF THE BANSHEE #3 CVR C MOONEY $ 3.99
BETTIE PAGE & CURSE OF THE BANSHEE #3 CVR E BETTIE PAGE PIN $ 3.99
BETTIE PAGE & CURSE OF THE BANSHEE #3 CVR Q PREMIUM FOC LI $ 3.99
BETTIE PAGE & CURSE OF THE BANSHEE #3 CVR H LIN $ ???
BETTIE PAGE & CURSE OF THE BANSHEE #3 CVR J MYC $ ???
BETTIE PAGE & CURSE OF THE BANSHEE #3 CVR L LIN $ ???
BITTER ROOT #15 CVR A GREENE (MR) $ 3.99
BITTER ROOT #15 CVR B CONLEY CURIEL (MR) $ 3.99
BLACK CAT ANNUAL #1 2ND PTG YUNE VAR INFD $ 4.99
BUNNY MASK #3 $ 4.99
CAMPISI #1 CVR A GALAN $ 4.99
CAMPISI #1 CVR B LOCATI (1/15) $ ???
CANTO III LIONHEARTED #2 (OF 6) CVR A ZUCKER $ 3.99
CANTO III LIONHEARTED #2 (OF 6) CVR B SANTOLOUC (1/10) $ ???
CAPTAIN MARVEL #31 $ 3.99
CAPTAIN MARVEL #31 INHYUK LEE AAPIH VAR $ 3.99
CHALLENGE OF THE SUPER SONS #5 (OF 7) CVR A SIMONE DI MEO $ 3.99
CHALLENGE OF THE SUPER SONS #5 (OF 7) CVR B JAMAL CAMPBELL CARD STOCK VAR $ 4.99
CHILDREN OF ATOM #6 $ 3.99
CHILDREN OF ATOM #6 CHANG VAR $ 3.99
CLANS OF BELARI #2 $ 4.99
DAREDEVIL #31 2ND PTG VAR $ 3.99
DAREDEVIL #33 $ 3.99
DAREDEVIL #33 NETEASE MARVEL GAMES VAR $ 3.99
DEEP BEYOND #7 (OF 12) CVR A BROCCARDO $ 3.99
DEEP BEYOND #7 (OF 12) CVR B ANDOLFO $ 3.99
DEEP BEYOND #7 (OF 12) CVR C MELONI $ 3.99
DEEP BEYOND #7 (OF 12) CVR D LOLLI $ 3.99
DEFENDERS #1 (OF 5) $ 3.99
DEFENDERS #1 (OF 5) LIEFELD DEADPOOL 30TH VAR $ 3.99
DEFENDERS #1 (OF 5) MARTIN VAR (1/25) $ ???
DEFENDERS #1 (OF 5) MOMOKO SILVER SURFER BLACK VAR (1/50) $ ???
DEFENDERS #1 (OF 5) MOMOKO SILVER SURFER VAR $ 3.99
DEFENDERS #1 (OF 5) PACHECO REBORN VAR $ 3.99
DEFENDERS #1 (OF 5) PEREZ HIDDEN GEM VAR (1/25) $ ???
DEFENDERS #1 (OF 5) RON LIM VAR $ 3.99
DETECTIVE COMICS #1041 CVR A DAN MORA $ 4.99
DETECTIVE COMICS #1041 CVR B LEE BERMEJO CARD STOCK VAR $ 5.99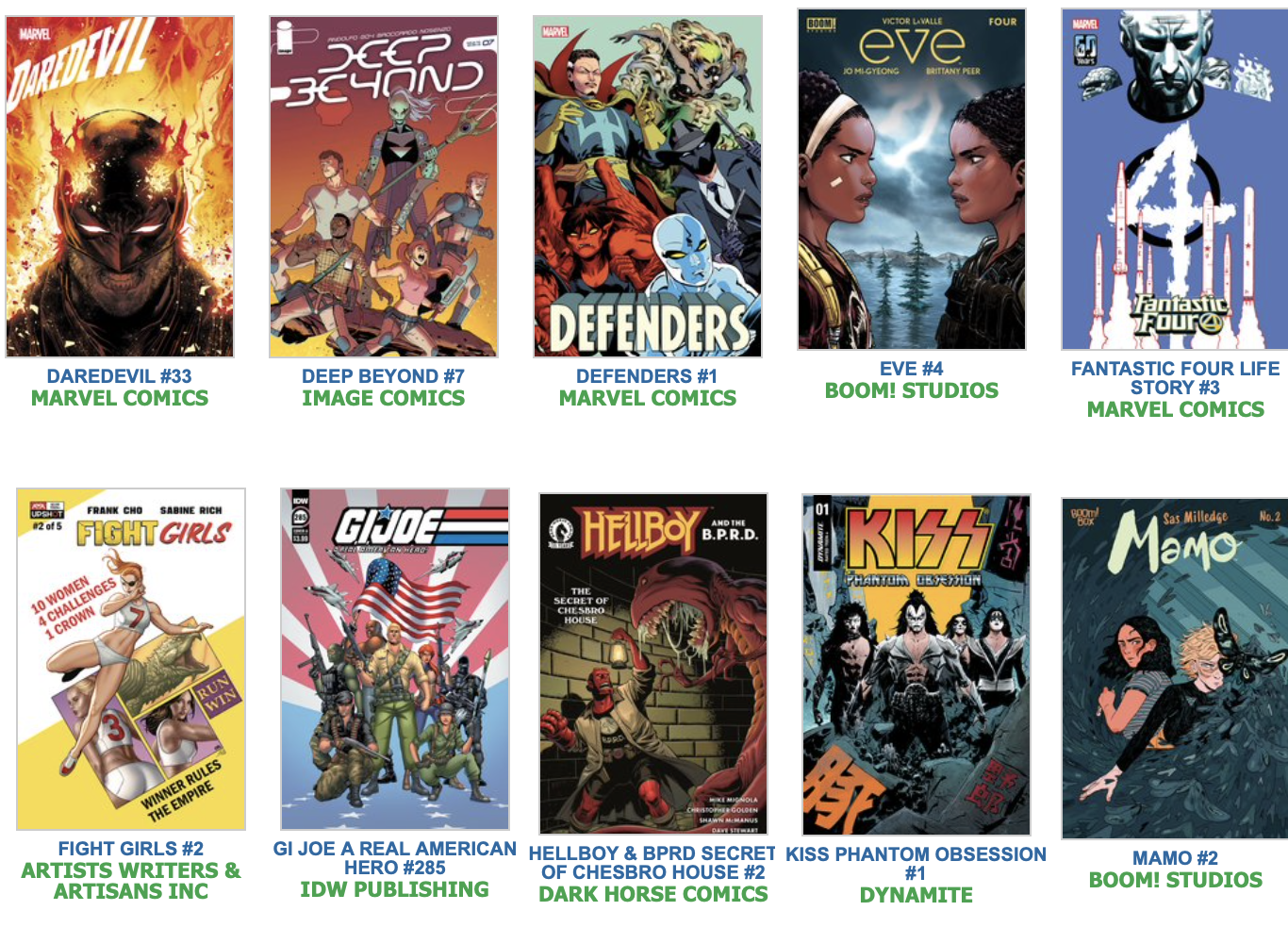 EVE #4 (OF 5) CVR A ANINDITO $ 3.99
EVE #4 (OF 5) CVR B MEYERS $ 3.99
EVE #4 (OF 5) CVR C MEYERS (1/10) $ ???
EVE #4 (OF 5) CVR D DAWN (1/25) $ ???
FANTASTIC FOUR LIFE STORY #3 (OF 6) $ 4.99
FANTASTIC FOUR LIFE STORY #3 (OF 6) ASPINALL VAR $ 4.99
FIGHT GIRLS #2 $ 3.99
FUTURE STATE GOTHAM #4 CVR A SIMONE DI MEO HARLEY QUINN CONNECTING COVER $ 3.99
FUTURE STATE GOTHAM #4 CVR B SIMONE DI MEO PUNCHLINE CONNECTING COVER $ 3.99
FUTURE STATE GOTHAM #4 CVR C DIMA IVANOV THE SUICIDE SQUAD MOVIE CARD STOCK VAR $ 4.99
GI JOE A REAL AMERICAN HERO #285 CVR A GRIFFITH $ 3.99
GI JOE A REAL AMERICAN HERO #285 CVR B WILLIAMS II $ 3.99
HARDWARE SEASON ONE #1 (OF 6) CVR A MATEUS MANHANINI $ 3.99
HARDWARE SEASON ONE #1 (OF 6) CVR B DENYS COWAN OLD SCHOOL CARD STOCK VAR $ 4.99
HARDWARE SEASON ONE #1 (OF 6) CVR C BILL SIENKIEWICZ NEW SCHOOL CARD STOCK VAR $ 4.99
HELLBOY & BPRD SECRET OF CHESBRO HOUSE #2 (OF 2) CVR A MCMAN $ 3.99
HELLBOY & BPRD SECRET OF CHESBRO HOUSE #2 (OF 2) CVR B SMITH $ 3.99
I AM BATMAN #0 CVR A TRAVEL FOREMAN $ 4.99
I AM BATMAN #0 CVR B DERRICK CHEW CARD STOCK VAR $ 5.99
I AM BATMAN #0 CVR C DAVE WILKINS CARD STOCK VAR $ 5.99
I AM BATMAN #0 INC 1:25 RICCARDO FEDERICI CARD STOCK VAR $ ???
INFINITE FRONTIER #4 (OF 6) CVR A MITCH GERADS $ 4.99
INFINITE FRONTIER #4 (OF 6) CVR B BRYAN HITCH CARD STOCK VAR $ 5.99
INFINITE FRONTIER #4 (OF 6) CVR C JOHN K SNYDER III THE SUICIDE SQUAD MOVIE CARD STOCK VAR $ 5.99
JOKER #6 CVR A GUILLEM MARCH $ 5.99
JOKER #6 CVR B TONY HARRIS VAR $ 5.99
JOKER #6 CVR C TERRY DODSON VAR $ 5.99
JOKER #6 CVR D JONBOY MEYERS THE SUICIDE SQUAD MOVIE VAR $ 5.99
JOKER #6 INC 1:25 RICCARDO FEDERICI VAR $ ???
JUSTICE LEAGUE #64 Second Printing $ 4.99
JUSTICE LEAGUE LAST RIDE #4 (OF 7) CVR A DARICK ROBERTSON $ 3.99
JUSTICE LEAGUE LAST RIDE #4 (OF 7) CVR B TIAGO DA SILVA CARD STOCK VAR $ 4.99
KISS PHANTOM OBSESSION #1 CVR A LEE $ 3.99
KISS PHANTOM OBSESSION #1 CVR B SAYGER $ 3.99
KISS PHANTOM OBSESSION #1 CVR C SEELEY $ 3.99
KISS PHANTOM OBSESSION #1 CVR D CELOR $ 3.99
KISS PHANTOM OBSESSION #1 CVR E PHOTO $ 3.99
KISS PHANTOM OBSESSION #1 CVR I LEE B&W LINE AR $ ???
KISS PHANTOM OBSESSION #1 CVR J SEELEY LINE ART $ ???
KISS PHANTOM OBSESSION #1 CVR K SAYGER B&W $ ???
KISS PHANTOM OBSESSION #1 CVR L SEELEY B&W $ ???
MAMO #2 (OF 5) CVR A MILLEDGE $ 4.99
MARVELS VOICES PRIDE #1 2ND PTG VAR $ 9.99
MASTERS OF THE UNIVERSE REVELATION #2 (OF 4) CVR A WILKINS $ 3.99
MASTERS OF THE UNIVERSE REVELATION #2 (OF 4) CVR B SIENKIEWI $ 3.99
MIGHTY MORPHIN #10 CVR A LEE $ 3.99
MIGHTY MORPHIN #10 CVR B LEGACY VAR CARLINI $ 3.99
MIGHTY MORPHIN #10 CVR G FOC REVEAL VAR YOON $ 3.99
MILES MORALES SPIDER-MAN #29 $ 3.99
MILES MORALES SPIDER-MAN #29 NETEASE MARVEL GAMES VAR $ 3.99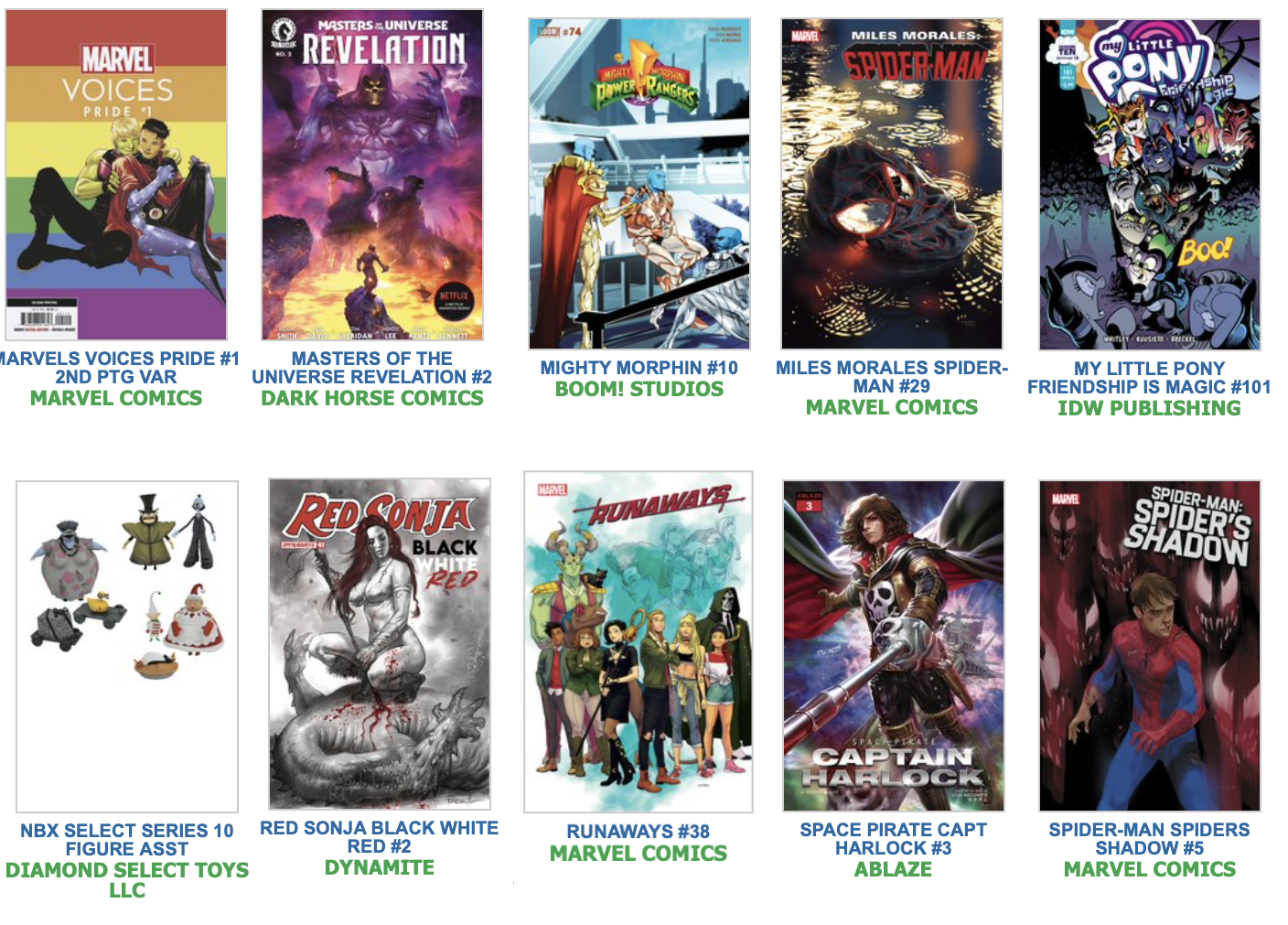 MY LITTLE PONY FRIENDSHIP IS MAGIC #101 CVR A PRICE $ 3.99
MY LITTLE PONY FRIENDSHIP IS MAGIC #101 CVR C C (1/10) $ ???
NICE HOUSE ON THE LAKE #1 Third Printing $ 3.99
ORCS IN SPACE #3 CVR A VIGNEAULT $ 3.99
ORCS IN SPACE #3 CVR B WARD & SHEEAN $ 3.99
ORDINARY GODS #2 CVR A WATANABE (MR) $ 3.99
PENNYWORTH #1 (OF 7) CVR A JORGE FORNES $ 3.99
PENNYWORTH #1 (OF 7) CVR B JUAN GEDEON CARD STOCK VAR $ 4.99
RED SONJA BLACK WHITE RED #2 CVR A PARRILLO $ 4.99
RED SONJA BLACK WHITE RED #2 CVR B MEYERS $ 4.99
RED SONJA BLACK WHITE RED #2 CVR C NAKAYAMA $ 4.99
RED SONJA BLACK WHITE RED #2 CVR D COSPLAY $ 4.99
RED SONJA BLACK WHITE RED #2 CVR N FOC BONUS COSPLAY B&W VIR $ 4.99
RED SONJA BLACK WHITE RED #2 CVR H COSPLAY VIRG $ ???
RED SONJA BLACK WHITE RED #2 CVR J PARRILLO B&W $ ???
RORSCHACH #11 (OF 12) CVR A JORGE FORNES (MR) $ 4.99
RORSCHACH #11 (OF 12) CVR B ARTHUR ADAMS VAR (MR) $ 4.99
RUNAWAYS #38 $ 4.99
RUNAWAYS #38 ALPHONA VAR $ 4.99
SACRED SIX #11 25 COPY LOUW VIRGIN (Re/Cr $ 3.99
SILVER COIN #5 CVR A WALSH (MR) $ 3.99
SILVER COIN #5 CVR B MCKIBBIN (MR) $ 3.99
SIX SIDEKICKS OF TRIGGER KEATON #3 CVR A SCHWEIZER (MR) $ 3.99
SIX SIDEKICKS OF TRIGGER KEATON #3 CVR B GUILLORY (MR) $ 3.99
SPACE PIRATE CAPT HARLOCK #3 CVR A CHEW $ 3.99
SPACE PIRATE CAPT HARLOCK #3 CVR B LEIRIX $ 3.99
SPACE PIRATE CAPT HARLOCK #3 CVR C LEE $ 3.99
SPIDER-MAN SPIDERS SHADOW #5 (OF 5) $ 3.99
STAR WARS HIGH REPUBLIC #8 $ 3.99
STAR WARS HIGH REPUBLIC #8 ANINDITO VAR $ 3.99
STAR WARS HIGH REPUBLIC #8 JEANTY VAR (1/25) $ ???
STAR WARS HIGH REPUBLIC ADV MONSTER TEMPLE PEAK #1 (OF 4) $ 4.99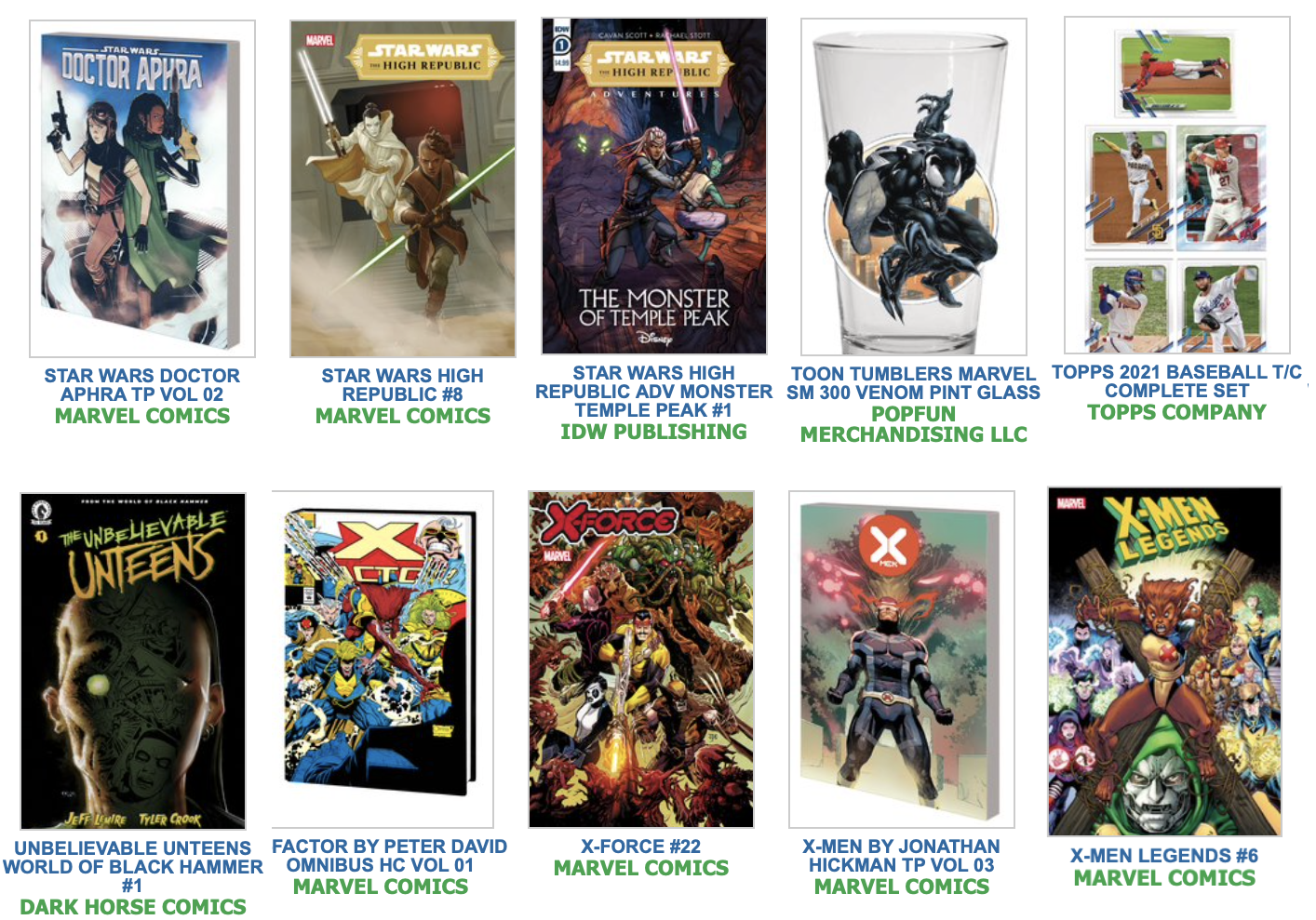 UNBELIEVABLE UNTEENS WORLD OF BLACK HAMMER #1 (OF 4) CVR A C $ 3.99
UNBELIEVABLE UNTEENS WORLD OF BLACK HAMMER #1 (OF 4) CVR B M $ 3.99
WHITE #2 (MR) $ 3.99
WONDER WOMAN #777 CVR A TRAVIS MOORE $ 4.99
WONDER WOMAN #777 CVR B SEBASTIAN FIUMARA CARD STOCK VAR $ 5.99
WONDER WOMAN #777 CVR C WILL MURAI THE SUICIDE SQUAD MOVIE CARD STOCK VAR $ 5.99
WWE NEW DAY POWER OF POSITIVITY #2 (OF 2) CVR A BAYLISS $ 7.99
WWE NEW DAY POWER OF POSITIVITY #2 (OF 2) CVR B RAHZZAH $ 7.99
X-FORCE #22 $ 3.99
X-FORCE #22 MASTRAZZO VAR $ 3.99
X-MEN LEGENDS #6 $ 3.99
X-MEN LEGENDS #6 CHRISTOPHER ACTION FIGURE VAR $ 3.99
X-MEN LEGENDS #6 TAN VAR $ 3.99

COMIC SHOP NEWS #1773 $ FREE

AMAZING SPIDER-MAN BY NICK SPENCER TP VOL 13 KINGS RANSOM $ 17.99
BIRTHRIGHT TP VOL 10 $ 14.99
BLADE OF IMMORTAL DLX ED HC VOL 03 (RES) (MR) $ 49.99
CAPTAIN AMERICA EPIC COLLECTION TP CAPTAIN $ 44.99
DARK NIGHTS DEATH METAL SOUNDTRACK LUNAR EXCLUSIVE $ 37.99
DID YOU HEAR WHAT EDDIE GEIN DONE GN (MR) $ 29.99
FIREFLY UNIFICATION WAR TP VOL 03 $ 14.99
FOURTH WORLD BY JOHN BYRNE OMNIBUS HC $ 75
FRANK CHO PENCIL AND INK SC (MR) $ 24.95
HELLBLAZER VOL 25 ANOTHER SEASON TP (MR) $ 34.99
HOUSE OF X POWERS OF X TP $ 44.99
IRON FIST TP HEART OF DRAGON $ 17.99
KING DEADPOOL TP VOL 01 HAIL TO THE KING $ 17.99
KOMI CANT COMMUNICATE GN VOL 14 $ 9.99
MARVEL AUGUST 1961 OMNIBUS HC KIRBY DM VAR $ 150
MARVEL-VERSE GN TP BLACK PANTHER $ 9.99
MIGHTY MORPHIN TP VOL 02 $ 16.99
MILES MORALES ULT SPIDER-MAN ULT COLL TP BOOK 02 $ 34.99
NEW 52 10TH ANNIVERSARY DELUXE EDITION HC $ 29.99
RAINBOW BRIDGE GN $ 16.99
STAR WARS DOCTOR APHRA TP VOL 01 APHRA $ 17.99
STAR WARS DOCTOR APHRA TP VOL 02 ENGINE JOB $ 15.99
VENOM BY DONNY CATES TP VOL 02 ABYSS $ 17.99
X-FACTOR BY PETER DAVID OMNIBUS HC VOL 01 QUESADA DM VAR $ 100
X-MEN BY JONATHAN HICKMAN TP VOL 03 $ 15.99

TOPPS 2021 BASEBALL T/C COMPLETE SET $ ???

TOON TUMBLERS MARVEL SM 300 VENOM PINT GLASS $ 10.99

GI JOE CLASSIFIED SERIES 6IN AF ASST $ 24.99
NBX SELECT SERIES 10 FIGURE ASST $ 29.99
SW MANDO RETRO 3-3/4IN THE CHILD AF CS $ 14.99
TRANSFORMERS GEN WFCK CORE STARSCREAM AF CS $ 12.99
TRANSFORMERS GEN WFCK LEADER AF ASST $ 62.99