Vote NO on the Stupid Recall – Wednesday, August 18th, 2021
If you don't want our state to take the lead in Covid-19 DeSantis/Delta deaths and disruptions, then vote NO on the stupid recall this month. It's just another way the Out of State (and some in-) Right Wing Money Machine Vandals distribute discord and dementia to get the people to just give up and quit caring so they can reap even more profit off the backs of the 98%. Don't let them stop you from caring. If you vote Yes, and it carries, then the new Governor will have less than 33% of the total. Vote NO recall. He didn't steal.  He didn't commit treason or exacerbate an epidemic that killed 600,000 people. In fact, he did a decent job, considering the population and poverty in this state. Recall should not be just because we don't like him. That's what the next election is for. And this recall statute needs to be changed. We can't afford to elect a governor that only gets 2 million votes, in a state with 38 million people. Tell your friends to vote and vote NO. NOT voting is a Yes Vote!
We are enforcing a Mask Mandate.  We are concerned and frankly afraid of the Desantis Variant's effectiveness and apparent success in younger people and children. So, please, take care of America and get a vaccine.  Did I mention Free Comic Book Day was scheduled for last Saturday August 14th this year? Well, it was and it happened. If you were out of town or otherwise missed it, you can ask Bob if he has any of them left.
Wednesday is STILL New Comic Day, no matter what you read on the internets. We can't clear the new rack to just have 10 DC's  surrounded by empty space.  We do it once, Wednesday morning. We encourage everyone to be careful, make your trip to our store quick and efficient, and try to come in to shop in smaller groups, and reduce your own exposure to ALL public places indoors, including ours. If you like, you can browse the list and make an order to fbgbob@aol.com for a quicker pick up. It might also help to put in a time window when you would be in the neighborhood, to give Bob a chance to get them together, and include a phone number for good measure. Watch this space and our Facebook page for latest news about the rest of the month, season, year, millenium, etc. (And text messages from 5-Star.) The complete list is found below. If you want to know about the next sale or store event, or whether or not WE ARE EVEN OPEN click here. Sign in here to get an email reminder for ALL sales and other events. Also, you can go to     fb.fantasybooksandgames.com and you'll be taken to our Facebook page. We also use our in-store 5-Star Rewards system to text similar announcements to your phone.
Thanks to Comics on the Green for this week's images, which include many of the comics and a few of the books and other items we received today, and may have pics of things we didn't and/or won't get. Use the list, and maybe the pictures.  
ASCENDER #18 CVR A NGUYEN (MR) $ 3.99
BARBARELLA #2 CVR A PARRILLO $ 3.99
BARBARELLA #2 CVR B CHEW $ 3.99
BARBARELLA #2 CVR C COHEN $ 3.99
BARBARELLA #2 CVR D KROME $ 3.99
BARBARELLA #2 CVR E COSPLAY $ ???
BARBARELLA #2 CVR H 25 COPY INCV PARRILLO B&W $ ???
BARBARELLA #2 CVR I 30 COPY INCV CHEW B&W VIRGIN $ ???
BARBARELLA #2 CVR J 40 COPY INCV COHEN LINE ART $ ???
BARBARELLA #2 CVR S 21 COPY FOC INCV COSPLAY VIRGIN $ ???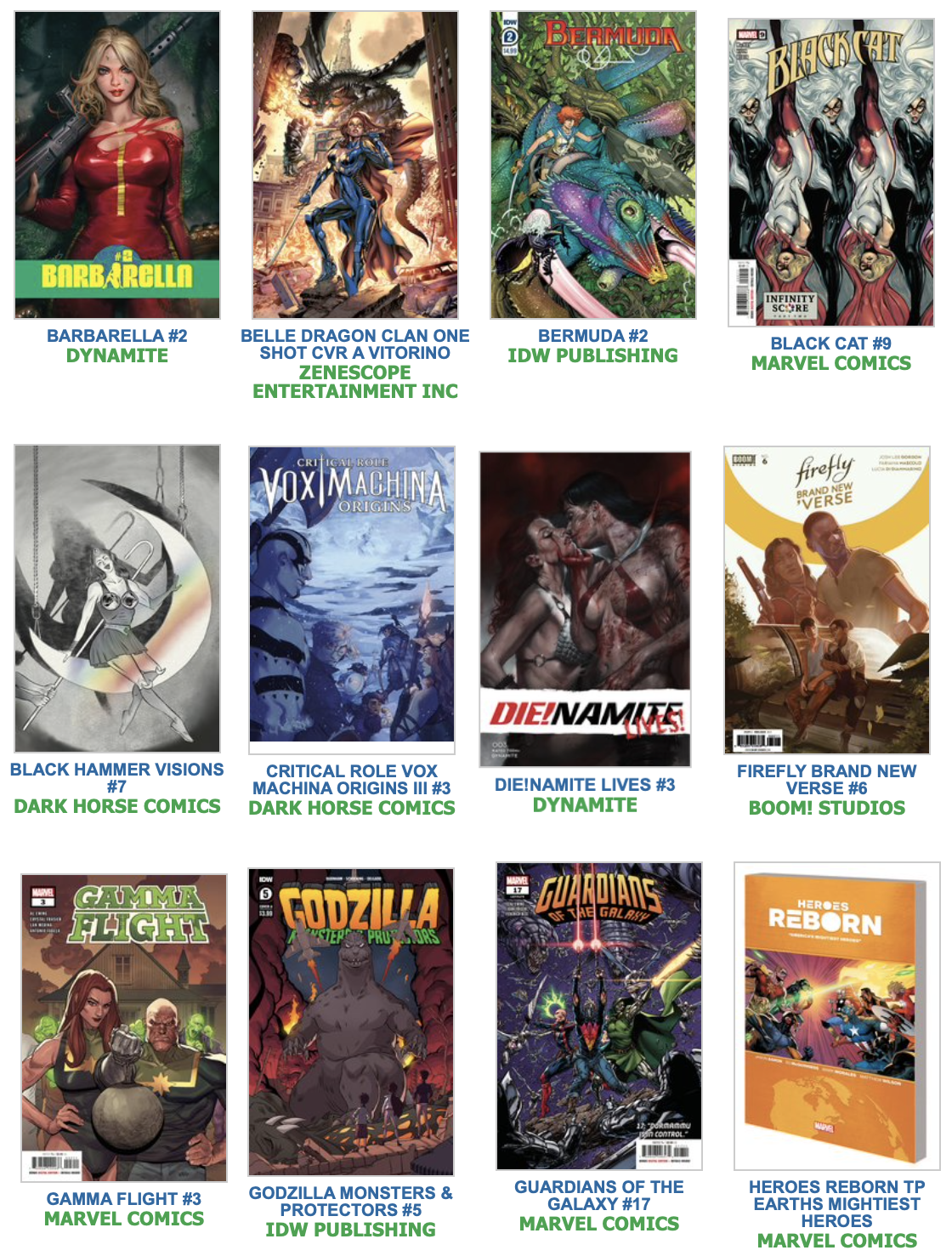 BATMAN CATWOMAN #6 (OF 12) CVR A CLAY MANN (MR) $ 4.99
BATMAN CATWOMAN #6 (OF 12) CVR B JIM LEE & SCOTT WILLIAMS VAR (MR) $ 4.99
BATMAN CATWOMAN #6 (OF 12) CVR C TRAVIS CHAREST VAR (MR) $ 4.99
BATMAN SECRET FILES CLOWNHUNTER #1 (ONE SHOT) CVR A MICO SUAYAN $ 4.99
BATMAN SECRET FILES CLOWNHUNTER #1 (ONE SHOT) CVR B KOFI OFOSU CARD STOCK VAR $ 5.99
BELLE DRAGON CLAN ONE SHOT CVR A VITORINO $ 5.99
BELLE DRAGON CLAN ONE SHOT CVR B WHITE $ 5.99
BELLE DRAGON CLAN ONE SHOT CVR C LEARY JR $ 5.99
BERMUDA #2 (OF 4) CVR A BRADSHAW $ 4.99
BETTY & VERONICA JUMBO COMICS DIGEST #296 $ 7.99
BLACK CAT #9 $ 3.99
BLACK CAT #9 LUPACCHINO CONNECTING VAR $ 3.99
BLACK CAT #9 NETEASE MARVEL GAMES VAR $ 3.99
BLACK COTTON #4 (OF 6) $ 3.99
BLACK HAMMER VISIONS #7 (OF 8) CVR A DUFFY $ 3.99
BLADE RUNNER ORIGINS #5 CVR A STRIPS (MR) $ 3.99
BLADE RUNNER ORIGINS #5 CVR B HERVAS (MR) $ 3.99
BLADE RUNNER ORIGINS #5 CVR C HACK (MR) $ 3.99
BLUBBER #6 (MR) $ 4.99
BOX #1 $ 3.95
BY THE HORNS #4 (OF 7) CVR A JASON MUHR (MR) $ 3.99
CATWOMAN #34 CVR A YANICK PAQUETTE $ 3.99
CATWOMAN #34 CVR B JENNY FRISON CARD STOCK VAR $ 4.99
CATWOMAN #34 CVR C STEVE LIEBER THE SUICIDE SQUAD MOVIE CARD STOCK VAR $ 4.99
CIMMERIAN MAN-EATERS OF ZAMBOULA #2 CVR A MARION (MR) $ 3.99
CIMMERIAN MAN-EATERS OF ZAMBOULA #2 CVR B MELI (MR) $ 3.99
CIMMERIAN MAN-EATERS OF ZAMBOULA #2 CVR C RECHT WRAPAROUND ( $ 3.99
COMPASS #3 (OF 5) $ 3.99
CRITICAL ROLE VOX MACHINA ORIGINS III #3 (OF 6) $ 3.99
DARK BLOOD #1 (OF 6) 2ND PTG ALLEYNE $ 3.99
DEPARTMENT OF TRUTH #1 REPLACEMENT 6TH PTG CVR A (MR) $ 3.99
DEPARTMENT OF TRUTH #1 REPLACEMENT 6TH PTG CVR A (MR) $ 3.99
DEPARTMENT OF TRUTH #1 REPLACEMENT 6TH PTG CVR B 25 COPY INC $ 3.99
DIE!NAMITE LIVES #3 CVR A PARRILLO $ 3.99
DIE!NAMITE LIVES #3 CVR B SUYDAM $ 3.99
DIE!NAMITE LIVES #3 CVR C LINSNER $ 3.99
DIE!NAMITE LIVES #3 CVR E COSPLAY $ 3.99
DIE!NAMITE LIVES #3 CVR O FOC ELITE ED SUYDAM NON ZOMBIE VIR $ 3.99
DIE!NAMITE LIVES #3 CVR J 40 COPY INCV COSPLAY VIRGIN $ ???
DIE!NAMITE LIVES #3 CVR K 50 COPY INCV PARILLO LINE ART $ ???
ELRIC DREAMING CITY #1 CVR A MIGNOLA (MR) $ 3.99
ELRIC DREAMING CITY #1 CVR B SECHER (MR) $ 3.99
EXTRAORDINARY #3 CVR A PETRAITES $ 3.99
EXTRAORDINARY #3 CVR B MANCINI $ 3.99
FIREFLY BRAND NEW VERSE #6 (OF 6) CVR A KHALIDAH $ 4.99
FIREFLY BRAND NEW VERSE #6 (OF 6) CVR B FISH $ 4.99
EAT THE RICH #1 (OF 5) CVR A TONG (MR) $ 3.99
EAT THE RICH #1 (OF 5) CVR B CAREY (MR) $ 3.99
EAT THE RICH #1 (OF 5) CVR C FRISON (MR) $ 3.99
EAT THE RICH #1 (OF 5) CVR D 10 COPY INCV DEL DUCA (MR) $ ???
EAT THE RICH #1 (OF 5) CVR E 25 COPY INCV FRISON (MR) $ ???
EAT THE RICH #1 (OF 5) CVR F 50 COPY INCV FOIL FRISON (MR) $ ???
FLASH #773 CVR A BRANDON PETERSON $ 3.99
FLASH #773 CVR B JORGE CORONA CARD STOCK VAR $ 4.99
FLASH #773 CVR C ALAN QUAH THE SUICIDE SQUAD MOVIE CARD STOCK VAR $ 4.99
GAMMA FLIGHT #3 (OF 5) $ 3.99
GAMMA FLIGHT #3 (OF 5) HOTZ VAR $ 3.99
GAMMA FLIGHT #3 (OF 5) PACHECO CONNECTING VAR $ 3.99
GOD OF TREMORS ONE SHOT CVR A KOWALSKI (MR) $ 6.99
GODZILLA MONSTERS & PROTECTORS #5 (OF 5) CVR A SCHOENING $ 3.99
GODZILLA MONSTERS & PROTECTORS #5 (OF 5) CVR B PHOTO CVR $ 3.99
GODZILLA MONSTERS & PROTECTORS #5 (OF 5) CVR C 10 COPY INCV $ ???
GRIMM UNIV QTRLY ZODIAC VS DEATHFORCE CVR A KROME $ 8.99
GRIMM UNIV QTRLY ZODIAC VS DEATHFORCE CVR B VITORINO $ 8.99
GRIMM UNIV QTRLY ZODIAC VS DEATHFORCE CVR C SANTACRUZ $ 8.99
GUARDIANS OF THE GALAXY #17 ANHL $ 3.99
GUARDIANS OF THE GALAXY #17 BRUNNER HIDDEN GEM VAR ANHL (1/50) $ ???
GUARDIANS OF THE GALAXY #17 NETEASE MARVEL GAMES VAR ANHL $ 3.99
HEROES UNION #1 THE COSMIC CRUSADE (Scott McElroy) $ 4.99
HOLLOW HEART #6 CVR A TUCKER $ 3.99
HOLLOW HEART #6 CVR B HICKMAN $ 3.99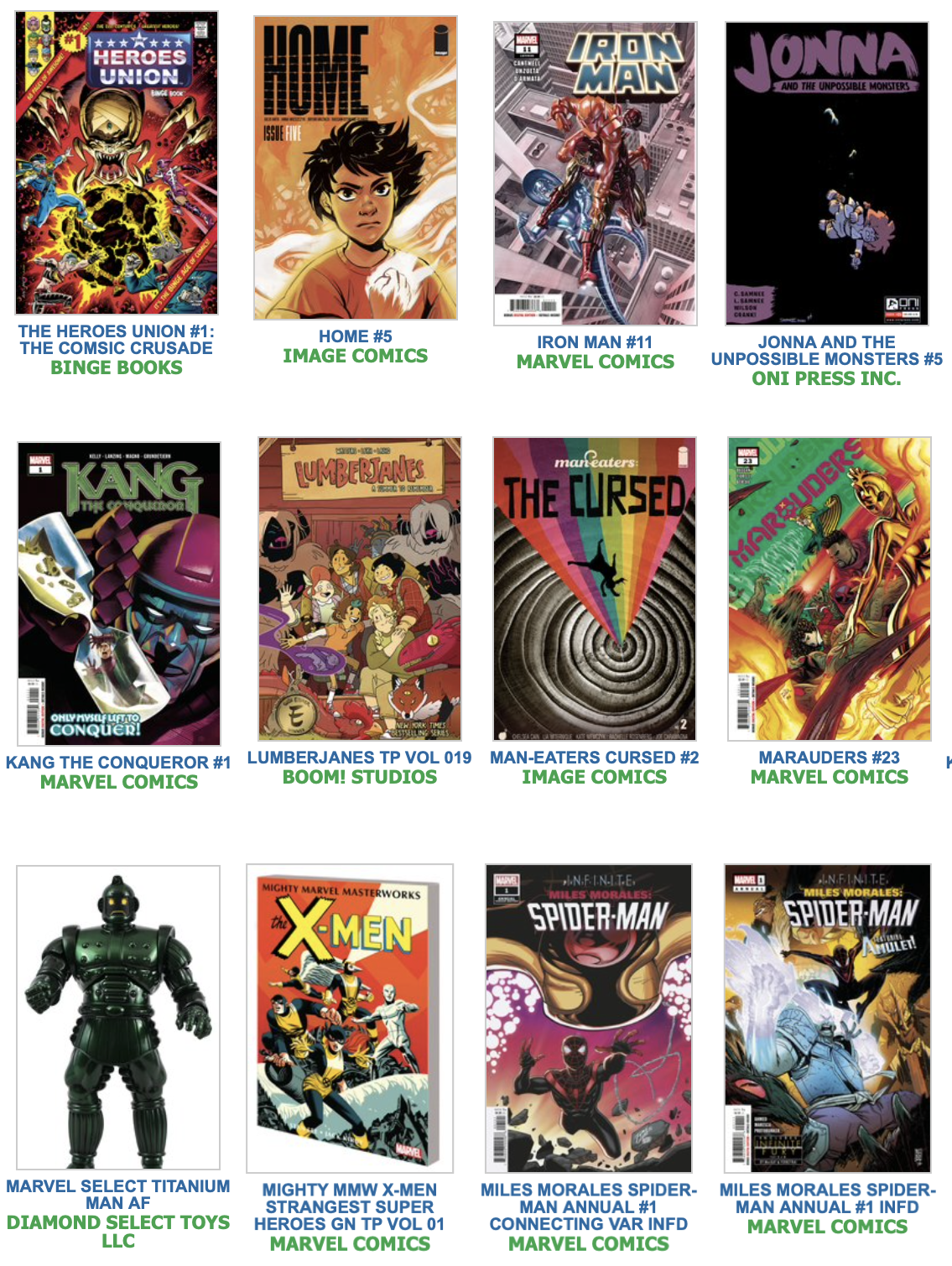 HOME #5 (OF 5) CVR A STERLE $ 3.99
HOME #5 (OF 5) CVR B SALCEDO $ 3.99
HOME SICK PILOTS #8 CVR A WIJNGAARD (MR) $ 3.99
HOME SICK PILOTS #8 CVR B SIMMONDS (MR) $ 3.99
IRON MAN #11 $ 3.99
IRON MAN #11 NETEASE MARVEL GAMES VAR $ 3.99
JOKER PRESENTS A PUZZLEBOX #1 (OF 7) CVR A CHIP ZDARSKY $ 4.99
JONNA AND THE UNPOSSIBLE MONSTERS #5 CVR A SAMNEE $ 3.99
JUPITERS LEGACY REQUIEM #3 (OF 12) CVR A EDWARDS (MR) $ 3.99
JUPITERS LEGACY REQUIEM #3 (OF 12) CVR B LEON (MR) $ 3.99
JUPITERS LEGACY REQUIEM #3 (OF 12) CVR D NETFLIX PHOTO CVR ( $ 3.99
KILLER QUEENS #1 (OF 4) CVR A BALBONI $ 3.99
KILLER QUEENS #1 (OF 4) CVR B ABLES $ 3.99
KILLER QUEENS #1 (OF 4) CVR C BARTEL $ 3.99
KANG THE CONQUEROR #1 (OF 5) $ 4.99
KANG THE CONQUEROR #1 (OF 5) BUSTOS STORMBREAKERS VAR $ 4.99
KANG THE CONQUEROR #1 (OF 5) CABAL STORMBREAKERS VAR $ 4.99
KANG THE CONQUEROR #1 (OF 5) CARNERO STORMBREAKERS VAR $ 4.99
KANG THE CONQUEROR #1 (OF 5) CASSARA STORMBREAKERS VAR $ 4.99
KANG THE CONQUEROR #1 (OF 5) COELLO STORMBREAKERS VAR $ 4.99
KANG THE CONQUEROR #1 (OF 5) GLEASON STORMBREAKERS VAR $ 4.99
KANG THE CONQUEROR #1 (OF 5) MOMOKO STORMBREAKERS VAR $ 4.99
KANG THE CONQUEROR #1 (OF 5) NAUCK HEADSHOT VAR $ 4.99
KANG THE CONQUEROR #1 (OF 5) SILVA STORMBREAKERS VAR $ 4.99
KANG THE CONQUEROR #1 (OF 5) STEGMAN VAR (1/50) $ ???
KANG THE CONQUEROR #1 (OF 5) YOUNG VAR $ 4.99
LAZARUS RISEN #6 (MR) $ 7.99
LEGENDS OF THE DARK KNIGHT #4 CVR A MAX DUNBAR $ 3.99
LEGENDS OF THE DARK KNIGHT #4 CVR B RAFAEL ALBUQUERQUE CARD STOCK VAR $ 4.99
MAN-EATERS CURSED #2 (OF 5) CVR A MITERNIQUE $ 3.99
MAN-EATERS CURSED #2 (OF 5) CVR B MITERNIQUE $ 3.99
MARAUDERS #23 $ 3.99
MARAUDERS #23 ASPINALL VAR $ 3.99
MARJORIE FINNEGAN TEMPORAL CRIMINAL #4 (MR) $ 3.99
MILES MORALES SPIDER-MAN ANNUAL #1 CONNECTING VAR INFD $ 4.99
MILES MORALES SPIDER-MAN ANNUAL #1 FLEECS VAR INFD (1/25) $ ???
MILES MORALES SPIDER-MAN ANNUAL #1 INFD $ 4.99
MONDAY MONDAY RIVERS OF LONDON #2 CVR A ANWAR $ 3.99
MOON KNIGHT #2 $ 3.99
MOON KNIGHT #2 FINCH VAR (1/25) $ ???
MOON KNIGHT #2 MOMOKO VAR $ 3.99
MOON KNIGHT #2 NETEASE MARVEL GAMES VAR $ 3.99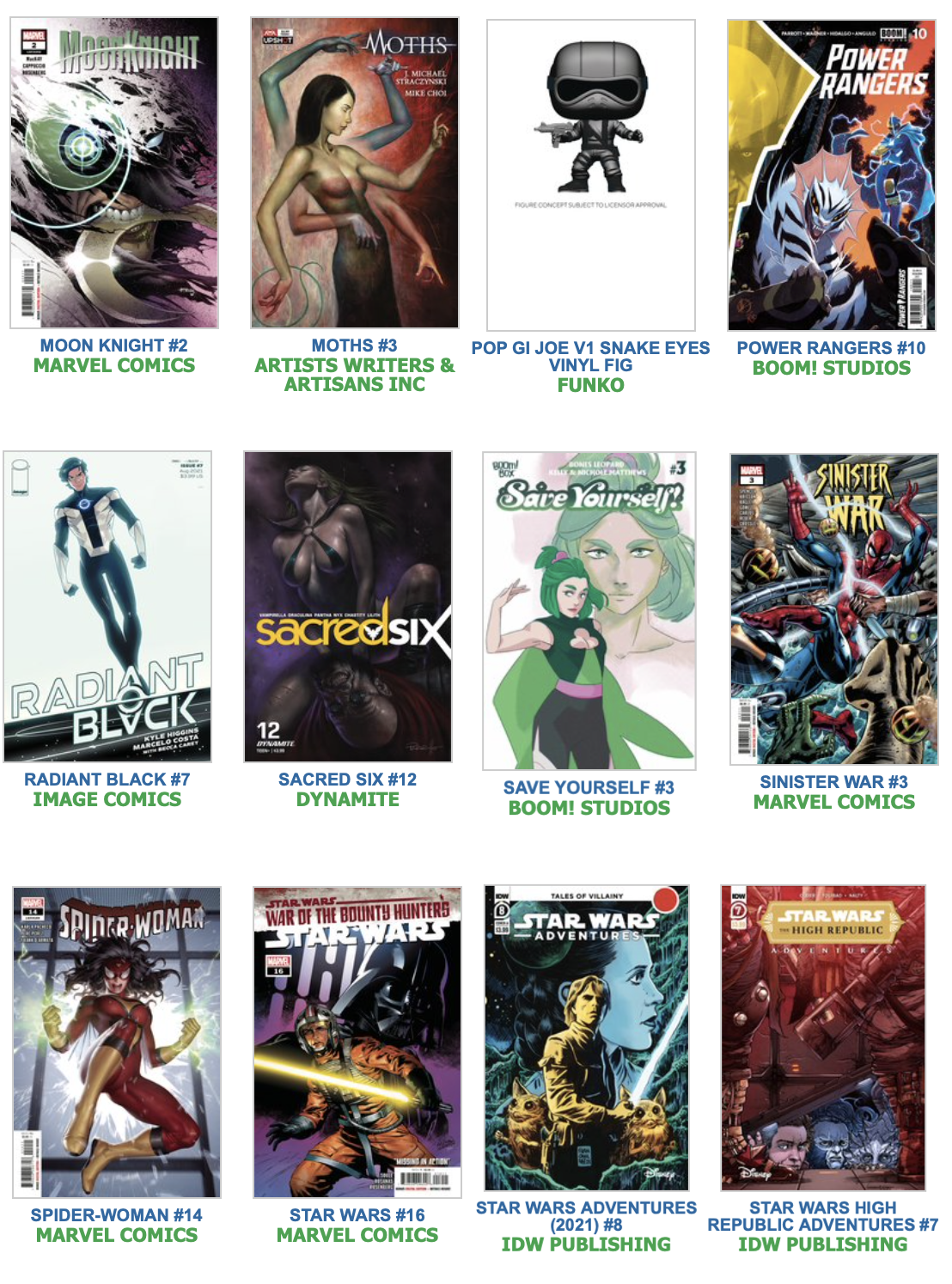 MOTHS #3 $ 3.99
NICE HOUSE ON THE LAKE #2 Second Printing $ 3.99
NIGHTMARE BEFORE CHRISTMAS MIRROR MOON #2 $ 3.99
NIGHTWING #83 CVR A BRUNO REDONDO $ 3.99
NIGHTWING #83 CVR B MAX DUNBAR CARD STOCK VAR $ 4.99
NOCTERRA #6 CVR A DANIEL & MOREY (MR) $ 3.99
NOCTERRA #6 CVR B LUPACCHINO & MCCAIG (MR) $ 3.99
NOCTERRA #6 CVR C DANIEL & MAIOLO (MR) $ 3.99
POWER RANGERS #10 CVR A SCALERA $ 3.99
POWER RANGERS #10 CVR B LEGACY VAR DI NICUOLO $ 3.99
RABID WORLD #3 (OF 4) $ 3.99
RADIANT BLACK #7 CVR A DI NICUOLO $ 3.99
RADIANT BLACK #7 CVR B WATANABE $ 3.99
SACRED SIX #12 CVR A PARRILLO $ 3.99
SACRED SIX #12 CVR D MAINE $ 3.99
SACRED SIX #12 CVR F 10 COPY INCV MAINE VIRGIN $ ???
SACRED SIX #12 CVR I 30 COPY INCV PARRILLO B&W $ ???
SAVAGE HEARTS #2 (OF 5) (MR) $ 3.99
SAVE YOURSELF #3 (OF 4) CVR A MATTHEWS $ 4.99
SAVE YOURSELF #3 (OF 4) CVR B GONZAGA $ 4.99
SCOOBY-DOO WHERE ARE YOU #111 $ 2.99
SECOND CHANCES #1 (MR) $ 3.99
SHAZAM #2 (OF 4) CVR A CLAYTON HENRY $ 3.99
SHAZAM #2 (OF 4) CVR B RAFA SANDOVAL CARD STOCK VAR $ 4.99
SINISTER WAR #3 (OF 4) $ 4.99
SINISTER WAR #3 (OF 4) BAGLEY CONNECTING VAR $ 4.99
SINISTER WAR #3 (OF 4) BALDEON HANDBOOK VAR $ 4.99
SINISTER WAR #3 (OF 4) GOMEZ VAR (1/25) $ ???
SINISTER WAR #3 (OF 4) VEREGGE VAR $ 4.99
SPIDER-WOMAN #14 $ 3.99
SPIDER-WOMAN #14 NETEASE MARVEL GAMES VAR $ 3.99
STAR WARS #16 DUURSEMA VAR WOBH (1/25) $ ???
STAR WARS #16 NAKAYAMA WANTED POSTER VAR WOBH $ 3.99
STAR WARS #16 SPROUSE LUCASFILM 50TH VAR WOBH $ 3.99
STAR WARS #16 WOBH $ 3.99
STAR WARS ADVENTURES (2021) #8 10 COPY INCV FRANCAVILLA (NET $ ???
STAR WARS ADVENTURES (2021) #8 CVR A FRANCAVILLA $ 3.99
STAR WARS HIGH REPUBLIC ADVENTURES #7 CVR A TOLIBAO $ 3.99
STAR WARS HIGH REPUBLIC ADVENTURES #7 CVR B 10 COPY INCV KYR $ ???
STAR WARS WAR BOUNTY HUNTERS #3 (OF 5) $ 3.99
STAR WARS WAR BOUNTY HUNTERS #3 (OF 5) JTC ACTION FIGURE VAR $ 3.99
STAR WARS WAR BOUNTY HUNTERS #3 (OF 5) SHALVEY VAR (1/50) $ ???
STAR WARS WAR BOUNTY HUNTERS #3 (OF 5) TRADING CARD VAR $ ???
STAR WARS WAR BOUNTY HUNTERS #3 (OF 5) WANTED POSTER VAR $ 3.99
SUPERGIRL WOMAN OF TOMORROW #3 (OF 8) CVR A BILQUIS EVELY $ 4.99
SUPERGIRL WOMAN OF TOMORROW #3 (OF 8) CVR B DAVID MACK VAR $ 4.99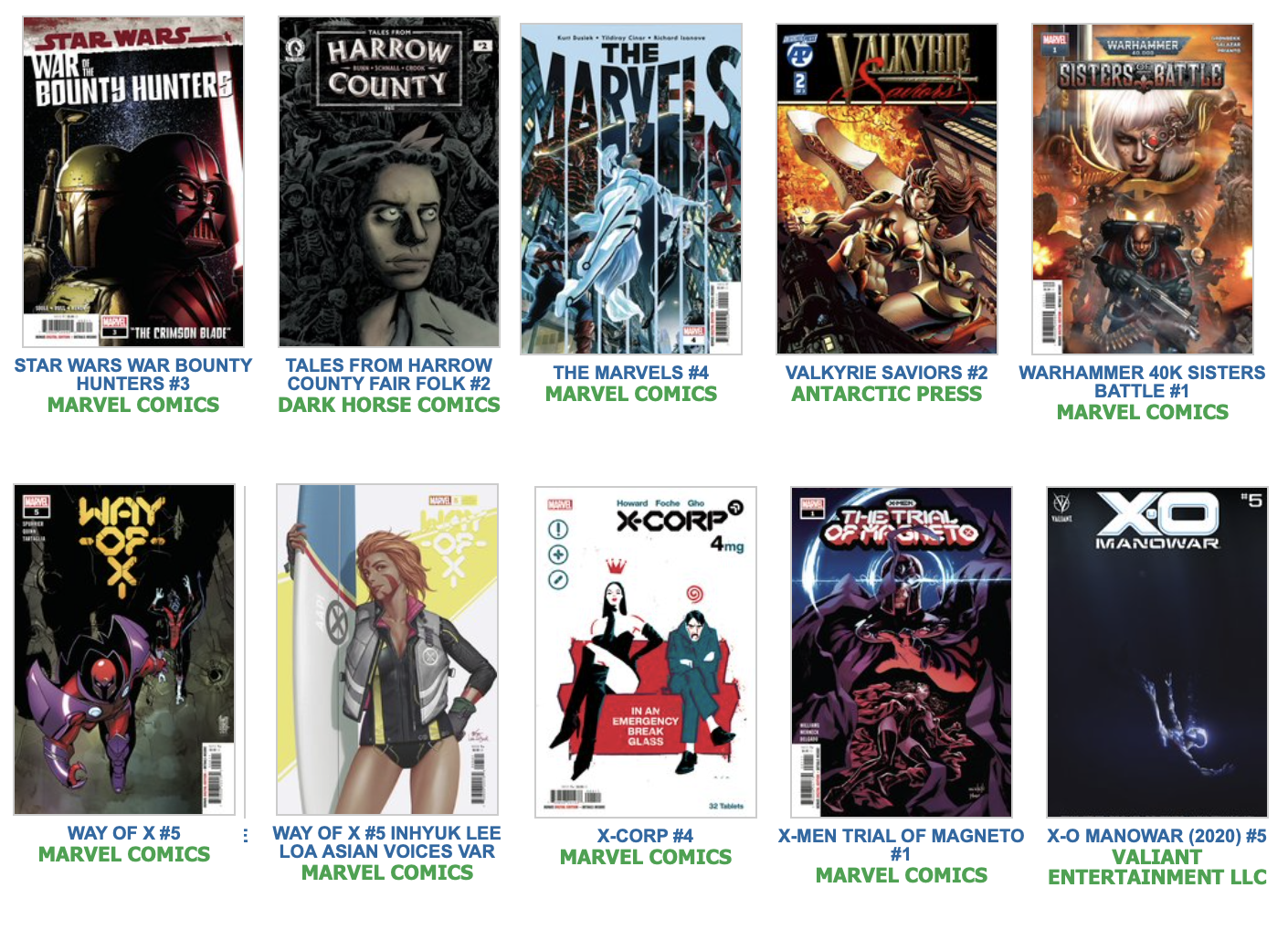 SUPERMAN AND THE AUTHORITY #2 (OF 4) CVR A MIKEL JANIN $ 4.99
SUPERMAN AND THE AUTHORITY #2 (OF 4) CVR B TREVOR HAIRSINE CARD STOCK VAR $ 5.99
SUPERMAN RED & BLUE #6 (OF 6) CVR A EVAN DOC SHANER $ 5.99
SUPERMAN RED & BLUE #6 (OF 6) CVR B GABRIELE DELL OTTO VAR $ 5.99
SUPERMAN RED & BLUE #6 (OF 6) CVR C KEVIN EASTMAN VAR $ 5.99
TALES FROM HARROW COUNTY FAIR FOLK #2 (OF 4) CVR A SCHNALL $ 3.99
TALES FROM HARROW COUNTY FAIR FOLK #2 (OF 4) CVR B CROOK $ 3.99
THE MARVELS #4 $ 3.99
TIME BEFORE TIME #4 CVR A SHALVEY (MR) $ 3.99
TIME BEFORE TIME #4 CVR B STOTT (MR) $ 3.99
TRUTH & JUSTICE #7 (OF 7) CVR A EFREN ANACLETO $ 4.99
TRUTH & JUSTICE #7 (OF 7) CVR B JUNGGEUN YOON CARD STOCK VAR $ 5.99
WALKING DEAD DLX #21 CVR A FINCH & MCCAIG (MR) $ 3.99
WALKING DEAD DLX #21 CVR B MOORE & MCCAIG (MR) $ 3.99
WARHAMMER 40K SISTERS BATTLE #1 (OF 5) $ 4.99
WARHAMMER 40K SISTERS BATTLE #1 (OF 5) GAMES WORKSHOP VAR $ 4.99
WAY OF X #5 $ 3.99
WAY OF X #5 BALDEON VAR $ 3.99
WAY OF X #5 INHYUK LEE LOA ASIAN VOICES VAR $ 3.99
WHITE ASH MYTHIC EDITION $ 9.99
X-CORP #4 $ 3.99
X-CORP #4 LOPEZ VAR $ 3.99
X-MEN TRIAL OF MAGNETO #1 (OF 5) $ 4.99
X-MEN TRIAL OF MAGNETO #1 (OF 5) ARTGERM VAR $ 4.99
X-MEN TRIAL OF MAGNETO #1 (OF 5) BROOKS VAR $ 4.99
X-MEN TRIAL OF MAGNETO #1 (OF 5) CAPULO HIDDEN GEM VAR (1/50) $ ???
X-MEN TRIAL OF MAGNETO #1 (OF 5) FINCH SPOILER VAR (1/25) $ ???
X-MEN TRIAL OF MAGNETO #1 (OF 5) MOMOKO VAR $ 4.99
X-MEN TRIAL OF MAGNETO #1 (OF 5) NAUCK HEADSHOT VAR $ 4.99
X-MEN TRIAL OF MAGNETO #1 (OF 5) ROMITA VAR $ 4.99
X-MEN TRIAL OF MAGNETO #1 (OF 5) TORQUE SPOILER VAR $ 4.99
X-O MANOWAR (2020) #5 CVR A RAHZZAH $ 3.99
X-O MANOWAR (2020) #5 CVR B CHO $ 3.99

COMIC SHOP NEWS #1774 $ FREE

1984 THE GRAPHIC NOVEL $ 22
ASSASSINS CREED BLADE OF SHAO JUN GN VOL 02 $ 14.99
BATTLE ANGEL ALITA MARS CHRONICLE GN VOL 07 (RES) $ 10.99
BEAUTY AND BEAST OF PARADISE LOST GN VOL 01 $ 12.99
BLADE RUNNER ORIGINS TP $ 17.99
CRIMSON FLOWER TP $ 19.99
DARK NIGHTS DEATH METAL #1 SOUNDTRACK SPEC ED RISE AGAINST WITH FLEXI SINGLE BROKEN DREAMS, INC. (NET) $ 11.55
DC POSTER PORTFOLIO JAE LEE TP $ 24.99
GOTHAM CITY MONSTERS TP $ 17.99
HEROES REBORN TP EARTHS MIGHTIEST HEROES $ 34.99
KABUKI OMNIBUS TP VOL 04 $ 29.99
LUMBERJANES TP VOL 19 $ 14.99
MAKING FRIENDS GN VOL 03 THIRD TIMES CHARM $ 12.99
MARAUDERS BY GERRY DUGGAN TP VOL 03 $ 19.99
MARVEL-VERSE GN TP DOCTOR STRANGE $ 9.99
MIGHTY MMW X-MEN STRANGEST SUPER HEROES GN TP VOL 01 CHO CVR $ 15.99
MIGHTY MMW X-MEN STRANGEST SUPER HEROES GN TP VOL 01 DM VAR $ 15.99
POKEMON SUPER EXTRA DLX ESSENTIAL HANDBOOK $ 14.99
POWER RANGERS TP VOL 02 $ 16.99
RADIANT BLACK TP VOL 01 $ 9.99
REIGN OF X TP VOL 03 $ 17.99
RUNAWAYS BY ROWELL AND ANKA TP VOL 03 THAT WAS YESTERDAY $ 17.99
SENSOR HC (MR) $ 19.99
STARMAN COMPENDIUM 1 TP $ 59.99
SWEET TOOTH THE RETURN TP (MR) $ 17.99
URUSEI YATSURA GN VOL 11 $ 19.99
WHATS MICHAEL TP VOL 02 FATCAT COLLECTION (RES) $ 19.99

AVATAR SERIES 4 DLX ACTION FIGURE ASST $ 24.99
DC COLLECTOR BUILD-A WV5 SS HARLEY QUINN 7IN SCALE AF (NET) $ 32.99
DC JUSTICE LEAGUE 7IN SCALE MEGA AF ASST (NET) $ 52.99
DC JUSTICE LEAGUE DARKSEID 7IN SCALE MEGA AF CS (NET) $ 52.99
MARVEL SELECT TITANIUM MAN AF $ 29.99
POP GI JOE V1 SNAKE EYES VINYL FIG $ 11.99
RUBIKS CHARACTION CUBE DC COMICS BATMAN (NET) $ 17.99
SDCC 2021 THE CROW DLX ACTION FIGURE $ 39.99
TRANSFORMERS GEN SELECTS G2 RAMJET VOYAGER AF (NET) $ 37.99
TRANSFORMERS GEN WFCK DINOBOT VOYAGER AF CS (NET) $ 37.99
TRANSFORMERS WAR FOR CYBERTRON OPTIMUS PRIME DLX SCALE FIG ( $ 210
VINYL SODA FRANKENSTEIN JR W/ MT CHASE $ 13.99
VINYL SODA QUAKE W/ CHASE $ 13.99
VINYL SODA THE GOONIES SLOTH W/ CHASE $ 13.99