Mail Your Recall Ballots (after choosing NO), and …. Comics! – Wednesday, September 8th, 2021
If you don't bother to vote, that helps "Yes" win, and the new Governor will have only 23% of the vote. It's CRAZY! Vote against crazy. Vote NO on Recall.  Your ballot is in your pile of mail. It takes 5 seconds. (Then find a petition to recall the Recall law.)  Tell your friends to vote and vote NO. NOT voting is the wrong choice!
Speaking of Choice – Boycott Texas.
Another pretty small week for comics and toys. Lots of Bats, Ka-Zar is back, so I KNOW you want to come in. That's all I've got.
We are enforcing a Mask Mandate.  We are concerned and frankly afraid of the Desantis Variant's effectiveness and apparent success in younger people and children. So, please, take care of America and get a vaccine. 
Wednesday is STILL New Comic Day, no matter what you read on the internets. We can't clear the new rack to just have 10 DC's  surrounded by empty space.  We do it once, Wednesday morning. We encourage everyone to be careful, make your trip to our store quick and efficient, and try to come in to shop in smaller groups, and reduce your own exposure to ALL public places indoors, including ours. If you like, you can browse the list and make an order to fbgbob@aol.com for a quicker pick up. It might also help to put in a time window when you would be in the neighborhood, to give Bob a chance to get them together, and include a phone number for good measure. Watch this space and our Facebook page for latest news about the rest of the month, season, year, millenium, etc. (And text messages from 5-Star.) The complete list is found below.
If you want to know about the next sale or store event, or whether or not WE ARE EVEN OPEN click here. Sign in here to get an email reminder for ALL sales and other events. Also, you can go to     fb.fantasybooksandgames.com and you'll be taken to our Facebook page. We also use our in-store 5-Star Rewards system to text similar announcements to your phone.
Thanks to Comics on the Green for this week's images, which include many of the comics and a few of the books and other items we received today, and may have pics of things we didn't and/or won't get. Use the list, and maybe the pictures.
AMAZING SPIDER-MAN #73 BALDEON HANDBOOK VAR SINW $ 3.99
AMAZING SPIDER-MAN #73 SINW $ 3.99
ARMY OF DARKNESS 1979 #1 CVR B SUYDAM $ 3.99
ARMY OF DARKNESS 1979 #1 CVR C YOON $ 3.99
ARMY OF DARKNESS 1979 #1 CVR D SAYGER $ 3.99
AVENGERS TECH-ON #2 (OF 6) $ 3.99
AVENGERS TECH-ON #2 (OF 6) MOMOKO VAR $ 3.99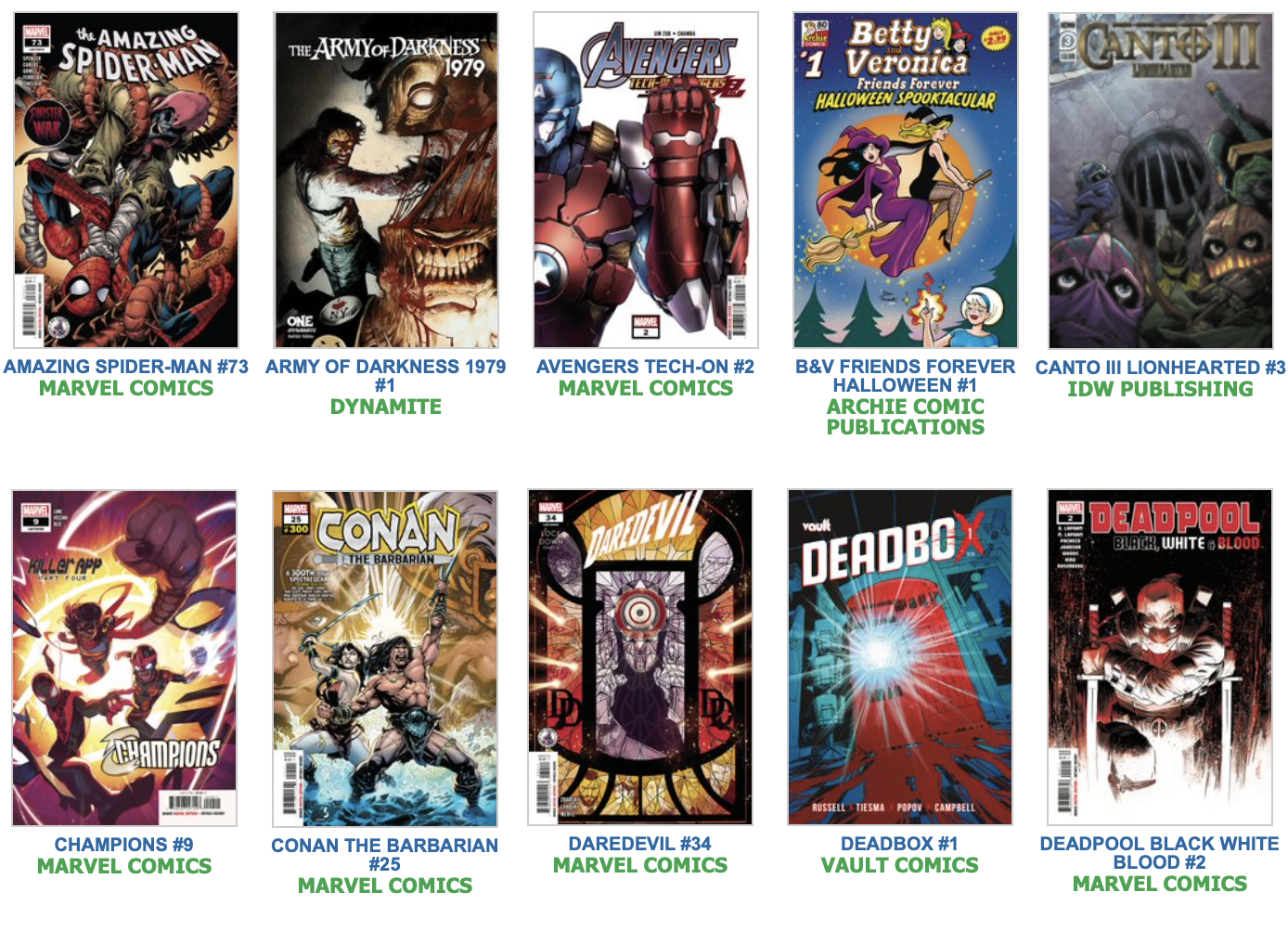 BARBARIC #2 DLX B&W ED CVR A $ 7.99
BARBARIC #2 DLX B&W ED CVR B BLACK BAG VAR $ 7.99
BATMAN #112 CVR A JORGE JIMENEZ (FEAR STATE) $ 4.99
BATMAN #112 CVR B JORGE MOLINA CARD STOCK VAR (FEAR STATE) $ 5.99
BATMAN #112 CVR C 1:25 LUCIO PARRILLO CARD STOCK VAR (FEAR STATE) $ ???
BATMAN CATWOMAN #7 (OF 12) CVR A CLAY MANN (MR) $ 4.99
BATMAN CATWOMAN #7 (OF 12) CVR B JIM LEE & SCOTT WILLIAMS VAR (MR) $ 4.99
BATMAN CATWOMAN #7 (OF 12) CVR C TRAVIS CHAREST VAR (MR) $ 4.99
BATMAN FORTNITE ZERO POINT BATMAN DAY SPECIAL EDITION #1 CVR A KENNETH ROCAFORT $ ???
BATMAN KNIGHTWATCH BAT-TECH BATMAN DAY SPECIAL EDITION #1 $ ???
BATMAN THE WORLD BATMAN DAY SPECIAL EDITION #1 $ ???
BLACK COTTON #5 (OF 6) $ 3.99
BLACK MANTA #1 (OF 6) CVR A VALENTINE DE LANDRO $ 3.99
BLACK MANTA #1 (OF 6) CVR B SANFORD GREENE CARD STOCK VAR $ 4.99
BLUE & GOLD #2 (OF 8) CVR A RYAN SOOK $ 3.99
BLUE & GOLD #2 (OF 8) CVR B JASON HOWARD THE SUICIDE SQUAD MOVIE CARD STOCK VAR $ 4.99
CANTO III LIONHEARTED #3 (OF 6) CVR A ZUCKER $ 3.99
CANTO III LIONHEARTED #3 (OF 6) CVR B 1:10 VAR WOLSKI $ ???
CHAMPIONS #9 $ 3.99
CONAN THE BARBARIAN #25 $ 4.99 (Maybe Next Week)
CONAN THE BARBARIAN #25 EASTMAN DESIGN VAR (1/10) $ ???
CONAN THE BARBARIAN #25 BLANK VAR $ 4.99
CONAN THE BARBARIAN #25 MOMOKO VAR $ 4.99
CONAN THE BARBARIAN #25 MR GARCIN VAR $ 4.99
CONAN THE BARBARIAN #25 PANOSIAN VAR $ 4.99
CRUSH & LOBO #4 (OF 8) CVR A AMY REEDER $ 3.99
CRUSH & LOBO #4 (OF 8) CVR B PAULINA GANUCHEAU CARD STOCK VAR $ 4.99
DAREDEVIL #34 $ 3.99
DAREDEVIL #34 LIEFELD DEADPOOL 30TH VAR $ 3.99
DAREDEVIL #34 MILES MORALES 10TH ANNIV LOPEZ VAR $ 3.99
DC HORROR PRESENTS THE CONJURING THE LOVER #4 (OF 5) CVR A BILL SIENKIEWICZ (MR) $ 3.99
DC HORROR PRESENTS THE CONJURING THE LOVER #4 (OF 5) CVR B RYAN BROWN MOVIE POSTER CARD STOCK VAR (MR) $ 4.99
DEADBOX #1 CVR A TIESMA $ 3.99
DEADBOX #1 CVR B HOWELL $ 3.99
DEADLY CLASS #48 CVR A CRAIG & LOUGHRIDGE (MR) $ 3.99
DEADPOOL BLACK WHITE BLOOD #2 (OF 5) $ 4.99
DEADPOOL BLACK WHITE BLOOD #2 (OF 5) JOHNSON VAR $ 4.99
DEFENDERS #2 (OF 5) $ 3.99
DEFENDERS #2 (OF 5) QUINONES VAR $ 3.99
DEFENDERS #2 (OF 5) RODRIGUEZ TEASER VAR $ 3.99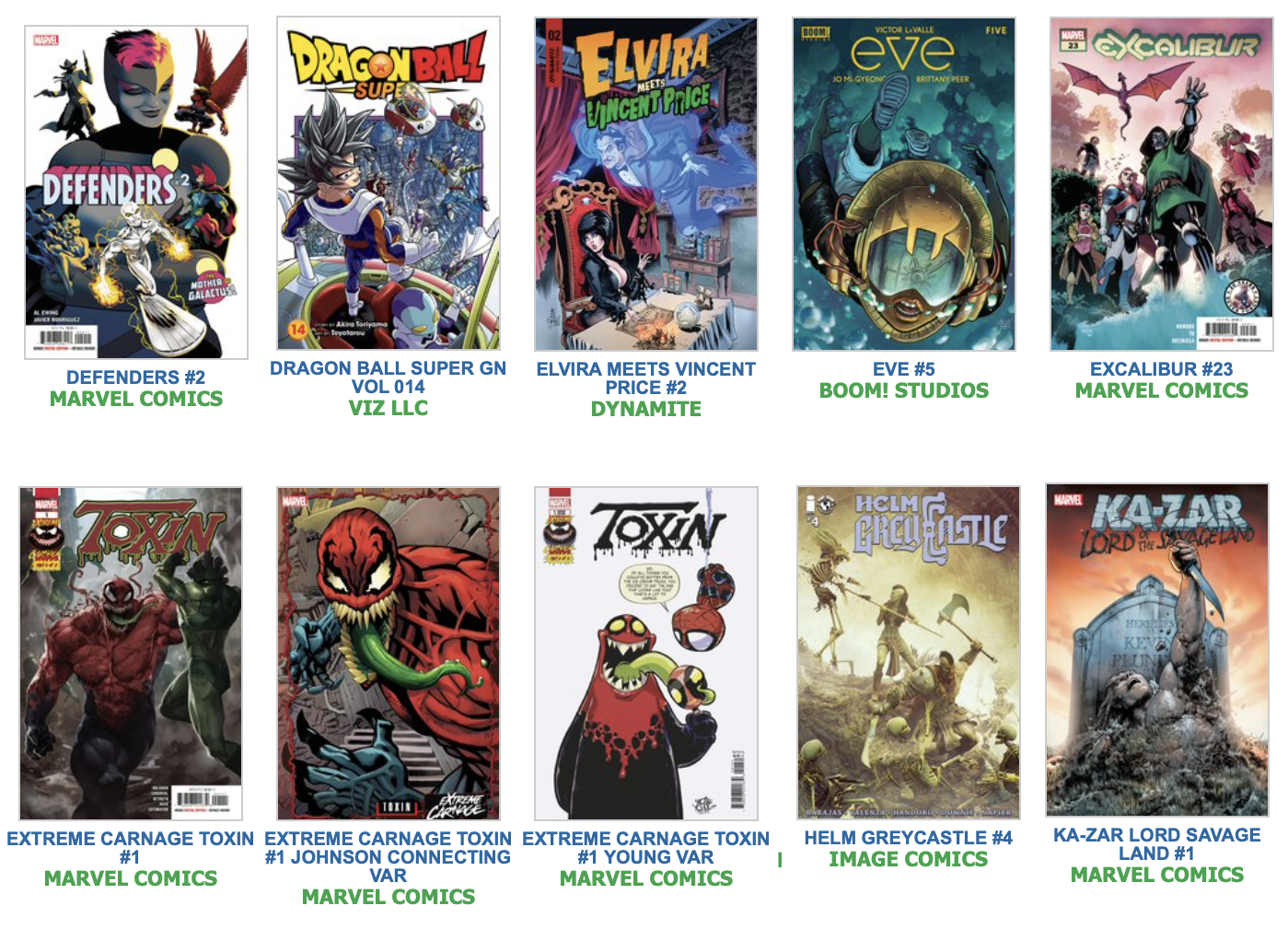 ELRIC DREAMING CITY #2 CVR A BRUNNER (MR) $ 3.99
ELRIC DREAMING CITY #2 CVR B BASTIDE (MR) $ 3.99
ELRIC DREAMING CITY #2 CVR C SUBIC (MR) $ 3.99
ELVIRA MEETS VINCENT PRICE #2 CVR A ACOSTA $ 3.99
ELVIRA MEETS VINCENT PRICE #2 CVR D PHOTO $ 3.99
ELVIRA MEETS VINCENT PRICE #2 CVR I 1:7 VAR PHOTO VI $ ??? (Maybe Next Week)
EVE #5 (OF 5) CVR A ANINDITO $ 3.99
EVE #5 (OF 5) CVR B THOROGOOD $ 3.99
EVE #5 (OF 5) CVR C 1:10 VAR THOROGOOD $ ???
EVE #5 (OF 5) CVR D 1:25 VAR MOK $ ???
EXCALIBUR #23 $ 3.99
EXCALIBUR #23 RUAN VAR $ 3.99
EXCELLENCE #11 CVR A RANDOLPH & LOPEZ (MR) $ 3.99
EXCELLENCE #11 CVR B HA AAPI VAR (MR) $ 3.99
EXTREME CARNAGE TOXIN #1 $ 3.99
EXTREME CARNAGE TOXIN #1 JOHNSON CONNECTING VAR $ 3.99
EXTREME CARNAGE TOXIN #1 TAN VAR (1/10) $ ??? (Maybe Next Week)
EXTREME CARNAGE TOXIN #1 YOUNG VAR $ 3.99
GREEN LANTERN #6 CVR A BERNARD CHANG $ 4.99
GREEN LANTERN #6 CVR B BRYAN HITCH CARD STOCK VAR $ 5.99
GREEN LANTERN 2021 ANNUAL #1 CVR A BERNARD CHANG $ 5.99
GREEN LANTERN 2021 ANNUAL #1 CVR B DAVID NAKAYAMA CARD STOCK VAR $ 6.99
GRIMM FAIRY TALES #51 CVR A VITORINO $ 3.99
GRIMM FAIRY TALES #51 CVR B GOH $ 3.99
GRIMM FAIRY TALES #51 CVR C TAO $ 3.99
GRIMM FAIRY TALES #51 CVR D VIGONTE $ 3.99
HARLEY QUINN #6 CVR A RILEY ROSSMO $ 3.99
HARLEY QUINN #6 CVR B DERRICK CHEW CARD STOCK VAR $ 4.99
HELM GREYCASTLE #4 (OF 4) CVR A BARENDS $ 4.99
INFINITE FRONTIER #6 (OF 6) CVR A MITCH GERADS $ 4.99
INFINITE FRONTIER #6 (OF 6) CVR B BRYAN HITCH CARD STOCK VAR $ 5.99
JOKER PRESENTS A PUZZLEBOX #2 (OF 7) CVR A CHIP ZDARSKY $ 4.99
JOKER PRESENTS A PUZZLEBOX #2 (OF 7) CVR B SHAWN CRYSTAL CARD STOCK VAR $ 5.99
JUSTICE LEAGUE INFINITY #3 (OF 7) $ 3.99
KA-ZAR LORD SAVAGE LAND #1 (OF 5) $ 3.99
KA-ZAR LORD SAVAGE LAND #1 (OF 5) CABAL VAR $ 3.99
KA-ZAR LORD SAVAGE LAND #1 (OF 5) GARCIA MAP VAR (1/10) $ ???
KA-ZAR LORD SAVAGE LAND #1 (OF 5) LIEFELD DEADPOOL 30TH VAR $ 3.99
KA-ZAR LORD SAVAGE LAND #1 (OF 5) MOMOKO VAR $ 3.99
KA-ZAR LORD SAVAGE LAND #1 (OF 5) SILVA STORMBREAKERS VAR $ 3.99
KA-ZAR LORD SAVAGE LAND #1 (OF 5) TORQUE VAR (1/25) $ ???
KA-ZAR MARVEL TALES #1 $ 7.99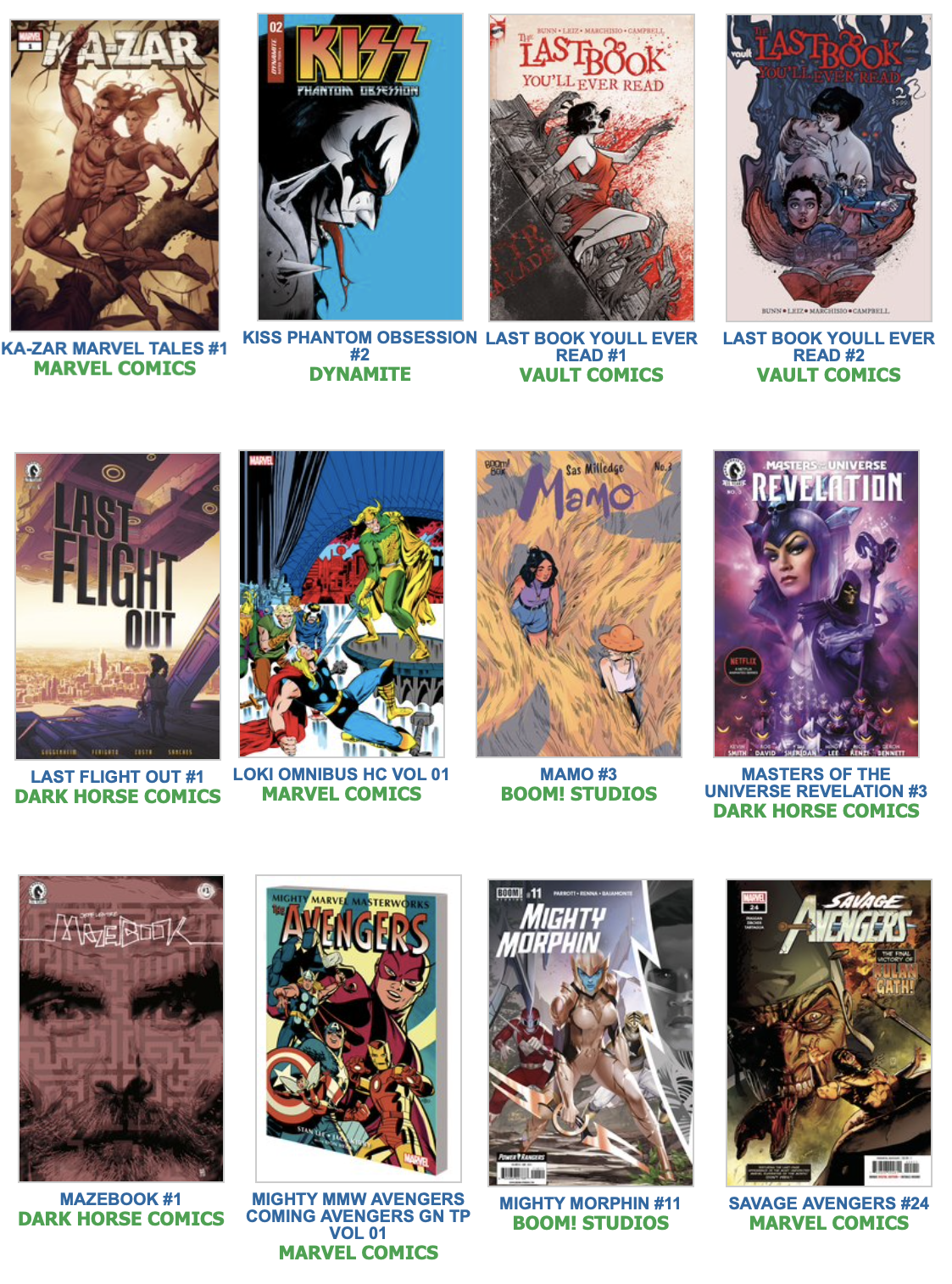 KISS PHANTOM OBSESSION #2 CVR A LEE $ 3.99
KISS PHANTOM OBSESSION #2 CVR C SEELEY $ 3.99
KISS PHANTOM OBSESSION #2 CVR E PHOTO $ 3.99
KISS PHANTOM OBSESSION #2 CVR H 1:25 VAR LEE B&W VIRGIN $ ???
KISS PHANTOM OBSESSION #2 CVR I 1:30 VAR SEELEY B&W LINE $ ???
KISS PHANTOM OBSESSION #2 CVR M 1:7 VAR PHOTO VIRGIN $ ???
KISS PHANTOM OBSESSION #2 CVR N 1:11 VAR SEELEY VIRG $ ???
LAST BOOK YOULL EVER READ #1 CVR E 2ND PTG $ 3.99
LAST BOOK YOULL EVER READ #2 CVR A LEIZ $ 3.99
LAST BOOK YOULL EVER READ #2 CVR B HICKMAN $ 3.99
LAST BOOK YOULL EVER READ #2 CVR C BLACK BAG VAR $ 5.99
LAST FLIGHT OUT #1 (OF 6) $ 3.99
MAMO #3 (OF 5) CVR A MILLEDGE $ 4.99
MASTERS OF THE UNIVERSE REVELATION #3 (OF 4) CVR A WILKINS $ 3.99
MASTERS OF THE UNIVERSE REVELATION #3 (OF 4) CVR B $ 3.99
MAZEBOOK #1 (OF 5) CVR A LEMIRE $ 5.99
ME YOU LOVE IN THE DARK #1 (OF 5) 2ND PTG CVR A CORONA (MR) $ 3.99
ME YOU LOVE IN THE DARK #1 (OF 5) 2ND PTG CVR B 1:20 VAR $ ???
ME YOU LOVE IN THE DARK #2 (OF 5) (MR) $ 3.99
MIGHTY MORPHIN #11 CVR A LEE $ 3.99
MIGHTY MORPHIN #11 CVR B LEGACY VAR CARLINI $ 3.99
MIGHTY MORPHIN #11 CVR F FOC REVEAL VAR TORQUE $ 3.99
MOONSHINE #27 (MR) $ 3.99 (Maybe Next Week)
NEVER NEVER #3 (OF 5) $ 3.99
NICE HOUSE ON THE LAKE #4 (OF 12) CVR A ALVARO MARTINEZ BUENO (MR) $ 3.99
NICE HOUSE ON THE LAKE #4 (OF 12) CVR B TIFFANY TURRILL CARD STOCK VAR (MR) $ 4.99
NOT ALL ROBOTS #2 (MR) $ 3.99
ORDINARY GODS #3 CVR A WATANABE (MR) $ 3.99
SAVAGE AVENGERS #24 $ 3.99
SECOND COMING ONLY BEGOTTEN SON #4 (OF 6) $ 3.99
SENSATIONAL WONDER WOMAN #7 CVR A NICOLA SCOTT & ANNETTE KWOK $ 3.99
SENSATIONAL WONDER WOMAN #7 CVR B TULA LOTAY CARD STOCK VAR $ 4.99
SHANG-CHI #4 $ 3.99
SHANG-CHI #4 CLARKE MILES MORALES 10TH ANNIV VAR $ 3.99
SNELSON COMEDY IS DYING #2 (OF 5) CVR A FRED HARPER (MR) $ 3.99
SNELSON COMEDY IS DYING #2 (OF 5) CVR B VAR SERGIO ARAGONES UNLOCK (MR) $ 3.99
STAR TREK MIRROR WAR #0 CVR A NIETO $ 3.99
STAR WARS ADVENTURES (2021) #9 CVR A FRANCAVILLA $ 3.99
STAR WARS DOCTOR APHRA #14 SPROUSE LUCASFILM 50TH VAR WOBH $ 3.99
STAR WARS DOCTOR APHRA #14 VILLANELLI BLUEPRINT VAR WOBH $ 3.99
STAR WARS DOCTOR APHRA #14 WOBH $ 3.99
STAR WARS HIGH REPUBLIC #7 2ND PTG VAR $ 3.99
STAR WARS WAR BOUNTY HUNTERS #4 (OF 5) $ 3.99
STAR WARS WAR BOUNTY HUNTERS #4 (OF 5) BLUEPRINT VAR $ 3.99
STAR WARS WAR BOUNTY HUNTERS #4 (OF 5) HITCH VAR (1/50) $ ???
STAR WARS WAR BOUNTY HUNTERS #4 (OF 5) JTC ACTION FIGURE VAR $ 3.99
STAR WARS WAR BOUNTY HUNTERS #4 (OF 5) TRADING CARD VAR (1/25) $ ???
STAR WARS WAR BOUNTY HUNTERS JABBA HUTT #1 2ND PTG VAR $ 4.99

SUICIDE SQUAD #7 CVR A EDUARDO PANSICA $ 3.99
SUICIDE SQUAD #7 CVR B KEVIN MAGUIRE CARD STOCK VAR $ 4.99
SUICIDE SQUAD 2021 ANNUAL #1 CVR A EDUARDO PANSICA $ 5.99
SUICIDE SQUAD 2021 ANNUAL #1 CVR B GERALD PAREL CARD STOCK VAR $ 6.99
SUICIDE SQUAD GET JOKER #2 (OF 3) CVR A ALEX MALEEV (MR) $ 6.99
SUICIDE SQUAD GET JOKER #2 (OF 3) CVR B JORGE FORNES VAR (MR) $ 6.99
SUPERMAN SON OF KAL-EL #1 Second Printing $ 3.99
SWAMP THING #7 (OF 10) CVR A MIKE PERKINS $ 3.99
SWAMP THING #7 (OF 10) CVR B FRANCESCO MATTINA CARD STOCK VAR $ 4.99
UNBELIEVABLE UNTEENS WORLD OF BLACK HAMMER #2 (OF 4) CVR A C $ 3.99
UNBELIEVABLE UNTEENS WORLD OF BLACK HAMMER #2 (OF 4) CVR B L $ 3.99
WORLD OF BETTY & VERONICA JUMBO COMICS DIGEST #8 $ 7.99
X-FORCE #23 $ 3.99
X-FORCE #23 SKAN VAR $ 3.99 (Maybe Next Week)

COMIC SHOP NEWS #1777 $ FREE
MARVEL WANDAVISION SPECIAL PX $ 14.99
NON SPORT UPDATE VOL 32 #4 $ 5.99

BASKETFUL OF HEADS TP (MR) $ 17.99
BATMAN BRAVE & THE BOLD BRONZE AGE OMNIBUS HC VOL 03 $ 99.99
BATMAN FORTNITE ZERO POINT HC $ 24.99
BATMAN IN THE FIFTIES TP $ 29.99
BORUTO GN VOL 12 NARUTO NEXT GENERATIONS $ 9.99
CAPT UNDERPANTS COMIC READER XTREME XPLOITS OF XPLOSIVE XMAS $ 6.99
CAPTAIN AMERICA REMENDER OMNIBUS HC ROMITA JR CVR $ 125
COSMIC GHOST RIDER OMNIBUS HC VOL 01 CAMPBELL CVR $ 100
COSMIC GHOST RIDER OMNIBUS HC VOL 01 SHAW DM VAR $ 100
CUPHEAD TP VOL 02 CARTOON CHRONICLES & CALAMITIES $ 10.99
DARK NIGHTS METAL DARK KNIGHTS RISING TP $ 24.99
DC SUPER HERO GIRLS GHOSTING TP $ 9.99
DR STONE GN VOL 18 $ 9.99
DRAGON BALL SUPER GN VOL 14 $ 9.99
FANTASTIC FOUR OMNIBUS HC VOL 03 KIRBY DM VAR NEW PTG $ 125
FANTASTIC FOUR OMNIBUS HC VOL 04 ART ADAMS CVR $ 100
FANTASTIC FOUR OMNIBUS HC VOL 04 KIRBY DM VAR $ 100
JOKER HARLEY CRIMINAL SANITY HC (MR) $ 34.99
LOKI OMNIBUS HC VOL 01 SEVERIN DM VAR $ 125
LOKI OMNIBUS HC VOL 01 SEVERIN DM VAR $ 125
MALIKA WARRIOR QUEEN TP VOL 01 $ 24.99
MARVEL PORTFOLIO HC INHYUK LEE $ 50
MARVEL WANDAVISION SPECIAL FOC SC VAR $ 14.99
MIGHTY MMW AVENGERS COMING AVENGERS GN TP VOL 01 CHO CVR $ 15.99
MIGHTY MMW AVENGERS COMING AVENGERS GN TP VOL 01 ORIG DM VAR $ 15.99
MS MARVEL GN TP GAME OVER $ 12.99
MULTI MIND MAYHEM GN VOL 01 ISEKAI TENSEI SOUDOUKI (MR) $ 12.95
MY HERO ACADEMIA GN VOL 29 $ 9.99
NEXT BATMAN SECOND SON HC $ 24.99
SEVEN TO ETERNITY TP VOL 04 $ 16.99
SNOW WHITE WITH THE RED HAIR GN VOL 15 $ 9.99
SPIDER-MAN BY MCFARLANE OMNIBUS HC BLCK COST DM VAR NEW PTG $ 75
SPIDER-MAN BY MCFARLANE OMNIBUS HC RED BLUE COST CVR NEW PTG $ 75
STAR WARS HIGH REPUBLIC EDGE OF BALANCE GN VOL 01 (RES) $ 14.99
STRANGER THINGS LIBRARY ED HC VOL 01 $ 39.99
WHISTLE A NEW GOTHAM CITY HERO TP $ 16.99
X-FACTOR BY LEAH WILLIAMS TP VOL 02 $ 15.99

TOPPS 2021 PRO DEBUT BASEBALL T/C BOX $ ???
TOPPS 2021 PRO DEBUT BASEBALL T/C JUMBO BOX $ ???
TOPPS 2021 STAR WARS CHROME GALAXY T/C BOX $ ???
TOPPS 2021 WWE NXT T/C BOX $ ???

DRAGON BALL SUPER LIMIT BREAKER JIREN 12IN FIGURE $ 24.99
GUNDAM INFINITY GUNDAM ARTEMIS 4.5 IN AF CS $ 18.99
GUNDAM INFINITY GUNDAM RX-78-2 4.5 IN AF ASST $ 18.99
GUNDAM INFINITY GUNDAM RX-78-2 4.5 IN AF CS $ 18.99 (Maybe Next Week)
GUNDAM INFINITY WING GUNDAM 4.5 IN AF CS $ 18.99 (Maybe Next Week)
MIRACULOUS LADYBUG KWAMI SURPRISE MINI FIG 24PC BMB DISP $ 4.99

AMAZING SPIDER-MAN #50 BY PATRICK GLEASON POSTER $ 8.99
DEMON DAYS CURSED WEB #1 POSTER $ 8.99