Democracy Itself Is In Peril – Wednesday, September 29th, 2021
Call Manchin and Sinema and tell them to quit posturing and help America come back to work, and try to stop the impending Inferno, not to be confused with the present Inferno #1 from Marvel, which just arrived with 10 covers.  Other Marvels are Amazing (Fantasy and Spider-Man #74, which also has lots of covers for some reason). Batman is Reptilian, and teams up with Superman AND fights with Bigby! Brzrkr STILL needs to buy a vowel, Locke and Key join Sandman, and a bunch of other stuff happens.
We are enforcing a Mask Rule.  We are concerned and frankly afraid of the Delsantis Variant's effectiveness and apparent success in younger people and children. So, please, take one for team America and get a vaccine. Wednesday is STILL New Comic Day, no matter what you read on the internets. We can't clear the new rack to just have 10 DC's  surrounded by empty space.  We do it once, Wednesday morning.
We encourage everyone to be careful, make your trip to our store quick and efficient, and try to come in to shop in smaller groups, and reduce your own exposure to ALL public places indoors, including ours. If you like, you can browse the list and make an order to fbgbob@aol.com for a quicker pick up. It might also help to put in a time window when you would be in the neighborhood, to give Bob a chance to get them together, and include a phone number for good measure.
Watch this space and our Facebook page for latest news about the rest of the month, season, year, millenium, etc. (And text messages from 5-Star.) The complete list is found below. If you want to know about the next sale or store event, or whether or not WE ARE EVEN OPEN click here. Sign in here to get an email reminder for ALL sales and other events. Also, you can go to     fb.fantasybooksandgames.com and you'll be taken to our Facebook page. We also use our in-store 5-Star Rewards system to text similar announcements to your phone.
Had to find a new source for images this week. (Still don't have any for DC Comics.) Thanks to Time Warp for this week's images, which include many of the comics and a few of the books and other items we received today, and may have pics of things we didn't and/or won't get. Use the list, and maybe the pictures.  
10 YEARS TO DEATH ONE SHOT CVR A RICHARDS $ 6.99
ACTION COMICS #1035 CVR A DANIEL SAMPERE $ 4.99
ACTION COMICS #1035 CVR B JULIAN TOTINO TEDESCO CARD STOCK VAR $ 5.99
ADVENTUREMAN #5 $ 3.99
ALICE IN LEATHERLAND #5 (MR) $ 3.99

AMAZING FANTASY #3 (OF 5) $ 4.99
AMAZING FANTASY #3 (OF 5) ANDREWS VAR $ 4.99
AMAZING FANTASY #3 (OF 5) GIST VAR $ ???
AMAZING SPIDER-MAN #74 $ 9.99
AMAZING SPIDER-MAN #74 BAGLEY VAR (1/50) (Scott) $ ???
AMAZING SPIDER-MAN #74 CHECCHETTO VAR $ 9.99
AMAZING SPIDER-MAN #74 FERREIRA VAR $ 9.99
AMAZING SPIDER-MAN #74 FORESHADOW VAR (1/25) (1 for Scott) $ ???
AMAZING SPIDER-MAN #74 FRENZ VAR $ 9.99
AMAZING SPIDER-MAN #74 GOMEZ VAR $ 9.99
AMAZING SPIDER-MAN #74 MALEEV VAR $ 9.99
AMAZING SPIDER-MAN #74 MOMOKO VAR $ 9.99
AMAZING SPIDER-MAN #74 PICHELLI MILES MORALES 10TH ANNIV VAR $ 9.99
AMAZING SPIDER-MAN #74 VICENTINI VAR $ 9.99
AMAZING SPIDER-MAN #74 YU VAR $ 9.99
BATMAN REPTILIAN #4 (OF 6) CVR A LIAM SHARP (MR) $ 4.99
BATMAN REPTILIAN #4 (OF 6) CVR B CULLY HAMNER VAR (MR) $ 4.99
BATMAN SUPERMAN #22 CVR A IVAN REIS & DANNY MIKI $ 3.99
BATMAN SUPERMAN #22 CVR B GARY FRANK CARD STOCK VAR $ 4.99
BATMAN URBAN LEGENDS #6 Second Printing $ 7.99
BATMAN VS BIGBY A WOLF IN GOTHAM #1 (OF 6) CVR A YANICK PAQUETTE (MR) $ 3.99
BATMAN VS BIGBY A WOLF IN GOTHAM #1 (OF 6) CVR B BRIAN LEVEL & JAY LEISTEN CARD STOCK VAR (MR) $ 4.99
BETTY & VERONICA JUMBO COMICS DIGEST #297 $ 7.99
BLACK CAT #10 $ 3.99
BLACK CAT #10 LUPACCHINO CONNECTING VAR $ 3.99
BLACK CAT #10 RUAN MILES MORALES 10TH ANNIV VAR $ 3.99
BLADE RUNNER 2029 #8 CVR A MCCREA (MR) $ 3.99
BLADE RUNNER 2029 #8 CVR B MEAD (MR) $ 3.99
BROKEN SOULS BALLAD #3 (OF 4) $ 3.99
CHECKMATE #4 (OF 6) CVR A ALEX MALEEV $ 3.99
CHECKMATE #4 (OF 6) CVR B MATT TAYLOR CARD STOCK VAR $ 4.99
CHILDREN OF THE PLAGUE ONE SHOT $ 4.99
BRZRKR (BERZERKER) #5 (OF 12) CVR A GARBETT (MR) $ 3.99
BRZRKR (BERZERKER) #5 (OF 12) CVR B CAMUNCOLI (MR) $ 3.99
BRZRKR (BERZERKER) #5 (OF 12) CVR C GARBETT FOIL (MR) $ 4.99
BRZRKR (BERZERKER) #5 (OF 12) CVR D CAMUNCOLI FOIL (MR) $ 4.99
BRZRKR (BERZERKER) #5 (OF 12) CVR E 1:25 VAR SHALVEY (MR $ ???
BRZRKR (BERZERKER) #5 (OF 12) CVR F 1:50 VAR CAMUNCOLI ( $ ???
CORSET #1 $ 4.99
CROSSOVER #8 CVR A SHAW CUNNIFFE HILL $ 3.99
CROSSOVER #8 CVR B HUTCHISON-CATES $ 3.99
DARKHAWK #2 (OF 5) $ 3.99
DARKHAWK #2 (OF 5) RON LIM VAR $ 3.99
DARKHAWK #2 (OF 5) SHALVEY VAR (1/25) $ ???
DARKHOLD ALPHA #1 CABAL STORMBREAKERS VAR $ 4.99
DARKHOLD ALPHA #1 TORMEY DESIGN VAR $ 4.99
DEATHSTROKE INC #1 CVR A HOWARD PORTER $ 3.99
DEATHSTROKE INC #1 CVR B FRANCESCO MATTINA CARD STOCK VAR $ 4.99
DEATHSTROKE INC #1 CVR C ADAM HUGHES CARD STOCK VAR $ 4.99
DEATHSTROKE INC #1 CVR E INC 1:25 DIMA IVANO CARD STOCK VAR $ ???
DEJAH THORIS VS JOHN CARTER OF MARS #3 CVR A PARRILLO $ 3.99
DEJAH THORIS VS JOHN CARTER OF MARS #3 CVR B LINSNER $ 3.99
DEJAH THORIS VS JOHN CARTER OF MARS #3 CVR D COSPLAY $ 3.99
DEJAH THORIS VS JOHN CARTER OF MARS #3 CVR H 1:25 VAR LI $ ???
DEJAH THORIS VS JOHN CARTER OF MARS #3 CVR I 1:30 VAR PA $ ???
DEPARTMENT OF TRUTH #13 CVR A SIMMONDS (MR) $ 3.99
DEPARTMENT OF TRUTH #13 CVR B BUENO (MR) $ 3.99
DEPARTMENT OF TRUTH #13 CVR C LLOVET (MR) $ 3.99

DETECTIVE COMICS #1043 CVR A DAN MORA (FEAR STATE) $ 4.99
DETECTIVE COMICS #1043 CVR B LEE BERMEJO CARD STOCK VAR (FEAR STATE) $ 5.99
DIE #20 CVR A HANS (MR) $ 3.99
DIE #20 CVR B JUNG GI (MR) $ 3.99
ECHOLANDS #2 CVR A WILLIAMS III (MR) $ 4.99
ECHOLANDS #2 CVR B SAMPSON (MR) $ 4.99
ECHOLANDS RAW CUT ED #1 CVR A WILLIAMS III (RES) (MR) $ 4.99
ECHOLANDS RAW CUT ED #1 CVR B WILLIAMS III (RES) (MR) $ 4.99
EXTREME CARNAGE OMEGA #1 $ 4.99
EXTREME CARNAGE OMEGA #1 CASSARA STORMBREAKERS VAR $ 4.99
EXTREME CARNAGE OMEGA #1 JOHNSON CONNECTING VAR $ 4.99
EXTREME CARNAGE OMEGA #1 LIEFELD DEADPOOL 30TH VAR $ 4.99
EXTREME CARNAGE OMEGA #1 SHALVEY VAR (1/25) $ ???
EXTREME CARNAGE OMEGA #1 YOUNG VAR $ 4.99
FIREFLY RIVER RUN #1 CVR A WARD $ 7.99
FIREFLY RIVER RUN #1 CVR B GORHAM $ 7.99
FIREFLY RIVER RUN #1 CVR C FOIL INTERMIX $ 8.99
FIREFLY RIVER RUN #1 CVR D 1:10 VAR GORHAM $ ???
GEIGER #6 2ND PTG $ 4.99
GI JOE A REAL AMERICAN HERO YEARBOOK #3 $ 5.99
GOLEM WALKS AMONG US #2 (OF 2) $ 3.99
GOOD ASIAN #5 (OF 10) CVR A JOHNSON (MR) $ 3.99
GOOD ASIAN #5 (OF 10) CVR B CHAN (MR) $ 3.99
GREEN LANTERN 2021 ANNUAL #1 CVR B DAVID NAKAYAMA CARD STOCK VAR $ 6.99
GRIMM FAIRY TALES #52 CVR A CHEN $ 3.99
GRIMM FAIRY TALES #52 CVR B VITORINO $ 3.99
GRIMM FAIRY TALES #52 CVR C GARVEY $ 3.99
GRIMM FAIRY TALES #52 CVR D RIVEIRO $ 3.99
GROO MEETS TARZAN #3 (OF 4) $ 3.99
GUN HONEY #1 (OF 4) ADAM HUGHES FOC CVR (MR) $ 3.99
GUN HONEY #1 (OF 4) CVR A SIENKIEWICZ (MR) $ 3.99
GUN HONEY #1 (OF 4) CVR F 1:10 VAR SIENKIEWICZ VIRGIN (M $ ???
HARLEY QUINN #7 CVR A RILEY ROSSMO (FEAR STATE) $ 3.99
HARLEY QUINN #7 CVR B DERRICK CHEW CARD STOCK VAR (FEAR STATE) $ 4.99
HUMAN REMAINS #1 CVR A CANTIRINO $ 3.99
HUMAN REMAINS #1 CVR B HIXSON $ 3.99
ICON & ROCKET SEASON ONE #3 (OF 6) CVR A TAURIN CLARKE $ 3.99
ICON & ROCKET SEASON ONE #3 (OF 6) CVR B DOUG BRAITHWAITE CARD STOCK VAR $ 4.99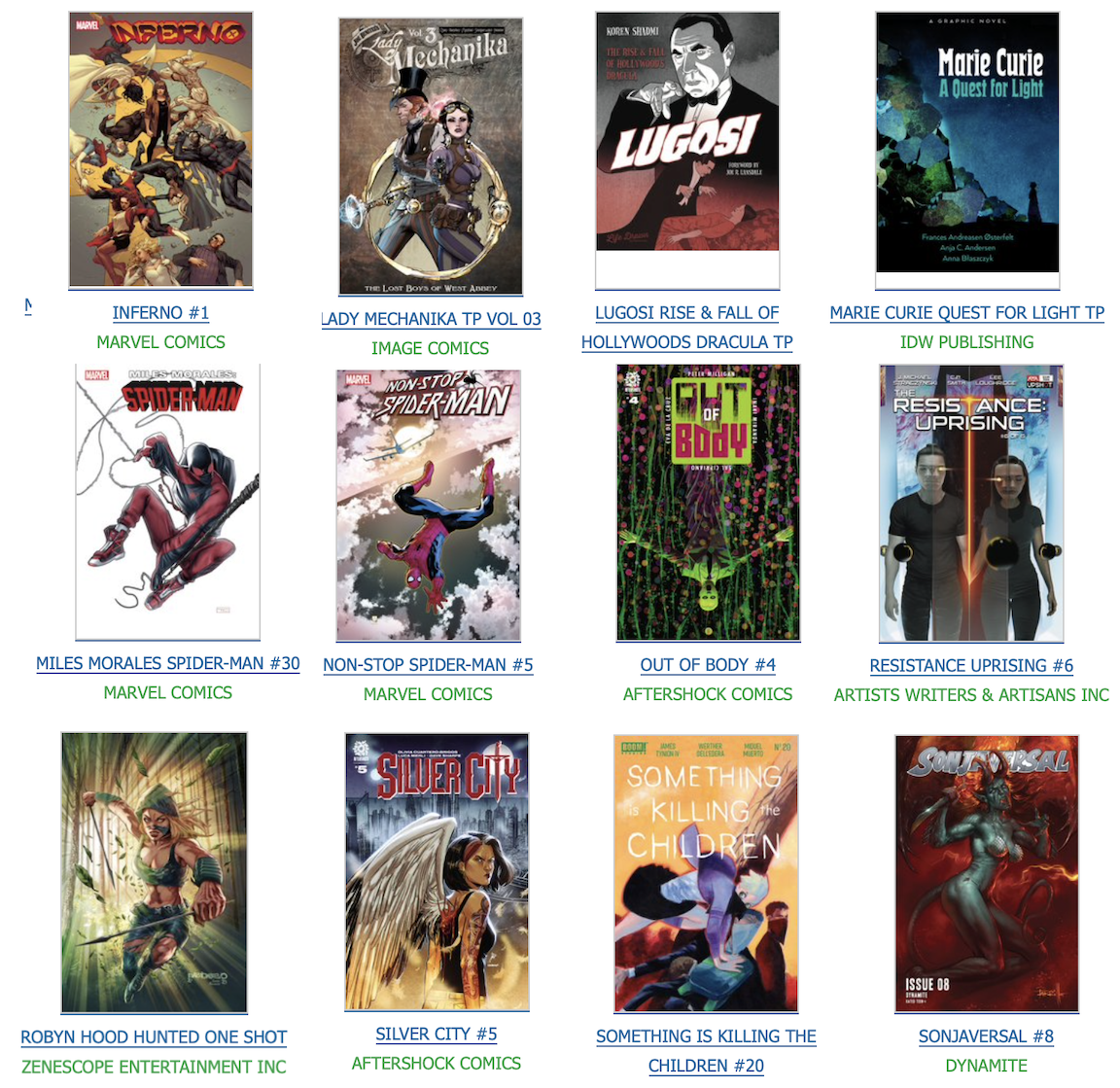 INFERNO #1 (OF 4) $ 5.99
INFERNO #1 (OF 4) ARTGERM VAR $ 5.99
INFERNO #1 (OF 4) ARTGERM VIRGIN VAR (1/100) $ ???
INFERNO #1 (OF 4) BROOKS WRAPAROUND VAR $ 5.99
INFERNO #1 (OF 4) CAPULLO HIDDEN GEM VAR (1/50) $ ???
INFERNO #1 (OF 4) CARNERO STORMBREAKERS VAR (1/25) $ ???
INFERNO #1 (OF 4) DEKAL VAR $ 5.99
INFERNO #1 (OF 4) MOMOKO VAR $ 5.99
INFERNO #1 (OF 4) SILVA HOMAGE VAR $ 5.99
INFERNO #1 (OF 4) VEGA VAR $ 5.99
JUSTICE LEAGUE #68 CVR A DAVID MARQUEZ $ 4.99
JUSTICE LEAGUE #68 CVR B ALEXANDER LOZANO CARD STOCK VAR $ 5.99
KANG THE CONQUEROR #1 (OF 5) 2ND PTG VAR $ 4.99
LEGENDS OF THE DARK KNIGHT #5 CVR A GIANNIS MILONOGIANNIS $ 3.99
LEGENDS OF THE DARK KNIGHT #5 CVR B RILEY ROSSMO CARD STOCK VAR $ 4.99
LOCKE & KEY SANDMAN UNIVERSE HELL & GONE #2 (ONE SHOT) CVR A GABRIEL RODRIGUEZ (MR) $ 6.99
LOCKE & KEY SANDMAN UNIVERSE HELL & GONE #2 (ONE SHOT) CVR B JH WILLIAMS III VAR (MR) $ 6.99
LOCKE & KEY SANDMAN UNIVERSE HELL & GONE #2 (ONE SHOT) CVR C KELLEY JONES VAR (MR) $ 6.99
LOCUST #4 (OF 8) $ 3.99
MIDNIGHT WESTERN THEATRE #5 (OF 5) $ 3.99
MILES MORALES SPIDER-MAN #30 $ 4.99
MILES MORALES SPIDER-MAN #30 CONLEY DESIGN VAR (1/10) $ ???
MILES MORALES SPIDER-MAN #30 MILES MORALES 10TH ANNIV VAR $ 4.99
MILES MORALES SPIDER-MAN #30 PICHELLI VAR $ 4.99
MIRKA ANDOLFO SWEET PAPRIKA #2 (OF 12) 2ND PTG (MR) $ 3.99
MISTER MIRACLE THE SOURCE OF FREEDOM #5 (OF 6) CVR A YANICK PAQUETTE $ 3.99
MISTER MIRACLE THE SOURCE OF FREEDOM #5 (OF 6) CVR B VALENTINE DE LANDRO CARD STOCK VAR $ 4.99
MOON KNIGHT #2 2ND PTG VAR $ 3.99
NIGHT OF CADILLACS #1 (OF 2) CVR A PRIOR (MR) $ 3.99
NON-STOP SPIDER-MAN #5 $ 3.99
OUT OF BODY #4 $ 3.99
PRIMORDIAL #1 (OF 6) CVR A SORRENTINO (MR) (Re/CR) $ 3.99
RESISTANCE UPRISING #6 $ 3.99
ROBIN #6 CVR A GLEB MELNIKOV $ 3.99
ROBIN #6 CVR B FRANCIS MANAPUL CARD STOCK VAR $ 4.99
ROBYN HOOD HUNTED ONE SHOT CVR A BARRIONUEVO $ 5.99
ROBYN HOOD HUNTED ONE SHOT CVR C SANTACRUZ $ 5.99
RWBY JUSTICE LEAGUE #6 (OF 7) CVR A MIRKA ANDOLFO $ 3.99
RWBY JUSTICE LEAGUE #6 (OF 7) CVR B SIMONE DI MEO CARD STOCK VAR $ 4.99
SILVER CITY #5 $ 3.99
SOMETHING IS KILLING THE CHILDREN #20 CVR A DELL EDERA $ 3.99
SOMETHING IS KILLING THE CHILDREN #20 CVR B FONG $ 3.99
SOMETHING IS KILLING THE CHILDREN #20 CVR C 1:25 VAR SCH $ ???
SONJAVERSAL #8 CVR A PARRILLO $ 3.99
SONJAVERSAL #8 CVR B LINSNER $ 3.99
SONJAVERSAL #8 CVR C LEE & CHUNG $ 3.99
SONJAVERSAL #8 CVR E COSPLAY $ 3.99
SOULSTREAM #1 $ 1.99
SPACE BASTARDS #8 (MR) $ 4.99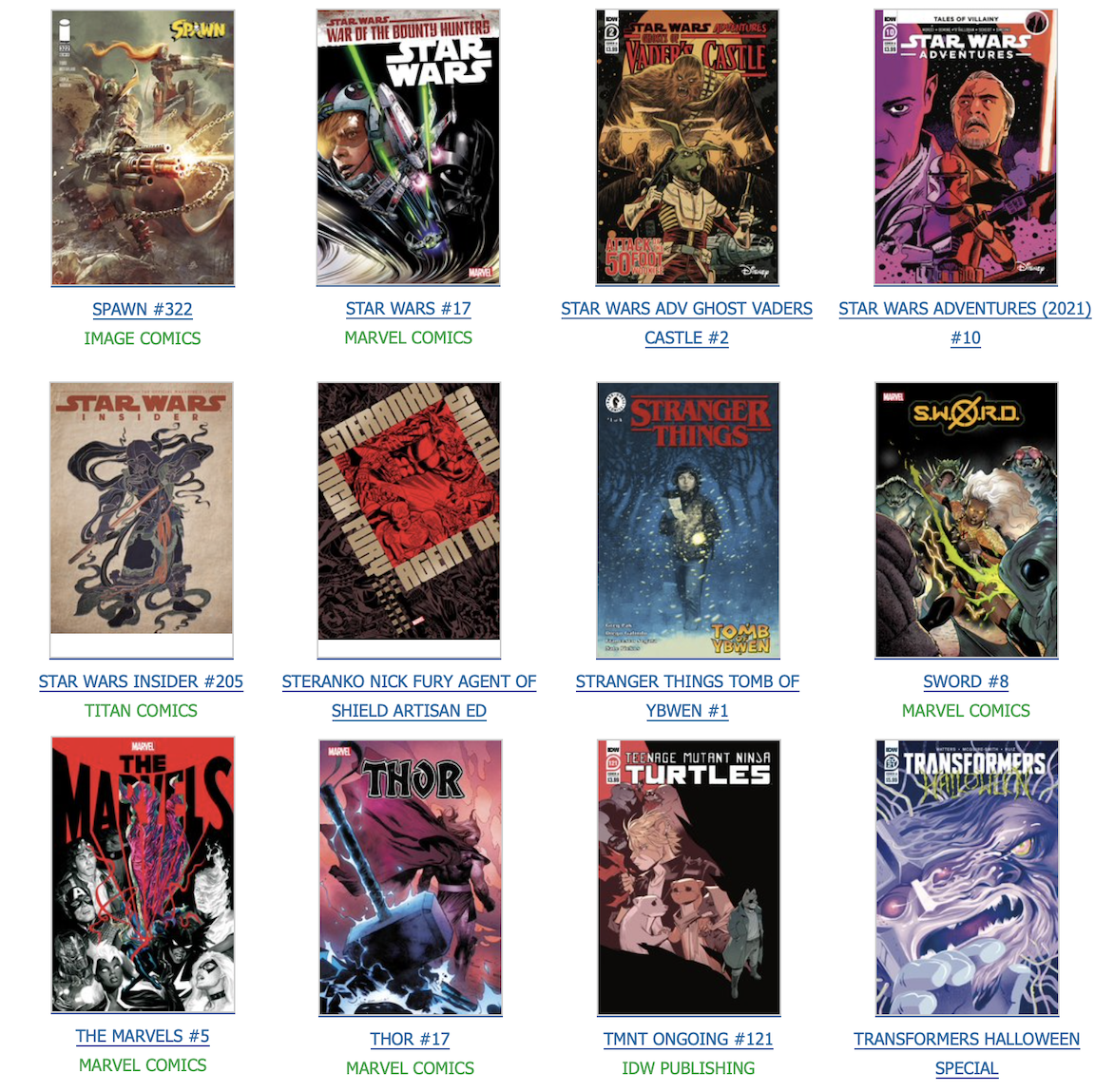 SPAWN #322 CVR A BARENDS $ 2.99
SPAWN #322 CVR B MCFARLANE $ 2.99
SPAWN #322 CVR C BARBERI $ 2.99
STAR WARS #17 JTC ACTION FIGURE VAR WOBH $ 3.99
STAR WARS #17 RAHZZAH VAR WOBH (1/25) $ ???
STAR WARS #17 SPROUSE LUCASFILM 50TH VAR WOBH $ 3.99
STAR WARS #17 VILLANELLI BLUEPRINT VAR WOBH $ 3.99
STAR WARS #17 WOBH $ 3.99
STAR WARS ADV GHOST VADERS CASTLE #2 (OF 5) CVR A FRANCAVILL $ 3.99
STAR WARS ADVENTURES (2021) #10 1:10 VAR FRANCAVILLA (NE $ ???
STAR WARS ADVENTURES (2021) #10 CVR A FRANCAVILLA $ 3.99
STAR WARS ADVENTURES (2021) #10 CVR B STEFANO SIMEONE $ 3.99
STAR WARS HIGH REPUBLIC #8 2ND PTG VAR $ 3.99
STAR WARS WAR BOUNTY HUNTERS #3 (OF 5) 2ND PTG VAR $ 3.99
STRANGER THINGS TOMB OF YBWEN #1 (OF 4) CVR A ASPINALL $ 3.99
STRANGER THINGS TOMB OF YBWEN #1 (OF 4) CVR B LAMBERT $ 3.99
STRANGER THINGS TOMB OF YBWEN #1 (OF 4) CVR C GALINDO $ 3.99
STRANGER THINGS TOMB OF YBWEN #1 (OF 4) CVR D RODRIGUEZ $ 3.99
SUPERMAN 78 #2 (OF 6) CVR A BEN OLIVER $ 3.99
SUPERMAN 78 #2 (OF 6) CVR B BRYAN HITCH CARD STOCK VAR $ 4.99
SUPERMAN SON OF KAL-EL #3 CVR A JOHN TIMMS $ 3.99
SUPERMAN SON OF KAL-EL #3 CVR B INHYUK LEE CARD STOCK VAR $ 4.99
SWORD #8 $ 3.99
SWORD #8 DAUTERMAN VAR $ 3.99
TART: DEMONS AND DEMAGOGUES #1 $ 5.99
THE MARVELS #5 $ 3.99
THE MARVELS #5 ASRAR VAR (1/25) $ ???
THOR #17 $ 3.99
THOR #17 KLEIN VAR (1/25) $ ???
THOR #17 NAUCK MILES MORALES 10TH ANNIV VAR $ 3.99
TITANS UNITED #1 (OF 7) CVR A JAMAL CAMPBELL $ 3.99
TMNT ONGOING #121 CVR A NISHIJIMA $ 3.99
TMNT ONGOING #121 CVR B EASTMAN $ 3.99
TMNT THE LAST RONIN #1 (OF 5) 4TH PTG $ 8.99
TMNT THE LAST RONIN #2 (OF 5) 3RD PTG $ 8.99
TRANSFORMERS HALLOWEEN SPECIAL $ 5.99
TRANSFORMERS SHATTERED GLASS #2 (OF 5) CVR A MILNE $ 3.99
TRANSFORMERS SHATTERED GLASS #2 (OF 5) CVR B GRIFFITH $ 3.99
UNDISCOVERED COUNTRY #16 CVR A CAMUNCOLI (MR) $ 3.99
UNDISCOVERED COUNTRY #16 CVR B PAREL (MR) $ 3.99
USAGI YOJIMBO DRAGON BELLOW CONSPIRACY #4 (OF 6) $ 3.99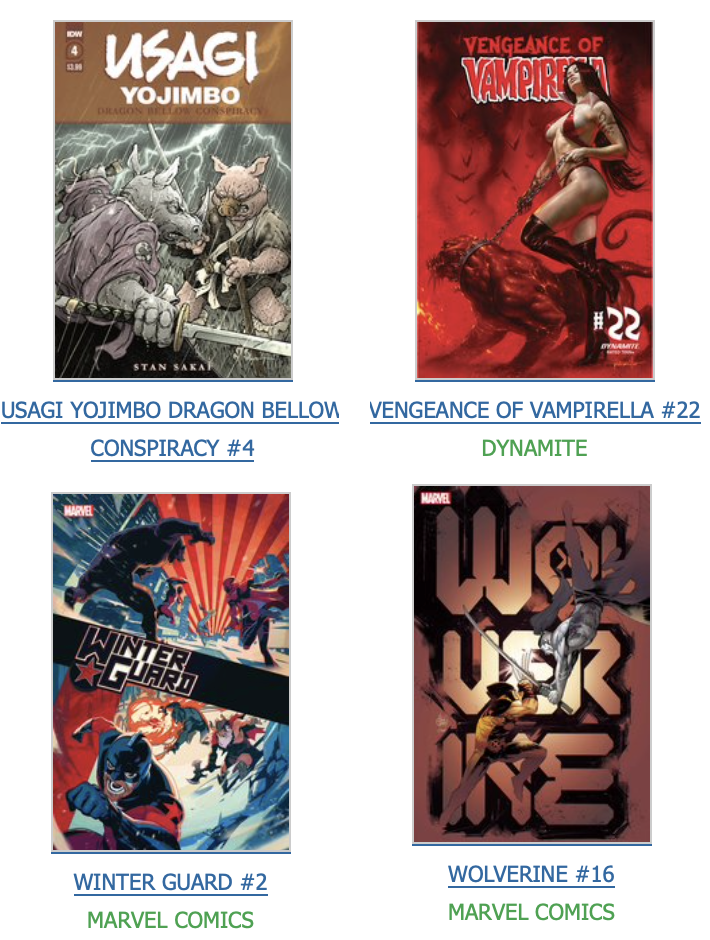 VAMPIVERSE #1 CVR X 1:21 VAR MAINE VIRGIN (Re/CR) $ ???
VENGEANCE OF VAMPIRELLA #22 CVR A PARRILLO $ 3.99
VENGEANCE OF VAMPIRELLA #22 CVR C SEGOVIA $ 3.99
VENGEANCE OF VAMPIRELLA #22 CVR D COSPLAY $ 3.99
VENGEANCE OF VAMPIRELLA #22 CVR N 1:15 VAR PARRILLO $ ???
WINTER GUARD #2 (OF 4) $ 3.99
WINTER GUARD #2 (OF 4) MEDINA VAR $ 3.99
WOLVERINE #16 $ 3.99
WOLVERINE #16 CAMUNCOLI VAR $ 3.99
WOLVERINE #16 DANIEL MILES MORALES 10TH ANNIV VAR $ 3.99
WONDER WOMAN BLACK & GOLD #4 (OF 6) CVR A TULA LOTAY $ 5.99
WONDER WOMAN BLACK & GOLD #4 (OF 6) CVR B JOSHUA MIDDLETON VAR $ 5.99
WORLD OF ARCHIE JUMBO COMICS DIGEST #113 $ 7.99

COMIC SHOP NEWS #1780 $ FREE
STAR WARS INSIDER #205 FOC VAR $ 9.99
STAR WARS INSIDER #205 PX ED $ 9.99

ART OF PULP FICTION ILLUSTRATED HISTORY OF VINTAGE PAPER $ 49.99
AUTUMNAL TP $ 19.99
BRZRKR (BERZERKER) TP VOL 01 (MR) $ 16.99
CABLE BY GERRY DUGGAN TP VOL 02 $ 17.99
CAPTAIN MARVEL TP VOL 06 STRANGE MAGIC $ 15.99
EC COVERS ARTIST ED HC (NET) $ 90
FAIRY TAIL 100 YEARS QUEST GN VOL 08 $ 10.99
GODZILLA WORLD OF MONSTERS TP $ 29.99
GOOD ASIAN TP VOL 01 (MR) $ 14.99
HAHA TP (MR) $ 16.99
HEAD LOPPER TP VOL 04 (MR) $ 16.99
JOJOS SWEET ADV GN VOL 01 GREAT CANDY CAPER $ 22.99
JUSTICE LEAGUE TP VOL 08 DEATH METAL $ 16.99
LADY MECHANIKA TP VOL 03 $ 7.99
LUGOSI RISE & FALL OF HOLLYWOODS DRACULA TP $ 24.99
MACHINE GUN KELLY HOTEL DIABLO TP (MR) $ 19.99
MARIE CURIE QUEST FOR LIGHT TP $ 17.99
REIGN OF X TP VOL 04 $ 17.99
STERANKO NICK FURY AGENT OF SHIELD ARTISAN ED $ 39.99
SUPERMAN ACTION COMICS TP VOL 05 THE HOUSE OF KENT $ 17.99
TEEN TITANS BEAST BOY LOVES RAVEN TP $ 16.99
WONDERFUL WOMEN OF THE WORLD TP $ 16.99
YOTSUBA GN VOL 15 $ 13

TOPPS STAR WARS BATTLE PLANS T/C BOX $ ???

2021 CON EX GUNDAM INFINITY EPIC BATTLE RX-78 & ZAKU AF 2PK $ ???
DC GAMING 7IN SCALE WV4 AF ASST (NET) $ ???
GOLDEN GIRLS SER03 24PC 3D FOAM BAG CLIP BMB DS $ 6.99
MARVEL SHANG-CHI 24PC 3D FOAM BAG CLIP BMB DS $ 6.99
POP DELUXE GAME OF THRONES NED STARK ON THRONE VIN FIG $ 27.99
POP HEROES IMPERIAL PALACE GREEN LANTERN VINYL FIGURE $ 11.99
POP HEROES IMPERIAL PALACE SUPERMAN VINYL FIGURE $ 11.99
POP HEROES IMPERIAL PALACE WONDER WOMAN VINYL FIGURE $ 11.99
POP IRON MAN 2 IRON MAN MKIV W/GANTRY PX GID DLX VIN FIG $ 29.99
POP MOVIES SUICIDE SQUAD 2021 PEACEMAKER VIN FIG $ 11.99
VINYL SODA BAZOOKA JOE W/ CHASE $ 13.99
VINYL SODA EVIL DEAD ASH /W BD CHASE $ 13.99
VINYL SODA SUPER FRIENDS ZAN W/ VAMP CHASE $ 13.99

MARVEL SPIDER-MAN MENACE 5PK SHORT COMIC STORAGE BOX ($12.99) $ 9.99
MARVEL PREVIEWS VOL 06 #1 OCTOBER 2021 $ FREE