Happy New Year and Beyond – Wednesday, December 29th, 2021
We wouldn't have to reach too far to get better, so the bar is low – let's do it! Encourage, or embarrass, the reluctant refusniks to get vaxed and boosted, and wear a mask everywhere, keep your distance, and slow down the development of the next variant.  Respect Bob's health and keep the store population down if you aren't shopping for something.
Happy New Year. Bob's open 11-7 Friday, and 11-7 Saturday, regular prices, so no partying here. Small week, sorry I'm late. Memory lapse and complications, and I missed a whole day.  I'll just post the list and a few pics.
If it has been more than 7 weeks since you've been in,  we moved This Week's Marvels. They are on the wall opposite  from the other new comics you were used to finding, behind you, 180 degrees, the wall that's parallel to the red racks where your new comics USED to be, and STILL ARE, just without the Marvels, which are on the opposite wall, in front of the last few week's Marvels, which have been there for a year. Just turn and go between or around the A-Frame shelves, and look for the red "This Week" cards. So far, we like it. Let us know what you think. And for now, our list also has the Marvels separated out after all  the other comics.
I'm having trouble finding good images in any kind of normal layout. Thanks to League Of Comic Geeks for this week's images, which are in some unusual, non-alphabetical order, and 8 across. So it's a somewhat random sample. I'll keep searching. Use the list, and MAYBE the pictures will be useful.
We are enforcing a Mask Rule. We are concerned and frankly afraid of the Desantis Variant's effectiveness and apparent success in younger people and children. So, please, take one for team America and get a vaccine.
Wednesday is STILL New Comic Day, no matter what you read on the internets. We can't clear the new rack to just have 10 DC's  surrounded by empty space.  We do it once, Wednesday morning. We encourage everyone to be careful, make your trip to our store quick and efficient, and try to come in to shop in smaller groups, and reduce your own exposure to ALL public places indoors, including ours. Watch this space and our Facebook page for latest news about the rest of the month, season, year, millenium, etc. (And text messages from 5-Star.) The complete list is found below. If you want to know about the next sale or store event, or whether or not WE ARE EVEN OPEN click here. Sign in here to get an email reminder for ALL sales and other events. Also, you can go to     fb.fantasybooksandgames.com and you'll be taken to our Facebook page. We also use our in-store 5-Star Rewards system to text similar announcements to your phone.
ACTION COMICS #1038 CVR A DANIEL SAMPERE $ 4.99
ACTION COMICS #1038 CVR B JULIAN TOTINO TEDESCO CARD STOCK VAR $ 5.99
APACHE DELIVERY SERVICE #1 (OF 4) CVR A JENKINS $ 3.99
APACHE DELIVERY SERVICE #1 (OF 4) CVR B CAMPBELL $ 3.99
AQUAMAN GREEN ARROW DEEP TARGET #3 (OF 7) CVR A MARCO SANTUCCI $ 3.99
AQUAMAN GREEN ARROW DEEP TARGET #3 (OF 7) CVR B JONBOY MEYERS CARD STOCK VAR $ 4.99
AQUAMAN THE BECOMING #4 (OF 6) CVR A DAVID TALASKI $ 3.99
AQUAMAN THE BECOMING #4 (OF 6) CVR B KHARY RANDOLPH CARD STOCK VAR $ 4.99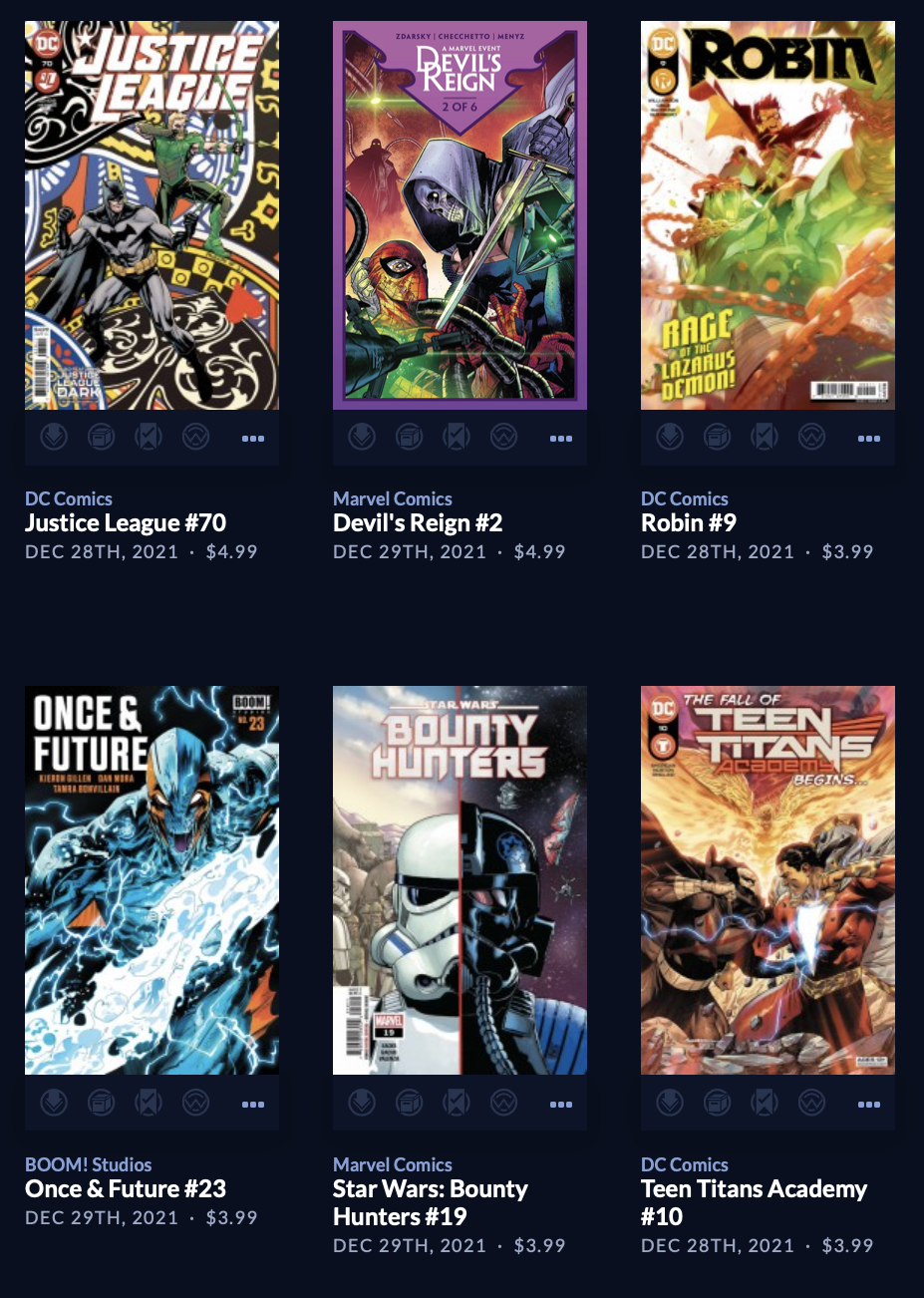 BLUE FLAME #6 CVR A GORHAM $ 3.99
BLUE FLAME #6 CVR B YOSHITANI $ 3.99
CRITICAL ROLE: TALES OF EXANDRIA #3 (OF 4) $ 3.99
CROSS TO BEAR #3 $ 4.99
DAISY #2 (OF 5) $ 3.99
DC VS VAMPIRES #3 (OF 12) CVR A OTTO SCHMIDT $ 3.99
DC VS VAMPIRES #3 (OF 12) CVR B FRANCESCO MATTINA CARD STOCK VAR $ 4.99
DEATHSTROKE INC #4 CVR A HOWARD PORTER $ 3.99
DEATHSTROKE INC #4 CVR B IVAN TAO CARD STOCK VAR $ 4.99
DETECTIVE COMICS #1046 CVR A DAN MORA $ 4.99
DETECTIVE COMICS #1046 CVR B LEE BERMEJO CARD STOCK VAR $ 5.99
DUNE WHISPER OF CALADAN SEAS #1 CVR A DEKAL $ 7.99
DUNE WHISPER OF CALADAN SEAS #1 CVR B REBELKA $ 7.99
ECHOLANDS #5 CVR A WILLIAMS III (MR) $ 4.99
ECHOLANDS #5 CVR B FOSS (MR) $ 4.99
ECHOLANDS RAW CUT ED #4 CVR A WILLIAMS III (MR) $ 4.99
ECHOLANDS RAW CUT ED #4 CVR B RODRIGUEZ (MR) $ 4.99
FIREFLY #35 CVR A BENGAL $ 3.99
FIREFLY #35 CVR B CARPENTER $ 3.99
FLASH #777 CVR A BRANDON PETERSON $ 3.99
FLASH #777 CVR B JORGE CORONA CARD STOCK VAR $ 4.99
GRIMM FAIRY TALES #55 CVR A VITORINO $ 3.99
GRIMM FAIRY TALES #55 CVR D TAO $ 3.99
HARLEY QUINN #10 CVR A RILEY ROSSMO $ 3.99
HARLEY QUINN #10 CVR B DERRICK CHEW CARD STOCK VAR $ 4.99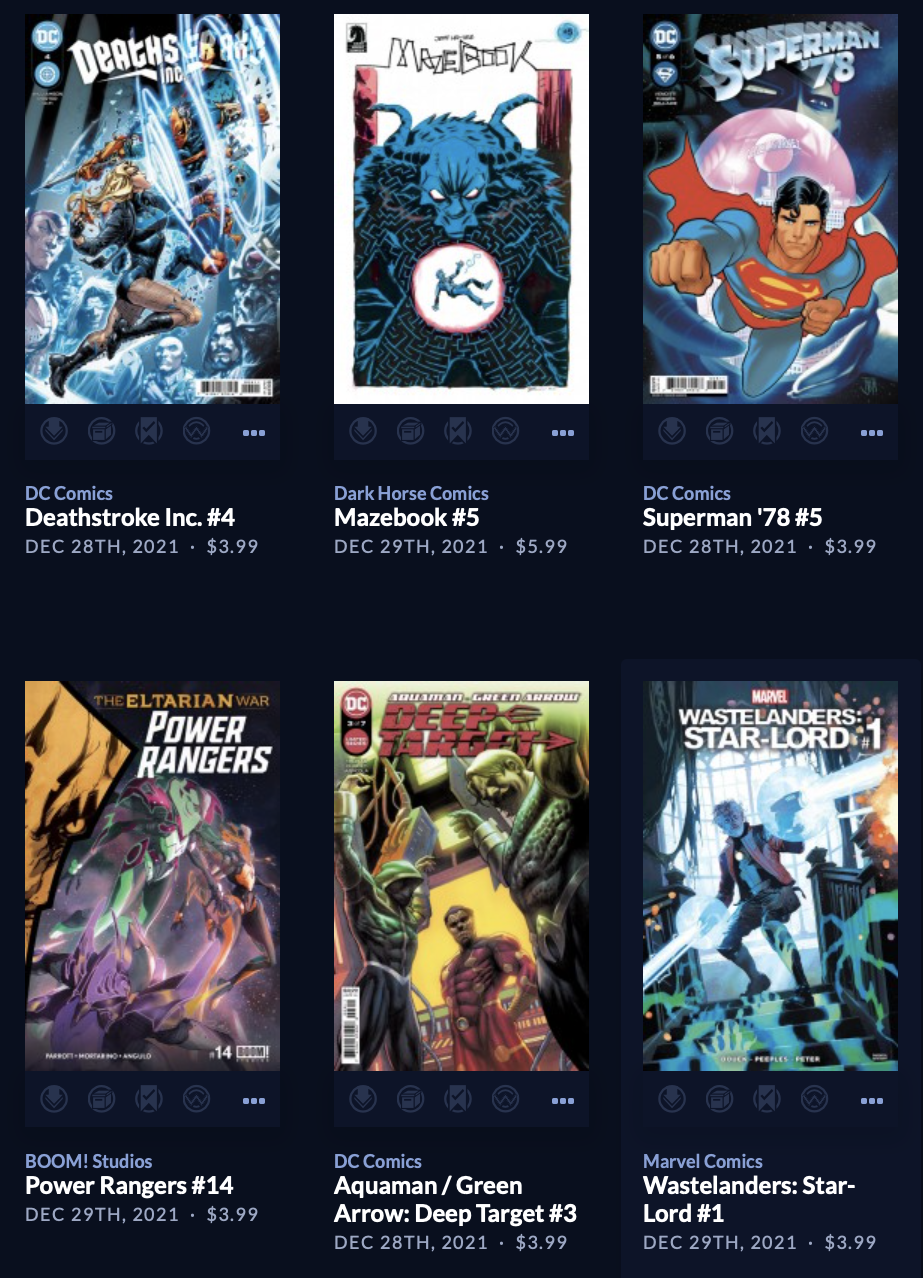 HELLBOY BONES OF GIANTS #3 (OF 4) $ 3.99
HUMAN TARGET #3 (OF 12) CVR A GREG SMALLWOOD (MR) $ 4.99
HUMAN TARGET #3 (OF 12) CVR B STANLEY ARTGERM LAU VAR (MR) $ 4.99
ICE CREAM MAN #27 CVR A MORAZZO & OHALLORAN (MR) $ 3.99
ICE CREAM MAN #27 CVR B BENJAMINSEN (MR) $ 3.99
JUSTICE LEAGUE #70 CVR A YANICK PAQUETTE $ 4.99
JUSTICE LEAGUE #70 CVR B ALEXANDER LOZANO CARD STOCK VAR $ 5.99
LIFE IS STRANGE SETTLING DUST #3 (OF 4) CVR A TAYLOR $ 3.99
LIFE IS STRANGE SETTLING DUST #3 (OF 4) CVR B GAME ART $ 3.99
MANIAC OF NEW YORK BRONX BURNING #1 CVR B MUTTI MASK VAR $ 4.99
MANIFEST DESTINY #45 (MR) $ 3.99
MARVEL ACTION CLASSICS SPIDER-MAN TWO IN ONE #4 $ 4.99
MAZEBOOK #5 (OF 5) CVR A LEMIRE $ 5.99
NIGHT OF THE CADILLACS #2 (OF 2) $ 3.99
ONCE & FUTURE #23 CVR A MORA $ 3.99
POWER RANGERS #14 CVR A PAREL $ 3.99
POWER RANGERS #14 CVR B LEGACY VAR DI NICUOLO $ 3.99
POWER RANGERS UNIVERSE #1 (OF 6) CVR A MORA $ 4.99
ROBIN #9 CVR A SIMONE DI MEO $ 3.99
ROBIN #9 CVR B FRANCIS MANAPUL CARD STOCK VAR $ 4.99
STAR WARS ADVENTURES (2021) #13 CVR A FRANCAVILLA $ 3.99
STAR WARS ADVENTURES (2021) #13 CVR B DARMINI $ 3.99
STAR WARS ADVENTURES (2021) #13 CVR C FRANCAVIL 1/10 VAR $ ???
STRAY DOGS DOG DAYS #1 (OF 2) CVR A FORSTNER & FLEECS $ 4.99
STRAY DOGS DOG DAYS #1 (OF 2) CVR B HORROR MOVIE VAR $ 4.99
SUPERMAN 78 #5 (OF 6) CVR A FRANCIS MANAPUL $ 3.99
SUPERMAN 78 #5 (OF 6) CVR B JAMAL CAMPBELL CARD STOCK VAR $ 4.99
SUPERMAN SON OF KAL-EL #5 Second Printing $ 3.99
SWAMP THING GREEN HELL #1 (OF 3) CVR A DOUG MAHNKE (MR) $ 6.99
SWAMP THING GREEN HELL #1 (OF 3) CVR B CHRISTIAN WARD VAR (MR) $ 6.99
SWORD OF HYPERBOREA #1 (OF 4) CVR A CAMPBELL $ 3.99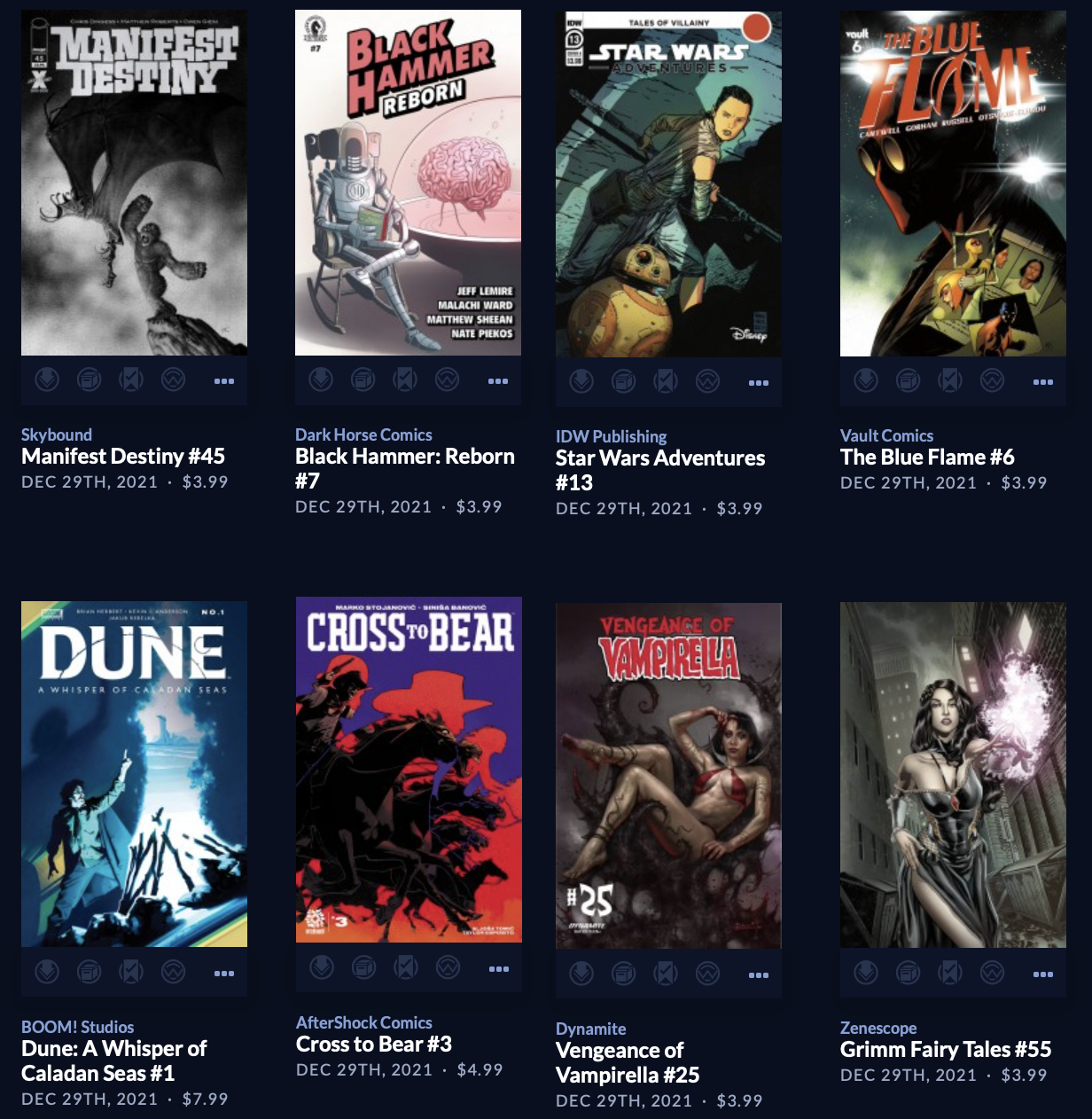 TASK FORCE Z #3 CVR A EDDY BARROWS & EBER FERREIRA $ 3.99
TASK FORCE Z #3 CVR B RODOLFO MIGLIARI CARD STOCK VAR $ 4.99
PREVIEWS #400 JANUARY 2022 $ 2.4
TEEN TITANS ACADEMY #10 CVR A RAFA SANDOVAL $ 3.99
TEEN TITANS ACADEMY #10 CVR B FICO OSSIO CARD STOCK VAR $ 4.99
VENGEANCE OF VAMPIRELLA #25 CVR A PARRILLO $ 3.99
VENGEANCE OF VAMPIRELLA #25 CVR B OLIVER $ 3.99
VENGEANCE OF VAMPIRELLA #25 CVR D COSPLAY $ 3.99
VENGEANCE OF VAMPIRELLA #25 CVR F COSPLAY 1/20 VIRGIN $ 3.99
VENGEANCE OF VAMPIRELLA #25 CVR K FOC MCFARLANE HOMAGE BIGGS $ 3.99
WE DONT KILL SPIDERS #3 $ 3.99
AMAZING SPIDER-MAN #83 $ 3.99
AMAZING SPIDER-MAN #83 BALDEON DEVILS REIGN VILLAIN VAR $ 3.99
AMAZING SPIDER-MAN #83 GLEASON VAR $ 3.99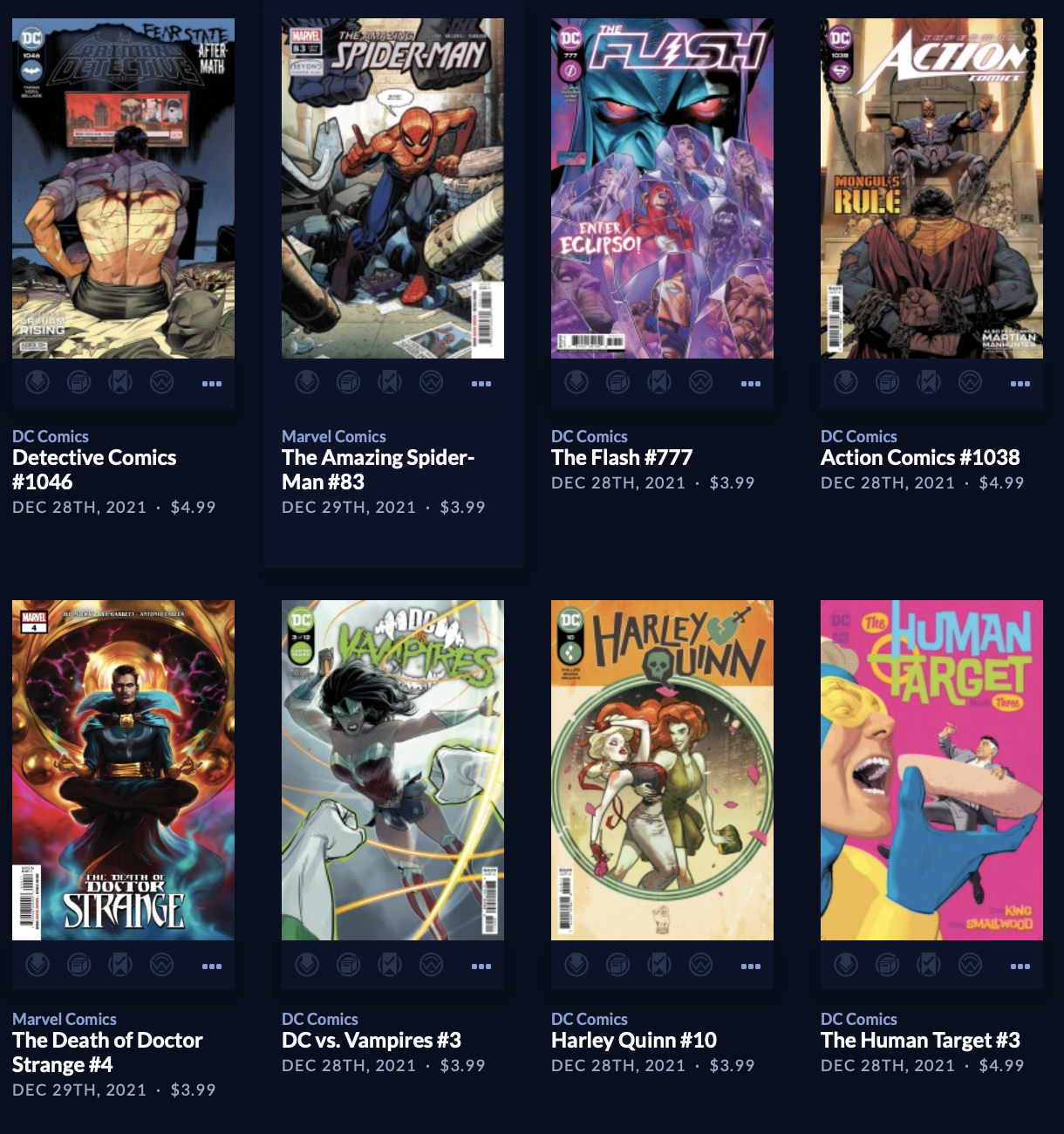 DEATH OF DOCTOR STRANGE #4 (OF 5) $ 3.99
DEATH OF DOCTOR STRANGE #4 (OF 5) WU DEVILS REIGN VILLAIN VA $ 3.99
DEVILS REIGN #2 (OF 6) $ 4.99
DEVILS REIGN #2 (OF 6) BAGLEY CONNECTING VAR $ 4.99
DEVILS REIGN #2 (OF 6) INHYUK LEE VAR (1/25) $ ???
DEVILS REIGN #2 (OF 6) ROMITA JR VAR $ 4.99
STAR WARS BOUNTY HUNTERS #19 $ 3.99
STAR WARS BOUNTY HUNTERS #19 SPROUSE LUCASFILM 50TH VAR $ 3.99
STAR WARS BOUNTY HUNTERS #19 YU VAR WOBH $ 3.99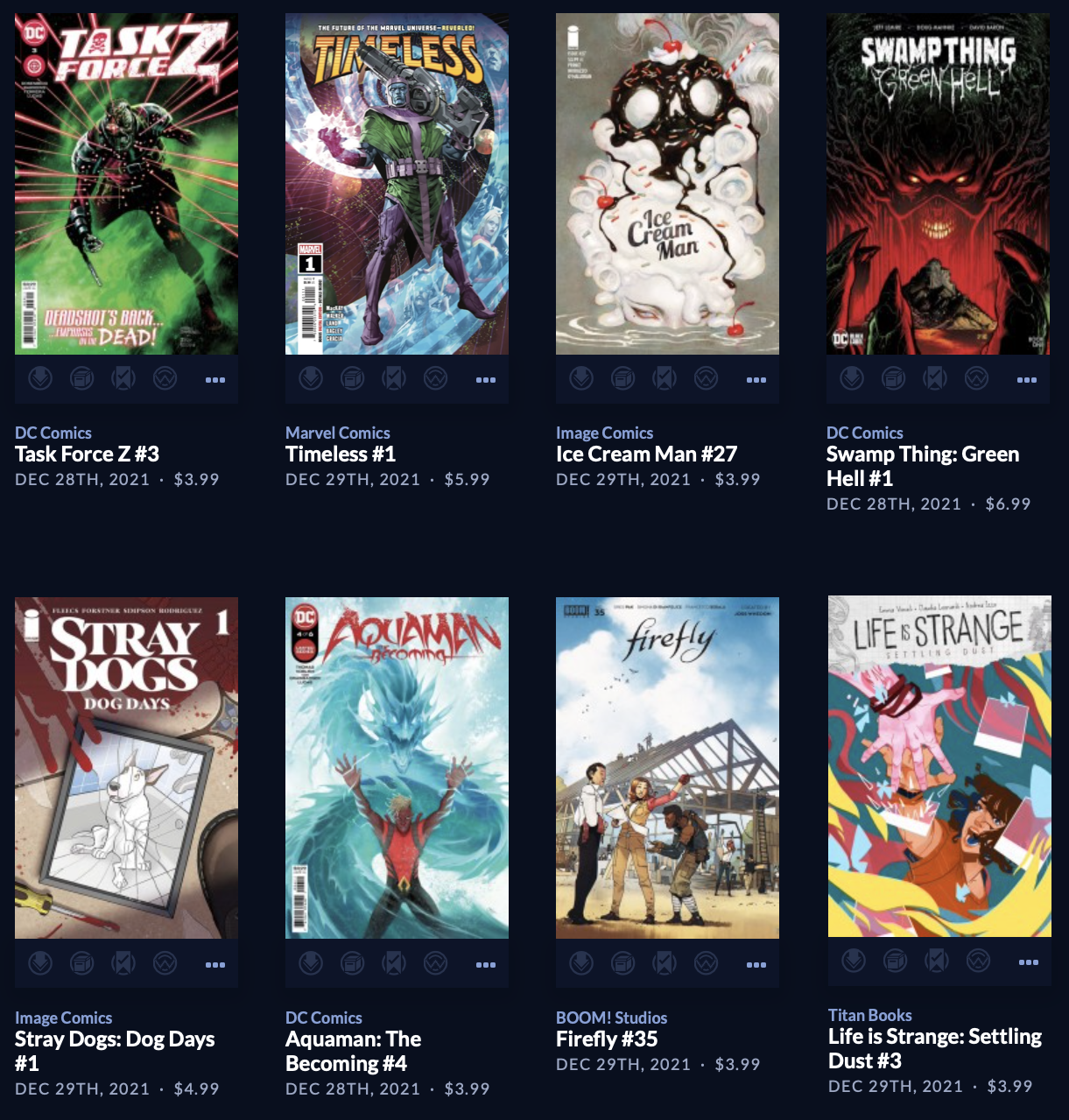 TIMELESS #1 $ 5.99
TIMELESS #1 BUSTOS STORMBREAKERS VAR $ 5.99
TIMELESS #1 CABAL STORMBREAKERS VAR $ 5.99
TIMELESS #1 CARNERO STORMBREAKERS VAR $ 5.99
TIMELESS #1 CASSARA STORMBREAKERS VAR $ 5.99
TIMELESS #1 COELLO STORMBREAKERS VAR $ 5.99
TIMELESS #1 GLEASON STORMBREAKERS VAR $ 5.99
TIMELESS #1 MOMOKO STORMBREAKERS VAR $ 5.99
TIMELESS #1 RAMOS MISS MINUTES VAR $ 5.99
TIMELESS #1 SILVA STORMBREAKERS VAR $ 5.99
WASTELANDERS STAR-LORD #1 $ 3.99
WASTELANDERS STAR-LORD #1 SLINEY VAR $ 3.99
ALTER EGO #172 $ 9.95
COMIC SHOP NEWS #1794 $ FREE
AIDALRO ILLUST TOILET BOUND HANAKO KUN ARK BOOK SC $ 35
BATMAN SUPERMAN THE ARCHIVE OF WORLDS HC $ 29.99
BUNGO STRAY DOGS BEAST GN VOL 02 (MR) $ 13
FIREFLY NEW SHERIFF IN THE VERSE TP VOL 01 $ 14.99
KOMI CANT COMMUNICATE GN VOL 16 $ 9.99
MAISON IKKOKU COLLECTORS EDITION GN VOL 06 $ 24.99
MIGHTY MORPHIN TP VOL 03 $ 16.99
OUR ARTISTS AT WAR BEST AMERICAN WAR COMICS SC $ 27.95
OVERWATCH ANTHOLOGY EXPANDED ED HC $ 24.99
POWER RANGERS TP VOL 03 $ 16.99
PROJECT MK ULTRA HC VOL 01 $ 29.99
PUELLA MAGI MADOKA MAGICA WRAITH ARC GN VOL 01 $ 13
STAR WARS ADVENTURES (2020) TP VOL 01 LIGHT & DARK $ 14.99
SUPERMAN RED & BLUE HC $ 39.99
DRAGON BALL Z SOLID EDGE WORKS V2 SUPER SAIYAN TRUNKS FIG $ 24.99
ETERNALS LEGENDS 6IN KRO AF CS $ 86.4
HARRY POTTER 2021 ADVENT CALENDAR (Re/CR) $ 55.99
MEGO HORROR JEEPERS CREEPERS 8IN AF $ 16.99
MEGO HORROR YOUNG FRANKENSTEIN IGOR 8IN AF $ 16.99
MEGO SCI-FI STAR TREK TNG Q 8IN AF $ 16.99
MEGO SCI-FI STAR TREK TOS GORN 14IN AF $ 30.99
MEGO SCI-FI STAR TREK TOS MR SPOCK 14IN AF $ 30.99
ONE PIECE WORLD COLL TREASURE RALLY VOL 1 12PC BMB FIG ASST $ 9.99
POCKET POP WHAT IF S2 ZOMBIE FALCON KEYCHAIN $ 5.99
POCKET POP WHAT IF S2 ZOMBIE IRON MAN KEYCHAIN $ 5.99
POP DISNEY HOLIDAY 2021 DONALD DUCK VINYL FIG $ 11.99
POP DISNEY ULTIMATE SNOW WHITE VINYL FIG $ 11.99
POP GAMES POKEMON S8 CATERPIE VIN FIG $ 11.99
POP MARVEL SPIDER-MAN JAPANESE TV SERIES PX VIN FIG W/CHASE $ 14.99
POP NBA CELTICS JAYSON TATUM GREEN JERSEY VIN FIG $ 11.99
POP PIN UNIVERSAL MONSTERS BRIDE OF FRANKENSTEIN W/ CHASE $ 15.99
POP PIN WWE RIC FLAIR $ 15.99
SIGNATURE GAMES DISNEY ITS A SMALL WORLD GAME $ 24.99
SW VINTAGE 3-3/4IN MANDO IG-11 AF CS $ 16.99
VINYL GOLD NBA LAKERS LEBRON 12IN VINYL FIG $ 24.99
VINYL GOLD NBA LAKERS LEBRON 5IN VINYL FIG $ 11.99
VINYL GOLD NBA MAVERICKS LUKA DONCIC 5IN VINYL FIG $ 11.99
VINYL GOLD NFL BUCCANEERS TOM BRADY HOME 5IN VIN FIG W/CHASE $ 11.99
VINYL GOLD NFL COWBOYS DAK PRESCOTT HOME 5IN VIN FIG W/CHASE $ 11.99
VINYL GOLD NFL RAVENS LAMAR JACKSON HOME 5IN VIN W/CHASE $ 11.99
VINYL GOLD NFL SEAHAWKS RUSSELL WILSON HOME 5IN VIN W/CHASE $ 11.99
VINYL SODA ANYTHING GOES SODA 1 W/ CHASE $ 13.99
VINYL SODA NARUTO W/ YW CHASE $ 13.99
VINYL SODA RUDOLPH HERME W/ CHASE $ 13.99
VINYL SODA YEAR WITHOUT SANTA SNOW MISER W/ GL CHASE $ 13.99
WARNER BROTHERS CHRISTMAS 24PC 3D FOAM BAG CLIP BMB DS $ 6.99
WB THRILLS AND CHILLS 3D FOAM BAG CLIP $ 6.99