Splash Brothers Are Back, as a Trio – Wednesday, April 20th, 2022
With Klay and Steph back, the Jordan Poole show has changed its name back. The TV commentators are struggling to describe the offensive power of the current Warriors playoff lineup. But there is so much talent around the NBA, that luck (avoiding injuries) is going to determine who wins more than anything else. Cross your fingers. I want to enjoy a long run into June.
Well, it's time to ignore the war, watch the NBA and get ready for Free Comic Book Day.  In 16 days, the Warriors will be in the second round, and people will be lining up to get FREE comics (from a limited selection) on the biggest day of the year in fandom.  We'll try to make it as "normal" as possible. Be ready to wait outside longer than usual. We are not going to have 100 people at a time in the store for 8 hours. YOU should hope we don't allow that.
The list of official FCBD comics will be posted here by tomorrow, Friday, Earth Day, April 22, 2022. And as it used to be, Bob will sweeten the pot for anyone who chooses to actually spend money, instead of grabbing the freebies and running, by matching your paid receipt with a same-dollar value from another big pile of books out on the sidewalk. FREE BOOK DAY! Get ready to FREEP out on May 7th, right here in Livermore.
Back to the present, we got some comics, some books, and some toys and Pops yesterday. That's enough. List below.
BTW. The Russian ship did sink.
Further notice has arrived on one front, anyway. Bob has removed the mask requirement. Cautiously. It's still out there, with a new variant being created somewhere. Remember, you are only in our enclosed space for minutes, but Bob is there all day. We still need to be careful, people.
I am going to talk to the one person reading this. We have put a TON of effort into clearing out the aisles and getting things in order, especially the books and Pops. Please tell Bob you appreciate how the store looks and feels. And help us keep them in order.
Thanks to League Of Comic Geeks for this week's images, which are in some unusual, non-alphabetical order, and 8 across. So it's a somewhat random sample. I'll keep searching. Use the list, and MAYBE the pictures will be useful.
Wednesday is Normally New Comic Day, no matter what you read on the internets. Watch this space and our Facebook page for the latest news about the rest of the month, season, year, millenium, etc. (And text messages from 5-Star.) The complete list is found below. If you want to know about the next sale or store event, or whether or not WE ARE EVEN OPEN click here. Sign in here to get an email reminder for ALL sales and other events. Also, you can go to     fb.fantasybooksandgames.com and you'll be taken to our Facebook page. We also use our in-store 5-Star Rewards system to text similar announcements to your phone.
DC Comics
BATMAN SUPERMAN WORLDS FINEST #2 CVR A DAN MORA $ 3.99
BATMAN SUPERMAN WORLDS FINEST #2 CVR B TIM SALE CARD STOCK VAR $ 4.99
BATMAN SUPERMAN WORLDS FINEST #2 CVR C INC 1:25 VAR PETE WOODS CARD STOCK $ ???
BATMAN SUPERMAN WORLDS FINEST #2 CVR D INC 1:50 VAR JORGE JIMENEZ CARD STOCK $ ???
BATMAN THE KNIGHT #4 (OF 10) CVR B RICCARDO FEDERICI CARD STOCK VAR $ 5.99
BLUE & GOLD #8 (OF 8) $ 3.99
CATWOMAN #42 CVR A JEFF DEKAL $ 3.99
CATWOMAN #42 CVR B JENNY FRISON CARD STOCK VAR $ 4.99
CATWOMAN LONELY CITY #3 (OF 4) CVR A CLIFF CHIANG (MR) $ 6.99
CATWOMAN LONELY CITY #3 (OF 4) CVR B CLIFF CHIANG VAR (MR) $ 6.99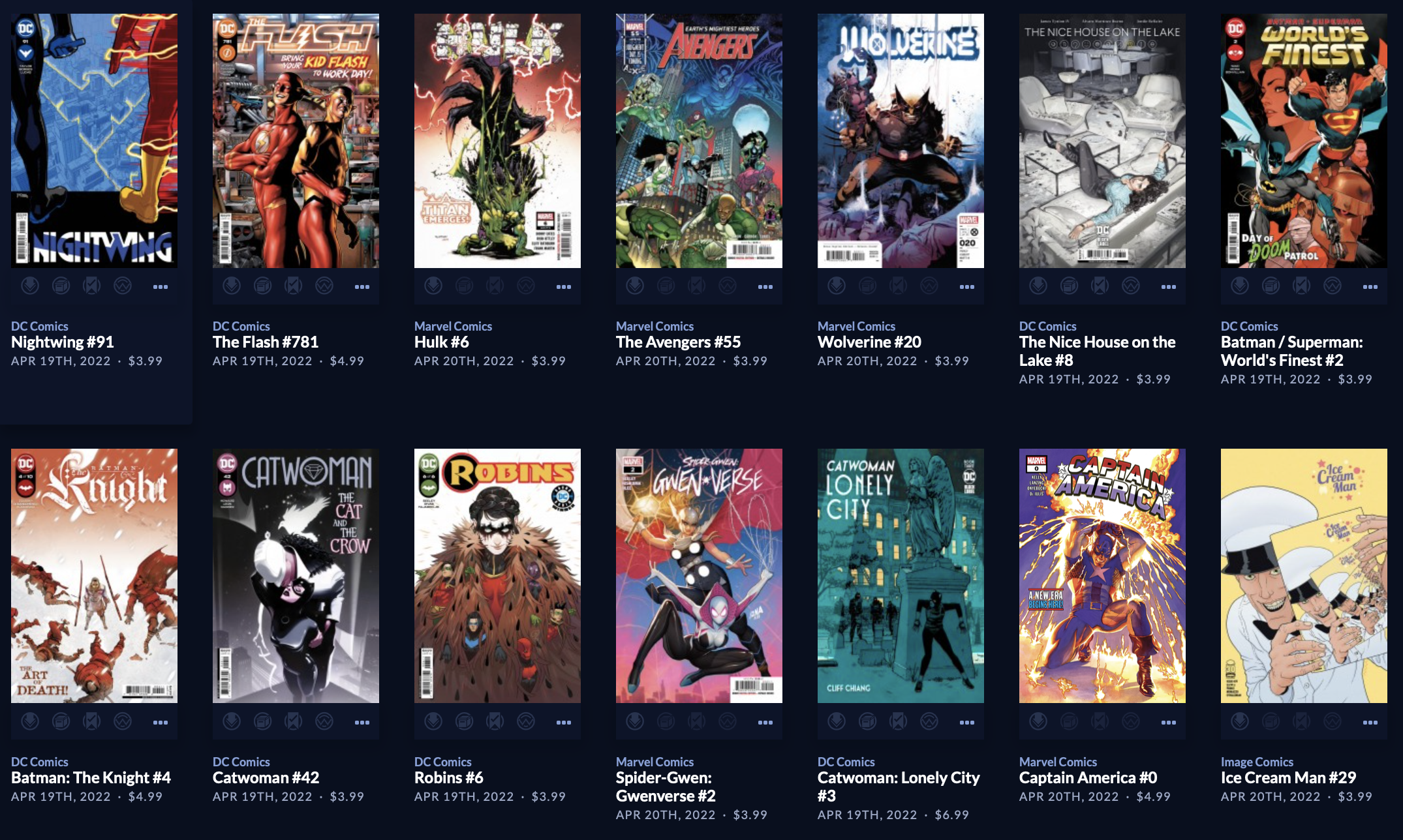 EARTH-PRIME #2 (OF 6) SUPERMAN & LOIS CVR A KIM JACINTO $ 5.99
EARTH-PRIME #2 (OF 6) SUPERMAN & LOIS CVR B PHOTO CARD STOCK VAR $ 6.99
FLASH #781 CVR A BRANDON PETERSON & MICHAEL ATIYEH $ 4.99
FLASH #781 CVR B NIKOLA CIZMESIJA CARD STOCK VAR $ 4.99
NICE HOUSE ON THE LAKE #8 (OF 12) CVR A ALVARO MARTINEZ BUENO (MR) $ 3.99
NICE HOUSE ON THE LAKE #8 (OF 12) CVR B BILQUIS EVELY CARD STOCK VAR (MR) $ 4.99
NIGHTWING #91 CVR A BRUNO REDONDO $ 3.99
NIGHTWING #91 CVR B JAMAL CAMPBELL CARD STOCK VAR $ 4.99
NIGHTWING #91 CVR C INC 1:25 VAR SERG ACUNA CARD STOCK $ ???
REFRIGERATOR FULL OF HEADS #6 (OF 6) CVR A MATEUS MANHANINI (MR) $ 3.99
REFRIGERATOR FULL OF HEADS #6 (OF 6) CVR B JUAN FERREYRA CARD STOCK VAR (MR) $ 4.99
ROBINS #6 (OF 6) CVR A BALDEMAR RIVAS $ 3.99
ROBINS #6 (OF 6) CVR B DAVID TALASKI CARD STOCK VAR $ 4.99
SCOOBY-DOO WHERE ARE YOU #115 $ 2.99
TRIAL OF THE AMAZONS WONDER GIRL #2 (OF 2) CVR A JOELLE JONES $ 3.99
TRIAL OF THE AMAZONS WONDER GIRL #2 (OF 2) CVR B BABS TARR CARD STOCK VAR $ 4.99
WONDER WOMAN EVOLUTION #6 (OF 8) CVR A MIKE HAWTHORNE $ 3.99
WONDER WOMAN EVOLUTION #6 (OF 8) CVR B DAVE JOHNSON CARD STOCK VAR $ 4.99
Marvel Comics
AVENGERS #55 $ 3.99
AVENGERS #55 MOMOKO VAR $ 3.99
AVENGERS #55 SOUZA SPIDER-MAN VAR $ 3.99
CAPTAIN AMERICA #0 BROOKS WRAPAROUND VAR $ 4.99
CAPTAIN AMERICA #0 HAMNER SPIDER-MAN VAR $ 4.99
CAPTAIN AMERICA #0 JIM CHEUNG VAR (1/25) $ ???
CAPTAIN AMERICA #0 ROSS SAM WILSON VAR $ 4.99
CAPTAIN AMERICA #0 ROSS STEVE ROGERS CVR $ 4.99
CAPTAIN CARTER #1 (OF 5) 2ND PTG MEDINA VAR $ 3.99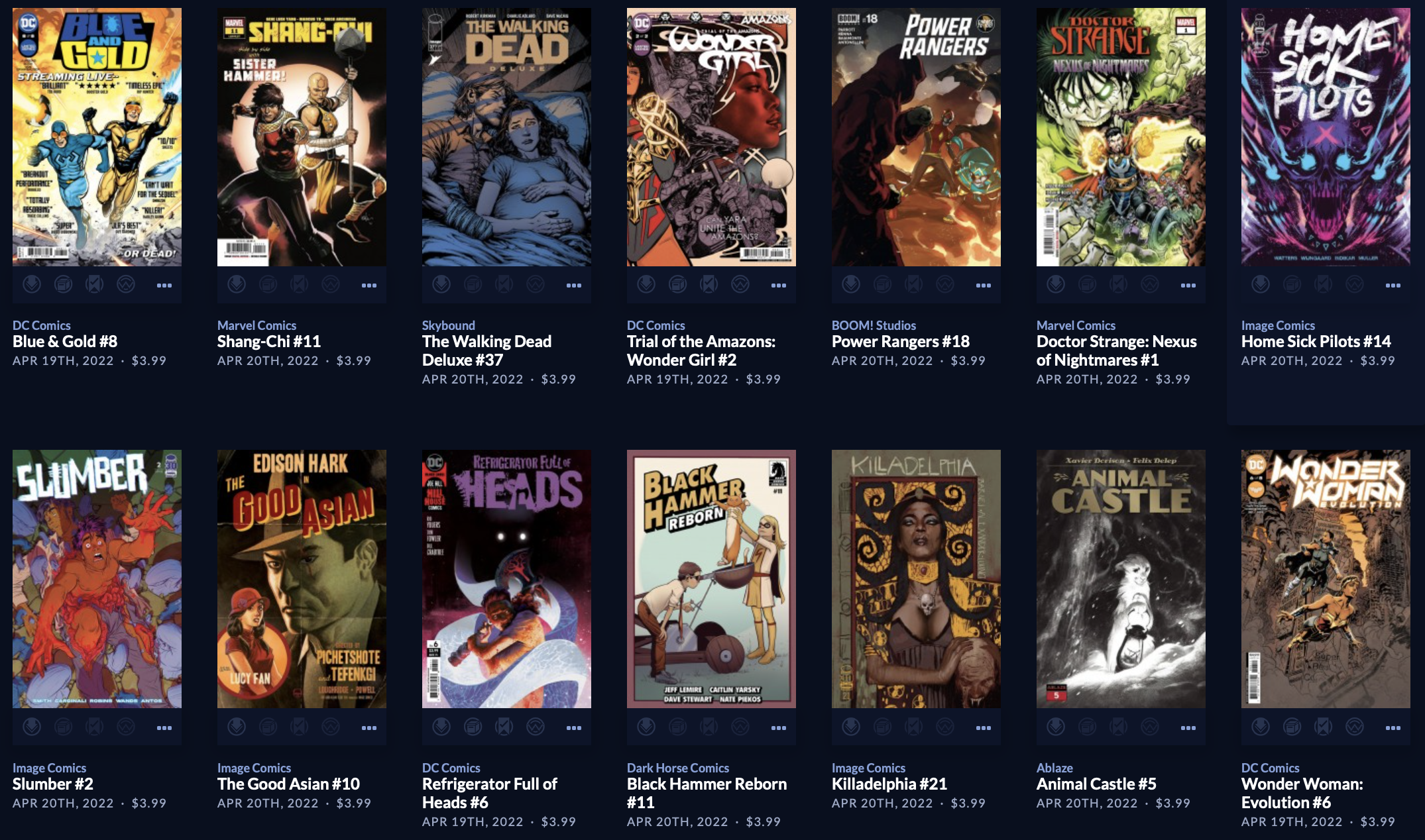 DOCTOR STRANGE NEXUS OF NIGHTMARES #1 $ 3.99
DOCTOR STRANGE NEXUS OF NIGHTMARES #1 LARROCA VAR $ 3.99
HULK #6 $ 3.99
HULK #6 GARNER SPIDER-MAN VAR $ 3.99
HULK #6 MASTRAZZO VAR (1/25) $ ???
HULK #6 OTTLEY VAR $ 3.99
HULK #6 SHAW SPOILER VAR $ 3.99
MOON KNIGHT #9 2ND PTG CORY SMITH VAR $ 3.99
PUNISHER #1 2ND PTG MALEEV VAR $ 5.99
SHANG-CHI #11 $ 3.99
SHANG-CHI #11 RAHZZAH SPIDER-MAN VAR $ 3.99
SPIDER-GWEN GWENVERSE #2 (OF 5) $ 3.99
SPIDER-GWEN GWENVERSE #2 (OF 5) GONZALEZ VAR (1/25) $ ???
SPIDER-GWEN GWENVERSE #2 (OF 5) LAND HOMAGE VAR $ 3.99
STAR WARS #22 $ 3.99
STAR WARS HIGH REPUBLIC #15 2ND PTG ANINDITO VAR $ 3.99
WOLVERINE #20 $ 3.99
WOLVERINE #20 COCCOLO VAR $ 3.99
WOLVERINE #20 FORNES SHADES VAR $ 3.99
WOLVERINE #20 GOMEZ PROMO VAR $ 3.99
Other Publisher's Comics Retail $
ANIMAL CASTLE #5 CVR A DELEP (MR) $ 3.99
ANIMAL CASTLE #5 CVR B DELEP VAR (MR) $ 3.99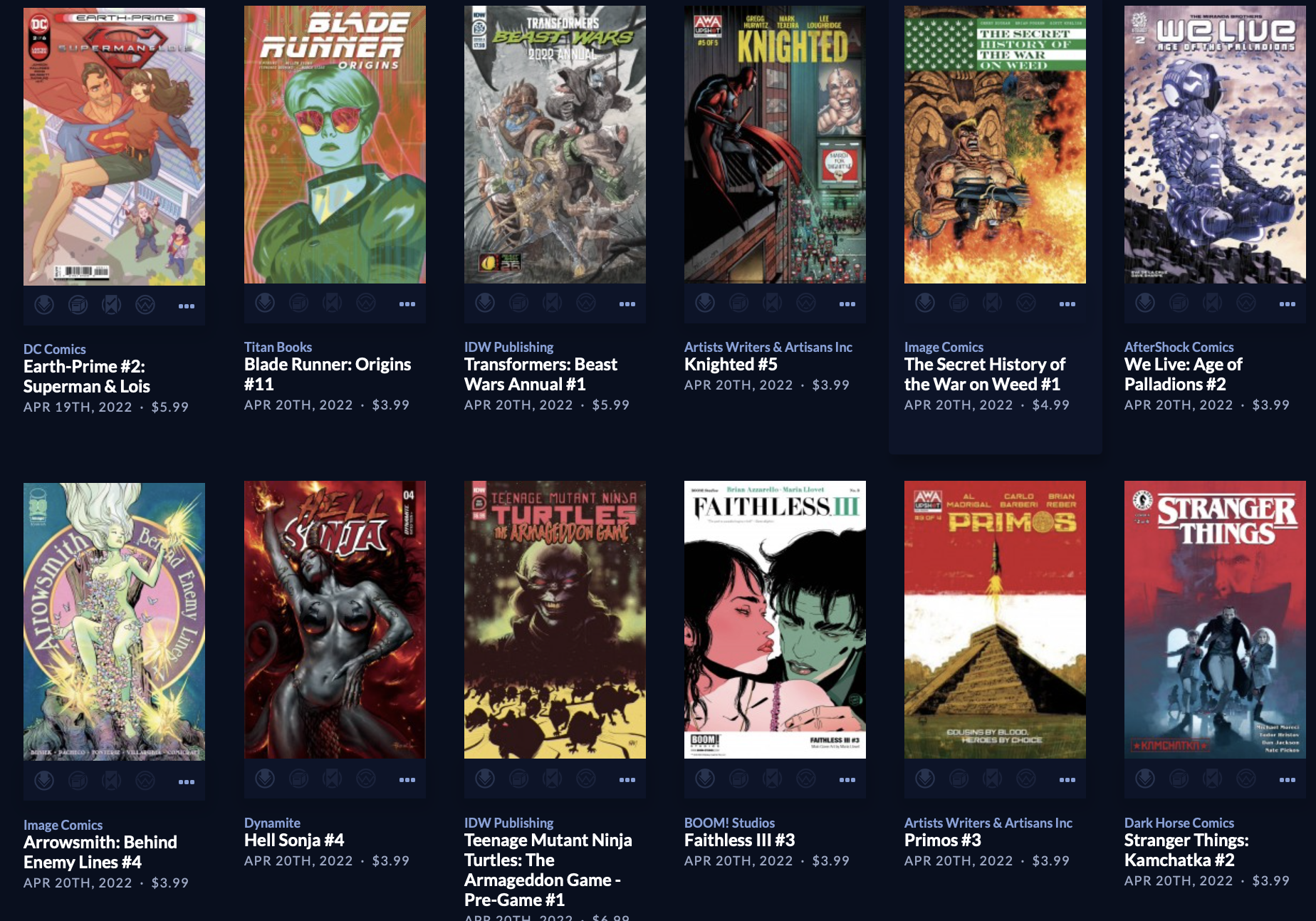 ARCHIE JUMBO COMICS DIGEST #329 $ 8.99
ARMORCLADS #2 (OF 5) CVR A HUTOMO $ 3.99
ARROWSMITH #4 (OF 6) CVR A PACHECO FONTERIZ VILLARRUBIA (MR) $ 3.99
ARROWSMITH #4 (OF 6) CVR B CARNERO & WILSON (MR) $ 3.99
ARROWSMITH #4 (OF 6) CVR C ASRAR & WILSON (MR) $ 3.99
ARROWSMITH #4 (OF 6) CVR D RODRIGUEZ & FARRELL (MR) $ 3.99
ASSASSINS CREED VALHALLA FORGOTTEN MYTHS #2 (OF 3) $ 3.99
BLACK HAMMER REBORN #11 (OF 12) CVR A YARSKY $ 3.99
BLACK HAMMER REBORN #11 (OF 12) CVR B SIMEONE $ 3.99
BLADE RUNNER ORIGINS #11 CVR A FISH (MR) $ 3.99
BLADE RUNNER ORIGINS #11 CVR B IANNICIELLO (MR) $ 3.99
BLADE RUNNER ORIGINS #11 CVR C HACK (MR) $ 3.99
CLASSIC PULP ROBOTS $ 4
COLLECTOR UNIT 731 #1 (OF 4) $ 3.99
FAITHLESS III #3 (OF 6) CVR A LLOVET (MR) $ 3.99
FAITHLESS III #3 (OF 6) CVR B EROTIC VAR ANKA (MR) $ 4.99
GOOD ASIAN #10 (OF 10) CVR A JOHNSON (MR) $ 3.99
GOOD ASIAN #10 (OF 10) CVR B TEFENKGI (MR) $ 3.99
GOOD ASIAN #10 (OF 10) CVR C 1/10 VAR TEFENKGI (MR) $ ???
GRRL SCOUTS STONE GHOST #6 (OF 6) CVR A MAHFOOD (MR) $ 3.99
HELL SONJA #4 CVR A PARRILLO $ 3.99
HELL SONJA #4 CVR B LEE $ 3.99
HELL SONJA #4 CVR D LINSNER $ 3.99
HELL SONJA #4 CVR H 1/20 VAR COSPLAY VIRGIN $ ???
HOME SICK PILOTS #14 CVR A WIJNGAARD (MR) $ 3.99
HOUSE OF SLAUGHTER #5 2ND PTG CVR A DELL EDERA $ 3.99
ICE CREAM MAN #29 CVR A MORAZZO & OHALLORAN (MR) $ 3.99
ICE CREAM MAN #29 CVR B WINGS (MR) $ 3.99
JENNIFER BLOOD #7 CVR A BRADSTREET (MR) $ 3.99
JENNIFER BLOOD #7 CVR C LEIRIX (MR) $ 3.99
JENNIFER BLOOD #7 CVR I 1/25 VAR LEIRIX VIRGIN (MR) $ ???
JOHN CARTER OF MARS #1 CVR B LINSNER $ 3.99
JOHN CARTER OF MARS #1 CVR E COSPLAY $ 3.99
JOHN CARTER OF MARS #1 CVR J 1/30 VAR COSPLAY VIRGIN $ ???
JOHN CARTER OF MARS #1 CVR V 1/11 VAR LINSNER B&W VI $ ???
JOHN CARTER OF MARS #1 CVR W 1/15 VAR LINSNER MARTIA $ ???
KILLADELPHIA #21 CVR A ALEXANDER (MR) $ 3.99
KILLADELPHIA #21 CVR C ALEXANDER B&W NOIR ED (MR) $ 3.99
KNIGHTED #5 (OF 5) CVR A TEXEIRA $ 3.99
LAND OF LIVING GODS #3 $ 3.99
MAGIC HIDDEN PLANESWALKER #1 (OF 4) CVR A DARBOE $ 4.99
MAGIC HIDDEN PLANESWALKER #1 (OF 4) CVR B AWANQI $ 4.99
NIGHTMARE BEFORE CHRISTMAS MIRROR MOON #5 $ 3.99
NORTH BEND SEASON 2 #4 (OF 5) (From Lunar) $ 3.99
POWER RANGERS #18 CVR A PAREL $ 3.99
PRIMOS #3 (OF 4) CVR A JOHNSON (MR) $ 3.99
SECRET HISTORY OF WAR ON WEED CVR A KOBLISH (MR) $ 4.99
SLUMBER #2 CVR A FOX (MR) $ 3.99
STAR TREK FERENGI CVR A ANDY PRICE $ 7.99
STRANGER THINGS KAMCHATKA #2 (OF 4) CVR A ASPINALL $ 3.99
STRANGER THINGS KAMCHATKA #2 (OF 4) CVR B COUPLEOFKOOKS $ 3.99
STRANGER THINGS KAMCHATKA #2 (OF 4) CVR C HANUKAFAST $ 3.99
STRANGER THINGS KAMCHATKA #2 (OF 4) CVR D BELIKOVA $ 3.99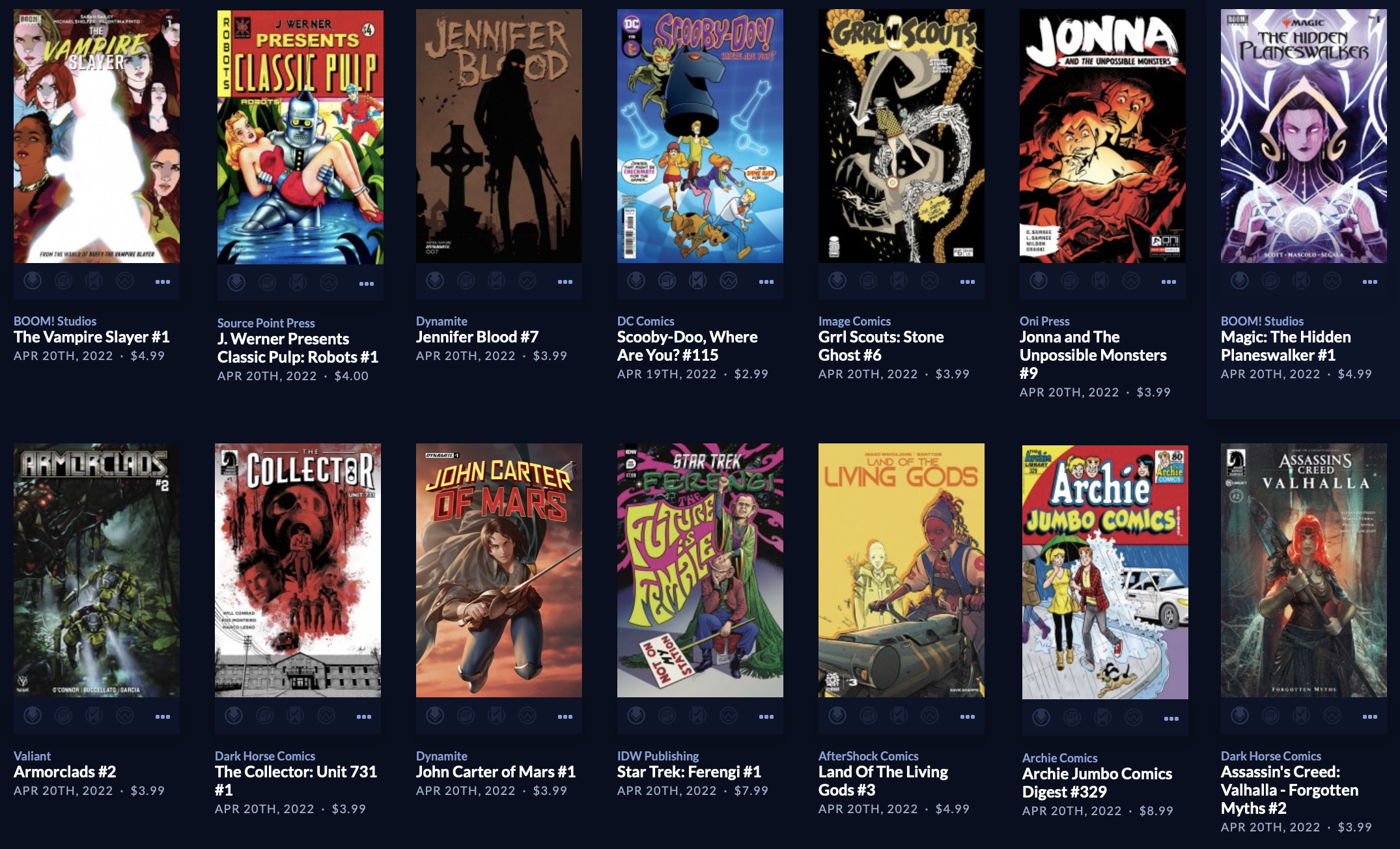 TALES OF TERROR QUARTERLY SEA OF SOULS ONESHOT #1 CVR A CHEN $ 8.99
TMNT THE ARMAGEDDON GAME PRE GAME $ 6.99
TRANSFORMERS BEAST WARS ANNUAL 2022 CVR A RYAN MILLER $ 5.99
VAMPIRE SLAYER (BUFFY) #1 CVR A MONTES $ 4.99
WALKING DEAD DLX #37 CVR A FINCH & MCCAIG (MR) $ 3.99
WALKING DEAD DLX #37 CVR B ADLARD & MCCAIG (MR) $ 3.99
WALKING DEAD DLX #37 CVR C PLATT & MCCAIG (MR) $ 3.99
WALKING DEAD DLX #37 CVR D TEDESCO (MR) $ 3.99
WE LIVE AGE OF PALLADIONS #2 $ 3.99
NEWS
COMIC SHOP NEWS #1809 $ FREE
DC Books
DCEASED DEAD PLANET TP $ 19.99
FLASH OMNIBUS BY GEOFF JOHNS HC VOL 01 NEW ED $ 99.99
INFINITE FRONTIER HC $ 39.99
SANDMAN BOOK 02 TP DIRECT MARKET ED (MR) $ 34.99
Other Books
A THING CALLED TRUTH TP VOL 01 $ 16.99
ATTACK ON TITAN OMNIBUS TP VOL 04 VOL 10-12 (MR) $ 19.99
BLACK TIGHTS WIDE ART COLLECTION SC (MR) $ 29.95
BUFFY THE VAMPIRE SLAYER TP VOL 09 $ 14.99
CROWS HC $ 19.99
DUNE HOUSE ATREIDES HC VOL 03 $ 24.99
HALO ENCYCLOPEDIA HC $ 49.99
MARVEL CRISIS PROTOCOL NOVEL SC SHADOW AVENGERS $ 16.95
MY LITTLE PONY FRIENDSHIP IS MAGIC SEASON 10 TP VOL 03 $ 17.99
SAILOR MOON ETERNAL ED CODENAME SAILOR V VOL 02 $ 27.99
WE ONLY KILL EACH OTHER TP $ 19.99
Toys
DC MULTIVERSE FUTURE STATE DARK DETECTIVE 7IN AF CS $ 24.99
GUNDAM BREAKER BATTLOGUE GUNDAM LIVELANCE HEAVEN HG MDL KIT $ 27.99
GUNDAM GETTER ARC MDL KIT $ 52.99
GUNDAM GETTER ARC MDL KIT $ 52.99
HALLOWEEN KILLS MICHAEL MYERS ULTIMATE 7IN AF $ 32.99
HELLO KITTY AND FRIENDS S2 24PC 3D FOAM BAG CLIP BMB DS $ 6.99
MARVEL GALLERY COMIC SPIDER-MAN PVC STATUE (Scott ??) $ 49.99
POKEMON 02 BIG MODEL KIT EEVEE $ 41.99
POP BROADWAY HAMILTON ALEXANDER ACT 2 VIN FIG $ 12.99
POP BROADWAY HAMILTON JAMES MADISON VIN FIG $ 12.99
POP BROADWAY HAMILTON KING GEORGE VIN FIG $ 12.99
POP BROADWAY HAMILTON THOMAS JEFFERSON VIN FIG $ 12.99
POP MARVEL LOKI SYLVIE VINYL FIG $ 12.99
POP MARVEL SPIDER-MAN JAPANESE TV SERIES PX VIN FIG W/CHASE $ 14.99
POP MARVEL SPIDER-MAN NO WAY HOME UPGRADED SUIT VIN FIG $ 12.99
POP MARVEL WHAT IF DR STRANGE SUPREME VINYL FIG $ 12.99
POP MARVEL WHAT IF S3 QUEEN GNERAL RAMONDA VINYL FIG $ 12.99
POP NBA COVER SLAM ALLEN IVERSON VINYL FIG $ 15.99
POP RIDES WDW50 HOOK ON PETER PAN FLIGHT VIN FIG $ 32.99
POP STAR WARS VALENTINES S2 LUKE & GROGU VINYL FIG $ 12.99
POP TV HAWKEYE KATE BISHOP VINYL FIG $ 12.99
STAR WARS VEHICLE MODEL RAZOR CREST PLSTIC MDL KIT SILVER $ 31.99
SW BLACK 6IN ECHO AF CS $ 29.99
SW BLACK 6IN OMEGA AF CS $ 29.99
WARHAMMER 40K WV4 GENESTEALER 7IN SCALE AF CS $ 24.99
WARHAMMER 40K WV4 GENESTEALER AP VAR 7IN SCALE AF CS $ 24.99
WARHAMMER 40K WV4 REIVER 7IN SCALE AF CS $ 24.99
WARHAMMER 40K WV4 REIVER AP VAR 7IN SCALE AF CS $ 24.99