Pride & Prejudice, War & not so much Peace – Wednesday, June 15th, 2022
It's Pride Month, we still have discrimination, Russia is still killing in  Ukraine, and we have threats of civil war at home.
Meanwhile, last week's DC's showed up Friday, and are on the top row of the new comic wall, followed by this week's. Diamond had one of the most accurate packing jobs I have seen in months, so almost everything we ordered for this week showed up on time! Warriors play tonight at 6 for NBA Champs #4 in 8 years. Exciting day! But no lack of drama….
The Jan 6 Committee True Crime Drama last week was a masterpiece of storytelling. It's amazing how gripping the Truth can be when you tell about a cabal of criminals led by a crime boss to effect a Coup d'etat of the pillar of democracy in the most powerful country in the history of the world. It had everything: scumbags, plots, back-stabbing, lies, shills, con-men and marks, violence, cowards covering their tracks, enablers who found their conscience, and lots of bona fide heroes. If we hadn't seen it on TV with our own eyes over the last 20 months, we would think it was too far-fetched to be believed. No matter which way you lean, all American citizens need to watch all of these hearings.
Marvel and DC were even smaller than last week, and everybody else was pretty small, too. I have no comment or recommendation.
Alameda County has reestablished an indoor mask mandate, until further notice. It's still out there, with a new variant being created somewhere. Remember, you are only in our enclosed space for minutes, but Bob is there all day. We still need to be careful, people.
I am going to talk to the one person reading this. We have put a TON of effort into clearing out the aisles and getting things in order, especially the books and Pops. Please tell Bob you appreciate how the store looks and feels. And help us keep them in order.
Thanks to League Of Comic Geeks for this week's images, which are in some unusual, non-alphabetical order, and 8 across. So it's a somewhat random sample. I'll keep searching. Use the list, and MAYBE the pictures will be useful.
Wednesday is Normally New Comic Day, no matter what you read on the internets. Watch this space and our Facebook page for the latest news about the rest of the month, season, year, millenium, etc. (And text messages from 5-Star.) The complete list is found below. If you want to know about the next sale or store event, or whether or not WE ARE EVEN OPEN click here. Sign in here to get an email reminder for ALL sales and other events. Also, you can go to     fb.fantasybooksandgames.com and you'll be taken to our Facebook page. We also use our in-store 5-Star Rewards system to text similar announcements to your phone.
Pictures and list are from this week only. For last week's DC's and pictures, just scroll way down to find June 8th.
DC COMICS
BATGIRLS #7 CVR A JORGE CORONA $ 3.99
BATGIRLS #7 CVR B KIM JACINTO CARD STOCK VAR $ 4.99
BATMAN URBAN LEGENDS #16 CVR A KARL MOSTERT & TRISH MULVIHILL $ 7.99
BATMAN URBAN LEGENDS #16 CVR B EJIKURE VAR $ 7.99
BATMAN URBAN LEGENDS #16 CVR C DERRICK CHEW VAR $ 7.99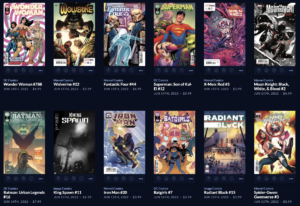 BLOOD SYNDICATE SEASON ONE #2 (OF 6) CVR A DEXTER SOY $ 3.99
BLOOD SYNDICATE SEASON ONE #2 (OF 6) CVR B EDWIN GALMON CARD STOCK VAR $ 4.99
DC PRIDE TIM DRAKE SPECIAL #1 (ONE SHOT) CVR A BELEN ORTEGA $ 5.99
DC PRIDE TIM DRAKE SPECIAL #1 (ONE SHOT) CVR B TRAVIS MOORE VAR $ 5.99
FUTURE STATE GOTHAM #14 CVR A SIMONE DI MEO $ 3.99
FUTURE STATE GOTHAM #14 CVR B MIKE BOWDEN CARD STOCK VAR $ 4.99
I AM BATMAN #10 CVR A CHRISTIAN DUCE $ 3.99
I AM BATMAN #10 CVR B TAURIN CLARKE WRAPAROUND CARD STOCK VAR $ 4.99
JURASSIC LEAGUE #2 (OF 6) CVR A DANIEL WARREN JOHNSON $ 3.99
JURASSIC LEAGUE #2 (OF 6) CVR B MIKE PERKINS CARD STOCK VAR $ 4.99
NAOMI SEASON 2 #4 (OF 6) $ 3.99
SANDMAN UNIVERSE NIGHTMARE COUNTRY #3 CVR A REIKO MURAKAMI (MR) $ 3.99
P $ 4.99
SUPERMAN SON OF KAL-EL #12 CVR A TRAVIS MOORE $ 3.99
SUPERMAN SON OF KAL-EL #12 CVR B ROGER CRUZ & NORM RAPMUND CARD STOCK VAR $ 4.99
SUPERMAN SON OF KAL-EL #12 CVR C DAVID TALASKI PRIDE MONTH CARD STOCK VAR $ 4.99
SUPERMAN SON OF KAL-EL #12 CVR D 1:25 VAR MARIO FOCCILLO CARD STOCK VAR $ ???
WONDER WOMAN #788 CVR A YANICK PAQUETTE $ 4.99
WONDER WOMAN #788 CVR B PAUL POPE CARD STOCK VAR $ 5.99
WONDER WOMAN #788 CVR C NICOLE GOUX PRIDE MONTH CARD STOCK VAR $ 5.99
Marvel COMICS
AMAZING SPIDER-MAN #1 2ND PTG ROMITA JR VAR $ 5.99
BEN REILLY SPIDER-MAN #5 (OF 5) $ 3.99
BEN REILLY SPIDER-MAN #5 (OF 5) JURGENS VAR $ 3.99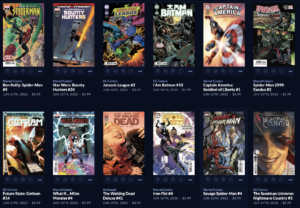 CAPTAIN AMERICA SENTINEL OF LIBERTY #1 $ 4.99
CAPTAIN AMERICA SENTINEL OF LIBERTY #1 1/25 VAR CLARKE V $ ???
CAPTAIN AMERICA SENTINEL OF LIBERTY #1 MAVROUDIS VAR $ 4.99
CAPTAIN AMERICA SENTINEL OF LIBERTY #1 STORMBREAKERS VAR $ 4.99
CAPTAIN AMERICA SENTINEL OF LIBERTY #1 VECCHIO PRIDE VAR $ 4.99
CAPTAIN AMERICA SENTINEL OF LIBERTY #1 YOUNG VAR $ 4.99
CARNAGE #2 2ND PTG MANNA VAR $ 3.99
FANTASTIC FOUR #44 $ 4.99
FANTASTIC FOUR #44 1/25 VAR GIST VAR $ ???
FANTASTIC FOUR #44 ADAMS VAR $ 4.99
FANTASTIC FOUR #44 FORNES WINDOW SHADES VAR $ 4.99
FANTASTIC FOUR #44 WERNECK SKRULL VAR $ 4.99
FORTNITE X MARVEL ZERO WAR #1 UK TURINI MILES MORALES EXC (N $ 4.65
HULKLING AND WICCAN #1 $ 5.99
HULKLNG AND WICCAN #1 VECCHIO VAR $ 5.99
IRON FIST #4 (OF 5) $ 3.99
IRON FIST #4 (OF 5) DAVILA SKRULL VAR $ 3.99
IRON FIST #4 (OF 5) GIST VAR $ 3.99
IRON FIST #4 (OF 5) MCKONE FORTNITE VAR $ 3.99
IRON MAN #20 $ 3.99
IRON MAN #20 BALDEON FORTNITE VAR $ 3.99
IRON MAN #20 COLA VAR $ 3.99
IRON MAN #20 FERRY SKRULL VAR $ 3.99
MOON KNIGHT BLACK WHITE BLOOD #2 (OF 4) $ 4.99
MOON KNIGHT BLACK WHITE BLOOD #2 (OF 4) WEAVER VAR $ 4.99
NEW FANTASTIC FOUR MARVEL TALES #1 $ 7.99
PUNISHER #2 2ND PTG SAIZ VAR $ 4.99
SAVAGE SPIDER-MAN #4 (OF 5) $ 3.99
SAVAGE SPIDER-MAN #4 (OF 5) YOON VAR $ 3.99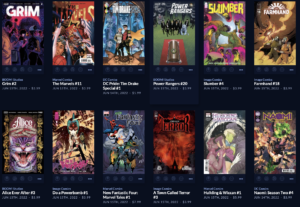 SPIDER-GWEN GWENVERSE #3 (OF 5) $ 3.99
SPIDER-GWEN GWENVERSE #3 (OF 5) 1/25 VAR FUJI VAR $ ???
SPIDER-GWEN GWENVERSE #3 (OF 5) LAND HOMAGE VAR $ 3.99
SPIDER-MAN 2099 EXODUS #2 $ 3.99
SPIDER-MAN 2099 EXODUS #2 LASHLEY 2099 FRAME VAR $ 3.99
SPIDER-MAN 2099 EXODUS #2 RON LIM CONNECTING VAR $ 3.99
STAR WARS BOUNTY HUNTERS #24 $ 3.99
STAR WARS BOUNTY HUNTERS #24 BAZALDUA PRIDE VAR $ 3.99
STAR WARS BOUNTY HUNTERS #24 SPROUSE CHOOSE YOUR DESTINY VAR $ 3.99
THE MARVELS #11 $ 3.99
WHAT IF MILES MORALES #4 (OF 5) $ 3.99
WHAT IF MILES MORALES #4 (OF 5) 1/10 VAR MEDINA DSN VAR $ ???
WHAT IF MILES MORALES #4 (OF 5) DAVILA VAR $ 3.99
WOLVERINE #22 $ 3.99
WOLVERINE #22 DAUTERMAN HELLFIRE GALA VAR $ 3.99
WOLVERINE #22 SHALVEY VAR $ 3.99
X-MEN RED #3 $ 3.99
X-MEN RED #3 CLARKE ARAKKO VAR $ 3.99
X-MEN RED #3 GOMEZ VAR $ 3.99
X-MEN RED #3 RUAN AAPI HERITAGE VAR $ 3.99
OTHER COMICS
A CALCULATED MAN #1 CVR A ALBUQUERQUE $ 4.99
A TOWN CALLED TERROR #3 CVR A KUDRANSKI (MR) $ 3.99
ALBATROSS EXPLODING FUNNYBOOKS #1 CVR A ERIC POWELL $ 5.99
ALICE EVER AFTER #3 (OF 5) CVR A PANOSIAN $ 3.99
ALICE EVER AFTER #3 (OF 5) CVR B JOHNSON $ 3.99
ANGEL #6 (OF 8) CVR A MALAVIA $ 4.99
BILL & TED ROLL DICE #1 CVR A KETNER $ 4.99
BILL & TED ROLL DICE #1 CVR B PHOTO $ 4.99
BILL & TED ROLL DICE #1 CVR C 1/5 VAR ACTION FIGURE $ ???
BUNNY MASK HOLLOW INSIDE #2 $ 4.99
CIMMERIAN HOUR OF DRAGON #4 CVR A KENDRICK LIM (MR) $ 3.99
CIMMERIAN HOUR OF DRAGON #4 CVR B GARRY BROWN (MR) $ 3.99
CULT OF IKARUS #4 (OF 4) (from Lunar) $ 3.99
DO A POWERBOMB #1 (OF 7) CVR A JOHNSON $ 3.99
DO A POWERBOMB #1 (OF 7) CVR B HARREN $ 3.99
FAITHLESS III #5 (OF 6) CVR A LLOVET (MR) $ 3.99
FAITHLESS III #5 (OF 6) CVR B EROTIC VAR ANKA (MR) $ 4.99
FARMHAND #18 (MR) $ 3.99
FRANK FRAZETTA DEATH DEALER #1 2ND PTG (MR) $ 4.99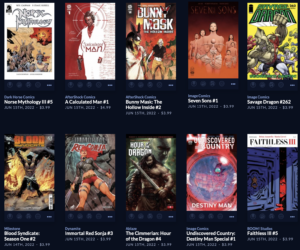 GRIM #1 3RD PTG FLAVIANO $ 3.99
GRIM #2 CVR A FLAVIANO $ 3.99
GRIM #2 CVR B FOIL FLAVIANO $ 5.99
GRIM #2 CVR C FRISON $ 3.99
GRIM #2 CVR D 1/10 VAR DI FELICI $ ???
GRIM #2 CVR E 1/25 VAR FRISON $ ???
GRIM #2 CVR F FOC REVEAL VAR HANS $ 3.99
IMMORTAL RED SONJA #3 CVR C LINSNER $ 3.99
IMMORTAL RED SONJA #3 CVR E COSPLAY $ 3.99
IMMORTAL RED SONJA #3 CVR H 1/20 VAR COSPLAY VIRGIN $ ???
IMMORTAL RED SONJA #3 CVR I 1/25 VAR LEIRIX VIRGIN $ ???
IMMORTAL RED SONJA #3 CVR J 1/30 VAR YOON VIRGIN $ ???
JENNIFER BLOOD #9 CVR E COSPLAY (MR) $ 3.99
JENNIFER BLOOD #9 CVR I 1/25 VAR LEIRIX VIRGIN (MR) $ ???
KING SPAWN #11 CVR A MATTINA $ 2.99
KING SPAWN #11 CVR B FERNANDEZ $ 2.99
MANOR BLACK FIRE IN THE BLOOD #3 (OF 4) CVR A HURTT (MR) $ 3.99
NORSE MYTHOLOGY III #5 (OF 6) CVR A RUSSELL (MR) $ 3.99
NORSE MYTHOLOGY III #5 (OF 6) CVR B MACK (MR) $ 3.99
POWER RANGERS #20 CVR A MARTINEZ $ 3.99
POWER RANGERS #20 CVR B LEGACY VAR $ 3.99
RADIANT BLACK #15 CVR A FERIGATO $ 3.99
RADIANT BLACK #15 CVR B SANCHES $ 3.99
SAVAGE DRAGON #262 CVR A LARSEN (RES) (MR) $ 3.99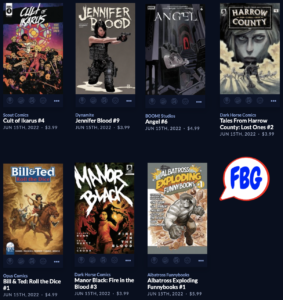 SEVEN SONS #1 (OF 7) CVR A LEE (MR) $ 3.99
SLUMBER #4 CVR A FOX (MR) $ 3.99
SLUMBER #4 CVR B SHALVEY (MR) $ 3.99
TALES FROM HARROW COUNTY LOST ONES #2 (OF 4) CVR A SCHNALL $ 3.99
UNDISCOVERED COUNTRY DESTINY MAN SPEC CVR A CAMUNCOLI (MR) $ 3.99
UNDISCOVERED COUNTRY DESTINY MAN SPEC CVR B COIPEL (MR) $ 3.99
WALKING DEAD DLX #41 CVR A FINCH & MCCAIG (MR) $ 3.99
NEWS
COMIC SHOP NEWS #1817 $ FREE
COMIC SHOP NEWS SUMMER 2022 $ FREE
DC BOOKS
AQUAMAN THE BECOMING TP $ 19.99
BATMAN THE ADVENTURES CONTINUE SEASON 2 TP $ 19.99
CATWOMAN OF EAST END OMNIBUS HC $ 100
CRUSH & LOBO TP $ 19.99
DC POSTER PORTFOLIO DC PRIDE TP $ 24.99
JUSTICE LEAGUE LAST RIDE TP $ 16.99
MIDNIGHTER THE COMPLETE COLLECTION TP $ 39.99
OTHER BOOKS
BLACK HAMMER TP VOL 06 REBORN PART II $ 19.99
BONE ORCHARD MYTHOS HC PASSAGEWAY (MR) $ 17.99
CHICKEN DEVIL TP VOL 01 UNDER PRESSURE $ 16.99
FANGIRL MANGA GN VOL 02 $ 16.99
FINAL SECRET OF ADOLF HITLER TP (MR) $ 22.99
HOUSE OF SLAUGHTER TP VOL 01 $ 14.99
KOMI CANT COMMUNICATE GN VOL 19 $ 9.99
MARVEL KAMALA KHAN MS MARVEL LITTLE GOLDEN BOOK $ 5.99
SAILOR MOON NAOKO TAKEUCHI COLLECTION VOL 02 (RES) $ 12.99
TREASURE OF THE BLACK SWAN HC $ 29.99
WELCOME TO ST HELL MY TRANS TEEN MISADVENTURE GN (MR) $ 14.99
TOYS
DEMON SLAYER KIMETSU V19 SABITO FIG $ 24.99
FCBD 2022 VINYL SODA MARVEL JTV SPIDER-MAN W/CHASE GW PX $ 14.99
POP HEROS WONDER WOMAN 80TH ODYSSEY WONDER WOMAN FIG $ 12.99
POP MARVEL DOCTOR STRANGE MM MASTER MORDO VIN FIG $ 12.99
POP MARVEL DOCTOR STRANGE MM SUPREME STRANGE VIN FIG $ 12.99
PRINCESS BRIDE WV2 BLOODY INIGO MONTOYA 7IN AF CS $ 31.99
PRINCESS BRIDE WV2 BLOODY WESTLEY DP ROBERTS 7IN AF CS $ 31.99
PRINCESS BRIDE WV2 BUTTERCUP WEDDING DRESS 7IN AF CS $ 31.99
PRINCESS BRIDE WV2 MEGAFIG FEZZIK CLOAK 7IN AF CS $ 52.99
PRINCESS BRIDE WV2 VIZZINI 7IN AF CS $ 31.99
SONIC 2 MOVIE 4IN AF ASST $ 15.99
SONIC 2 MOVIE 9IN PLUSH ASST $ 13.99
SONIC THE HEDGEHOG 1/64 DIE-CAST VEHICLE WV2 ASST $ 8.99
SONIC THE HEDGEHOG 4IN ARTICULATED AF WV8 ASST $ 14.99
SONIC THE HEDGEHOG 9IN BASIC PLUSH WV6 ASST $ 13.99
SPAWN MEGAFIG OVERTKILL AF CS $ 62.99
SPAWN WV3 7IN SCALE AF ASST $ 31.99
VINYL GOLD BIGGIE SMALLS WHITE SUIT 12IN VINYL FIG $ 29.99
WARHAMMER 40K WV5 7IN SCALE AF ASST $ 24.99