It's Back to School, I Hear – Wednesday, August 17th, 2022
A short list of highlights: Batman One Bad Day: The Riddler One Shot, Amazing Spider-Man Annual #1 (1964) Fascimile Edition – Really Great Classic Ditko, Fornite X Marvel Zero War #3, Heart Eyes #1, Madballs vs Garbage Pail Kids #2, and 3 different Transformers action figure series. Plus Bob scored a couple of hundred Funko Pops from a collector, almost all exclusives from around the retail world of Pops Exclusive, so we've never had them before.
We are still encouraging and welcoming masks, but not requiring them., you are only in our enclosed space for minutes, but Bob is there all day. We still need to be careful, people.
I am going to talk to the one person reading this. We have put a TON of effort into clearing out the aisles and getting things in order, especially the books and Pops. Please tell Bob you appreciate how the store looks and feels. And help us keep them in order.
Thanks to League Of Comic Geeks for this week's images, which are in some unusual, non-alphabetical order, and 8 across. So it's a somewhat random sample. I'll keep searching. Use the list, and MAYBE the pictures will be useful.
Wednesday is Normally New Comic Day, no matter what you read on the internets. Watch this space and our Facebook page for the latest news about the rest of the month, season, year, millenium, etc. (And text messages from 5-Star.) The complete list is found below. If you want to know about the next sale or store event, or whether or not WE ARE EVEN OPEN click here. Sign in here to get an email reminder for ALL sales and other events. Also, you can go to     fb.fantasybooksandgames.com and you'll be taken to our Facebook page. We also use our in-store 5-Star Rewards system to text similar announcements to your phone.
DC Comics
AQUAMAN & THE FLASH VOIDSONG #3 (OF 3) CVR A MIKE PERKINS $ 6.99
BATMAN #125 Second Printing Cvr A Chip Zdarsky $ 5.99
BATMAN ONE BAD DAY RIDDLER #1 (ONE SHOT) CVR A MITCH GERADS $ 7.99
BATMAN ONE BAD DAY RIDDLER #1 (ONE SHOT) CVR B JIM LEE VAR $ 7.99
BATMAN ONE BAD DAY RIDDLER #1 (ONE SHOT) CVR C 1:25 DAVID MARQUEZ VAR $ ???
BATMAN ONE BAD DAY RIDDLER #1 (ONE SHOT) CVR D 1:50 MIKEL JANIN VAR $ ???
BATMAN ONE BAD DAY RIDDLER #1 (ONE SHOT) CVR F GIUSEPPE CAMUNCOLI PREM VAR $ 7.99
BATMAN SUPERMAN WORLDS FINEST #6 CVR A DAN MORA $ 3.99
BATMAN SUPERMAN WORLDS FINEST #6 CVR B TERRY DODSON CARD STOCK VAR $ 4.99
BATMAN SUPERMAN WORLDS FINEST #6 CVR C RAFA SANDOVAL SWIMSUIT CD STK VAR $ 4.99
BATMAN SUPERMAN WORLDS FINEST #6 CVR D INC 1:25 TREVOR HAIRSINE CD STK VAR $ ???
BATMAN SUPERMAN WORLDS FINEST #6 CVR E INC 1:50 NICK BRADSHAW CD STK VAR $ ???
BATMAN THE KNIGHT #8 (OF 10) CVR A CARMINE DI GIANDOMENICO $ 4.99
BATMAN THE KNIGHT #8 (OF 10) CVR B RICCARDO FEDERICI CARD STOCK VAR $ 5.99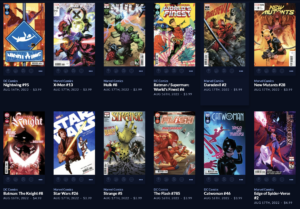 BLACK ADAM #3 CVR A IRVIN RODRIGUEZ $ 3.99
BLACK ADAM #3 CVR B RAFA SANDOVAL CARD STOCK VAR $ 4.99
BLACK ADAM #3 CVR C RAHZZAH CARD STOCK VAR $ 4.99
BLACK ADAM #3 CVR D EMANUELA LUPACCHINO SWIMSUIT CARD STOCK VAR $ 4.99
BLACK ADAM #3 CVR E INC 1:25 RAFA SARMENTO CARD STOCK VAR $ ???
CATWOMAN #46 CVR A JEFF DEKAL $ 3.99
CATWOMAN #46 CVR B SOZOMAIKA CARD STOCK VAR $ 4.99
CATWOMAN #46 CVR C JEFF DEKAL SWIMSUIT CARD STOCK VAR $ 4.99
CATWOMAN #46 CVR D INC 1:25 TULA LOTAY CARD STOCK VAR $ ???
DARK CRISIS YOUNG JUSTICE #3 (OF 6) CVR A MAX DUNBAR $ 3.99
DARK CRISIS YOUNG JUSTICE #3 (OF 6) CVR B JORGE CORONA CD STK VAR $ 4.99
DC VS VAMPIRES ALL-OUT WAR #2 (OF 6) CVR A ALAN QUAH $ 3.99
DC VS VAMPIRES ALL-OUT WAR #2 (OF 6) CVR B LESLEY LEIRIX LI CD STK VAR $ 4.99
DC VS VAMPIRES ALL-OUT WAR #2 (OF 6) CVR C INC 1:25 JAMES STOKOE CD STK VAR $ ???
DC VS VAMPIRES ALL-OUT WAR #2 (OF 6) CVR D EJIKURE SWIMSUIT CD STCK VAR $ 4.99
DUO #4 (OF 6) CVR A DIKE RUAN $ 3.99
DUO #4 (OF 6) CVR B JESSICA FONG CARD STOCK VAR $ 4.99
FLASH #785 CVR A TAURIN CLARKE (DARK CRISIS) $ 3.99
FLASH #785 CVR B GEORGE KAMBADAIS CARD STOCK VAR (DARK CRISIS) $ 4.99
HARLEY QUINN #20 CVR A JONBOY MEYERS $ 3.99
HARLEY QUINN #20 CVR B DERRICK CHEW CARD STOCK VAR $ 4.99
HARLEY QUINN #20 CVR C RYAN SOOK HOMAGE CARD STOCK VAR $ 4.99
HARLEY QUINN #20 CVR D INC 1:25 JAY ANACLETO CARD STOCK VAR $ ???
NIGHTWING #95 CVR A BRUNO REDONDO $ 3.99
NIGHTWING #95 CVR B JAMAL CAMPBELL CARD STOCK VAR $ 4.99
NIGHTWING #95 CVR C NICOLA SCOTT SWIMSUIT CARD STOCK VAR $ 4.99
NIGHTWING #95 CVR D INC 1:25 DAVID TALASKI CARD STOCK VAR $ ???
SANDMAN #1 FACSIMILE EDITION (2022)(MR) $ 3.99
SCOOBY-DOO WHERE ARE YOU #117 $ 2.99
Marvel Comics
AMAZING SPIDER-MAN ANNUAL #1 FACSIMILE EDITION $ 7.99
AVENGERS 1000000 BC #1 $ 4.99
AVENGERS 1000000 BC #1 STEGMAN PREHISTORIC HOMAGE VAR $ 4.99
AVENGERS 1000000 BC #1 YOUNG VAR $ 4.99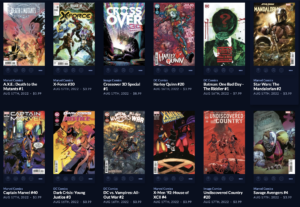 AXE DEATH TO MUTANTS #1 (OF 3) $ 3.99
AXE DEATH TO MUTANTS #1 (OF 3) LEINIL YU VAR $ 3.99
CAPTAIN MARVEL #40 $ 3.99
CAPTAIN MARVEL #40 NORD PREDATOR VAR $ 3.99
DAREDEVIL #2 $ 5.99
DAREDEVIL #2 1/25 VAR GARY FRANK VAR $ ???
DAREDEVIL #2 SIENKIEWICZ PREDATOR VAR $ 5.99
DAREDEVIL #2 WOODS SKRULL VAR $ 5.99
EDGE OF SPIDER-VERSE #2 (OF 5) $ 4.99
EDGE OF SPIDER-VERSE #2 (OF 5) 1/10 VAR THOROGOOD DESIGN $ ???
EDGE OF SPIDER-VERSE #2 (OF 5) SOUZA VAR $ 4.99
FORTNITE X MARVEL ZERO WAR #3 (OF 5) $ 4.99
FORTNITE X MARVEL ZERO WAR #3 (OF 5) 1/25 VAR CHO VAR $ ???
FORTNITE X MARVEL ZERO WAR #3 (OF 5) 1/50 VAR CHEW VAR $ ???
FORTNITE X MARVEL ZERO WAR #3 (OF 5) MOMOKO VAR $ 4.99
FORTNITE X MARVEL ZERO WAR #3 (OF 5) PACEHCO VAR $ 4.99
FORTNITE X MARVEL ZERO WAR #3 (OF 5) RON LIM VAR $ 4.99
HULK #8 $ 3.99
HULK #8 1/25 VAR CLARKE VAR $ ???
HULK #8 DAUTERMAN HELLFIRE GALA VAR $ 3.99
HULK #8 SHAW CONNECTING VAR $ 3.99
IRON CAT #3 (OF 5) $ 3.99
IRON CAT #3 (OF 5) LUPACCHINO VAR $ 3.99
MS MARVEL AND MOON KNIGHT #1 $ 4.99
MS MARVEL AND MOON KNIGHT #1 MOMOKO VAR $ 4.99
MS MARVEL AND MOON KNIGHT #1 SHALVEY VAR $ 4.99
NEW MUTANTS #28 $ 3.99
SAVAGE AVENGERS #4 $ 3.99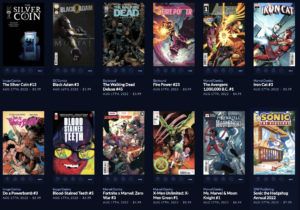 STAR WARS #26 $ 3.99
STAR WARS #26 CHRISTOPHER ACTION FIGURE VAR $ 3.99
STAR WARS #26 SPROUSE CHOOSE YOUR DESTINY VAR $ 3.99
STAR WARS MANDALORIAN #2 $ 4.99
STAR WARS MANDALORIAN #2 1/25 VAR LARROCA VAR $ ???
STAR WARS MANDALORIAN #2 1/50 VAR CHEUNG VAR $ ???
STAR WARS MANDALORIAN #2 CAMUNCOLI VAR $ 4.99
STAR WARS MANDALORIAN #2 CONCEPT ART VAR $ 4.99
STRANGE #5 $ 3.99
ULTRAMAN MYSTERY OF ULTRASEVEN #1 (OF 5) $ 4.99
ULTRAMAN MYSTERY OF ULTRASEVEN #1 (OF 5) 1/10 VAR PHOTO $ ???
ULTRAMAN MYSTERY OF ULTRASEVEN #1 (OF 5) MANNA VAR $ 4.99
ULTRAMAN MYSTERY OF ULTRASEVEN #1 (OF 5) ROCHE VAR $ 4.99
X-FORCE #30 $ 3.99
X-FORCE #30 MAGNO VAR $ 3.99
X-MEN #13 $ 3.99
X-MEN #13 1/10 VAR LARRAZ DESIGN VAR $ ???
X-MEN #13 ADAMS VAR $ 3.99
X-MEN #13 DAUTERMAN TRADING CARD VAR $ 3.99
X-MEN #13 STOKOE PREDATOR VAR $ 3.99
X-MEN 92 HOUSE OF XCII #4 (OF 5) $ 3.99
X-MEN 92 HOUSE OF XCII #4 (OF 5) REEDER VAR $ 3.99
X-MEN RED #5 CLARKE ARAKKO VAR $ 3.99
X-MEN UNLIMITED X-MEN GREEN #1 (OF 2) $ 5.99
Other Comics
20TH CENTURY MEN #1 (OF 6) CVR A MORIAN (MR) $ 3.99
20TH CENTURY MEN #1 (OF 6) CVR B KORDEY (MR) $ 3.99
ABOVE SNAKES #2 (OF 5) CVR A SHERMAN (MR) $ 3.99
ANGEL #8 (OF 8) CVR A MALAVIA $ 4.99
AOD VS REANIMATOR NECRONOMICON RISING #2 CVR A FLEECS $ 3.99
AOD VS REANIMATOR NECRONOMICON RISING #2 CVR C SUYDAM $ 3.99
AOD VS REANIMATOR NECRONOMICON RISING #2 CVR D SAYGER $ 3.99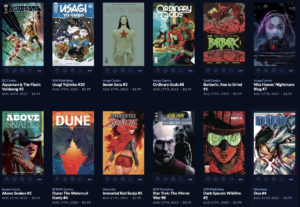 BARBARIC AXE TO GRIND #1 CVR A GOODEN $ 4.99
BARBARIC AXE TO GRIND #1 CVR B HOWELL $ 4.99
BARBARIC AXE TO GRIND #1 CVR C 1/5 VAR SHERMAN $ ???
BARBARIC AXE TO GRIND #1 CVR D 1/10 VAR DANI $ ???
BARBARIC AXE TO GRIND #1 CVR E 1/25 VAR HIXSON $ ???
BARBARIC AXE TO GRIND #1 CVR F 1/50 VAR CAMPBELL $ ???
BLOOD STAINED TEETH #5 CVR A WARD (MR) $ 3.99
BLOOD STAINED TEETH #5 CVR B FORBES (MR) $ 3.99
BROTHER OF ALL MEN #2 $ 4.99
CHILLING ADV JINXS GRIM FAIRY TALES CVR A MALHOTRA $ 3.99
CHILLING ADV JINXS GRIM FAIRY TALES CVR B FRANCAVILLA $ 3.99
CROSSOVER #1 3D SPECIAL $ 8.99
DARK SPACES WILDFIRE #2 CVR A SHERMAN $ 3.99
DARK SPACES WILDFIRE #2 CVR B SORRENTINO $ 3.99
DARK SPACES WILDFIRE #2 CVR C BEEM $ 3.99
DARK SPACES WILDFIRE #2 CVR D LLOVET $ 3.99
DISTURBED DARK MESSIAH #4 (OF 5) CVR A TOBIN $ 4.99
DO A POWERBOMB #3 (OF 7) CVR A JOHNSON $ 3.99
DO A POWERBOMB #3 (OF 7) CVR B SMITH $ 3.99
DUNE THE WATERS OF KANLY #4 (OF 4) CVR A WARD $ 4.99
ENTROPY #1 (OF 6) CVR A FUSO (MR) $ 4.99
FIRE POWER BY KIRKMAN & SAMNEE #23 CVR A SAMNEE & WILSON $ 3.99
FIRE POWER BY KIRKMAN & SAMNEE #23 CVR B FINCH & MCCAIG $ 3.99
FLAVOR GIRLS #2 (OF 3) $ 7.99
GRIM #3 2ND PTG FLAVIANO $ 3.99
HEART EYES #1 CVR A IBANEZ $ 4.99
HEART EYES #1 CVR B DIALYNAS $ 4.99
HEART EYES #1 CVR C 1/5 VAR $ ???
HEART EYES #1 CVR D 1/10 VAR $ ???
HEART EYES #1 CVR E 1/25 VAR BURNHAM $ ???
IMMORTAL RED SONJA #5 CVR A NAKAYAMA $ 3.99
IMMORTAL RED SONJA #5 CVR B YOON $ 3.99
IMMORTAL RED SONJA #5 CVR C LINSNER $ 3.99
IMMORTAL RED SONJA #5 CVR H 1/20 VAR COSPLAY VIRGIN $ ???
IMMORTAL RED SONJA #5 CVR I 1/25 VAR LEIRIX VIRGIN $ ???
IMMORTAL RED SONJA #5 CVR J 1/30 VAR YOON VIRGIN $ ???
JIMMYS LITTLE BASTARDS #1 CVR A CLARKE $ 7.99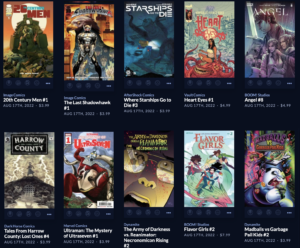 LADY HEL #1 CVR A PARILLO $ 3.99
LADY HEL #1 CVR E COSPLAY $ 3.99
LADY HEL #1 CVR I 1/25 VAR COSPLAY VIRGIN $ ???
LAST SHADOWHAWK #1 CVR A (30TH ANNV ONE-SHOT) (MR) $ 3.99
LAST SHADOWHAWK #1 CVR B (30TH ANNV ONE-SHOT) (MR) $ 3.99
LAST SHADOWHAWK #1 CVR C (30TH ANNV ONE-SHOT) (MR) $ 3.99
LAST SHADOWHAWK #1 CVR D (30TH ANNV ONE-SHOT) (MR) $ 3.99
LAST SHADOWHAWK #1 CVR E (30TH ANNV ONE-SHOT) (MR) $ 3.99
LAST SHADOWHAWK #1 CVR F (30TH ANNV ONE-SHOT) (MR) $ 3.99
LAST SHADOWHAWK #1 CVR G (30TH ANNV ONE-SHOT) (MR) $ 3.99
LAST SHADOWHAWK #1 CVR H (30TH ANNV ONE-SHOT) (MR) $ 3.99
LAST SHADOWHAWK #1 CVR I 1/10 VAR (30TH ANNV ONE-SHOT) ( $ ???
LAST SHADOWHAWK #1 CVR J 1/20 VAR (30TH ANNV ONE-SHOT) ( $ ???
MADBALLS VS GARBAGE PAIL KIDS #2 CVR A SIMKO $ 3.99
MADBALLS VS GARBAGE PAIL KIDS #2 CVR B CROSBY $ 3.99
MADBALLS VS GARBAGE PAIL KIDS #2 CVR C TRADING CARD $ 4.99
MADBALLS VS GARBAGE PAIL KIDS #2 CVR D 1/10 VAR CROSBY B $ ???
MADBALLS VS GARBAGE PAIL KIDS #2 CVR E 1/15 VAR CROSBY V $ ???
MADBALLS VS GARBAGE PAIL KIDS #2 CVR F 1/20 VAR SIMKO B& $ ???
MADBALLS VS GARBAGE PAIL KIDS #2 CVR G 1/30 VAR TRADING $ ???
MADBALLS VS GARBAGE PAIL KIDS #2 CVR I 1/10 VAR CARD $ ???
MAN GOAT & BUNNYMAN GREEN EGGS & BLAM #2 CVR A VITORINO $ 5.99
MAN GOAT & BUNNYMAN GREEN EGGS & BLAM #2 CVR B TARRAGONA $ 5.99
MAN GOAT & BUNNYMAN GREEN EGGS & BLAM #2 CVR C REYES $ 5.99
NITA HAWES NIGHTMARE BLOG #7 CVR A KUDRANSKI (MR) $ 3.99
NITA HAWES NIGHTMARE BLOG #7 CVR B ALEXANDER (MR) $ 3.99
ORDINARY GODS #8 (MR) $ 3.99
OVERWATCH NEW BLOOD #2 (OF 5) CVR A KOH $ 3.99
PARASOMNIA DREAMING GOD #1 (OF 4) CVR A MUTTI $ 3.99
PROMETHEE 1313 #2 CVR A JOCK (MR) $ 3.99
PROMETHEE 1313 #2 CVR B MARTINBROUGH (MR) $ 3.99
PROMETHEE 1313 #2 CVR C ET HOMAGE (MR) $ 3.99
SEVEN SONS #3 (OF 7) CVR A LEE (MR) $ 3.99
SHEENA QUEEN JUNGLE #8 CVR B SUYDAM $ 3.99
SHERLOCK SCANDAL IN BELGRAVIA PART 2 #1 CVR A CONNECTING ZHA $ 4.99
SHIRTLESS BEAR-FIGHTER 2 #1 (OF 7) CVR A JOHNSON $ 3.99
SHIRTLESS BEAR-FIGHTER 2 #1 (OF 7) CVR B BRUNNER $ 3.99
SHIRTLESS BEAR-FIGHTER 2 #1 (OF 7) CVR C BLANK SKETCH CVR $ 3.99
SHIRTLESS BEAR-FIGHTER 2 #1 (OF 7) CVR D 1/10 VAR RIVERA $ ???
SILVER COIN #13 CVR A WALSH (MR) $ 3.99
SONIC THE HEDGEHOG ANNUAL 2022 CVR A SONIC TEAM $ 7.99
SONIC THE HEDGEHOG ANNUAL 2022 CVR B REGGIE GRAHAM $ 7.99
SONIC THE HEDGEHOG ANNUAL 2022 CVR C 1/10 VAR (NET) $ ???
STAR TREK MIRROR WAR #8 (OF 8) CVR A WOODWARD $ 3.99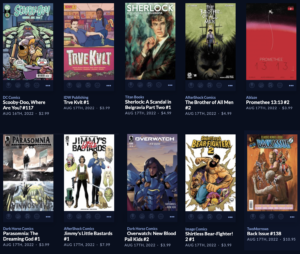 TALES FROM HARROW COUNTY LOST ONES #4 (OF 4) CVR A SCHNALL $ 3.99
TRVE KVLT #1 CVR A LIANA KANGAS $ 3.99
TRVE KVLT #1 CVR B LLOVET $ 3.99
TRVE KVLT #1 CVR C LELAY $ 3.99
UNDISCOVERED COUNTRY #20 CVR A CAMUNCOLI (MR) $ 3.99
UNDISCOVERED COUNTRY #20 CVR B NGUYEN (MR) $ 3.99
USAGI YOJIMBO #30 CVR A SAKAI $ 3.99
WALKING DEAD DLX #45 CVR A FINCH & MCCAIG (MR) $ 3.99
WALKING DEAD DLX #45 CVR B ADLARD & MCCAIG (MR) $ 3.99
WHERE STARSHIPS GO TO DIE #3 $ 3.99
News
BACK ISSUE #137 $ 10.95
COMIC SHOP NEWS #1826 $ FREE
STAR WARS INSIDER PRESENTS MANDALORIAN SPECIAL EDITION $ 17.99
DC Books
ROBIN & BATMAN HC $ 24.99
SWAMP THING (2021) TP VOL 2 CONDUIT $ 16.99
WONDER WOMAN (2021) TP VOL 02 THROUGH A GLASS DARKLY $ 19.99
WONDER WOMAN BLACK & GOLD HC $ 39.99
Other Books
APEX LEGENDS OVERTIME TP $ 19.99
BEGINNING AFTER END GN VOL 01 $ 20
BUFFY THE VAMPIRE SLAYER TP VOL 10 $ 14.99
CRITICAL ROLE MIGHTY NEIN ORIGINS HC YASHA NYDOORIN $ 17.99
ECHOLANDS HC VOL 01 (MR) $ 34.99
JUJUTSU KAISEN GN VOL 17 $ 9.99
MOB PSYCHO 100 TP VOL 09 $ 11.99
MY LITTLE PONY GENERATIONS TP $ 17.99
PULP HC PROCESS EDITION (MR) $ 39.99
RAZORBLADES OMNIBUS HC BOOK 01 (MR) $ 49.99
RICK AND MORTY PRESENTS TP VOL 04 (MR) $ 19.99
ROOSTER FIGHTER GN VOL 01 (MR) $ 12.99
TOILET BOUND HANAKO KUN GN VOL 15 $ 13
WALT DISNEY UNCLE SCROOGE HC VOL 26 GOLDEN NUGGET BOAT $ 35
Toys
DC BLACK ADAM MOVIE 7IN SCALE DR FATE AF CS $ 29.99
DEMON SLAYER WORLD COLLECTIBLE V3 12PC BMB FIG ASST $ 9.99
FUNKO LOUNGEFLY POP SIZED PIN ANIME DBZ FRIEZA $ 15.99
FUNKO LOUNGEFLY POP SIZED PIN ANIME DBZ FUTURE TRUNKS $ 15.99
FUNKO LOUNGEFLY POP SIZED PIN ANIME DBZ GOHAN $ 15.99
FUNKO LOUNGEFLY POP SIZED PIN HORROR CHUCKY $ 15.99
MYSTERY MINIS JURASSIC WORLD DOMINION 12PC BMB DISP $ 8.99
POP COMIC CVR MARVEL VENOM LETHAL PROTECTOR V1 PX VIN FIG $ 24.99
POP DELUXE MARVEL HALL OF ARMOR MK11 WAR MACHINE PX VIN FIG $ 31.99
POP DELUXE MARVEL HALL OF ARMOR SILVER CENTURION PX VIN FIG $ 31.99
POP ROCKS IRON MAIDEN EDDIE SOMEWHERE IN TIME W/ CHASE FIG $ 12.99
POP SUPER MY HERO ACADEMIA GIGANTOMACHIA VINYL FIGURE $ 21.99
POP TRADING CARDS LEBRON JAMES $ 24.99
POP TRADING CARDS STEPHEN CURRY $ 24.99
SW VINTAGE 3-3/4IN PADAWAN ANAKIN SKYWALKER AF $ 19.99
THOR MOVIE LEGENDS 6IN AF ASST $ 29.99
TRANSFORMERS GEN BW OPTIMUS PRIMAL AF $ 69.00
TRANSFORMERS GEN LEGACY LEADER BLITZWING AF $ 69.00
TRANSFORMERS GEN STUDIO SERIES DLX TF2 SIDEWAYS AF $ 49.99
VINYL SODA ADDAMS FAMILY MORTICIA W/ CHASE VIN FIG $ 15.99
VINYL SODA DC BLACK ADAM W/ CHASE VIN FIG $ 15.99
VINYL SODA MARVEL YONDU W/ CHASE VIN FIG $ 15.99