I Had a Great 3-Man College Reunion – Wednesday, October 26th, 2022
I got two college buds to come and meet me in the Twin Cities from San Diego and New York, and we spent Family Day at St John's University, where we matriculated way back when. It's a beautiful campus, still. Probably still a good place to do your first degree, and still a Division III powerhouse in Football and other sports.  But I caught a bug, and now tested negative for Covid 4 days in a row, but it's the first time I've been sick in 33 months and I need put my  A-game to the moving concept. Better be better by tomorrow!
Because this is my third week away, I am not claiming that every single thing on the list actually arrived unscathed. So, you should be aware that the vagaries of distribution may happen without my notice and declaration here.
With that warning, it should be a big DC week, a relatively small Marvel week, and a big Other comics week, and a HUGE Pops week with about 45 new ones on the invoice, but  I can't vouch that everything in that category will make it out on display today. Come in and ask, and maybe they'll dig them out for you. Beyond that, I'll let the list speak for itself and go back to bed.
We are still encouraging and welcoming masks, but not requiring them. You are only in our enclosed space for minutes, but Bob is there all day. We still need to be careful, people. I am going to talk to the one person reading this. We have put a TON of effort into clearing out the aisles and getting things in order, especially the books and Pops. Please tell Bob you appreciate how the store looks and feels. And help us keep them in order.
Thanks to League Of Comic Geeks for this week's images, which are in some unusual, non-alphabetical order, and 8 across. So it's a somewhat random sample. I'll keep searching. Use the list, and MAYBE the pictures will be useful.
Wednesday is still New Comic Day, no matter what you read on the internets. Watch this space and our Facebook page for the latest news about the rest of the month, season, year, millenium, etc. (And text messages from 5-Star.) The complete list is found below. If you want to know about the next sale or store event, or whether or not WE ARE EVEN OPEN click here. Sign in here to get an email reminder for ALL sales and other events. Also, you can go to     fb.fantasybooksandgames.com and you'll be taken to our Facebook page. We also use our in-store 5-Star Rewards system to text similar announcements to your phone.
DC Comics
ACTION COMICS #1048 CVR A STEVE BEACH (KAL-EL RETURNS) $ 4.99
ACTION COMICS #1048 CVR B DAVID LAPHAM CD STK VAR (KAL-EL RETURNS) $ 5.99
ACTION COMICS #1048 CVR C IVAN TAO BLACK ADAM MOVIE CD STK VAR (KAL-EL RETURNS) $ 5.99
ACTION COMICS #1048 CVR D 1:25 RAFAEL SARMENTO CD STK VAR (KAL-EL RETURNS) $ ???
ACTION COMICS #1048 CVR E RICCARDO FEDERICI DESIGN CD STK VAR (KAL-EL RETURNS) $ 5.99
BATMAN BEYOND THE WHITE KNIGHT #6 (OF 8) CVR A SEAN MURPHY (MR) $ 4.99
BATMAN BEYOND THE WHITE KNIGHT #6 (OF 8) CVR B FIONA STAPLES VAR (MR) $ 4.99
BATMAN BEYOND THE WHITE KNIGHT #6 (OF 8) CVR C 1:25 SEAN MURPHY VAR (MR) $ ???
BATMAN FORTRESS #6 (OF 8) CVR A DARICK ROBERTSON $ 3.99
BATMAN FORTRESS #6 (OF 8) CVR B JORGE MOLINA CD STK VAR $ 4.99
BATMAN GOTHAM KNIGHTS GILDED CITY #1 (OF 6) CVR A CAPULLO & GLAPION $ 4.99
BATMAN GOTHAM KNIGHTS GILDED CITY #1 (OF 6) CVR B YANICK PAQUETTE CD STK VAR $ 5.99
BATMAN GOTHAM KNIGHTS GILDED CITY #1 (OF 6) CVR C LEE & WILLIAMS WRAP CD STK VAR $ 5.99
BATMAN GOTHAM KNIGHTS GILDED CITY #1 (OF 6) CVR D 1:25 MITTEN CD STK VAR $ ???
BATMAN GOTHAM KNIGHTS GILDED CITY #1 (OF 6) CVR G VIDEO GAME CD STK VAR $ 5.99
BATMAN THE AUDIO ADVENTURES #2 (OF 7) CVR A DAVE JOHNSON $ 3.99
BATMAN THE AUDIO ADVENTURES #2 (OF 7) CVR B MICHAEL ALLRED CD STK VAR $ 4.99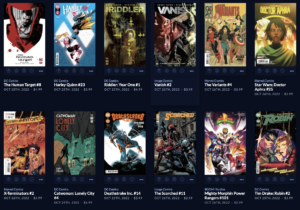 CATWOMAN LONELY CITY #4 (OF 4) CVR A CLIFF CHIANG (MR) $ 6.99
CATWOMAN LONELY CITY #4 (OF 4) CVR B CLIFF CHIANG VAR (MR) $ 6.99
DC HORROR PRES SGT ROCK VS ARMY OF DEAD #2 (OF 6) CVR A GARY FRANK (MR) $ 3.99
DC HORROR PRES SGT ROCK VS ARMY OF DEAD #2 (OF 6) CVR B FRANCAVILLA CD STK VAR (MR) $ 4.99
DC HORROR PRES SGT ROCK VS ARMY OF DEAD #2 (OF 6) CVR C 1:25 HOTZ CD STK VAR (MR) $ ???
DC MECH #4 (OF 6) CVR A BALDEMAR RIVAS $ 3.99
DC MECH #4 (OF 6) CVR B DAN MORA CD STK VAR $ 4.99
DC VS VAMPIRES #10 (OF 12) CVR A GUILLEM MARCH $ 3.99
DC VS VAMPIRES #10 (OF 12) CVR B NATHAN SZERDY CD STK VAR $ 4.99
DC VS VAMPIRES #10 (OF 12) CVR C 1:25 JOHN GIANG CD STK VAR $ ???
DEATHSTROKE INC #14 CVR A MIKEL JANIN $ 3.99
DEATHSTROKE INC #14 CVR B IVAN TAO CD STK VAR $ 4.99
DETECTIVE COMICS #1065 CVR A EVAN CAGLE $ 4.99
DETECTIVE COMICS #1065 CVR B JIM LEE, WILLIAMS & SINCLAIR CD STK VAR $ 5.99
DETECTIVE COMICS #1065 CVR C 1:25 MARTIN SIMMONDS CD STK VAR $ ???
DETECTIVE COMICS #1065 CVR D 1:50 JIM LEE PENCIL FOIL CD STK VAR $ ???
HARLEY QUINN #23 CVR A MATTEO LOLLI $ 3.99
HARLEY QUINN #23 CVR B LESLEY LEIRIX LI CD STK VAR $ 4.99
HUMAN TARGET #8 (OF 12) CVR A GREG SMALLWOOD (MR) $ 4.99
HUMAN TARGET #8 (OF 12) CVR B JORGE JIMENEZ VAR (MR) $ 4.99
PUNCHLINE THE GOTHAM GAME #1 (OF 6) CVR A GLEB MELNIKOV $ 3.99
PUNCHLINE THE GOTHAM GAME #1 (OF 6) CVR B CHEW CD STK VAR $ 4.99
PUNCHLINE THE GOTHAM GAME #1 (OF 6) CVR C BESCH CD STK VAR $ 4.99
PUNCHLINE THE GOTHAM GAME #1 (OF 6) CVR D 1:25 ALBUQUERQUE CD STK VAR $ ???
PUNCHLINE THE GOTHAM GAME #1 (OF 6) CVR E 1:50 GUILLEM MARCH CD STK VAR $ ???
RIDDLER YEAR ONE #1 (OF 6) CVR A BILL SIENKIEWICZ (MR) $ 4.99
RIDDLER YEAR ONE #1 (OF 6) CVR B JIM LEE VAR (MR) $ 4.99
RIDDLER YEAR ONE #1 (OF 6) CVR C STEVAN SUBIC VAR (MR) $ 4.99
RIDDLER YEAR ONE #1 (OF 6) CVR D 1:25 GREG RUTH VAR (MR) $ ???
RIDDLER YEAR ONE #1 (OF 6) CVR E 1:50 TULA LOTAY VAR (MR) $ ???
TIM DRAKE ROBIN #2 CVR A RICARDO LOPEZ ORTIZ $ 3.99
TIM DRAKE ROBIN #2 CVR B DAN MORA CD STK VAR $ 4.99
TIM DRAKE ROBIN #2 CVR C INC 1:25 RILEY ROSSMO CD STK VAR $ ???
YOUNG JUSTICE TARGETS #4 (OF 6) CVR A CHRISTOPHER JONES $ 3.99
YOUNG JUSTICE TARGETS #4 (OF 6) CVR B MEGHAN HETRICK CD STK VAR $ 4.99
YOUNG JUSTICE TARGETS #4 (OF 6) CVR C RENAUD BLACK ADAM MOV CD STK VAR $ 4.99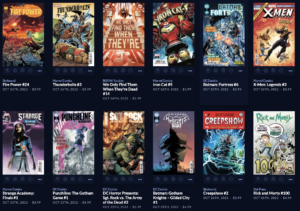 Marvel Comics
AMAZING SPIDER-MAN #12 $ 3.99
AMAZING SPIDER-MAN #12 DELL`OTTO MIRACLEMAN VAR $ 3.99
AMAZING SPIDER-MAN #12 REILLY WINDOW SHADES VAR $ 3.99
AXE JUDGMENT DAY #6 (OF 6) $ 5.99
AXE JUDGMENT DAY #6 (OF 6) ARTGERM VAR $ 5.99
AXE JUDGMENT DAY #6 (OF 6) GIANGIORDANO VAR $ 5.99
AXE JUDGMENT DAY #6 (OF 6) MOMOKO VAR $ 5.99
AXE JUDGMENT DAY #6 (OF 6) WITTER MEN OF AXE VAR $ 5.99
IRON CAT #5 (OF 5) $ 3.99
IRON CAT #5 (OF 5) YOON VAR $ 3.99
MECH STRIKE MONSTER HUNTERS #5 (OF 5) $ 3.99
MECH STRIKE MONSTER HUNTERS #5 (OF 5) SKAN VAR $ 3.99
MOON KNIGHT ANNUAL #1 $ 4.99
MOON KNIGHT ANNUAL #1 KLEIN VAR $ 4.99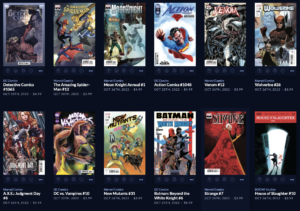 NEW MUTANTS #31 $ 3.99
NEW MUTANTS #31 ARTHUR ADAMS VAR $ 3.99
NEW MUTANTS #31 SEGOVIA VAR $ 3.99
STAR WARS DOCTOR APHRA #25 $ 3.99
STAR WARS DOCTOR APHRA #25 BUSTOS VAR $ 3.99
STAR WARS DOCTOR APHRA #25 LAND NEW HOPE 45TH ANNV VAR $ 3.99
STRANGE #7 $ 3.99
STRANGE #7 DAVIS MIRACLEMAN VAR $ 3.99
STRANGE #7 VECCHIO VAR $ 3.99
STRANGE ACADEMY FINALS #1 $ 3.99
STRANGE ACADEMY FINALS #1 NETEASE GAMES VAR $ 3.99
STRANGE ACADEMY FINALS #1 REILLY WINDOWSHADES VAR $ 3.99
STRANGE ACADEMY FINALS #1 WEAVER TRADING CARD VAR $ 3.99
THUNDERBOLTS #3 (OF 5) (RES) $ 3.99
THUNDERBOLTS #3 (OF 5) CASELLI TRADING CARD VAR (RES) $ 3.99
ULTRAMAN MYSTERY OF ULTRASEVEN #3 (OF 5) $ 3.99
ULTRAMAN MYSTERY OF ULTRASEVEN #3 (OF 5) SHIMIZU SHIMOGUCHI $ 3.99
VARIANTS #4 (OF 5) $ 3.99
VENOM #12 $ 3.99
VENOM #12 STEGMAN MIRACLEMAN VAR $ 3.99
VENOM #12 STEGMAN VAR $ 3.99
WILD CARDS DRAWING OF CARDS #4 (OF 4) $ 4.99
WILD CARDS DRAWING OF CARDS #4 (OF 4) MOBILI VAR $ 4.99
WOLVERINE #26 $ 3.99
WOLVERINE #26 NETEASE GAMES VAR $ 3.99
WOLVERINE #26 WALKER VAR $ 3.99
X-MEN LEGENDS #3 (RES) $ 3.99
X-MEN LEGENDS #3 ADAMS VAR (RES) $ 3.99
X-TERMINATORS #2 (OF 5) (RES) $ 3.99
X-TERMINATORS #2 (OF 5) GOMEZ VAR (RES) $ 3.99
Other Comics
20TH CENTURY MEN #3 (OF 6) CVR A MORIAN (MR) $ 3.99
ABSOLUTION #4 (OF 5) (MR) $ 3.99
AMERICAN JESUS REVELATION #1 (OF 3) CVR A MUIR (MR) $ 3.99
AMERICAN JESUS REVELATION #1 (OF 3) CVR B COKER (MR) $ 3.99
AOD VS REANIMATOR NECRONOMICON RISING #4 CVR A FLEECS $ 3.99
AOD VS REANIMATOR NECRONOMICON RISING #4 CVR C SUYDAM $ 3.99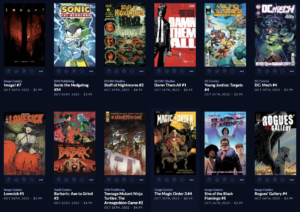 BARBARIC AXE TO GRIND #3 CVR A GOODEN $ 4.99
BILL & TED ROLL DICE #4 CVR A KETNER $ 4.99
BILL & TED ROLL DICE #4 CVR B PHOTO $ 4.99
BLOODSHOT UNLEASHED #2 CVR A DAVIS-HUNT (MR) $ 3.99
CREEPSHOW #1 (OF 5) 2ND PTG (MR) $ 3.99
CREEPSHOW #2 (OF 5) CVR A BURNHAM (MR) $ 3.99
CREEPSHOW #2 (OF 5) CVR B FIUMARA (MR) $ 3.99
CREEPSHOW #2 (OF 5) CVR C 1/10 VAR KELLY (MR) $ ???
CRIMINAL MACABRE COUNT CROWLEY HALLOWEEN ONESHOT $ 3.99
DAMN THEM ALL #1 (OF 6) CVR A ADLARD (MR) $ 3.99
DAMN THEM ALL #1 (OF 6) CVR B DANI (MR) $ 3.99
DEAD MALL #1 (OF 4) $ 3.99
EIGHT BILLION GENIES #2 (OF 8) 4TH PTG $ 3.99
EIGHT BILLION GENIES #3 (OF 8) 4TH PTG $ 3.99
EIGHT BILLION GENIES #4 (OF 8) 3RD PTG $ 3.99
FIRE POWER BY KIRKMAN & SAMNEE #24 CVR A SAMNEE & WILSON $ 3.99
FLAWED #2 (OF 6) CVR A PRENZY (MR) $ 3.99
GODZILLA BEST OF MOTHRA ONESHOT $ 6.99
HOUSE OF SLAUGHTER #10 CVR A ALBUQUERQUE $ 3.99
HOUSE OF SLAUGHTER #10 CVR B DELL EDERA $ 3.99
HOUSE OF SLAUGHTER #10 CVR C BODYBAG VAR HARREN $ 4.99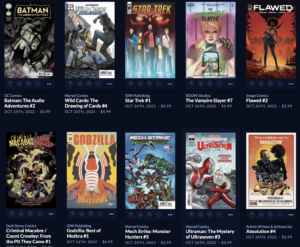 IMAGE 30TH ANNV ANTHOLOGY #7 (OF 12) (MR) $ 5.99
MISS MEOW #5 (OF 8) CVR A RB WHITE (MR) (not from DCD) $ 4.99
MISS MEOW #5 (OF 8) CVR B LOBOS VAR (MR) (not from DCD) $ 4.99
LOVESICK #1 (OF 7) CVR A VECCHIO (MR) $ 3.99
LOVESICK #1 (OF 7) CVR B VECCHIO (MR) $ 3.99
LOVESICK #1 (OF 7) CVR C VECCHIO (MR) $ 3.99
LOVESICK #1 (OF 7) CVR D VECCHIO (MR) $ 3.99
LOVESICK #1 (OF 7) CVR E BLANK SKETCH CVR (MR) $ 3.99
LOVESICK #1 (OF 7) CVR F LLOVET (MR) $ 3.99
LOVESICK #1 (OF 7) CVR G ANDOLFO (MR) $ 3.99
LOVESICK #1 (OF 7) CVR H MAHFOOD (MR) $ 3.99
MAGIC ORDER 3 #4 (OF 6) CVR A CAVENAGO (MR) $ 3.99
MIGHTY MORPHIN POWER RANGERS #100 2ND PTG MORA $ 9.99
MIGHTY MORPHIN POWER RANGERS #101 CVR A MANHANINI $ 3.99
MIGHTY MORPHIN POWER RANGERS #101 CVR B TOMASELLI $ 3.99
MIGHTY MORPHIN POWER RANGERS #101 CVR G FOC REVEAL VAR $ 3.99
MONSTER MEN ISLE OF TERROR #3 (OF 3) CVR A WOLFER $ 3.99
NIGHTFALL DOUBLE FEATURE #1 CVR A HOUSE $ 7.99
RETURN OF CHILLING ADV IN SORCERY ONE SHOT CVR A OHTA $ 3.99
RETURN OF CHILLING ADV IN SORCERY ONE SHOT CVR B FRANCAVILLA $ 3.99
RICK AND MORTY #100 CVR A TROY LITTLE (not from DCD) $ 4.99
RICK AND MORTY #100 CVR B TONY FLEECS VAR (not from DCD) $ 4.99
RICK AND MORTY #100 CVR C JULIETA COLAS VAR (not from DCD) $ 4.99
RICK AND MORTY #100 CVR D MARC ELLERBY VAR (not from DCD) $ 4.99
RICK AND MORTY #100 CVR E FRED STRESING VAR (not from DCD) $ 4.99
RICK AND MORTY #100 CVR F FRED STRESING VAR (not from DCD) $ 4.99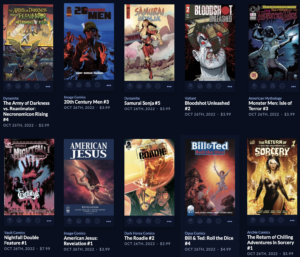 ROADIE #2 (OF 4) $ 3.99
ROGUES GALLERY #4 CVR A SHALVEY (MR) $ 3.99
SAMURAI SONJA #5 CVR B LEIRIX $ 3.99
SAMURAI SONJA #5 CVR E COSPLAY $ 3.99
SINS OF BLACK FLAMINGO #5 (OF 5) (MR) $ 3.99
SONIC THE HEDGEHOG #54 CVR A YARDLEY $ 3.99
SONIC THE HEDGEHOG #54 CVR B SCHOENING $ 3.99
SONIC THE HEDGEHOG #54 CVR C 1/10 VAR FOURDRAINE $ ???
SPAWN SCORCHED #11 CVR A NACHLIK $ 2.99
SPAWN SCORCHED #11 CVR B KEANE $ 2.99
STAR TREK #1 CVR A ROSANAS $ 4.99
STAR TREK #1 CVR B SHALVEY $ 4.99
STAR TREK #1 CVR C AJA $ 4.99
STAR TREK #1 CVR D STOTT $ 4.99
STUFF OF NIGHTMARES #2 (OF 4) CVR A FRANCAVILLA $ 4.99
STUFF OF NIGHTMARES #2 (OF 4) CVR B WALSH $ 4.99
STUFF OF NIGHTMARES #2 (OF 4) CVR C GIST $ 4.99
TMNT ARMAGEDDON GAME #2 CVR A FEDERICI $ 4.99
TMNT ARMAGEDDON GAME #2 CVR B CAMPBELL $ 4.99
TMNT ARMAGEDDON GAME #2 CVR C EASTMAN $ 4.99
VAMPIRE SLAYER (BUFFY) #7 CVR A ANINDITO $ 4.99
VANISH #2 CVR A STEGMAN (MR) $ 3.99
VANISH #2 CVR B JOHNSON (MR) $ 3.99
VANISH #2 CVR C BLANK SKETCH CVR (MR) $ 3.99
VANISH #2 CVR D 1/10 VAR OTTLEY (MR) $ ???
WE ONLY FIND THEM WHEN THEYRE DEAD #14 CVR A DI MEO $ 3.99
WE ONLY FIND THEM WHEN THEYRE DEAD #14 CVR B INFANTE $ 3.99
News
COMIC SHOP NEWS #1836 $ FREE
DC Books
AMERICAN VAMPIRE 1976 TP (MR) $ 19.99
HARLEY QUINN (2021) HC VOL 02 KEEPSAKE $ 29.99
JOKER TP VOL 01 $ 16.99
JUSTICE LEAGUE INCARNATE HC $ 24.99
Other Books
BEETHOVEN A STAND FOR FREEDOM TP (MR) $ 22.99
BLACK PARADOX GN (MR) $ 19.99
DEMON SLAYER KIMETSU NO YAIBA THE FLOWER OF HAPPINESS SC $ 10.99
DIARY OF A WIMPY KID HC VOL 17 DIPER OVERLODE $ 14.99
FANTASTIC FOUR FIRST 60 YEARS HC VOL 01 $ 24.99
HEARTSTOPPER OFFICIAL COLORING BOOK $ 15.99
KILLADELPHIA TP VOL 04 END OF ALL (MR) $ 16.99
MAN WHO FELL TO EARTH HC $ 29.99
OPEN BAR TP $ 24.99
PEANUTS & WOODSTOCK IN A BIRCH TREE SC $ 7.99
POWER RANGERS UNIVERSE HC $ 24.99
RICK & MORTY CORPORATE ASSETS TP $ 19.99
SNOW WHITE WITH RED HAIR GN VOL 21 $ 9.99
SONIC THE HEDGEHOG OFF COLORING BOOK $ 6.99
SPAWN ORIGINS TP VOL 23 $ 16.99
WORLD OF BLACK HAMMER LIBRARY ED HC VOL 04 $ 49.99
YONA OF THE DAWN GN VOL 37 $ 9.99
Misc Merch
HUNTER X HUNTER 2023 WALL CALENDAR $ 16.99
MY HERO ACADEMIA 2023 WALL CALENDAR $ 16.99
TOON TUMBLERS SERIES 3 SILVER SURFER CLEAR PINT GLASS $ 11.99
Toys
AVENGERS LEGENDS FALCON/WS SHARON CARTER 6IN AF CS $ ???
CHILDS PLAY W2 EVIL CHUCKY BLOOD SPLATTER REACTION FIG $ 19.99
DC COLLECTOR BUILD-A 7IN SCALE AF WV9 ASST DARKEST KNIGHT $ ???
DC DIRECT WV2 FLASHPOINT BATMAN 3IN AF W/COMIC CS $ ???
DC DIRECT WV2 HAL JORDAN GREEN LANTERN 3IN AF W/COMIC CS $ ???
DC DIRECT WV2 REBIRTH JOKER 3IN AF W/COMIC CS $ ???
DC DIRECT WV2 REBIRTH NIGHTWING 3IN AF W/COMIC CS $ ???
FREDDY PVC FIGURAL BANK $ 29.99
FUNKO SOMETHING WILD GOTG BABY GROOT $ 11.99
GI JOE CLASSIFIED SERIES 6IN AF ASST 202203 $ ???
JASON PVC FIGURAL BANK $ 29.99
MARVEL RETRO LEGENDS 3-3/4IN AF ASST $ ???
MCFARLANE DRAGONS V1 AF CS $ ???
NIGHTMARE BEFORE CHRISTMAS W2 DR FINKELSTEIN REACTION FIG $ 21.99
NIGHTMARE BEFORE CHRISTMAS W2 LOCK REACTION FIG $ 21.99
NIGHTMARE BEFORE CHRISTMAS W2 OOGIE BOOGIE REACTION FIG $ 21.99
NIGHTMARE BEFORE CHRISTMAS W2 PUMPKIN KING REACTION FIG $ 21.99
NIGHTMARE BEFORE CHRISTMAS W2 UNDERSEA GAL REACTION FIG $ 21.99
NIGHTMARE BEFORE CHRISTMAS W2 WOLFMAN REACTION FIG $ 21.99
POCKET POP NBX SALLY SEWING KEYCHAIN $ 5.99
POCKET POP STRANGER THINGS S4 ERICA SINCLAIR KEYCHAIN $ 5.99
POCKET POP STRANGER THINGS S4 ROBIN BUCKLEY HUNTER KEYCHAIN $ 5.99
POCKET POP STRANGER THINGS S4 STEVE HARRINGTON HUNTER KEYCHN $ 5.99
POCKET POP STRANGER THINGS S4 VECNA KEYCHAIN $ 5.99
POP AD ICONS COCA-COLA POLAR BEAR 90S VIN FIG $ 12.99
POP AD ICONS COCA-COLA SANTA VIN FIG $ 12.99
POP ALBUMS CYNDI LAUPER SHES SO UNUSUAL VIN FIG $ 19.99
POP ANIMATION BORUTO W/ MARKS VINYL FIG $ 12.99
POP ANIMATION NARUTO IZUMO VIN FIG $ 12.99
POP ANIMATION NARUTO KIBA W/ AKAMARU VINYL FIG $ 12.99
POP ANIMATION NARUTO KOTETSU HAGANE W/ WEAPON VIN FIG $ 12.99
POP ANIMATION TOKYO GHOUL RE HAISE SASAKI W OUTFIT VIN FIG $ 12.99
POP DELUXE HARRY POTTER HOGSMEADE HONEYDUKES NEVILLE VIN FIG $ 31.99
POP DELUXE HARRY POTTER HOGSMEADE SKRIEKING SHACK LUPIN FIG $ 31.99
POP HEROES DC HOLIDAY AQUAMAN GB VIN FIG $ 12.99
POP HEROES DC HOLIDAY BATMAN GB VIN FIG $ 12.99
POP HEROES DC HOLIDAY FLASH GB VIN FIG $ 12.99
POP HEROES DC HOLIDAY SUPERMAN GB VIN FIG $ 12.99
POP HEROES DC HOLIDAY WONDER WOMAN GB VIN FIG $ 12.99
POP ICONS ELVIRA 40TH VIN FIG $ 12.99
POP MOVIES BRIDE OF CHUCKY TIFFANY VIN FIG $ 12.99
POP MOVIES HARRY POTTER COS 20TH DOBBY VIN FIG $ 12.99
POP MOVIES HARRY POTTER COS 20TH GILDEROY LOCKHEART VIN FIG $ 12.99
POP MOVIES HARRY POTTER COS 20TH HARRY VIN FIG $ 12.99
POP MOVIES HARRY POTTER COS 20TH HERMIONE VIN FIG $ 12.99
POP NBA COVER SLAM TRACEY MCGRADY $ 21.99
POP RIDE SUPDLX HP CHAMBER OF SECRETS 20TH RON W/CAR VIN FIG $ 31.99
POP RIDES SUPER DLX U2 AB CAR W/ BONO FIG $ 31.99
POP ROCKS BLINK 182 3PK VIN FIG $ 41.99
POP ROCKS U2 ZOOTV ADAM VIN FIG $ 12.99
POP ROCKS U2 ZOOTV BONO VIN FIG $ 12.99
POP ROCKS U2 ZOOTV EDGE VIN FIG $ 12.99
POP ROCKS U2 ZOOTV LARRY VIN FIG $ 12.99
POP STAR WARS HOLIDAY BOBA FETT SNOWMAN VIN FIG $ 12.99
POP STAR WARS HOLIDAY DARTH VADER SNOWMAN VIN FIG $ 12.99
POP STAR WARS HOLIDAY STORMTROOPER SNOWMAN VIN FIG $ 12.99
POP TV GOT HOUSE OF DRAGONS ALICENT HIGHTOWER VIN FIG $ 12.99
POP TV GOT HOUSE OF DRAGONS CORLYS VELARYON VIN FIG $ 12.99
POP TV GOT HOUSE OF DRAGONS DAEMON TARGARYEN VIN FIG $ 12.99
POP TV GOT HOUSE OF DRAGONS OTTO HIGHTOWER VIN FIG $ 12.99
POP TV GOT HOUSE OF DRAGONS RHAENYRA TARGARYEN VIN FIG $ 12.99
POP TV GOT HOUSE OF DRAGONS SYRAX VIN FIG $ 12.99
POP TV GOT HOUSE OF DRAGONS VISERYS TARGARYEN VIN FIG $ 12.99
POP TV STRANGER THINGS S4 ARGYLE VIN FIG $ 12.99
POP TV STRANGER THINGS S4 DEMOBATS VIN FIG $ 12.99
POP TV STRANGER THINGS S4 ELEVEN DIORAMA VIN FIG $ 12.99
POP TV STRANGER THINGS S4 MIKE WHEELER CALI VIN FIG $ 12.99
POP TV STRANGER THINGS S4 ROBIN BUCKLEY HUNTER VIN FIG $ 12.99
POP TV STRANGER THINGS S4 STEVE HARRINGTON HUNTER VIN FIG $ 12.99
POP TV ZORRO ANNIVERSARY ZORRO VIN FIG $ 12.99
SW BLACK ARCHIVES 6IN CHEWBACCA AF CS $ ???
THOR LOVE AND THUNDER RAVAGER THOR VINYL POP FIGURE $ 16.99
VINYL GOLD NBA WARRIORS STEPH CURRY 5IN VINYL FIG $ 11.99
VINYL SODA DISNEY URSULA W/ CHASE VIN FIG $ 15.99
VINYL SODA MARVEL CHRISTMAS GROOT W/ CHASE VIN FIG $ 15.99
VINYL SODA MOVIES NOSFERATU W/ CHASE B&W VIN FIG $ 15.99
VINYL SODA NBX SALLY BLKLT W/ CHASE VIN FIG $ 15.99