Back in the Bay – One More Time – Wednesday, November 2nd, 2022
Still have a mild cough that refuses to go away.
I'm really pressed for time collecting, sorting, cleaning, consolidating, and figuring out how to pay for it all. This time next week, I had better be 1000 miles away, or something went wrong,I was there Wednesday, and can verify that we had to claim over 20 shortages, mostly comics, and in the Marvels at least, only one of 2 or more variants, so desperate readers found at least one to read. I think a small box got sent to the wrong account.
Almost every DC title has a Bat in it, or he's inside, or something. Marvel is big on # 1's, with Deadpool, Secret Invasion and Tiger Division. The big one from the others is Image's Hell to Pay #1. We got several more new Funko Pops and I did what I could to catch up with last week's tsunami of them. Good luck to the crew for the rest of the year and beyond.
We are still encouraging and welcoming masks, but not requiring them. You are only in our enclosed space for minutes, but Bob is there all day. We still need to be careful, people. I am going to talk to the one person reading this. We have put a TON of effort into clearing out the aisles and getting things in order, especially the books and Pops. Please tell Bob you appreciate how the store looks and feels. And help us keep them in order.
Thanks to League Of Comic Geeks for this week's images, which are in some unusual, non-alphabetical order, and 8 across. So it's a somewhat random sample. I'll keep searching. Use the list, and MAYBE the pictures will be useful.
Wednesday is still New Comic Day, no matter what you read on the internets. Watch this space and our Facebook page for the latest news about the rest of the month, season, year, millenium, etc. (And text messages from 5-Star.) The complete list is found below. If you want to know about the next sale or store event, or whether or not WE ARE EVEN OPEN click here. Sign in here to get an email reminder for ALL sales and other events. Also, you can go to     fb.fantasybooksandgames.com and you'll be taken to our Facebook page. We also use our in-store 5-Star Rewards system to text similar announcements to your phone.
DC Comics
AQUAMAN ANDROMEDA #3 (OF 3) CVR B TIFFANY TURRILL VAR (MR) $ 6.99
BATMAN #129 CVR A JORGE JIMENEZ $ 4.99
BATMAN #129 CVR B GABRIELE DELL OTTO CD STK VAR $ 5.99
BATMAN #129 CVR C FRANCESCO MATTINA CD STK VAR $ 5.99
BATMAN #129 CVR D RYAN BENJAMIN 90S COVER MONTH FOIL MULTI-LEVEL EMB CD STK VAR $ ???
BATMAN #129 CVR E 1:25 SIMONE DI MEO CD STK VAR $ ???
BATMAN #129 CVR F 1:50 JOCK FOIL CD STK VAR $ ???
BATMAN & THE JOKER THE DEADLY DUO #1 (OF 7) CVR A MARC SILVESTRI (MR) $ 4.99
BATMAN & THE JOKER THE DEADLY DUO #1 (OF 7) CVR B GREG CAPULLO BATMAN VAR (MR) $ 4.99
BATMAN & THE JOKER THE DEADLY DUO #1 (OF 7) CVR C GREG CAPULLO JOKER VAR (MR) $ 4.99
BATMAN & THE JOKER THE DEADLY DUO #1 (OF 7) CVR D 1:25 KYLE HOTZ VAR (MR) $ ???
BATMAN & THE JOKER THE DEADLY DUO #1 (OF 7) CVR E 1:50 SILVESTRI B & W VAR (MR) $ ???
BATMAN & THE JOKER THE DEADLY DUO #1 (OF 7) CVR F 1:100 JORGE FORNES VAR (MR) $ ???
BATMAN KNIGHTWATCH #3 (OF 5) $ 2.99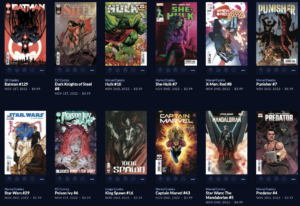 DARK KNIGHTS OF STEEL #8 (OF 12) CVR A DAN MORA $ 3.99
DARK KNIGHTS OF STEEL #8 (OF 12) CVR B JG JONES CD STK VAR $ 4.99
DARK KNIGHTS OF STEEL #8 (OF 12) CVR C 1:25 RAFAEL ALBUQUERQUE CD STK VAR $ ???
DCS TERRORS THROUGH TIME #1 (ONE SHOT) CVR A JOHN MCCREA $ 9.99
DCS TERRORS THROUGH TIME #1 (ONE SHOT) CVR B STEVE BEACH VHS VAR $ 9.99
GOTHAM CITY YEAR ONE #2 (OF 6) CVR A PHIL HESTER & ERIC GAPSTUR $ 4.99
GOTHAM CITY YEAR ONE #2 (OF 6) CVR B CULLY HAMNER VAR $ 4.99
GOTHAM CITY YEAR ONE #2 (OF 6) CVR C 1:25 NATALI SANDERS VAR $ ???
I AM BATMAN #14 CVR C 1:25 CAANAN WHITE CD STK VAR $ ???
JOKER THE MAN WHO STOPPED LAUGHING #2 CVR A CARMINE DI GIANDOMENICO $ 5.99
JOKER THE MAN WHO STOPPED LAUGHING #2 CVR B LEE BERMEJO VAR $ 5.99
JOKER THE MAN WHO STOPPED LAUGHING #2 CVR C GABRIELE DELL OTTO VAR $ 5.99
JOKER THE MAN WHO STOPPED LAUGHING #2 CVR D K. JONES 90S FOIL MULTI-EMBOSSED VAR $ ???
JOKER THE MAN WHO STOPPED LAUGHING #2 CVR E 1:25 FRANCESCO MATTINA VAR $ ???
MONKEY PRINCE #8 (OF 12) CVR A BERNARD CHANG $ 3.99
MONKEY PRINCE #8 (OF 12) CVR B SAMI BASRI CD STK VAR $ 4.99
NEW CHAMPION OF SHAZAM #3 (OF 4) CVR A EVAN DOC SHANER $ 3.99
NEW CHAMPION OF SHAZAM #3 (OF 4) CVR B JEN BARTEL CD STK VAR $ 4.99
NEW CHAMPION OF SHAZAM #3 (OF 4) CVR C 1:25 BEN CALDWELL CD STK VAR $ ???
POISON IVY #6 CVR A JESSICA FONG $ 3.99
POISON IVY #6 CVR B WARREN LOUW CD STK VAR $ 4.99
POISON IVY #6 CVR C JENNY FRISON CD STK VAR $ 4.99
POISON IVY #6 CVR D 1:25 JANAINA MEDIEROS CD STK VAR $ ???
SWORD OF AZRAEL #4 (OF 6) CVR A NIKOLA CIZMESIJA $ 3.99
SWORD OF AZRAEL #4 (OF 6) CVR B GERARDO ZAFFINO CD STK VAR $ 4.99
Marvel Comics
AVENGERS FOREVER #10 $ 3.99
AVENGERS FOREVER #10 BIANCHI VAR $ 3.99
AVENGERS FOREVER #10 NETEASE GAMES VAR $ 3.99
BLACK PANTHER #11 $ 3.99
BLACK PANTHER #11 OKAZAKI X-TREME MARVEL VAR $ 3.99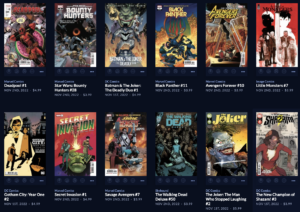 CAPTAIN MARVEL #43 $ 3.99
CAPTAIN MARVEL #43 DAVILA VAR $ 3.99
CAPTAIN MARVEL #43 VICENTINI X-TREME MARVEL VAR $ 3.99
CROSSGEN TALES #1 $ 8.99
DAMAGE CONTROL #3 (OF 5) $ 3.99
DAMAGE CONTROL #3 (OF 5) FLEECS VAR $ 3.99
DEADPOOL #1 $ 4.99
DEADPOOL #1 1/25 VAR YU VAR $ ???
DEADPOOL #1 HAWTHORNE VAR $ 4.99
DEADPOOL #1 LIEFELD X-TREME MARVEL VAR $ 4.99
DEADPOOL #1 NAKAYAMA VAR $ 4.99
DEADPOOL #1 REILLY WINDOW SHADES VAR $ 4.99
GUARDIANS OF THE GALAXY COSMIC REWIND #1 $ 3.99
HULK #10 (RES) $ 3.99
HULK #10 SU BEYOND AMAZING SPIDER-MAN VAR (RES) $ 3.99
MIDNIGHT SUNS #1 (OF 5) 2ND PTG GAME VAR $ 3.99
PREDATOR #4 $ 3.99
PREDATOR #4 1/25 VAR LARROCA VAR $ ???
PREDATOR #4 SAKAI VAR $ 3.99
PUNISHER #7 $ 4.99
PUNISHER #7 SHAW VAR $ 4.99
SAVAGE AVENGERS #7 $ 3.99
SAVAGE AVENGERS #7 FERNANDEZ VAR $ 3.99
SECRET INVASION #1 (OF 5) (RES) $ 4.99
SECRET INVASION #1 (OF 5) 1/25 VAR CAMUNCOLI VAR (RES) $ ???
SECRET INVASION #1 (OF 5) DELLOTTO VAR (RES) $ 4.99
SECRET INVASION #1 (OF 5) NAUCK HEADSHOT VAR (RES) $ 4.99
SECRET INVASION #1 (OF 5) YOUNG VAR (RES) $ 4.99
SHE-HULK #7 $ 3.99
SHE-HULK #7 BARTEL MIRACLEMAN VAR $ 3.99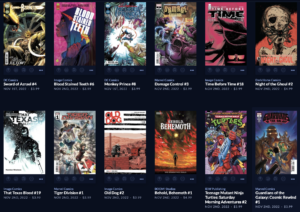 STAR WARS #29 $ 3.99
STAR WARS #29 CHRISTOPHER ACTION FIGURE VAR $ 3.99
STAR WARS #29 CLARKE REVELATIONS VAR $ 3.99
STAR WARS BOUNTY HUNTERS #28 $ 3.99
STAR WARS BOUNTY HUNTERS #28 CLARKE REVELATIONS VAR $ 3.99
STAR WARS BOUNTY HUNTERS #28 LASHLEY CONNECTING VAR $ 3.99
STAR WARS MANDALORIAN #5 $ 4.99
STAR WARS MANDALORIAN #5 1/25 VAR STOTT VAR $ ???
STAR WARS MANDALORIAN #5 1/50 VAR GIST VAR $ ???
STAR WARS MANDALORIAN #5 CONCEPT ART VAR $ 4.99
TIGER DIVISION #1 (OF 5) $ 3.99
TIGER DIVISION #1 (OF 5) 1/10 VAR CREEES LEE DESIGN VAR $ ???
TIGER DIVISION #1 (OF 5) ARTGERM VAR $ 3.99
TIGER DIVISION #1 (OF 5) GOMEZ VAR $ 3.99
TIGER DIVISION #1 (OF 5) MOMOKO VAR $ 3.99
TIGER DIVISION #1 (OF 5) YUNE VAR $ 3.99
X-MEN RED #8 $ 3.99
X-MEN RED #8 NETEASE GAMES VAR $ 3.99
Other Comics Retail $
BEHOLD BEHEMOTH #1 (OF 5) CVR A ROBLES $ 4.99
BEHOLD BEHEMOTH #1 (OF 5) CVR B LEMIRE $ 4.99
BEHOLD BEHEMOTH #1 (OF 5) CVR C 1/25 VAR LEMIRE $ ???
BEHOLD BEHEMOTH #1 (OF 5) CVR E FOC REVEAL PAQUETTE $ 4.99
BELIT & VALERIA #5 CVR A ROYLE (MR) $ 3.99
BLADE RUNNER BLACK LOTUS #4 CVR A HERVAS $ 3.99
BLOOD STAINED TEETH #6 CVR A WARD (MR) $ 3.99
BRIAR #1 (OF 4) 2ND PTG $ 4.99
EARTHDIVERS #2 CVR A ALBUQUERQUE (MR) $ 3.99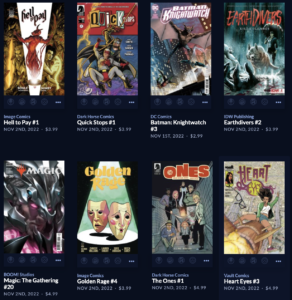 END AFTER END #1 2ND PTG $ 4.99
END AFTER END #3 CVR A SUNANDO (RES) $ 4.99
END AFTER END #3 CVR B KANGAS (RES) $ 4.99
GOLDEN RAGE #4 (OF 5) CVR A KNIGHT (MR) $ 3.99
GUN HONEY BLOOD FOR BLOOD #2 (OF 4) FOC CHEW COPIC (MR) $ 3.99
GUN HONEY BLOOD FOR BLOOD #2 (OF 4) FOC EMILIAN NUDE BAGGED $ 10
GUN HONEY BLOOD FOR BLOOD #2 CVR B MOLOCEA (MR) $ 3.99
GUN HONEY BLOOD FOR BLOOD #2 CVR C COSPLAY (MR) $ 3.99
GUN HONEY BLOOD FOR BLOOD #2 CVR D HOR KHENG (MR) $ 3.99
HEART EYES #3 CVR A IBANEZ $ 4.99
HELL TO PAY #1 CVR A JOHNSON $ 3.99
HELL TO PAY #1 CVR B SLINEY $ 3.99
HELL TO PAY #1 CVR C BLANK SKETCH CVR $ 3.99
HELL TO PAY #1 CVR D 1/10 VAR SLINEY HORROR $ ???
HELL TO PAY #1 CVR E 1/25 VAR DEL MUNDO $ ???
HELL TO PAY #1 CVR F 1/50 VAR ASRAR $ ???
HELL TO PAY #1 CVR G 1/100 VAR SLINEY FOIL $ ???
HELL TO PAY #1 COIN $ ???
KING SPAWN #16 CVR A LEE $ 2.99
KING SPAWN #16 CVR B MATTINA $ 2.99
LITTLE MONSTERS #7 CVR A NGUYEN (MR) $ 3.99
LITTLE MONSTERS #7 CVR B ALBUQUERQUE (MR) $ 3.99
MADBALLS VS GARBAGE PAIL KIDS #4 CVR C TRADING CARD (K2) $ 4.99
MAGIC ORDER 3 #3 (OF 6) CVR A CAVENAGO (MR) (K2) $ 3.99
MAGIC THE GATHERING (MTG) #20 CVR A MERCADO $ 4.99
MY LITTLE PONY #6 CVR A $ 3.99
MY LITTLE PONY #6 CVR C 1/10 VAR FORSTNER $ ???
NIGHT OF THE GHOUL #2 (OF 3) CVR A FRANCAVILLA $ 4.99
Old Dog 1A Zyx
Old Dog 1B Zyx
OLD DOG #2 CVR A SHALVEY (MR) $ 3.99
OLD DOG #2 CVR B SMALLWOOD (MR) $ 3.99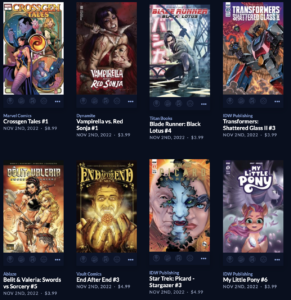 ONES #1 (OF 4) CVR A EDGAR $ 4.99
QUICK STOPS #1 (OF 4) CVR A SPRENGELMEYER $ 3.99
QUICK STOPS #1 (OF 4) CVR B SIMSER $ 3.99
STAR TREK PICARD STARGAZER #3 CVR A HERNANDEZ $ 4.99
STAR TREK PICARD STARGAZER #3 CVR B VON GORMAN $ 4.99
THAT TEXAS BLOOD #19 CVR A PHILLIPS (MR) $ 3.99
THAT TEXAS BLOOD #19 CVR B ZONJIC (MR) $ 3.99
TIME BEFORE TIME #18 CVR A SHALVEY (MR) $ 3.99
TIME BEFORE TIME #18 CVR B KNIGHT (MR) $ 3.99
TMNT SATURDAY MORNING ADVENTURES #2 CVR A LATTIE $ 3.99
TRANSFORMERS SHATTERED GLASS II #3 CVR A GUIDI $ 3.99
VAMPIRELLA VS RED SONJA #1 CVR A PARRILLO $ 3.99
VAMPIRELLA VS RED SONJA #1 CVR B LINSNER $ 3.99
VAMPIRELLA VS RED SONJA #1 CVR E COSPLAY $ 3.99
VAMPIRELLA VS RED SONJA #1 CVR L 1/40 VAR LEE VIRGIN $ ???
VAMPIRELLA VS RED SONJA #1 CVR M 1/50 VAR QUINONES VIRGI $ ???
WALKING DEAD DLX #50 CVR A FINCH & MCCAIG (MR) $ 3.99
WALKING DEAD DLX #50 CVR B WRAPAROUND ADLARD & MCCAIG (MR) $ 3.99
WALKING DEAD DLX #50 CVR C LOTAY (MR) $ 3.99
WALKING DEAD DLX #50 CVR D TEDESCO (MR) $ 3.99
WALKING DEAD DLX #50 CVR E WRAPAROUND ADLARD (MR) $ 3.99
COMIC SHOP NEWS #1837 $ FREE
DC Books
BATGIRLS TP VOL 01 $ 16.99
BATMAN SHADOW WAR HC $ 39.99
TASK FORCE Z HC VOL 01 DEATHS DOOR $ 29.99
Other Books
ADVENTUREMAN HC VOL 02 $ 24.99
BERSERK TP VOL 41 $ 14.99
BLUE BOX GN VOL 01 $ 9.99
COVER TP VOL 01 $ 19.99
CRITICAL ROLE VOX MACHINA ORIGINS TP VOL 03 $ 19.99
ENEMIES GN $ 13
GIRLFIEND IN PARIS A BLOODTHIRSTY BEDTIME STORY HC (MR) $ 19.99
HALO INITIATION & ESCALATION TP $ 39.99
HAYAO MIYAZAKI SHUNAS JOURNEY GN $ 27.99
ICE CREAM MAN TP VOL 08 SUBJECTS & OBJECTS (MR) $ 16.99
MIGHTY MORPHIN TP VOL 05 $ 16.99
MINECRAFT OPEN WORLD INTO NETHER TP $ 10.99
ONE PUNCH MAN GN VOL 24 $ 9.99
RIGHTEOUS THIRST FOR VENGEANCE TP VOL 02 (MR) $ 16.99
SIN CITY TP VOL 07 HELL & BACK (4TH ED) (MR) $ 25
SPIDER-MAN CHARACTER ENCYCLOPEDIA NEW ED HC $ 19.99
TECHNOPRIESTS HC NEW ED (MR) $ 54.99
WITCHER RONIN TP $ 19.99
Toys
ATTACK ON TITAN Q-POSKET EREN YEAGER FIG VER A $ 24.99
ATTACK ON TITAN Q-POSKET EREN YEAGER FIG VER B $ 24.99
CARDCAPTOR SAKURA CL-CRD Q-POSKET SAKURA KINOMOTO V4 FIG V A $ 24.99
DRAGON BALL Z G X MATERIA KRILLIN FIG $ 24.99
FIVE NIGHTS AT FREDDYS TIEDYE CHICA AF $ 12.99
FUNKO FNAF S7 SYSTEM ERROR BONNIE PLUSH $ 12.99
JUJUTSU KAISEN Q-POSKET SATORU GOJO VER B $ 24.99
MY HERO ACADEMIA Q-POSKET HAWKS FIG VER A $ 24.99
PATLABOR 2 THE MOVIE MODEROID AV-2 VALIANT 1/60 MDL KIT $ 64.99
POP ALBUMS MARIAH CAREY MERRY CHRISTMAS VINYL FIG $ 14.99
POP ANIMATION BLACK CLOVER YUNO VIN FIG $ 12.99
POP ANIMATION FAIRY TAIL ERZA SCARLET VIN FIG $ 12.99
POP ANIMATION MY HERO ACADEMIA DEKU W/ GLOVES VIN FIG $ 12.99
POP ANIMATION NARUTO MIGHT GUY VIN FIG $ 12.99
POP ANIMATIONS SAN/NARUTO CHOCOCAT VINYL FIG $ 12.99
POP COMIC COVER MARVEL BLACK PANTHER VIN FIG $ 19.99
POP COMIC COVERS MARVEL WOLVERINE $ 19.99
POP DISNEY WALL-E EVE FLYING VIN FIG $ 12.99
POP STAR WARS HOLIDAY C-3PO SNOWMAN VIN FIG $ 12.99
POP TV STRANGER THINGS S4 ARGYLE VIN FIG $ 12.99
POP TV STRANGER THINGS S4 ERICA SINCLAIR VIN FIG $ 12.99
PRETTY GUARD SAILOR MOON ETNL Q-POSKET PRC SERENITY FG VER A $ 24.99
SAILOR MOON ETERNAL Q-POSKET SUPER SAILOR SATURN FIG VER 1 $ 24.99
TRANSFORMERS LEGACY GEN SEL BREAKER DLX AF CS $ ???
VINYL GOLD NBA LG CELTICS LARRY BIRD 5IN VIN FIG $ 11.99
VINYL GOLD NBA LG LAKERS SHAQUILLE O NEAL 5IN VIN FIG $ 11.99
VINYL GOLD TUPAC 5IN VINYL FIG $ 11.99
VINYL SODA DISNEY VANELLOPE W/ CHASE SC VIN FIG $ 14.99
VINYL SODA PREDATOR PREDATOR W/ CHASE VIN FIG $ 14.99