Marvel's New World Disorder Continues – Wednesday, October 13th, 2021
Hulk is 60, and Spider-Man is weekly, and we might have some left, after culling all the damages. Twice as many Marvels arrived in week 2, and also twice as many damages. And we are currently unable to obtain credit for either week, nor are we able to talk to anyone, or get them to call us back. (See below for more background.) Some of the Hulk covers are pretty cool. Hope we still have some. Three Star Wars titles, make that Four, but 3 came from Marvel so several cover variants never made the racks. What a downer. Reality bites. Sorry.
For the second week, Marvels are shipped to us from Penguin Random House Books. They are a giant, who previously shipped book books to stores where the words "Mint Condition" have never been uttered, where bags and boards are a mystery.  Originally ignorant and over-confident, they NOW have some knowledge of what comic retailers want and need. Cover Variants?  Oh, you mean hardcover/softcover. They proudly announced that they ordered special boxes, single thickness, it turns out, that would hold exactly 100 comics in one stack.  Wow. Wide enough, it turns out, for them to slosh back a forth a bit sideways during shipping. That was someone's idea of how to adapt to their new clientele.  EVERY corner of every comic exposed to careless handlers and drivers. The damage report is over 150 comics, including some 1/25 pricey variants, so that's nearly 30%. I could have claimed more, but we wanted some comics to sell. Look carefully at Marvels if that matters to you. What makes it worse is that some of the big-wigs DID go to a local retailer, who invited them over to show them the ropes. But they apparently knew better. Hah! 
We are enforcing a Mask Rule.  We are concerned and frankly afraid of the Delsantis Variant's effectiveness and apparent success in younger people and children. So, please, take one for team America and get a vaccine. Wednesday is STILL New Comic Day, no matter what you read on the internets. We can't clear the new rack to just have 10 DC's  surrounded by empty space.  We do it once, Wednesday morning.
We encourage everyone to be careful, make your trip to our store quick and efficient, and try to come in to shop in smaller groups, and reduce your own exposure to ALL public places indoors, including ours. If you like, you can browse the list and make an order to fbgbob@aol.com for a quicker pick up. It might also help to put in a time window when you would be in the neighborhood, to give Bob a chance to get them together, and include a phone number for good measure. Watch this space and our Facebook page for latest news about the rest of the month, season, year, millenium, etc. (And text messages from 5-Star.) The complete list is found below. If you want to know about the next sale or store event, or whether or not WE ARE EVEN OPEN click here. Sign in here to get an email reminder for ALL sales and other events. Also, you can go to     fb.fantasybooksandgames.com and you'll be taken to our Facebook page. We also use our in-store 5-Star Rewards system to text similar announcements to your phone.
Had to find a new source for images this week. (Still don't have any for DC Comics.) Thanks to Time Warp for this week's images, which include many of the comics and a few of the books and other items we received today, and may have pics of things we didn't and/or won't get. Use the list, and maybe the pictures.  
AMAZING SPIDER-MAN 76 $ 3.99
AMAZING SPIDER-MAN 76 GLEASON VARIANT $ ???
AMAZING SPIDER-MAN 76 JUSKO MARVEL MASTERPIECES VARIANT $ 3.99
ARMY OF DARKNESS 1979 #2 CVR A MATTINA $ 3.99
ARMY OF DARKNESS 1979 #2 CVR B SUYDAM $ 3.99
ARMY OF DARKNESS 1979 #2 CVR C YOON $ 3.99
ARMY OF DARKNESS 1979 #2 CVR D SAYGER $ 3.99
ARMY OF DARKNESS 1979 #2 CVR M FOC BONUS FLEECS & FORSTNER $ 3.99
ARMY OF DARKNESS 1979 #2 CVR H 1/25 VAR MATTINA B&W $ ???
ARMY OF DARKNESS 1979 #2 CVR I 1/30 VAR SUYDAM BLOOD $ ???
ARMY OF DARKNESS 1979 #2 CVR P 1/21 VAR FOC YOON VIRGIN $ ???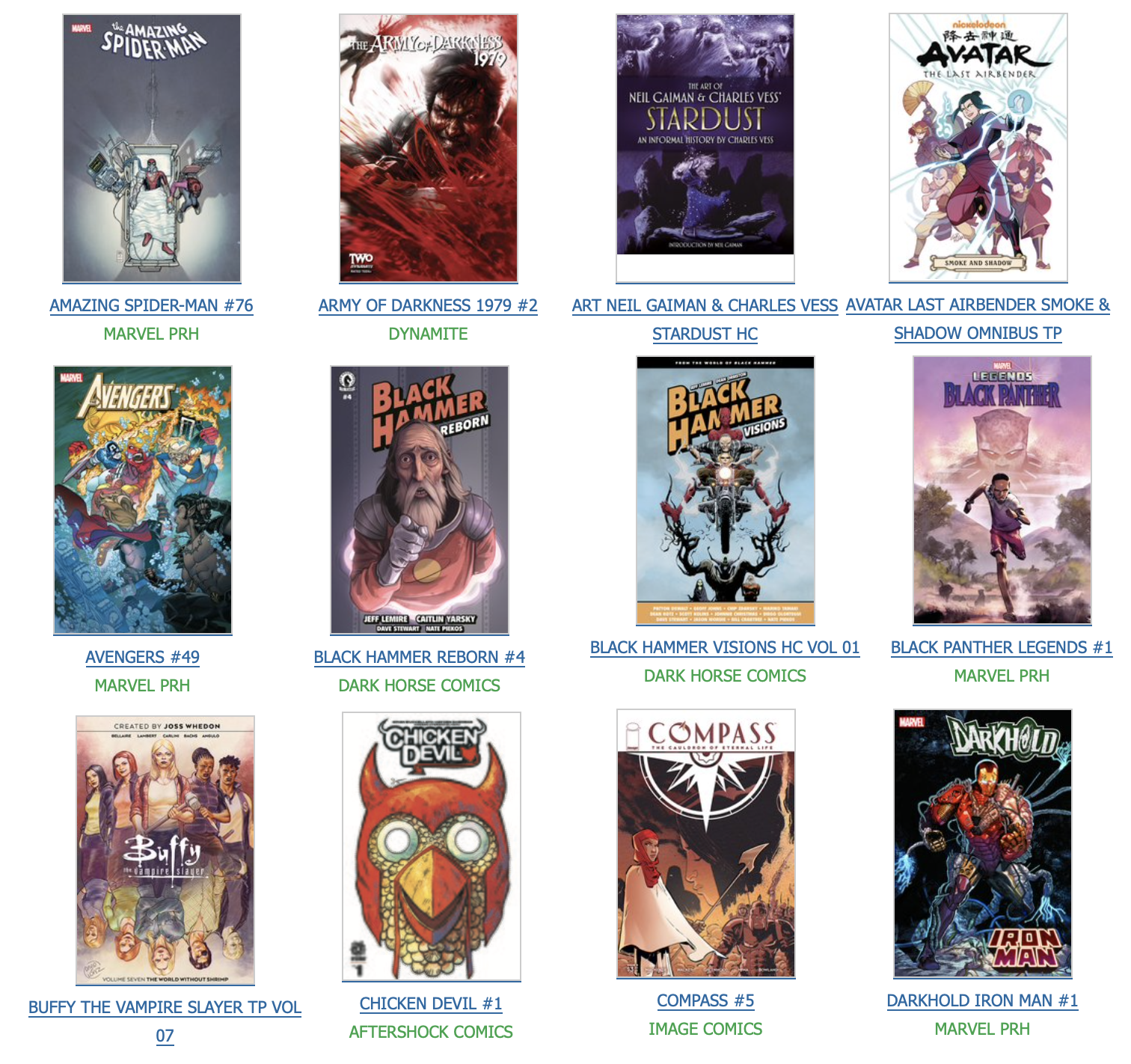 AVENGERS 49 $ 3.99
AVENGERS 49 CABAL STORMBREAKERS VARIANT $ 3.99
AVENGERS 49 JUSKO MARVEL MASTERPIECES VARIANT $ 3.99
AVENGERS 49 LIEFELD DEADPOOL 30TH VARIANT $ 3.99
BATMAN & SCOOBY-DOO MYSTERIES #7 (OF 12) $ 2.99
BATMAN 89 #3 (OF 6) CVR A JOE QUINONES $ 3.99
BATMAN 89 #3 (OF 6) CVR B LEE WEEKS CARD STOCK VAR $ 4.99
BATMAN THE AUDIO ADVENTURES SPECIAL #1 (ONE SHOT) CVR A DAVE JOHNSON $ 9.99
BATMAN THE AUDIO ADVENTURES SPECIAL #1 (ONE SHOT) CVR B FRANCIS MANAPUL CARD STOCK VAR $ 10.99
BATMAN THE IMPOSTER #1 (OF 3) CVR A ANDREA SORRENTINO (MR) $ 5.99
BATMAN THE IMPOSTER #1 (OF 3) CVR B LEE BERMEJO VAR (MR) $ 5.99
BATMAN URBAN LEGENDS #8 CVR A COLLEEN DORAN (FEAR STATE) $ 7.99
BATMAN URBAN LEGENDS #8 CVR B KHARY RANDOLPH VAR (FEAR STATE) $ 7.99
BATMAN URBAN LEGENDS #8 CVR C RICCARDO FEDERICI VAR (FEAR STATE) $ 7.99
BLACK HAMMER REBORN #4 (OF 12) CVR A YARSKY $ 3.99
BLACK PANTHER LEGENDS 1 $ 3.99
BLACK PANTHER LEGENDS 1 BLAKE II VARIANT $ 3.99
BLACK PANTHER LEGENDS 1 STELFREEZE VARIANT $ 3.99
BLADE RUNNER ORIGINS #7 CVR A HERVAS (MR) $ 3.99
BLADE RUNNER ORIGINS #7 CVR B GLASS (MR) $ 3.99
BLUE & GOLD #3 (OF 8) $ 3.99
CHALLENGE OF THE SUPER SONS #7 (OF 7) CVR A SIMONE DI MEO $ 3.99
CHALLENGE OF THE SUPER SONS #7 (OF 7) CVR B RILEY ROSSMO CARD STOCK VAR $ 4.99
CHICKEN DEVIL #1 CVR C MASK VARIANT $ 4.99
CHILLING ADV OF SABRINA #9 CVR A HACK (RES) (MR) $ 3.99
CHILLING ADV OF SABRINA #9 CVR B HACK (RES) (MR) $ 3.99
COMPASS #5 (OF 5) $ 3.99
DARK AGES 1 COELLO 2ND PRINTING VARIANT $ 3.99
DARKHAWK 1 RAMIREZ 2ND PRINTING VARIANT $ 3.99
DEADBOX #2 CVR A TIESMA $ 3.99
DEADBOX #2 CVR B HOWELL $ 3.99
DEEP BEYOND #9 (OF 12) CVR A BROCCARDO $ 3.99
DEEP BEYOND #9 (OF 12) CVR B ANDOLFO $ 3.99
DEEP BEYOND #9 (OF 12) CVR C CAFARO $ 3.99
DEEP BEYOND #9 (OF 12) CVR D LAVINA $ 3.99
DEJAH THORIS VS JOHN CARTER OF MARS #3 CVR I 1/30 VAR PA (Re/CR) $ ???
DEPARTMENT OF TRUTH #10 2ND PTG (MR) $ 3.99
DEPARTMENT OF TRUTH #11 2ND PTG (MR) $ 3.99
DEPARTMENT OF TRUTH #12 2ND PTG (MR) $ 3.99
DEPARTMENT OF TRUTH #7 2ND PTG (MR) $ 3.99
DEPARTMENT OF TRUTH #8 2ND PTG (MR) $ 3.99
DEPARTMENT OF TRUTH #9 2ND PTG (MR) $ 3.99
ENGINEWARD #12 CVR A EISMA $ 3.99
ET-ER ONESHOT #1 CVR A ROBINSON $ 3.99
ET-ER ONESHOT #1 CVR B DEODATO JR $ 3.99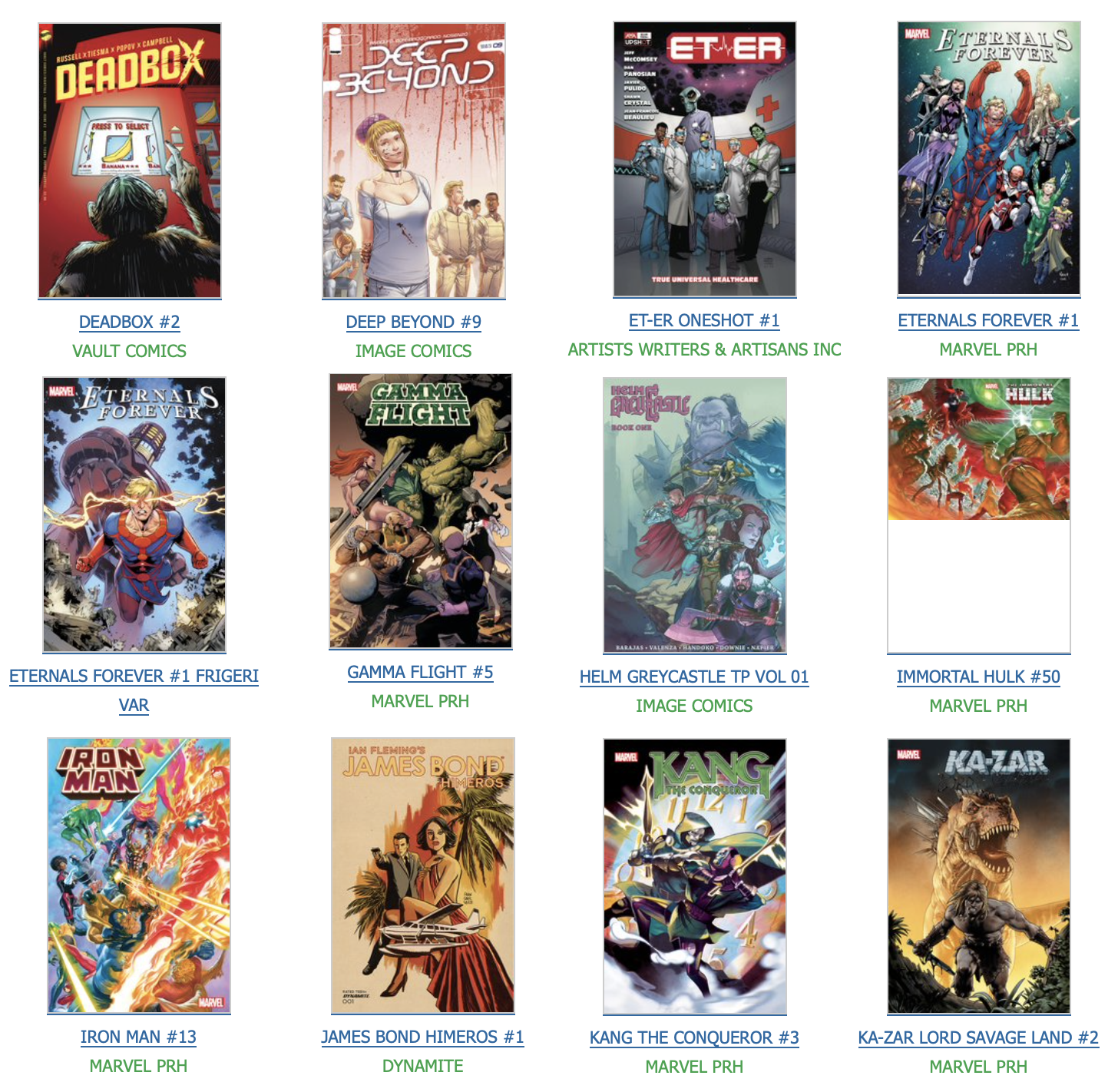 ETERNALS FOREVER 1 $ 4.99
ETERNALS FOREVER 1 FRIGERI VARIANT $ 4.99
FUTURE STATE GOTHAM #6 CVR A SIMONE DI MEO $ 3.99
FUTURE STATE GOTHAM #6 CVR B ROSE BESCH CARD STOCK VAR $ 4.99
GAMMA FLIGHT 5 $ 3.99
GAMMA FLIGHT 5 PACHECO CONNECTING VARIANT $ 3.99
GAMMA FLIGHT 5 STOKOE VARIANT $ 4.99
GRIMM FAIRY TALES #52 CVR A CHEN (RE/CR) $ 3.99
HARDWARE SEASON ONE #2 (OF 6) CVR A MATEUS MANHANINI $ 3.99
HARDWARE SEASON ONE #2 (OF 6) CVR B TK CARD STOCK VAR $ 4.99
HARLEY QUINN THE ANIMATED SERIES THE EAT BANG KILL TOUR #2 (OF 6) CVR A MAX SARIN $ 3.99
HARLEY QUINN THE ANIMATED SERIES THE EAT BANG KILL TOUR #2 (OF 6) CVR B BABS TARR CARD STOCK VAR $ 4.99
HE WHO FIGHTS WITH MONSTERS #2 CVR A DELLEDERA (MR) $ 3.99
HE WHO FIGHTS WITH MONSTERS #2 CVR B VASIL GEORGIEV (MR) $ 3.99
HE WHO FIGHTS WITH MONSTERS #2 CVR C VINCENZO RICCARDI (MR) $ 3.99
HE WHO FIGHTS WITH MONSTERS #2 CVR D MOY R (MR) $ 3.99
HOME SICK PILOTS #10 CVR A WIJNGAARD (MR) $ 3.99
HUMAN REMAINS #1 CVR B HIXSON ( $ 3.99
I AM BATMAN #2 CVR A OLIVIER COIPEL (FEAR STATE) $ 3.99
I AM BATMAN #2 CVR B FRANCESCO MATTINA CARD STOCK VAR (FEAR STATE) $ 4.99
IMMORTAL HULK 50 $ 9.99
IMMORTAL HULK 50 BARTEL VARIANT $ 9.99
IMMORTAL HULK 50 BENNETT HOMAGE VARIANT $ 9.99
IMMORTAL HULK 50 CREEES LEE VARIANT $ 9.99
IMMORTAL HULK 50 FRANK VARIANT $ 9.99
IMMORTAL HULK 50 GREENE VARIANT $ 9.99
IMMORTAL HULK 50 HITCH VARIANT $ ???
IMMORTAL HULK 50 INHYUK LEE VARIANT B $ 9.99
IMMORTAL HULK 50 JUSKO MARVEL MASTERPIECES VARIANT $ 9.99
IMMORTAL HULK 50 MCGUINNESS VARIANT $ ???
IMMORTAL HULK 50 MR GARCIN VARIANT $ 9.99
IMMORTAL HULK 50 PACHECO VARIANT $ 9.99
IMMORTAL HULK 50 RON LIM VARIANT $ 9.99
IMMORTAL HULK 50 STEGMAN FORESHADOW VARIANT $ 9.99
IRON MAN 13 $ 3.99
IRON MAN 13 JUSKO MARVEL MASTERPIECES VARIANT $ 3.99
JAMES BOND HIMEROS #1 CVR A FRANCAVILLA $ 3.99
JOKER #8 CVR A GUILLEM MARCH $ 5.99
JOKER #8 CVR B JORGE MOLINA VAR $ 5.99
JOKER #8 CVR C ACKY BRIGHT VAR $ 5.99
JUSTICE LEAGUE LAST RIDE #6 (OF 7) CVR A DARICK ROBERTSON $ 3.99
JUSTICE LEAGUE LAST RIDE #6 (OF 7) CVR B MICHAEL CHOI CARD STOCK VAR $ 4.99
KANG THE CONQUEROR 3 $ 3.99
KANG THE CONQUEROR 3 RON LIM VARIANT $ 3.99
KA-ZAR LORD OF THE SAVAGE LAND 2 $ 3.99
KA-ZAR LORD OF THE SAVAGE LAND 2 GARCIA MAP VARIANT $ ???
KA-ZAR LORD OF THE SAVAGE LAND 2 MASSAFERA VARIANT $ 4.99
KING SPAWN #2 CVR A AGUILLO $ 2.99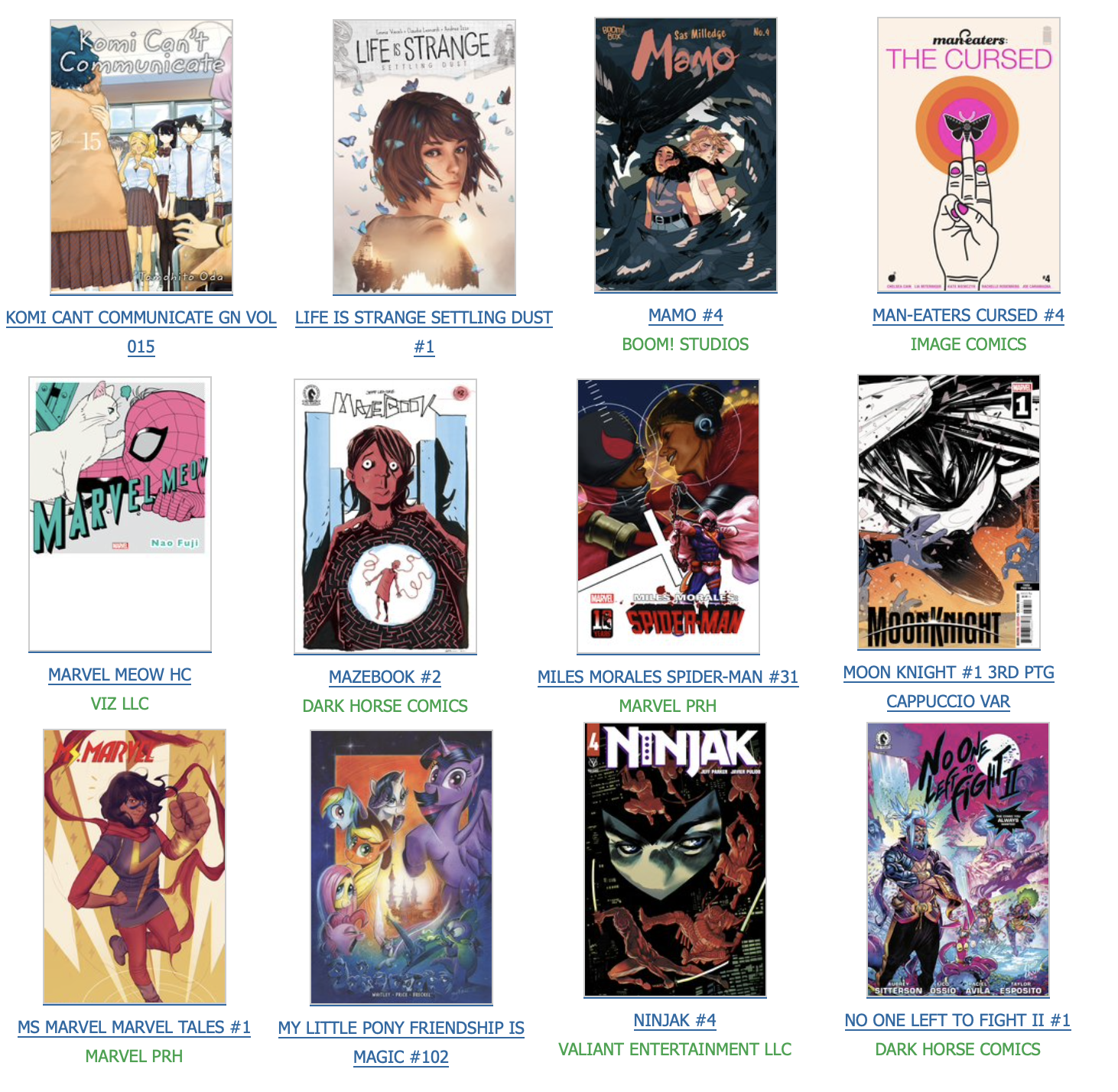 LIFE IS STRANGE SETTLING DUST #1 (OF 4) CVR A PICOLO $ 3.99
LIFE IS STRANGE SETTLING DUST #1 (OF 4) CVR B GAME ART $ 3.99
LIFE IS STRANGE SETTLING DUST #1 (OF 4) CVR C LEONARDI $ 3.99
LIFE IS STRANGE SETTLING DUST #1 (OF 4) CVR D CHAM $ 3.99
LIFE IS STRANGE SETTLING DUST #1 (OF 4) CVR E WIJINGAARD $ 3.99
MAMO #4 (OF 5) CVR A MILLEDGE $ 4.99
MAN-EATERS CURSED #4 (OF 5) CVR A MITERNIQUE $ 3.99
MAN-EATERS CURSED #4 (OF 5) CVR B MITERNIQUE $ 3.99
MAZEBOOK #2 (OF 5) CVR A LEMIRE $ 5.99
MAZEBOOK #2 (OF 5) CVR B NGUYEN $ 5.99
ME YOU LOVE IN THE DARK #2 (OF 5) 2ND PTG CVR A (MR) $ 3.99
ME YOU LOVE IN THE DARK #2 (OF 5) 2ND PTG CVR B 1/20 VAR $ ???
MILES MORALES: SPIDER-MAN 31 $ 3.99
MILES MORALES: SPIDER-MAN 31 SWABY VARIANT $ ???
MOON KNIGHT 1 CAPPUCCIO 3RD PRINTING VARIANT $ ???
MS. MARVEL: MARVEL TALES 1 $ 7.99
MY LITTLE PONY FRIENDSHIP IS MAGIC #102 CVR A PRICE $ 5.99
MY LITTLE PONY FRIENDSHIP IS MAGIC #102 CVR C 1/10 VAR M $ ???
NIGHTMARE BEFORE CHRISTMAS MIRROR MOON #3 $ 3.99
NINJAK #4 CVR A DAGNINO $ 3.99
NINJAK #4 CVR B RODRIGUEZ $ 3.99
NO ONE LEFT TO FIGHT II #1 (OF 5) CVR A $ 3.99
NO ONE LEFT TO FIGHT II #1 (OF 5) CVR B $ 3.99
NORSE MYTHOLOGY II #5 (OF 6) CVR A RUSSELL (MR) $ 3.99
NORSE MYTHOLOGY II #5 (OF 6) CVR B MACK (MR) $ 3.99
ORDINARY GODS #4 (MR) $ 3.99
PENNYWORTH #3 (OF 7) $ 3.99
POWER RANGERS #12 CVR A PAREL $ 3.99
POWER RANGERS #12 CVR B LEGACY VAR DI NICUOLO $ 3.99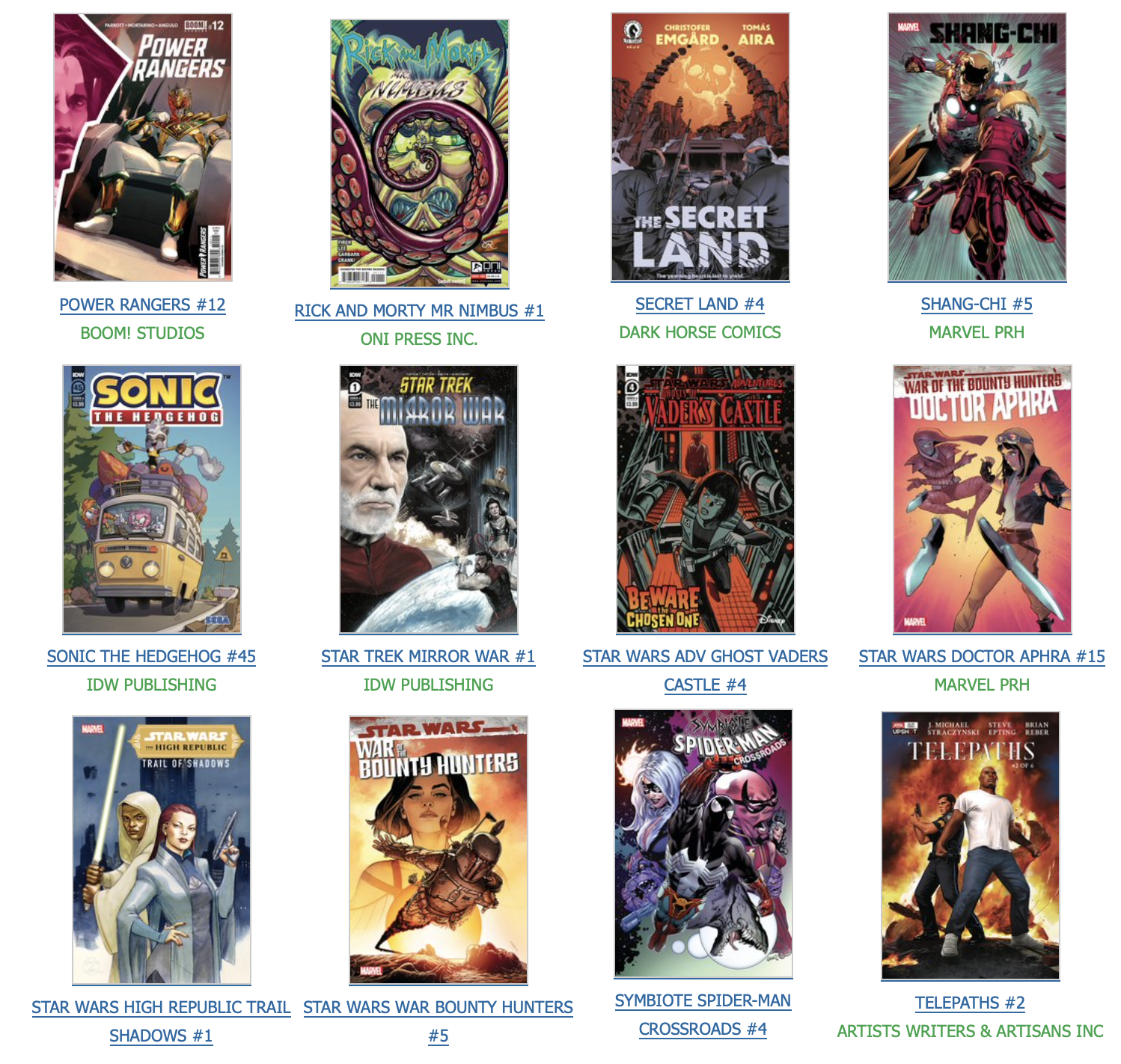 RICK AND MORTY MR NIMBUS #1 CVR A LEE $ 4.99
RICK AND MORTY MR NIMBUS #1 CVR B HOBBES $ 4.99
SECOND COMING ONLY BEGOTTEN SON #6 (OF 6) $ 3.99
SECOND COMING ONLY BEGOTTEN SON #6 (OF 6) (MR) $ 3.99
SECRET LAND #4 (OF 4) $ 3.99
SHANG-CHI 5 $ 4.99
SONIC THE HEDGEHOG #45 CVR A STANLEY $ 3.99
SONIC THE HEDGEHOG #45 CVR B SKELLEY $ 3.99
SONIC THE HEDGEHOG #45 CVR C 1/10 VAR FOURDRAINE (NET) ( $ ???
STAR TREK MIRROR WAR #1 CVR A J K WOODWARD $ 3.99
STAR TREK MIRROR WAR #1 CVR B MADRIAGA $ 3.99
STAR WARS ADV GHOST VADERS CASTLE #4 (OF 5) CVR A FRANCAVIL $ 3.99
STAR WARS: DOCTOR APHRA 15 $ 3.99
STAR WARS: DOCTOR APHRA 15 FRENZ HANDBOOK VARIANT $ 3.99
STAR WARS: DOCTOR APHRA 15 PICHELLI CARBONITE VARIANT $ 3.99
STAR WARS: DOCTOR APHRA 15 SPROUSE LUCASFILM 50TH VARIANT $ 3.99
STAR WARS: THE HIGH REPUBLIC – TRAIL OF SHADOWS 1 $ 3.99
STAR WARS: THE HIGH REPUBLIC – TRAIL OF SHADOWS 1 ANINDITO VARIANT $ 3.99
STAR WARS: THE HIGH REPUBLIC – TRAIL OF SHADOWS 1 TEDESCO VARIANT $ ???
STAR WARS: WAR OF THE BOUNTY HUNTERS 5 $ 4.99
STAR WARS: WAR OF THE BOUNTY HUNTERS 5 CASSADAY TRADING CARD VARIANT $ ???
STAR WARS: WAR OF THE BOUNTY HUNTERS 5 CHRISTOPHER ACTION FIGURE VARIANT $ 4.99
STAR WARS: WAR OF THE BOUNTY HUNTERS 5 FRENZ HANDBOOK VARIANT $ 4.99
STAR WARS: WAR OF THE BOUNTY HUNTERS 5 MCNIVEN CARBONITE VARIANT $ 4.99
STAR WARS: WAR OF THE BOUNTY HUNTERS 5 MCNIVEN VARIANT $ ???
STAR WARS: WAR OF THE BOUNTY HUNTERS 5 PAGULAYAN VARIANT $ 4.99
STAR WARS: WAR OF THE BOUNTY HUNTERS 5 SPROUSE LUCASFILM 50TH VARIANT $ 4.99
STRANGE ADVENTURES #12 (OF 12) CVR A MITCH GERADS (MR) $ 4.99
STRANGE ADVENTURES #12 (OF 12) CVR B EVAN DOC SHANER VAR (MR) $ 4.99
SUPERMAN AND THE AUTHORITY #4 (OF 4) CVR A MIKEL JANIN $ 4.99
SUPERMAN AND THE AUTHORITY #4 (OF 4) CVR B YANICK PAQUETTE CARD STOCK VAR $ 5.99
SYMBIOTE SPIDER-MAN: CROSSROADS 4 $ 3.99
SYMBIOTE SPIDER-MAN: CROSSROADS 4 MOMOKO VARIANT $ ???
TELEPATHS #2 (OF 6) $ 3.99
THE DARKHOLD: IRON MAN 1 $ 3.99
THE DARKHOLD: IRON MAN 1 CASANOVAS CONNECTING VARIANT $ 3.99
THE DARKHOLD: IRON MAN 1 TORMEY DESIGN VARIANT $ ???
TITANS UNITED #2 (OF 7) CVR A JAMAL CAMPBELL $ 3.99
TITANS UNITED #2 (OF 7) CVR B KAEL NGU CARD STOCK VAR $ 4.99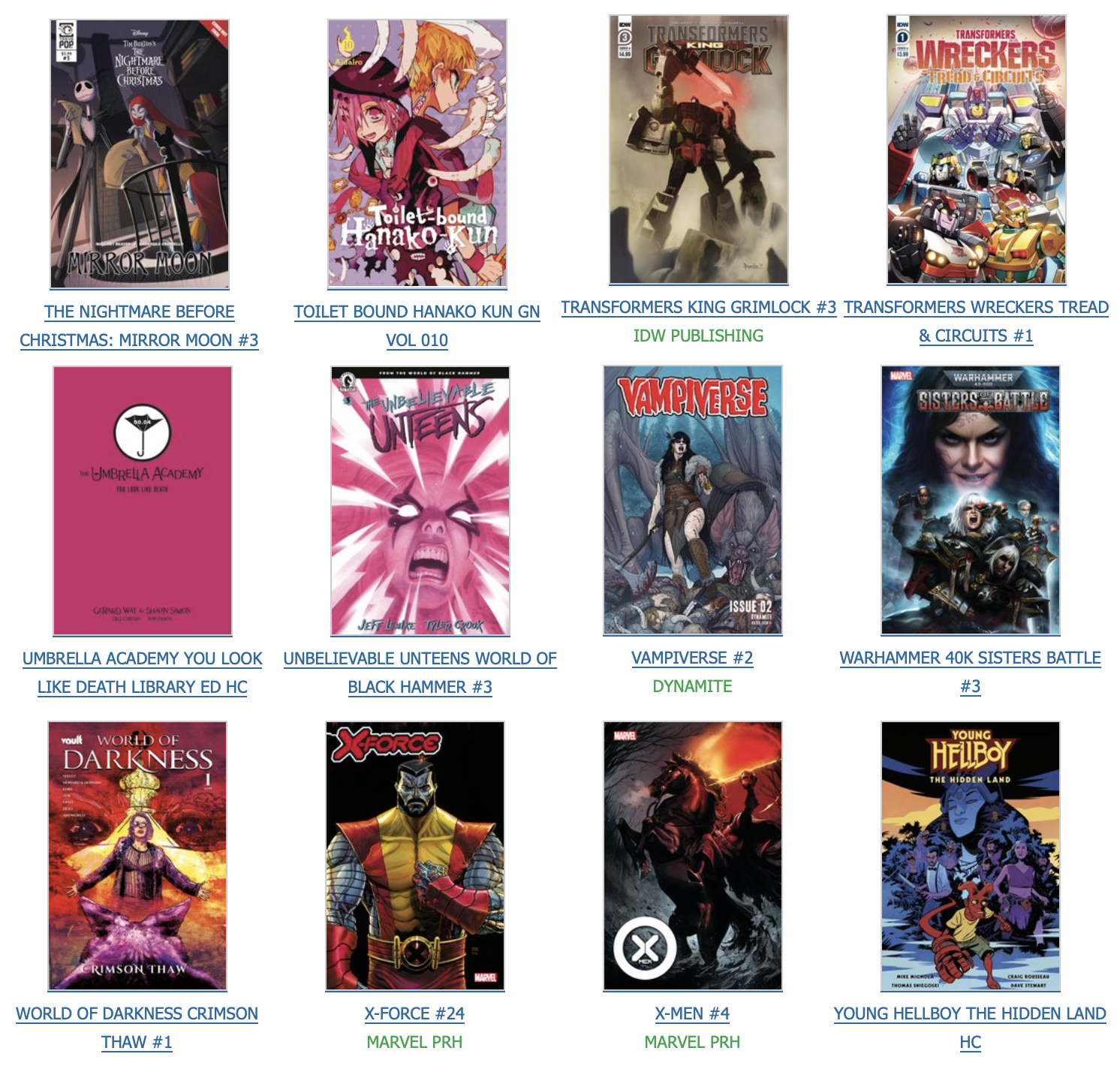 TRANSFORMERS KING GRIMLOCK #3 (OF 5) CVR A BRYAN LEE $ 4.99
TRANSFORMERS KING GRIMLOCK #3 (OF 5) CVR B PADILLA $ 4.99
TRANSFORMERS WRECKERS TREAD & CIRCUITS #1 (OF 4) CVR A LAWR $ 3.99
TRANSFORMERS WRECKERS TREAD & CIRCUITS #1 (OF 4) CVR B MALK $ 3.99
UNBELIEVABLE UNTEENS WORLD OF BLACK HAMMER #3 (OF 4) CVR A C $ 3.99
UNBELIEVABLE UNTEENS WORLD OF BLACK HAMMER #3 (OF 4) CVR B F $ 3.99
VAMPIVERSE #2 CVR E COSPLAY $ 3.99
WARHAMMER 40,000: SISTERS OF BATTLE 3 $ 3.99
WARHAMMER 40,000: SISTERS OF BATTLE 3 LEGACY VARIANT $ 3.99
WHITE #3 2ND PTG (MR) $ 3.99
WONDER WOMAN #780 CVR A TRAVIS MOORE $ 4.99
WONDER WOMAN #780 CVR B BECKY CLOONAN CARD STOCK VAR $ 5.99
WONDER WOMAN THE ADVENTURES OF YOUNG DIANA SPECIAL #1 (ONE SHOT) $ 9.99
WORLD OF BETTY & VERONICA JUMBO COMICS DIGEST #9 $ 7.99
WORLD OF DARKNESS CRIMSON THAW #1 CVR A CAMPBELL $ 3.99
WORLD OF DARKNESS CRIMSON THAW #1 CVR B HIXSON $ 3.99
X-FORCE 24 $ 3.99
X-FORCE 24 CLARKE VARIANT $ 4.99
X-FORCE 24 JUSKO MARVEL MASTERPIECES VARIANT $ 3.99
X-MEN 4 $ 3.99
X-MEN 4 DAUTERMAN NEW LINE-UP TRADING CARD VARIANT $ 3.99
X-MEN 4 JUSKO MARVEL MASTERPIECES VARIANT $ 3.99
X-MEN 4 SHALVEY VARIANT $ ???
X-MEN: THE TRIAL OF MAGNETO 1 SCHITI 2ND PRINTING VARIANT $ 3.99

COMIC SHOP NEWS #1782 $ FREE
SHUDDER MAGAZINE #1 (Maybe next week) $ 5.95

ART NEIL GAIMAN & CHARLES VESS STARDUST HC $ 39.95
AVATAR LAST AIRBENDER SMOKE & SHADOW OMNIBUS TP $ 24.99
BATMAN ARKHAM ASYLUM THE DELUXE EDITION HC $ 34.99
BATMAN THE LONG HALLOWEEN DELUXE EDITION HC $ 49.99
BATWOMAN OMNIBUS HC $ 99.99
BLACK HAMMER VISIONS HC VOL 01 $ 24.99
BUFFY THE VAMPIRE SLAYER TP VOL 07 $ 14.99
CASE CLOSED GN VOL 80 $ 9.99
DEATHSTROKE BY CHRISTOPHER PRIEST OMNIBUS HC $ 150
FINAL CRISIS OMNIBUS HC NEW ED $ 150
FLASH TP VOL 15 FINISH LINE $ 16.99
HELM GREYCASTLE TP VOL 01 $ 19.99
INFERIOR FIVE TP $ 16.99
JULES VERNE LIGHTHOUSE TP (MR) $ 16.99
KOMI CANT COMMUNICATE GN VOL 15 $ 9.99
LEGEND KORRA ART ANIMATED DLX ED HC BOOK 02 SPIRITS 2ND ED $ 79.99
LEGEND OF KORRA ART ANIMATED HC BOOK 02 SPIRITS 2ND ED $ 39.99
MARVEL MEOW HC $ 14.99
NOCTERRA TP VOL 01 FULL THROTTLE DARK (MR) Ask for Signed Bookplate at counter $ 9.99
OVERWATCH TRACER LONDON CALLING HC $ 24.99
TOILET BOUND HANAKO KUN GN VOL 10 $ 13
ULTRAMEGA BY JAMES HARREN TP (MR) $ 19.99
UMBRELLA ACADEMY YOU LOOK LIKE DEATH DLX ED HC $ 79.99
UMBRELLA ACADEMY YOU LOOK LIKE DEATH LIBRARY ED HC $ 39.99
WOLVERINE OMNIBUS VOL. 1 HC MILLER COVER [NEW PRINTING] $ 100.00
WONDER WOMAN BY GEORGE PEREZ TP VOL 06 $ 29.99
YONA OF THE DAWN GN VOL 32 $ 9.99
YOUNG HELLBOY THE HIDDEN LAND HC $ 24.99

BOWMAN 2021 STERLING BASEBALL T/C BOX $ ???
TOPPS 2021 GOLD LABEL BASEBALL T/C BOX $ ???

DEMON SLAYER KIMETSU Q-POSKET PETIT MUICHIRO TOKITO FIG $ 14.99
DEMON SLAYER KIMETSU Q-POSKET PETIT OBANAI IGURO FIG $ 14.99
DEMON SLAYER KIMETSU Q-POSKET SHINOBU KOCHO FIG VER A $ 24.99
DEMON SLAYER KIMETSU TANJIRO KAMADO BIG PLUSH VER 2 $ 24.99
FCBD 2021 GI JOE A REAL AMERICAN HERO MINIMATES BOX SET $ 29.99
MY HERO ACADEMIA Q-POSKET SHOTO TODOROKI VER A $ 24.99
MY HERO ACADEMIA Q-POSKET SHOTO TODOROKI VER B $ 24.99
SONIC THE HEDGEHOG 7IN BASIC PLUSH WV5 ASST $ 13.99
SPIDER-MAN LEGENDS TIGRA 6IN AF $ 27.99
WORLD OF NINTENDO 4IN AF ASST WV25 $ 13.99

NOCTERRA TP SIGNED BOOKPLATE FREE with Purchase of Nocterra Full Throttle Book $ FREE*