We Forgot Free Comic Book Day – Wednesday, May 5th, 2021
Wiping the egg off our faces, we have to offer an apology. We completely forgot what our bags say: First Saturday in May. Maybe next year. We understand the pandemic and its restrictions make it obviously impossible, but it's our job to anticipate what fans and customers might ask, and Bob had several new faces who had a few of our bags stuffed away in a drawer over the last year who showed up expecting a free comic. Bob should have looked at the calendar and expected that. I should have been talking about it here and on Facebook for the last two weeks, because it didn't happen this year, just like it didn't happen last year, until July. I have a whole page on it, on this website.  Well, instead of Free Comic Book Month-and-a-half, in 2021,  it's one day in August, Saturday the 14th, assuming conditions in the area continue to improve, and we aren't closed by fire and smoke. We are cautiously optimistic that 90 days from now, we'll all be vaccinated and feel like shopping and getting free stuff. 
Oh, Batman Fortnite #2 is here, and same rules as last time. Just ask the man behind the counter.
That's enough "news". See the list of comics and other stuff below.
Wednesday is STILL New Comic Day, no matter what you read on the internets. We can't clear the new rack to just have 10 DC's  surrounded by empty space.  We do it once, Wednesday morning. We encourage everyone to be careful, make your trip to our store quick and efficient, and try to come in to shop in smaller groups, and reduce your own exposure to ALL public places indoors, including ours. Bob is open, bring your mask, keep your distance, and help keep Bob healthy. If you like, you can browse the list and make an order to fbgbob@aol.com for a quicker pick up. It might also help to put in a time window when you would be in the neighborhood, to give Bob a chance to get them together, and include a phone number for good measure.
Please wear a mask!
Watch this space and our Facebook page for latest news about the rest of the month, season, year, millenium, etc. (And text messages from 5-Star.) The complete list is found below. If you want to know about the next sale or store event, or whether or not WE ARE EVEN OPEN click here. Sign in here to get an email reminder for ALL sales and other events. Also, you can go to     fb.fantasybooksandgames.com and you'll be taken to our Facebook page. We also use our in-store 5-Star Rewards system to text similar announcements to your phone.
Thanks to Comics on the Green for this week's images, which include many of the comics and a few of the books and other items we received today, and may have pics of things we didn't and/or won't get. Use the list, and maybe the pictures.  
AMAZING SPIDER-MAN #65 $ 3.99
AMERICA CHAVEZ MADE IN USA #3 (OF 5) $ 3.99
AMERICA CHAVEZ MADE IN USA #3 (OF 5) COLA VAR $ 3.99
BABYTEETH #17 (RES) (MR) $ 3.99
BATMAN #108 CVR A JORGE JIMENEZ $ 4.99
BATMAN #108 CVR B STANLEY ARTGERM LAU CARD STOCK VAR $ 5.99
BATMAN #108 1:25 RICCARDO FEDERICI CARD STOCK VAR $ ???
BATMAN #108 1:50 STANLEY ARTGERM LAU FOIL CARD STOCK VAR $ ???
BATMAN FORTNITE ZERO POINT #2 (OF 6) CVR A MIKEL JANÃŒN $ 4.99
BATMAN FORTNITE ZERO POINT #2 (OF 6) CVR B ART ADAMS CARD STOCK $ 5.99
BATMAN FORTNITE ZERO POINT #2 (OF 6) PREMIUM VAR B DONALD MUSTARD CARD STOCK $ 5.99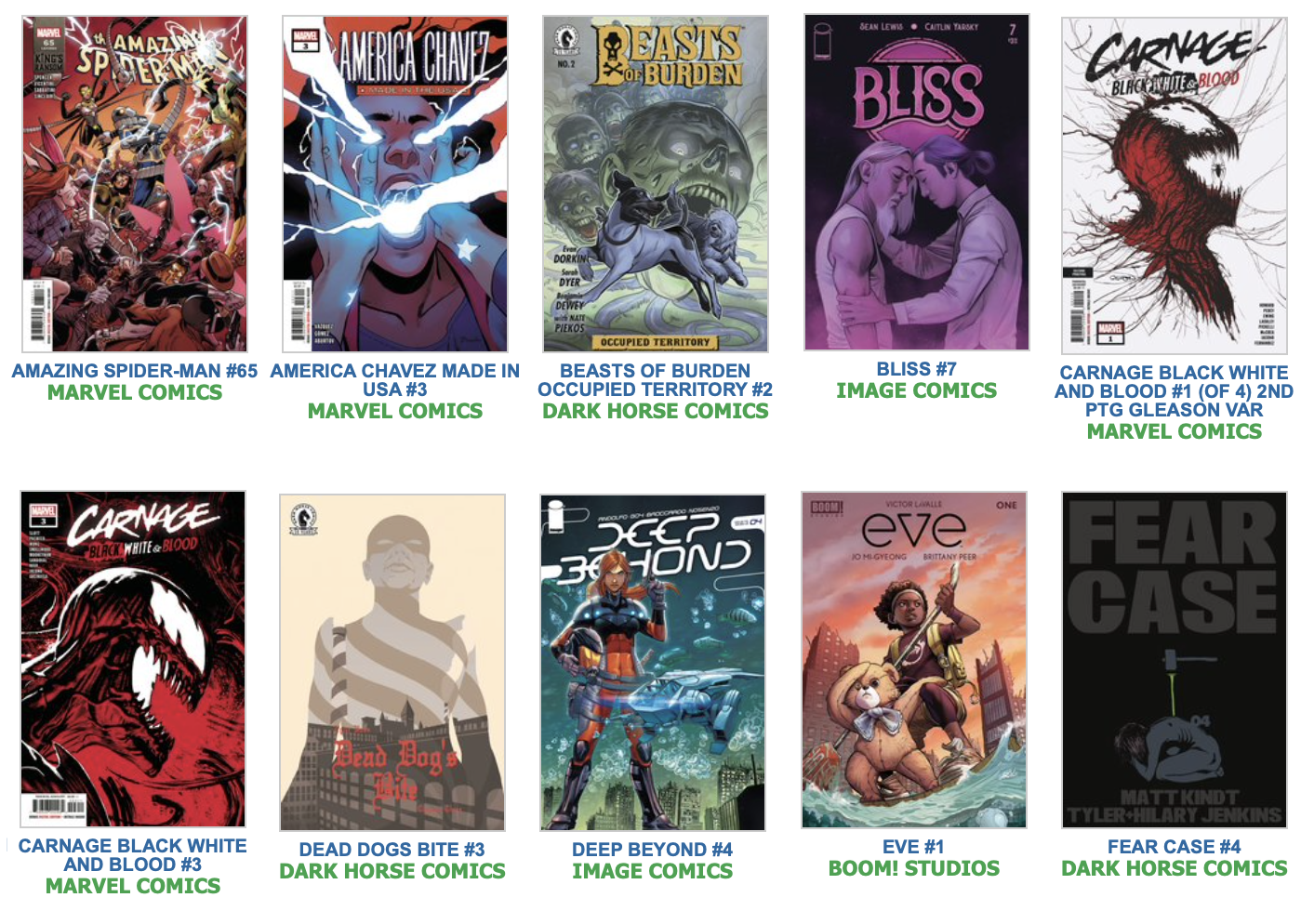 BEASTS OF BURDEN OCCUPIED TERRITORY #2 (OF 4) CVR B THOMPSON $ 3.99
BETTY & VERONICA JUMBO COMICS DIGEST #293 $ 7.99
BLISS #7 (OF 8) $ 3.99
CARNAGE BLACK WHITE AND BLOOD #1 (OF 4) 2ND PTG GLEASON VAR $ 4.99
CARNAGE BLACK WHITE AND BLOOD #1 (OF 4) 2ND PTG MOMOKO VAR (1/50) $ ???
CARNAGE BLACK WHITE AND BLOOD #3 (OF 4) $ 4.99
CARNAGE BLACK WHITE AND BLOOD #3 (OF 4) EASTMAN VAR $ 4.99
CARNAGE BLACK WHITE AND BLOOD #3 (OF 4) MCCREA VAR (1/25) $ ???
COMMANDERS IN CRISIS #8 (OF 12) CVR A TINTO (MR) $ 3.99
COMMANDERS IN CRISIS #8 (OF 12) CVR B JIMENEZ (MR) $ 3.99
COMMANDERS IN CRISIS #8 (OF 12) CVR C SCHAMBERGER (MR) $ 3.99
COMMANDERS IN CRISIS #8 (OF 12) CVR D FORBES (MR) $ 3.99
CRIME SYNDICATE #3 (OF 6) CVR A DAVID FINCH $ 3.99
CRIME SYNDICATE #3 (OF 6) CVR B BABS TARR CARD STOCK VAR $ 4.99
DEAD DOGS BITE #3 (OF 4) CVR A BOSS (RES) $ 4.99
DEAD DOGS BITE #3 (OF 4) CVR B SEVY (RES) $ 4.99
DEEP BEYOND #4 (OF 12) CVR A BROCCARDO $ 3.99
DEEP BEYOND #4 (OF 12) CVR B ANDOLFO $ 3.99
DEEP BEYOND #4 (OF 12) CVR C ALBUQUERQUE $ 3.99
DEEP BEYOND #4 (OF 12) CVR D ORTIZ $ 3.99
DIE #16 CVR A HANS (MR) $ 3.99
DIE #16 CVR B VARANDA (MR) $ 3.99
EVE #1 (OF 5) CVR A ANINDITO $ 3.99
EVE #1 (OF 5) CVR B ANDOLFO $ 3.99
EXTRAORDINARY #0 $ 1
FEAR CASE #4 (OF 4) CVR A JENKINS $ 3.99
FIRE POWER BY KIRKMAN & SAMNEE #11 $ 3.99
FIRE POWER BY KIRKMAN & SAMNEE #11 CVR B AAPI VAR $ 3.99
GOD OF WAR FALLEN GOD #3 (OF 4) $ 3.99
GOOD ASIAN #1 (OF 9) CVR A JOHNSON (MR) $ 3.99
GOOD ASIAN #1 (OF 9) CVR B TAKEDA (MR) $ 3.99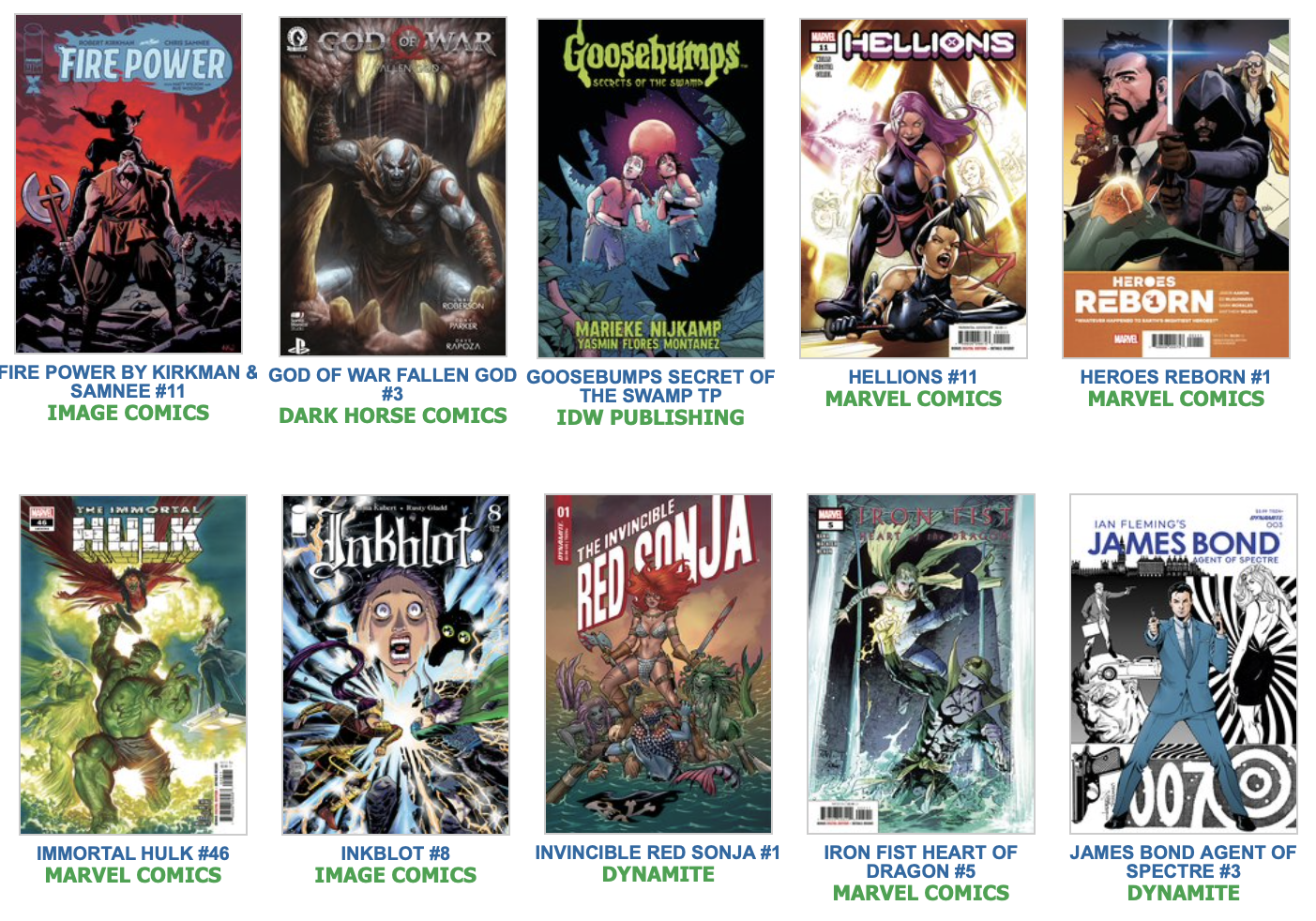 GREEN LANTERN #2 CVR A BERNARD CHANG $ 4.99
GREEN LANTERN #2 CVR B BRYAN HITCH CARD STOCK VAR $ 5.99
HELLIONS #11 $ 3.99
HEROES REBORN #1 (OF 7) $ 5.99
HEROES REBORN #1 (OF 7) ARTGERM VAR $ 5.99
HEROES REBORN #1 (OF 7) BAGLEY TRADING CARD CENTER VAR $ 5.99
HEROES REBORN #1 (OF 7) BAGLEY TRADING CARD VAR $ 5.99
HEROES RE  BORN #1 (OF 7) CASSARA STORMBREAKERS VAR $ 5.99
HEROES REBORN #1 (OF 7) CHRISTOPHER ACTION FIGURE VAR $ 5.99
HEROES REBORN #1 (OF 7) COELLO GATEFOLD VAR $ 5.99
HEROES REBORN #1 (OF 7) MCGUINNESS VAR (1/25) $ ???
HEROES REBORN #1 (OF 7) PACHECO SQUADRON SUPREME VAR $ 5.99
HEROES REBORN #1 (OF 7) VEREGGE VAR (1/50) $ ???
HEY KIDS COMICS VOL 02 PROPHETS & LOSS #1 (OF 6) (MR) $ 3.99
HOLLOW HEART #3 CVR A TUCKER $ 3.99
HOLLOW HEART #3 CVR B HICKMAN $ 3.99
IMMORTAL HULK #46 $ 3.99
IMMORTAL HULK #46 BENNETT HOMAGE VAR $ 3.99
IMMORTAL HULK #46 HAYHURST PX FUNKO VAR $ ???
INKBLOT #8 $ 3.99
INVINCIBLE RED SONJA #1 COHEN TRADE DRESS $ ???
INVINCIBLE RED SONJA #1 COSPLAY VIRGIN FOC $ ???
INVINCIBLE RED SONJA #1 CHO VIRGIN $ ???
INVINCIBLE RED SONJA #1 MORITAT VIRGIN FOC $ ???
INVINCIBLE RED SONJA #1 CELINA B&W VIRGIN FOC $ ???
INVINCIBLE RED SONJA #1 COHEN VIRGIN $ ???
INVINCIBLE RED SONJA #1 CVR B LINSNER $ 3.99
INVINCIBLE RED SONJA #1 CVR E DOMINICA COSPLAY $ 3.99
IRON FIST HEART OF DRAGON #5 (OF 6) $ 3.99
IRON FIST HEART OF DRAGON #5 (OF 6) PETROVICH VAR $ 3.99
JAMES BOND AGENT OF SPECTRE #3 $ 3.99

LAST WITCH #5 (OF 5) CVR A GLASS $ 4.99
LAST WITCH #5 (OF 5) CVR B CORONA $ 4.99
MAN-BAT #4 (OF 5) $ 3.99
MARAUDERS #20 $ 3.99
MARJORIE FINNEGAN TEMPORAL CRIMINAL #1 CVR A CLARKE (MR) $ 3.99
MARJORIE FINNEGAN TEMPORAL CRIMINAL #1 CVR B DEODATO JR (MR) $ 3.99
MARJORIE FINNEGAN TEMPORAL CRIMINAL #1 CVR C CHO (MR) $ 3.99
NEXT BATMAN SECOND SON #2 (OF 4) CVR A DOUG BRAITHWAITE $ 4.99
NEXT BATMAN SECOND SON #2 (OF 4) CVR B FRANCESCO MATTINA CARD STOCK VAR $ 5.99
NOCTERRA #3 CVR A DANIEL & MOREY (MR) $ 3.99
NOCTERRA #3 CVR B KUDRANSKI (MR) $ 3.99
NOCTERRA #3 CVR C DANIEL (MR) $ 3.99
NOCTERRA #3 CVR D DANIEL B&W (MR) (1/10) $ ???
ORVILLE DIGRESSIONS #1 (OF 2) $ 3.99
RICK AND MORTY WORLDS APART #4 CVR A FLEECS $ 3.99
RICK AND MORTY WORLDS APART #4 CVR B WILLIAMS $ 3.99
SENSATIONAL WONDER WOMAN #3 CVR A COLLEEN DORAN $ 3.99
SENSATIONAL WONDER WOMAN #3 CVR B MARGUERITE SAUVAGE CARD STOCK VAR $ 4.99
SILVER COIN #1 2ND PTG (MR) $ 3.99
STAR WARS BOUNTY HUNTERS ALPHA DIRECTOR CUT #1 $ 5.99
STAR WARS HIGH REPUBLIC ADVENTURES #4 $ 3.99
STAR WARS HIGH REPUBLIC ADVENTURES #4 YAEL NATH (1/10) $ ???
STAR WARS WAR BOUNTY HUNTERS ALPHA #1 $ 3.99
STAR WARS WAR BOUNTY HUNTERS ALPHA #1 ACTION FIGURE VAR $ 3.99
STAR WARS WAR BOUNTY HUNTERS ALPHA #1 BLACK ARMOR VAR (1/50) $ ???
STAR WARS WAR BOUNTY HUNTERS ALPHA #1 MCNIVEN CRIMSON VAR $ 3.99
STAR WARS WAR BOUNTY HUNTERS ALPHA #1 YU VAR $ 3.99
STRANGE ACADEMY #10 $ 3.99
STRANGE ACADEMY #10 ART ADAMS CHARACTER SPOTLIGHT VAR $ 3.99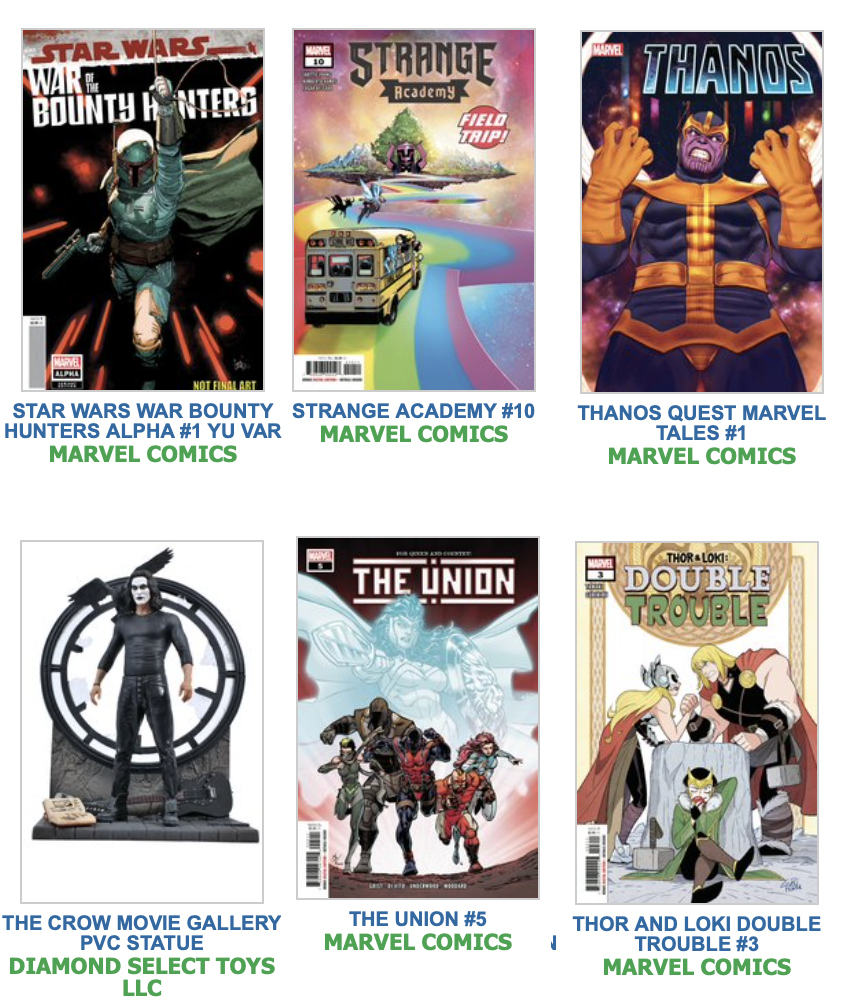 SUICIDE SQUAD #3 CVR A EDUARDO PANSICA $ 3.99
SUICIDE SQUAD #3 CVR B GERALD PAREL CARD STOCK VAR $ 4.99
SWAMP THING #3 (OF 10) CVR A MIKE PERKINS $ 3.99
SWAMP THING #3 (OF 10) CVR B KYLE HOTZ CARD STOCK VAR $ 4.99
THANOS QUEST MARVEL TALES #1 $ 7.99
THE UNION #5 (OF 5) $ 3.99
THE UNION #5 (OF 5) GARBETT VAR $ 3.99
THOR AND LOKI DOUBLE TROUBLE #3 (OF 4) $ 3.99
VAMPIRE THE MASQUERADE #8 $ 3.99
VAMPIRELLA #19 PARRILLO B&W $ ???
VAMPIRELLA #19 RB WHITE B&W VIRGIN FOC $ ???
VAMPIRELLA #19 LORRAINE COSPLAY VIRGIN $ ???
VAMPIRELLA #19 GUNDUZ VIRGIN $ ???
VAMPIRELLA #19 MASTRAZZO B&W $ ???
VAMPIRELLA #19 PARRILLO VIRGIN B&W $ ???
VAMPIRELLA #19 MASTRAZZO B&W VIRGIN FOC $ ???
VAMPIRELLA #19 CVR A PARRILLO $ 3.99
VAMPIRELLA #19 CVR E LORRAINE COSPLAY $ 3.99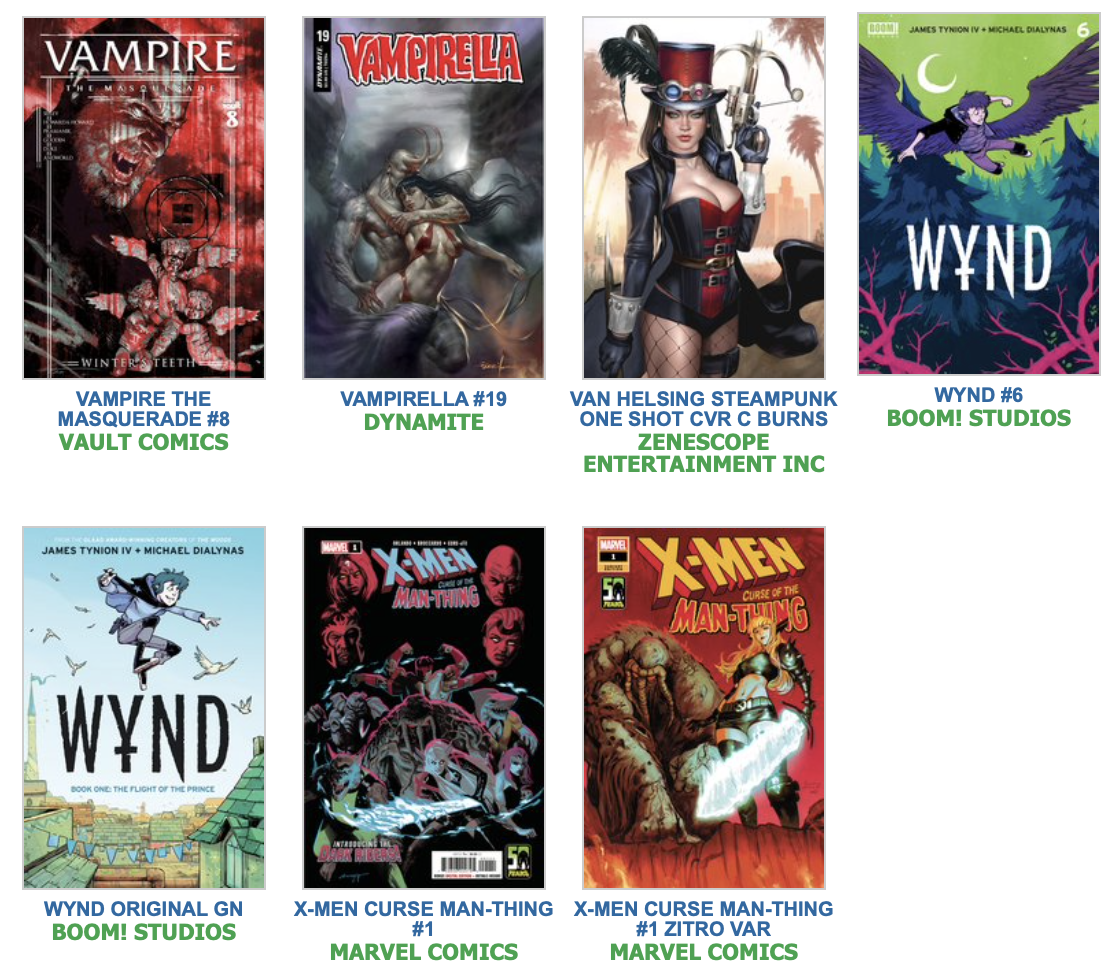 VAN HELSING STEAMPUNK ONE SHOT CVR A VITORINO $ 5.99
VAN HELSING STEAMPUNK ONE SHOT CVR C BURNS $ 5.99
WALKING DEAD DLX #14 CVR A FINCH & MCCAIG (MR) $ 3.99
WALKING DEAD DLX #14 CVR B MOORE & MCCAIG (MR) $ 3.99
WALKING DEAD DLX #14 CVR C RAPOZA (MR) $ 3.99
WALKING DEAD DLX #14 CVR D YOUNG AAPI VAR (MR) $ 3.99
WYND #6 (OF 5) CVR A DIALYNAS $ 4.99
WYND #6 (OF 5) CVR B GONZALES $ 4.99
X-MEN CURSE MAN-THING #1 $ 4.99
X-MEN CURSE MAN-THING #1 ZITRO VAR $ 4.99

COMIC SHOP NEWS #1759 zyx FREE

ALL-NEW WOLVERINE BY TOM TAYLOR OMNIBUS HC $ 100
ALL-NEW WOLVERINE BY TOM TAYLOR OMNIBUS HC KUBERT DM VAR $ 100
AVENGERS BY JASON AARON TP VOL 01 FINAL HOST $ 17.99
BATMAN TEENAGE MUTANT NINJA TURTLES III TP $ 17.99
BLACK CLOVER GN VOL 25 $ 9.99
BORUTO GN VOL 11 NARUTO NEXT GENERATIONS $ 9.99
BUFFY THE VAMPIRE SLAYER WILLOW TP $ 16.99
COMPLETE KIRBY WAR AND ROMANCE HC ROMANCE DM VAR $ 125
COMPLETE KIRBY WAR AND ROMANCE HC WAR CVR $ 125
DARK NIGHTS DEATH METAL THE MULTIVERSE WHO LAUGHS TP $ 19.99
DEAD MAN LOGAN COMPLETE COLLECTION TP $ 29.99
DISNEY BEAUTY & BEAST STORY OF MOVIE IN COMICS HC $ 10.99
GOOSEBUMPS SECRET OF THE SWAMP TP $ 12.99
GREEN ARROW BLACK CANARY TILL DEATH DO THEY PART TP $ 34.99
HAIKYU GN VOL 44 $ 9.99
JOJOS BIZARRE ADV 4 DIAMOND IS UNBREAKABLE HC VOL 09 $ 19.99
JUDGE DREDD FALSE WITNESS TP $ 15.99
KING DEADPOOL TP VOL 02 $ 15.99
KULL SAVAGE ORIGINAL MARVEL YEARS OMNIBUS HC WHELAN DM VAR $ 125
METROPOLIS GROVE TP $ 9.99
MIGHTY MORPHIN TP VOL 01 $ 16.99
MS MARVEL BY SALADIN AHMED TP VOL 03 OUTLAWED $ 17.99
PROMISED NEVERLAND GN VOL 19 $ 9.99
RAINBOW BRITE TP VOL 01 DIGEST ED $ 9.99
RICK AND MORTY HC BOOK 06 DLX ED (MR) $ 49.99
SECRET TO SUPERHUMAN STRENGTH GN $ 24
SNOW WHITE WITH RED HAIR GN VOL 13 $ 9.99
SQUADRON SUPREME TP HALL DM VAR NEW PTG $ 34.99
STAR WARS DARTH VADER DARK LORD SITH TP VOL 01 IMPERIAL MACH $ 17.99
TINY TITANS PET CLUB TP $ 9.99
VENOM BY MICHELINIE AND MCFARLANE GALLERY EDITION HC $ 44.99
WE ONLY FIND THEM WHEN THEYRE DEAD TP VOL 01 $ 9.99
WYND TP BOOK 01 FLIGHT OF THE PRINCE $ 14.99

STAR TREK PICARD SEASON ONE T/C BOX $ ???

CROW MOVIE GALLERY WINDOW PVC STATUE $ 49.99
POCKET POP GODZILLA VS KONG GODZILLA KEYCHAIN (Re/CR) $ 5.99
POP GAMES MILES MORALES GAME PURPLE REIGN SUIT FIG $ 11.99
POP PIN WONDER WOMAN W/ CHASE $ 15.99
PREDATORS ACTIVE CAMOUFLAGE TRACKER PX 1/18 SCALE FIGURE $ 19.99