Springtime for Justice in America – Wednesday, March 22nd, 2023
Crap. I thought we'd be able to celebrate two wonderful events today, but we are left with only one, the arrival of spring. I guess we have to wait a little more to celebrate American Justice.
On the small side of average for comics this week, but the Pops had a vinyl eruption, with I Am Groot, Disney 100, Gilligan, a new Poster format, more hip-hop albums, and other franchises. Whew! Wish I was there. (jk) That's all I've got.
We are still encouraging and welcoming masks, but not requiring them. You are only in our enclosed space for minutes, but Bob is there all day. We still need to be careful, people. I am going to talk to the one person reading this. We have put a TON of effort into clearing out the aisles and getting things in order, especially the books and Pops. Please tell Bob you appreciate how the store looks and feels. And help us keep them in order.
Thanks to League Of Comic Geeks for this week's images, which are in some unusual, non-alphabetical order, and 8 across. So it's a somewhat random sample. I'll keep searching. Use the list, and MAYBE the pictures will be useful.
Wednesday is still New Comic Day, no matter what you read on the internets. Watch this space and our Facebook page for the latest news about the rest of the month, season, year, millennium, etc. (And text messages from 5-Star.) The complete list is found below. If you want to know about the next sale or store event, or whether or not WE ARE EVEN OPEN click here. Sign in here to get an email reminder for ALL sales and other events. Also, you can go to     fb.fantasybooksandgames.com and you'll be taken to our Facebook page. We also use our in-store 5-Star Rewards system to text similar announcements to your phone.
DC COMICS
ACTION COMICS #1053 CVR A STEVE BEACH $ 4.99
ACTION COMICS #1053 CVR B SANDOVAL CD STK VAR $ 5.99
ACTION COMICS #1053 CVR D PARRILLO SHAZAM FURY/GODS MOV CD STK VAR $ 5.99
ACTION COMICS #1053 CVR E INC 1:25 SZERDY CD STK VAR $ ???
BATMAN GOTHAM KNIGHTS GILDED CITY #6 (OF 6) CVR A CAPULLO $ 4.99
BATMAN GOTHAM KNIGHTS GILDED CITY #6 (OF 6) CVR B ELIZABETH TORQUE CD STK VAR $ 5.99
BLUE BEETLE GRADUATION DAY #5 (OF 6) CVR A GUTIERREZ $ 3.99
BLUE BEETLE GRADUATION DAY #5 (OF 6) CVR B RIVAS CD STK VAR $ 4.99
DARK KNIGHTS OF STEEL #10 (OF 12) CVR A MORA $ 3.99
DARK KNIGHTS OF STEEL #10 (OF 12) CVR B EJIKURE CD STK VAR $ 4.99
DC RWBY #2 (OF 7) CVR A MEGHAN HETRICK $ 3.99
DETECTIVE COMICS #1070 CVR A EVAN CAGLE $ 4.99
DETECTIVE COMICS #1070 CVR B IVAN REIS CD STK VAR $ 5.99
DETECTIVE COMICS #1070 CVR C KELLEY JONES CD STK VAR $ 5.99
DETECTIVE COMICS #1070 CVR D MOORE SHAZAM FURY/GODS MOV CD STK VAR $ 5.99
DETECTIVE COMICS #1070 CVR E INC 1:25 MCKINNON CD STK VAR $ ???
FLASH #794 CVR A TAURIN CLARKE (1-MINUTE WAR) $ 3.99
GOTHAM CITY YEAR ONE #6 (OF 6) CVR A HESTER & ERIC GAPSTUR $ 4.99
GOTHAM CITY YEAR ONE #6 (OF 6) CVR B MOLINA VAR $ 4.99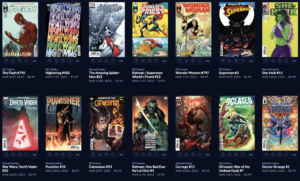 HARLEY QUINN #28 CVR A BOO $ 4.99
HARLEY QUINN #28 CVR B RYAN SOOK CD STK VAR $ 5.99
HARLEY QUINN #28 CVR C FRISON CD STK VAR $ 5.99
HARLEY QUINN #28 CVR F KWAN INT'L WOMENS DAY CD STK VAR $ 5.99
LAZARUS PLANET REVENGE/GODS #2 (OF 4) CVR A MARCH $ 4.99
LAZARUS PLANET REVENGE/GODS #2 (OF 4) CVR B DI MEO CD STK VAR $ 5.99
LAZARUS PLANET REVENGE/GODS #2 (OF 4) CVR C INC 1:25 CHO CD STK VAR $ ???
PUNCHLINE THE GOTHAM GAME #6 (OF 6) CVR A MELNIKOV $ 3.99
PUNCHLINE THE GOTHAM GAME #6 (OF 6) CVR B CHEW CD STK VAR $ 4.99
SANDMAN UNIV DEAD BOY DET #4 (OF 6) CVR A MALAVIA (MR) $ 3.99
SANDMAN UNIV DEAD BOY DET #4 (OF 6) CVR B ECKMAN-LAWN CD STK VAR (MR) $ 4.99
STARGIRL THE LOST CHILDREN #5 (OF 6) CVR A NAUCK $ 3.99
STARGIRL THE LOST CHILDREN #5 (OF 6) CVR B BOO CD STK VAR $ 4.99
TIM DRAKE ROBIN #7 CVR A DAN PANOSIAN $ 3.99
TIM DRAKE ROBIN #7 CVR B NIKOLA CIZMESIJA CD STK VAR $ 4.99
UNSTOPPABLE DOOM PATROL #1 (OF 6) CVR A BURNHAM $ 3.99
UNSTOPPABLE DOOM PATROL #1 (OF 6) CVR B SZERDY CD STK VAR $ 4.99
UNSTOPPABLE DOOM PATROL #1 (OF 6) CVR C BURNHAM SCRATCH-OFF CD STK (5 ASST) $ 4.99
UNSTOPPABLE DOOM PATROL #1 (OF 6) CVR D INC 1:25 CULVER CD STK VAR $ ???
UNSTOPPABLE DOOM PATROL #1 (OF 6) CVR E INC 1:50 SZERDY FOIL VAR $ ???
UNSTOPPABLE DOOM PATROL #1 (OF 6) CVR F BURNHAM DESIGN CD STK VAR $ 4.99
WALLER VS WILDSTORM #1 (OF 4) CVR A FORNES (MR) $ 5.99
WALLER VS WILDSTORM #1 (OF 4) CVR B BATTLE VAR (MR) $ 5.99
Marvel Comics
AMAZING SPIDER-MAN #22 $ 3.99
AMAZING SPIDER-MAN #22 1/25 BACHALO VAR $ ???
AMAZING SPIDER-MAN #22 CASELLI MARVEL ICON VAR $ 3.99
AVENGERS #9 FACSIMILE EDITION $ 3.99
AVENGERS END TIMES MARVEL TALES #1 $ 7.99
AVENGERS RAGE OF ULTRON MARVEL TALES #1 $ 7.99
CARNAGE #11 (RES) $ 3.99
CARNAGE #11 DAVILA PLANET OF THE APES VAR (RES) $ 3.99
CARNAGE #11 MASTRAZZO VAR (RES) $ 3.99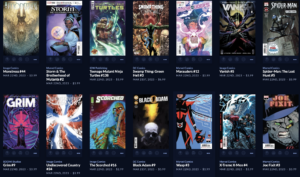 DOCTOR STRANGE #1 $ 4.99
DOCTOR STRANGE #1 ALEX ROSS TIMELESS DORMAMMU VIRGIN VAR $ 4.99
DOCTOR STRANGE #1 CASELLI MARVEL ICON VAR $ 4.99
DOCTOR STRANGE #1 COCCOLO STORMBREAKER VAR $ 4.99
DOCTOR STRANGE #1 SKROCE INFINITY SAGA PHASE 3 VAR $ 4.99
JOE FIXIT #3 (OF 5) $ 3.99
JOE FIXIT #3 (OF 5) GIST VAR $ 3.99
MARAUDERS #12 $ 3.99
MARAUDERS #12 JACINTO VAR $ 3.99
MONICA RAMBEAU PHOTON #4 (OF 5) $ 3.99
MONICA RAMBEAU PHOTON #4 (OF 5) DAVI GO VAR $ 3.99
PUNISHER #10 $ 4.99
PUNISHER #10 HOTZ VAR $ 4.99
SHE-HULK #11 $ 3.99
SHE-HULK #11 YAGAWA VAR $ 3.99
SPIDER-MAN LOST HUNT #5 (OF 5) $ 3.99
STAR WARS DARTH VADER #32 $ 3.99
STAR WARS DARTH VADER #32 LARRAZ VAR $ 3.99
STAR WARS DARTH VADER #32 MOMOKO WOMENS HISTORY VAR $ 3.99
STAR WARS DARTH VADER #32 RETURN JEDI 40TH ANNIVERSARY VAR $ 3.99
STORM AND BROTHERHOOD MUTANTS #2 $ 3.99
STORM AND BROTHERHOOD MUTANTS #2 1/25 VILLALOBOS VAR $ ???
STORM AND BROTHERHOOD MUTANTS #2 LOBE MARVEL ANATOMY VAR $ 3.99
STORM AND BROTHERHOOD MUTANTS #2 SOS MARCH CONNECTING VAR $ 3.99
STORM AND BROTHERHOOD MUTANTS #2 WOMENS HISTORY MONTH VAR $ 3.99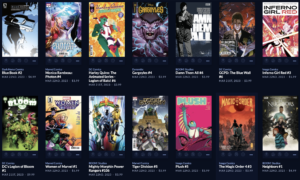 TIGER DIVISION #5 (OF 5) $ 3.99
TIGER DIVISION #5 (OF 5) COLA VAR $ 3.99
TIGER DIVISION #5 (OF 5) RON LIM TRADING CARD VAR $ 3.99
WASP #3 (OF 4) $ 3.99
WASP #3 (OF 4) ROMY JONES VAR $ 3.99
WOMEN OF MARVEL #1 $ 5.99
WOMEN OF MARVEL #1 CASELLI MARVEL ICON VAR $ 5.99
WOMEN OF MARVEL #1 CORIN HOWELL VAR $ 5.99
WOMEN OF MARVEL #1 ROMINA JONES VAR $ 5.99
WOMEN OF MARVEL #1 SAUVAGE VAR $ 5.99
X-TREME X-MEN #4 (OF 5) $ 3.99
X-TREME X-MEN #4 (OF 5) PANOSIAN HOMAGE VAR $ 3.99
Other Comics
ARC (ONE-SHOT) (MR) $ 4.99
BLUE BOOK #2 (OF 5) CVR A OEMING $ 4.99
BLUE BOOK #2 (OF 5) CVR B HIXSON $ 4.99
DAMN THEM ALL #6 (OF 6) CVR A ADLARD (MR) $ 3.99
DEAD ROMANS #1 (OF 6) CVR A MARINKOVICH (MR) $ 3.99
DEAD ROMANS #1 (OF 6) CVR B MARINKOVICH (MR) $ 3.99
DESTINY NY #13 (MR) $ 3.99
DUNE HOUSE HARKONNEN #3 (OF 12) CVR A SWANLAND (MR) $ 4.99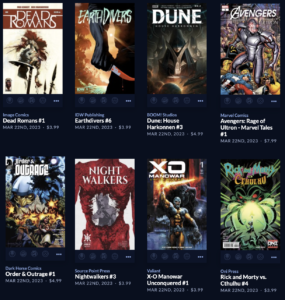 EARTHDIVERS #6 CVR A ALBUQUERQUE (MR) $ 3.99
FRANK FRAZETTAS DAWN ATTACK #3 (OF 5) CVR A OLIVETTI $ 4.99
FRANK FRAZETTAS DAWN ATTACK #3 (OF 5) CVR B FRAZETTA $ 4.99
FRANK FRAZETTAS DAWN ATTACK #3 (OF 5) CVR C 1/5 SANA $ ???
FRANK FRAZETTAS DAWN ATTACK #3 (OF 5) CVR D 1/10 HAC $ ???
GARGOYLES #4 CVR A NAKAYAMA $ 3.99
GARGOYLES #4 CVR B CONNER $ 3.99
GARGOYLES #4 CVR C PARRILLO $ 3.99
GARGOYLES #4 CVR D LEIRIX $ 3.99
GODZILLA BEST OF KING GHIDORAH $ 6.99
GRIM #9 CVR A FLAVIANO $ 3.99
GRIM #9 CVR B FLORENTINO $ 3.99
GRIM #9 CVR C 1/10 FLORENTINO $ ???
GROO GODS AGAINST GROO #4 (OF 4) $ 3.99
IMMORTAL SERGEANT #3 (OF 9) $ 3.99
INFERNO GIRL RED BOOK ONE #3 (OF 3) CVR A DURSO & MONTI MV $ 5.99
MAGIC ORDER 4 #3 (OF 6) CVR A RUAN (MR) $ 3.99
MIGHTY MORPHIN POWER RANGERS #106 CVR A CLARKE $ 3.99
MIGHTY MORPHIN POWER RANGERS #106 CVR B BOREA $ 3.99
MIGHTY MORPHIN POWER RANGERS #106 CVR C 1/10 $ ???
MONSTRESS #44 (MR) $ 3.99
NEIGHBORS #1 (OF 5) CVR A MERCADO (MR) $ 4.99
NEIGHBORS #1 (OF 5) CVR B PEREZ (MR) $ 4.99
NEIGHBORS #1 (OF 5) CVR C SPOT UV VAR FRANY (MR) $ 5.99
NEIGHBORS #1 (OF 5) CVR D 1/10 MERCADO (MR) $ ???
NEIGHBORS #1 (OF 5) CVR E 1/25 MOON (MR) $ ???
NEIGHBORS #1 (OF 5) CVR G VAR KRISTANTINA (MR) $ 4.99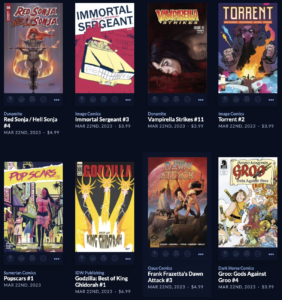 ORDER AND OUTRAGE #1 (OF 4) CVR A MORALES $ 4.99
ORDER AND OUTRAGE #1 (OF 4) CVR B STARLIN $ 4.99
PLUSH #5 (OF 6) CVR A HILLYARD & RENZI (MR) $ 3.99
POPSCARS #1 (OF 6) CVR A (MR) $ 3.99
POPSCARS #1 (OF 6) CVR B (MR) $ 3.99
RED SONJA HELL SONJA #4 CVR A LINSNER $ 4.99
RED SONJA HELL SONJA #4 CVR E COSPLAY $ 4.99
RICK AND MORTY VS CTHULHU #4 CVR A LITTLE $ 3.99
RICK AND MORTY VS CTHULHU #4 CVR B CANNON $ 3.99
RICK AND MORTY VS CTHULHU #4 CVR C LEE $ 3.99
SPAWN SCORCHED #16 CVR A SPEARS $ 2.99
SPAWN SCORCHED #16 CVR B RANDAL $ 2.99
SPAWN SCORCHED #16 CVR C BLANK SKETCH $ 2.99
TMNT ONGOING #138 CVR A FERO PE $ 3.99
TMNT ONGOING #138 CVR B EASTMAN & CAMPBELL $ 3.99
TMNT ONGOING #138 CVR C 1/10 CLARKE $ ???
TORRENT #2 CVR A GREENWOOD & RENZI $ 3.99
UNDISCOVERED COUNTRY #24 CVR A CAMUNCOLI (MR) $ 3.99
VAMPIRELLA STRIKES #11 CVR A PARRILLO $ 3.99
VAMPIRELLA STRIKES #11 CVR B SEGOVIA $ 3.99
VAMPIRELLA STRIKES #11 CVR C YOON $ 3.99
VAMPIRELLA STRIKES #11 CVR E COSPLAY $ 3.99
VANISH #5 CVR A STEGMAN (MR) $ 3.99
VANISH #5 CVR C YOUNG (MR) $ 3.99
X-O MANOWAR UNCONQUERED #1 CVR A SHARP (RES) (MR) $ 3.99
DC BOOKS
I AM BATMAN HC VOL 02 WELCOME TO NEW YORK $ 24.99
INFINITE FRONTIER TP $ 29.99
NAOMI SEASON 2 HC $ 24.99
ORDERING
DC CONNECT #35 $ FREE
Other Books
BASILISK TP VOL 03 (MR) $ 14.99
COLONEL WEIRD AND LITTLE ANDROMEDA HC $ 29.99
CREEPSHOW TP VOL 01 (MR) $ 14.99
KING SPAWN TP VOL 02 $ 16.99
PARASOMNIA TP VOL 02 DREAMING GOD $ 19.99
QUESTS ASIDE TP VOL 01 $ 17.99
SOLO LEVELING GN VOL 06 (MR) $ 20
TEENAGE MUTANT NINJA TURTLES REBORN TP VOL 06 GAME CHANGERS $ 16.99
USAGI YOJIMBO SAGA TP VOL 07 (2ND ED) $ 29.99
WEST OF SUNDOWN TP VOL 01 $ 17.99
Glassware
TOON TUMBLERS MOON KNIGHT MR KNIGHT PINT GLASS $ 11.99
TOON TUMBLERS MOON KNIGHT PINT GLASS $ 11.99
Toys
BOB ROSS TOONY CLASSIC BOB ROSS W/OVERALLS 6IN AF $ 17.99
BOB ROSS TOONY CLASSIC BOB ROSS W/RACOON 6IN AF $ 17.99
DC MULTIVERSE 7IN INFINITE FRONTIER JOKER AF CS $ ???
FCBD 2023 POP HEROES DC ETRIGAN W/CHASE PX VIN FIG $ 13.99
FIVE NIGHTS AT FREDDYS SNAP BONNIE AF $ 9.99
FIVE NIGHTS AT FREDDYS SNAP FOXY AF $ 9.99
FIVE NIGHTS AT FREDDYS SNAP FREDDY AND SPRINGTRAP 2PK AF $ 17.99
FIVE NIGHTS AT FREDDYS TOY BONNIE & BABY 2PK AF $ 17.99
GREEN HORNET DLX KATO AF $ 24.99
MARVEL SELECT APOCALYPSE AF $ 29.99
MYSTERY MINIS I AM GROOT SERIES 1 12PC BMB DS $ 8.99
POCKET POP I AM GROOT PJS W/ BOOK KEYCHAIN $ 5.99
POCKET POP I AM GROOT W/ CHEESE PUFFS KEYCHAIN $ 5.99
POCKET POP MY HERO ACADEMIA KUROGIRI FS KEYCHAIN $ 5.99
POP ALBUMS BIGGIE SMALLS BORN AGAIN VIN FIG $ 19.99
POP ALBUMS SIR MIX-A-LOT MACK DADDY VINYL FIG $ 19.99
POP ALBUMS SIR MIX-A-LOT MACK DADDY VINYL FIG $ 19.99
POP ANIMATION AVATAR ADMIRAL ZHAO VINYL FIG $ 12.99
POP ANIMATION HANNA BARBERA DAFFY AS SHAGGY VIN FIG $ 12.99
POP ANIMATION HANNA BARBERA LOLA AS DAPHNE VIN FIG $ 12.99
POP ANIMATION HANNA BARBERA TAZ AS SCOOBY VIN FIG $ 12.99
POP ANIMATION HUNTERXHUNTER NETERO VIN FIG $ 12.99
POP ANIMATION ONE PIECE RORONOA ZORO VINYL FIG $ 12.99
POP DELUXE NIGHTCRAWLER TELEPORTING GID PX VIN FIG $ 29.99
POP DISNEY 100TH ANNIVERSARY AURORA VINYL FIG $ 12.99
POP DISNEY 100TH ANNIVERSARY BERT VINYL FIG $ 12.99
POP DISNEY 100TH ANNIVERSARY CINDERELLA VINYL FIG $ 12.99
POP DISNEY 100TH ANNIVERSARY ELSA VINYL FIG $ 12.99
POP DISNEY 100TH ANNIVERSARY MARY POPPINS VINYL FIG $ 12.99
POP DISNEY 100TH ANNIVERSARY MIRABEL GW VINYL FIG $ 12.99
POP DISNEY 100TH ANNIVERSARY TIANA VINYL FIG $ 12.99
POP DISNEY 100TH ANNIVERSARY WALT W/ DUMBO & TIM VINYL FIG ( $ 12.99
POP DLX MY HERO ACADEMIA KUROGIRI HIDEOUT FS VINYL FIG $ 29.99
POP MARVEL I AM GROOT GROOT MARIE HAIR VINYL FIG $ 12.99
POP MARVEL I AM GROOT GROOT PJS DANCING VINYL FIG $ 12.99
POP MARVEL I AM GROOT GROOT PJS W/ BOOK VINYL FIG $ 12.99
POP MARVEL I AM GROOT GROOT PJS W/ CHEESE PUFFS VINYL FIG $ 12.99
POP MARVEL I AM GROOT GROOT PJS W/ DETONATOR VINYL FIG $ 12.99
POP MARVEL I AM GROOT GROOT PJS W/ GRUNDS VINYL FIG $ 12.99
POP MOMENTS DISNEY 100TH ANNIVERSARY R&F VINYL FIG $ 37.99
POP MOVIE LUCK BOB VIN FIG $ 12.99
POP MOVIE LUCK SAM W/ CHASE VIN FIG $ 12.99
POP MOVIE MOMENT HUNTERXHUNTER KOMUGI VS MERUEM VIN FIG $ 37.99
POP MOVIE POSTER DISNEY ALICE IN WONDERLAND VINYL FIG $ 55.99
POP MOVIE POSTER DISNEY CINDERELLA VINYL FIG $ 55.99
POP MOVIE POSTER STAR WARS A NEW HOPE $ 55.99
POP MOVIE POSTER STAR WARS A NEW HOPE $ 55.99
POP RIDE SUPDLX HANNABARBERA MYSTERY MACHINE W/ BUGS VIN FIG $ 31.99
POP ROCKS FLAVOR FLAV VIN FIG $ 12.99
POP ROCKS MEGADEATH VIC RATTLEHEAD VIN FIG $ 12.99
POP ROCKS PANTERA 4PK VIN FIG $ 53.99
POP ROCKS TWIZTID 2PK VIN FIG $ 25.99
POP TV GILLIGANS ISLAND GILLIGAN VINYL FIG $ 12.99
POP TV GILLIGANS ISLAND GINGER VINYL FIG $ 12.99
POP TV GILLIGANS ISLAND LOVEY VINYL FIG $ 12.99
POP TV GILLIGANS ISLAND MARY ANN VINYL FIG $ 12.99
POP TV GILLIGANS ISLAND PROFESSOR W/ RADIO VINYL FIG $ 12.99
POP TV GILLIGANS ISLAND THE SKIPPER VINYL FIG $ 12.99
POP TV GILLIGANS ISLAND THURSTON VINYL FIG $ 12.99
POP TV OFFICE OSCAR W/ SCARECROW DOLL VIN FIG $ 12.99
SUPER MARIO MOVIE MINI FIGURE ASST $ ???
SW VINTAGE 3-3/4IN E6 AT-ST & CHEWBACCA VEHICLE CS $ ???
SW VINTAGE 3-3/4IN E6 ENDOR BUNKER PLAYSET CS $ ???
TMNT MIRAGE COMICS FUGITOID 7IN AF $ 40.99
VINYL SODA ICON NASA ASTRONAUT W/ CHASE VIN FIG $ 15.99
VINYL SODA STAR WARS OBI-WAN W/ CH VIN FIG $ 15.99