New Releases on August 26, 2015
Look at how early this is!  The following is a sample of what you might find when you come in tomorrow, on Wednesday  this week.
Kudos to GoCollect.com for making this list each week so we can borrow it. Click here to see the original.
New #'1's this week:
Image Giant Sized Artists Proof Cover Walking Dead #1, Batman Arkham Knight Genesis #1,  New Mgmt #1, Zodiac Starforce #1, Harley Quinn Road Trip Special #1, Drive #1, Sherlock Holmes 7 Per-cent Solution #1, Ant-man Last Days #1, Hank Johnson Agent Of Hydra #1, Over The Garden Wall #1, Public Relations #1, Giantess Comics #1, Steampunk Sherlock Case Files Five Napoleons #1, Steam Wars Bounty Hunters (oneshot) #1, Jimbo Jones #1, Stringers #1, Rocket Queen And The Wrench #1, Book Of Death Fall Of Ninjak #1, and maybe a few more. And then there's these…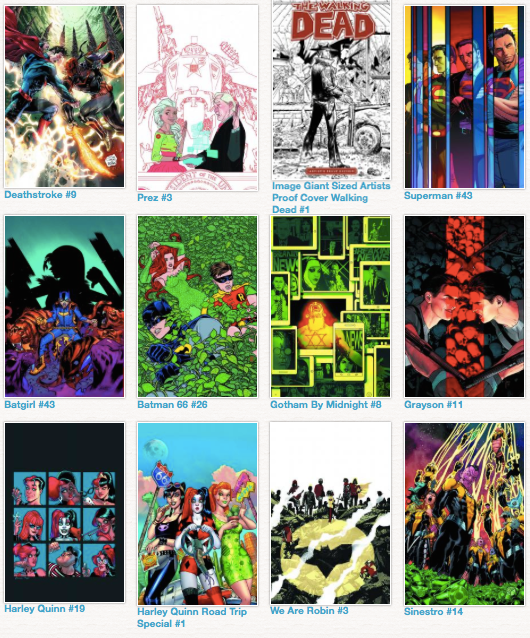 And THEN there is Lady Mechanika #0, Captain Canuck 2015 Ongoing #4, Stan Lee Chakra The Invincible #2, Doctor Who 2015 Four Doctors #3, Dead Drop #4, Cyborg, Flash, Justice League 3001, Low, Outcast, Rocket Girl, House of M, Shield, Spawn, Tomorrows, Conan, Hellboy, Hellgirl, Transformers RID Animated, Tranformers G.I. Joe, Lumberjanes, and tons of others!
And 12 more covers …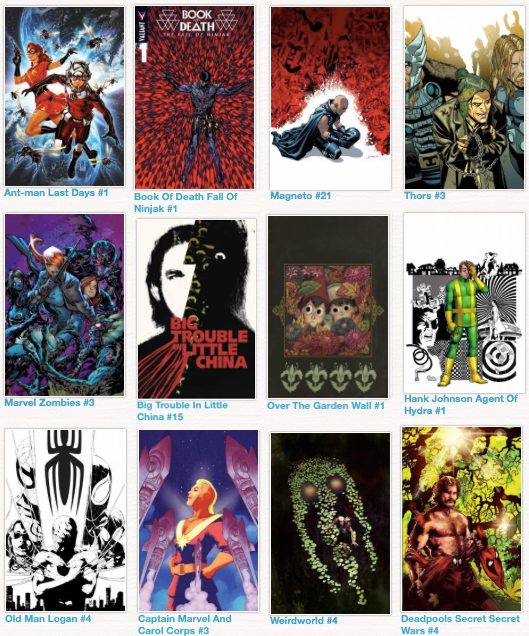 (We don't always order every single one, but if it's a DC,  Marvel,or Image [and most of the rest], we probably did. But, we may have only 1 or 2 of some of some, so we could easily sell out. If you are driving in from far away, call first.)
I've noticed the information we, ahem, borrow is not always accurate and sometimes predicts an arrival early or late.  And  sometimes GoCollect.com chooses one of  several variants to show and we may or may not get the one they show, or it may be higher than cover price.