New Arrivals on Wednesday Mar 9, 2016 
Action and Detective are both out with #50 specials, and Batman  Superman #30, also, each with 3 different bagged variants showing the different stages of the cover's production, pencils, inks and partial color, and full color, all bagged in mystery/random fashion (Remember HQ's Blk Bk?). We are *GASP* cutting them open and re-bagging with the opaque bag in the back so you can see and pick your poison. More work for us, more choice for you. Resealing will require extra investment in special equipment. Amazing Spider-man #9, Doctor Strange #6, Guardians #6, Ms Marvel #5, Rocket and Groot #3, Spider-Gwen #6, and Thor #5 represent Marvel this week, and Mockingbird #1 that we were stiffed last week is now in stock for the first time. Same for Batman and Robin Eternal #22, which is finally here, along with #23 today! The surprise hit Batman and TMNT is back with #4, Catwoman #50 does NOT have 3 extra covers, and , the DKIII MR #3 HC Coll Ed.  Disney is representing with Donald Duck #11, Princess #1, and they seem to have caught the multi-cover virus from Marvel, as we have 3 extra variant covers of Haunted Mansion #1.
Thanks  to GoCollect.com for posting comic photos (so we can borrow them). Click here to see their list. They might use pre-release art, or choose one variant that we may not get, to represent a title – so the cover you see here may not be the one you see on our shelf. This list was what we expected before checking everything in, and we may have sold out of a few things by the time you read this.
ACTION COMICS #50 (NOTE PRICE) 4.99
ACTION COMICS #50 POLYBAG VARIANTS 4.99
ADVENTURE TIME #50 4.99
AGENTS OF SHIELD #3 ASO 3.99
ALABASTER THE GOOD THE BAD & THE BIRD #4 (OF 5) 3.99
ALL NEW WOLVERINE #6 3.99
AMAZING SPIDER-MAN #9 3.99
AMAZING SPIDER-MAN #9 CAMUNCOLI STORY THUS FAR VAR 3.99
AMAZING SPIDER-MAN #9 LOTAY WOP VAR 3.99
AMAZING SPIDER-MAN #9 MCLEOD CLASSIC VAR $ ????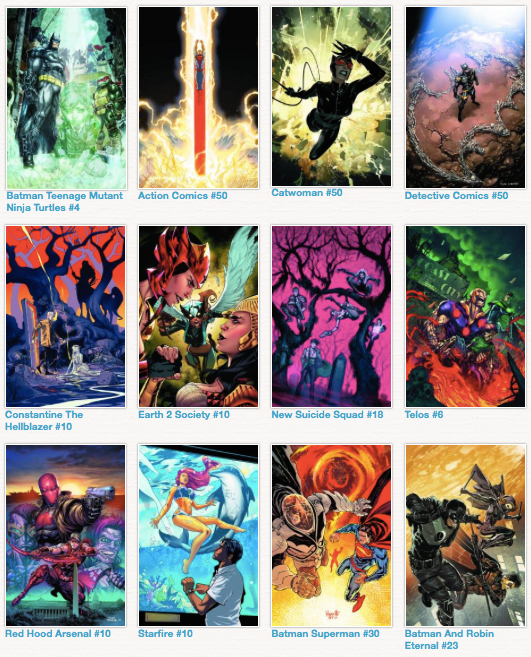 BAKER STREET PECULIARS #1 3.99
BATMAN AND ROBIN ETERNAL #22 2.99
BATMAN AND ROBIN ETERNAL #23 2.99
BATMAN SUPERMAN #30 3.99
BATMAN SUPERMAN #30 BLANK VAR ED 3.99
BATMAN SUPERMAN #30 POLYBAG VARIANTS 3.99
BATMAN TEENAGE MUTANT NINJA TURTLES #4 (OF 6) 3.99
BLACK JACK KETCHUM #4 (OF 4) 3.99
BLACK KNIGHT #5 3.99
CATWOMAN #50 (NOTE PRICE) 4.99
CODENAME BABOUSHKA CONCLAVE OF DEATH #5 CVR A CHANKHAMMA 3.99
CONSTANTINE THE HELLBLAZER #10 2.99
DARK AND BLOODY #2 (OF 6) (MR) 3.99
DARK KNIGHT III MASTER RACE #3 (OF 8) COLLECTORS ED 12.99
DESCENDER #11 (MR) 2.99
DETECTIVE COMICS #50 4.99
DETECTIVE COMICS #50 POLYBAG VARIANTS 4.99
DEVOLUTION #1 (OF 5) 2ND PTG (MR) 3.99
DIRK GENTLY A SPOON TOO SHORT #2 (OF 5) 3.99
DISNEY PRINCESS #1 2.99
DOC SAVAGE SPIDERS WEB #4 CVR A TORRES 3.99
DOCTOR STRANGE #6 4.99
DOCTOR STRANGE #6 ANKA STORY THUS FAR VAR 4.99
DOCTOR STRANGE #6 GUICE CLASSIC VAR 4.99
DOCTOR WHO 12TH YEAR TWO #3 CVR A RONALD 3.99
DONALD DUCK #11 3.99
EARTH 2 SOCIETY #10 2.99
ESCAPE FROM NEW YORK #15 3.99
FABLES THE WOLF AMONG US #15 (MR) 3.99
GOTHAM ACADEMY #16 2.99
GREEN LANTERN CORPS EDGE OF OBLIVION #3 (OF 6) 2.99
GUARDIANS OF GALAXY #6 3.99
GUARDIANS OF GALAXY #6 CAMPBELL VAR $ ????
GUARDIANS OF GALAXY #6 OUM WOP VAR 3.99
GUARDIANS OF GALAXY #6 SCHITI STORY THUS FAR VAR 3.99
GUARDIANS OF INFINITY #4 4.99
HARROW COUNTY #10 3.99
HAUNTED LOVE #2 4.99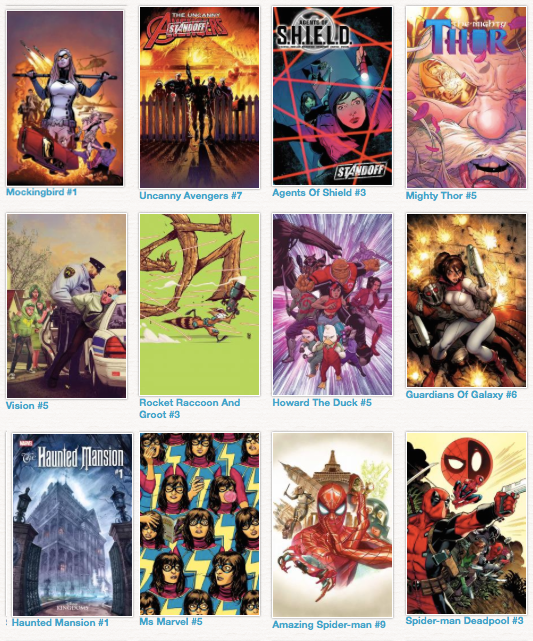 HAUNTED MANSION #1 (OF 5) 3.99
HAUNTED MANSION #1 (OF 5) ACTION FIGURE VAR 3.99
HAUNTED MANSION #1 (OF 5) CROSBY VAR $ ????
HAUNTED MANSION #1 (OF 5) YOUNG VAR 3.99
HEROES GODSEND #1 (OF 5) CVR A MARTINEZ 3.99
HOWARD THE DUCK #5 3.99
INFINITY ENTITY #1 (OF 4) 3.99
INFINITY ENTITY #1 (OF 4) LIM VAR 3.99
JOHNNY RED #5 3.99
JUPITERS CIRCLE VOL 2 #4 (OF 6) CVR A SIENKIEWICZ (MR) 3.5
LANTERN CITY #11 (OF 12) 3.99
LEAVING MEGALOPOLIS SURVIVING MEGALOPOLIS #3 3.99
LEGEND OF WONDER WOMAN #3 (OF 9) 3.99
LIMBO #5 (OF 6) (MR) 2.99
MARS ATTACKS OCCUPATION #1 (OF 5) 3.99
MASSIVE NINTH WAVE #4 3.99
MOCKINGBIRD #1 3.99
MS MARVEL #5 3.99
MS MARVEL #5 LUPACCHINO WOP VAR 3.99
NEW ROMANCER #4 (OF 6) (MR) 3.99
NEW SUICIDE SQUAD #18 2.99
NEW SUICIDE SQUAD #18 VAR ED 2.99
NINJAK #13 CVR A BRAITHWAITE 3.99
NO MERCY #8 3.99
OCTOBER FACTION #14 3.99
RED HOOD ARSENAL #10 2.99
RED WOLF #4 3.99
ROCKET RACCOON AND GROOT #3 3.99
SLASH & BURN #5 (MR) 3.99
SPIDER-GWEN #6 3.99
SPIDER-MAN 2099 #8 3.99
SPIDER-MAN 2099 #8 LEONARDI STORY THUS FAR 3.99
SPIDER-MAN DEADPOOL #3 3.99
SPIDER-MAN DEADPOOL #3 CHIANG VAR $ ????
SPONGEBOB COMICS #54 3.99
STAR TREK ONGOING #55 3.99
STARFIRE #10 2.99
TELOS #6 2.99
THOR #5 3.99
THOR #5 BRAGA WOP VAR 3.99
TMNT AMAZING ADVENTURES #8 3.99
TRANSFORMERS MORE THAN MEETS EYE #50 7.99
UNCANNY AVENGERS #7 ASO 3.99
UNCANNY AVENGERS #7 JONES WOP VAR ASO 3.99
VISION #5 3.99
VOLTRON FROM THE ASHES #6 (OF 6) 3.99
WEIRDWORLD #4 3.99
X-FILES DEVIATIONS (ONE SHOT) 4.99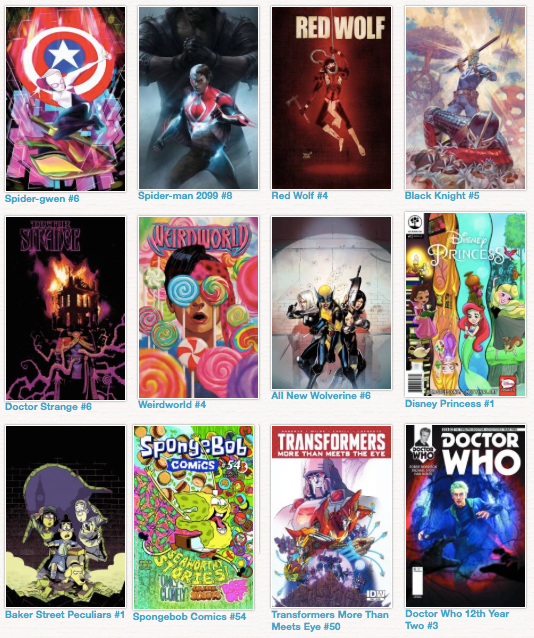 ANGEL & FAITH SEASON 10 TP VOL 04 MORE THAN KIN 18.99
AZRAEL TP VOL 01 FALLEN ANGEL 19.99
BATMAN AND ROBIN ETERNAL TP VOL 01 29.99
BATMAN BY NEAL ADAMS OMNIBUS HC (RES) 99.99
BATMAN CONTAGION TP 34.99
BATMAN SUPERMAN SILVER AGE OMNIBUS HC VOL 01 75
CAPTAIN AMERICA TP VOL 01 MARVEL KNIGHTS 34.99
DRAGONLANCE CHRONICLES TP VOL 03 DRAGONS OF SPRING DAWNING 29.99
EARTH 2 SOCIETY TP VOL 01 PLANETFALL 14.99
HALO ESCALATION TP VOL 04 (C: 0-1-2) 19.99
JUSTICE LEAGUE TP VOL 06 INJUSTICE LEAGUE 19.99
LUCKY LUKE TP VOL 56 UNDER A WESTERN SKY 11.95
MY LITTLE PONY FRIENDSHIP IS MAGIC TP VOL 09 17.99
STEVEN UNIVERSE TP VOL 02 14.99
SUPERIOR IRON MAN TP VOL 02 STARK CONTRAST 19.99
TEEN TITANS TP VOL 02 ROGUE TARGETS 16.99
THOR CORPS TP 29.99
THOR TP VOL 02 WHO HOLDS HAMMER 19.99
THORS TP 15.99
TOKYO GHOST TP VOL 01 ATOMIC GARDEN (MR) 9.99
X-MEN 92 TP VOL 00 WARZONES 16.99
YU GI OH TCG BREAKERS OF SHADOW SPECIAL ED BOOSTER DIS (NET) 56.94
POP PINS SW YODA 3.99
POP ALICE QUEEN OF HEARTS VINYL FIG 10.99
POP DISNEY PIRATES DAVY JONES VINYL FIG 10.99
POP DISNEY PIRATES ELIZABETH SWANN VINYL FIG 10.99
POP DISNEY PIRATES JACK SPARROW VINYL FIG 10.99