Minty Fresh on October 21, 2015
For the first time in a while, I'm a bit on time.  Straight Outa Minny (saw that on a shirt today), for at least one more Wednesday. Very mild weather, and ridiculous red leaves everywhere. Any rain yet? Might get a few drops before I leave.
As always, thanks and a tip o' the hat to GoCollect.com for making their list each week so we can borrow it, errors and all, if any. Click here to see their list.  So NOT being in the store to see, these may or may not be available today…
New #1's this week:
Karnak, Clean Room, Titans Hunt, Astonishing Ant-Man, Uncanny Inhumans, Steam Man, Rook, Plants vs Zombies Garden Warfare, Transformers Redemption, Secret Wars Agents of Atlas, Back to the Future, the Shield (note, no periods, not Marvel) and I may have skipped a couple. And then there's these…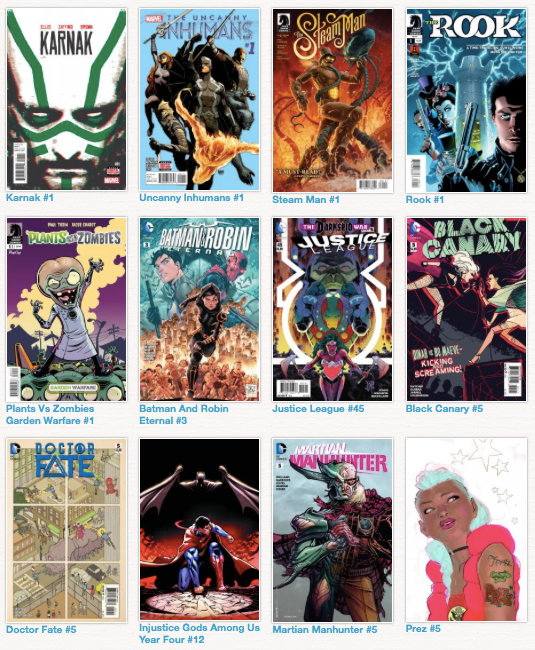 NOT number 1's, and yet still new:
Also waiting for you may be B&R Eternal 3, JL 45, Dr Fate 5, Prez 5, M Manhunter 5, Secret 6 7, WW 45, Supes WW 22, Bizarro 5, Doomed 5, HQ & Powergirl 5, Robin Son of Batman 5, Invincible `124, Invincible Iron Man 2, Age of Apocalypse 5, Hail Hydra 4, S.H.I.E.L.D. 11, Amazing Spider-Man 2, Journey Star Wars Faze 4 (I swear I did that one last week), Star Wars 11, Trees 14, Wolf 4, Teen Titans 12, Darth Vader 11, Escape from New York 11, Big Trouble 17, Lumberjanes 19, a couple of Dr Who's, Simpsons and some Valiants.
And probably a bunch more.
Plus 12 more covers …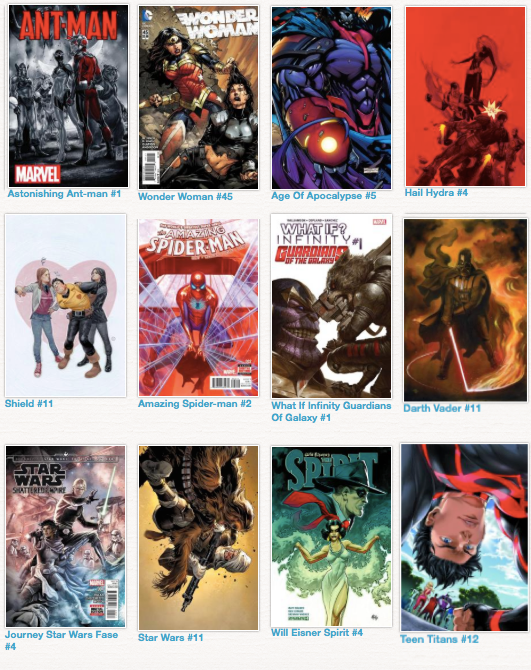 (We don't always order every single comic shown on their site, but if it's a DC,  Marvel,or Image [and a lot of others], we probably did. But, we may have only gotten 1 or 2, so we could easily sell out. If you are driving in from far away, call first.)