Comics of Power and Iron on Feb 17, 2016 
Powerman and Iron Fist re-join the Marvel Universe with 9 covers of their new #1. Star Wars continues with #16, Deadpool & Cable are up to #3, and the women are representin' with Poison Ivy, Spider-Woman, Wonder Woman, Harley Quinn, Thor, Buffy, Red Sonja, and Lumberjanes!
As always, kudos  to GoCollect.com for posting photos (so we can borrow them). Click here to see their list. They might use pre-release art, or choose one variant that we may not get, to represent a title – so the cover you see here may not be the one you see on our shelf. This list was what we expected before checking everything in, and we may have sold out of a few things by the time you read this.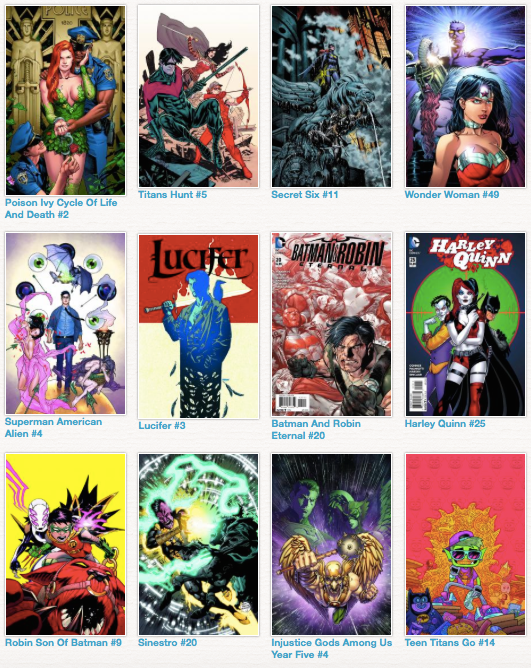 ADVENTURE TIME ICE KING #2 3.99
AMAZING SPIDER-MAN #8 3.99
ARCHIE #6 DEREK CHARM VAR CVR B 3.99
ASTRO CITY #32 3.99
AVENGERS STANDOFF WELCOME PLEASANT HILL #1 ASO 4.99
AVENGERS STANDOFF WELCOME PLEASANT HILL #1 HIP HOP VAR ASO 4.99
AVENGERS STANDOFF WELCOME PLEASANT HILL #1 YOUNG VAR ASO 4.99
BATMAN AND ROBIN ETERNAL #20 2.99
BETTY & VERONICA COMICS DOUBLE DIGEST #241 4.99
BIG TROUBLE IN LITTLE CHINA #21 3.99
BIRTHRIGHT #14 CVR A BRESSAN & LUCAS 2.99
BITCH PLANET #7 (MR) 3.99
BTVS SEASON 10 #24 MAIN CVR 3.99
CARNAGE #5 3.99
CITIZEN JACK #4 CVR A PATTERSON & TODD (MR) 3.99
CLEAN ROOM #5 (MR) 3.99
DARK HORSE PRESENTS 2014 #19 4.99
DEADPOOL AND CABLE SPLIT SECOND #3 (OF 3) 4.99
DEVOLUTION #2 (OF 5) CVR A LEE (MR) 3.99
DOCTOR FATE #9 2.99
DOCTOR WHO 8TH #4 (OF 5) REG STOTT 3.99
DRAGON AGE MAGEKILLER #3 (OF 5) 3.99
EXTRAORDINARY X-MEN #7 3.99
FROM UNDER MOUNTAINS #5 2.99
GFT WONDERLAND #44 A CVR WATSON (MR) 3.99
GRUMPY CAT & POKEY #1 (OF 6) CVR A UY 3.99
HARLEY QUINN #25 3.99
HARLEY QUINN #25 NEAL ADAMS VAR ED 3.99
HARLEY QUINN #25 VAR ED ???
HUCK #4 CVR A ALBUQUERQUE 3.5
I HATE FAIRYLAND #5 CVR A YOUNG (MR) 3.5
IMPERIUM #13 CVR A GILL (NEW ARC) 3.99
INJUSTICE GODS AMONG US YEAR FIVE #4 2.99
JIM HENSONS STORYTELLER DRAGONS #3 3.99
LUCIFER #3 (MR) 3.99
LUMBERJANES #23 3.99
MARTIAN MANHUNTER #9 2.99
MARTIAN MANHUNTER #9 NEAL ADAMS VAR ED 2.99
MARVEL UNIVERSE AVENGERS ASSEMBLE SEASON TWO #16 2.99
PLANTS VS ZOMBIES ONGOING #9 PETAL TO THE METAL 2.99
POISON IVY CYCLE OF LIFE AND DEATH #2 (OF 6) 2.99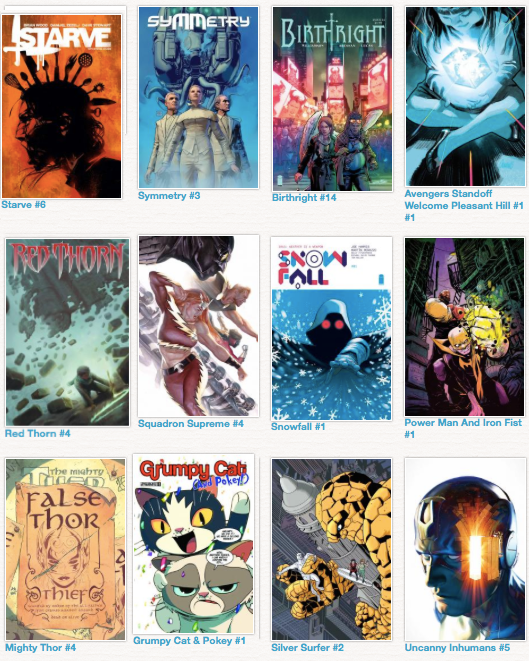 POWER MAN AND IRON FIST #1 3.99
POWER MAN AND IRON FIST #1 BLACK PANTHER 50TH ANNIV VAR ???
POWER MAN AND IRON FIST #1 BLANK VAR 3.99
POWER MAN AND IRON FIST #1 IF ACTION FIGURE VAR 3.99
POWER MAN AND IRON FIST #1 JONES HIP HOP VAR 3.99
POWER MAN AND IRON FIST #1 PM ACTION FIGURE VAR 3.99
POWER MAN AND IRON FIST #1 VISIONS VAR ???
POWER MAN AND IRON FIST #1 VON EEDEN CLASSIC VAR ???
POWER MAN AND IRON FIST #1 YOUNG VAR 3.99
PUPPET MASTER #12 CVR A DA SACCO (MR) 3.99
RED SONJA VOL 3 #2 CVR A SAUVAGE 3.99
RED THORN #4 (MR) 3.99
ROBIN SON OF BATMAN #9 3.99
ROBIN SON OF BATMAN #9 NEAL ADAMS VAR ED 3.99
SECRET SIX #11 2.99
SECRET WARS #1 MIDTOWN EXC CAMPBELL B&W CVR 29.99
SEX CRIMINALS #14 (MR) 3.5
SEX CRIMINALS #14 KATIE COOK XXX VAR (MR) 4.69
SILVER SURFER #2 3.99
SIMPSONS COMICS #226 3.99
SINESTRO #20 2.99
SINESTRO #20 NEAL ADAMS VAR ED 2.99
SNOWFALL #1 (MR) 3.99
SPIDER-GWEN #1 MIDTOWN EXC ENCORE CAMPBELL CVR 19.65
SPIDER-WOMAN #4 3.99
SQUADRON SUPREME #4 3.99
STAR WARS #16 3.99
STAR WARS #16 CHRISTOPHER ACTION FIGURE VAR 3.99
STAR WARS #16 IMMONEN VAR ???
STAR WARS #16 YU VAR ???
STARBRAND AND NIGHTMASK #3 3.99
STARVE #6 (MR) 3.99
STEAM MAN #5 (OF 5) 3.99
SUPERMAN AMERICAN ALIEN #4 (OF 7) 3.99
SYMMETRY #3 CVR A IENCO 3.99
TEEN TITANS GO #14 2.99
THOR #4 3.99
TITANS HUNT #5 (OF 12) 3.99
TITANS HUNT #5 (OF 12) NEAL ADAMS VAR ED 3.99
TITHE #8 CVR A EKEDAL 5.99
TOMB RAIDER 2016 #1 3.99
TWILIGHT ZONE #1959 5.99
ULTIMATES #3 ROCAFORT 2ND PTG VAR 3.99
UNCANNY INHUMANS #5 3.99
UNCANNY INHUMANS #5 ANKA STORY THUS FAR VAR ???
WEB WARRIORS #4 3.99
WONDER WOMAN #49 3.99
WONDER WOMAN #49 KIM JUNG GI VAR ED 3.99
WONDER WOMAN #49 NEAL ADAMS VAR ED 3.99
WRAITHBORN #1 (OF 6) MAIN CVRS 3.99
WRATH OF THE ETERNAL WARRIOR #4 CVR A LAFUENTE 3.99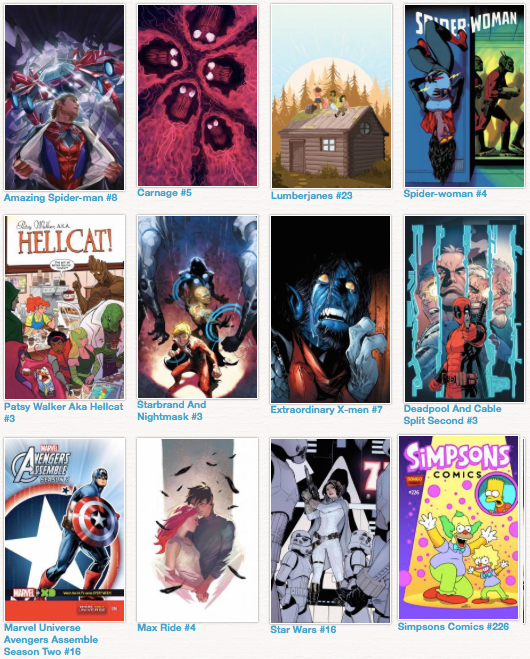 MARVEL FACT FILES SPECIAL #11 HAWKEYE 34.95
STAR TREK STARSHIPS FIG MAG #62 VOTH RESEARCH VESSEL 21.95
AMAZING WORLD OF GUMBALL TP VOL 02 14.99
AMERICAN VAMPIRE HC VOL 08 (MR) 22.99
AVENGERS TIME RUNS OUT TP VOL 04 19.99
BAT MITE TP 14.99
BATGIRL TP VOL 02 FAMILY BUSINESS 16.99
CAPTAIN AMERICA HC WHITE 29.99
CATWOMAN TP VOL 07 INHERITANCE 14.99
CIVIL WAR WARZONES TP 16.99
DOOM PATROL TP BOOK 01 (MR) 29.99
E IS FOR EXTINCTION WARZONES TP 15.99
FADE OUT TP VOL 03 (MR) 12.99
GODZILLA IN HELL TP 19.99
INVINCIBLE TP VOL 22 16.99
KOLCHAK NIGHT STRANGLER FILES TP 15.95
MIDNIGHTER TP VOL 01 OUT 14.99
MMW GOLDEN AGE SUB MARINER TP VOL 01 29.99
PUNISHER VS MARVEL UNIVERSE TP 34.99
UNCANNY X-MEN OMNIBUS HC VOL 03 DM VAR SMITH CVR 125
VAMPIRE HUNTER D NOVEL SC VOL 23 IRIYA BERSERKER (RES) (MR) 11.99
X-MEN GAMBIT TP COMPLETE COLLECTION VOL 01 34.99
X-TINCTION AGENDA WARZONES TP 15.99
COMIC SHOP NEWS 90CT BUNDLE #1494 NA
COMIC SHOP NEWS 90CT BUNDLE #1496 NA
DEADPOOL PX 2PK PINT GLASS SET 19.99
FLASH TV SYMBOL SEASON 2 T/S LG 19.95
FW GUNDAM CONVERGE #1 TRAD FIG 10PC ASST ???
MARVEL KAMALA KHAN FIST NAVY WMNS T/S S-XL 18.99
MARVEL SPIDER-GWEN NOUVEAU WOMENS WHT T/S XL 18.99
POP ALICE ALICE VINYL FIG 10.99
POP ALICE CHESHIRE CAT VINYL FIG 10.99
POP ALICE MAD HATTER VINYL FIG 10.99