Day of the Dead – Wednesday, November 1st, 2017
Actually, it started yesterday, and ends tomorrow, which for me is in 15 minutes. Weeks like this used to be called a "Skip Week", because about 4 times a year, there are 5 Thursday's (then Wednesdays, now Tuesdays) in a month, so to keep them monthly (12 times a year) they would skip a week on some titles, and there would be less comics that week. Such is this week. Only 86 spaces on the new racks, (compared to over 140 last week). Isn't that interesting?
Riveting.
What did we get? Probably the best ongoing series right now is the DC Metal series of one-shots – this week it's Batman, the Devastator #1. I'm too tired from checking in 100's of Pops and trying to shoe-horn them into our over stuffed shelves (failed – we took off 30+ pops to make room for some new ones – hope you all come in and buy them out so we can bring them back!) And they shorted us (didn't pack it) on Star Wars Darth Vader, so that will added to next week (or beyond).
Watch this space for something new and exciting next week!
Complete list of this week's comics and some pics below.
As has been the norm,  thanks to GoCollect.com for putting out their mostly accurate list of comics and covers every week. If you so desire, Click here to see their whole list. They may have elected to use a variant that we may not carry, or used pre-release art to represent a title, or listed things we don't buy at all. Or they may get a few from next week in there, OR catch up with ones they missed last week – so the covers you see here may not be the ones you see on our shelf this week. Our list is usually late enough that it reflects only what we got,  but not late enough to eliminate sellouts that might have happened by the time you see this. Also, we reserve the right to make mistakes and forget to list things, or forget to delete them when they don't show up like we thought they would.
ADVENTURE TIME #70 $ 3.99
AMORY WARS GOOD APOLLO #8 (OF 12) (MR) $ 3.99
ARCHIE #25 CVR B ALBUQUERQUE $ 3.99
ASTONISHING X-MEN #5 $ 3.99
ASTONISHING X-MEN #5 LAND VAR (1/10) $ ???
AVENGERS #673 LEG $ 3.99
BANE CONQUEST #7 (OF 12) $ 3.99
BATMAN #34 $ 2.99
BATMAN #34 VAR ED $ 2.99
BATMAN THE DEVASTATOR #1 (METAL) $ 3.99
BATMAN WHITE KNIGHT #1 (OF 8) 2ND PTG $ 3.99
BATMAN WHITE KNIGHT #2 (OF 8) $ 3.99
BATMAN WHITE KNIGHT #2 (OF 8) VAR ED $ 3.99
BETTIE PAGE #4 CVR A LINSNER $ 3.99
BETTIE PAGE #4 CVR C PHOTO $ 3.99
BLACK BOLT #7 $ 3.99
BLACK LIGHTNING COLD DEAD HANDS #1 (OF 6) $ 3.99
BLACK LIGHTNING COLD DEAD HANDS #1 (OF 6) VAR ED $ 3.99
BOMBSHELLS UNITED #5 $ 2.99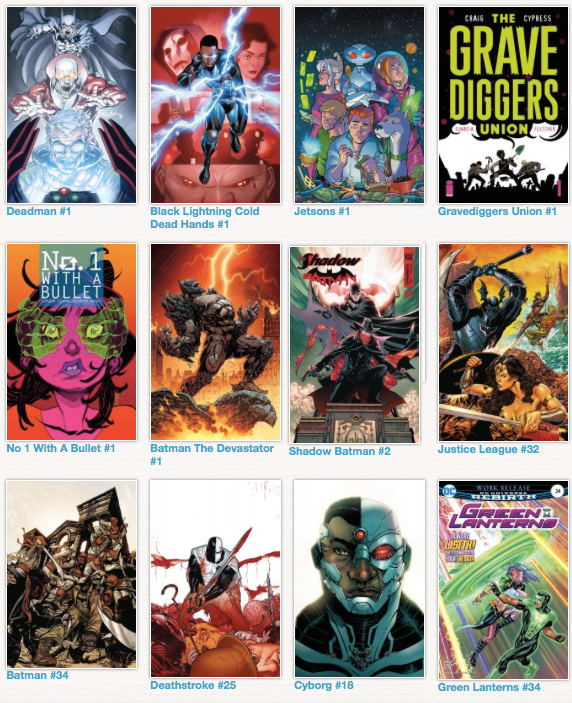 Captain America #695 ALEX ROSS LH (LENTICULAR) $ $3.99
Captain America #695 LEG $ $3.99
Captain America #695 MCKONE HEADSHOT (1/10) $ ???
CLUE #5 CVR A SOMMARIVA $ 3.99
CROSSWIND #5 CVR A STAGGS (MR) $ 3.99
CROSSWIND #5 CVR B STAGGS (MR) $ 3.99
CROSSWIND #5 CVR C WALKING DEAD #54 TRIBUTE VAR (MR) $ 3.99
CROSSWIND #5 CVR D B&W WALKING DEAD #54 TRIBUTE VAR (MR) $ 3.99
CYBORG #18 $ 3.99
CYBORG #18 VAR ED $ 3.99
DASTARDLY AND MUTTLEY #3 (OF 6) $ 3.99
DASTARDLY AND MUTTLEY #3 (OF 6) VAR ED $ 3.99
DEADMAN #1 (OF 6) GLOW IN THE DARK ED $ 4.99
DEADMAN #1 (OF 6) STANDARD ED $ 3.99
DEATHSTROKE #25 $ 3.99
DEATHSTROKE #25 VAR ED $ 3.99
DUCKTALES #2 CVR A GHIGLIONE $ 3.99
DUCKTALES #2 CVR B GHIGLIONE $ 3.99
ELSEWHERE #4 CVR A KESGIN & RILEY $ 3.99
EXTREMITY #8 $ 3.99
GIANT DAYS #32 $ 3.99
GRAVEDIGGERS UNION #1 (MR) $ 3.99
GREEN ARROW #34 $ 3.99
GREEN ARROW #34 VAR ED $ 3.99
GREEN LANTERNS #34 $ 2.99
GREEN LANTERNS #34 VAR ED $ 2.99
Guardians of the Galaxy #146 LEG $ $3.99
Guardians of the Galaxy #146 LIM LH (LENTICULAR) $ $3.99
Guardians of the Galaxy #146 MCKONE HEADSHOT VARIANT (1/10) $ ???
HARLEY & IVY MEET BETTY & VERONICA #2 (OF 6) $ 3.99
HARLEY & IVY MEET BETTY & VERONICA #2 (OF 6) VAR ED $ 3.99
ICEMAN #7 LEG $ 3.99
INHUMANS ONCE FUTURE KINGS #4 (OF 5) $ 3.99
INJUSTICE 2 #13 $ 2.99
IRON FIST #74 LEG $ 3.99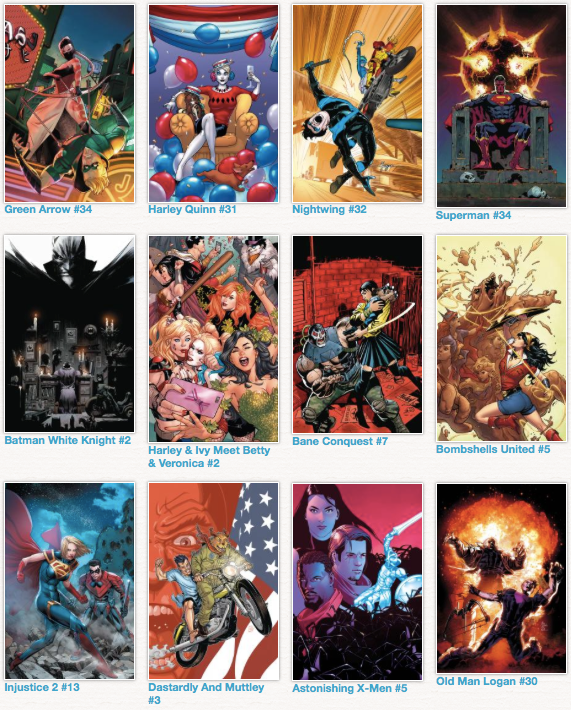 JETSONS #1 (OF 6) $ 3.99
JETSONS #1 (OF 6) VAR ED $ 3.99
JUSTICE LEAGUE #32 METAL $ 2.99
JUSTICE LEAGUE #32 VAR ED METAL $ 2.99
LAZARUS X PLUS 66 #4 (OF 6) (MR) $ 3.99
NIGHTWING #32 $ 2.99
NIGHTWING #32 VAR ED $ 2.99
NO 1 WITH A BULLET #1 $ 3.99
OLD MAN LOGAN #30 $ 3.99
OPTIMUS PRIME #12 CVR A ZAMA $ 3.99
PAPER GIRLS #17 $ 2.99
PETER PARKER SPECTACULAR SPIDER-MAN #6 $ 3.99
POWER PACK #63 LEG $ 3.99
RED SONJA #10 CVR D COSPLAY $ 3.99
ROBOTECH #1 SDCC EXCLUSIVE VARIANT $ ???
ROBOTECH #4 CVR A TURINI $ 3.99
ROBOTECH #4 CVR B KERSCHL $ 3.99
ROBOTECH #4 CVR C ACTION FIGURE VAR $ 3.99
ROM #14 CVR A GRENO $ 3.99
SHADOW BATMAN #2 (OF 6) CVR A DANIEL $ 3.99
SHADOW BATMAN #2 (OF 6) CVR B PETERSON $ 3.99
SHADOW BATMAN #2 (OF 6) CVR D TAN $ 3.99
SHADOW BATMAN #2 (OF 6) CVR E TIMPANO EXC SUBSCRIPTION VAR $ 3.99
SHADOW BATMAN #2 (OF 6) CVR F VARIANT (1/10) $ ???
SIMPSONS COMICS EXPLOSION #4 $ 9.99
SPIDER-GWEN #24 2ND PTG RODRIGUEZ VAR $ 3.99
Spider-Man #234 BAGLEY LH (LENTICULAR) $ $3.99
Spider-Man #234 GREENE VARIANT (1/25) $ ???
Spider-Man #234 LEG $ $3.99
Spider-Man #234 MCKONE HEADSHOT VARIANT (1/10) $ ???
SPREAD #23 (MR) $ 3.99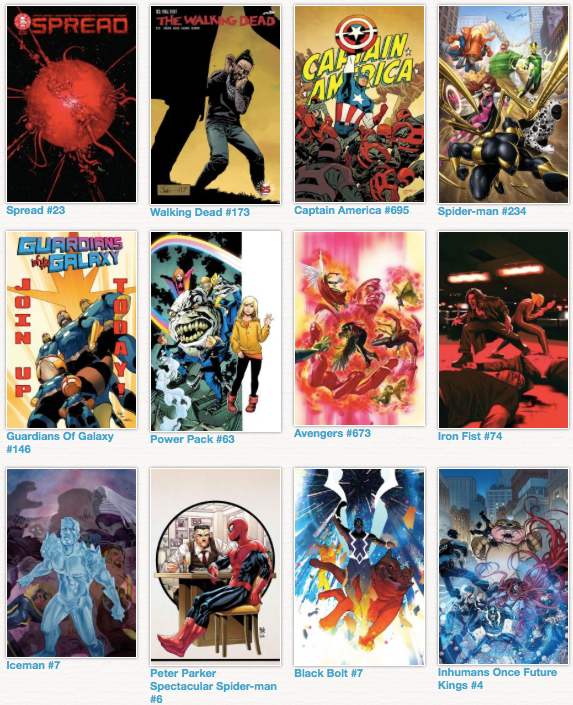 STAR WARS DARTH VADER #7 (maybe Next Week?) $ 3.99
SUPERMAN #34 $ 2.99
SUPERMAN #34 VAR ED $ 2.99
TMNT GHOSTBUSTERS II #1 CVR A SCHOENING $ 3.99
USAGI YOJIMBO #163 $ 3.99
VOLTRON LEGENDARY DEFENDER VOL 2 #2 (RES) $ 3.99
VOLTRON LEGENDARY DEFENDER VOL 2 #3 (RES) $ 3.99
VOLTRON LEGENDARY DEFENDER VOL 2 #3 YAMASHIN VAR (RES) $ 3.99
WALKING DEAD #173 (MR) $ 2.99
WORMWOOD GOES TO WASHINGTON #2 (OF 3) CVR A TEMPLESMITH $ 3.99
ABS JUSTICE LEAGUE WORLDS GREATEST SUPERHEROES HC $ 75
AKAME GA KILL GN VOL 12 $ 13
ANGRY BIRDS FLIGHT SCHOOL HC $ 12.99
AVENGERS BY BENDIS COMPLETE COLLECTION TP VOL 03 $ 39.99
BATMAN DETECTIVE REBIRTH DLX COLL HC BOOK 01 $ 34.99
BATMAN THE DARK PRINCE CHARMING HC BOOK 01 $ 12.99
BLACK BUTLER GN VOL 24 $ 13
BLACK PANTHER BY HUDLIN TP VOL 01 COMPLETE COLLECTION $ 39.99
BLEACH GN VOL 71 $ 9.99
DEADPOOL AND X-FORCE OMNIBUS HC $ 100
DEADPOOL WORLDS GREATEST TP VOL 10 SECRET EMPIRE $ 17.99
GABRIEL DROPOUT GN VOL 01 $ 13
GENERATION X TP VOL 01 NATURAL SELECTION $ 17.99
JOJOS BIZARRE ADV 3 STARDUST CRUSADERS VOL 05 $ 19.99
JUSTICE LEAGUE TP VOL 04 ENDLESS (REBIRTH) $ 16.99
KILL SHAKESPEARE TP VOL 05 PAST IS PROLOGUE JULIET $ 17.99
MAN FROM THE GREAT NORTH HC $ 24.99
MASSIVE NINTH WAVE GN VOL 01 $ 19.99
MY HERO ACADEMIA GN VOL 10 $ 9.99
NAMWOLF TP VOL 01 HEART OF DARKNESS $ 17.99
SPIDER-MAN CLONE SAGA OMNIBUS HC VOL 02 $ 125
STEVEN UNIVERSE ORIGINAL GN VOL 02 ANTI GRAVITY $ 14.99
SUPERMAN ACTION COMICS TP VOL 04 THE NEW WORLD (REBIRTH) $ 19.99
TORIKO GN VOL 40 $ 9.99
UNCANNY INHUMANS HC VOL 02 $ 34.99
VERY DC UNIVERSE REBIRTH HOLIDAY TP $ 16.99
BANANYA BANANYA VINYL FIG $ 10.99
BANANYA BANANYAKO VINYL FIG $ 10.99
BANANYA BLACK BANANYA VINYL FIG $ 10.99
BANANYA DADDY BANANYA VINYL FIG $ 10.99
BANANYA LONG-HAIRED BANANYA VINYL FIG $ 10.99
DCTV LEGENDS OF TOMORROW ATOM AF $ 27.99
DCTV LEGENDS OF TOMORROW WHITE CANARY AF $ 27.99
DCTV THE FLASH KID FLASH AF $ 27.99
KINGDOM HEARTS SELECT AF SERIES 1 ASST $ 24.99
METALS WONDER WOMAN MOVIE DIANA PRINCE 4IN DIE-CAST FIG $ 11.99
POP ELENA OF AVALOR LUNA VINYL FIG $ 10.99
POP ELENA OF AVALOR MATEO VINYL FIG $ 10.99
POP ELENA OF AVALOR MIGS VINYL FIG $ 10.99
POP ELENA OF AVALOR SKYLAR VINYL FIG $ 10.99
POP LA LA LAND SEBASTIAN & MIA 2PK VINYL FIG $ 19.99
POP NFL MARSHAWN LYNCH VER 3 VINYL FIG $ 10.99
POP PORTAL TURRET VINYL FIG $ 10.99
POP RIDES MARVEL CLASSIC GHOST RIDER W/BIKE PX VIN FIG GLOW $ 29.99
POP STRANGER THINGS PEN TOPPERS $ 4.99
RICK & MORTY MICRO CONSTRUCTION SET ASST $ 9.99
RICK & MORTY SMALL CONSTRUCTION SET ASST $ 15.99
RICK & MORTY SPACESHIP CONSTRUCTION SET $ 37.99
SOUTH PARK CLASSROOM CONSTRUCTION SET (maybe Next Week?) $ 37.99
SOUTH PARK MICRO CONSTRUCTION SET ASST $ 9.99
SOUTH PARK SMALL CONSTRUCTION SET ASST $ 15.99
ALIEN VS PREDATOR TITANS MINI FIG BMB SER 1 Were $9.99 … NOW – $ 4.99
DOCTOR WHO TITANS MINI FIG BMB SER 08 HEAVEN SENT Were $9.99 … NOW – $ 3.99
BATMAN ANIMATED SERIES BATWING Was $175 … NOW $ 99.99
BATMAN THE ANIMATED SERIES DELUXE BATMOBILE Was $175 … NOW – DELAYED – CALL FIRST $ 99.99
BATMAN THE DEVASTATOR PROMO PIN $ ASK
DC ESSENTIALS GRAPHIC NOVELS 2018 $ FREE
LEGACY FREE NOVEMBER PREVIEWS SPOTLIGHT $ FREE