The Countdown to X (mas) – Wednesday, December 6th, 2017
Barbarella is back! Issue #1 is out. It's been decades since the French  Sci-Fi Graphic Novel was made into a movie that introduced Jane Fonda to most of us (even if we were too young to see the movie). It's not bad, at first glance without a careful reading, and our buddy Kenneth Rocafort did the main cover and a logo-less variant! (We have a pretty low bar for what qualifies as "Adult Content", and this reaches it. But think HBO, not XXX.)
And that's not all! Here's a short list: Amazing Venom Alpha, Batman, Batman White Knight, Black Bolt, Black Cloud, Black Lightning, Black Sable, DC Holiday Special, Snow White 80th Anniversary, Green Arrow and Lanterns, Harley & Ivy & Betty & Veronica, Paper Girls, Star Wars Darth Vader, Superman, Walking Dead. Complete list of this week's comics and some pics far below.
Also, The new Jack Kirby 4th World monster reminded me – if your boat anchor chain rusted through so you are drifting, we have about 50 different Omni-Busses, all of which will give you a workout when you buy, wrap and place under the tree as a gift for your favorite fan, which may or may not be yourself, OR hang off the chain and anchor your boat. I challenge you to find a store with more books with and about comics worthy of giving away.  Or Keeping.
I made this list last week, and I'm going to keep adding to it for the next 3 weeks – what we have tons of:
Pokemon packs and gift boxes, Yu Gi Oh and Magic the Gathering in all kinds of packages for gifts.
Funko Pops, Mystery Minis, other "blind boxes" and bags, DC and Marvel Action Figures, Walking Dead, Minecraft, Five Nights, etc.
About 100 different Superhero and Cartoon-y themed T-Shirts (sorry, no kids sizes) and tote bags, including Masked Character Hoodies (the hood is a mask!)
Huge selection of Japanese Manga (in English, but reading backwards),
Supplies for game and sports cards, comics, and even box protectors for Funko Pops.
Dozens of the best Young Reader and Young Adult graphics novels, like Babysitters Club, Drama, Smile, Sisters, Avatar, Jedi Academy, Vader's Son & Daughter, and 30 Little Golden Books from Star Wars and the Marvel Universe. Lots of reprint books from your favorite animated shows like Rick & Morty, Simpsons, Steven Universe, My Little Pony, and on and on.
What else? Hmmm. Oh, yeah, comics and graphic novels and reprints by the thousands, including all those heavy Omni's.
This is not even close to a complete list. If you've never been here, you will not believe how much there is. It's pretty overwhelming.
You WILL find something.
And, there will be new announcements between now and the end of the year, regarding hours, new merchandise, and maybe a special sale. And you can get them – Click Here.
As always,  thanks to GoCollect.com for putting out their mostly accurate list of comics and covers every week. If you so desire, Click here to see their whole list. They may have elected to use a variant that we may not carry, or used pre-release art to represent a title, or listed things we don't buy at all. Or they may get a few from next week in there, OR catch up with ones they missed last week – so the covers you see here may not be the ones you see on our shelf this week. Our list is usually late enough that it reflects only what we got,  but not late enough to eliminate sellouts that might have happened by the time you see this. Also, we reserve the right to make mistakes and forget to list things, or forget to delete them when they don't show up like we thought they would.
ADVENTURE TIME #71 $ 3.99
ALL STAR BATMAN #1 ASPEN B&W VAR SET $ 39.99
ALL STAR BATMAN #1 ASPEN VAR $ 19.99
AMAZING SPIDER-MAN VENOM INC ALPHA #1 (OF 1) GRANOV VAR A LE $ 4.99
AMAZING SPIDER-MAN VENOM INC ALPHA #1 (OF 1) LEG $ 4.99
AMORY WARS GOOD APOLLO #9 (OF 12) (MR) $ 3.99
ARCHIE #26 CVR A MOK $ 3.99
ASTONISHING X-MEN #6 $ 3.99
AVENGERS #674 LEG (missing – maybe next week?) $ 3.99
B & V FRIENDS WINTER ANNUAL DIGEST #257 $ 6.99
BANE CONQUEST #8 (OF 12) $ 3.99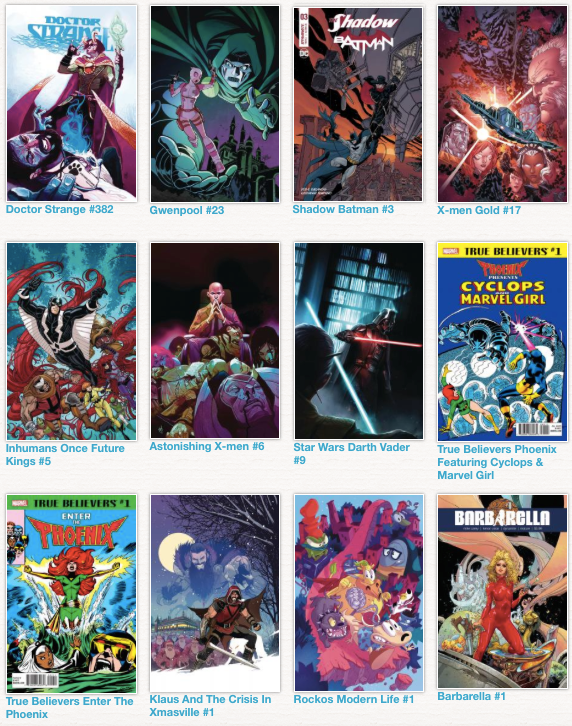 BARBARELLA #1 CVR A ROCAFORT (MR) $ 3.99
BARBARELLA #1 CVR B JUSKO (MR) $ 3.99
BARBARELLA #1 CVR C LINSNER (MR) $ 3.99
BARBARELLA #1 CVR H FISH (MR) $ 3.99
BARBARELLA #1 CVR J 10 COPY CLASSIC RISQUE(1/10) $ ???
BARBARELLA #1 CVR K 20 COPY WU B&W(1/20) $ ???
BARBARELLA #1 CVR L 30 COPY LINSNER VIRGIN(1/30) $ ???
BARBARELLA #1 CVR M 40 COPY ROCAFORT B&W(1/40) $ ???
BARBARELLA #1 CVR O BLANK AUTHENTIX (MR) (missing – maybe next week?) $ 10
BARBARELLA #1 CVR P ROCAFORT(MR) $ 2
BATMAN #36 $ 2.99
BATMAN #36 VAR ED $ 2.99
BATMAN TEENAGE MUTANT NINJA TURTLES II #1 (OF 6) $ 3.99
BATMAN TEENAGE MUTANT NINJA TURTLES II #1 (OF 6) VAR ED $ 3.99
BATMAN WHITE KNIGHT #1 (OF 8) 3RD PTG $ 3.99
BATMAN WHITE KNIGHT #2 (OF 8) 2ND PTG $ 3.99
BATMAN WHITE KNIGHT #3 (OF 8) $ 3.99
BATMAN WHITE KNIGHT #3 (OF 8) VAR ED $ 3.99
BLACK BOLT #8 LEG $ 3.99
BLACK BOLT #8 MCKONE LEGACY HEADSHOT VAR LEG (1/10) $ ???
BLACK BOLT #8 WARD LH VAR LEG $ 3.99
BLACK CLOUD #6 (MR) $ 3.99
BLACK LIGHTNING COLD DEAD HANDS #2 (OF 6) $ 3.99
BLACK SABLE #3 (OF 6) CVR A GOH $ 3.99
BOMBSHELLS UNITED #7 $ 2.99
CAPTAIN AMERICA #695 2ND PTG ALEX ROSS VAR LEG $ 3.99
CAPTAIN AMERICA #696 LEG $ 3.99
CATALYST PRIME NOBLE #7 $ 3.99
CHIMICHANGA SORROW OF WORLDS WORST FACE #4 (OF 4) $ 3.99
CYBORG #19 $ 3.99
CYBORG #19 VAR ED $ 3.99
DANGER DOLL SQUAD #3 CVR A MACCAGNI (MR) $ 4.99
DANGER DOLL SQUAD #3 CVR C MENDOZA (MR) $ 4.99
DARK NIGHTS METAL #1 DF RARE CAPULLO $ 29.99
DARK NIGHTS METAL #1 DF SNYDER SGN $ 39.99
DASTARDLY AND MUTTLEY #4 (OF 6) $ 3.99
DASTARDLY AND MUTTLEY #4 (OF 6) VAR ED $ 3.99
DC UNIVERSE HOLIDAY SPECIAL 2017 #1 $ 9.99
DEADMAN #2 (OF 6) $ 3.99
DEATHSTROKE #26 $ 3.99
DEATHSTROKE #26 VAR ED $ 3.99
DISNEY SNOW WHITE 80TH ANN ONE SHOT $ 4.99
DOCTOR STRANGE #382 LEG $ 3.99
EXTREMITY #9 $ 3.99
FAITHS WINTER WONDERLAND SPECIAL #1 CVR A SAUVAGE $ 3.99
FIX #10 (MR) $ 3.99
GIANT DAYS #33 $ 3.99
GRAVEDIGGERS UNION #2 (MR) $ 3.99
GREEN ARROW #35 $ 3.99
GREEN ARROW #35 VAR ED $ 3.99
GREEN LANTERNS #36 $ 2.99
GREEN LANTERNS #36 VAR ED $ 2.99
GUARDIANS OF GALAXY #148 LEG (missing – maybe next week?) $ 3.99
GWENPOOL #23 LEG $ 3.99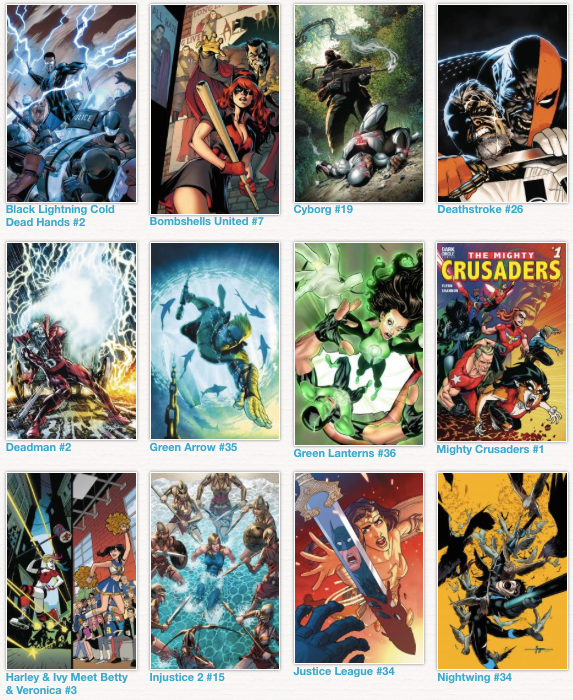 HARLEY & IVY MEET BETTY & VERONICA #3 (OF 6) $ 3.99
HARLEY & IVY MEET BETTY & VERONICA #3 (OF 6) VAR ED $ 3.99
HARLEY QUINN #1 ASPEN B&W VAR SET $ 39.99
HARLEY QUINN #1 ASPEN HOLIDAY VAR $ 19.99
HARLEY QUINN #1 ASPEN VAR $ 19.99
HAWKEYE #13 LEG $ 3.99
HAWKEYE #13 MCKONE LEGACY HEADSHOT VAR LEG (1/10) $ ???
HAWKEYE #13 SMALLWOOD LH VAR LEG $ 3.99
ICEMAN #8 LEG $ 3.99
INHUMANS ONCE FUTURE KINGS #5 (OF 5) $ 3.99
INJUSTICE 2 #15 $ 2.99
IRON FIST #75 LEG $ 3.99
JEM & THE HOLOGRAMS DIMENSIONS #1 CVR A FORD $ 3.99
JETSONS #2 $ 3.99
JETSONS #2 VAR ED $ 3.99
JIM HENSON POWER OF DARK CRYSTAL #9 (OF 12) $ 3.99
JIM HENSON POWER OF DARK CRYSTAL #9 (OF 12) SUBSCRIPTION TAK $ 3.99
JUSTICE LEAGUE #1 ASPEN B&W VAR SET $ 39.99
JUSTICE LEAGUE #1 ASPEN VAR $ 19.99
JUSTICE LEAGUE #34 $ 2.99
JUSTICE LEAGUE #34 VAR ED $ 2.99
KLAUS AND THE CRISIS IN XMASVILLE #1 $ 7.99
KLAUS AND THE CRISIS IN XMASVILLE #1 FOC INCV QUITELY VAR $ 7.99
LAND THAT TIME FORGOT FROM EARTHS CORE #2 CONNECTING CVR A $ 3.99
LAND THAT TIME FORGOT FROM EARTHS CORE #2 CONNECTING CVR B $ 3.99
LOVE & ROCKETS MAGAZINE #4 $ 4.99
MIGHTY CRUSADERS #1 CVR A SHANNON $ 3.99
MIRROR #9 $ 3.99
MOONSTRUCK #4 $ 3.99
MY LITTLE PONY FRIENDSHIP IS MAGIC #61 VAR (1/10) $ ???
MY LITTLE PONY FRIENDSHIP IS MAGIC #61 CVR A PRICE $ 3.99
NIGHTWING #34 $ 2.99
NIGHTWING #34 VAR ED $ 2.99
NO 1 WITH A BULLET #2 $ 3.99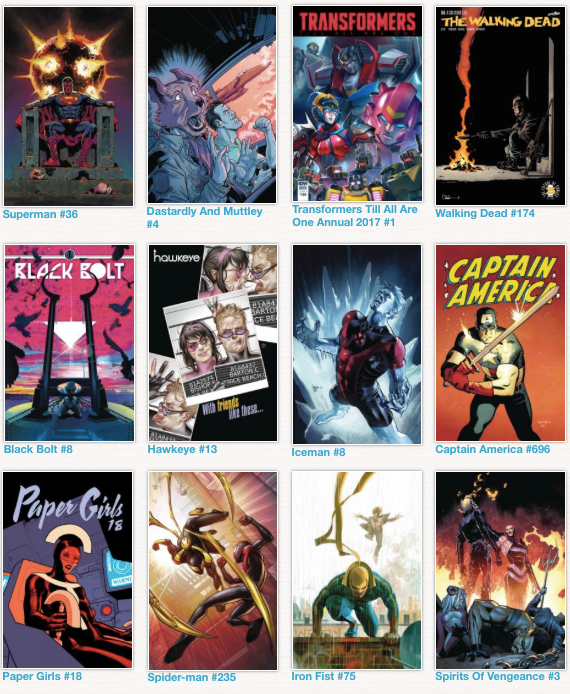 OLD MAN LOGAN #31 LEG $ 3.99
OLD MAN LOGAN #31 MCKONE LEGACY HEADSHOT VAR LEG (1/10) $ ???
OLD MAN LOGAN #31 STEWART LH VAR LEG $ 3.99
OLD MAN LOGAN #31 TOLIBAO VAR LEG (1/25) $ ???
PAPER GIRLS #18 $ 2.99
PARADISO #1 CVR A PRAMANIK & KELLY (MR) $ 3.99
PARADISO #1 CVR B WARD (MR) $ 3.99
RASPUTIN VOICE OF DRAGON #2 (OF 5) $ 3.99
RED SONJA #11 CVR D COSPLAY $ 3.99
ROCK CANDY MOUNTAIN #6 (MR) $ 3.99
ROCKOS MODERN LIFE #1 MAIN $ 3.99
SAVAGE DRAGON #229 (MR) $ 3.99
SCALES & SCOUNDRELS #4 $ 3.99
SHADOW BATMAN #3 (OF 6) CVR A KALUTA $ 3.99
SHADOW BATMAN #3 (OF 6) CVR B PETERSON $ 3.99
SHADOW BATMAN #3 (OF 6) CVR C DESJARDINS $ 3.99
SHADOW BATMAN #3 (OF 6) CVR D TAN $ 3.99
SHADOW BATMAN #3 (OF 6) CVR E EXC SUBSCRIPTION VAR $ 3.99
SHADOW BATMAN #3 (OF 6) CVR F TAN (1/10) $ ???
SLEEPLESS #1 CVR A DEL DUCA & SALLAH $ 3.99
SLEEPLESS #1 CVR B BARTEL $ 3.99
SPIDER-MAN #235 LEG $ 3.99
SPIRITS OF VENGEANCE #3 (OF 5) LEG $ 3.99
STAR TREK TNG MIRROR BROKEN #5 (OF 6) CVR A WOODWARD $ 3.99
STAR WARS DARTH VADER #9 $ 3.99
SUPERMAN #36 $ 2.99
SUPERMAN #36 VAR ED $ 2.99
THROWAWAYS #10 (MR) $ 3.99
TMNT ONGOING #77 CVR A COUCEIRO $ 3.99
TMNT ONGOING #77 CVR B EASTMAN $ 3.99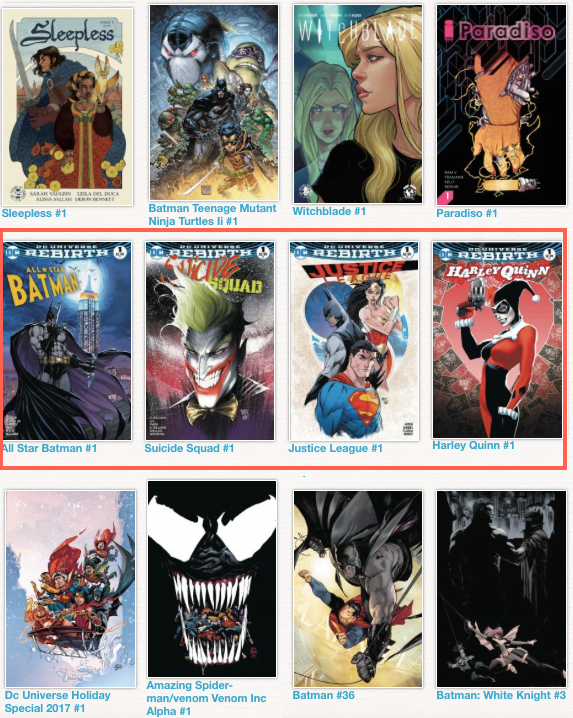 TRUE BELIEVERS ENTER THE PHOENIX $ 1
TRUE BELIEVERS PHOENIX PRESENTS CYCLOPS & MARVEL GIRL $ 1
USAGI YOJIMBO #164 $ 3.99
VIOLENT LOVE #10 CVR A SANTOS (MR) $ 3.99
VIOLENT LOVE #10 CVR B SANTOS (MR) $ 3.99
WALKING DEAD #174 (MR) $ 2.99
WITCHBLADE #1 (MR) $ 3.99
X-MEN GOLD #17 LEG $ 3.99
BABYTEETH TP VOL 01 $ 14.99
BATGIRL AND THE BIRDS OF PREY TP VOL 02 SOURCE CODE (REBIRTH $ 16.99
BATMAN AND ROBIN ADVENTURES TP VOL 02 $ 19.99
BATMAN NOIR THE COURT OF OWLS HC $ 34.99
BLACK BOLT TP VOL 01 HARD TIME $ 17.99
CABLE TP VOL 01 CONQUEST $ 15.99
CAPTAIN AMERICA BY WAID & GARNEY OMNIBUS HC $ 125
DOCTOR STRANGE HC VOL 01 $ 34.99
DONALD DUCK KINGDOM UNDER THE SEA TP $ 12.99
GREEN ARROW TP VOL 04 THE RISE OF STAR CITY (REBIRTH) (RES) $ 19.99
JACK KIRBYS FOURTH WORLD OMNIBUS HC $ 150
JUDGE DREDD MEGA-CITY ZERO TP $ 29.99
JUSTICE LEAGUE OF AMERICA THE DETROIT ERA OMNIBUS HC $ 125
LUMBERJANES TP VOL 07 $ 14.99
MONSTROUS COLL STEVE NILES & BERNIE WRIGHTSON TP $ 24.99
OVERWATCH ANTHOLOGY HC VOL 01 $ 19.99
PUNSHER EPIC COLLECTION TP CAPITAL PUNISHMENT $ 39.99
RICK AND MORTY TP VOL 06 (MR) $ 19.99
ROBOTECH VISUAL ARCHIVE MACROSS SAGA HC $ 44.99
ROCKET GIRL TP VOL 02 ONLY THE GOOD $ 16.99
SHADOW DEATH OF MARGO LANE TP $ 19.99
SHIRTLESS BEAR-FIGHTER TP (MR) $ 16.99
STAR WARS LEGENDS EPIC COLLECTION NEW REPUBLIC TP VOL 03 $ 39.99
STAR WARS TP VOL 06 OUT AMONG THE STARS $ 19.99
SUICIDE SQUAD TP VOL 07 THE DRAGONS HOARD $ 19.99
TEEN TITANS GO TP VOL 04 SMELLS LIKE TEEN SPIRIT $ 12.99
UNCLE SCROOGE THIRD NILE TP $ 12.99
X-MEN CLASSIC OMNIBUS HC $ 125
TOPPS 2017 DYNASTY BASEBALL T/C BOX $ ???
NBX JACK SKELLINGTON ACCORDION AUTO SUNSHADE $ 14.99
SAGA LYING CAT UNISEX XL T/S $ 19.99
CHILDS PLAY ULTIMATE CHUCKY 7IN AF $ 26.99
GUNDAM BUILD FIGHTERS REVERSIBLE GUNDAM 1/144 MDL KIT $ 22.99
ROCK CANDY DISNEY MALEFICENT FIG $ 10.99
COMIC SHOP NEWS #1590 $ FREE