Very affordable Week, so come on in –  Wednesday, Jan 17, 2018
One of the smallest weeks in a year. Maybe the smallest. Few comics. Few books. Few actions figures and other "toys". The Funko wave happened on Saturday. That means that all those cool figures and righteous comics you've been putting off because, every week, the new comics push them out of your budget, can be added to your cart this week. Dave added about 500 $1 comics to the bins. The average new comic tab this week should be on the small side, so go get some back issues. Or a statue or 50 Funko Pops, or something else we've had for a while.
See the complete list below.
As always,  thanks to GoCollect.com for putting out their mostly accurate list of comics and covers every week. If you so desire, Click here to see their whole list. They may have elected to use a variant that we may not carry, or used pre-release art to represent a title, or listed things we don't buy at all. Or they may get a few from next week in there, OR catch up with ones they missed last week – so the covers you see here may not be the ones you see on our shelf this week. Our list is usually late enough that it reflects only what we got,  but not late enough to eliminate sellouts that might have happened by the time you see this. Also, we reserve the right to make mistakes and forget to list things, or forget to delete them when they don't show up like we thought they would.
ADVENTURE TIME COMICS #19 $ 3.99
ALL NEW WOLVERINE #29 LEG $ 3.99
AMAZING SPIDER-MAN VENOM INC OMEGA #1 LEG $ 4.99
AMERICA #11 $ 3.99
AQUAMAN #32 $ 3.99
AQUAMAN #32 VAR ED $ 3.99
ASSASSINISTAS #2 CVR A HERNANDEZ (MR) $ 3.99
ASSASSINISTAS #2 CVR B MCGEE (MR) $ 3.99
AVENGERS #676 LEG $ 3.99
BATMAN #39 $ 2.99
BATMAN #39 VAR ED $ 2.99
BATMAN TEENAGE MUTANT NINJA TURTLES II #3 (OF 6) $ 3.99
BATMAN TEENAGE MUTANT NINJA TURTLES II #3 (OF 6) VAR ED $ 3.99
BATWOMAN #11 $ 3.99
BATWOMAN #11 VAR ED $ 3.99
BELLE BEAST HUNTER #1 (OF 6) A CVR VITORINO $ 3.99
BELLE BEAST HUNTER #1 (OF 6) C CVR SANTACRUZ $ 3.99
BOMBSHELLS UNITED #10 $ 2.99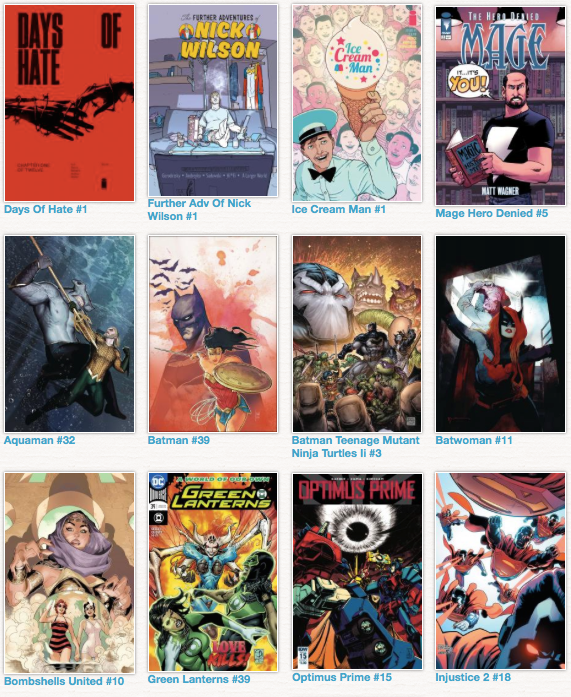 Captain America #697 $ 3.99
CHAMPIONS #16 LEG $ 3.99
COPPERHEAD #18 (MR) $ 3.99
DAMAGE #1 $ 2.99
DARK FANG #3 (MR) $ 3.99
DAYS OF HATE #1 (OF 12) (MR) $ 3.99
DEADPOOL VS OLD MAN LOGAN #4 (OF 5) $ 3.99
DEADPOOL VS OLD MAN LOGAN #4 (OF 5) LIM VAR $ 3.99
DIABLO HOUSE #3 CVR A SANTIPEREZ $ 3.99
DOCTOR STRANGE #384 LEG $ 3.99
DOCTOR STRANGE #384 SHIRAHAMA AVENGERS VAR LEG $ 3.99
FAMILY TRADE #4 $ 3.99
FENCE #3 $ 3.99
FURTHER ADV OF NICK WILSON #1 (OF 5) CVR A WOODS (MR) $ 3.99
FURTHER ADV OF NICK WILSON #1 (OF 5) CVR B CHURCHILL (MR) $ 3.99
FUTURE QUEST PRESENTS #6 $ 3.99
FUTURE QUEST PRESENTS #6 VAR ED $ 3.99
GENERATION X #86 LEG $ 3.99
GREEN LANTERNS #39 $ 2.99
GREEN LANTERNS #39 VAR ED $ 2.99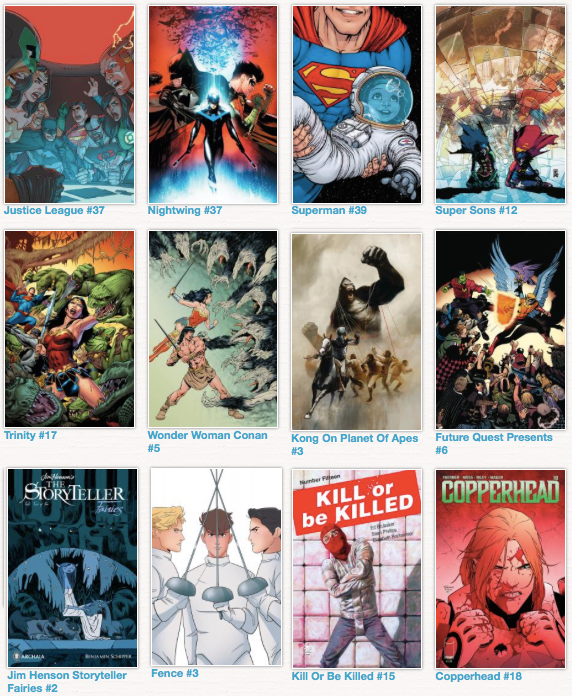 HARLEY QUINN #35 $ 2.99
HARLEY QUINN #35 VAR ED $ 2.99
ICE CREAM MAN #1 CVR A MORAZZO & OHALLORAN (MR) $ 3.99
ICE CREAM MAN #1 CVR B IRVING (MR) $ 3.99
INJUSTICE 2 #18 $ 2.99
JAMES BOND THE BODY #1 CVR A CASALANGUIDA $ 3.99
JENNY FINN #3 (OF 4) $ 3.99
JIM HENSON STORYTELLER FAIRIES #2 (OF 4) $ 3.99
JIMMYS BASTARDS #6 (MR) $ 3.99
JUSTICE LEAGUE #37 $ 2.99
JUSTICE LEAGUE #37 VAR ED $ 2.99
KILL OR BE KILLED #15 (MR) $ 3.99
KONG ON PLANET OF APES #3 $ 3.99
KONG ON PLANET OF APES #3 CLASSIC PULP DALTON VAR $ 3.99
LIBRARIANS #3 CVR B JAKE STONE PHOTO $ 3.99
MAGE HERO DENIED #5 (OF 15) $ 3.99
MIGHTY MORPHIN POWER RANGERS #23 $ 3.99
MIGHTY MORPHIN POWER RANGERS #23 UNLOCKABLE ACTION FIGURE VA $ 3.99
MIGHTY THOR #703 LEG WW $ 3.99
MIGHTY THOR #703 LIEFELD AVENGERS VAR LEG $ 3.99
MONSTERS UNLEASHED #10 LEG $ 3.99
NIGHTWING #37 $ 2.99
NIGHTWING #37 VAR ED $ 2.99
OPTIMUS PRIME #15 CVR A ZAMA $ 3.99
PACIFIC RIM AFTERMATH #1 (OF 6) $ 3.99
PETER PARKER SPECTACULAR SPIDER-MAN #299 LEG $ 3.99
RED SONJA #12 CVR D COSPLAY $ 3.99
RIVERS OF LONDON CRY FOX #3 $ 3.99
ROBOTECH #6 CVR A MILONOGIANNIS $ 3.99
ROBOTECH #6 CVR B ACTION FIGURE VAR $ 3.99
ROBOTECH #6 CVR C YUNE $ 3.99
ROBYN HOOD THE CURSE #1 (OF 6) A CVR VITORINO $ 3.99
ROBYN HOOD THE CURSE #1 (OF 6) D CVR SPAY $ 3.99
RUGRATS #4 $ 3.99
RUMBLE #2 CVR A RUBIN (MR) $ 3.99
SHEENA #5 CVR D COSPLAY $ 3.99
SIMPSONS COMICS #242 $ 3.99
SPIRIT CORPSE MAKERS #5 (OF 5) CVR A FRANCAVILLA $ 3.99
SPIRITS OF VENGEANCE #4 (OF 5) LEG $ 3.99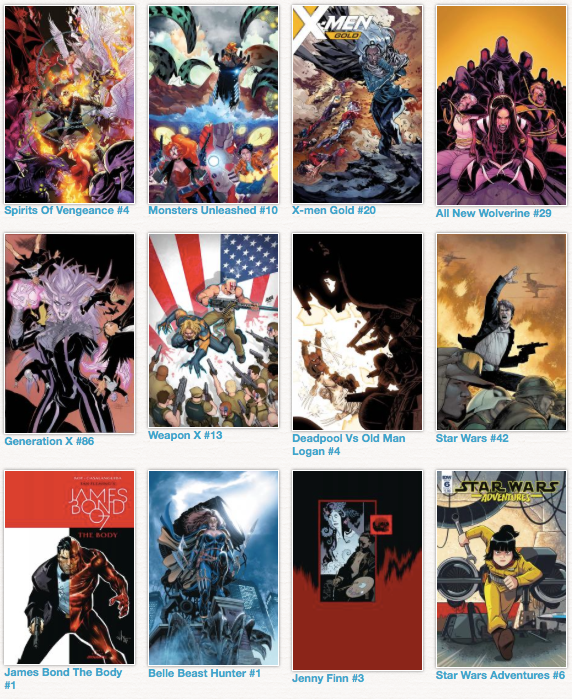 STAR WARS #42 $ 3.99
STAR WARS #42 CHRISTOPHER ACTION FIGURE VAR $ 3.99
STAR WARS ADV FORCES OF DESTINY HERA CVR A $ 3.99
STAR WARS ADV FORCES OF DESTINY HERA CVR B $ 3.99
STAR WARS ADVENTURES #6 $ Variant ???
STAR WARS ADVENTURES #6 CVR A CHARM $ 3.99
STAR WARS ADVENTURES #6 CVR B LEVINS $ 3.99
STRANGERS IN PARADISE XXV #1 $ 3.99
SUPER SONS #12 SONS OF TOMORROW $ 3.99
SUPER SONS #12 VAR ED $ 3.99
SUPERMAN #39 $ 2.99
SUPERMAN #39 VAR ED $ 2.99
TRINITY #17 $ 3.99
TRINITY #17 VAR ED $ 3.99
WEAPON X #13 LEG $ 3.99
WONDER WOMAN CONAN #5 (OF 6) $ 3.99
WONDER WOMAN CONAN #5 (OF 6) VAR ED $ 3.99
X-MEN GOLD #20 LEG $ 3.99
DEADPOOL CLASSIC TP VOL 21 DVX $ 34.99
GREEN ARROW TP VOL 09 OLD TRICKS $ 24.99
HILO GN VOL 04 WAKING THE MONSTERS $ 13.99
KILL OR BE KILLED TP VOL 03 (MR) $ 16.99
LEGEND OF KORRA TP VOL 02 TURF WARS PT 2 $ 10.99
MIGHTY THOR PREM HC VOL 04 WAR THOR $ 24.99
NIGHTWING TP VOL 04 BLOCKBUSTER (REBIRTH) $ 16.99
PUNISHER MAX TP COMPLETE COLLECTION VOL 07 (MR) $ 39.99
RWBY GN $ 14.99
SHADOWS ON THE GRAVE HC $ 19.99
SKYLANDERS SPYRO & FRIENDS HC $ 12.99
STAR WARS LEGENDS EPIC COLLECTION LEGACY TP VOL 02 $ 39.99
SUPER POWERS BY JACK KIRBY TP $ 39.99
X-MEN LEGION SHADOW KING RISING TP $ 34.99
POP DELUXE STAR WARS LEIA ON SPEEDER BIKE VINYL FIG $ 29.99
POP DISNEY ALADDIN JAFAR (RED) VINYL FIGURE $ 11.99
TRANSFORMERS GEN POWER O/T PRIMES LEGENDS AF $ 11.99
TRANSFORMERS GEN POWER O/T PRIMES MASTER AF $ 7.99
COMIC SHOP NEWS #1596 $ FREE