Happy Valentine's Day – Wednesday, Feb 14, 2018 – if you love comics, we've got some new ones.
First, last week, I reported that the Action 80-year Anniversary would be celebrated with a cool hardcover book followed by Action #1000 a week later. I incorrectly reported that the HC would contain the contents of the comic #1000. Not so. But it should still be a very good read. If you want the 384 page book for $29.99, it would be good to tell Bob ahead of time, because I don't think he will be ordering 300 of them, unless you all ask for it!
For this week, I'll start with the fact that our distribution "partners" did a pretty poor job for us this week – we are missing about a dozen comics and another 8 or so books today. They are marked "(Maybe Next Week?)" We'll do our best to get them replaced as soon as possible, thus, Maybe Next Week!
Keeping it short, I'm just going to point out Kick Ass #1 with 5 covers, 4 of which made it here today. Star Wars Thawn #1 is here, with the most rare variant missing in action, plus Poe Dameron #24 and Darth Vader #11.
One more thing…Our good friend and "regular" Kenneth Rocafort is the artist on a new DC called Sideways, which, after a quick skim, is about an adopted super-teen who can jump through space-time between high school classes. Apparently, "rifting" causes, um, rifts that cause major problems in the cosmos, and the enforcer of the cosmic rules shows up to eliminate the problem, with extreme prejudice, as they say.
Before I could publish this, we sold out of Kick Ass (since we were shorted 6 copies, the rest went fast.), and Hal Jordan (same reason). We'll try to get more.  See the complete (remaining) list below.
As always,  thanks to GoCollect.com for putting out their mostly accurate list of comics and covers every week. If you so desire, Click here to see their whole list. They may have elected to use a variant that we may not carry, or used pre-release art to represent a title, or listed things we don't buy at all. Or they may get a few from next week in there, OR catch up with ones they missed last week – so the covers you see here may not be the ones you see on our shelf this week. Our list is usually late enough that it reflects only what we got,  but not late enough to eliminate sellouts that might have happened by the time you see this. Also, we reserve the right to make mistakes and forget to list things, or forget to delete them when they don't show up like we thought they would.
ACTION COMICS #997 $ 2.99
ACTION COMICS #997 VAR ED $ 2.99
AMAZING SPIDER-MAN ANNUAL #42 HAWTHORNE VAR LEG $ 4.99
AMAZING SPIDER-MAN ANNUAL #42 LEG $ 4.99
AMAZING SPIDER-MAN RENEW YOUR VOWS #16 LEG $ 3.99
ANIMOSITY EVOLUTION #4 (MR) $ 3.99
ARCHIE #28 CVR A MOK $ 3.99
ARCHIE #28 CVR B PITILLI $ 3.99
ATHENA VOLTAIRE 2018 ONGOING #1 CVR A BRYANT $ 3.99
AVENGERS #680 LEG WW $ 3.99
BABYTEETH #8 (MR) $ 3.99
BARBARELLA #3 CVR A CIFUENTES (MR) $ 3.99
BARBARELLA #3 CVR B FORNES (MR) $ 3.99
BATGIRL AND THE BIRDS OF PREY #19 $ 3.99
BATGIRL AND THE BIRDS OF PREY #19 VAR ED $ 3.99
BEN REILLY SCARLET SPIDER #14 LEG $ 3.99
BLACK MONDAY MURDERS #8 (MR) $ 3.99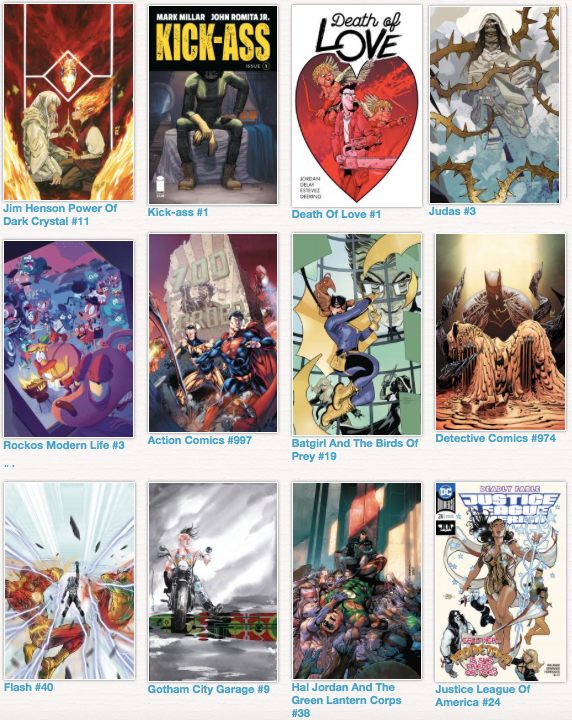 BLOODSHOT SALVATION #6 CVR A ROCAFORT (NEW ARC) $ 3.99
CABLE #154 LEG $ 3.99
CAPTAIN AMERICA #698 EVELY HULK VAR LEG (Maybe Next Week?) $ 3.99
CAPTAIN AMERICA #698 LEG $ 3.99
CURSE WORDS #11 CVR A BROWNE (MR) $ 3.99
CURSE WORDS #11 CVR B LOTAY (MR) $ 3.99
DARK FANG #4 (MR) $ 3.99
DARK KNIGHTS RISING THE WILD HUNT #1 $ 4.99
DEADMAN #4 (OF 6) $ 3.99
DEATH OF LOVE #1 (OF 5) (MR) $ 3.99
DESPICABLE DEADPOOL #294 LEG $ 3.99
DETECTIVE COMICS #974 $ 2.99
DETECTIVE COMICS #974 VAR ED $ 2.99
DOCTOR STRANGE #385 DEODATO JR HULK VAR LEG (Maybe Next Week?) $ 3.99
DOCTOR STRANGE #385 LEG $ 3.99
FALCON #5 LEG $ 3.99
FLASH #40 $ 2.99
FLASH #40 VAR ED $ 2.99
GHOST MONEY #7 (OF 10) $ 3.99
GIANTS #3 (OF 5) $ 3.99
GIRL WHO HANDCUFFED HOUDINI #3 CVR B HARPER $ 3.99
GOTHAM CITY GARAGE #9 $ 2.99
GRASS KINGS #12 MAIN & MIX $ 3.99
HACK SLASH VS VAMPIRELLA #5 (OF 5) CVR A ZULLO $ 3.99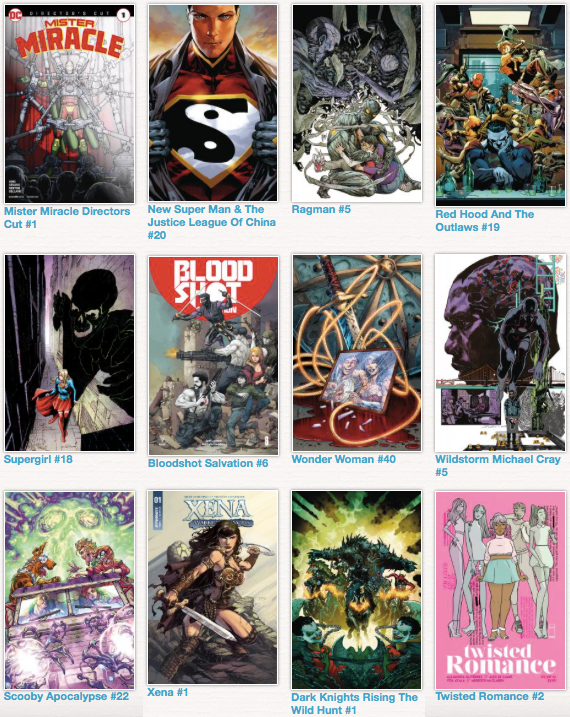 HAL JORDAN AND THE GREEN LANTERN CORPS #38 $ 2.99
HAL JORDAN AND THE GREEN LANTERN CORPS #38 VAR ED (Maybe Next Week?) $ 2.99
ICE CREAM MAN #1 2ND PTG (MR) $ 3.99
INVADER ZIM #28 (C: 1-0-0) $ 3.99
INVADER ZIM #28 INCV VAR SYGH (C: 1-0-0) $ 3.99
INVINCIBLE #144 CVR A OTTLEY & FAIRBAIRN (MR) $ 5.99
JENNY FINN #4 (OF 4) $ 3.99
JIM HENSON POWER OF DARK CRYSTAL #11 (OF 12) $ 3.99
JIM HENSON POWER OF DARK CRYSTAL #11 (OF 12) SUBSCRIPTION TA $ 3.99
JUDAS #3 (OF 4) $ 3.99
JUDAS #3 (OF 4) FOC INCV BASTIAN VAR $ 3.99
JUSTICE LEAGUE OF AMERICA #24 $ 2.99
JUSTICE LEAGUE OF AMERICA #24 VAR ED $ 2.99
KICK-ASS #1 CVR A ROMITA JR (MR) (Maybe Next Week?) $ 3.99
KICK-ASS #1 CVR B B&W ROMITA JR (MR) $ 3.99
KICK-ASS #1 CVR D QUITELY (MR) $ 3.99
KICK-ASS #1 CVR E COIPEL (MR) $ 3.99
KICK-ASS #1 CVR F BLANK CVR (MR) $ 3.99
KILL OR BE KILLED #16 (MR) $ 3.99
KILLER INSTINCT #5 CVR A CINAR $ 3.99
LAZARUS X PLUS 66 #6 (OF 6) (MR) $ 3.99
MAGE HERO DENIED #6 (OF 15) (Maybe Next Week?) $ 3.99
MARVEL COMICS DIGEST #5 AVENGERS W BLACK PANTHER $ 6.99
MARVEL TWO-IN-ONE #3 HAWTHORNE HULK VAR LEG WW $ 3.99
MARVEL TWO-IN-ONE #3 LEG WW $ 3.99
MIGHTY CRUSADERS #3 CVR A SHANNON $ 3.99
MIGHTY CRUSADERS #3 CVR B JIMENEZ $ 3.99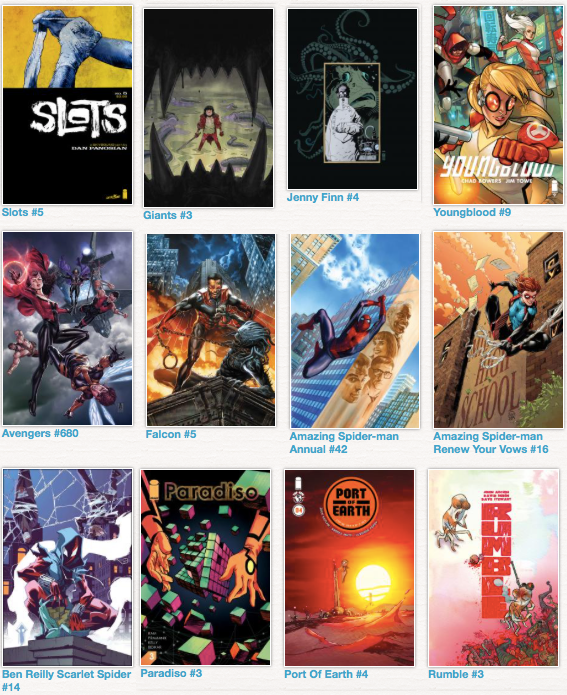 MISTER MIRACLE DIRECTORS CUT #1 (MR) $ 5.99
MS MARVEL #27 LEG $ 3.99
NEW SUPER MAN & THE JUSTICE LEAGUE OF CHINA #20 $ 3.99
NEW SUPER MAN & THE JUSTICE LEAGUE OF CHINA #20 VAR ED $ 3.99
NINJA-K #4 CVR A CAFU $ 3.99
OLD MAN HAWKEYE #2 (OF 12) DODSON HULK VAR LEG $ 3.99
OLD MAN HAWKEYE #2 (OF 12) LEG $ 3.99
OLD MAN LOGAN #35 LEG $ 3.99
OLD MAN LOGAN #35 MCNIVEN HULK VAR LEG $ 3.99
PARADISO #3 CVR A PRAMANIK & KELLY (MR) $ 3.99
PLANET OF THE APES URSUS #2 MAIN & MIX $ 3.99
PLANET OF THE APES URSUS #2 SUBSCRIPTION CAREY VAR $ 3.99
PORT OF EARTH #4 $ 3.99
PUNISHER #221 LEG (Maybe Next Week?) $ 3.99
RAGMAN #5 (OF 6) $ 2.99
RED HOOD AND THE OUTLAWS #19 $ 3.99
RED HOOD AND THE OUTLAWS #19 VAR ED $ 3.99
REGULAR SHOW 2018 SPECIAL #1 (C: 1-0-0) $ 7.99
ROBOTECH #7 CVR A SIMMONDS $ 3.99
ROBOTECH #7 CVR B ACTION FIGURE VAR $ 3.99
ROBOTECH #7 CVR C TURINI $ 3.99
ROBYN HOOD THE CURSE #2 (OF 6) CVR A GOH $ 3.99
ROCKOS MODERN LIFE #3 $ 3.99
RUMBLE #3 CVR A RUBIN (MR) $ 3.99
SCOOBY APOCALYPSE #22 $ 3.99
SCOOBY APOCALYPSE #22 VAR ED $ 3.99
SHADE THE CHANGING GIRL WONDER WOMAN SPECIAL #1 (Maybe Next Week?) $ 4.99
SHEENA #6 CVR A SANAPO $ 3.99
SHEENA #6 CVR D COSPLAY $ 3.99
SIDEWAYS #1 (RES) $ 2.99
SKYBOURNE #5 $ 3.99
SLEEPLESS #3 CVR A DEL DUCA & SALLAH $ 3.99
SLOTS #5 (MR) $ 3.99
STAR WARS DARTH VADER #11 $ 3.99
STAR WARS DARTH VADER #11 REIS GALACTIC ICON LEIA VAR $ 3.99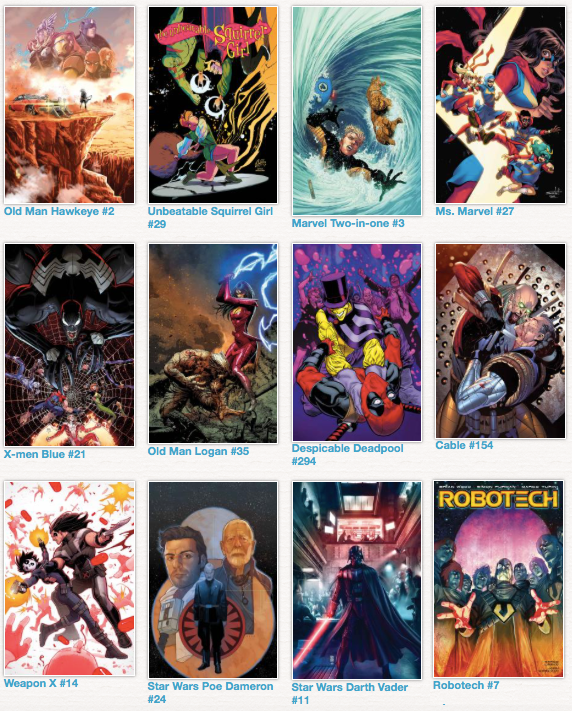 STAR WARS POE DAMERON #24 $ 3.99
STAR WARS THRAWN #1 (OF 6) $ 4.99
STAR WARS THRAWN #1 (OF 6) ANIMATION VAR (1/10) $ ???
STAR WARS THRAWN #1 (OF 6) CHRISTOPHER ACTION FIGURE VAR $ 4.99
STAR WARS THRAWN #1 (OF 6) MATTINA VAR (1/50) (Maybe Next Week?) $ ???
STARGATE ATLANTIS UNIVERSE ANTHOLOGY 2018 MAIN CVR $ 3.99
SUICIDE SQUAD #35 $ 2.99
SUICIDE SQUAD #35 VAR ED $ 2.99
SUPERGIRL #18 $ 3.99
SUPERGIRL #18 VAR ED $ 3.99
TITANS #20 (Maybe Next Week?) $ 3.99
TITANS #20 VAR ED (Maybe Next Week?) $ 3.99
TORCHWOOD THE CULLING #4 (OF 4) CVR B PHOTO $ 3.99
TWISTED ROMANCE #2 (OF 4) (MR) $ 3.99
UNBEATABLE SQUIRREL GIRL #29 LEG $ 3.99
WEAPON X #14 LEG $ 3.99
WILDSTORM MICHAEL CRAY #5 (Maybe Next Week?) $ 3.99
WILDSTORM MICHAEL CRAY #5 VAR ED $ 3.99
WONDER WOMAN #40 $ 2.99
WONDER WOMAN #40 VAR ED $ 2.99
XENA #1 (OF 5) CVR A FINCH $ 3.99
X-MEN BLUE #21 LEG $ 3.99
YOUNGBLOOD #9 CVR A TOWE $ 3.99
YOUNGBLOOD #9 CVR B LIEFELD $ 3.99
ZOMBIE TRAMP ONGOING #44 CVR A CELOR (MR) $ 4.99
ZOMBIE TRAMP ONGOING #44 CVR C FLEECS (MR) $ 4.99
ZOMBIE TRAMP ONGOING #44 CVR E MENDOZA (MR) $ 4.99
ADVENTURE TIME SUGARY SHORTS TP VOL 04 (Maybe Next Week?) $ 19.99
AKAME GA KILL GN VOL 13 $ 13
BATMAN THE DARK PRINCE CHARMING HC BOOK 01 2ND PTG $ 12.99
BATMAN THE GOLDEN AGE TP VOL 04 (Maybe Next Week?) $ 29.99
BINGO LOVE OGN $ 9.99
BLACK BUTLER GN VOL 25 $ 13
DAREDEVIL EPIC COLLECTION TP MIKE MURDOCK MUST DIE $ 39.99
DC MEETS LOONEY TUNES TP (Maybe Next Week?) $ 19.99
DEATH OF STALIN (STATIX) SC (Maybe Next Week?) $ 19.99
DOWNWARD TO EARTH HC (MR) $ 29.95
JIMMYS BASTARDS TP VOL 01 (MR) $ 14.99
KICK-ASS DAVE LIZEWSKI YEARS TP VOL 01 (MR) $ 16.99
KICK-ASS DAVE LIZEWSKI YEARS TP VOL 02 (MR) (Maybe Next Week?) $ 16.99
KICK-ASS DAVE LIZEWSKI YEARS TP VOL 03 (MR) $ 16.99
KICK-ASS DAVE LIZEWSKI YEARS TP VOL 04 (MR) (Maybe Next Week?) $ 16.99
LEGENDS OF TOMORROW THE ATOM TP $ 14.99
LOVECRAFT MYTH OF CTHULHU HC $ 19.99
LUMBERJANES TP VOL 08 (Maybe Next Week?) $ 14.99
MARVELS BLACK PANTHER ART OF MOVIE SLIPCASE HC $ 50
MIGHTY MOUSE TP VOL 01 SAVING THE DAY (Maybe Next Week?) $ 19.99
MY LITTLE PONY OMNIBUS TP VOL 04 (Maybe Next Week?) $ 24.99
NIGHTWING TP VOL 07 SHRIKE (Maybe Next Week?) $ 24.99
PESTILENCE TP VOL 01 (MR) $ 17.99
PLANTS VS ZOMBIES GREATEST SHOW UNEARTHED HC $ 9.99
SECRET LOVES OF GEEKS TP $ 14.99
STAR WARS ADVENTURES TP VOL 02 $ 9.99
TITANS TP VOL 03 A JUDAS AMONG US REBIRTH (Maybe Next Week?) $ 16.99
TROLLHUNTERS SECRET HISTORY OF TROLLKIND TP $ 10.99
UNBEATABLE SQUIRREL GIRL YA NOVEL SC VOL 01 SQUIRREL MEETS W $ 8.99
TOPPS 2018 BASEBALL SERIES 1 T/C JUMBO BOX $ ???
WONDER WOMAN RED & BLUE T/S XL $ 19.99
POP BUFFY THE VAMPIRE SLAYER 25TH BUFFY VINYL FIGURE $ 11.99
POP EMPERORS NEW GROOVE KRONK VINYL FIGURE $ 11.99
POP EMPERORS NEW GROOVE YZMA VINYL FIGURE $ 11.99
POP HARRY POTTER GINNY ON BROOM VINYL FIGURE $ 11.99
POP HARRY POTTER RON ON BROOM VINYL FIGURE $ 11.99
POP ONE PIECE BOA VIN FIG $ 11.99
POP ONE PIECE FRANKY VIN FIG $ 11.99
POP ONE PIECE ZORO VIN FIG $ 11.99
POP RICK AND MORTY PICKLE RICK VIN FIG $ 11.99
POP ROCKS KURT COBAIN VINYL FIGURE $ 11.99
SUPER CUTE CTHULHU DARK GREEN 12IN PLUSH $ 19.99
COMIC SHOP NEWS #1600 $ FREE