Only 20 days left – Wednesday, December 5th,  2018
Twenty Days to go.
Batman meets Archie, the Maxx, and goes it alone, Deadpool teams up with Spider-Man, and goes it alone, the Defenders have the Best Defense with Namor and the ImMortal Hulk, who goes it alone, Black Panther's Killmonger goes it alone with #1, Martian Manhunter goes it alone with #1, Harley Quinn re-appears, Rick & Morty play D&D, Star Trek interacts with Transformers, Star Wars, plus Adventures and the Age of the Republic Qui-Gon Jinn starts out with #1. Then there is Venom, Uncanny X-Men, Umbrella Academy, 3 x Fantastic Four True Believers reprints and Walking Dead.
In Funko Pop news, we recently got some new Voltrons, Cupheads, Harry Potters, and Rick & Morties.
Sign in here to get an email reminder for ALL sales and other events. Also, you can go to fb.fantasybooksandgames.com and you'll be taken to our Facebook page. We do expect to use the Rewards system to make similar announcements, but it pays to be covered, right?
Thanks to Friendly Neighborhood Comics for this week's images, which include many of the comics and a few of the books we received today.
ADVENTURES OF THE SUPER SONS #5 (OF 12) $ 3.99
ARCHIE MEETS BATMAN 66 #5 CVR A ALLRED $ 3.99
ARCHIE MEETS BATMAN 66 #5 CVR C GALVAN $ 3.99
ARCHIE MEETS BATMAN 66 #5 CVR E KENNEDY $ 3.99
BARBARELLA HOLIDAY SPECIAL (MR) $ 5.99
BATMAN #60 $ 3.99
BATMAN #60 VAR ED $ 3.99
BATMAN THE MAXX ARKHAM DREAMS #3 (OF 5) RODRIGU (1/10) $ ???
BATMAN THE MAXX ARKHAM DREAMS #3 (OF 5) CVR A KIETH $ 4.99
BATMAN THE MAXX ARKHAM DREAMS #3 (OF 5) CVR B KIETH $ 4.99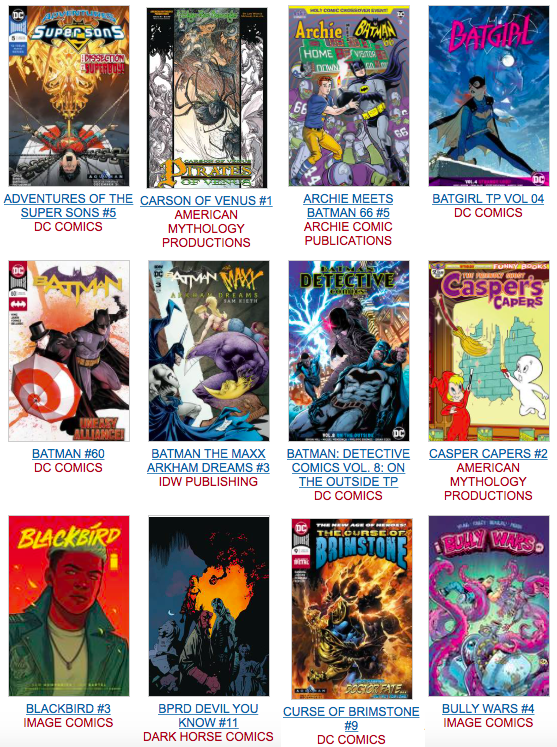 BLACKBIRD #3 CVR A BARTEL $ 3.99
BLACKBIRD #3 CVR B LOISH $ 3.99
BLACKBIRD #3 CVR C HERO INITIATIVE VAR $ 3.99
BORDER TOWN #4 (MR) $ 3.99
BPRD DEVIL YOU KNOW #11 CVR A MIGNOLA $ 3.99
BREAKNECK #1 (OF 4) CVR C CONRAD $ 5.99
BULLY WARS #4 CVR A CONLEY $ 3.99
BULLY WARS #4 CVR B YOUNG $ 3.99
CARSON OF VENUS #1 PIRATES OF VENUS MAIN CVR $ 3.99
CASPER CAPERS #2 DELA CUESTA MAIN CVR $ 3.99
CROWDED #5 CVR B GANUCHEAU $ 3.99
CURSE OF BRIMSTONE #9 $ 2.99
CURSE WORDS #18 CVR A BROWNE (MR) $ 3.99
DEADPOOL #7 $ 3.99
DEADPOOL #7 LAMING CONAN VS MARVEL VAR $ 3.99
DEADPOOL #7 MARQUEZ FANTASTIC FOUR VILLAINS VAR $ 3.99
DEADPOOL #7 SLINEY VAR $ 3.99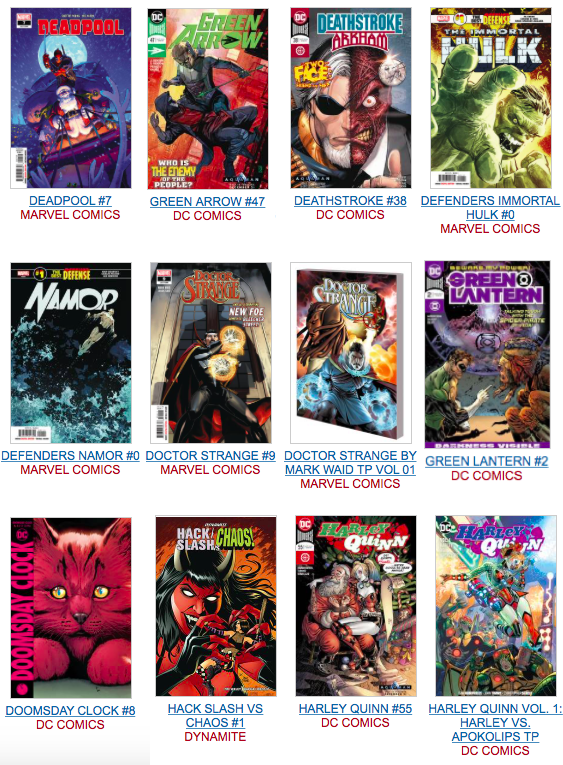 DEATHSTROKE #38 (ARKHAM) $ 3.99
DEATHSTROKE #38 VAR ED (ARKHAM) $ 3.99
DEFENDERS IMMORTAL HULK #1 $ 4.99
DEFENDERS IMMORTAL HULK #1 YOUNG VAR $ 4.99
DEFENDERS NAMOR #1 $ 4.99
DEFENDERS NAMOR #1 YOUNG VAR $ 4.99
DIE #1 CVR A HANS (MR) $ 3.99
DIE #1 CVR B MCKELVIE (MR) $ 3.99
DOCTOR STRANGE #9 DJURDJEVIC FANTATSIC FOUR VILLAINS VAR $ 3.99
DOCTOR WHO 13TH #2 CVR B BROOKS $ 3.99
DOOMSDAY CLOCK #8 (OF 12) $ 4.99
DOOMSDAY CLOCK #8 (OF 12) VAR ED $ 4.99
DREAMING #4 (MR) $ 3.99FREEZE #1 $ 3.99
FREEZE #1 CVR B HERO INITIATIVE VAR $ 3.99
GASOLINA #13 (MR) $ 3.99
GIANT DAYS WOMEN GLOW MEN PLUNDER #1 $ 7.99
GREEN ARROW #47 $ 3.99
GREEN ARROW #47 VAR ED $ 3.99
GREEN LANTERN #2 $ 3.99
GREEN LANTERN #2 VAR ED $ 3.99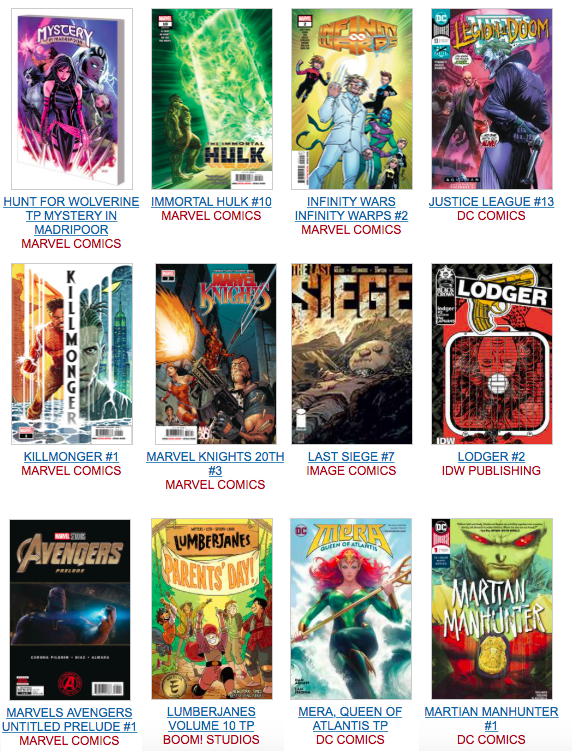 HACK SLASH VS CHAOS #1 CVR A SEELEY (MR) $ 3.99
HACK SLASH VS CHAOS #1 CVR B CERMAK $ 3.99
HARLEY QUINN #55 $ 3.99
HARLEY QUINN #55 VAR ED $ 3.99
HILLBILLY RED EYED WITCHERY FROM BEYOND #3 (OF 4) $ 3.99
IMMORTAL HULK #10 $ 3.99
IMMORTAL HULK #10 DJURDJEVIC FANTASTIC FOUR VILLAINS VAR $ 3.99
IMMORTAL HULK #10 INHYUK LEE CONAN VS MARVEL VAR $ 3.99
INFINITY WARS INFINITY WARPS #2 (OF 2) $ 3.99
JUSTICE LEAGUE #13 $ 3.99
JUSTICE LEAGUE #13 VAR ED $ 3.99
KICK-ASS #10 CVR A FRUSIN (MR) $ 3.99
KICK-ASS #10 CVR C ALLRED (MR) $ 3.99
KILLMONGER #1 (OF 5) $ 4.99
KILLMONGER #1 (OF 5) MOVIE VAR PV $ ???
LAGUARDIA #1 (MR) $ 4.99
LAST SIEGE #7 (OF 8) CVR A GREENWOOD $ 3.99
LAST SIEGE #7 (OF 8) CVR B HERO INITIATIVE VAR $ 3.99
LODGER #2 $ 3.99
MARTIAN MANHUNTER #1 (OF 12) $ 3.99
MARTIAN MANHUNTER #1 (OF 12) BLANK VAR ED $ 3.99
MARTIAN MANHUNTER #1 (OF 12) VAR ED $ 3.99
MARVEL KNIGHTS 20TH #3 (OF 6) $ 3.99
MARVEL KNIGHTS 20TH #3 (OF 6) ANDREWS CONNECTING VAR $ 3.99
MARVELS AVENGERS UNTITLED PRELUDE #1 (OF 3) $ 3.99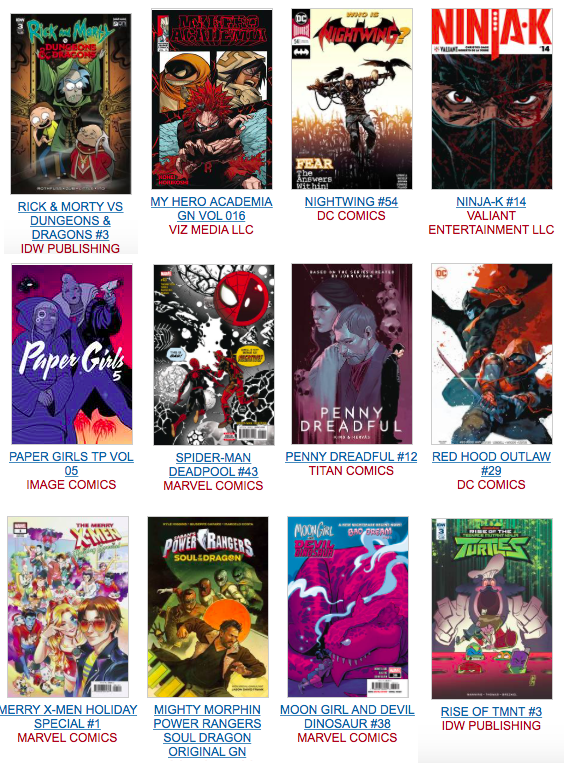 MERRY X-MEN HOLIDAY SPECIAL #1 $ 4.99
MERRY X-MEN HOLIDAY SPECIAL #1 DJURDJEVIC FANTASTIC FOUR VIL $ 4.99
MOON GIRL AND DEVIL DINOSAUR #38 $ 3.99
MOTH & WHISPER #4 $ 3.99
NIGHTWING #54 $ 3.99
NIGHTWING #54 VAR ED $ 3.99
NINJA-K #14 CVR B MASSAFERA $ 3.99
PENNY DREADFUL #12 CVR B PHOTO $ 3.99
PRODIGY #1 (OF 6) CVR A ALBUQUERQUE (MR) $ 3.99
PRODIGY #1 (OF 6) CVR C INTERCONNECT PT 1 ALBUQUERQUE (MR) $ 3.99
PRODIGY #1 (OF 6) CVR D INTERCONNECT PT 2 ALBUQUERQUE (MR) $ 3.99
PRODIGY #1 (OF 6) CVR E INTERCONNECT PT 3 ALBUQUERQUE (MR) $ 3.99
PRODIGY #1 (OF 6) CVR F QUITELY (MR) $ 3.99
PRODIGY #1 (OF 6) CVR G BLANK CVR (MR) $ 3.99
PRODIGY #1 (OF 6) CVR H VIRGIN VAR (MR) $ 3.99
RED HOOD OUTLAW #29 $ 3.99
RED HOOD OUTLAW #29 VAR ED $ 3.99
RICK & MORTY VS DUNGEONS & DRAGONS #3 (OF 4) 10 INCV RI (1/10) $ ??
RICK & MORTY VS DUNGEONS & DRAGONS #3 (OF 4) 20 COPY (1/20) $ ???
RICK & MORTY VS DUNGEONS & DRAGONS #3 (OF 4) CVR A LITTLE $ 4.99
RICK & MORTY VS DUNGEONS & DRAGONS #3 (OF 4) CVR B LITTLE $ 4.99
RISE OF THE TMNT #3 CVR A SURIANO $ 3.99
SELF MADE #1 (MR) $ 3.99
SELF MADE #1 CVR B HERO INITIATIVE VAR (MR) $ 3.99
SHATTERSTAR #3 (OF 5) $ 3.99
SHAZAM #1 $ 4.99
SHAZAM #1 BLANK VAR ED $ 4.99
SHAZAM #1 VAR ED $ 4.99
SNOTGIRL #12 CVR A HUNG $ 3.99
SNOTGIRL #12 CVR B OMALLEY $ 3.99
SPIDER-GEDDON HANDBOOK $ 4.99
SPIDER-MAN DEADPOOL #43 $ 3.99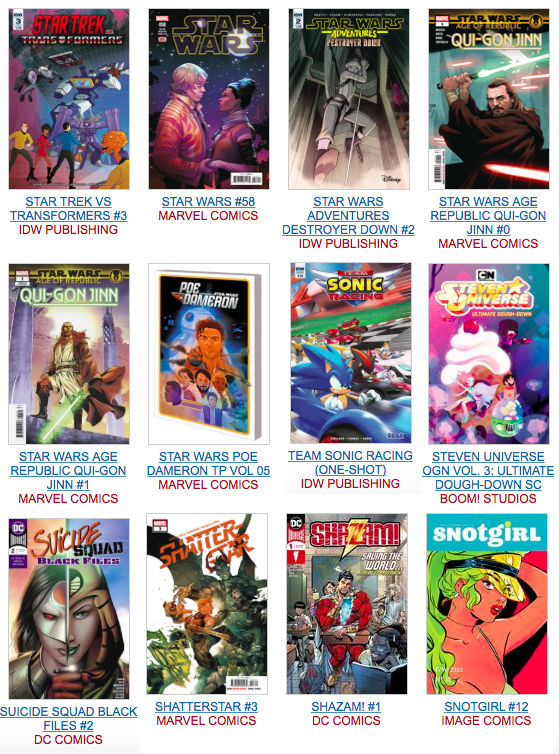 STAR TREK TNG TERRA INCOGNITA #5 CVR B PHOTO $ 3.99
STAR TREK VS TRANSFORMERS #3 (OF 4) CVR A MURPHY $ 3.99
STAR TREK VS TRANSFORMERS #3 (OF 4) CVR B FULLERTON $ 3.99
STAR WARS #58 $ 3.99
STAR WARS ADVENTURES DESTROYER DOWN #2 (OF 3) CHARM $ 3.99
STAR WARS AGE REPUBLIC QUI-GON JINN #1 $ 3.99
STAR WARS AGE REPUBLIC QUI-GON JINN #1 CAMUNCOLI PROMO VAR $ 3.99
STAR WARS AGE REPUBLIC QUI-GON JINN #1 CORY SMITH VAR $ 3.99
STAR WARS AGE REPUBLIC QUI-GON JINN #1 MCCAIG DESIGN VAR $ 3.99
STAR WARS AGE REPUBLIC QUI-GON JINN #1 MOVIE VAR (1/10) $ ???
STARGATE ATLANTIS UNIVERSE ANTHOLOGY ONGOING #1 SGU PHOTO CV $ 3.99
STEVEN UNIVERSE HARMONY #5 $ 3.99
SUICIDE SQUAD BLACK FILES #2 (OF 6) (RES) $ 4.99
SWORD DAUGHTER #4 CVR A SMALLWOOD $ 4.99
TEAM SONIC RACING (ONE-SHOT) $ 4.99
TRUE BELIEVERS FANTASTIC FOUR MAD THINKER DROID #1 $ 1
TRUE BELIEVERS FANTASTIC FOUR PUPPET MASTER #1 $ 1
TRUE BELIEVERS FANTASTIC FOUR SKRULLS #1 $ 1
UMBRELLA ACADEMY HOTEL OBLIVION #3 CVR A BA $ 3.99
UMBRELLA ACADEMY HOTEL OBLIVION #3 CVR B BA $ 3.99
UNCANNY X-MEN #4 $ 3.99
UNCANNY X-MEN #4 CHRISTOPHER ACTION FIGURE VAR $ 3.99
UNCANNY X-MEN #4 ZAFFINO FANTASTIC FOUR VILLAINS VAR $ 3.99
UNEXPECTED #7 $ 2.99
UNITED STATES VS MURDER INC #4 (OF 6) (MR) $ 3.99
UNNATURAL #5 (OF 12) CVR A ANDOLFO (MR) $ 3.99
UNNATURAL #5 (OF 12) CVR B LIBERATORE (MR) $ 3.99
UNNATURAL #5 (OF 12) CVR C HERO INITIATIVE VAR (MR) $ 3.99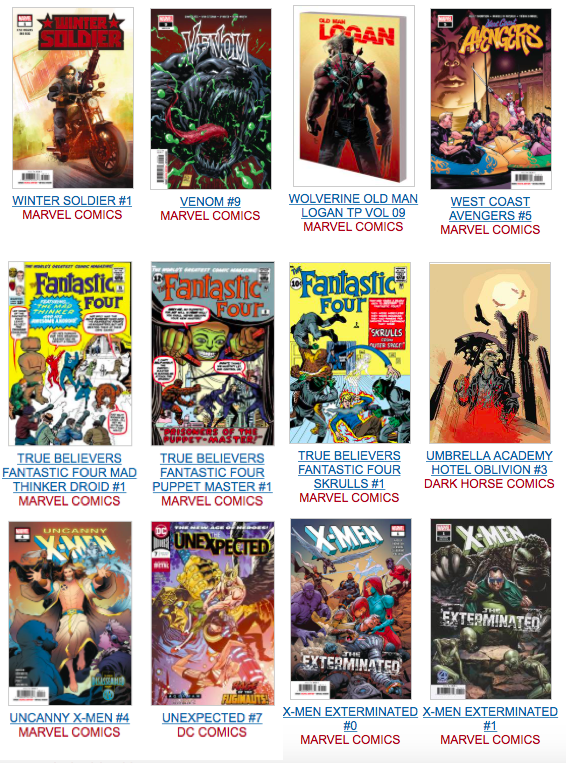 VENOM #9 $ 3.99
VENOM #9 ANIMATION VAR $ ???
VENOM #9 SIENKIEWICZ FANTATSIC FOUR VILLAINS VAR $ 3.99
WALKING DEAD #186 CVR A ADLARD & STEWART (MR) $ 3.99
WALKING DEAD #186 CVR B 15TH ANNV VAR SIENKIEWICZ (MR) $ 3.99
WEST COAST AVENGERS #5 $ 3.99
WICKED & DIVINE #40 CVR A MCKELVIE & WILSON (MR) $ 3.99
WICKED & DIVINE #40 CVR B ROE (MR) $ 3.99
WICKED & DIVINE #40 CVR C HERO INITIATIVE VAR (MR) $ 3.99
WINTER SOLDIER #1 $ 3.99
X-MEN EXTERMINATED #1 $ 4.99
X-MEN EXTERMINATED #1 SUAYAN FANTASTIC FOUR VILLAINS VAR $ 4.99
AVENGERS ASSEMBLE GN TP TIME WILL TELL $ 9.99
BATGIRL TP VOL 04 STRANGE LOOP REBIRTH (RES) $ 19.99
BATMAN DETECTIVE COMICS TP VOL 08 ON THE OUTSIDE $ 16.99
BATMAN REBIRTH DLX COLL HC BOOK 03 $ 34.99
BATMAN THE GOLDEN AGE OMNIBUS HC VOL 06 $ 125
CARDCAPTOR SAKURA CLEAR CARD GN VOL 05 $ 10.99
DOCTOR STRANGE BY MARK WAID TP VOL 01 ACROSS THE UNIVERSE $ 15.99
FANTASTIC FOUR BY WAID & WIERINGO OMNIBUS HC $ 100
HARLEY QUINN TP VOL 01 HARLEY VS APOKOLIPS $ 16.99
HUNT FOR WOLVERINE TP ADAMANTIUM AGENDA $ 14.99
HUNT FOR WOLVERINE TP CLAWS OF A KILLER $ 14.99
HUNT FOR WOLVERINE TP MYSTERY IN MADRIPOOR $ 14.99
HUNT FOR WOLVERINE TP WEAPON LOST $ 14.99
INJUSTICE 2 HC VOL 04 $ 24.99
INJUSTICE 2 TP VOL 03 $ 16.99
JEPH LOEB TIM SALE YELLOW BLUE GRAY & WHITE OMNIBUS HC $ 100
KIMI NI TODOKE GN VOL 30 FROM ME TO YOU $ 9.99
LUMBERJANES TP VOL 10 $ 14.99
MARVEL UNIVERSE BY JOHN BYRNE OMNIBUS HC VOL 02 $ 125
MERA QUEEN OF ATLANTIS TP $ 16.99
MERRY MEN COMPLETE TP $ 19.99
MY HERO ACADEMIA GN VOL 16 $ 9.99
OCTOBER FACTION TP VOL 05 SUPERNATURAL DREAMS $ 17.99
PAPER GIRLS TP VOL 05 $ 14.99
PROMISED NEVERLAND GN VOL 07 $ 9.99
RICK & MORTY TP VOL 08 $ 19.99
SABAN POWER RANGERS SOUL DRAGON ORIGINAL GN $ 19.99
STAR WARS POE DAMERON TP VOL 05 SPARK FIRE $ 17.99
STEVEN UNIVERSE ORIGINAL GN VOL 03 ULTIMATE DOUGH DOWN $ 14.99
TRINITY TP VOL 04 THE SEARCH FOR STEVE TREVOR $ 16.99
WAYWARD TP VOL 06 BOUND TO FATE (MR) $ 17.99
WOLVERINE OLD MAN LOGAN TP VOL 09 HUNTER HUNTED $ 15.99
WRECK IT RALPH 2 RALPH BREAKS THE INTERNET HC CLICK START $ 10.99
CHIA PET RICK & MORTY MORTY $ 21.99
CHIA PET RICK & MORTY RICK $ 21.99
FUNKO RICK & MORTY RICK PURGE SUIT AF $ ???
HARRY POTTER SERIES 4 3D FIGURAL KEYRING 24PC BMB DIS $ 6.99
LILO AND STITCH SERIES 2 3D FIGURAL KEYRING 24PC BMB DIS $ 6.99
LOST KITTIES KIT-TWINS MINI FIG BMB DISP $ 6.99
MARVEL GALLERY ANT-MAN & THE WASP MOVIE WASP PVC FIGURE $ 44.99
POP ANIMATION ONE PIECE S3 DQ DOFLAMINGO VINYL FIG $ 11.99
POP ANIMATION ONE PIECE S3 NICO ROBIN VINYL FIG $ 11.99
RICK AND MORTY SERIES 2 3D FIGURAL KEYRING 24PC BMB DIS $ 1???
SW BLACK SERIES 6IN AF  $ ???
X-MEN LEGENDS ARCHANGEL 6IN AF CS $ 24.99
COMIC SHOP NEWS #1642 $ FREE