Age of X-Man and Uncanny X-Men are Marvel-ous on Wednesday, Feb 6, 2019
Marvel comes out with new #1's: the overly wordy Age of X-Man Marvelous X-Men #1, Daredevil #1, Old Man Quill #1, and Uncanny X-Men is #11, which is like 2 #1's, right? Marvel's other titles include Champions, Conan, Deadpool, Star Wars, and AOR Anakin Skywalker, and X-23. DC brings Batman, Deathstroke, the Greens, Harley Quinn, Young Justice, and Justice League. The rest of the field represent with Red Sonja, Walking Dead, Umbrella Academy, and Vampirella. 
Of course, the complete list is much longer –   Check it out below. If you are in the intersection of the set of readers of this blog and the set of those that order from us through the Previews catalog (what's the smallest number that is NOT negative), you should know that they forgot to pack it for us and we'll all have to wait for at least a week.
Sign in here to get an email reminder for ALL sales and other events. Also, you can go to fb.fantasybooksandgames.com and you'll be taken to our Facebook page. We do expect to use the Rewards system to make similar announcements, but it pays to be covered, right?
Thanks to Friendly Neighborhood Comics for this week's images, which include many of the comics and a few of the books we received today.
ADVENTURES OF THE SUPER SONS #7 (OF 12) $ 3.99
AGE OF X-MAN MARVELOUS X-MEN #1 (OF 5) $ 3.99
AGE OF X-MAN MARVELOUS X-MEN #1 (OF 5) HUGO VAR $ 3.99
AGE OF X-MAN MARVELOUS X-MEN #1 (OF 5) INHYUK LEE CONNECTING $ 3.99
AGE OF X-MAN MARVELOUS X-MEN #1 (OF 5) PACHECO SECRET VAR $ 3.99
AMAZING SPIDER-MAN #10 2ND PTG RAMOS VAR $ 3.99
AMAZING SPIDER-MAN #11 2ND PTG OTTLEY VAR $ 3.99
ARCHIE JUMBO COMICS DIGEST #296 $ 6.99
ASGARDIANS OF THE GALAXY #6 $ 3.99
AVENGERS #14 $ 3.99
AVENGERS #14 PACHECO SKRULLS VAR $ 3.99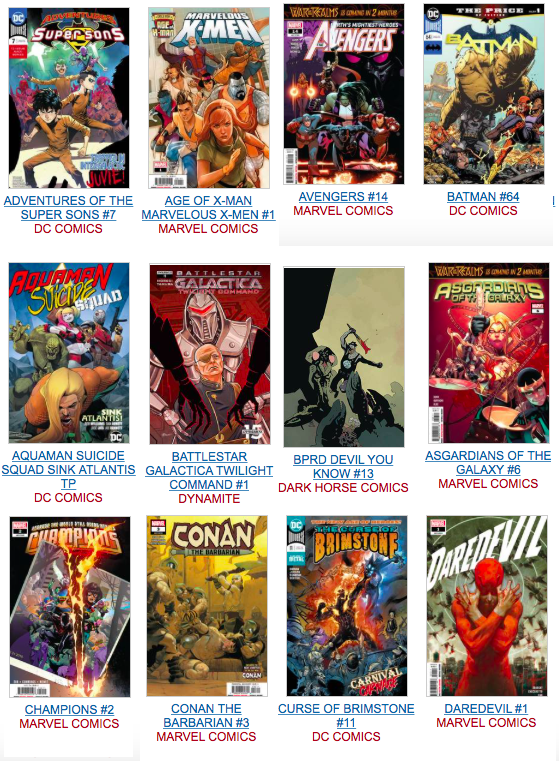 BATMAN #64 THE PRICE $ 3.99
BATMAN #64 VAR ED THE PRICE $ 3.99
BATTLESTAR GALACTICA TWILIGHT COMMAND #1 CVR A SCHOONOVER $ 3.99
BPRD DEVIL YOU KNOW #13 $ 3.99
CHAMPIONS #2 $ 3.99
CONAN THE BARBARIAN #1 2ND PTG ASRAR VAR $ 4.99
CONAN THE BARBARIAN #2 2ND PTG ASRAR VAR $ 3.99
CONAN THE BARBARIAN #3 $ 3.99
CONAN THE BARBARIAN #3 LARRAZ SKRULLS VAR $ 3.99
CONAN THE BARBARIAN #3 PORTACIO VAR (1/10) $ ???
CURSE OF BRIMSTONE #11 $ 2.99
CURSE WORDS #20 CVR A BROWNE (MR) $ 3.99
DAREDEVIL #1 $ 4.99
DAREDEVIL #1 DELL OTTO VAR (1/10) $ ???
DAREDEVIL #1 MALEEV VAR (1/25) $ ???
DAREDEVIL #1 RAMOS SKRULLS VAR $ 4.99
DAREDEVIL #1 YOUNG VAR $ 4.99
DEADPOOL #9 $ 3.99
DEADPOOL #9 HAWTHORNE SKRULLS VAR (maybe next week) $ 3.99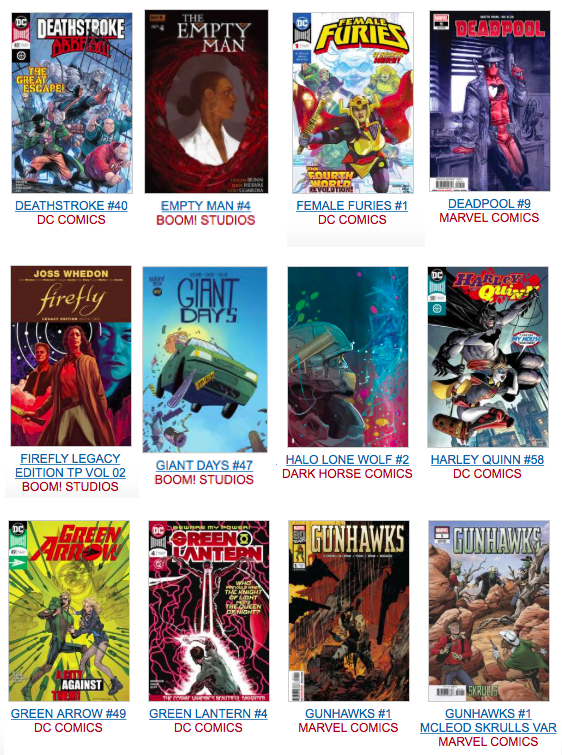 DEATHSTROKE #40 (ARKHAM) $ 3.99
DEATHSTROKE #40 VAR ED (ARKHAM) $ 3.99
DIE #3 CVR A HANS (MR) $ 3.99
DIE #3 CVR B BARTEL (MR) $ 3.99
DREAMING #6 (MR) $ 3.99
EMPTY MAN #4 MAIN $ 3.99
FEMALE FURIES #1 (OF 6) $ 3.99
FEMALE FURIES #1 (OF 6) VAR ED $ 3.99
FREEZE #3 (MR) $ 3.99
GASOLINA #15 (MR) $ 3.99
GIANT DAYS #47 $ 3.99
GIRL IN THE BAY #1 (MR) $ 3.99
GREEN ARROW #49 $ 3.99
GREEN ARROW #49 VAR ED $ 3.99
GREEN LANTERN #4 $ 3.99
GREEN LANTERN #4 VAR ED $ 3.99
GUNHAWKS #1 MCLEOD SKRULLS VAR $ 3.99
HALO LONE WOLF #2 (OF 4) $ 3.99
HARLEY QUINN #58 $ 3.99
HARLEY QUINN #58 VAR ED $ 3.99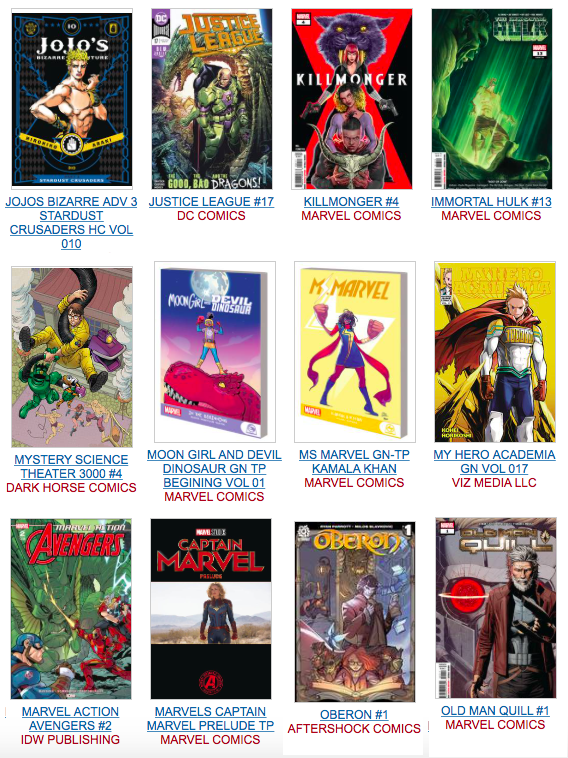 IMMORTAL HULK #11 2ND PTG BENNETT VAR $ 3.99
IMMORTAL HULK #13 $ 3.99
IMMORTAL HULK #13 STEVENS SKRULLS VAR $ 3.99
JUSTICE LEAGUE #17 $ 3.99
JUSTICE LEAGUE #17 VAR ED $ 3.99
KILLMONGER #4 (OF 5) $ 3.99
LAGUARDIA #3 (MR) $ 4.99
MAN AND SUPERMAN 100 PAGE SUPER SPECTACULAR #1 $ 9.99
MARVEL ACTION AVENGERS #2 SOMMARIVA $ 3.99
MYSTERY SCIENCE THEATER 3000 #4 CVR A NAUCK $ 3.99
MYSTERY SCIENCE THEATER 3000 #4 CVR B VANCE $ 3.99
OBERON #1 $ 3.99
OGRE #1 (OF 3) 2ND PTG (MR) $ 3.99
OLD MAN QUILL #1 (OF 12) $ 3.99
OLD MAN QUILL #1 (OF 12) COOK VAR $ 3.99
OLD MAN QUILL #1 (OF 12) STARLIN HIDDEN GEM VAR $ 3.99
PRODIGY #3 (OF 6) CVR A ALBUQUERQUE (MR) $ 3.99
PRODIGY #3 (OF 6) CVR B ALBUQUERQUE (MR) $ 3.99
PRODIGY #3 (OF 6) CVR C CASSADAY (MR) $ 3.99
PROJECT SUPERPOWERS #6 CVR A MATTINA $ 3.99
RED SONJA #1 SEDUCTION VAR (1/10) $ ???
RED SONJA #1 CVR A CONNER $ 3.99
RED SONJA #1 CVR B LINSNER $ 3.99
RED SONJA #1 CVR C WARD $ 3.99
RED SONJA #1 CVR D CHO (maybe next week) $ 3.99
RED SONJA #1 CVR E COSPLAY $ 3.99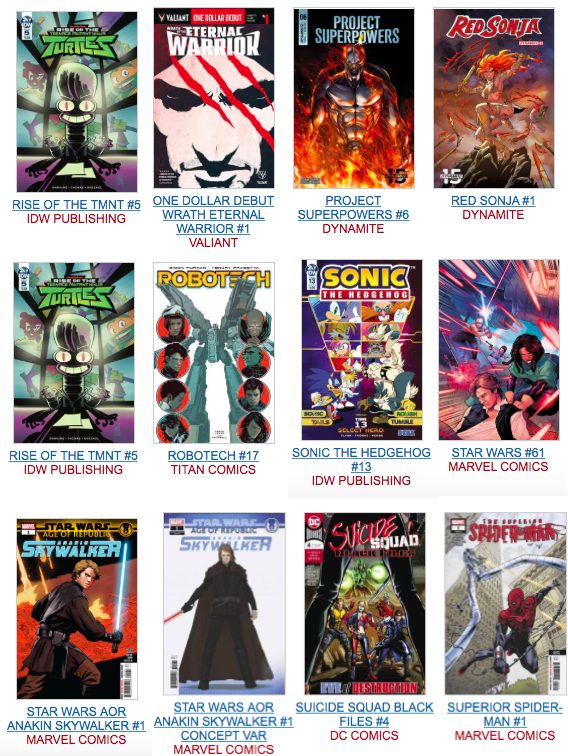 RISE OF THE TMNT #5 SURIANO $ 3.99
ROBOTECH #17 CVR A SPOKES $ 3.99
ROBOTECH #17 CVR B ACTION FIGURE VAR $ 3.99
ROBOTECH #17 CVR C WALTRIP BROS $ 3.99
SELF MADE #3 (MR) $ 3.99
SONIC THE HEDGEHOG #13 FOURDRAINE VAR (1/10) $ ???
SONIC THE HEDGEHOG #13 CVR A THOMAS $ 4.99
SONIC THE HEDGEHOG #13 CVR B GATES $ 4.99
STAR WARS #61 $ 3.99
STAR WARS #61 CHRISTOPHER ACTION FIGURE VAR $ 3.99
STAR WARS #61 PICHELLI GREATEST MOMENTS VAR $ 3.99
STAR WARS AOR ANAKIN SKYWALKER #1 (maybe next week) $ 3.99
STAR WARS AOR ANAKIN SKYWALKER #1 CONCEPT VAR $ 3.99
STAR WARS AOR ANAKIN SKYWALKER #1 MOVIE VAR (1/10) $ ???
SUICIDE SQUAD BLACK FILES #4 (OF 6) $ 4.99
SUPERIOR SPIDER-MAN #1 2ND PTG HAWTHORNE VAR $ 3.99
SWORD DAUGHTER #6 CVR A OLIVER $ 4.99
TONY STARK IRON MAN #8 $ 3.99
TONY STARK IRON MAN #8 NOTO MARVEL 80TH VAR $ 3.99
TRUE BELIEVERS CAPTAIN MARVEL MS MARVEL #1 $ 1
TRUE BELIEVERS CAPTAIN MARVEL SPIDER-MAN & MS MARVEL #1 $ 1
UMBRELLA ACADEMY HOTEL OBLIVION #5 CVR A BA $ 3.99
UMBRELLA ACADEMY HOTEL OBLIVION #5 CVR B BA $ 3.99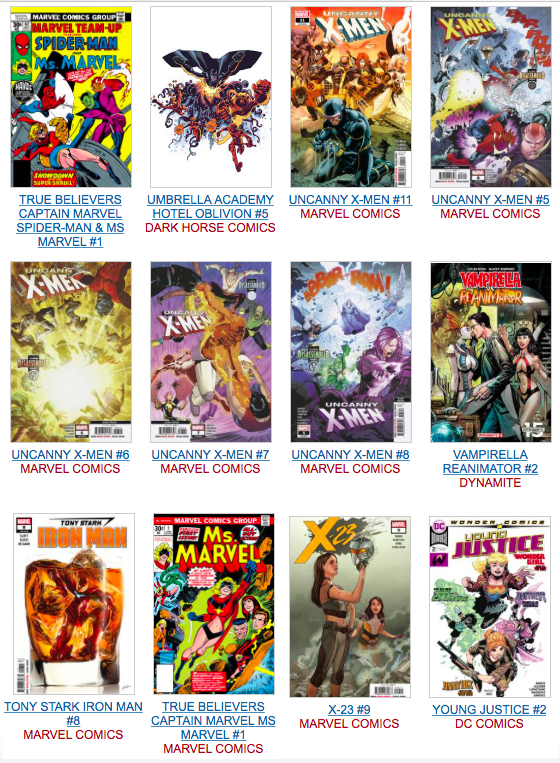 UNCANNY X-MEN #11 $ 7.99
UNCANNY X-MEN #11 DAVIS CHARACTER VAR $ 7.99
UNCANNY X-MEN #11 INHYUK LEE SKRULLS VAR $ 7.99
UNCANNY X-MEN #11 LARROSA VAR (1/25) $ ???
UNCANNY X-MEN #11 LIEFELD VAR $ 7.99
UNCANNY X-MEN #11 LIM VAR $ 7.99
UNCANNY X-MEN #5 2ND PTG SILVA VAR $ 3.99
UNCANNY X-MEN #6 2ND PTG CINAR VAR $ 3.99
UNCANNY X-MEN #7 2ND PTG PEREZ VAR $ 3.99
UNCANNY X-MEN #8 2ND PTG SILVA VAR $ 3.99
UNITED STATES VS MURDER INC #6 (OF 6) (MR) $ 3.99
UNNATURAL #7 (OF 12) CVR A ANDOLFO (MR) $ 3.99
UNNATURAL #7 (OF 12) CVR B SEJIC (MR) $ 3.99
VAMPIRELLA REANIMATOR #2 CVR A DESJARDINS $ 3.99
VAMPIRELLA REANIMATOR #2 CVR D COSPLAY $ 3.99
VINDICATION #1 (OF 4) (MR) $ 3.99
WALKING DEAD #188 (MR) $ 3.99
WOLVERINE LONG NIGHT ADAPTATION #2 (OF 5) (maybe next week) $ 3.99
WRATH ETERNAL WARRIOR #1 DOLLAR DEBUT $ 1
X-23 #9 $ 3.99
X-23 #9 LUPACCHINO SKRULLS VAR (maybe next week) $ 3.99
YOUNG JUSTICE #2 $ 3.99
YOUNG JUSTICE #2 VAR ED $ 3.99

COMIC SHOP NEWS #1651 FREE

AQUAMAN SUICIDE SQUAD SINK ATLANTIS TP $ 14.99
BLACKEST NIGHT SAGA ESSENTIAL EDITION TP $ 24.99
BPRD DEVIL YOU KNOW TP VOL 02 PANDEMONIUM $ 19.99
EIGHTBALL PUSSEY TP (CURR PTG) (MR) $ 12.95
FIREFLY LEGACY EDITION TP VOL 02 $ 29.99
GARFIELD HOMECOMING TP $ 9.99
HOW NOT TO SUMMON DEMON LORD GN VOL 03 $ 12.99
INFINITY GAUNTLET TP DELUXE EDITION $ 34.99
JOJOS BIZARRE ADV 3 STARDUST CRUSADERS HC VOL 10 $ 19.99
MARVELS CAPTAIN MARVEL PRELUDE TP $ 17.99
MIRACULOUS TALES LADYBUG CAT NOIR S2 TP NO EVIL DOING $ 8.99
MOON GIRL AND DEVIL DINOSAUR GN TP VOL 01 BEGINNING $ 12.99
MS MARVEL GN-TP KAMALA KHAN $ 12.99
MY HERO ACADEMIA GN VOL 17 $ 9.99
ONE PIECE GN VOL 89 $ 9.99
ORESAMA TEACHER GN VOL 25 $ 9.99
POWERS TP BOOK 03 NEW EDITION (MR) $ 29.99
PUNISHER EPIC COLLECTION TP KINGPIN RULES $ 39.99
PUNISHER WAR JOURNAL FRACTION TP VOL 01 COMPLETE COLLECTION $ 34.99
SHAZAM THE MONSTER SOCIETY OF EVIL TP NEW ED $ 19.99
VENOMNIBUS HC VOL 02 $ 125
WOLVERINE TP LOGAN NEW PTG $ 14.99

TOPPS 2019 SW B&W EMPIRE STRIKES BACK T/C BOX $ ???

DC BOMBSHELLS HARLEY QUINN SEPIA TONE VAR STATUE $ 125
DC ESSENTIALS SHAZAM & BLACK ADAM AF 2 PACK $ 44.99
FUNKO 5 STAR FORTNITE SERIES 1 TOMATOHEAD VINYL FIGURE $ 12.99
GUNDAM NT 218 NARRATIVE GUNDAM A-PACKS HGUC 1/144 MDL KIT $ 66.99
GUNDAM UC FULL ARMOR GUNDAM UNICORN RG 1/144 MDL KIT $ 66.99
HARLEY QUINN RED WHITE & BLACK STATUE BY CHEN STATUE $ 79.99
MYSTERY MINIS ANIMATED SPIDER-MAN 12PC BMB DISP $ 8.99
MYSTERY MINIS FALLOUT S2 12PC BMB DISP $ 8.99
MYSTERY MINIS KINGDOM HEARTS 3 12PC BMB DISP $ 8.99
OVERWATCH WIDOWMAKER FIGMA AF $ 115
PINT SIZED HEROES FORTNITE MOONWALKER/BURNOUT FIG 2PK $ 5.99
PINT SIZED HEROES FORTNITE RANGER/ZOEY FIG 2PK $ 5.99
POCKET POP ALADDIN ABU FIG KEYCHAIN $ 5.99
POCKET POP ALADDIN GENIE FIG KEYCHAIN $ 5.99
POCKET POP CAPTAIN MARVEL CAPT MARVEL MOHAWK FIG KEYCHAIN $ 5.99
POCKET POP CAPTAIN MARVEL GOOSE CAT FIG KEYCHAIN $ 5.99
POCKET POP FORTNITE S1A BLACK KNIGHT FIG KEYCHAIN $ 5.99
POCKET POP FORTNITE S1A DARK VOYAGER FIG KEYCHAIN $ 5.99
POCKET POP FORTNITE S1A HIGHRISE ASSAULT FIG KEYCHAIN $ 5.99
POCKET POP FORTNITE S1A MOONWALKER FIG KEYCHAIN $ 5.99
POCKET POP FORTNITE S1A OMEGA FIG KEYCHAIN $ 5.99
POCKET POP FORTNITE S1A RAPTOR FIG KEYCHAIN $ 5.99
POCKET POP FORTNITE S1A REX FIG KEYCHAIN $ 5.99
POCKET POP FORTNITE S1A TOWER RECON FIG KEYCHAIN $ 5.99
POCKET POP NOOB NOOB FIG KEYCHAIN $ 5.99
POCKET POP PICKLE RICK FIG KEYCHAIN $ 5.99
POCKET POP RICK IN RAT SUIT FIG KEYCHAIN $ 5.99
POCKET POP TINKLES FIG KEYCHAIN $ 5.99
POWER RANGERS LEGACY NINJA MEGAZORD $ 120
SUPER MARIO HERE WE GO LUIGI 11 OZ MUG $ 6.99
SUPER MARIO LIKE A BOSS 11 OZ MUG $ 6.99

CAPTAIN MARVEL START HERE SAMPLER 2019 FREE
PREVIEWS #365 FEBRUARY 2019 $ 3.99