Free Comics are done – Now you pay – Wednesday, May 8th, 2019
DC brings Batman Who Laughs, Detective, Flash, Hawkman, Justice League Odyssey, Shazam, Supergirl, and Wonder Woman, among others. Marvel brings Star Wars (Adventures, Boba Fett #1, and Doctor Aphra), War of Realms, Symbiote Spider-Man, Friendly Neighborhood, Captain America, Savage Sword and Age of Conan, among others. Other pubs bring Bettie Page, Deadly Class, Hit-Girl, and Sonic. Lots of new Funko Pops lines: Babe Ruth and more MLB stars, Addams Family, Toy Story 4, and the Simpsons!
…. The countdown to Free Comic Book Day begins – again. It's only 360 days away!  If you missed it last Saturday, sign in here to get an email reminder for for FCBD and ALL sales and other events.  Also, you can go to fb.fantasybooksandgames.com and you'll be taken to our Facebook page. We do expect to use the Rewards system to make similar announcements, but it pays to be covered, right?
Thanks to Friendly Neighborhood Comics for this week's images, which include many of the comics and a few of the books we received today.
AGE OF CONAN BELIT #3 (OF 5) $ 3.99
AGE OF CONAN BELIT #3 (OF 5) HANS VAR (1/25) $ ???
AGE OF X-MAN APOCALYPSE AND X-TRACTS #3 (OF 5) $ 3.99
ALIENS RESISTANCE #4 CVR A DE LA TORRE $ 3.99
ALIENS RESISTANCE #4 CVR B JONES $ 3.99
ARCHIE #704 CVR A FISH $ 3.99
B & V FRIENDS JUMBO COMICS DIGEST #270 $ 6.99
BATMAN AND THE OUTSIDERS #1 (RES) $ 3.99
BATMAN AND THE OUTSIDERS #1 BLANK VAR ED (RES) $ 3.99
BATMAN AND THE OUTSIDERS #1 VAR ED (RES) $ 3.99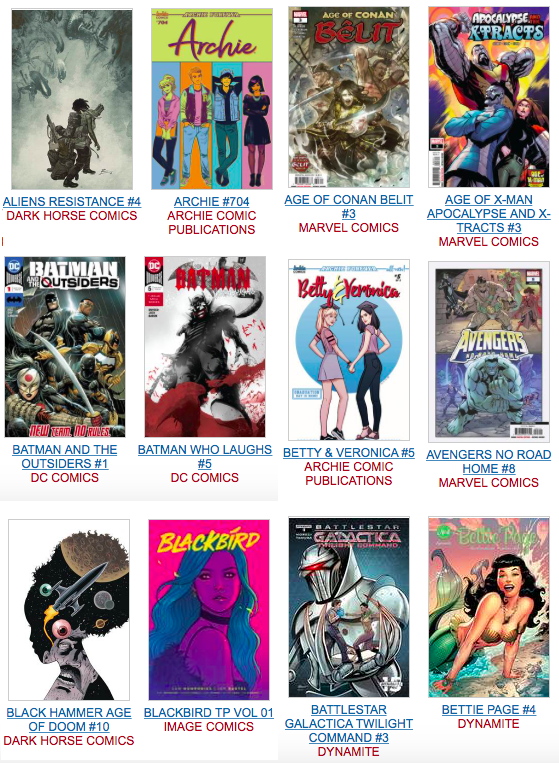 BATMAN WHO LAUGHS #5 (OF 6) $ 4.99
BATMAN WHO LAUGHS #5 (OF 6) VAR ED $ 4.99
BATTLESTAR GALACTICA TWILIGHT COMMAND #3 CVR A SCHOONOVER $ 3.99
BETTIE PAGE #4 PHOTO VIRGIN VAR (1/10) $ ???
BETTIE PAGE #4 CVR A ROYLE $ 3.99
BETTIE PAGE #4 CVR B CHANTLER $ 3.99
BETTIE PAGE #4 CVR C WILLIAMS $ 3.99
BETTIE PAGE #4 CVR D OHTA $ 3.99
BETTIE PAGE #4 CVR E PHOTO $ 3.99
BETTY & VERONICA #5 (OF 5) CVR A LANZ $ 3.99
BLACK HAMMER AGE OF DOOM #10 CVR A ORMSTON $ 3.99
BLACK HAMMER AGE OF DOOM #10 CVR B FIFFE $ 3.99
BY NIGHT #11 (OF 12) MAIN LARSEN CVR $ 3.99
CAPTAIN AMERICA #10 $ 3.99
CAPTAIN AMERICA #10 JOHNSON ASGARDIAN VAR $ 3.99
CAPTAIN MARVEL #5 $ 3.99
CAPTAIN MARVEL #5 MAXX LIM MARVEL BATTLE LINES VAR $ 3.99
CATWOMAN #11 $ 3.99
CATWOMAN #11 VAR ED $ 3.99
CONAN THE BARBARIAN #6 $ 3.99
CONAN THE BARBARIAN #6 TEDESCO VAR (1/25) $ ???
CURSE WORDS #21 CVR A BROWNE (MR) $ 3.99
DEADLY CLASS #38 CVR A CRAIG (MR) $ 3.99
DEADLY CLASS #38 CVR B MCCREA (MR) $ 3.99
DEFENDERS MARVEL FEATURE #1 FACSIMILE EDITION $ 4.99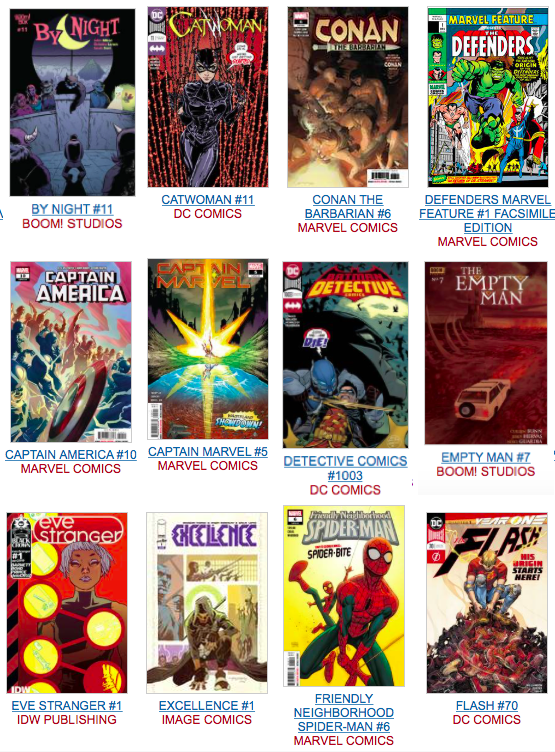 DETECTIVE COMICS #1001 2ND PTG $ 3.99
DETECTIVE COMICS #1003 $ 3.99
DETECTIVE COMICS #1003 VAR ED $ 3.99
DISNEY FROZEN REUNION ROAD #3 CVR A RUSSO $ 3.99
DOOMSDAY CLOCK #8 (OF 12) 2ND PTG $ 4.99
EMPTY MAN #7 MAIN $ 3.99
EVE STRANGER #1 CVR A BOND $ 3.99
EXCELLENCE #1 CVR A RANDOLPH & LOPEZ $ 3.99
EXCELLENCE #1 CVR B VISIONS OF EXCELLENCE VAR RANDOLPH $ 3.99
FLASH #70 $ 3.99
FLASH #70 VAR ED $ 3.99
FRIENDLY NEIGHBORHOOD SPIDER-MAN #6 $ 3.99
FRIENDLY NEIGHBORHOOD SPIDER-MAN #6 NEXON MARVEL BATTLE LINE $ 3.99
GUNNING FOR HITS #5 (MR) $ 3.99
HAWKMAN #12 $ 3.99
HAWKMAN #12 VAR ED $ 3.99
HIT-GIRL SEASON TWO #4 CVR A FRANCAVILLA (MR) $ 4.99
HIT-GIRL SEASON TWO #4 CVR B B&W FRANCAVILLA (MR) $ 4.99
HIT-GIRL SEASON TWO #4 CVR C CONNER (MR) $ 4.99
HONOR AND CURSE #1 2ND PTG $ 3.99
HOUSE OF WHISPERS #9 (MR) $ 3.99
ICE CREAM MAN #12 CVR A MORAZZO & OHALLORAN (MR) $ 3.99
ICE CREAM MAN #12 CVR B LOTAY (MR) $ 3.99
INFINITE DARK #6 $ 3.99
INVADERS #5 $ 3.99
JAMES BOND ORIGIN #9 CVR A PANOSIAN $ 3.99
JIM HENSON STORYTELLER SIRENS #2 MAIN CVR $ 3.99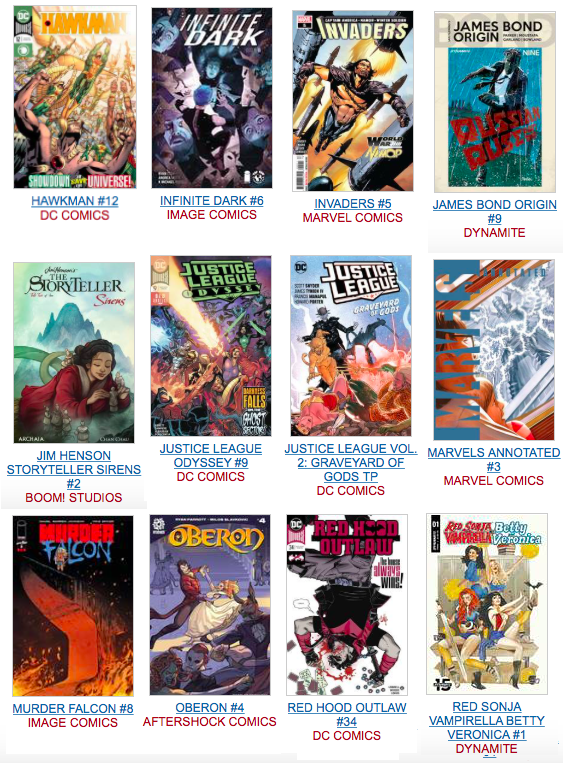 JUSTICE LEAGUE ODYSSEY #9 $ 3.99
JUSTICE LEAGUE ODYSSEY #9 VAR ED $ 3.99
MARVELS ANNOTATED #3 (OF 4) $ 7.99
MARVELS ANNOTATED #3 (OF 4) ALEX ROSS VIRGIN VAR $ 7.99
MARVELS ANNOTATED #3 (OF 4) DELLOTTO VAR $ 7.99
MURDER FALCON #8 CVR A JOHNSON & SPICER $ 3.99
NAOMI #4 2ND PTG $ 3.99
RED HOOD OUTLAW #34 $ 3.99
RED HOOD OUTLAW #34 VAR ED $ 3.99
OBERON #4 $ 3.99
RED SONJA VAMPIRELLA BETTY VERONICA #1 CVR A DALTON $ 3.99
RED SONJA VAMPIRELLA BETTY VERONICA #1 CVR B FRANCAVILLA $ 3.99
RED SONJA VAMPIRELLA BETTY VERONICA #1 CVR E BRAGA $ 3.99
RED SONJA VAMPIRELLA BETTY VERONICA #1 CVR F PARENT $ 3.99
RED SONJA VAMPIRELLA BETTY VERONICA #1 CVR G CAT STAGGS $ 3.99
RETAILER SUMMIT 2019 SAVAGE AVENGERS #1 MCKONE VAR $ ???
RETAILER SUMMIT 2019 SPIDER-MAN DEADPOOL #50 JOHNSON VAR $ ???
RONIN ISLAND #3 FOC ANKA VAR $ 3.99
RONIN ISLAND #3 MAIN $ 3.99
SAMURAI JACK LOST WORLDS #1 CVR B FULLERTON $ 3.99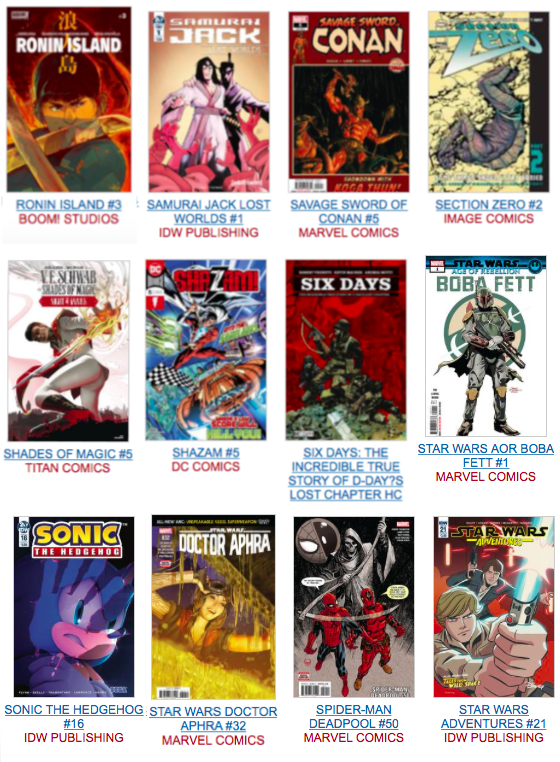 SAVAGE SWORD OF CONAN #5 $ 3.99
SAVAGE SWORD OF CONAN #5 ASRAR VAR (1/25) $ ???
SECTION ZERO #2 (OF 6) CVR A GRUMMETT & KESEL $ 3.99
SECTION ZERO #2 (OF 6) CVR B PEREZ $ 3.99
SHADES OF MAGIC #5 CVR A IANICIELLO $ 3.99
SHAZAM #5 $ 3.99
SHAZAM #5 VAR ED $ 3.99
SHE COULD FLY LOST PILOT #2 (OF 5) (MR) $ 3.99
SONIC THE HEDGEHOG #16 FOURDRAINE (1/10) $ ???
SONIC THE HEDGEHOG #16 CVR A STANLEY $ 3.99
SONIC THE HEDGEHOG #16 CVR B GRAY $ 3.99
SPIDER-MAN DEADPOOL #50 $ 4.99
STAR WARS ADVENTURES #21 OEMING VAR (1/10) $ ???
STAR WARS ADVENTURES #21 CVR A CHARM $ 3.99
STAR WARS ADVENTURES #21 CVR B BALDARI $ 3.99
STAR WARS AOR BOBA FETT #1 $ 3.99
STAR WARS AOR BOBA FETT #1 CONCEPT VAR $ 3.99
STAR WARS AOR BOBA FETT #1 MCKONE PUZZLE PC VAR $ 3.99
STAR WARS AOR BOBA FETT #1 MOVIE VAR (1/10) $ ???
STAR WARS DOCTOR APHRA #32 $ 3.99
STAR WARS DOCTOR APHRA #32 HANS GREATEST MOMENTS VAR $ 3.99
(PREVIEWS & Marvel Previews)
SUPERGIRL #30 $ 3.99
SUPERGIRL #30 VAR ED $ 3.99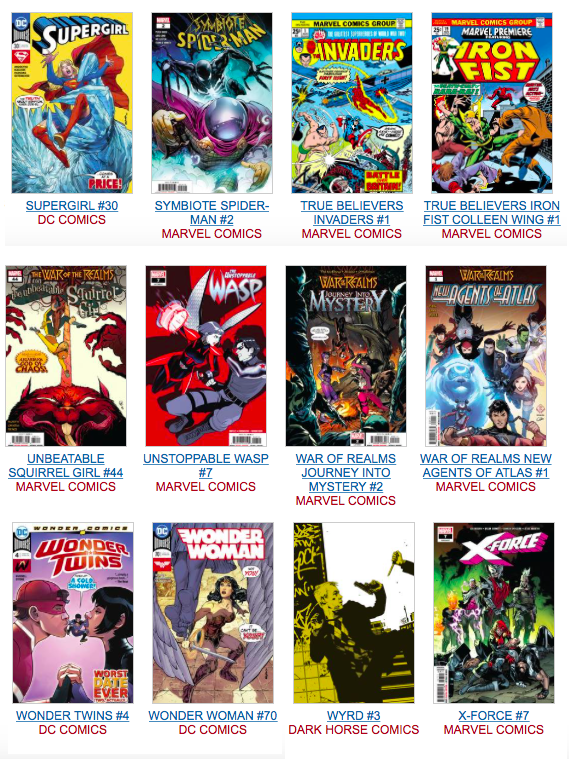 SYMBIOTE SPIDER-MAN #2 (OF 5) $ 3.99
SYMBIOTE SPIDER-MAN #2 (OF 5) JONGJU KIM MARVEL BATTLE LINES $ 3.99
SYMBIOTE SPIDER-MAN #2 (OF 5) LIM VAR $ 3.99
SYMBIOTE SPIDER-MAN #2 (OF 5) SAVIUK VAR (1/25) $ ???
THESE SAVAGE SHORES #4 (MR) $ 3.99
TRUE BELIEVERS INVADERS #1 $ 1
TRUE BELIEVERS IRON FIST COLLEEN WING #1 $ 1
UNBEATABLE SQUIRREL GIRL #44 SUJIN JO MARVEL BATTLE LINES VA $ 3.99
UNBEATABLE SQUIRREL GIRL #44 WR $ 3.99
UNNATURAL #9 (OF 12) CVR A ANDOLFO (MR) $ 3.99
UNNATURAL #9 (OF 12) CVR B CAVAZZANO (MR) $ 3.99
UNSTOPPABLE WASP #7 $ 3.99
UNSTOPPABLE WASP #7 SUJIN JO MARVEL BATTLE LINES VAR $ 3.99
VINDICATION #4 (OF 4) (MR) $ 3.99
WAR OF REALMS JOURNEY INTO MYSTERY #2 (OF 5) WR $ 3.99
WAR OF REALMS NEW AGENTS OF ATLAS #1 (OF 4) CAMUNCOLI CONNEC $ 3.99
WAR OF REALMS NEW AGENTS OF ATLAS #1 (OF 4) WR $ 3.99
WAR OF REALMS NEW AGENTS OF ATLAS #1 (OF 4) WR $ 3.99
WONDER TWINS #4 (OF 6) $ 3.99
WONDER TWINS #4 (OF 6) VAR ED $ 3.99
WONDER WOMAN #70 $ 3.99
WONDER WOMAN #70 VAR ED $ 3.99
WYRD #3 CVR B DELLOTTO $ 3.99
X-FORCE #7 $ 3.99

AMAZING SPIDER-MAN STRACZYNSKI OMNIBUS HC VOL 01 $ 125
ASTRO CITY AFTERMATHS HC $ 24.99
AVENGERS ENDGAME OFFICIAL MOVIE SPECIAL ED HC $ 19.99
BLACKBIRD TP VOL 01 $ 16.99
CASE CLOSED GN VOL 70 $ 9.99
CRISIS ON INFINITE EARTHS COMPANION DLX HC VOL 02 $ 75
DECADES MARVEL 80S TP AWESOME EVOLUTIONS $ 24.99
DISNEY ALADDIN: FOUR TALES OF AGRABAH TP $ 10.99
EMANON TP VOL 01 MEMORIES OF EMANON $ 14.99
FREEZE TP VOL 01 $ 12.99
JUSTICE LEAGUE TP VOL 02 GRAVEYARD OF GODS $ 19.99
MAGI GN VOL 35 $ 9.99
MY HERO ACADEMIA GN VOL 18 $ 9.99
MY HERO ACADEMIA SCHOOL BRIEFS NOVEL SC VOL 01 $ 10.99
MYSTICONS GN TP VOL 02 $ 10.99
PEARL TP VOL 01 (MR) $ 16.99
PROMISED NEVERLAND GN VOL 09 $ 9.99
RED SONJA TARZAN TP $ 19.99
SIX DAYS INCREDIBLE STORY OF D DAYS LOST CHAPTER HC $ 24.99
SMASHED JUNJI ITO STORY COLLECTION HC (MR) $ 22.99
SPIDER-GWEN GHOST-SPIDER TP VOL 01 SPIDER-GEDDON $ 15.99
STAR WARS AGE OF REPUBLIC TP VILLAINS $ 17.99
THOR BY JASON AARON COMPLETE COLLECTION TP VOL 01 $ 39.99
TOKYO GHOUL RE GN VOL 10 $ 12.99
WAVES ORIGINAL GN HC $ 14.99
YONA OF THE DAWN GN VOL 17 $ 9.99

MARVEL HEROES DEADPOOL SUIT T/S SM-XL $ 20.99
MARVEL HEROES DEADPOOL SUIT T/S XXL $ 22.99

BATMAN ANIMATED GRAY GHOST AF $ 27.99
BATMAN ANIMATED HARDAC AF $ 27.99
BATMAN ANIMATED SCARECROW AF $ 27.99
BATMAN ANIMATED TWO FACE AF $ 27.99
HELLBOY STANDARD VERSION 1/12 SCALE AF $ 105
MOBILE SUIT GUNDAM SCV-70 WHITE BASE 1/1700 MDL KIT $ 79.99
POP MARVEL SPIDER-PUNK PX VINYL FIGURE $ 11.99
TLS X GUDETAMA MINI FIG 12PC DS WV2 $ 9.99