Summer begins with Warriors in the Finals for 5th year – Wednesday, May 29th, 2019
What is the theme of the week, besides basketball? Hmm… Amazing Spider-Man, Star Wars (the "missing" #108 plus), Rick & Morty (#50 with reprints of 1-5), and Immortal Hulk, but we only found room for the new issue 18, but not the other 10 reprints  we just got in. Not to mention the other 20 that have arrived in the last month. I'm not sure, but I think each of them (some up to 5th printing!) has a unique cover. Ask Bob where they are, because they're in boxes. Other notables are Giant Man, Heroes in Crisis, Doomsday Clock, Black Panther, Fight Club, Lumberjanes, Ms. Marvel, Major X, Power Rangers, Spawn, a new Stranger Things, Thanos, and a new Batman Black Circle title called Last Knight on Earth, a 3-issue squarebound at $5.99.
Sign in here to get an email reminder for for ALL sales and other events.  Also, you can go to fb.fantasybooksandgames.com and you'll be taken to our Facebook page. We do expect to use the Rewards system to make similar announcements, but it pays to be covered, right?
Thanks to Friendly Neighborhood Comics for this week's images, which include many of the comics and a few of the books we received today.
AGE OF X-MAN X-TREMISTS #4 (OF 5) $3.99
AMAZING SPIDER-MAN #19.HU 2ND PTG BACHALO VAR $3.99
AMAZING SPIDER-MAN #22 $3.99
AMAZING SPIDER-MAN #22 HEEJIN JEON MARVEL BATTLE LINES VAR $3.99
AMAZING SPIDER-MAN #22 YU CONNECTING VAR $3.99
AMAZING SPIDER-MAN #252 FACSIMILE EDITION NEW PTG $3.99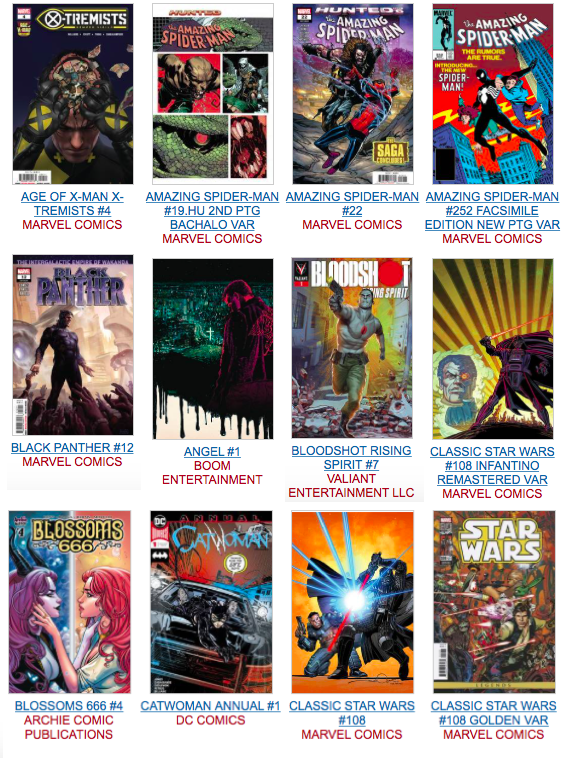 ANGEL #1 CVR A MAIN PANOSIAN $3.99
ANGEL #1 CVR B CONNECTING INFANTE VAR $3.99
ARCHIE JUMBO COMICS DIGEST #299 $6.99
ASCENDER #2 (MR) $3.99
ASCENDER #2 (MR) $3.99
BATMAN LAST KNIGHT ON EARTH #1 (OF 3) (MR) $5.99
BATMAN LAST KNIGHT ON EARTH #1 (OF 3) VAR ED (MR) $5.99
BLACK PANTHER #12 $3.99
BLACK PANTHER #12 HEYJIN IM MARVEL BATTLE LINES VAR $3.99
BLACK SCIENCE #40 CVR A SCALERA (MR) $3.99
BLOODSHOT RISING SPIRIT #7 CVR A GUEDES $3.99
BLOSSOMS 666 #4 CVR A BRAGA $3.99
CATWOMAN ANNUAL #1 $4.99
CODA #12 (OF 12) MAIN & MIX $3.99
DAREDEVIL #4 2ND PTG CHECCHETTO VAR $3.99
DAREDEVIL #6 $3.99
DARK RED #3 $3.99
DETECTIVE COMICS ANNUAL #2 $4.99
DF AMAZING SPIDER-MAN #800 COMICXPOSURE EXCLUSIVE $ ???
DF MR & MRS X #1 PARILLO COMICXPOSURE EXCLUSIVE $ ???
DICK TRACY FOREVER #2 CVR A OEMING $3.99
DIE #4 3RD PTG (MR) $3.99
DOG DAYS OF SUMMER #1 $9.99
DOOMSDAY CLOCK #10 (OF 12) $4.99
DOOMSDAY CLOCK #10 (OF 12) VAR ED $4.99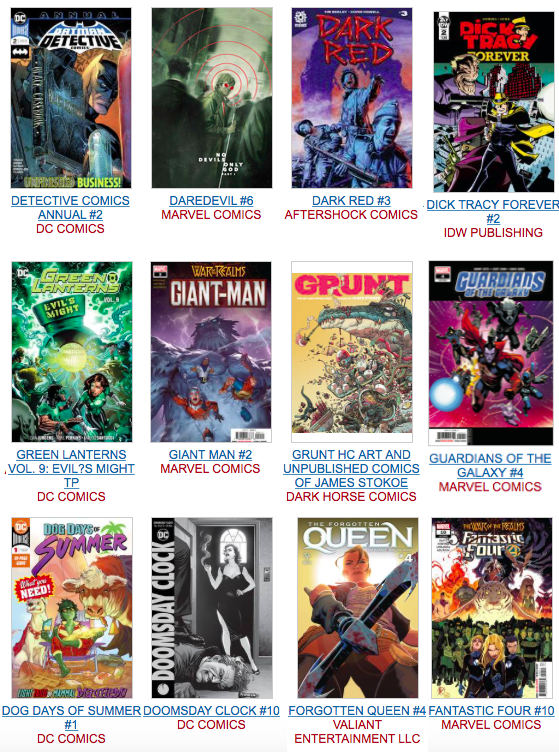 FANTASTIC FOUR #10 WR $3.99
FIGHT CLUB 3 #5 CVR A MACK (MR) $3.99
FIGHT CLUB 3 #5 CVR B FEGREDO (MR) $3.99
FORGOTTEN QUEEN #4 (OF 4) CVR A KANO $3.99
GIANT MAN #2 (OF 3) $3.99
GIANT MAN #2 (OF 3) CHECCHETTO VAR $3.99
GUARDIANS OF THE GALAXY #4 2ND PTG SHAW VAR $3.99
HELLBOY VS LOBSTER JOHNSON RING OF DEATH $3.99
HEROES IN CRISIS #9 (OF 9) $3.99
HEROES IN CRISIS #9 (OF 9) VAR ED $3.99
IMMORTAL HULK #1 5TH PTG BENNETT VAR $3.99
IMMORTAL HULK #13 3RD PTG BENNETT VAR $3.99
IMMORTAL HULK #14 3RD PTG HOTZ VAR $3.99
IMMORTAL HULK #15 3RD PTG BENNETT VAR $3.99
IMMORTAL HULK #16 3RD PTG BENNETT VAR $3.99
IMMORTAL HULK #18 $3.99
IMMORTAL HULK #18 JONGJU KIM MARVEL BATTLE LINES VAR $3.99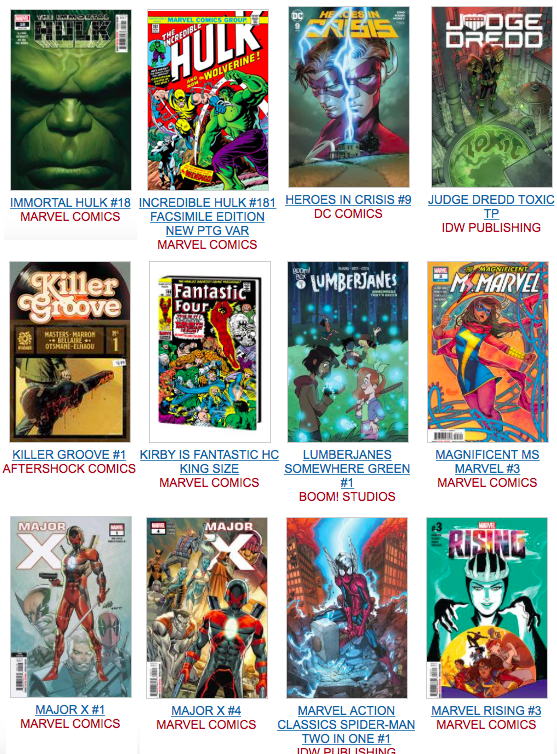 IMMORTAL HULK #2 5TH PTG BENNETT VAR $3.99
IMMORTAL HULK #2 5TH PTG ROSS VIRGIN VAR (1/25) $ ???
IMMORTAL HULK #3 4TH PTG BROWN VAR $3.99
IMMORTAL HULK #6 4TH PTG GARBETT VAR $3.99
IMMORTAL HULK #7 3RD PTG BENNETT VAR $3.99
INCREDIBLE HULK #181 FACSIMILE EDITION NEW PTG $3.99
KILLER GROOVE #1 CVR A MARRON $3.99
LIFE IS STRANGE #5 CVR A FISH (MR) $3.99
LITTLE BIRD #1 (OF 5) 3RD PTG (MR) $3.99
LUMBERJANES SOMEWHERE GREEN #1 CVR A MAIN $7.99
MAGNIFICENT MS MARVEL #3 $3.99
MAGNIFICENT MS MARVEL #3 SUJIN JO MARVEL BATTLE LINES VAR $3.99
MAJOR X #1 (OF 6) 3RD PTG LIEFELD RATIO VAR (1/25) $ ???
MAJOR X #1 (OF 6) 3RD PTG LIEFELD VAR $4.99
MAJOR X #3 (OF 6) 2ND PTG PORTACIO VAR $3.99
MAJOR X #4 (OF 6) $3.99
MARVEL ACTION CLASSICS SPIDER-MAN TWO IN ONE #1 SCHERBERGER $4.99
MARVEL RISING #3 (OF 5) $3.99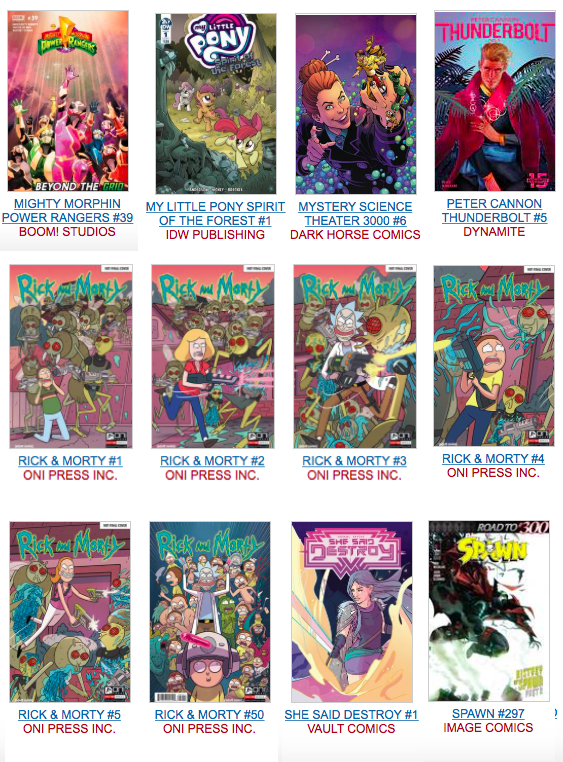 MIGHTY MORPHIN POWER RANGERS #39 FOC MERCADO VAR $3.99
MIGHTY MORPHIN POWER RANGERS #39 MAIN $3.99
MIGHTY MORPHIN POWER RANGERS #39 PREORDER GIBSON VAR $3.99
MY LITTLE PONY SPIRIT OF THE FOREST #1 (OF 3) VAR (1/10) $ ???
MY LITTLE PONY SPIRIT OF THE FOREST #1 (OF 3) CVR A HICKEY $3.99
MYSTERY SCIENCE THEATER 3000 #6 CVR A NAUCK $3.99
MARVEL PREVIEWS VOL 04 #23 JUNE 2019 EXTRAS FREE with $3.99 Previews
SPIDER-MAN START HERE SAMPLER 2019 $ ???
PREVIEWS #369 JUNE 2019 $3.99
PETER CANNON THUNDERBOLT #5 CVR A WADA $3.99
PUNK MAMBO #2 (OF 5) CVR A BRERETON $3.99
QUEEN OF BAD DREAMS #2 (MR) $3.99
RAGS #4 COSPLAY VAR (MR) $9.99
RAGS #4 CROSSOVER VIRGIN CVR (MR) $19.99
RAGS #4 MAIN CVR (MR) $3.99
RICK & MORTY #1 50 ISSUES SPECIAL VAR $3.99
RICK & MORTY #2 50 ISSUES SPECIAL VAR $3.99
RICK & MORTY #3 50 ISSUES SPECIAL VAR $3.99
RICK & MORTY #4 50 ISSUES SPECIAL VAR $3.99
RICK & MORTY #5 50 ISSUES SPECIAL VAR $3.99
RICK & MORTY #50 CVR A $6.99
RICK & MORTY #50 CVR B HORAK RICK CONNECTING $6.99
RICK & MORTY #50 CVR C HORAK MORTY CONNECTING $6.99
SHE SAID DESTROY #1 CVR A $3.99
SHE SAID DESTROY #1 CVR B $3.99
SPAWN #296 2ND PTG $2.99
SPAWN #297 CVR A MATTINA $2.99
SPAWN #297 CVR B MATTINA VIRGIN $2.99
SPAWN #297 CVR C B&W VAR MCFARLANE & MATTINA $2.99

SPIDER-MAN CITY AT WAR #3 (OF 6) $3.99
SPIDER-MAN CITY AT WAR #3 (OF 6) GANG HYUK LIM VAR (1/25) $ ???
SPIDER-MAN LIFE STORY #2 (OF 6) 2ND PTG BAGLEY VAR $4.99
STAR TREK YEAR FIVE #2 CVR A THOMPSON $3.99
STAR WARS ORIG MARVEL YRS #108 $5.99
STAR WARS ORIG MARVEL YRS #108 BLANK VAR $5.99
STAR WARS ORIG MARVEL YRS #108 CHRISTOPHER ACTION FIGURE VAR $5.99
STAR WARS ORIG MARVEL YRS #108 CHRISTOPHER VAR (1/50) $ ???
STAR WARS ORIG MARVEL YRS #108 GOLDEN VAR $5.99
STAR WARS ORIG MARVEL YRS #108 INFANTINO REMASTERED VAR $5.99
STAR WARS ORIG MARVEL YRS #108 VIRGIN REMASTERED VAR (1/100) $ ???
STAR WARS VADER DARK VISIONS #4 (OF 5) $3.99
STAR WARS VADER DARK VISIONS #4 (OF 5) FEDERICI VAR (1/25) $ ???
STEVEN UNIVERSE ONGOING #28 MAIN PENA CVR $3.99
STRANGER THINGS SIX #1 CVR A BRICLOT $3.99
STRANGER THINGS SIX #1 CVR B LAMBERT $3.99
STRANGER THINGS SIX #1 CVR C MACK $3.99
STRANGER THINGS SIX #1 CVR D SATTERFIELD PHOTO $3.99
SUPERIOR SPIDER-MAN #6 $3.99
SUPERMAN LEVIATHAN RISING SPECIAL #1 $9.99
THANOS #2 (OF 6) $3.99
THANOS #2 (OF 6) BARTEL VAR $3.99
THANOS #2 (OF 6) PANOSIAN VAR (1/25) $ ???
THOR #13 ALEX ROSS MARVELS 25TH VAR WR $3.99
THOR #13 HEEJIN JEON MARVEL BATTLE LINES VAR WR $3.99
THOR #13 WR $3.99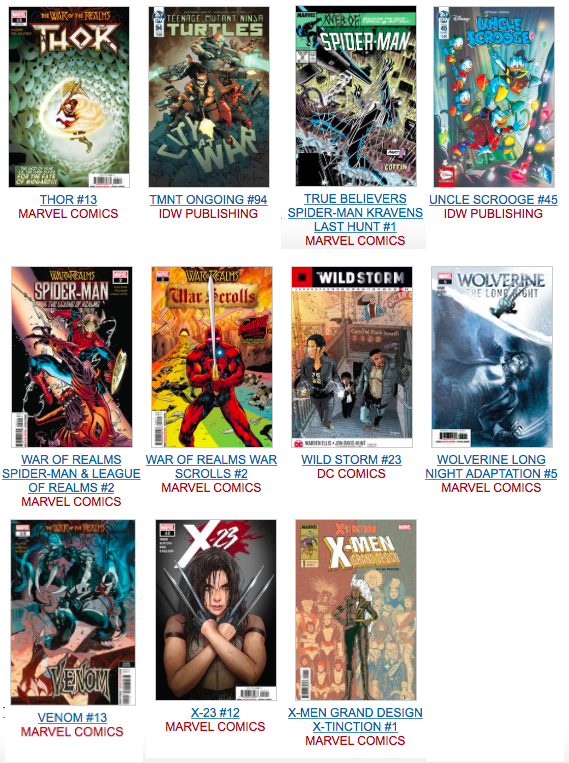 TMNT ONGOING #94 CVR A WACHTER $3.99
TMNT ONGOING #94 CVR B EASTMAN $3.99
TMNT URBAN LEGENDS #13 CVR A FOSCO $3.99
TRANSFORMERS #6 VEREGGE VAR(1/10) $ ???
TRANSFORMERS #6 CVR A LAWRENCE $3.99
TRANSFORMERS #6 CVR B MCGUIRE SMITH $3.99
TRUE BELIEVERS SILVER SURFER RUDE AWAKENING #1 $1
TRUE BELIEVERS SPIDER-MAN KRAVENS LAST HUNT #1 $1
UNCLE SCROOGE #45 GERVASIO $4.99
VENOM #13 2ND PTG COELLO VAR $3.99
WALK THROUGH HELL #10 (MR) $3.99
WALKING DEAD #191 2ND PTG (MR) $3.99
WAR OF REALMS SPIDER-MAN & LEAGUE OF REALMS #2 (OF 3) ARTIST $3.99
WAR OF REALMS SPIDER-MAN & LEAGUE OF REALMS #2 (OF 3) WR $3.99
WAR OF REALMS WAR SCROLLS #2 (OF 3) WR $4.99
WILD STORM #23 $3.99
WOLVERINE LONG NIGHT ADAPTATION #5 (OF 5) $3.99
X-23 #12 $3.99
X-MEN GRAND DESIGN X-TINCTION #1 (OF 2) $5.99
X-MEN GRAND DESIGN X-TINCTION #1 (OF 2) PISKOR CORNER BOX VA $5.99
X-MEN GRAND DESIGN X-TINCTION #1 (OF 2) PISKOR VAR $5.99
ZORRO SACRILEGE #1 KALUTA MAIN CVR $3.99

DAREDEVIL TP FEARLESS ORIGINS $15.99
DC SUPER HERO GIRLS SPACED OUT TP $9.99
FLASH BY MARK WAID TP BOOK 06 $29.99
FOUR SISTERS TP VOL 02 HORTENSE $19.99
GREEN LANTERNS TP VOL 09 EVILS MIGHT $19.99
GRUNT HC ART AND UNPUBLISHED COMICS OF JAMES STOKOE $39.99
JUDGE DREDD TOXIC TP $15.99
KIRBY IS FANTASTIC HC KING SIZE $100
LEGENDS OF THE DARK KNIGHT MICHAEL GOLDEN HC $29.99
LIFE ON THE MOON HC $39.99
MARVEL COMICS TP TIMELESS TALES $19.99
MARVEL VISIONARIES TP JOHN ROMITA SR $34.99
MY LITTLE PONY NIGHTMARE KNIGHTS TP $17.99
PUNISHER TP VOL 02 WAR IN BAGALIA $17.99
RAVEN DAUGHTER OF DARKNESS TP VOL 02 $16.99
RICK AND MORTY PRESENTS TP VOL 01 $19.99
SAGA DLX ED HC VOL 03 (MR) $49.99
SHAZAM THE WORLDS MIGHTIEST MORTAL HC VOL 01 $49.99
SPEEDBALL TP MASKED MARVEL $39.99
SPIDER-MAN NOIR COMPLETE COLLECTION TP $24.99
SPIDER-MAN VS MYSTERIO TP $39.99
X-FORCE TP VOL 01 SINS OF PAST $15.99

BATMAN BLACK & WHITE STATUE WHITE KNIGHT JOKER BY MURPHY $79.99
DC GALLERY FLASH COMIC PVC FIGURE $44.99
DC GALLERY METAL RED DEATH PVC FIGURE $44.99
GUNDAM SENTINEL EX-S GUNDAM & S GUNDAM MG 1/100 MDL KIT $ 149
HARLEY QUINN RED WHITE & BLACK STATUE BY FRANK CHO $79.99
MARVEL GALLERY AVENGERS 3 EBONY MAW PVC FIGURE $44.99