These Are the Times that Try Our Souls on Wednesday, February 5th, 2020
How can I write about comics at a time like this. There is a Madman at the helm. Well, here goes…
Ant-Man #1 is here, along with Batman, Buffy, Cap Am the End #1, Dark Agnes #1, Doctor Doom, HQ, Innortal Hulk Great Power #1, Joker HQ, JL, JL Odyssey, Power Rangers TMNT, Red Sonja, SW Darth Vader #1, Vengeance of Vampi, X-Men Fantastic Four #1, and about 90 others, plus new Funko Pops for Mulan, Mortal Kombat, Mandalorian, Tupac, Biggie, JFK and Jackie, RR, JC, and notorious RBG! And the usual piles of coolness everywhere. Watch your step!
And, about the SB, I mean, if you are tied at halftime and you can limit the Mahomes Show to only 31, that's something like a win, right?
I know.
IF you want, you can read the list below and make a checklist before you come in. See you next week. If you want to know about the next sale, click here. Sign in here to get an email reminder for for ALL sales and other events.  Also, you can go to fb.fantasybooksandgames.com and you'll be taken to our Facebook page. We also use our in-store 5-Star Rewards system to text similar announcements to your phone.
Thanks to Comics on the Green for this week's images, which include many of the comics and a few of the books and other items we received today.  
ADLER #1 CVR A GUICE $ 3.99
ADLER #1 CVR B MCCAFFREY $ 3.99
ADLER #1 CVR C VICTORIAN HOMAGE $ 3.99
AFTER REALM QUARTERLY #1 $ 5.99
AGGRETSUKO #1 CVR A CANNON $ 3.99
ANT-MAN #1 (OF 5) $ 3.99
ANT-MAN #1 (OF 5) CHRISTOPHER VAR (1/50) $ ???
ANT-MAN #1 (OF 5) MARTIN VAR (1/25) $ ???
ANT-MAN #1 (OF 5) TRIMPE REMASTERED VAR (1/100) $ ???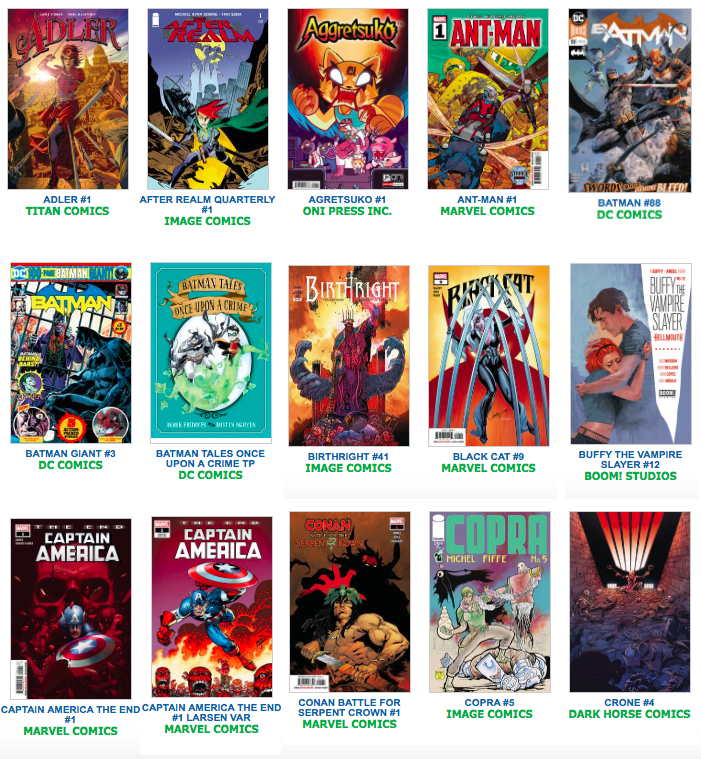 AVENGERS #28 2ND PTG MCGUINNESS VAR $ 3.99
BACKTRACK #1 (MR) $ 3.99
BATMAN #88 $ 3.99
BATMAN #88 CARD STOCK FRANCESCO MATTINA VAR ED $ 4.99
BATMAN GIANT #3 (RES) $ 4.99
BETTY & VERONICA JUMBO COMICS DIGEST #280 $ 7.99
BIRTHRIGHT #41 $ 3.99
BLACK CAT #9 $ 3.99
BLACK CAT #9 GOMEZ GWEN STACY VAR $ 3.99
BUFFY THE VAMPIRE SLAYER #12 CVR A MAIN ASPINALL $ 3.99
BUFFY THE VAMPIRE SLAYER #12 CVR B WADA $ 3.99
BUFFY THE VAMPIRE SLAYER #12 CVR C CONNECTING DEL RAY VAR $ 3.99
BUTCHER OF PARIS #3 (OF 5) (MR) $ 3.99
CAPTAIN AMERICA THE END #1 $ 4.99
CAPTAIN AMERICA THE END #1 LARSEN VAR $ 4.99
CONAN BATTLE FOR SERPENT CROWN #1 (OF 5) $ 3.99
CONAN BATTLE FOR SERPENT CROWN #1 (OF 5) LUKE ROSS VAR $ 3.99
COPRA #5 $ 3.99
CRONE #4 (OF 5) $ 3.99
CROWDED #11 CVR A STEIN BRANDT & FARRELL (RES) $ 3.99
DAPHNE BYRNE #2 (OF 6) (MR) $ 3.99
DAPHNE BYRNE #2 (OF 6) DAN QUINTANA VAR ED (MR) $ 3.99
DAREDEVIL #17 $ 3.99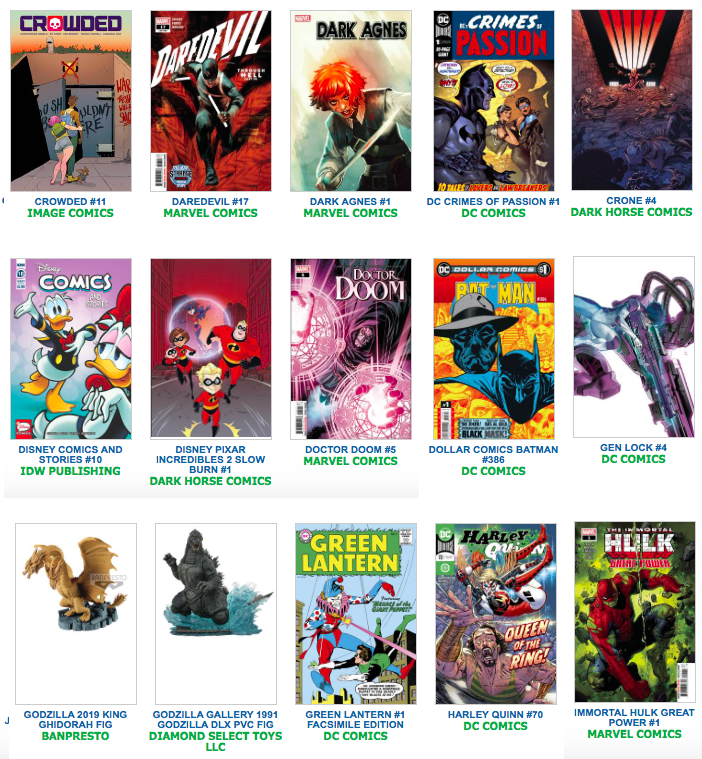 DARK AGNES #1 (OF 5) $ 3.99
DARK AGNES #1 (OF 5) CLOONAN VAR $ 3.99
DC CRIMES OF PASSION #1 $ 9.99
DISNEY COMICS AND STORIES #10 CVR A VETRO $ 5.99
DISNEY PIXAR INCREDIBLES 2 SLOW BURN #1 (OF 3) CVR A VINCI $ 3.99
DOCTOR DOOM #5 $ 3.99
DOCTOR DOOM #5 ORTEGA GWEN STACY VAR $ 3.99
DOLLAR COMICS BATMAN #386 $ 1
DREAMING #18 (MR) $ 3.99
GEN LOCK #4 (OF 7) $ 3.99
GIDEON FALLS #21 CVR A SORRENTINO (MR) $ 3.99
GIDEON FALLS #21 CVR B WALSH (MR) $ 3.99
GREEN LANTERN #1 FACSIMILE EDITION $ 3.99
HARLEY QUINN #70 $ 3.99
HARLEY QUINN #70 FRANK CHO VAR ED $ 3.99
IMMORTAL HULK GREAT POWER #1 $ 4.99
IMMORTAL HULK GREAT POWER #1 FIUMARA VAR $ 4.99
ISOLA #10 CVR A KERSCHL $ 3.99
ISOLA #10 CVR B CLOONAN $ 3.99
JOKER HARLEY CRIMINAL SANITY #3 (OF 9) (RES) (MR) $ 5.99
JOKER HARLEY CRIMINAL SANITY #3 (OF 9) MICO SUAYAN VAR ED (R $ 5.99
JUSTICE LEAGUE #40 $ 3.99
JUSTICE LEAGUE #40 CARD STOCK ARTHUR ADAMS VAR ED $ 4.99
JUSTICE LEAGUE ODYSSEY #18 $ 3.99
JUSTICE LEAGUE ODYSSEY #18 SKAN VAR ED $ 3.99
KILL WHITEY DONOVAN #3 (OF 5) CVR A PEARSON (MR) $ 3.99
LOIS LANE #8 (OF 12) $ 3.99
LOIS LANE #8 (OF 12) KAMOME SHIRAHAMA VAR ED $ 3.99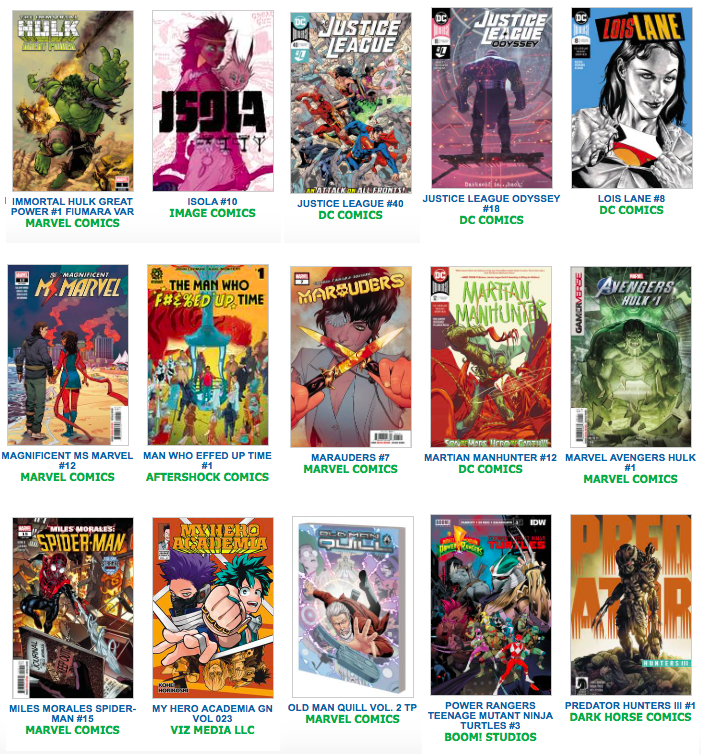 MAGICIANS #4 (OF 5) CVR A KHALIDAH (MR) $ 3.99
MAGICIANS #4 (OF 5) CVR B SHARPE (MR) $ 3.99
MAGNIFICENT MS MARVEL #12 $ 3.99
MAN WHO EFFED UP TIME #1 STROMAN (1/15) $ ???
MAN WHO EFFED UP TIME #1 CVR A MOSTERT $ 4.99
MANIFEST DESTINY #41 (MR) $ 3.99
MARAUDERS #7 DX $ 3.99
MARKED #4 CVR A HABERLIN & VAN DYKE (MR) $ 3.99
MARKED #4 CVR B HABERLIN & VAN DYKE (MR) $ 3.99
MARTIAN MANHUNTER #12 (OF 12) $ 3.99
MARTIAN MANHUNTER #12 (OF 12) JOSHUA MIDDLETON VAR ED $ 3.99
MARVEL AVENGERS HULK #1 $ 3.99
MARVEL AVENGERS HULK #1 RON LIM VAR $ 3.99
MILES MORALES SPIDER-MAN #15 $ 3.99
MILES MORALES SPIDER-MAN #15 BRADSHAW GWEN STACY VAR $ 3.99
MONEY SHOT #4 (MR) $ 3.99
NOMEN OMEN #5 (OF 15) CVR A CAMAGNI (MR) $ 3.99
NOMEN OMEN #5 (OF 15) CVR B ASRAR (MR) $ 3.99
POWER RANGERS TEENAGE MUTANT NINJA TURTLES #3 (1/25) $ ???
POWER RANGERS TEENAGE MUTANT NINJA TURTLES #3 (1/50) $ ???
POWER RANGERS TEENAGE MUTANT NINJA TURTLES #3 CVR A MORA $ 3.99
POWER RANGERS TEENAGE MUTANT NINJA TURTLES #3 DON MONTES $ 3.99
POWER RANGERS TEENAGE MUTANT NINJA TURTLES #3 FOC GARBET VAR $ 3.99
POWER RANGERS TEENAGE MUTANT NINJA TURTLES #3 LEO MONTES $ 3.99
POWER RANGERS TEENAGE MUTANT NINJA TURTLES #3 MIKE MONTES $ 3.99
POWER RANGERS TEENAGE MUTANT NINJA TURTLES #3 RAPH MONTES $ 3.99
PREDATOR HUNTERS III #1 (OF 4) CVR A THIES $ 3.99
PREDATOR HUNTERS III #1 (OF 4) CVR B BRASE GLOW IN THE DARK $ 4.99
RED AGENT ISLAND OF DR MOREAU #2 (OF 5) CVR A COCCOLO $ 3.99
RED AGENT ISLAND OF DR MOREAU #2 (OF 5) CVR C SANTACRUZ $ 3.99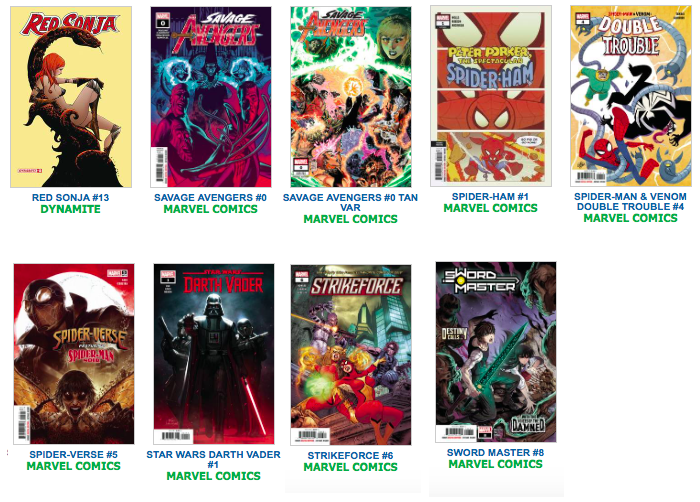 RED SONJA #13 CASTRO VIRGIN FOC (1/11) $ ???
RED SONJA #13 COSPLAY VIRGIN FOC (1/15) $ ???
RED SONJA #13 CVR A JAE LEE $ 3.99
RED SONJA #13 CVR B LINSNER $ 3.99
RED SONJA #13 CVR C BOB Q $ 3.99
RED SONJA #13 CVR D LAMING $ 3.99
RED SONJA #13 CVR E COSPLAY $ 3.99
RED SONJA #13 CVR F ANWAR $ 3.99
RIVERS OF LONDON FEY & THE FURIOUS #4 (MR) $ 3.99
SAVAGE AVENGERS #0 $ 4.99
SAVAGE AVENGERS #0 TAN VAR $ 4.99
SHERLOCK SCANDAL IN BELGRAVIA #3 CVR A ZHANG $ 4.99
SHERLOCK SCANDAL IN BELGRAVIA #3 CVR B PHOTO $ 4.99
SPIDER-HAM #1 (OF 5) 2ND PTG ROBSON VAR $ 3.99
SPIDER-MAN & VENOM DOUBLE TROUBLE #4 (OF 4) $ 3.99
SPIDER-VERSE #5 (OF 6) $ 3.99
STAR WARS DARTH VADER #1 $ 4.99
STAR WARS DARTH VADER #1 DANIEL VAR (1/50) $ ???
STAR WARS DARTH VADER #1 DEL MUNDO VAR (1/100) $ ???
STAR WARS DARTH VADER #1 IENCO VAR (1/25) $ ???
STAR WARS DARTH VADER #1 MOVIE VAR (1/10) $ ???
STAR WARS DARTH VADER #1 SPROUSE EMPIRE STRIKES BACK VAR $ 4.99
STRIKEFORCE #6 $ 3.99
SWORD MASTER #8 $ 3.99
TRUE BELIEVERS IRON MAN 2020 PEPPER POTTS #1 $ 1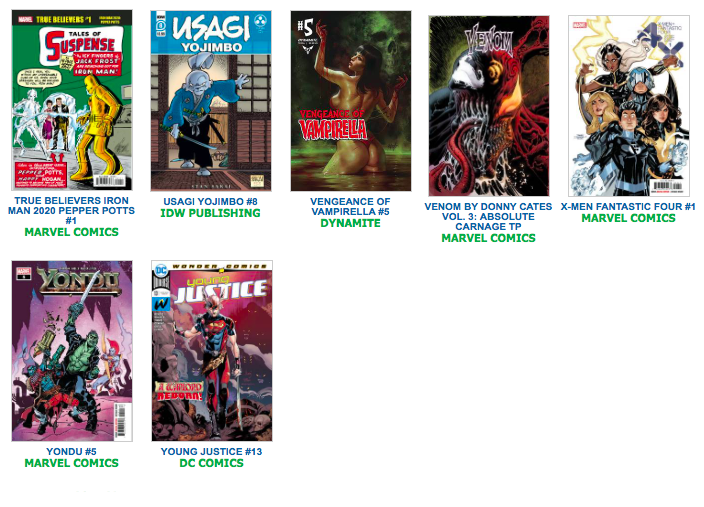 VENGEANCE OF VAMPIRELLA #5 SEGOVIA VIRGIN (1/10) $ ???
VENGEANCE OF VAMPIRELLA #5 ARRILLO B&W FOC (1/11) $ ???
VENGEANCE OF VAMPIRELLA #5 SEGOVIA B&W FOC (1/15) $ ???
VENGEANCE OF VAMPIRELLA #5 CVR A PARILLO $ 3.99
VENGEANCE OF VAMPIRELLA #5 CVR B OLIVER $ 3.99
VENGEANCE OF VAMPIRELLA #5 CVR C SEGOVIA $ 3.99
VENGEANCE OF VAMPIRELLA #5 CVR D COSPLAY $ 3.99
VENOM #21 2ND PTG CRAIN VAR $ 3.99
X-MEN FANTASTIC FOUR #1 (OF 4) $ 4.99
X-MEN FANTASTIC FOUR #1 (OF 4) BROOKS VAR $ 4.99
X-MEN FANTASTIC FOUR #1 (OF 4) ELIOPOULOS VAR $ 4.99
X-MEN FANTASTIC FOUR #1 (OF 4) HETRICK FLOWER VAR $ 4.99
YONDU #5 (OF 5) $ 3.99
YOUNG JUSTICE #13 $ 3.99
YOUNG JUSTICE #13 MIKE GRELL VAR ED $ 3.99

COMIC SHOP NEWS #1703 $ FREE

ADVENTURES OF X-MEN GN TP TOOTH & CLAW $ 9.99
AGENTS OF ATLAS TP PANDEMONIUM $ 15.99
BATMAN ARKHAM VICTOR ZSASZ TP $ 19.99
BATMAN TALES ONCE UPON A CRIME TP $ 9.99
BLUE EXORCIST GN VOL 23 $ 9.99
BOOKS OF MAGIC TP VOL 02 SECOND QUARTO (MR) $ 16.99
DIE TP VOL 02 SPLIT THE PARTY (MR) $ 16.99
DISNEY FROZEN ADVENTURES: SNOWY STORIES TP $ 10.99
GHOST-SPIDER TP DOG DAYS ARE OVER $ 15.99
GIANT DAYS TP VOL 12 $ 14.99
GREEN ARROW TP VOL 08 END OF THE ROAD $ 19.99
HARLEEN HC (MR) $ 29.99
HIGH LEVEL TP (MR) $ 16.99
I AM MULAN LITTLE GOLDEN BOOK $ 4.99
JOJOS BIZARRE ADV 4 DIAMOND IS UNBREAKABLE HC VOL 04 $ 19.99
JUJUTSU KAISEN GN VOL 02 $ 9.99
LEGEND OF KORRA TP PART 03 RUINS OF EMPIRE $ 10.99
MY HERO ACADEMIA GN VOL 23 $ 9.99
MY HERO ACADEMIA SMASH GN VOL 03 $ 9.99
MY LITTLE PONY FRIENDSHIP IS MAGIC TP VOL 18 $ 17.99
OLD MAN QUILL TP VOL 02 GO YOUR OWN WAY $ 17.99
ONWARD LITTLE GOLDEN BOOK $ 4.99
ORVILLE SEASON 1.5 TP VOL 01 NEW BEGINNINGS $ 19.99
PLANTS VS ZOMBIES HC BETTER HOMES & GUARDENS $ 9.99
PUNISHER EPIC COLLECTION TP JIGSAW PUZZLE $ 39.99
STAR WARS AGE OF REPUBLIC HC $ 34.99
USAGI YOJIMBO SAGA TP VOL 02 $ 24.99
VENOM BY DONNY CATES TP VOL 03 ABSOLUTE CARNAGE $ 15.99
YONA OF THE DAWN GN VOL 22 $ 9.99

YU GI OH TCG DARKSIDE DIMENSIONS MOVIE SECRET ED DISP $ 9.99
TOPPS 2020 GARBAGE PAIL KIDS SERIES 1 T/C BOX $ ???

DC CINEMATIC SUICIDE SQUAD HARLEY QUINN STATUE $ 79.99
GAME OF THRONES RHAEGAL DLX AF $ 31.99
GODZILLA 2019 KING GHIDORAH FIG $ 24.99
GODZILLA GALLERY 1991 GODZILLA DLX PVC FIG $ 69.99
GUNDAM BUILD DIVERS 11 ELDORA BRUTE 1/144 HGBD MDL KIT $ 25.99
GUNDAM BUILD DIVERS 12 ZEONIC SWORD 1/144 HGBD MDL KIT $ 10.99
MYSTERY MINIS RICK & MORTY S2 12PC BMB DISP $ 8.99
POCKET POP BIRDS OF PREY HARLEY QUINN BOOBYTRAP FIG KEYCHAIN $ 5.99
POCKET POP BIRDS OF PREY HARLEY QUINN CAUTION FIG KEYCHAIN $ 5.99

WOLVERINE #1 BY ALEX ROSS POSTER $ 8.99
WOLVERINE #1 POSTER $ 8.99