Keep Calm and Carry On – Wednesday, March 11th, 2020
It's hard to express how depressingly inept our current "leadership" has been leading up to this sad day/week/month/year. We used to have scientists and doctors in charge of our health infrastructure, keeping us as ready as anyone for such a calamity, instead of sycophants and toadies unprepared for anything except stroking the Chosen One's ego. And calm leaders who took the best advice and passed it on to us, instead of passing on the actual and metaphorical viruses that run through his veins and what passes for a brain. I just hope we can survive the next 10 months, and that it's only 10 months.
And we have comics because it was Wednesday yesterday. Symptom free for now…
The complete list is found below. If you want to know about the next sale or store event, click here. Sign in here to get an email reminder for for ALL sales and other events. Also, you can go to     fb.fantasybooksandgames.com and you'll be taken to our Facebook page. We also use our in-store 5-Star Rewards system to text similar announcements to your phone.
Thanks to Comics on the Green for this week's images, which include many of the comics and a few of the books and other items we received today.  
ADLER #2 CVR A WARD $ 3.99
AGGRETSUKO #1 2ND PTG $ 3.99
AGGRETSUKO #2 CVR A WILLIAMS $ 3.99
AGGRETSUKO #2 CVR B MCGINTY $ 3.99
AMAZING SPIDER-MAN #41 $ 3.99
AMAZING SPIDER-MAN #41 BROWN SPIDER-WOMAN VAR $ 3.99
ANT-MAN #3 (OF 5) $ 3.99
AQUAMAN GIANT #3 $ 4.99
AVENGERS #32 $ 3.99
AVENGERS #32 MCKONE SPIDER-WOMAN VAR $ 3.99
AVENGERS OF THE WASTELANDS #3 (OF 5) $ 3.99
B B FREE #3 (OF 12) CVR A $ 3.99
BATMAN #89 2ND PTG $ 3.99
BATMAN AND THE OUTSIDERS #11 $ 3.99
BATMAN AND THE OUTSIDERS #11 CARD STOCK DELL OTTO VAR ED $ 4.99
BATMANS GRAVE #6 (OF 12) $ 3.99
BATMANS GRAVE #6 (OF 12) JEEHYUNG LEE VAR ED $ 3.99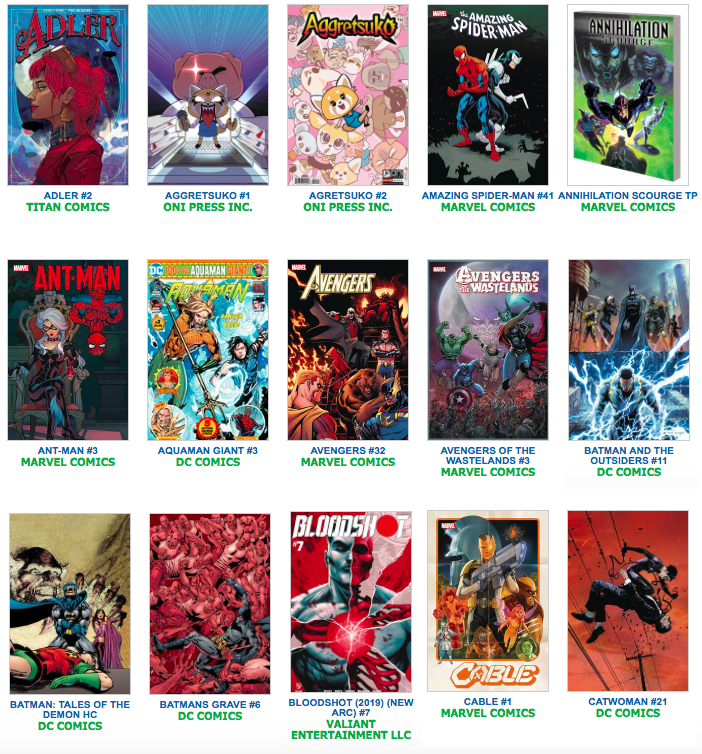 BLACKWOOD MOURNING AFTER #2 (OF 4) CVR A FISH $ 3.99
BLADE RUNNER 2019 #6 CVR B MEAD (MR) $ 3.99
BLOODSHOT (2019) (NEW ARC) #7 CVR A KIRKHAM $ 3.99
BLOODSHOT (2019) (NEW ARC) #7 CVR B NGU $ 3.99
BLOODSHOT (2019) (NEW ARC) #7 CVR C VIRELLA $ 3.99
CABLE #1 BLACK BLANK VAR DX $ 4.99
CABLE #1 DX $ 4.99
CABLE #1 FORBES VAR DX (1/25) $ ???
CABLE #1 YOUNG VAR DX $ 4.99
CAPTAIN MARVEL #14 2ND PTG GARBETT VAR $ 3.99
CASPERS SPOOKSVILLE #3 (OF 4) SHANOWER MAIN CVR $ 3.99
CATWOMAN #21 $ 3.99
CATWOMAN #21 IAN MACDONALD VAR ED $ 3.99
CRIMINAL MACABRE THE BIG BLEED OUT #4 (OF 4) $ 3.99
DEATH TO ARMY OF DARKNESS #2 CVR A OLIVER $ 3.99
DEATH TO ARMY OF DARKNESS #2 CVR D GEDEON ZOMBIE $ 3.99
DECORUM #1 (OF 8) CVR A HUDDLESTON (MR) $ 4.99
DECORUM #1 (OF 8) CVR B HUDDLESTON (MR) $ 4.99
DECORUM #1 (OF 8) CVR C MCKELVIE (MR) $ 4.99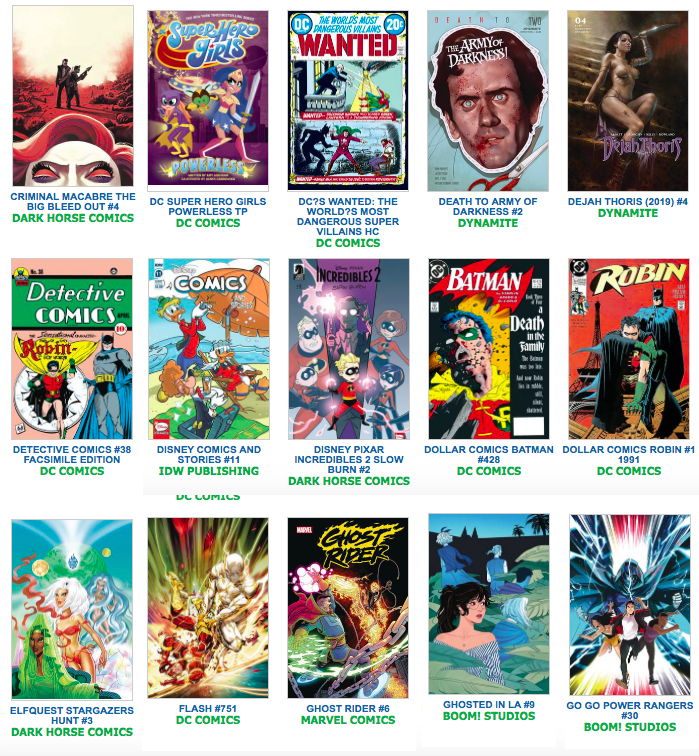 DEJAH THORIS (2019) #4 ANACLETO B&W VIRGIN (1/15) $ ???
DEJAH THORIS (2019) #4 LINSNER B&W (1/25) $ ???
DEJAH THORIS (2019) #4 CVR A PARRILLO $ 3.99
DEJAH THORIS (2019) #4 CVR B ANACLETO $ 3.99
DEJAH THORIS (2019) #4 CVR C LINSNER $ 3.99
DETECTIVE COMICS #38 FACSIMILE EDITION $ 3.99
DISNEY COMICS AND STORIES #11 CVR A MAZZARELLO $ 5.99
DISNEY PIXAR INCREDIBLES 2 SLOW BURN #2 (OF 3) CVR A VINCI $ 3.99
DOLLAR COMICS BATMAN #428 $ 1
DOLLAR COMICS ROBIN #1 1991 $ 1
DOLLHOUSE FAMILY #5 (OF 6) (MR) $ 3.99
DOLLHOUSE FAMILY #5 (OF 6) JAY ANACLETO VAR ED (MR) $ 3.99
ELFQUEST STARGAZERS HUNT #3 (OF 8) $ 3.99
FLASH #751 $ 3.99
FLASH #751 JUNGGEON YOON VAR ED $ 3.99
GHOST RIDER #6 $ 3.99
GHOST RIDER #6 KUDER DESIGN VAR (1/10) $ ???
GHOST RIDER #6 YOON SPIDER-WOMAN VAR $ 3.99
GHOSTED IN LA #9 (OF 12) CVR A KEENAN $ 3.99
GHOSTED IN LA #9 (OF 12) CVR B GRACE VAR $ 3.99
GO GO POWER RANGERS #30 CVR A MAIN CARLINI $ 3.99
GO GO POWER RANGERS #30 CVR B MERCADO VAR $ 3.99
GREEN LANTERN SEASON 2 #2 (OF 12) $ 3.99
GREEN LANTERN SEASON 2 #2 (OF 12) NICOLA SCOTT VAR ED $ 3.99
GRIMM FAIRY TALES JASCO GAMES ONE SHOT #1 CVR A VIGONTE $ 4.99
GRIMM FAIRY TALES JASCO GAMES ONE SHOT #1 CVR B VIGONTE $ 4.99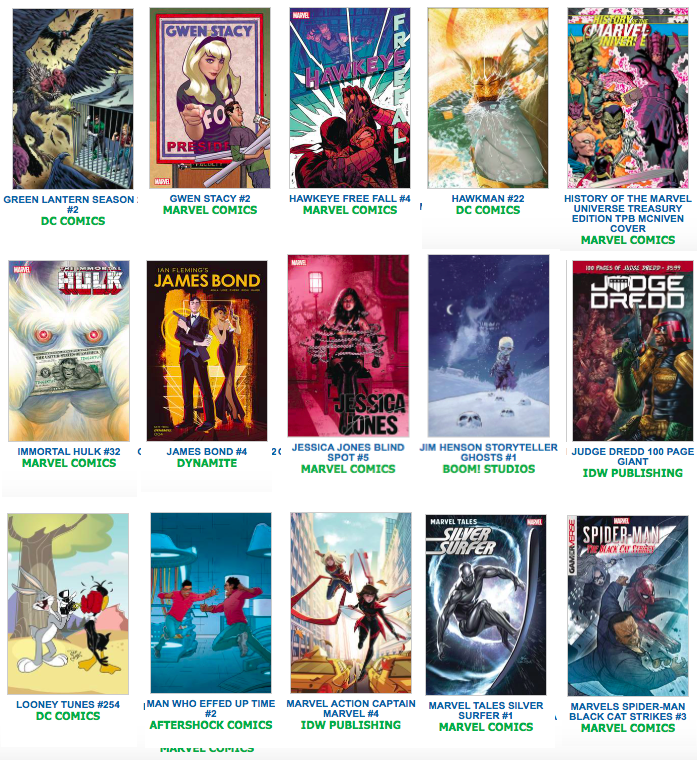 GWEN STACY #2 (OF 5) $ 3.99
GWEN STACY #2 (OF 5) NAUCK VAR $ 3.99
GWEN STACY #2 (OF 5) RAMOS VAR (1/25) $ ???
HAWKEYE FREE FALL #4 $ 3.99
HAWKMAN #22 $ 3.99
HAWKMAN #22 GERARDO ZAFFINO VAR ED $ 3.99
HOUSE OF WHISPERS #19 (MR) $ 3.99
IMMORTAL HULK #32 $ 3.99
IMMORTAL HULK #32 ZIRCHER SPIDER-WOMAN VAR $ 3.99
JAMES BOND #4 VINTAGE PAPERBACK (1/25) $ ???
JAMES BOND #4 CVR A RICHARDSON $ 3.99
JESSICA JONES BLIND SPOT #5 (OF 6) $ 3.99
JESSICA JONES BLIND SPOT #5 (OF 6) SIMMONDS VAR $ 3.99
JIM HENSON DARK CRYSTAL AGE RESISTANCE #6 CVR A FINDEN $ 3.99
JIM HENSON STORYTELLER GHOSTS #1 (OF 4) CVR A WALSH $ 3.99
JIM HENSON STORYTELLER GHOSTS #1 (OF 4) VAR $ 3.99
JUDGE DREDD 100 PAGE GIANT $ 5.99
LOONEY TUNES #254 $ 2.99
MAN WHO EFFED UP TIME #2 CVR A MOSTERT $ 3.99
MANIFEST DESTINY #42 (MR) $ 3.99
MARVEL ACTION CAPTAIN MARVEL #4 HALLION (1/10) $ ???
MARVEL ACTION CAPTAIN MARVEL #4 CVR A BOO $ 3.99
MARVEL TALES SILVER SURFER #1 $ 7.99
MARVELS SPIDER-MAN BLACK CAT STRIKES #3 (OF 5) $ 3.99
MOONSHINE #17 (MR) $ 3.99
NEBULA #2 (OF 5) $ 3.99
NEW MUTANTS #9 DX $ 3.99
NIOBE SHE IS DEATH #3 CVR A MITCHELL $ 3.99
NIOBE SHE IS DEATH #3 CVR B JAE LEE $ 3.99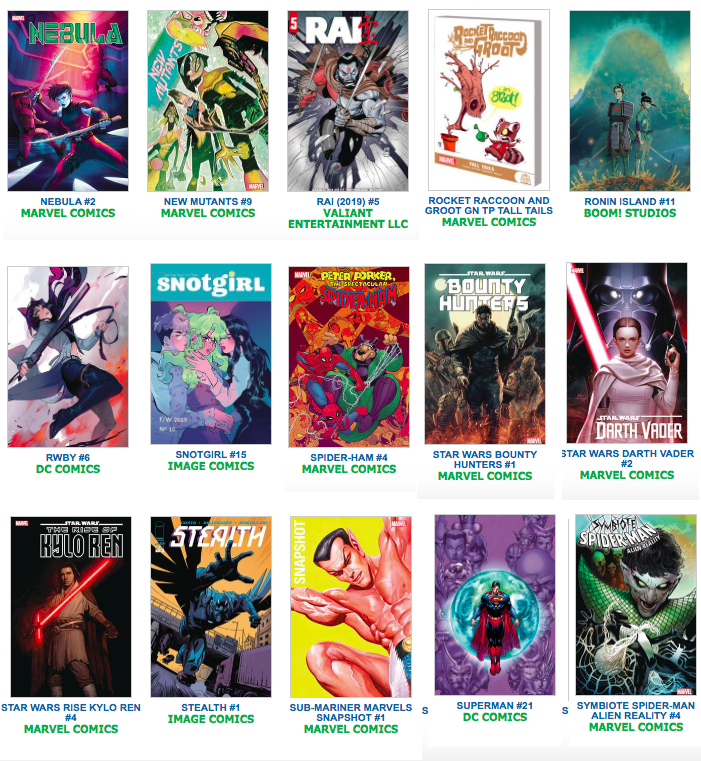 PUNISHER SOVIET #5 (OF 6) (MR) $ 3.99
RAI (2019) #5 CVR A BACHS $ 3.99
RAI (2019) #5 CVR B SEPULVEDA $ 3.99
RAI (2019) #5 CVR C POLLINA $ 3.99
READ ONLY MEMORIES #3 (OF 4) CVR A SIMEONE $ 4.99
READ ONLY MEMORIES #3 (OF 4) CVR B NEOFOTISTOU $ 4.99
REAVER #7 (MR) $ 3.99
RED SONJA AGE OF CHAOS #2 KUNKKA (1/10) $ ???
RONIN ISLAND #11 CVR A MILONOGIANNIS $ 3.99
RWBY #6 (OF 7) $ 3.99
RWBY #6 (OF 7) EJIKURE VAR ED $ 3.99
SFSX SAFE SEX #7 (MR) $ 3.99
SNOTGIRL #15 CVR A HUNG $ 3.99
SNOTGIRL #15 CVR B OMALLEY $ 3.99
SONATA #9 CVR A HABERLIN & VAN DYKE (MR) $ 3.99
SONATA #9 CVR B HABERLIN & VAN DYKE (MR) $ 3.99
SPIDER-HAM #4 (OF 5) $ 3.99
STAR WARS BOUNTY HUNTERS #1 $ 3.99
STAR WARS BOUNTY HUNTERS #1 ANDREWS VAR $ 3.99
STAR WARS BOUNTY HUNTERS #1 BLANK VAR $ 3.99
STAR WARS BOUNTY HUNTERS #1 GOLDEN VAR (1/25) $ ???
STAR WARS BOUNTY HUNTERS #1 MOVIE VAR (1/10) $ ???
STAR WARS DARTH VADER #1 2ND PTG IENCO VAR $ 4.99
STAR WARS DARTH VADER #2 $ 3.99
STAR WARS DARTH VADER #2 IENCO VAR (1/25) $ ???
STAR WARS DARTH VADER #2 SPROUSE EMPIRE STRIKES BACK VAR $ 3.99
STAR WARS RISE KYLO REN #4 (OF 4) $ 3.99
STAR WARS RISE KYLO REN #4 (OF 4) CAMUNCOLI VAR (1/25) $ ???
STEALTH #1 (OF 6) $ 3.99
SUB-MARINER MARVELS SNAPSHOT #1 $ 4.99
SUB-MARINER MARVELS SNAPSHOT #1 DELLOTTO VAR $ 4.99
SUPERMAN #21 $ 3.99
SUPERMAN #21 BRYAN HITCH VAR ED $ 3.99
SYMBIOTE SPIDER-MAN ALIEN REALITY #4 (OF 5) $ 3.99
SYMBIOTE SPIDER-MAN ALIEN REALITY #4 (OF 5) RON LIM VAR $ 3.99
TALES FROM HARROW COUNTY DEATHS CHOIR #4 (OF 4) CVR A FRANQU $ 3.99
TERRIFICS #26 $ 3.99
THOR #229 FACSIMILE EDITION $ 3.99
THOR #4 $ 3.99
THOR #4 GARRON SPIDER-WOMAN VAR $ 3.99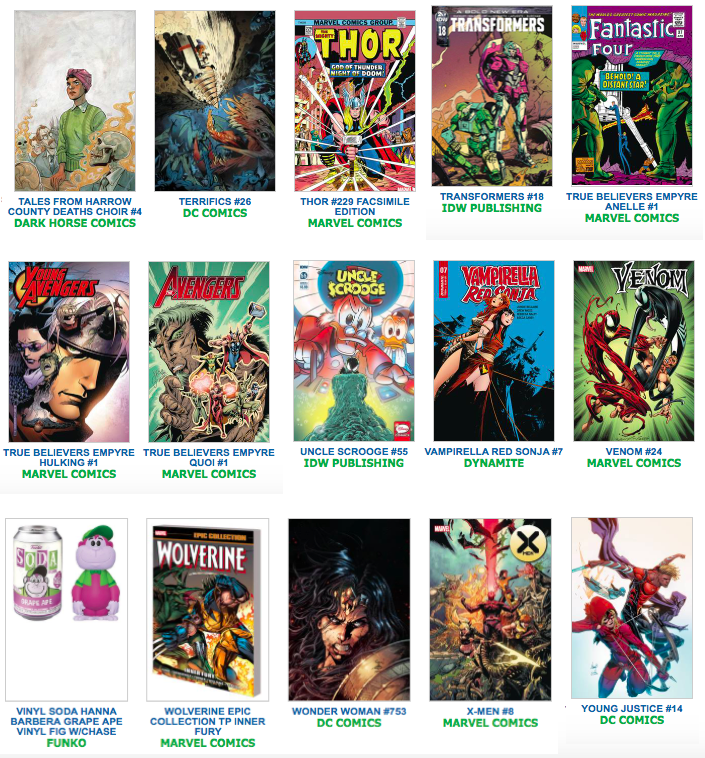 TRANSFORMERS #18 ZAMA (1/10) $ ???
TRANSFORMERS #18 CVR A MIYAO $ 3.99
TRANSFORMERS #18 CVR B MCGUIRE-SMITH $ 3.99
TRUE BELIEVERS EMPYRE ANELLE #1 $ 1
TRUE BELIEVERS EMPYRE HULKLING #1 $ 1
UNCLE SCROOGE #55 CVR A SCIARRONE $ 5.99
VAMPIRELLA RED SONJA #7 CVR A LEE $ 3.99
VAMPIRELLA RED SONJA #7 CVR C ROMERO $ 3.99
VAMPIRELLA RED SONJA #7 CVR D KINGSTON COSPLAY $ 3.99
VENOM #24 $ 3.99
VENOM #24 ROCK-HE KIM SPIDER-WOMAN VAR $ 3.99
WONDER WOMAN #753 $ 3.99
WONDER WOMAN #753 JAE LEE VAR ED $ 3.99
X-MEN #8 DX $ 3.99
X-MEN FANTASTIC FOUR #1 (OF 4) 2ND PTG DODSON VAR $ 4.99
YEAR OF THE VILLAIN HELL ARISEN #3 (OF 4) 2ND PTG $ 4.99
YOUNG JUSTICE #14 $ 3.99
YOUNG JUSTICE #14 DAVID LAFUENTE VAR ED $ 3.99

COMIC SHOP NEWS #1708 $ FREE

ANNIHILATION SCOURGE TP $ 24.99
BATMAN CITY OF CRIME DELUXE EDITION HC $ 39.99
BATMAN TALES OF THE DEMON HC $ 49.99
BLACK WIDOW MARVEL TEAM-UP TP $ 29.99
CARE BEARS TP VOL 01 UNLOCK THE MAGIC $ 9.99
DAWN OF X TP VOL 03 $ 17.99
DC SUPER HERO GIRLS POWERLESS TP $ 9.99
DCS WANTED WORLDS MOST DANGEROUS SUPERVILLAINS HC $ 39.99
DISNEY ALICE IN WONDERLAND STORY O/T MOVIE IN COMICS HC $ 10.99
DISNEY PRINCESS FRIENDS FAMILY FANTASTIC TP $ 10.99
DRAGON HOOPS HC GN $ 24.99
FANTASTIC FOUR COMPLETE COLLECTION TP VOL 02 HEROES RETURN $ 39.99
FANTASTIC FOUR TP VOL 04 THING VS IMMORTAL HULK $ 15.99
HISTORY OF MARVEL UNIV TREASURY ED TP MCNIVEN CVR $ 29.99
HISTORY OF MARVEL UNIV TREASURY ED TP RODRIGUEZ CVR DM VAR $ 29.99
JUST IMAGINE STAN LEE CREATING THE DC UNIVERSE TP BOOK 01 $ 34.99
KNIGHT OF ICE GN VOL 01 $ 12.99
MISTER MIRACLE BY STEVE ENGLEHART & STEVE GERBER HC $ 39.99
PRETTY VIOLENT TP VOL 01 (MR) $ 14.99
ROCKET RACCOON AND GROOT GN TP TALL TAILS $ 12.99
TRANSFORMERS CLASSIC TV MAGAZINE MANGA HC VOL 01 $ 24.99
WOLVERINE EPIC COLLECTION TP INNER FURY $ 39.99
WONDER WOMAN CHEETAH TP $ 19.99

TOPPS 2020 HERITAGE BASEBALL T/C BOX $ ???

30 MINUTE MISSION 17 EEXM-17 ALTO PURPLE MDL KIT $ ???
GUNDAM BUILD DIVERS 14 NEW ITEM A 1/144 HGBD MDL KIT $ ???
GUNDAM BUILD DIVERS 15 SELTSAM ARMS 1/144 HGBD MDL KIT $ ???
MY HERO ACADEMIA 3-1/2IN MINI FIG BMB 24CT DIS $ ???
TOON TUMBLERS HARRY POTTER HOGWARTS CREST PINT GLASS $ 10.99
TRANSFORMERS DEVASTATOR FURAI MDL KIT $ ???
TRANSFORMERS GEN STUDIO SER LEADER AF ASST $ ???
VINYL SODA HANNA BARBERA GRAPE APE VINYL FIG $ 11.99
VINYL SODA MOTU SKELETOR VINYL FIG $ 11.99