Comics in the Time of Pandemic and Unrest – Wednesday, June 3rd, 2020
Remember Corona Virus, where we were supposed to stay at home even though we wanted to get out? Now we are actually afraid to go out, so…, we're good. Actually, I haven't been to Livermore in a while, so I don't know what it's like, anymore. Everything is do different. Probably looks the same. Not like 100 other cities. Got to treat each other well, and go home before curfew.
Everything else about this week is almost the same, except for the list or comics, book, and such you will find below. We are STILL (sort of) following the State's Directive to be closed, but events have overtaken our attempts at making do in a crisis. Publishers are starting to  put the presses back to work (a very few trickled out during the shutdown). We have a very small wall of new comics to put out and we will be allowing limited access. Please look at the list below and make an order online to
fbgbob@aol.com
Please put in a time window when you would be in the neighborhood, and include a phone number. We are serious about limiting access to the store to singles, or close family-like units, and asking for a short stay to make room for the next group.
And please wear a mask!
Watch this space and our Facebook page for latest news about the rest of the month, season, year, millenium, etc. (And text messages from 5-Star.) The complete list is found below. If you want to know about the next sale or store event, or whether or not WE ARE EVEN OPEN click here. Sign in here to get an email reminder for for ALL sales and other events. Also, you can go to     fb.fantasybooksandgames.com and you'll be taken to our Facebook page. We also use our in-store 5-Star Rewards system to text similar announcements to your phone.
Thanks to Comics on the Green for this week's images, which include many of the comics and a few of the books and other items we received today, and may have pics of things we didn't and/or won't get. Use the list, and maybe the picture.
ACTION COMICS #1022 $ 3.99
ACTION COMICS #1022 L PARRILLO VAR ED $ 3.99
AGGRETSUKO #3 CVR A HICKEY $ 3.99
AGGRETSUKO #3 CVR B MCGINTY $ 3.99
BATMAN SUPERMAN #9 $ 3.99
BATMAN SUPERMAN #9 MIKE MAYHEW VAR ED $ 3.99
BIRDS OF PREY #1 $ 9.99
BIRDS OF PREY #1 VAR ED $ 9.99
BOYS DEAR BECKY #1 (MR) $ 3.99
BOYS DEAR BECKY #1 10 COPY ROBERTSON PENCILS FOC INCV (1/10) $ ???
BUFFY EVERY GENERATION #1 CVR A MAIN $ 7.99
BUFFY EVERY GENERATION #1 CVR B YARSKY VAR $ 7.99
CASPERS SPOOKSVILLE #4 (OF 4) SHANOWER MAIN CVR (RES) $ 3.99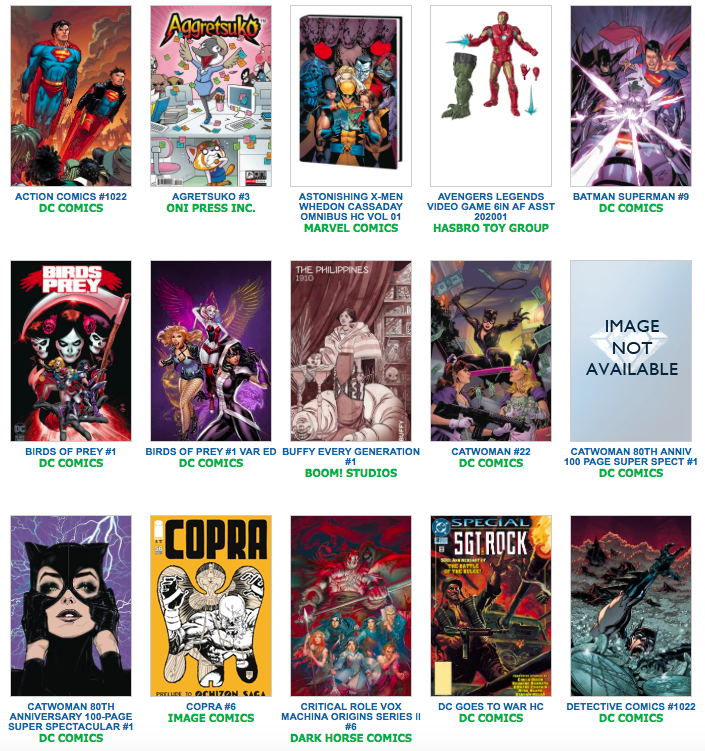 CATWOMAN #22 $ 3.99
CATWOMAN 80TH ANNIV 100 PAGE SUPER SPECT #1 $ 9.99
CATWOMAN 80TH ANNIV 100 PAGE SUPER SPECT #1 1940S ADAM HUGHE $ 9.99
CATWOMAN 80TH ANNIV 100 PAGE SUPER SPECT #1 1950S TRAVIS CHA $ 9.99
CATWOMAN 80TH ANNIV 100 PAGE SUPER SPECT #1 1960S J SCOTT CA $ 9.99
CATWOMAN 80TH ANNIV 100 PAGE SUPER SPECT #1 1970S FRANK CHO $ 9.99
CATWOMAN 80TH ANNIV 100 PAGE SUPER SPECT #1 1980S STANLEY LA $ 9.99
CATWOMAN 80TH ANNIV 100 PAGE SUPER SPECT #1 1990S GABRIELLE $ 9.99
CATWOMAN 80TH ANNIV 100 PAGE SUPER SPECT #1 2000S JIM LEE VA $ 9.99
CATWOMAN 80TH ANNIV 100 PAGE SUPER SPECT #1 2010S JEEHYUNG L $ 9.99
CATWOMAN 80TH ANNIV 100 PAGE SUPER SPECT #1 BLANK VAR ED $ 9.99
CRITICAL ROLE VOX MACHINA ORIGINS SERIES II #6 (OF 6) $ 3.99
DETECTIVE COMICS #1022 $ 3.99
DETECTIVE COMICS #1022 CARD STOCK LEE BERMEJO VAR ED $ 4.99
FAR SECTOR #6 (OF 12) $ 3.99
FAR SECTOR #6 (OF 12) SANFORD GREENE VAR ED $ 3.99
FINGER GUNS #2 CVR A $ 3.99
FINGER GUNS #2 FOC HICKMAN VAR $ 3.99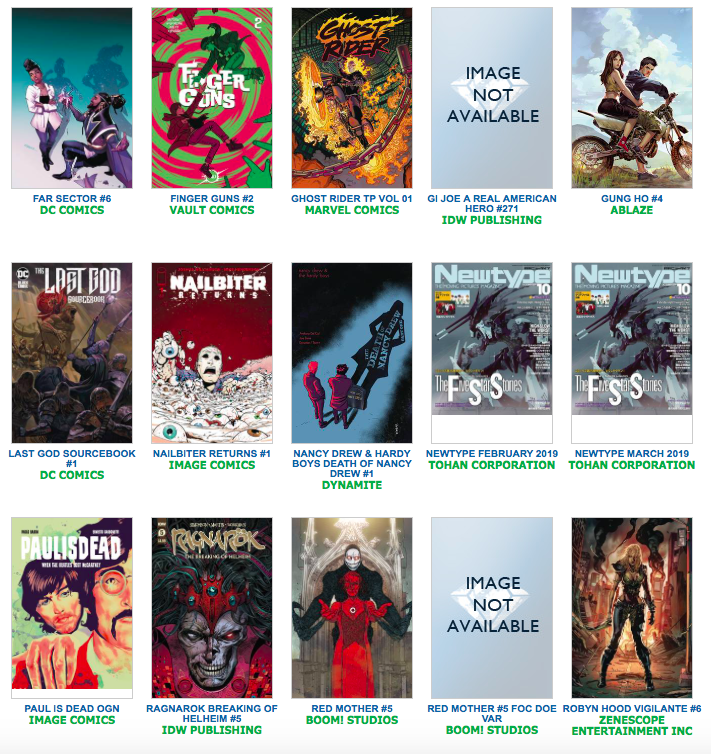 JOHN CONSTANTINE HELLBLAZER #6 (MR) $ 3.99
JUSTICE LEAGUE DARK #22 $ 3.99
JUSTICE LEAGUE DARK #22 CLAYTON CRAIN VAR ED $ 3.99
LAST GOD SOURCEBOOK #1 $ 4.99
NAILBITER RETURNS #1 $ 3.99
NANCY DREW & HARDY BOYS DEATH OF NANCY DREW #1 CVR A EISMA $ 3.99
POSTAL DELIVERANCE #8 (MR) $ 3.99
PSYCHODRAMA ILLUSTRATED #1 (MR) $ 4.99
RAGNAROK BREAKING OF HELHEIM #5 (OF 6) CVR A SIMONSON $ 4.99
REAVER #8 (MR) $ 3.99
RED MOTHER #5 $ 3.99
ROBYN HOOD VIGILANTE #6 (OF 6) CVR A WHITE $ 3.99
ROBYN HOOD VIGILANTE #6 (OF 6) CVR B COCCOLO $ 3.99
SABRINA SOMETHING WICKED #1 (OF 5) CVR B BOO $ 3.99
SABRINA SOMETHING WICKED #1 (OF 5) CVR C ISAACS $ 3.99
SCOOBY DOO WHERE ARE YOU #104 $ 2.99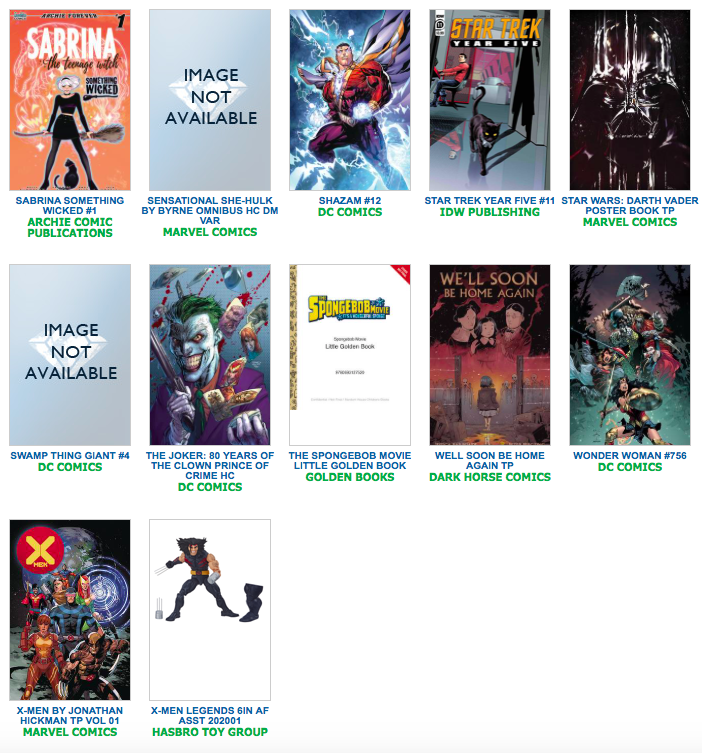 SHAZAM #12 (RES) $ 3.99
SHAZAM #12 KEN LASHLEY VAR ED (RES) $ 3.99
SWAMP THING GIANT #4 $ 4.99
WONDER WOMAN #756 $ 3.99
WONDER WOMAN #756 CARD STOCK MIKEL JANIN VAR ED $ 4.99

COMIC SHOP NEWS #1711 $ FREE

AMAZING MARY JANE TP VOL 01 DOWN IN FLAMES UP IN SMOKE $ 15.99
ASTONISHING X-MEN WHEDON CASSADAY OMNIBUS HC VOL 01 DM VAR N $ 100
DISNEY FROZEN TRUE TREASURE TP $ 10.99
GANTZ OMNIBUS TP VOL 05 $ 24.99
GHOST RIDER TP VOL 01 KING OF HELL $ 15.99
GREEN ARROW YEAR ONE DELUXE EDITION HC $ 39.99
HELLBLAZER BY GARTH ENNIS OMNIBUS HC (MR) $ 150
JOKER 80 YEARS OF THE CLOWN PRINCE OF CRIME HC $ 29.99
LEGION OF SUPER HEROES SILVER AGE OMNIBUS HC VOL 03 $ 99.99
LIFE IS STRANGE TP VOL 03 STRINGS (MR) $ 16.99
MARVEL ACTION BLACK PANTHER TP BOOK 02 RISE TOGETHER $ 9.99
MEPHISTO TP SPEAK OF THE DEVIL $ 39.99
NOVEMBER HC VOL 02 (MR) $ 16.99
PAUL IS DEAD OGN $ 16.99
PHOEBE & HER UNICORN GN VOL 11 CAMPING WITH UNCORNS $ 11.99
QUICK & EASY GUIDE TO SEX & DISABILITY GN (MR) $ 9.99
ROBOTECH REMIX TP VOL 01 DEJA VU $ 16.99
SENSATIONAL SHE-HULK BY BYRNE OMNIBUS HC DM VAR $ 125
SPIDER-MAN & VENOM DOUBLE TROUBLE GN TP $ 12.99
SPONGEBOB MOVIE LITTLE GOLDEN BOOK $ 4.99
STAR BLAZERS TP VOL 02 SPACE BATTLESHIP YAMATO 2199 $ 19.99
STAR WARS DARTH VADER POSTER BOOK TP $ 24.99
STAR WARS LITTLE GOLDEN BOOK I AM PADAWAN $ 4.99
STRAYED TP VOL 01 $ 19.99
WE SERVED THE PEOPLE MY MOTHERS STORIES ORIGINAL GN HC $ 24.99
WELL SOON BE HOME AGAIN TP $ 14.99
WITCHLIGHT SC GN $ 16.99
X-MEN BY JONATHAN HICKMAN TP VOL 01 $ 17.99
YONA OF THE DAWN GN VOL 23 $ 9.99

DOMEZ MY HERO ACADEMIA SERIES2 18PC FIGURE DS $ ???
GUNDAM BUILD DIVERS 13 NEW MOBILE SUIT 1/144 HGBD MDL KIT (N $ ???
POP AVENGERS ENDGAME I AM IRON MAN PX GID DLX VIN FIG $ 14.99
TRANSFORMERS GEN STUDIO SER DLX AF ASST 202001 $ ???
UMBRELLA ACADEMY 12PC CHIBI FIGURES SERIES 1 ASST $ ???
X-MEN LEGENDS 6IN AF ASST 202001 $ ???

GRADED MAGAZINE STORAGE BOX $ ???

Received Last Week
AQUAMAN #59 $ 3.99
FLASH #754 CARD STOCK RAFAEL GRAMPA VAR ED $ 4.99
GOON #10 CVR A POWELL $ 3.99

Posters already received
AVENGERS ANTI-BULLYING POSTER $ 8.99
AVENGERS RAGE OF ULTRON BY OPENA POSTER $ 8.99
CAGE #1 BY TARTAKOVSKY POSTER $ 8.99
CHAMPIONS #1 BY RAMOS POSTER $ 8.99
ENCHANTED TIKI ROOM #1 BY DOMINGUES POSTER $ 8.99
EXTRAORDINARY X-MEN #8 BY RAMOS POSTER $ 8.99
INFAMOUS IRON MAN #1 BY MALEEV POSTER $ 8.99
MOON GIRL AND DEVIL DINOSAUR #11 BY REEDER POSTER $ 8.99
ROCKET RACCOON #1 POSTER $ 8.99
SECRET WARS #1 BY ROSS POSTER $ 8.99
SHIELD BY ROSS POSTER $ 8.99
SPIDEY #10 BY RANDOLPH POSTER $ 8.99
X-MEN BATTLE OF ATOM BY ARTHUR ADAMS POSTER $ 8.99

Misc already received
DOCTOR WHO 13TH DOCTORS GUIDE HANDBOOK $ 16.99
FCBD STORE BAGS STANDARD BOX OF 500 (Net) $ 40
JOJOS BIZARRE ADV 2 BATTLE TENDENCY HC VOL 03 $ 19.99
TOPPS 2020 WOMEN OF STAR WARS T/C BOX (NET) $ ???
UNCANNY X-FORCE POSTER $ 8.99
VENOM #25 BLACK BLANK VAR $ 5.99