Unrest Hits the Comics Business – Wednesday, June 10th, 2020
Who knew Corona Virus would still be here, and has apparently infected the minds certain muckety-mucks at DC Comics. They have decided to break the distribution system that has worked for over 24 years by terminating their agreement with Diamond Distribution. They will be distributing through other channels and leaving Marvel and Image and all the others with Diamond.
The last time something like this happened, Marvel pulled away from the status quo, went exclusive with Heroes World and almost stopped publishing as their comics were caught in a miasma of inexperience, stupidity, and incompetence. They later came crawling back to Diamond, the only survivor of the Distribution collapse. Will DC suffer the same fate, or will they "win" while Diamond suffers by the loss of volume. AND, will the number of comic stores start to dwindle as they are forced to deal with 2 suppliers, one of which is unproven and inexperienced? Will the decreasing number of stores then have a domino effect as smaller publishers lose sales of small quantities to small stores? Just saying, the destruction of "normal" is going to swarm over our industry, just like every industry and business sector in America, even the world. We don't know exactly what "New Comics Day" is going to look like from now on, especially if DC holds tight on their insistence that THEIR comics will be on sale Tuesday, I'll try to get the full update by next Tuesday, or Monday. Right here.
That's some kind of disruption for the sake of destruction. I don't know,  maybe you all WANT to come here twice a week for new comics, or you can wait until Wednesday for the rest of the batch, or there will be so much attrition in the ranks of the small publishers that Wednesday will just be Marvel Day, because Image, IDW, Boom and Dynamic all follow DC and that's all there is 12 months from now. The only thing we know is that we'll try to get everything we always have, and we don't know exactly what we are going to have to do to do it. Word, Watch this space. THIS week is pretty small, again, and we are STILL (sort of) following the County's Directive to be closed, but we will be allowing limited access. Please look at the list below and make an order online to…
fbgbob@aol.com
Please put in a time window when you would be in the neighborhood, and include a phone number. We are serious about limiting access to the store to singles, or close family-like units, and asking for a short stay to make room for the next group.
And please wear a mask!
Watch this space and our Facebook page for latest news about the rest of the month, season, year, millenium, etc. (And text messages from 5-Star.) The complete list is found below. If you want to know about the next sale or store event, or whether or not WE ARE EVEN OPEN click here. Sign in here to get an email reminder for for ALL sales and other events. Also, you can go to     fb.fantasybooksandgames.com and you'll be taken to our Facebook page. We also use our in-store 5-Star Rewards system to text similar announcements to your phone.
Thanks to Comics on the Green for this week's images, which include many of the comics and a few of the books and other items we received today, and may have pics of things we didn't and/or won't get. Use the list, and maybe the picture. 
ADVENTUREMAN #1 $ 3.99
AMETHYST #3 (OF 6) $ 3.99
ARCHIE MILESTONES DIGEST #8 $ 7.99
BATMAN #92 $ 3.99
BATMAN #92 1 25 PUNCHLINE JIMENEZ CARD STOCK VAR ED $ ???
BATMAN #92 CARD STOCK ARTGERM VAR ED $ 4.99
BATMAN SECRET FILES #3 $ 4.99
BATMAN THE ADVENTURES CONTINUE #1 (OF 6) $ 3.99
BATMAN THE ADVENTURES CONTINUE #1 (OF 6) BLANK VAR ED $ 3.99
BATMAN THE ADVENTURES CONTINUE #1 (OF 6) DAN MORA VAR ED $ 3.99
BATMANS GRAVE #7 (OF 12) $ 3.99
BATMANS GRAVE #7 (OF 12) CARD STOCK F QUITELY VAR ED $ 4.99
BITTER ROOT #8 CVR A GREENE (MR) $ 3.99
BITTER ROOT #8 CVR B VISIONS (MR) $ 3.99
BLACK CAT #11 $ 3.99
BLACK CAT #11 LAND MARVEL ZOMBIES VAR $ 3.99
CASPER SPOTLIGHT GHOSTLY TRIO #1 CVR A $ 3.99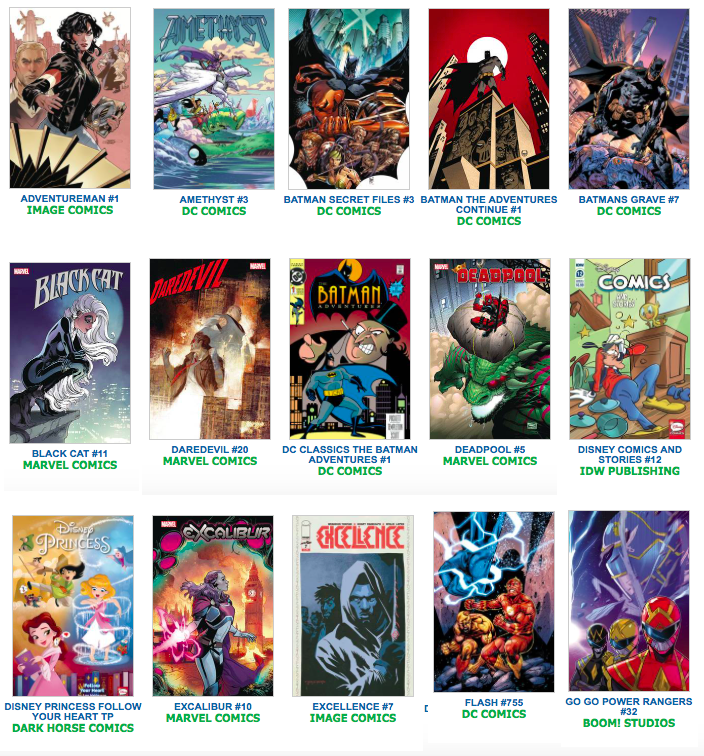 CIMMERIAN RED NAILS #1 10 COPY VIRGIN CASAS SUPERMAN PARODY $ 3.99
CIMMERIAN RED NAILS #1 CVR A CASSEGRAIN (MR) $ 3.99
CIMMERIAN RED NAILS #1 CVR B STEVE MORRIS (MR) $ 3.99
CIMMERIAN RED NAILS #1 CVR C KALVACHEV (MR) $ 3.99
CIMMERIAN RED NAILS #1 CVR D CASSEGRAIN WRAPAROUND (MR) $ 3.99
CIMMERIAN RED NAILS #1 CVR E CASAS SUPERMAN PARODY CVR (MR) $ 3.99
DAREDEVIL #20 $ 3.99
DAREDEVIL #20 SLINEY MARVEL ZOMBIES VAR $ 3.99
DC CLASSICS THE BATMAN ADVENTURES #1 $ 1.99
DEADPOOL #5 $ 3.99
DEADPOOL #5 ANDOLFO SPIDER-WOMAN VAR $ 3.99
DEJAH THORIS (2019) #5 CASTRO B&W VIRGIN VAR $ ???
DEJAH THORIS (2019) #5 LINSNER B&W VAR $ ???
DEJAH THORIS (2019) #5 CASTRO FOC BONUS VAR $ 3.99
DEJAH THORIS (2019) #5 CVR A PARRILLO $ 3.99
DEJAH THORIS (2019) #5 CVR B PREISSLER $ 3.99
DEJAH THORIS (2019) #5 CVR C LINSNER $ 3.99
DEJAH THORIS (2019) #5 CVR D GORHAM HOMAGE $ 3.99
DEJAH THORIS (2019) #5 CVR E MAI S COSPLAY $ 3.99
DIE DIE DIE #10 (MR) $ 3.99
DISNEY COMICS AND STORIES #12 CVR A MAZZARELLO $ 5.99
EXCALIBUR #10 $ 3.99
EXCELLENCE #7 CVR A RANDOLPH & LOPEZ $ 3.99
FAITHLESS II #1 CVR A LLOVET (MR) $ 3.99
FAITHLESS II #1 CVR B EROTICA CONNECTING VAR (MR) $ 4.99
FAITHLESS II #1 FOC ANKA VAR (MR) $ 3.99
FLASH #755 $ 3.99
FLASH #755 MATTEO SCALERA VAR ED $ 3.99
GO GO POWER RANGERS #32 CVR A CARLINI CONNECTING $ 3.99
GO GO POWER RANGERS #32 CVR B MERCADO VAR $ 3.99
GO GO POWER RANGERS #32 WRAPAROUND FOIL VAR $ 4.99
HARLEY QUINN #73 $ 3.99
HARLEY QUINN #73 FRANK CHO VAR ED $ 3.99
ICE CREAM MAN #19 CVR A MORAZZO & OHALLORAN (MR) $ 3.99
ICE CREAM MAN #19 CVR B WALTA (MR) $ 3.99
JAMES BOND #5 CVR A RICHARDSON $ 3.99
JIM HENSON DARK CRYSTAL AGE RESISTANCE #8 CVR A FINDEN $ 3.99
JIM HENSON DARK CRYSTAL AGE RESISTANCE #8 CVR B MATTHEWS CON $ 3.99
JIM HENSON DARK CRYSTAL AGE RESISTANCE #8 FOC VAR $ 3.99
JOIN THE FUTURE #2 CVR A KOWALSKI $ 3.99
JOKER 80TH ANNIV 100 PAGE SUPER SPECT #1 $ 9.99
JOKER 80TH ANNIV 100 PAGE SUPER SPECT #1 1940S ARTHUR ADAMS $ 9.99
JOKER 80TH ANNIV 100 PAGE SUPER SPECT #1 1950S DAVID FINCH V $ 9.99
JOKER 80TH ANNIV 100 PAGE SUPER SPECT #1 1960S F MATTINA VAR $ 9.99
JOKER 80TH ANNIV 100 PAGE SUPER SPECT #1 1970S JIM LEE VAR E $ 9.99
JOKER 80TH ANNIV 100 PAGE SUPER SPECT #1 1980S SEINKIEWICZ V $ 9.99
JOKER 80TH ANNIV 100 PAGE SUPER SPECT #1 1990S G DELLOTTO VA $ 9.99
JOKER 80TH ANNIV 100 PAGE SUPER SPECT #1 2000S LEE BERMEJO V $ 9.99
JOKER 80TH ANNIV 100 PAGE SUPER SPECT #1 2010S JOCK VAR ED $ 9.99
JOKER 80TH ANNIV 100 PAGE SUPER SPECT #1 BLANK VAR ED $ 9.99
JUSTICE LEAGUE #46 $ 3.99
JUSTICE LEAGUE #46 CLAY MANN VAR ED $ 3.99
JUSTICE LEAGUE ODYSSEY #21 $ 3.99
JUSTICE LEAGUE ODYSSEY #21 SKAN VAR ED $ 3.99
KILLADELPHIA #6 CVR A ALEXANDER (MR) $ 3.99
KILLADELPHIA #6 CVR B LEE (MR) $ 3.99
KISS ZOMBIES #5 10 COPY PHOTO VIRGIN INCV $ 3.99
LEGION OF SUPER HEROES #6 $ 3.99
LEGION OF SUPER HEROES #6 CARD STOCK ALEX GARNER VAR ED $ 4.99
LOIS LANE #11 (OF 12) $ 3.99
LOIS LANE #11 (OF 12) JOELLE JONES VAR ED $ 3.99
MILES MORALES SPIDER-MAN #17 BRADSHAW MARVEL ZOMBIES VAR OUT $ 3.99
MILES MORALES SPIDER-MAN #17 OUT $ 3.99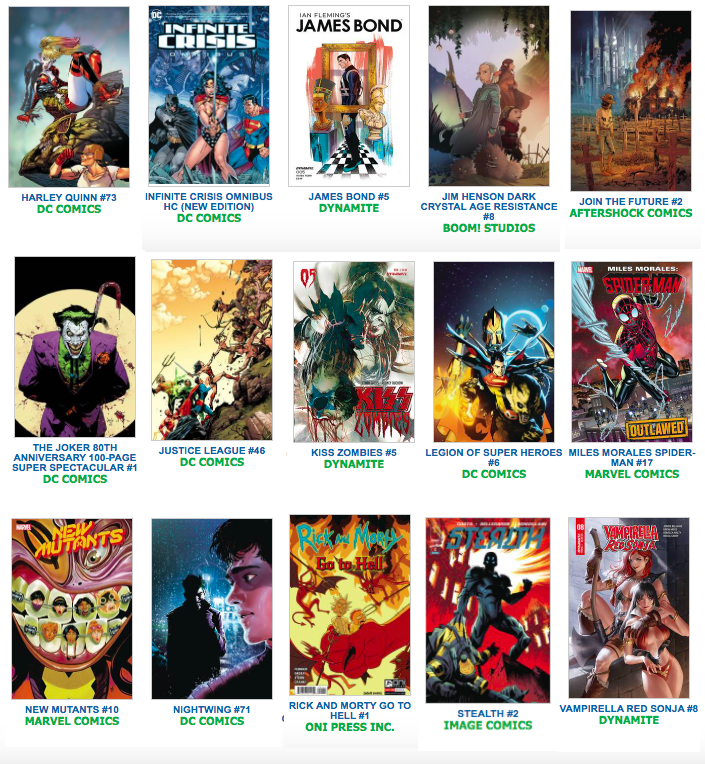 NEW MUTANTS #10 $ 3.99
NIGHTWING #71 $ 3.99
NIGHTWING #71 ALAN QUAH VAR ED $ 3.99
RICK AND MORTY GO TO HELL #1 CVR A OROZA $ 3.99
RICK AND MORTY GO TO HELL #1 CVR B SMITH $ 3.99
SOMETHING IS KILLING CHILDREN #7 $ 3.99
SONATA #10 CVR A ANACLETO & HABERLIN (MR) $ 3.99
SONATA #10 CVR B HABERLIN & VAN DYKE (MR) $ 3.99
STAR WARS DOCTOR APHRA #1 REMENAR VAR $ 3.99
STEALTH #2 (OF 6) $ 3.99
SUPERMAN GIANT #3 $ 4.99
UNDISCOVERED COUNTRY #6 CVR A CAMUNCOLI (MR) $ 3.99
UNDISCOVERED COUNTRY #6 CVR B MURPHY (MR) $ 3.99
VAMPIRELLA RED SONJA #8 20 COPY ROMERO VIRGIN INCV $ 3.99
VAMPIRELLA RED SONJA #8 CVR A LEE $ 3.99
VAMPIRELLA RED SONJA #8 CVR B YOON $ 3.99
VAMPIRELLA RED SONJA #8 CVR C ROMERO $ 3.99
VAMPIRELLA RED SONJA #8 CVR D OCHS COSPLAY $ 3.99

COMIC SHOP NEWS #1712 $ FREE

920LONDON TP (MR) $ 17.99
CASE CLOSED GN VOL 74 $ 9.99
CRITICAL ROLE HC VOL 01 CHRONICLES OF EXANDRIA MIGHTY NEIN $ 44.99
DISNEY LADY & THE TRAMP STORY MOVIE IN COMICS HC $ 10.99
DISNEY PRINCESS FOLLOW YOUR HEART TP $ 10.99
INFINITE CRISIS OMNIBUS HC NEW ED $ 150
INVISIBLE EMMIE GN NEW PTG $ 12.99
JUST BEYOND HORROR AT HAPPY LANDINGS ORIGINAL GN $ 9.99
KOMI CANT COMMUNICATE GN VOL 06 $ 9.99
LADY KILLER LIBRARY ED VOL 01 (MR) $ 39.99
MARVEL ACTION BLACK PANTHER TP BOOK 02 RISE TOGETHER $ 9.99
NEIL GAIMAN AMERICAN GODS HC VOL 03 MOMENT STORM $ 29.99
ROBOTECH REMIX TP VOL 01 DEJA VU $ 16.99
RUBY FALLS TP (MR) $ 19.99
STAR WARS JEDI ACADEMY YR HC VOL 09 AT LAST JEDI $ 12.99
SUPERMAN ACTION COMICS TP VOL 02 LEVIATHAN RISING $ 17.99
USAGI YOJIMBO TP VOL 01 BUNRAKU & OTHER STORIES $ 19.99
WONDER WOMAN TEMPEST TOSSED TP $ 16.99
WONDER WOMAN TP VOL 01 THE JUST WAR $ 19.99
YOUNG JUSTICE HC VOL 02 LOST IN THE MULTIVERSE $ 24.99