Approaching the New Normal on Wednesday, August 5th, 2020
Wednesday is STILL New Comic Day, no matter what you read on the internets. We can't clear the new rack to just have 10 DC's  surrounded by empty space. AND we can't depend on the new Distributor and FedEx to show up on time. We do it once, Wednesday morning. 
Looks like a good week. That's all I've got. Three more FCBD editions – Ask Bob.
I was there! I straightened the Pops for the first time since March. I pulled 150 out of the back to re-stock, and put out 20 new ones that were still in shipping boxes. So Pops are back! And you can reach most of them!
Looking only at the titles on the page, it looks like the good ol' days, with the big Marvel Event Empyre crossing over to other titles and variant covers, with 3 new Star Wars titles, and DC and the other pub's filling in the gaps. List below.
Free Comic Book Day – 's of Summer continues. I'm adding to the list each week so check out our good ol' Free Comic Book Day page.
We encourage everyone to be careful, make your trip to our store quick and efficient, and try to come in to shop in smaller groups, and reduce your own exposure to ALL public places indoors, including ours. Bob is open, bring your mask, keep your distance, and help keep Bob healthy.  If you like, you can browse the list and make an order to Our "strategic partner" (for images), had some kind of problem and published mostly blanks, so I don't have very many. I might have to search for a new image "parter".
fbgbob@aol.com
for a quicker pick up. It might also help to put in a time window when you would be in the neighborhood, to give Bob a chance to get them together, and include a phone number for good measure.
Please wear a mask!
Watch this space and our Facebook page for latest news about the rest of the month, season, year, millenium, etc. (And text messages from 5-Star.) The complete list is found below. If you want to know about the next sale or store event, or whether or not WE ARE EVEN OPEN click here. Sign in here to get an email reminder for for ALL sales and other events. Also, you can go to     fb.fantasybooksandgames.com and you'll be taken to our Facebook page. We also use our in-store 5-Star Rewards system to text similar announcements to your phone.
Thanks to Comics on the Green for this week's images, which include many of the comics and a few of the books and other items we received today, and may have pics of things we didn't and/or won't get. Use the list, and maybe the picture.
AGGRETSUKO #5 CVR A AMIN $ 3.99
AGGRETSUKO #5 CVR B MURPHY $ 3.99
ALIEN ORIGINAL SCREENPLAY #1 (OF 5) CVR A BALBI (RES) $ 3.99
ALIEN ORIGINAL SCREENPLAY #1 (OF 5) CVR B SIMONSON (RES) $ 3.99
ANT-MAN #4 (OF 5) $ 3.99
ARCHIE JUMBO COMICS DIGEST #311 $ 7.99
AVENGERS OF THE WASTELANDS #4 (OF 5) $ 3.99
AVENGERS OF THE WASTELANDS #4 (OF 5) SHAVRIN VAR $ 3.99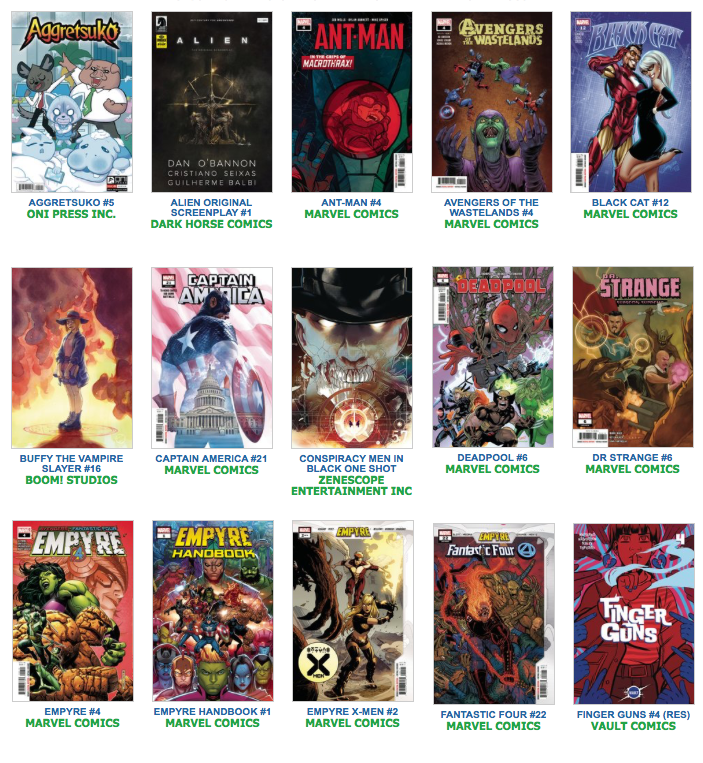 B & V FRIENDS JUMBO COMICS DIGEST #282 $ 7.99
BAD MOTHER #1 CVR A (MR) $ 3.99
BAD MOTHER #1 CVR B BRADSTREET (MR) $ 3.99
Batman 96 $ 3.99
Batman 96 1/25 Joker Hunter Var $ ???
Batman 96 Card Stock Mattina-c $ 4.99
Batman the Adventure Continues 3 $ 3.99
Batman the Adventure Continues 3 var-c $ 3.99
BLACK CAT #12 $ 3.99
BLACK CAT #12 SKAN VAR $ 3.99
BUFFY THE VAMPIRE SLAYER #16 CVR A MAIN LOPEZ $ 3.99
CAPTAIN AMERICA #21 $ 3.99
CAPTAIN AMERICA #21 ZIRCHER MARVEL ZOMBIES VAR $ 3.99
CARSON OF VENUS EYE OF AMTOR #2 CVR A CARRATU $ 3.99
CONSPIRACY MEN IN BLACK ONE SHOT CVR A COLAPIETRO $ 4.99
CONSPIRACY MEN IN BLACK ONE SHOT CVR A COLAPIETRO $ 4.99
Dark Nights Death Metal Legends of the Dark Knights $ 5.99
DC Classics the Batman Adventures 3 $ 1.99
Dceased Dead Planet 1 2nd print $ 4.99
Dceased Dead Planet 2 $ 3.99
Dceased Dead Planet 2 cardstock Ben Oliver-c $ 4.99
Dceased Dead Planet 2 cardstock Mattina-c $ 4.99
DEADPOOL #6 $ 3.99
DEADPOOL #6 PHAM MARVEL ZOMBIES VAR $ 3.99
DEJAH THORIS (2019) #7 LINSNER B&W $ ???
DEJAH THORIS (2019) #7 PARRILLO TINT VIRGIN PURPLE F $ ???
DEJAH THORIS (2019) #7 ESTRADA COSPLAY VIRGIN INCV $ ???
DEJAH THORIS (2019) #7 CVR A PARRILLO $ 3.99
DEJAH THORIS (2019) #7 CVR B GEORGIEV $ 3.99
DEJAH THORIS (2019) #7 CVR C LINSNER $ 3.99
DEJAH THORIS (2019) #7 CVR D MOONEY HOMAGE $ 3.99
DEJAH THORIS (2019) #7 CVR E ESTRADA COSPLAY $ 3.99
DR STRANGE #6 $ 3.99
Dreaming Waking Hours 1 $ 3.99
Dreaming Waking Hours 1 cardstock-c $ 4.99
EMPYRE #4 (OF 6) $ 4.99
EMPYRE #4 (OF 6) CHRISTOPHER 2-PACK ACTION FIGURE VAR $ 4.99
EMPYRE #4 (OF 6) DANIEL SKRULL KREE VAR $ 4.99
EMPYRE #4 (OF 6) LOZANO AVENGER VAR $ 4.99
EMPYRE #4 (OF 6) MICHAEL CHO FF VAR $ 4.99
EMPYRE HANDBOOK #1 $ 4.99
EMPYRE X-MEN #2 (OF 4) $ 4.99
EMPYRE X-MEN #2 (OF 4) WERNECK VAR $ 4.99
FAITHLESS II #2 CVR B EROTICA CONNECTING VAR (MR) $ 4.99
FANTASTIC FOUR #22 COELLO EMPYRE VAR EMP $ 3.99
FANTASTIC FOUR #22 EMP $ 3.99
Far Sector 7 $ 3.99
Far Sector 7 Sejic var-c $ 3.99
FINGER GUNS #4 (RES) $ 3.99
FINGER GUNS #4 CVR B HICKMAN $ 3.99
FIRE POWER BY KIRKMAN & SAMNEE #1 (RES) $ 3.99
FIRE POWER BY KIRKMAN & SAMNEE #2 (RES) $ 3.99
GIANT SIZE X-MEN FANTOMEX #1 $ 4.99
GIANT SIZE X-MEN FANTOMEX #1 GIST VAR $ 4.99
GUARDIANS OF THE GALAXY #5 $ 3.99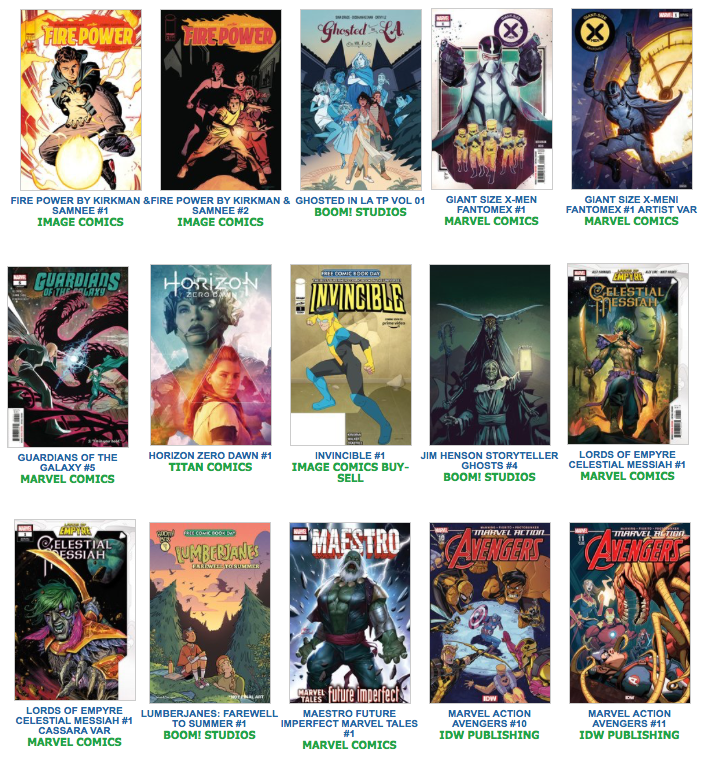 HORIZON ZERO DAWN #1 CVR A ARTGERM $ 3.99
HORIZON ZERO DAWN #1 CVR B GAME ART WRAP $ 3.99
HORIZON ZERO DAWN #1 CVR C LOISH $ 3.99
HORIZON ZERO DAWN #1 CVR E MOMOKO $ 3.99
HORIZON ZERO DAWN #1 CVR F BLUE LINE SKETCH $ 3.99
HORIZON ZERO DAWN #1 CVR G LOISH VIRGIN (1/10) $ ???
ICE CREAM MAN #20 CVR A MORAZZO & OHALLORAN (MR) $ 3.99
ICE CREAM MAN #20 CVR B MORAZZO & OHALLORAN (MR) $ 3.99
JIM HENSON STORYTELLER GHOSTS #4 (OF 4) CVR A WALSH $ 3.99
JIM HENSON STORYTELLER GHOSTS #4 (OF 4) CVR B VER VAR $ 3.99
JIM HENSON STORYTELLER GHOSTS #4 (OF 4) FOC FRANQUIZ VAR $ 3.99
Justice League 50 $ 5.99
Justice League 50 Charest var-c $ 5.99
LORDS OF EMPYRE CELESTIAL MESSIAH #1 $ 4.99
LORDS OF EMPYRE CELESTIAL MESSIAH #1 CASSARA VAR $ 4.99
LUCY CLAIRE REDEMPTION #5 CVR A UPCHURCH (MR) $ 3.99
LUCY CLAIRE REDEMPTION #5 CVR B UPCHURCH (MR) $ 3.99
MAESTRO FUTURE IMPERFECT MARVEL TALES #1 $ 7.99
MARVEL ACTION AVENGERS #10 2ND PTG $ 3.99
MARVEL ACTION AVENGERS #11 VENDRELL (1/10) $ ???
MARVEL ACTION AVENGERS #11 FIORITO $ 3.99
MARVEL ACTION CAPTAIN MARVEL #6 BALDARI (1/10) $ ???
MARVEL ACTION CAPTAIN MARVEL #6 CVR A BOO $ 3.99
MARVELS SPIDER-MAN BLACK CAT STRIKES #4 (OF 5) $ 3.99
MONEY SHOT #7 (RES) (MR) $ 3.99
MY LITTLE PONY TRANSFORMERS #1 (OF 4) (1/10) $ ???
MY LITTLE PONY TRANSFORMERS #1 (OF 4) (1/100) $ ???
MY LITTLE PONY TRANSFORMERS #1 (OF 4) CVR A FLEECS $ 3.99
NANCY DREW & HARDY BOYS DEATH OF NANCY DREW #3 CVR A EISMA $ 3.99
NEGAN LIVES #1 2ND PTG (MR) $ 4.99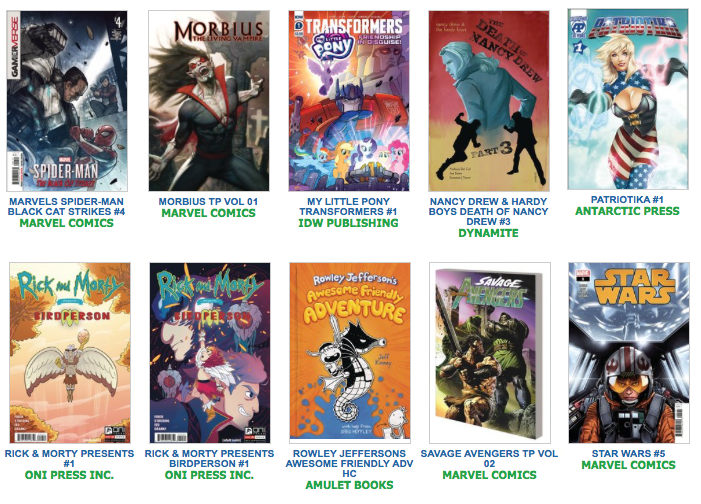 PATRIOTIKA #1 CVR A TORQUE $ 3.99
PATRIOTIKA #1 CVR B CAMPOS $ 9.99
PRETTY VIOLENT #8 (RES) (MR) $ 3.99
PROTECTOR #5 (MR) $ 3.99
REAVER #10 (RES) (MR) $ 3.99
RICK & MORTY PRESENTS BIRDPERSON #1 CVR A STRESSING $ 4.99
RICK & MORTY PRESENTS BIRDPERSON #1 CVR B TRIZZINO $ 4.99
SEX CRIMINALS #30 (MR) $ 3.99
SEX CRIMINALS #30 XXX WADA VAR (MR) $ 4.69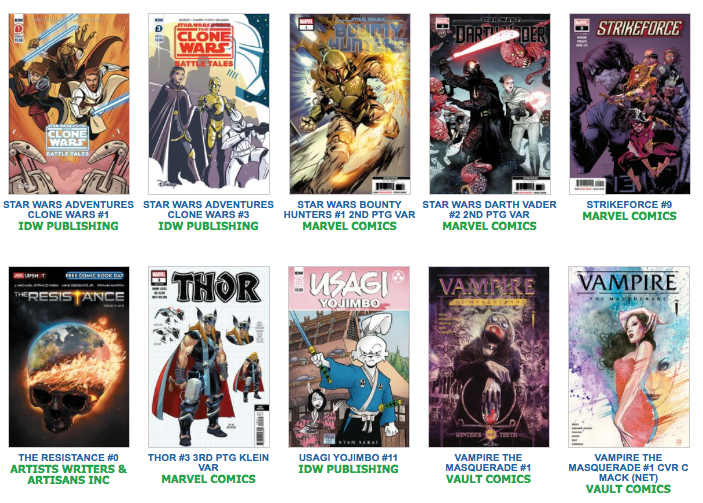 STAR WARS #5 $ 3.99
STAR WARS #5 SPROUSE EMPIRE STRIKES BACK VAR $ 3.99
STAR WARS #5 ZIRCHER VAR (1/25) $ ???
STAR WARS ADVENTURES CLONE WARS #1 (OF 5) 2ND PTG $ 3.99
STAR WARS ADVENTURES CLONE WARS #3 (OF 5) CHARM $ ???
STAR WARS ADVENTURES CLONE WARS #3 (OF 5) CVR A CHARM $ 3.99
STAR WARS BOUNTY HUNTERS #1 2ND PTG VAR $ 3.99
STAR WARS DARTH VADER #2 2ND PTG VAR $ 3.99
Strange Adventures 4 $ 4.99
Strange Adventures 4 Shaner var-c $ 4.99
STRIKEFORCE #9 $ 3.99
THOR #3 3RD PTG KLEIN VAR $ 3.99
THOR #4 2ND PTG KLEIN VAR $ 3.99
UNDISCOVERED COUNTRY #7 CVR A CAMUNCOLI (MR) $ 3.99
UNDISCOVERED COUNTRY #7 CVR B ADLARD (MR) $ 3.99
USAGI YOJIMBO #11 CVR A SAKAI $ 3.99
VAMPIRE THE MASQUERADE #1 CVR A CAMPBELL $ ???
VAMPIRE THE MASQUERADE #1 CVR B DANIEL & GOODEN $ ???
VAMPIRE THE MASQUERADE #1 CVR C MACK $ ???
Young Justice 17 $ 3.99
Young Justice Mirka Andolfo var-c $ 3.99

COMIC SHOP NEWS #1720 $ FREE

Aquaman TP Vol 02 Amnesty $ 17.99 $ FREE
BLACK CLOVER GN VOL 22 $ 9.99
BLUE EXORCIST GN VOL2 24 $ 9.99
BORUTO GN VOL 09 NARUTO NEXT GENERATIONS $ 9.99
CAPTAIN MARVEL TP VOL 03 LAST AVENGER $ 17.99
Collapser TP $ 16.99
CONAN BARBARIAN ORIG MARVEL YRS EPIC COLL TP COMING OF CONAN $ 34.99
DEMON SLAYER KIMETSU NO YAIBA GN VOL 14 (RE-CR) $ 9.99
DEMON SLAYER KIMETSU NO YAIBA GN VOL 15 $ 9.99
FIREFLY LEGACY DELUXE EDITION HC $ 75
GHOSTED IN LA TP VOL 01 $ 14.99
GIDEON FALLS TP VOL 04 (MR) $ 16.99
JOJOS BIZARRE ADV 4 DIAMOND IS UNBREAKABLE HC VOL 06 $ 19.99
MISFIT OF DEMON KING ACADEMY GN VOL 01 $ 10.99
MORBIUS TP VOL 01 $ 15.99
MY HERO ACADEMIA SMASH GN VOL 05 $ 9.99
ONE PIECE GN VOL 94 $ 9.99
ORESAMA TEACHER GN VOL 27 $ 9.99
OZ COMPLETE COLLECTION GN TP OZMA DOROTHY & WIZARD $ 15.99
PROMISED NEVERLAND GN VOL 16 $ 9.99
PUNISHER SOVIET TP (MR) $ 17.99
ROWLEY JEFFERSONS AWESOME FRIENDLY ADV HC $ 14.99
SAVAGE AVENGERS TP VOL 02 TO DINE WITH DOOM $ 19.99
TEEN TITANS GO TO CAMP TP $ 9.99
Wonder Woman Steve Trevor tp $ 19.99
Wonder Woman the Last True Hero TP $ 39.99
WORLD OF CYBERPUNK 2077 HC $ 39.99
YONA OF THE DAWN GN VOL 25 $ 9.99

YU GI OH TCG TOON CHAOS BOOSTER DIS (24CT) $ ???

POCKET POP HP LUNA LOVEGOOD FIG KEYCHAIN $ 5.99
POCKET POP HP SNAPE AS BOGGART FIG KEYCHAIN $ 5.99
POP ANIMATION HUNTER X HUNTER GON FREECS VIN FIG $ 11.99
POP ANIMATION HUNTER X HUNTER HISOKA VIN FIG $ 11.99
POP ANIMATION INUYASHA SESSHOMARU VINYL FIG $ 11.99
POP ANIMATION PRIDE 2020 DC HEROES BATMAN RAINBOW VIN FIG $ 11.99
POP ANIMATION PRIDE 2020 SPONGEBOB RAINBOW VIN FIG $ 11.99
POP HARRY POTTER 18IN HARRY VINYL FIG $ 99.99
SW BLACK SERIES 6IN AF ASST 202004 $ ???

FCBD 2020 INVINCIBLE #1 – Ask Bob
FCBD 2020 LUMBERJANES FAREWELL TO SUMMER – Ask Bob
FCBD 2020 RESISTANCE – Ask Bob
FCBD Mystery Boxes – Loki Theme – 1 of 3 Comics, 1 Pop, 1 of 3 shirts
FCBD 2020 FUNKO PX MARVEL MYSTERY BOX A SIZE LG $ 34.99
FCBD 2020 FUNKO PX MARVEL MYSTERY BOX A SIZE XXL $ 34.99
FCBD 2020 FUNKO PX MARVEL MYSTERY BOX B SIZE LG $ 34.99
FCBD 2020 FUNKO PX MARVEL MYSTERY BOX B SIZE XXL $ 34.99
FCBD 2020 FUNKO PX MARVEL MYSTERY BOX C SIZE LG $ 34.99