Two Week's Worth of DC's and Fresh Air Returns  on Wednesday, September 16th, 2020
Well, LAST WEEK'S DC's are still "on a truck", but at least they are telling us today, Wednesday, is the delivery day, so only about 8 days late. This week's DC's were carried by UPS instead of FedEx. I just called Bob and everything for both weeks is there! Yay!
It just occurred to me that my source for borrowing this week's comics images hasn't had any pics for DC's for a long time, and I don't know how long. Not that anyone looks at them, but as a hobby-historian, the idea of documenting history is not dependent on anyone reading it IN MY TIME, but for that random space traveller in the future who finds….well, anyway. I'm going to look….interesting.
March 18 – comics were a day late, and Bob did it all by himself by Thursday. 
March 26 – I announced Thursday comics, but I didn't even do a list. Last shipment for 2 months.
May 20 (I wrote 26th!) – Quasi-normal shipments resume under "shut-down" rules, but no Marvels.
May 27 – Marvels return, but…
June 10 – DC announces its Distribution Conniption plans
July 1 – No DC pics or comics, because they took the week off for transition to new system.
July 8 – DC's shipping under new FedEx regime, but I never got around to pictures that week and for DC's, there haven't been any since. Interesting for me, but who really cares? 
That said, I'll forego the highlights and print the list, unverified by me, because I'm home recovering from hernia surgery, and won't be lifting boxes for a few weeks.
Wednesday is STILL New Comic Day, no matter what you read on the internets. We can't clear the new rack to just have 10 DC's  surrounded by empty space. AND we REALLY can't depend on the new Distributor and FedEx to show up on time (which was supposed to be Tuesday, but it's NEVER happened). We do it once, Wednesday morning. And now again whenever the heck FedEx decides to deliver. Ask Bob.
Free Comic Book Day – 's of Summer is officially over, and my prediction of stragglers showing up today appears to be wrong. We still have most of them so you might be able to pick up something you missed  – check out our good ol' Free Comic Book Day page.
We encourage everyone to be careful, make your trip to our store quick and efficient, and try to come in to shop in smaller groups, and reduce your own exposure to ALL public places indoors, including ours. Bob is open, bring your mask, keep your distance, and help keep Bob healthy. If you like, you can browse the list and make an order to fbgbob@aol.com for a quicker pick up. It might also help to put in a time window when you would be in the neighborhood, to give Bob a chance to get them together, and include a phone number for good measure.
Please wear a mask!
Watch this space and our Facebook page for latest news about the rest of the month, season, year, millenium, etc. (And text messages from 5-Star.) The complete list is found below. If you want to know about the next sale or store event, or whether or not WE ARE EVEN OPEN click here. Sign in here to get an email reminder for for ALL sales and other events. Also, you can go to     fb.fantasybooksandgames.com and you'll be taken to our Facebook page. We also use our in-store 5-Star Rewards system to text similar announcements to your phone.
Thanks to Comics on the Green for this week's images, which include many of the comics and a few of the books and other items we received today, and may have pics of things we didn't and/or won't get. Use the list, and maybe the picture.  
LAST WEEK'S DC TITLES NOT RECEIVED LAST WEEK
BATMAN #90 Third printing $ 3.99
BATMAN & THE OUTSIDERS #16 CVR A TYLER KIRKHAM $ 3.99
BATMAN & THE OUTSIDERS #16 CVR B MICHAEL GOLDEN VAR $ 3.99
BATMAN THE ADVENTURES CONTINUE #1 (OF 6) Second printing $ 3.99
BATMAN THE ADVENTURES CONTINUE #2 (OF 6) Second printing $ 3.99
DARK NIGHTS DEATH METAL TRINITY CRISIS #1 (ONE SHOT) CVR A FRANCIS MANAPUL $ 5.99
DARK NIGHTS DEATH METAL TRINITY CRISIS #1 (ONE SHOT) 1:25 KYLE HOTZ VAR $ ???
DC CLASSICS THE BATMAN ADVENTURES #4 $ 1.99
FLASH #761 CVR A HOWARD PORTER $ 3.99
FLASH #761 CVR B INHYUK LEE VAR $ 3.99
GREEN LANTERN SEASON TWO #7 (OF 12) CVR A LIAM SHARP $ 3.99
GREEN LANTERN SEASON TWO #7 (OF 12) CVR B HOWARD PORTER VAR $ 3.99
HAWKMAN #27 CVR A MIKEL JANIN $ 3.99
HAWKMAN #27 CVR B GERARDO ZAFFINO VAR $ 3.99
JOKER HARLEY CRIMINAL SANITY #5 (OF 9) CVR A FRANCESCO MATTINA (MR) $ 5.99
JOKER HARLEY CRIMINAL SANITY #5 (OF 9) CVR B MICO SUAYAN VAR (MR) $ 5.99
JUSTICE LEAGUE DARK #25 LEE BERMEJO VAR ED $ 3.99
JUSTICE LEAGUE ODYSSEY #24 CVR A JOSE LADRONN $ 3.99
JUSTICE LEAGUE ODYSSEY #24 CVR B JUNGGEUN YOON VAR $ 3.99
NIGHTWING #74 CVR A TRAVIS MOORE (JOKER WAR) $ 3.99
NIGHTWING #74 CVR B ALAN QUAH VAR (JOKER WAR) $ 3.99
SUPERMAN #25 CVR A IVAN REIS $ 5.99
SUPERMAN #25 CVR B BRYAN HITCH VAR $ 5.99
WONDER WOMAN #762 CVR A DAVID MARQUEZ $ 3.99
WONDER WOMAN #762 CVR B JOSHUA MIDDLETON CARD STOCK VAR $ 4.99
WONDER WOMAN #762 INC 1:25 MIKEL JANIN LIAR LIAR CARD STOCK VAR $ 4.99

Animal Man by Grant Morrison 30th Anniversary Deluxe Edition HC Book Two $ 39.99
AQUAMAN TP VOL 03 MANTA VS MACHINE $ 17.99
BASKETFUL OF HEADS HC (MR) $ 24.99
BATMAN DETECTIVE COMICS TP VOL 02 ARKHAM KNIGHT $ 17.99
THIS WEEK'S EVERYTHING
AERO #11 $ 3.99
AMAZING SPIDER-MAN SINS OF NORMAN OSBORN #1 $ 4.99
AMAZING SPIDER-MAN SINS OF NORMAN OSBORN #1 CASANOVAS VAR $ 4.99
BATMAN #99 CVR A JORGE JIMENEZ (JOKER WAR) $ 3.99
BATMAN #99 CVR B DERRICK CHEW CARD STOCK VAR (JOKER WAR) $ 4.99
BATMAN #99 INC 1:25 JORGE JIMENEZ NIGHTWING CARD STOCK VAR (JOKER WAR) $ 4.99
BATMANS GRAVE #10 (OF 12) CVR A BRYAN HITCH $ 3.99
BATMANS GRAVE #10 (OF 12) CVR B ARTHUR ADAMS CARD STOCK VAR $ 4.99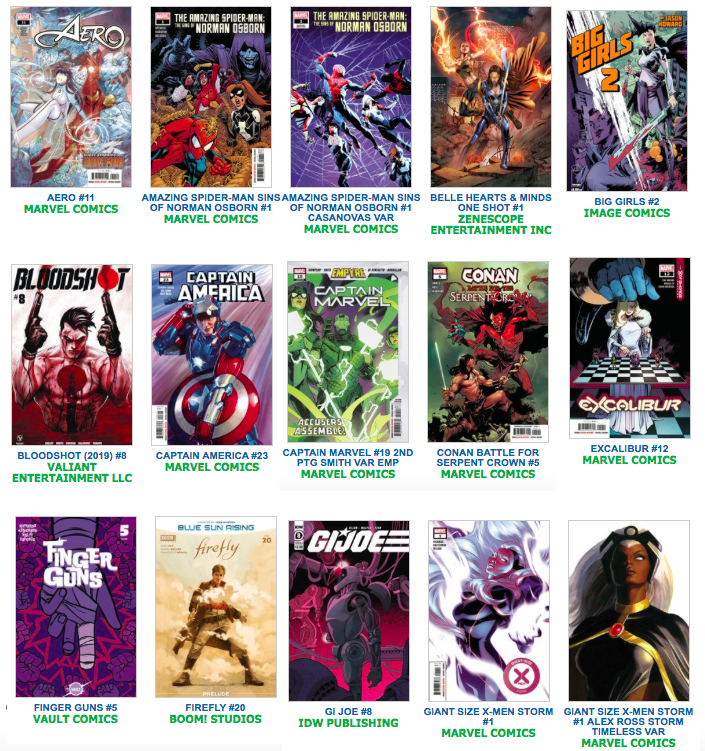 BELLE HEARTS & MINDS ONE SHOT #1 CVR A VITORINO $ 5.99
BELLE HEARTS & MINDS ONE SHOT #1 CVR B CARDY $ 5.99
BELLE HEARTS & MINDS ONE SHOT #1 CVR C BURNS $ 5.99
BIG GIRLS #2 $ 3.99
BLOODSHOT (2019) #8 CVR A KIRKHAM $ 3.99
BLOODSHOT (2019) #8 CVR B BERNARD $ 3.99
CAPTAIN AMERICA #23 $ 3.99
CAPTAIN AMERICA #23 ALEX ROSS CAPTAIN AMERICA TIMELESS VAR $ 3.99
CAPTAIN AMERICA #23 GURIHIRU HEROES AT HOME VAR $ 3.99
CAPTAIN MARVEL #19 2ND PTG SMITH VAR EMP $ 3.99
CARSON OF VENUS EYE OF AMTOR #3 CVR A CARRATU MAIN $ 3.99
CATWOMAN #25 CVR A JOELLE JONES (JOKER WAR) $ 5.99
CATWOMAN #25 CVR B LEE BERMEJO CARD STOCK VAR (JOKER WAR) $ 6.99
CONAN BATTLE FOR SERPENT CROWN #5 (OF 5) $ 3.99
CONAN BATTLE FOR SERPENT CROWN #5 (OF 5) MCKONE VAR $ 3.99
DCEASED DEAD PLANET #1 (OF 6) Fourth Printing $ 4.99
DCEASED DEAD PLANET #2 (OF 6) Second Printing $ 3.99
DEJAH THORIS (2019) #8 PARRILLO B&W $ ???
DEJAH THORIS (2019) #8 CASTRO B&W VIRGIN $ ???
DEJAH THORIS (2019) #8 GEORGIEV B&W VIRGIN $ ???
DEJAH THORIS (2019) #8 LINSNER B&W $ ???
DEJAH THORIS (2019) #8 TASHA UK COSPLAY VIRGIN $ ???
DEJAH THORIS (2019) #8 LINSNER B&W VIRGIN $ ???
DEJAH THORIS (2019) #8 CASTRO FOC BONUS VAR $ ???
DEJAH THORIS (2019) #8 CVR A PARRILLO $ 3.99
DEJAH THORIS (2019) #8 CVR C LINSNER $ 3.99
DEJAH THORIS (2019) #8 CVR E TASHA UK COSPLAY $ 3.99
DEVILS HIGHWAY #3 (MR) $ 3.99
EXCALIBUR #12 XOSP $ 3.99
FAITHLESS II #4 CVR A LLOVET (MR) $ 3.99
FAITHLESS II #4 CVR B EROTICA CONNECTING VAR (MR) $ 4.99
FINGER GUNS #5 $ 3.99
FINGER GUNS #5 CVR B HICKMAN $ 3.99
FIREFLY #20 CVR A MAIN $ 3.99
FIREFLY #20 CVR B KAMBADAIS VAR $ 3.99
GI JOE #8 CVR A WALTER $ 3.99
GI JOE #8 CVR B WILLIAMS II $ 3.99
DETECTIVE COMICS #1027 CVR A ANDY KUBERT WRAPAROUND $ 9.99
DETECTIVE COMICS #1027 CVR B LEE BERMEJO BATMAN NIGHTWING VAR $ 9.99
DETECTIVE COMICS #1027 CVR C J SCOTT CAMPBELL BATMAN BATGIRL VAR $ 9.99
DETECTIVE COMICS #1027 CVR D STANLEY ARTGERM LAU BATMAN BATWOMAN VAR $ 9.99
DETECTIVE COMICS #1027 CVR E JIM LEE BATMAN SUPERMAN VAR $ 9.99
DETECTIVE COMICS #1027 CVR F FRANK QUITELY BATMAN ROBIN VAR $ 9.99
DETECTIVE COMICS #1027 CVR G JIM CHEUNG BATMAN BANE VAR $ 9.99
DETECTIVE COMICS #1027 CVR H OLIVIER COIPEL BATMAN HARLEY QUINN VAR $ 9.99
DETECTIVE COMICS #1027 CVR I GABRIELE DELL OTTO BATMAN SCARECROW VAR $ 9.99
DETECTIVE COMICS #1027 CVR J ADAM HUGHES BATMAN CATWOMAN VAR $ 9.99
DETECTIVE COMICS #1027 CVR K MARC SILVESTRI BATMAN JOKER VAR $ 9.99
DETECTIVE COMICS #1027 CVR L BLANK VAR $ 9.99
GIANT SIZE X-MEN STORM #1 $ 4.99
GIANT SIZE X-MEN STORM #1 ALEX ROSS STORM TIMELESS VAR $ 4.99
GIANT SIZE X-MEN STORM #1 BARTEL VAR $ 4.99
GIANT SIZE X-MEN STORM #1 TIMELESS VIRGIN SKETCH VAR (1/100) $ ???
HEAVY #1 CVR A DONOVAN (RES) $ 3.99
HEAVY #1 CVR B DANIEL (RES) $ 3.99
HEAVY #1 CVR C DANIEL (RES) $ 3.99
HELLIONS #4 $ 3.99
HELLIONS #4 GOMEZ SKETCH VAR (1/25) $ ???
HELLIONS #4 GOMEZ VAR $ 3.99
IMMORTAL HULK #0 $ 4.99
IMMORTAL HULK #37 $ 3.99
IMMORTAL HULK #37 ALEX ROSS HULK TIMELESS VAR $ 3.99
IMMORTAL HULK #37 GURIHIRU HEROES AT HOME VAR $ 3.99
IRON MAN #1 $ 4.99
IRON MAN #1 ALEX ROSS IRON MAN TIMELESS VAR $ 4.99
IRON MAN #1 BLANK VAR $ 4.99
IRON MAN #1 BROOKS VAR (1/50) $ ???
IRON MAN #1 TENJIN VAR $ 4.99
IRON MAN #1 WEAVER VAR $ 4.99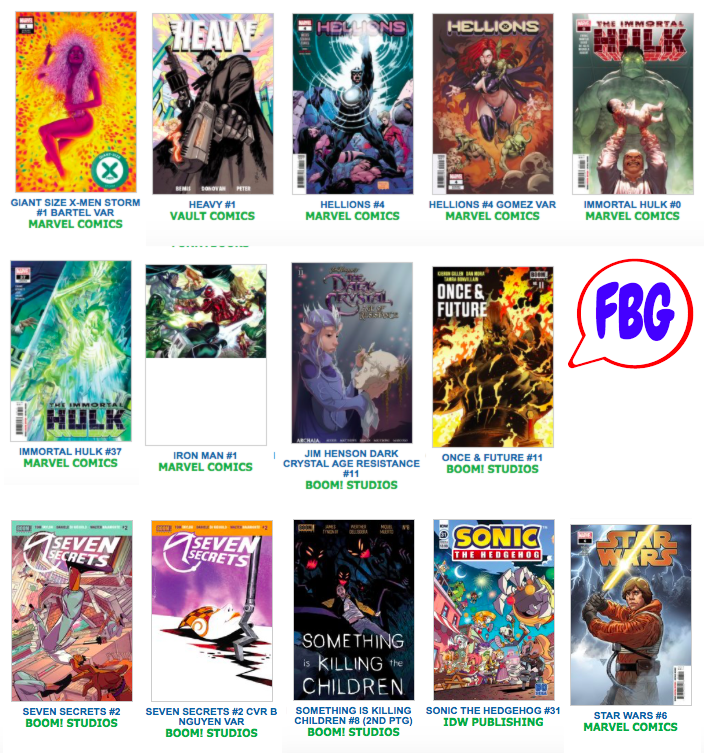 JIM HENSON DARK CRYSTAL AGE RESISTANCE #11 CVR A MAIN $ 3.99
JIM HENSON DARK CRYSTAL AGE RESISTANCE #11 CVR B CONNECT VAR $ 3.99
JIM HENSON DARK CRYSTAL AGE RESISTANCE #11 CVR C BERGARA $ 3.99
JUSTICE LEAGUE #53 CVR A LIAM SHARP $ 3.99
JUSTICE LEAGUE #53 CVR B IAN MACDONALD VAR $ 3.99
MAGNIFICENT MS MARVEL #13 2ND PTG VAZQUEZ VAR $ 3.99
METAL MEN #10 CVR A SHANE DAVIS $ 3.99
METAL MEN #10 CVR B KEVIN NOWLAN VAR $ 3.99
MONEY SHOT #8 (MR) $ 3.99
ONCE & FUTURE #11 $ 3.99
OUTCAST BY KIRKMAN & AZACETA #46 (MR) $ 3.99
RICK AND MORTY GO TO HELL #3 CVR A OROZA (Re-CR) $ 3.99
SEVEN SECRETS #2 MERCADO CONNECTING VAR $ ???
SEVEN SECRETS #2 CVR B NGUYEN VAR $ 3.99
SEVEN SECRETS #2 MAIN $ 3.99
SOMETHING IS KILLING CHILDREN #8 (2ND PTG) $ 3.99
SONIC THE HEDGEHOG #31 FOURDRAINE $ ???
SONIC THE HEDGEHOG #31 CVR A YARDLEY $ 3.99
SONIC THE HEDGEHOG #31 CVR B JON GRAY $ 3.99
STAR #2 (OF 5) 2ND PTG VAR $ 3.99
STAR TREK YEAR FIVE #14 CVR A THOMPSON $ 3.99
STAR WARS #6 $ 3.99
STAR WARS #6 CHRISTOPHER YELLOW LIGHTSABER ACTION FIGURE VAR $ 3.99
STAR WARS #6 SPROUSE EMPIRE STRIKES BACK VAR $ 3.99
STAR WARS DARTH VADER #5 $ 3.99
STAR WARS DARTH VADER #5 SPROUSE EMPIRE STRIKES BACK VAR $ 3.99
STILLWATER BY ZDARSKY & PEREZ #1 (MR) $ 3.99
TEEN TITANS #45 CVR A BERNARD CHANG $ 3.99
TEEN TITANS #45 CVR B KHARY RANDOLPH VAR $ 3.99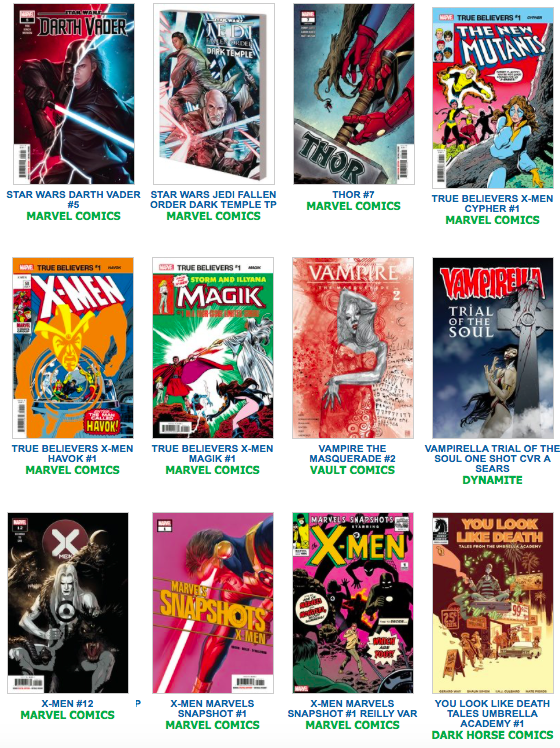 THOR #7 $ 3.99
THOR #7 KLEIN VAR $ 3.99
THOR #7 SHARP VAR (1/25) $ ???
TRUE BELIEVERS X-MEN CYPHER #1 $ 1
TRUE BELIEVERS X-MEN HAVOK #1 $ 1
TRUE BELIEVERS X-MEN MAGIK #1 $ 1
VAMPIRE THE MASQUERADE #2 FOC FOIL VAR $ 9.99
VAMPIRELLA TRIAL OF THE SOUL ONE SHOT CVR A SEARS $ 4.99
VAMPIRELLA TRIAL OF THE SOUL ONE SHOT CVR B SEARS B&W $ 4.99
X-MEN #12 EMP XOSP $ 3.99
X-MEN MARVELS SNAPSHOT #1 $ 4.99
X-MEN MARVELS SNAPSHOT #1 REILLY VAR $ 4.99
YOU LOOK LIKE DEATH TALES UMBRELLA ACADEMY #1 (OF 6) CVR A G $ 3.99
YOU LOOK LIKE DEATH TALES UMBRELLA ACADEMY #1 (OF 6) CVR B C $ 3.99
YOU LOOK LIKE DEATH TALES UMBRELLA ACADEMY #1 (OF 6) CVR C R $ 3.99

COMIC SHOP NEWS #1726 $ FREE

ADVENTURE TIME FIONNA & CAKE TP (Re-Cr) $ 9.99
AVENGERS OF THE WASTELANDS TP $ 15.99
BATMAN CURSE OF THE WHITE KNIGHT HC $ 29.99
BATMAN THE GOLDEN AGE OMNIBUS HC VOL 08 $ 125
BLACKSAD COLLECTED STORIES TP VOL 01 $ 29.99
BLACKWOOD TP VOL 02 MOURNING AFTER $ 19.99
BLADE RUNNER 2019 TP VOL 02 OFF WORLD $ 16.99
DARK KNIGHT RETURNS THE GOLDEN CHILD DLX ED HC $ 17.99
HAWKMAN TP VOL 03 DARKNESS WITHIN $ 16.99
JIM HENSON LABYRINTH CORONATION TP VOL 02 $ 16.99
JOKER KILLER SMILE HC $ 29.99
LITTLE BIRD FIGHT FOR ELDERS HOPE TP (MR) $ 19.99
MARVEL ACTION SPIDER-MAN TP BOOK 04 VENOM $ 9.99
MARVEL PORTFOLIO HC STANLEY ARTGERM LAU $ 50
MARVELS SPIDER-MAN TP BLACK CAT STRIKES $ 15.99
MUELLER REPORT HC GN $ 15.99
OLD GUARD TP BOOK 02 FORCE MULTIPLIED (MR) $ 16.99
ROBIN 80 YEARS OF THE BOY WONDER HC $ 29.99
SLAUGHTERHOUSE FIVE ORIGINAL GN HC $ 24.99
SONATA TP VOL 02 CITADEL (MR) $ 16.99
SPIDER-MAN SPIDER-VERSE GN TP SPIDER-WOMEN $ 9.99
STAR WARS ADVENTURES TP VOL 10 DRIVING FORCE $ 9.99
STAR WARS JEDI FALLEN ORDER DARK TEMPLE TP $ 15.99
STAR WARS LEGENDS EPIC COLLECTION EMPIRE TP VOL 06 $ 44.99
WELCOME TO SUCCUBUS HIGH GN VOL 01 (MR) $ 13.99
X-MEN GRAND DESIGN OMNIBUS HC $ 100
X-MEN TP RELOAD $ 39.99

MARVEL LEGENDS WAR MACHINE DLX AF CS $ ???
MARVEL MOVIE HERO COLLECTOR HEAVYWEIGHTS #1 #1 IRON MAN MARK $ 39.95
MARVEL MOVIE HERO COLLECTOR HEAVYWEIGHTS #2 #2 CAPTAIN AMERI $ 39.95
POCKET POP MARVEL ZOMBIES DEADPOOL FIG KEYCHAIN $ 5.99
POCKET POP MARVEL ZOMBIES MAGNETO FIG KEYCHAIN $ 5.99
POCKET POP MARVEL ZOMBIES WOLVERINE FIG KEYCHAIN $ 5.99
POP DISNEY NBX JACK ARTIST SERIES W/CHASE VIN FIG $ 19.99
POP NFL 49ERS GEORGE KITTLE VIN FIG $ 10.99
POP NFL KANSAS CITY CHIEFS PATRICK MAHOMES VIN FIG $ 10.99
POP SW MANDALORIAN MANDALORIAN W/CHROME 10IN VIN FIG $ 38.99
SW BLACK E5 40TH ANN 6IN DARTH VADER AF CS $ ???
SW BLACK SER CARBONIZED STORMTROOPER 6IN AF CS $ ???
TRANSFORMERS MASTERPIECE MP49 BLACK CONVOY AF $ ???

CATWOMAN 80TH ANNIVERSARY PAPER MASKS ASK BOB
JOKER 80TH ANNIVERSARY PAPER MASKS ASK BOB