Napa Burns, Again, and Smoke Comes Back to Us on Wednesday, September 30th, 2020
I'm following Purpleair.com and somewhat concerned about a nasty pocket way too close to my house i Oakland hills. Wouldn't think Napa smoke would take an express to MY woods and just park there. After posting this, I may take a look around. Department of Truth #1, Inkblot #1,  Three Jokers #2, Fantastic Four #24, Shang-Chi #1, Strange Academy #3, Stranger Things Sicence Camp #1 are the random highlights I decided to mention here. We've got a complete list below, y'know.  Also, Bob ordered more Gundam models, Transformers Figures, and something called Rubiks Charaction Cubes with with Japanese characters. I have no idea. Kind of a big week. Wear your mask, stay healthy.
For me, at least one week more of not  lifting boxes.
Wednesday is STILL New Comic Day, no matter what you read on the internets. We can't clear the new rack to just have 10 DC's  surrounded by empty space. AND we REALLY can't depend on the new Distributor and FedEx to show up on time (which was supposed to be Tuesday, but it's NEVER happened). We do it once, Wednesday morning. And now again whenever the heck FedEx decides to deliver. Ask Bob.
Free Comic Book Day – 's of Summer is officially over,  but we still have most of them, so you might be able to pick up something you missed  – check out our good ol' Free Comic Book Day page.
We encourage everyone to be careful, make your trip to our store quick and efficient, and try to come in to shop in smaller groups, and reduce your own exposure to ALL public places indoors, including ours. Bob is open, bring your mask, keep your distance, and help keep Bob healthy. If you like, you can browse the list and make an order to fbgbob@aol.com for a quicker pick up. It might also help to put in a time window when you would be in the neighborhood, to give Bob a chance to get them together, and include a phone number for good measure.
Please wear a mask!
Watch this space and our Facebook page for latest news about the rest of the month, season, year, millenium, etc. (And text messages from 5-Star.) The complete list is found below. If you want to know about the next sale or store event, or whether or not WE ARE EVEN OPEN click here. Sign in here to get an email reminder for for ALL sales and other events. Also, you can go to     fb.fantasybooksandgames.com and you'll be taken to our Facebook page. We also use our in-store 5-Star Rewards system to text similar announcements to your phone.
Thanks to Comics on the Green for this week's images, which include many of the comics and a few of the books and other items we received today, and may have pics of things we didn't and/or won't get. Use the list, and maybe the picture.  
ALIENATED #6 (OF 6) $ 3.99
ASCENDER #13 (MR) $ 3.99
AVENGERS #36 $ 3.99
AVENGERS #36 ALEX ROSS GHOST RIDER TIMELESS VAR $ 3.99
AVENGERS #36 GURIHIRU HEROES AT HOME VAR $ 3.99
AVENGERS #36 PICHELLI FORTNITE VAR $ 3.99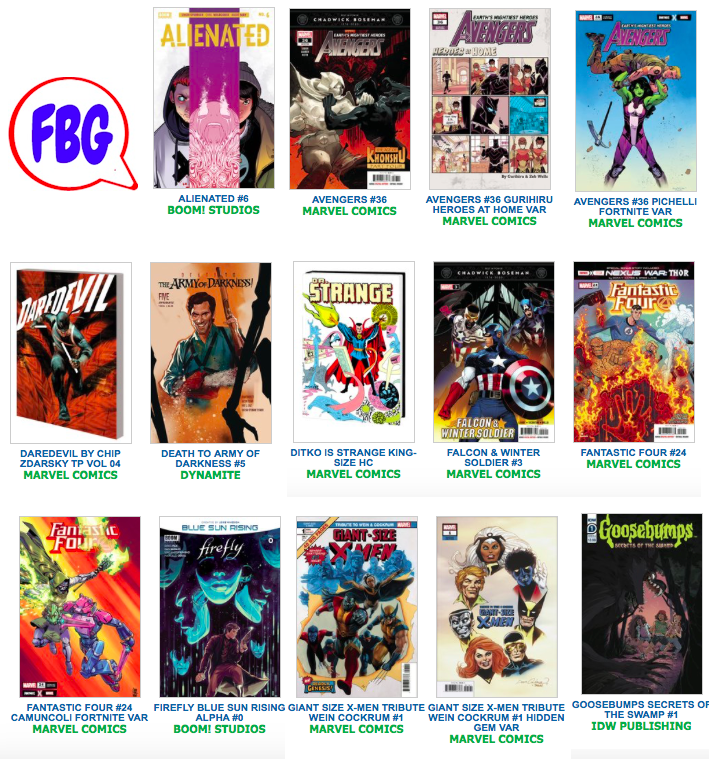 BATMAN SUPERMAN ANNUAL #1 $ 4.99
BATMAN THE ADVENTURES CONTINUE #4 (OF 7) CVR A JAMES HARREN $ 3.99
BATMAN THE JOKER WAR ZONE #1 (ONE SHOT) CVR A BEN OLIVER (JOKER WAR) $ 5.99
BATMAN THE JOKER WAR ZONE #1 (ONE SHOT) CVR B DERRICK CHEW CARD STOCK VAR (JOKER WAR) $ 6.99
BATMAN THREE JOKERS #2 (OF 3) CVR A JASON FABOK JOKER (MR) $ 6.99
BATMAN THREE JOKERS #2 (OF 3) CVR B JASON FABOK BATGIRL VAR (MR) $ 6.99
BATMAN THREE JOKERS #2 (OF 3) INC 1:100 TBA VAR (MR) $ ???
BATMAN THREE JOKERS #2 (OF 3) INC 1:25 TBA VAR (MR) $ ???
BATMAN THREE JOKERS #2 (OF 3) PREMIUM VAR D BEHIND BARS $ 6.99
BATMAN THREE JOKERS #2 (OF 3) PREMIUM VAR E DEATH IN THE FAMILY TOP HAT & MONOCLE $ 6.99
BATMAN THREE JOKERS #2 (OF 3) PREMIUM VAR F APPLYING MAKEUP $ 6.99
BOMB QUEEN TRUMP CARD #2 (OF 4) CVR A ROBINSON (MR) $ 3.99
BOMB QUEEN TRUMP CARD #2 (OF 4) CVR B ROBINSON (MR) $ 3.99
BOYS DEAR BECKY #5 (MR) $ 3.99
CHU #3 (MR) $ 3.99
DARK NIGHTS DEATH METAL MULTIVERSES END #1 (ONE SHOT) CVR A MICHAEL GOLDEN $ 5.99
DARK NIGHTS DEATH METAL MULTIVERSES END #1 (ONE SHOT) INC 1:25 ARTHUR ADAMS VAR $ ???
DEATH TO ARMY OF DARKNESS #5 OLIVER B&W VIRGIN $ ???
DEATH TO ARMY OF DARKNESS #5 CVR A OLIVER $ 3.99
DEATH TO ARMY OF DARKNESS #5 CVR B DAVILA $ 3.99
DEPARTMENT OF TRUTH #1 SHALVEY (MR) $ ???
DEPARTMENT OF TRUTH #1 LEE (MR) $ ???
DEPARTMENT OF TRUTH #1 ANDOLFO (MR) $ ???
DEPARTMENT OF TRUTH #1 CVR A SIMMONDS (MR) $ 3.99
DEPARTMENT OF TRUTH #1 CVR B FRISON (MR) $ 3.99
DETECTIVE COMICS #1027 CVR A ANDY KUBERT WRAPAROUND $ 9.99
DETECTIVE COMICS #1027 CVR A ANDY KUBERT WRAPAROUND $ 9.99
DETECTIVE COMICS #1027 CVR B LEE BERMEJO BATMAN NIGHTWING VAR $ 9.99
DETECTIVE COMICS #1027 CVR B LEE BERMEJO BATMAN NIGHTWING VAR $ 9.99
DETECTIVE COMICS #1027 CVR C J SCOTT CAMPBELL BATMAN BATGIRL VAR $ 9.99
DETECTIVE COMICS #1027 CVR D STANLEY ARTGERM LAU BATMAN BATWOMAN VAR $ 9.99
DETECTIVE COMICS #1027 CVR E JIM LEE BATMAN SUPERMAN VAR $ 9.99
DETECTIVE COMICS #1027 CVR F FRANK QUITELY BATMAN ROBIN VAR $ 9.99
DETECTIVE COMICS #1027 CVR G JIM CHEUNG BATMAN BANE VAR $ 9.99
DETECTIVE COMICS #1027 CVR G JIM CHEUNG BATMAN BANE VAR $ 9.99
DETECTIVE COMICS #1027 CVR H OLIVIER COIPEL BATMAN HARLEY QUINN VAR $ 9.99
DETECTIVE COMICS #1027 CVR I GABRIELE DELL OTTO BATMAN SCARECROW VAR $ 9.99
DETECTIVE COMICS #1027 CVR J ADAM HUGHES BATMAN CATWOMAN VAR $ 9.99
DETECTIVE COMICS #1027 CVR J ADAM HUGHES BATMAN CATWOMAN VAR $ 9.99
DETECTIVE COMICS #1027 CVR K MARC SILVESTRI BATMAN JOKER VAR $ 9.99
FALCON & WINTER SOLDIER #3 (OF 5) $ 3.99
FANTASTIC FOUR #24 ALEX ROSS HUMAN TORCH TIMELESS VAR EMP $ 3.99
FANTASTIC FOUR #24 ALEX ROSS INVISIBLE WOMAN TIMELESS VAR EM $ 3.99
FANTASTIC FOUR #24 ALEX ROSS MISTER FANTASTIC TIMELESS VAR $ 3.99
FANTASTIC FOUR #24 ALEX ROSS THING TIMELESS VAR $ 3.99
FANTASTIC FOUR #24 ALEX ROSS THING TIMELESS VIRGIN SKETCH VA (1/100) $ ???
FANTASTIC FOUR #24 CAMUNCOLI FORTNITE VAR $ 3.99
FANTASTIC FOUR #24 FORTNITE STORY $ 3.99
FANTASTIC FOUR #24 HUMAN TORCH TIMELESS VIRGIN SKETCH VAR (1/100) $ ???
FANTASTIC FOUR #24 INVISIBLE WOMAN TIMELESS VIRGIN SKETCH VA (1/100) $ ???
FANTASTIC FOUR #24 MR FANTASTIC TIMELESS VIRGIN SKETCH VAR (1/100) $ ???
FIREFLY BLUE SUN RISING #0 CVR B WARD VAR $ 7.99
GIANT SIZE X-MEN TRIBUTE WEIN COCKRUM #1 $ 5.99
GIANT SIZE X-MEN TRIBUTE WEIN COCKRUM #1 HIDDEN GEM VAR $ 5.99
GIANT SIZE X-MEN TRIBUTE WEIN COCKRUM #1 MOORE VAR $ 5.99
GIANT SIZE X-MEN TRIBUTE WEIN COCKRUM #1 WRPAD VAR (1/25) $ ???
GOOSEBUMPS SECRETS OF THE SWAMP #1 (OF 5) $ 3.99
HARLEY QUINN & THE BIRDS OF PREY #3 (OF 4) (MR) $ 5.99
HARLEY QUINN & THE BIRDS OF PREY #3 (OF 4) IAN MACDONALD VAR $ 5.99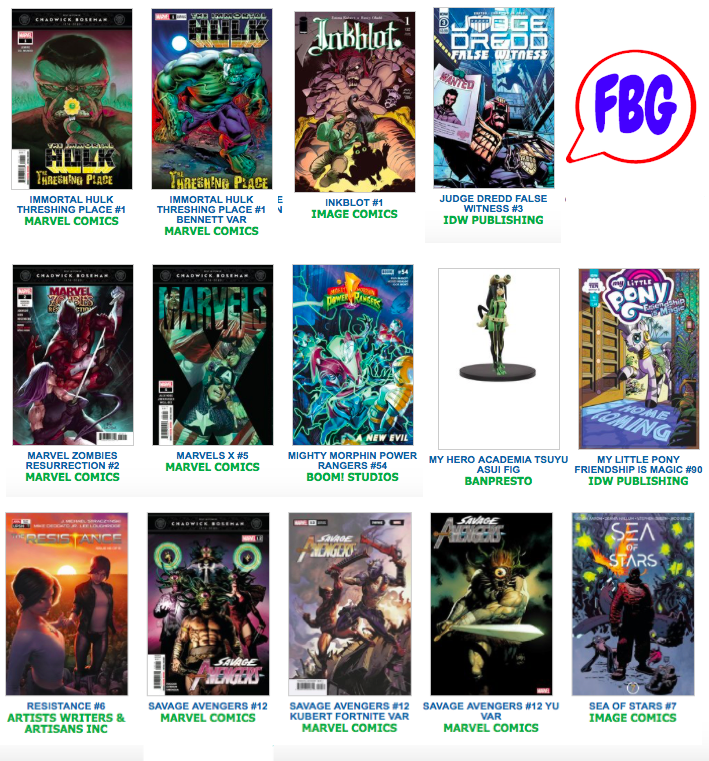 ICE CREAM MAN #20 3RD PTG (MR) $ 3.99
IMMORTAL HULK THRESHING PLACE #1 $ 4.99
IMMORTAL HULK THRESHING PLACE #1 BENNETT VAR $ 4.99
INKBLOT #1 2ND PTG $ 3.99
JOHN CONSTANTINE HELLBLAZER #10 (MR) $ 3.99
JUDGE DREDD FALSE WITNESS #3 (OF 4) CVR A ZAMA $ 3.99
JUSTICE LEAGUE ANNUAL #2 $ 4.99
KILLADELPHIA #8 CVR A ALEXANDER (MR) $ 3.99
LEGION OF SUPER-HEROES #9 CVR A RYAN SOOK $ 3.99
LEGION OF SUPER-HEROES #9 CVR B ANDRE ARAUJO VAR $ 3.99
LUDOCRATS #5 (OF 5) CVR B YOUNG (MR) $ 3.99
MARVEL ZOMBIES RESURRECTION #2 (OF 4) $ 3.99
MARVEL ZOMBIES RESURRECTION #2 (OF 4) LAND VAR $ 3.99
MARVEL ZOMBIES RESURRECTION #2 (OF 4) SCOTT VAR $ 3.99
MARVELS X #5 (OF 6) $ 4.99
MIGHTY MORPHIN POWER RANGERS #54 CVR A MAIN $ 3.99
MIGHTY MORPHIN POWER RANGERS #54 FOIL MONTES VAR $ 4.99
MIRKA ANDOLFO MERCY #6 (OF 6) CVR A ANDOLFO (MR) $ 3.99
MIRKA ANDOLFO MERCY #6 (OF 6) CVR C BARTEL (MR) $ 3.99
MY LITTLE PONY FRIENDSHIP IS MAGIC #90 JUSTASUT (1/10) $ ???
MY LITTLE PONY FRIENDSHIP IS MAGIC #90 CVR A PRICE $ 3.99
NAILBITER RETURNS #5 (MR) $ 3.99
RED HOOD OUTLAW #49 CVR A DAN MORA $ 3.99
RED HOOD OUTLAW #49 CVR B PHILIP TAN VAR $ 3.99
RESISTANCE #6 (OF 6) $ 3.99
ROGUE PLANET #5 (MR) $ 3.99
SAVAGE AVENGERS #12 $ 3.99
SAVAGE AVENGERS #12 KUBERT FORTNITE VAR $ 3.99
SAVAGE AVENGERS #12 YU VAR $ 3.99
SEA OF STARS #7 $ 3.99
SHANG-CHI #1 (OF 5) $ 3.99
SHANG-CHI #1 (OF 5) CHEUNG DESIGN VAR (1/10) $ ???
SHANG-CHI #1 (OF 5) HIDDEN GEM VAR $ 3.99
SHANG-CHI #1 (OF 5) INHYUK LEE VAR $ 3.99
SHANG-CHI #1 (OF 5) JACINTO VAR $ 3.99
SHANG-CHI #1 (OF 5) RON LIM VAR $ 3.99
SHANG-CHI #1 (OF 5) RUAN VAR $ 3.99
SHANG-CHI #1 (OF 5) SU VAR $ 3.99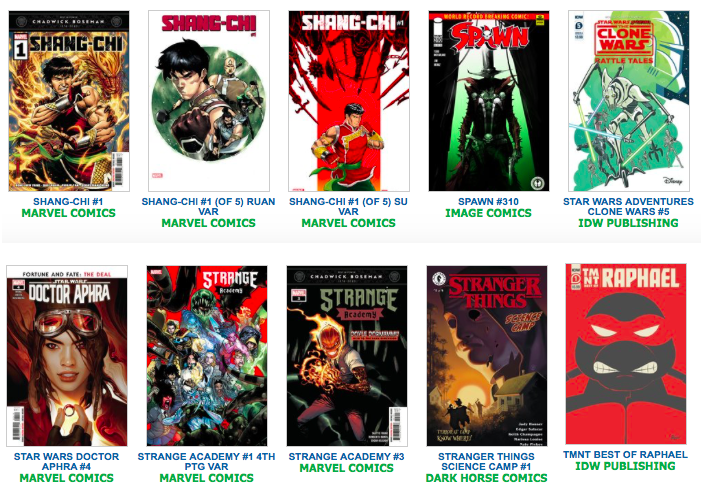 SPAWN #310 CVR A MATTINA (RES) $ 2.99
SPAWN #310 CVR B MCFARLANE (RES) $ 2.99
SPAWN #310 CVR C BARENDS (RES) $ 2.99
SPAWN #310 CVR D MCFARLANE B&W )(1/5) $ ???
STAR WARS ADVENTURES CLONE WARS #5 (OF 5) CHARM (1/10) $ ???
STAR WARS ADVENTURES CLONE WARS #5 (OF 5) CVR A CHARM $ 3.99
STAR WARS DOCTOR APHRA #4 $ 3.99
STRANGE ACADEMY #1 4TH PTG VAR $ 4.99
STRANGE ACADEMY #3 $ 3.99
STRANGE ACADEMY #3 ADAMS CHARACTER SPOTLIGHT VAR $ 3.99
STRANGE ACADEMY #3 ALEX ROSS DOCTOR STRANGE TIMELESS VAR $ 3.99
STRANGE ACADEMY #3 OTTLEY VAR (1/25) $ ???
STRANGE ACADEMY #3 ROSS DR STRANGE TIMELESS VIRGIN SKETCH VA (1/100) $ ???
STRANGER THINGS SCIENCE CAMP #1 (OF 4) CVR A KALVACHEV $ 3.99
STRANGER THINGS SCIENCE CAMP #1 (OF 4) CVR B LAMBERT $ 3.99
STRANGER THINGS SCIENCE CAMP #1 (OF 4) CVR C RUIZ $ 3.99
TALES OF TERROR QUARTERLY HELLFIRE #1 CVR A VIGONTE (MR) $ 8.99
TALES OF TERROR QUARTERLY HELLFIRE #1 CVR C KROME (MR) $ 8.99
THAT TEXAS BLOOD #4 (MR) $ 3.99
TMNT BEST OF RAPHAEL $ 5.99
TRANSFORMERS #23 LEWIS (1/10) $ ???
TRANSFORMERS #23 CVR A LAFUENTE $ 3.99
TRANSFORMERS #23 CVR B BAUMGARTNER $ 3.99
TRANSFORMERS GALAXIES #10 LAWRENCE (1/10) $ ???
TRANSFORMERS GALAXIES #10 CVR A GRIFFITH $ 3.99
TRANSFORMERS GALAXIES #10 CVR B DEER $ 3.99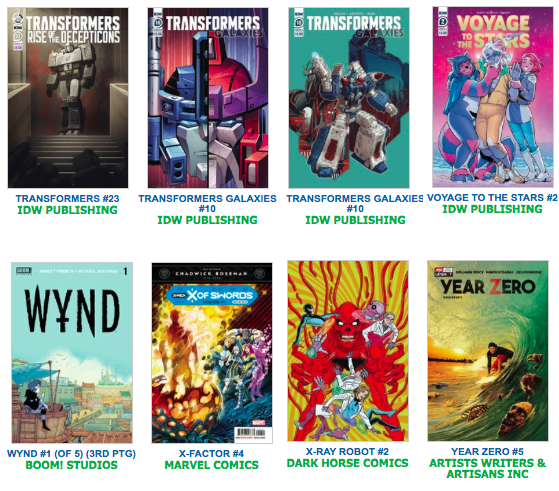 VENOM #28 $ 3.99
VOYAGE TO THE STARS #2 (OF 4) CVR A ISAACS $ 3.99
VOYAGE TO THE STARS #2 (OF 4) CVR B DAIDONE $ 3.99
WOLVERINE #3 2ND PTG VAR DX $ 3.99
WOLVERINE #4 2ND PTG VAR $ 3.99
WONDER WOMAN #763 CVR A DAVID MARQUEZ $ 3.99
WONDER WOMAN #763 CVR B JOSHUA MIDDLETON CARD STOCK VAR $ 4.99
WONDER WOMAN 1984 #1 (ONE SHOT) CVR A NICOLA SCOTT $ 3.99
WONDER WOMAN 1984 #1 (ONE SHOT) CVR B ROBIN EISENBERG ROOSTER TEETH VAR $ 3.99
WYND #1 (OF 5) (3RD PTG) $ 4.99
WYND #4 (OF 5) CVR A MAIN (MR) $ 4.99
X-FACTOR #4 ALEX ROSS ANGEL TIMELESS VAR XOS $ 4.99
X-FACTOR #4 SILVA VAR XOS $ 4.99
X-FACTOR #4 XOS $ 4.99
X-RAY ROBOT #2 (OF 4) CVR A ALLRED (RES) $ 3.99
X-RAY ROBOT #2 (OF 4) CVR C POPE $ 3.99
YEAR ZERO #5 $ 3.99

COMIC SHOP NEWS #1728 $ FREE

AGGRETSUKO HC VOL 01 METAL TO THE MAX $ 11.99
BATMAN DETECTIVE COMICS VOL 03 GREETINGS FROM GOTHAM TP $ 17.99
BATMAN KNIGHT OUT HC $ 39.99
BUFFY VAMPIRE SLAYER LEGACY EDITION TP VOL 02 $ 29.99
CONAN CHRONICLES EPIC COLLECTION TP HORRORS BENEATH STONES $ 44.99
CRITICAL ROLE TP VOL 02 VOX MACHINA ORIGINS (RES) $ 19.99
DAREDEVIL BY CHIP ZDARSKY TP VOL 04 END OF HELL $ 15.99
DISNEY PRINCESS GLEAM GLOW & LAUGH TP (RES) $ 10.99
DITKO IS STRANGE KING-SIZE HC $ 100
GUDETAMA HC ADULTING FOR THE LAZY $ 9.99
JOHN CONSTANTINE HELLBLAZER VOL 01 MARKS OF WOE TP (MR) $ 19.99
LOW LOW WOODS HC (MR) $ 24.99
MARVEL CLASSICS COMICS OMNIBUS HC $ 150
MONSTRESS TP VOL 05 (MR) $ 16.99
UMBRELLA ACADEMY DLX LTD HC VOL 03 HOTEL OBLIVION $ 79.99
UMBRELLA ACADEMY LIBRARY EDITION HC VOL 03 HOTEL OBLIVION (C $ 39.99
X-MEN AVENGERS ONSLAUGHT TP VOL 02 $ 39.99

BOWMAN 2020 CHROME BASEBALL T/C AUTOGRAPH BOX $ ???

30 MINUTE MISSION EEXM-21 RABIOT DARK GRAY MDL KIT $ ???
ALIENS VS PREDATOR 3D FOAM BAG CLIPS 24PC BMB DS $ ???
DC GALLERY CLASSIC BATMAN PVC STATUE $ 49.99
DC GALLERY CLASSIC HARLEY QUINN PVC STATUE $ 49.99
GBD 23 URAVEN GUNDAM BANDAI SPIRITS HGBD 1/144 MDL KIT $ ???
GUNDAM BUILD DIVERS GUNDAM G-ELSE 1/144 HGBD R MDL KIT $ ???
GUNDAM BUILD DIVERS PROTAGONISTS NEW WEAPONS 1/144 MDL KIT $ ???
GUNDAM GP-RASE-TWO-TEN BANDAI SPIRITS HGBD 1/144 MDL KIT $ ???
GUNDAM IBO 16 GUNDAM BARBATOS LUPUS REX SDCS MDL KIT $ ???
GUNDAM SEED 231 GUNDAM INFINITE JUSTICE HGCE 1/144 MDL KIT $ ???
GUNDAM SEED 232 WINDAM HGCE 1/144 MDL KIT $ ???
GUNDAM SEED DESTINY 33 FORCE IMPULSE GUNDAM RG 1/144 MDL KIT $ ???
IRON-BLOODED ORPHANS 40 GUNDAM MARCHOSI HG IBO 1/144 MDL KIT $ ???
MARVEL SPIDER-MAN 2021 WALL CALENDAR $ 14.99
MY HERO ACADEMIA SERIES3 3D FOAM BAG CLIP 24PCS BMB DS $ ???
MY HERO ACADEMIA TSUYU ASUI FIG $ 24.99
RUBIKS CHARACTION CUBE DB SUPER SUPER SAIYAN BLUE GOKU $ ???
RUBIKS CHARACTION CUBE MS GUNDAM MS-06 ZAKU II $ ???
RUBIKS CHARACTION CUBE MS GUNDAM RX-78-2 GUNDAM $ ???
RUBIKS CHARACTION CUBE NARUTO NARUTO UZUMAKI $ ???
RUBIKS CHARACTION CUBE SANRIO GUDETAMA $ ???
SW BLACK 6IN MANDALORIAN V2 AF CS $ ???
SW BLACK CW 6IN KAMINO CLONE TROOPER AF CS $ ???
TRANSFORMERS GEN STUDIO SER VOYAGER SKIPJACK AF CS $ ???
TRANSFORMERS GEN WFCE DLX AF ASST 202001 $ ???
TRANSFORMERS GEN WFCE VOYAGER AF ASST 202002 $ ???
TRANSFORMERS GEN WFCE VOYAGER QUINTESSON JUDGE AF CS $ ???
UMBRELLA ACADEMY 2021 WALL CALENDAR $ 14.99